Hearty Dutch oven Irish stew to celebrate St. Patrick's day! Tender beef and vegetables smothered in a finger-licking Guinness stout gravy.
Have you ever tried cooking with stout or beer? If not, you should definitely start by making this Dutch oven Irish stew. Those tender beef pieces, that amazingly rich and flavorful gravy… you will probably have to cook a double batch because everybody will go for seconds.
What can be more comforting than a rich warming stew? I cook lots and lots of stews, from the famous Hungarian beef goulash to chicken paprikash with dumplings, rabbit stew, sausage stews or vegetable stew.
I must say, that during the cold time of the year, I make one sort of stew or another on an almost weekly basis. Stews are always easy to make, rather cheap (unless you go for lamb), and everybody loves them. There is no guessing there, this is reliable, everyday, comfort food.
Ingredients
Guinness:
What sets an Irish beef stew apart from the other stew recipes? The inclusion of the well-known dark Guinness, which you can enjoy in any Irish pub around the world. The iconic Irish beer or stout is dark, thick, creamy, and really like no other kind of beer.
The alcohol will evaporate during the long cooking time, all that's left of it is the intense flavor and incredible richness in the sauce.
I can only buy it in liquor stores, in 4 or 6-packs around here, but it keeps for quite a while, so I am sure to cook this recipe at least twice every time I buy a pack of stout.
You could also make an incredible Guinness chocolate cake. Nigella Lawson's Guinness cake is a regular in our house as well.
Meat:
The Guinness Irish stew can be made with lamb or beef. I like both versions, but as beef is usually not as expensive as lamb, I often choose beef and keep the lamb for making Romanian lamb stew, for instance.
Chuck beef is a part of meat cut from the neck, shoulder blade, and upper arm of the beef.
It has a lot of connective tissues, which makes it a very good choice for long cooking in the sauce.
The long cooking process tenderizes this rather tough cut and the fat content ensures flavorful results.
Vegetables:
Onions, garlic, carrots, and celery.
Many people add potato cubes as well, but I prefer not to do it, and serve the stew with boiled or mashed potatoes on the side.
Tips for making stew in a Dutch oven
The pot:
Use a thick-bottomed pot to make the beef stew, a cast-iron Dutch oven is the best kind of dish to use for a good stew. (Amazon affiliate link)
Cut the beef:
Cut the chuck across the grain into relatively large chunks.
The Guinness stew recipe needs to simmer for a long time in order to develop that incredibly rich flavor, and if the pieces of meat are too small, they will cook too soon and kind of disintegrate in the sauce.
I cut the meat into cubes that are approximately 3 cm/ 1.2 inches large.
Flour the beef cubes:
Tossing the beef cubes with a small amount of flour before browning has several advantages: it adds depth of flavor to the dish, the beef cubes will have a nice roasted crust and the flour will help thicken the sauce.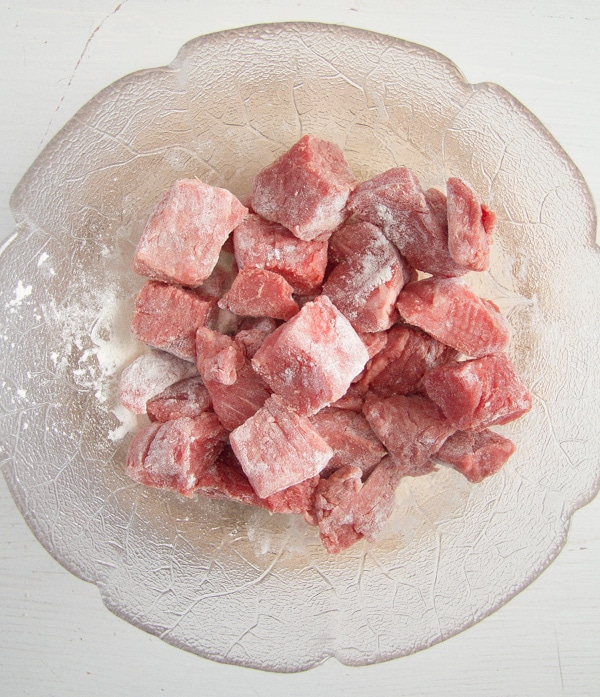 Fry the meat in batches:
Brown the meat in batches. I have a large Dutch oven, but I still need 3-4 batches to cook this amount of stewing meat.
I know that it takes its time, but it is really worth it. Just think about the fact that after you've done that and added the rest of the ingredients to the pot, there will not be much more for you to do, except a bit of stirring.
If you overcrowd the pan the beef cubes will never get nicely browned, too much juice will be released and the beef will cook in its own juices rather than being browned.
Don't clean the pot after frying the meat, those darker bits will impart more flavor into the stew.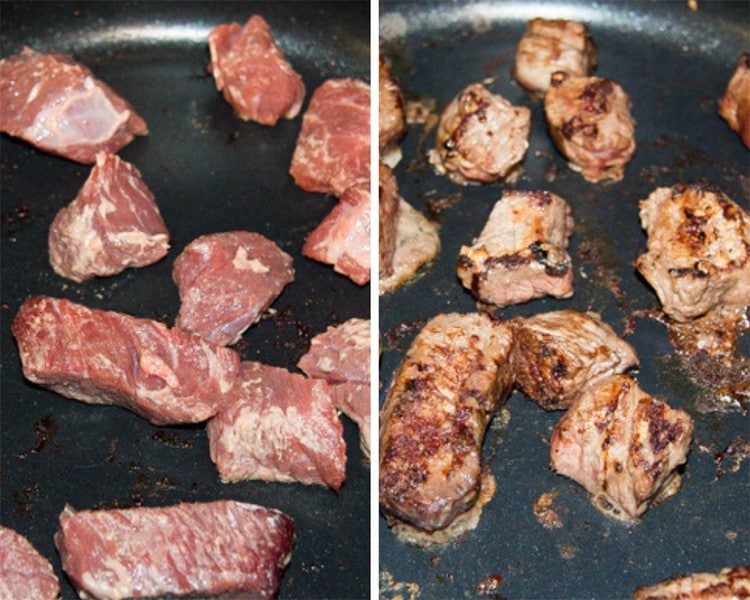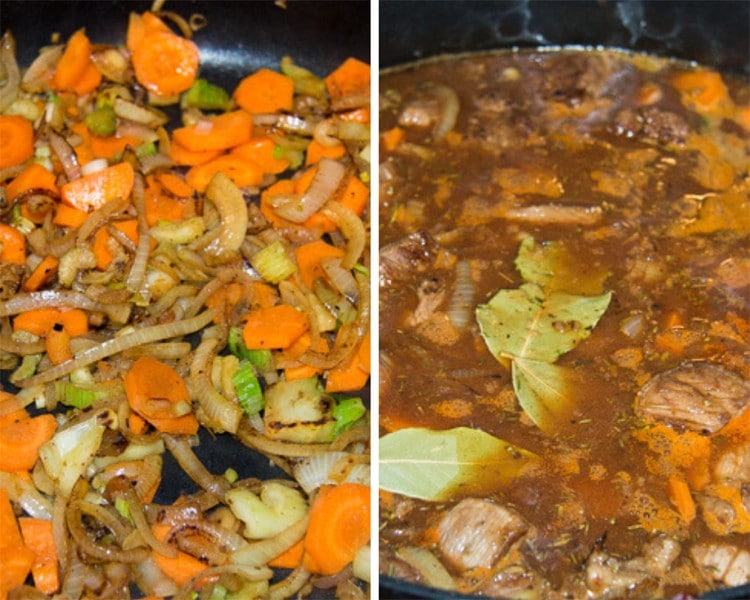 How to serve Guinness stew?
The stew can be made in advance and then reheated. Just like all stews, this dish tastes even better the next day.
That means, that you can reheat leftovers for several days in a row.
The Dutch oven Irish stew is also suitable for freezing. Place into freezer bags and freeze for up to 3 months. Defrost in the refrigerator and reheat slowly.
As mentioned above, I love to serve the Irish beef stew with boiled or mashed potatoes.
Another great option is soda bread, a typical Irish bread made without yeast.
More Irish recipes:
Dutch Oven Irish Stew (with Guinness)
Cook Time:
2 hours
3 seconds
Total Time:
2 hours
35 minutes
3 seconds
Hearty Dutch oven Irish stew to celebrate St. Patrick's day! Tender beef and vegetables smothered in a finger-licking Guinness stout gravy.
Ingredients
1 kg/ 2.2 lbs beef chuck
2 tablespoons olive oil
2 tablespoons all-purpose flour
1 large onion
2 garlic cloves
2 celery stalks
1 large carrot
1 teaspoon granulated sugar
2 tablespoons tomato paste
1 teaspoon dried thyme
3-4 bay leaves
1 bottle/ can Guinness (440 ml/ 15 fl.oz)
about 125 ml/ 4.2 fl.oz/ ½ cup beef broth, slightly more if necessary
fine sea salt and black pepper
Instructions
Cut the beef chuck into cubes, about 3 cm/ 1.2 inches. Place them on paper towels and pat them dry with more paper towels. Place the flour in a large bowl, add some salt and pepper, and mix well. Add some of the beef cubes and toss to coat with the flour. Pat gently to remove the excess flour.
Heat about 1 tablespoon of the oil in a large Dutch oven over high heat. Add some of the beef cubes and brown all over, this will take about 5 minutes per batch. Remove onto a plate and repeat with the remaining beef. I usually brown the beef in 3 or 4 batches. Do not overcrowd the pot. You might add a little more oil after about two batches if the pot seems too dry.
While the meat browns, halve and slice the onions the vegetables. Set aside. Finely chop the garlic, slice the carrot and the celery. Set aside separated from the onions.
Add the remaining oil to the pot and lower the heat to medium. Add the onions and cook for about 3 minutes until softer. Stir often. Add the garlic, carrot, and celery, and cook for another 5 minutes.
Add the sugar, tomato paste, and dried thyme, stir very well for about 1 minute.
Pour in the Guinness and deglaze the bottom of the pot, scraping up the brown bits on the bottom. Return the beef and its juices to the pot. Add the bay leaves and enough beef broth to just cover the meat.
Bring to a boil, lower the heat, cover the pot and simmer for about 2 ½ hours or until the meat is really tender and almost falls apart.
If the sauce is too thick after 2 ¼ hours, remove the lid and continue cooking the stew until the sauce has thickened as much as you like it.
Adjust the taste with salt and pepper and serve as suggested above.
Nutrition Information:
Yield:

4
Serving Size:

1/4 of the dish
Amount Per Serving:
Calories:

629
Total Fat:

24g
Saturated Fat:

8g
Trans Fat:

1g
Unsaturated Fat:

16g
Cholesterol:

248mg
Sodium:

615mg
Carbohydrates:

15g
Fiber:

2g
Sugar:

4g
Protein:

83g
Nutrition information isn't always accurate.