Make a cup of Baileys hot chocolate to celebrate St. Patrick's Day. A rich alcoholic drink topped with cream or marshmallows.
Baileys Irish Cream Hot Chocolate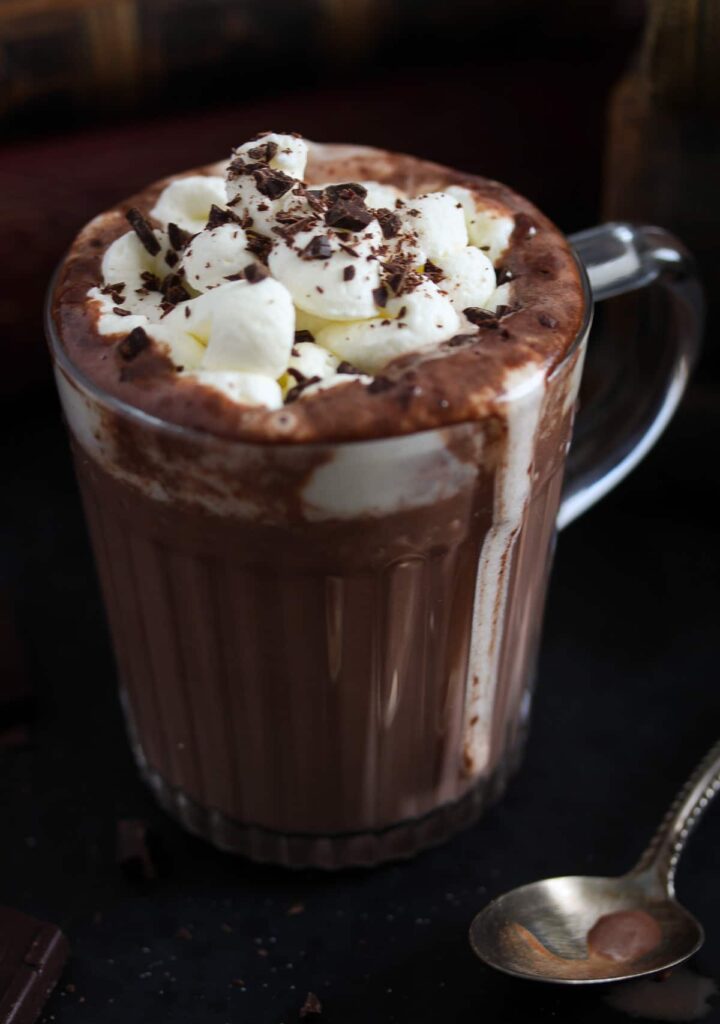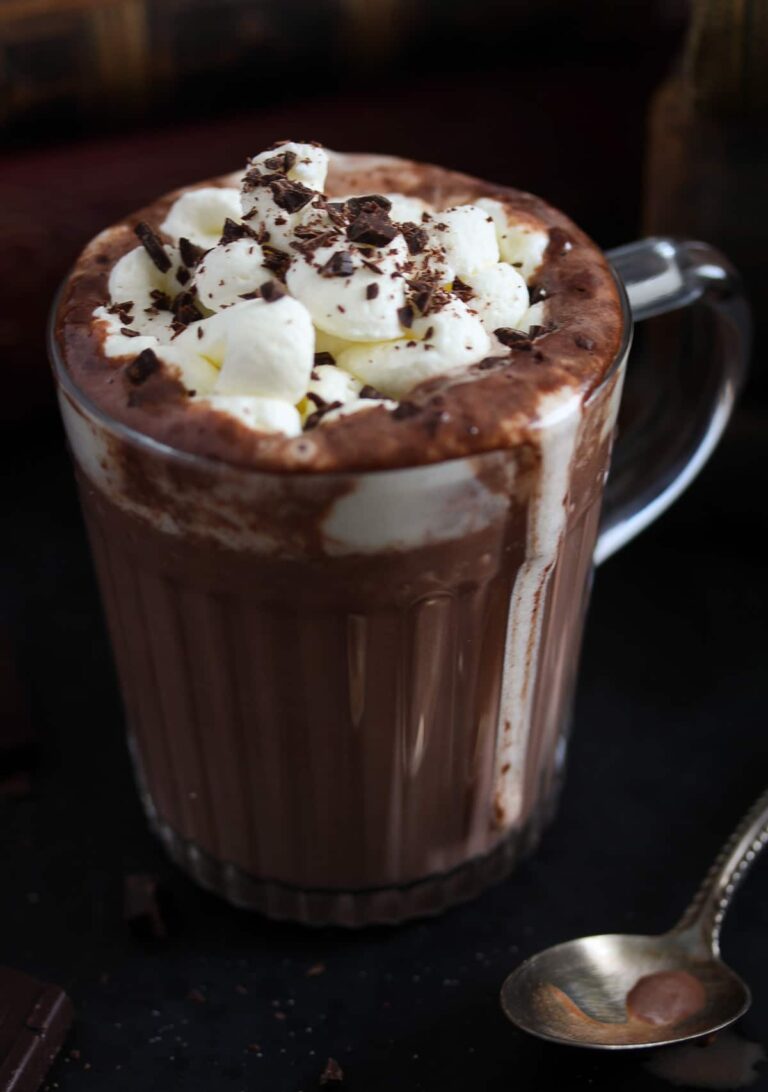 How about a cup of the most amazing hot drinks you could possibly have? A luxurious Baileys hot chocolate topped with whipped cream or marshmallows. This beverage will not only warm you up, but it will make you cheerful as well.
Ingredients
What is Baileys Irish Cream?
Baileys Irish Cream is a liqueur made with Irish whiskey, cream, and cocoa. It has an alcohol content of 17% by volume.
Although it is thought to be Irish and it is made with Irish whiskey and Irish cream, Baileys was actually invented in London in the 1970s. Nowadays, it is exported all over the world, but America is the largest international customer.
It might sound sexist nowadays, but originally Baileys was created for women, it was called a "girly drink".
It is still considered a women's drink in Germany as well, Baileys together with egg liqueur and other sweet and often red-colored alcoholic drinks are widely referred to as women's drinks around here.
Baileys is not only great for drinking as it is, but it makes great cocktails, it can be poured into coffee, you can make hot chocolate with it, you can make Baileys cakes or desserts.
Chocolate:
I use dark chocolate with cocoa content between 50% and 80%, the darker the chocolate the richer the taste.
However, if you think really dark chocolate to be too strong, you can use semi-sweet chocolate as well.
Cocoa powder:
Make sure to use pure unsweetened cocoa powder, you will need that chocolate taste, which you will not achieve by using drinking sweetened cocoa.
Dairy:
You will need milk and a small amount of heavy cream for making the beverage and another small amount of heavy cream (whipped) for topping the hot chocolate.
Toppings:
You can have the drink as it is without any toppings.
Or you can top it with whipped cream.
Alternatively, you can top the beverage with mini marshmallows. The marshmallows will partially disintegrate in the Baileys hot chocolate, making it sweeter than the whipped cream or pure version.
How to make hot chocolate with booze?
Finely chop the chocolate and place it in a saucepan.
Add the milk, cream, cocoa, icing sugar and Baileys.
The amount of sugar used is really to taste. Using 50% chocolate and 2 tablespoons icing sugar will result in rich, chocolaty, not very sweet hot chocolate.
If you prefer your drink to be sweeter, you can add more sugar either now or after you poured the chocolate into your cup.
Heat gently, while stirring, until the chocolate melts completely and the beverage is hot.
Pour into cups and top as desired.
Serve immediately.
Non-alcoholic version
You can make a non-alcoholic hot chocolate for kids as well.
All you have to do is to leave out the Baileys.
When making hot chocolate for kids, you might want to use semi-sweet or even milk chocolate, children generally don't like dark chocolate.
Children prefer marshmallows on top of their chocolate.
More St. Patrick's Day recipes?
Irish Potato Soup – A filling Irish potato soup, making soup can hardly get any easier or cheaper. This traditional recipe uses just a few ingredients.
Irish Potato and Cabbage Dish – Colcannon – a rich and comforting side dish.
Guinness Irish Stew with Beef – Tender beef and vegetables smothered in a finger-licking Guinness stout gravy.
Irish Stew with Lamb and Potatoes – Comforting and warming Irish stew recipe with lamb and potatoes, a cozy dish for a cold evening or to celebrate St. Patrick's Day.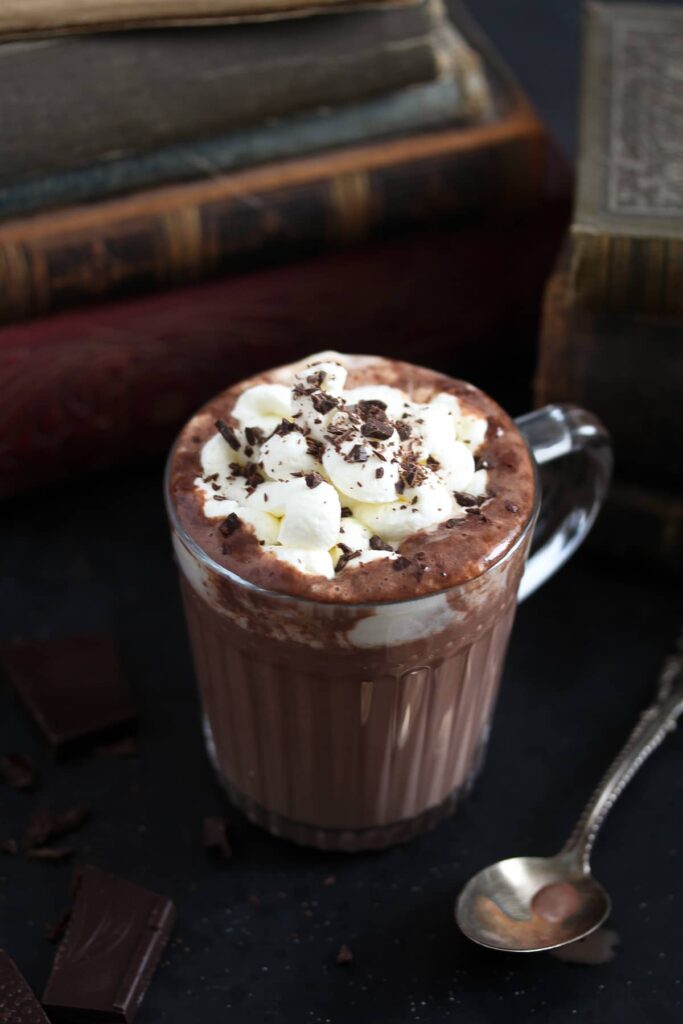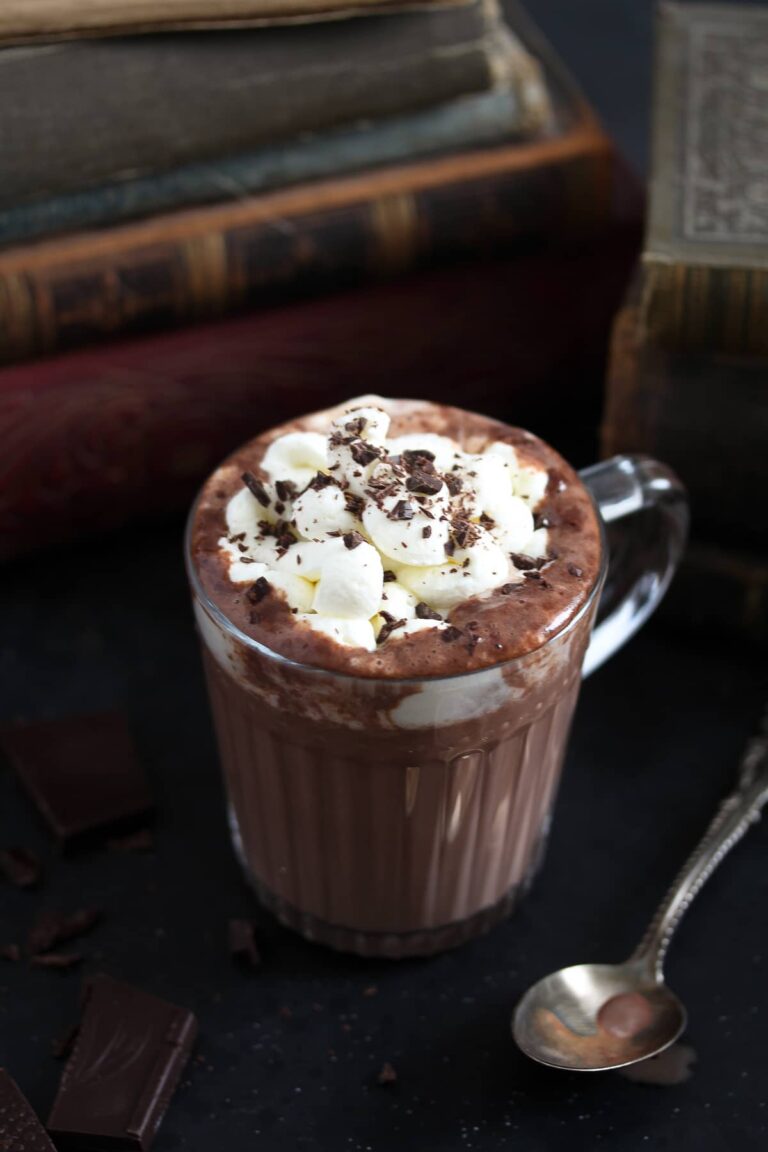 Pin it for later!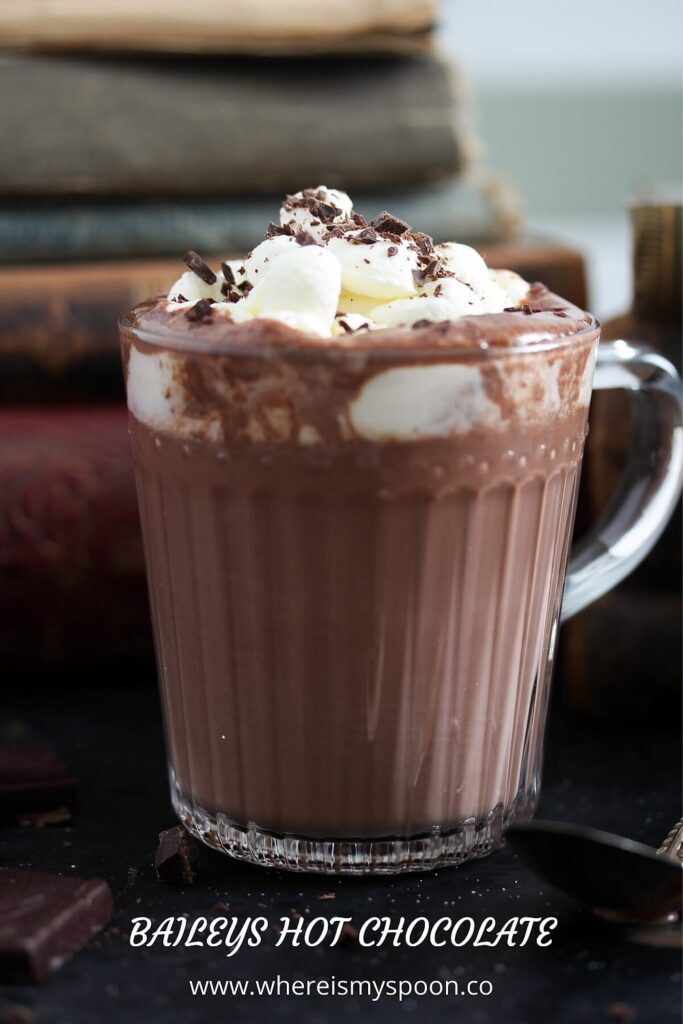 Baileys Hot Chocolate
Make a cup of Baileys hot chocolate to celebrate St. Patrick's Day. A rich alcoholic drink topped with cream or marshmallows.
Ingredients
Hot chocolate:
100 g/ 3.5 oz chocolate (50 % cocoa)
500 ml/ 2.1 fl.oz/ 2 cups milk
100 ml/ 3.4 fl.oz/ scant ½ cup heavy cream
2 tablespoons unsweetened cocoa powder
2 tablespoons icing sugar, more to taste
100 ml/ 3.4 fl.oz/ scant ½ cup Baileys, more to taste
Toppings:
100 ml/ 3.4 fl.oz/ scant ½ cup heavy cream
OR
handful mini marshmallows
Instructions
Chop the chocolate finely. Place in a saucepan.
Add the milk, heavy cream, unsweetened cocoa powder, icing sugar, and Baileys.
Slowly bring to a simmer, while stirring very often. Heat until the chocolate has melted. Pour into cups.
Add toppings. Beat the heavy cream until stiff, use to top the hot chocolate. Or top with mini marshmallows instead.
Serve immediately.
Notes
The nutrition is calculate for Baileys hot chocolate topped with whipped cream.
Nutrition Information:
Yield:

2
Serving Size:

1 cup
Amount Per Serving:
Calories:

972
Total Fat:

57g
Saturated Fat:

36g
Trans Fat:

1g
Unsaturated Fat:

17g
Cholesterol:

146mg
Sodium:

206mg
Carbohydrates:

75g
Fiber:

3g
Sugar:

55g
Protein:

17g
Nutrition information isn't always accurate.