A rich and easy recipe for rabbit stew with lots of vegetables and beer, cooked in a Dutch oven.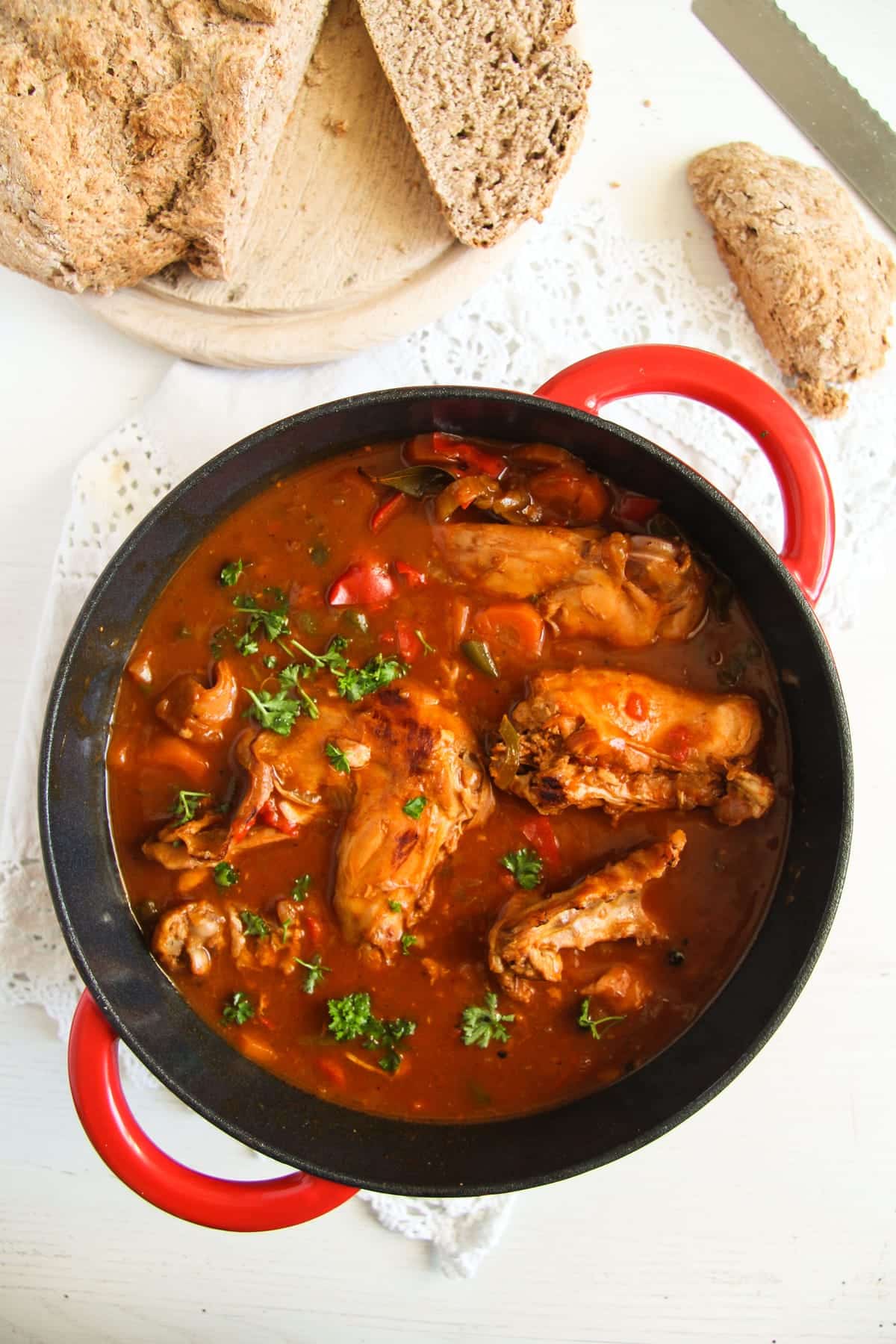 A hearty and super delicious rabbit stew, perfect for those who never had rabbit before!
Have you ever eaten rabbit? It is an eligible question, most people I know have never eaten rabbit in their lives and many of them don't even have an interest in trying it. Too bad! Because the rabbit tastes great and its consumption has many benefits.
Then why aren't we eating more of it? Like in the past when it used to be a regular and normal kind of meat to have on the menu?
Check out the Simple Roasted Rabbit and the Italian Rabbit Stew.
Table of contents
Recipe ingredients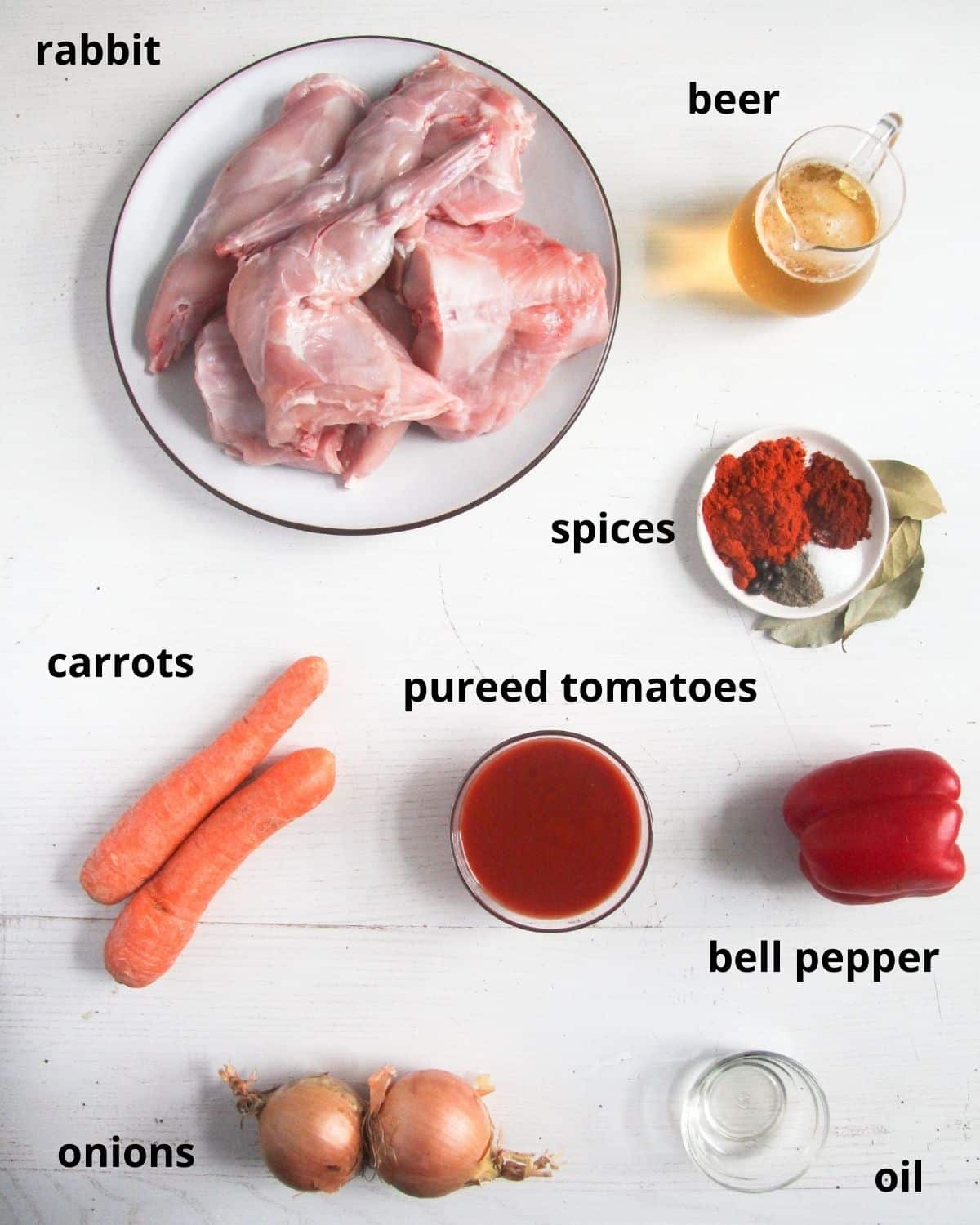 Rabbit
I buy a whole frozen rabbit for the stew, I have never seen fresh rabbits around here, but frozen is definitely good. It is not possible to get them all the time around here, so making this recipe requires a bit of preliminary planning. 
The rabbits I get here are very small, one weighs 1,2 kg/ 2.6 lbs. And they weigh even less after I cut them into pieces because I don't cook the backbone and the ribs in the stew, they don't have enough meat on them.
Vegetables
The vegetables needed are the typical vegetables you will find in most stews: lots of onions, peppers, tomatoes, and carrots.
Beer
The beer I use is regular German pils, I take whatever pils we happen to have in the house at the moment, usually a beer with a slightly bitterer taste, like Jever or Becks.
Cooking dish
The rabbit stew is slowly cooked in a round Dutch oven for at least 1 ½ hours until the meat is super tender and falls off the bones.
Expert tips
Make rabbit stock with the unused back and ribs of the animal. Because they don't have much meat on them I never add them to the stew, instead, I use them to make stock.
Add a few frozen chicken bones leftover from roast chicken to the pot, some soup vegetables like carrots, onions, and celeriac, some spices like black pepper, juniper, and allspice berries, bay leaves and cloves, and some salt.
Cover everything with water and let the pot simmer for several hours. The stock is perfect for soups, stews, risottos, and so on. See this post on making Chicken Stock and follow the recipe to make a rabbit and chicken stock.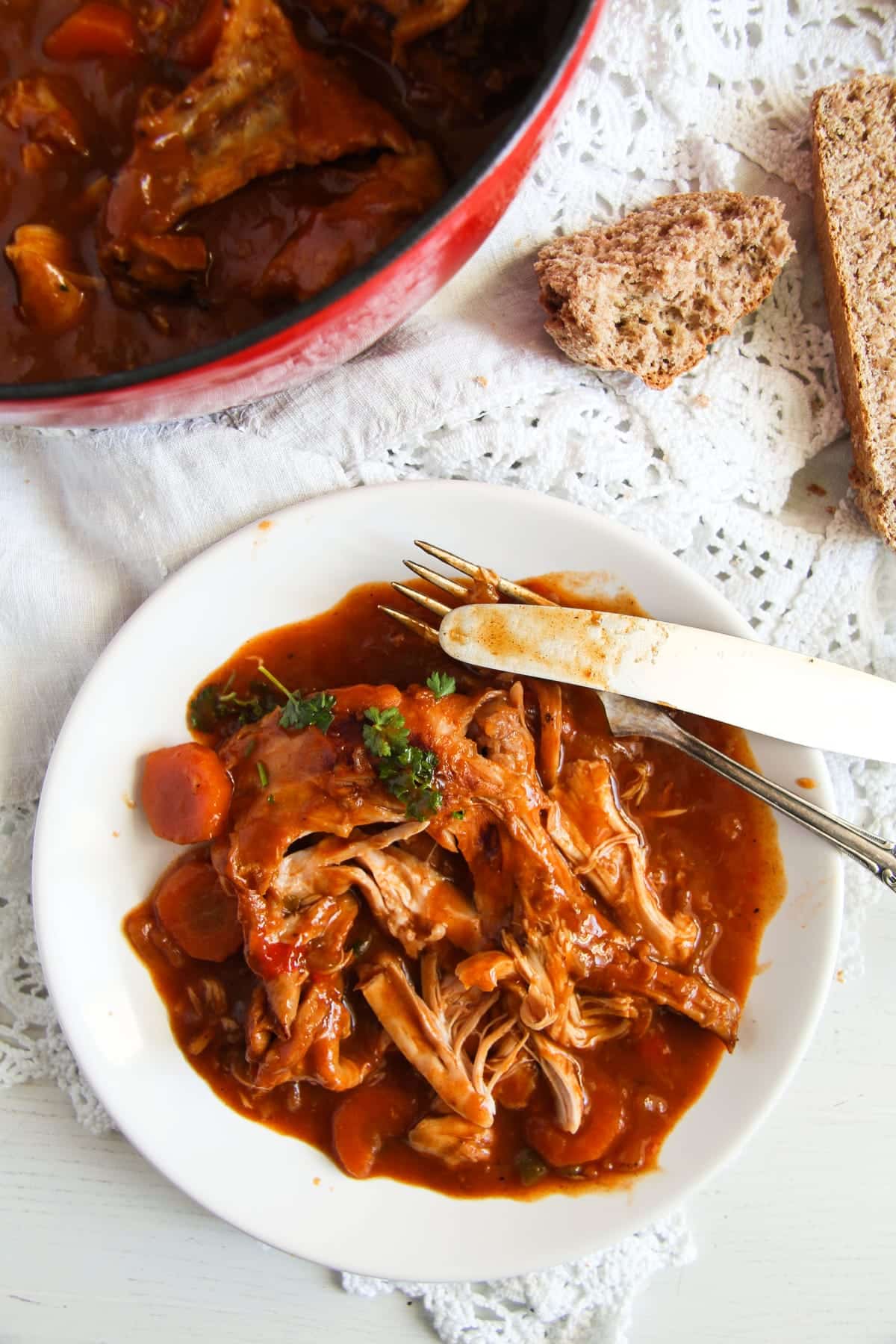 Recipe FAQ
How to store and reheat rabbit stew?
Refrigerate for up to four days.
Freeze in an airtight container for up to 3 months. Defrost in the fridge.
Reheat on the stove, stirring often until the rabbit stew is piping hot.
What does rabbit taste like?
Not gamey. A lot like chicken.
How to serve?
Serve this hearty rabbit stew with mashed potatoes or bread and pickled vegetables, for instance, these wonderful Green (Unripe) Tomato Pickles.
If you don't have or don't like pickles, any sort of roasted or boiled vegetables or a nice salad would do as well.
The dish can be reheated and it is suitable for freezing as well.
Health benefits of eating rabbit
Rabbit meat has a very high protein content, more than beef or poultry, 100 g/ 3.5 oz contains 33 g of protein.
It is very low in fat, the leanest meat available actually. 100 g/ 3.5 oz contains 3.5% fat.
Rabbit is very low in calories, making it a good choice for people trying to lose weight, only 173 calories per 100 g/ 3.5 oz.
It is a very concentrated source of iron, there are 2.3 milligrams of iron in 100 g/ 3.5 g of meat, which is absorbed by the body very well.
It has a very low cholesterol level, making it a good choice for people fighting cholesterol.
The meat is rich in minerals, mostly phosphorus, and potassium.
It contains less sodium than other meats.
Environmental Benefits
Rabbit is cheaper and more environmentally friendly to produce than other types of meat, most of all beef. For instance, rabbits produce about 2.5 kg/ 6 lbs of meat on the same amount of food and water as a cow will need to produce 1 kg/ 2.2 lbs of meat.
Also, antibiotics are not as widely used when raising rabbits and there are no hormones administrated.
So, all this is good news. Rabbit is healthy, good for the planet and it actually tastes great. It has a white kind of meat, similar in taste to chicken, yet slightly different.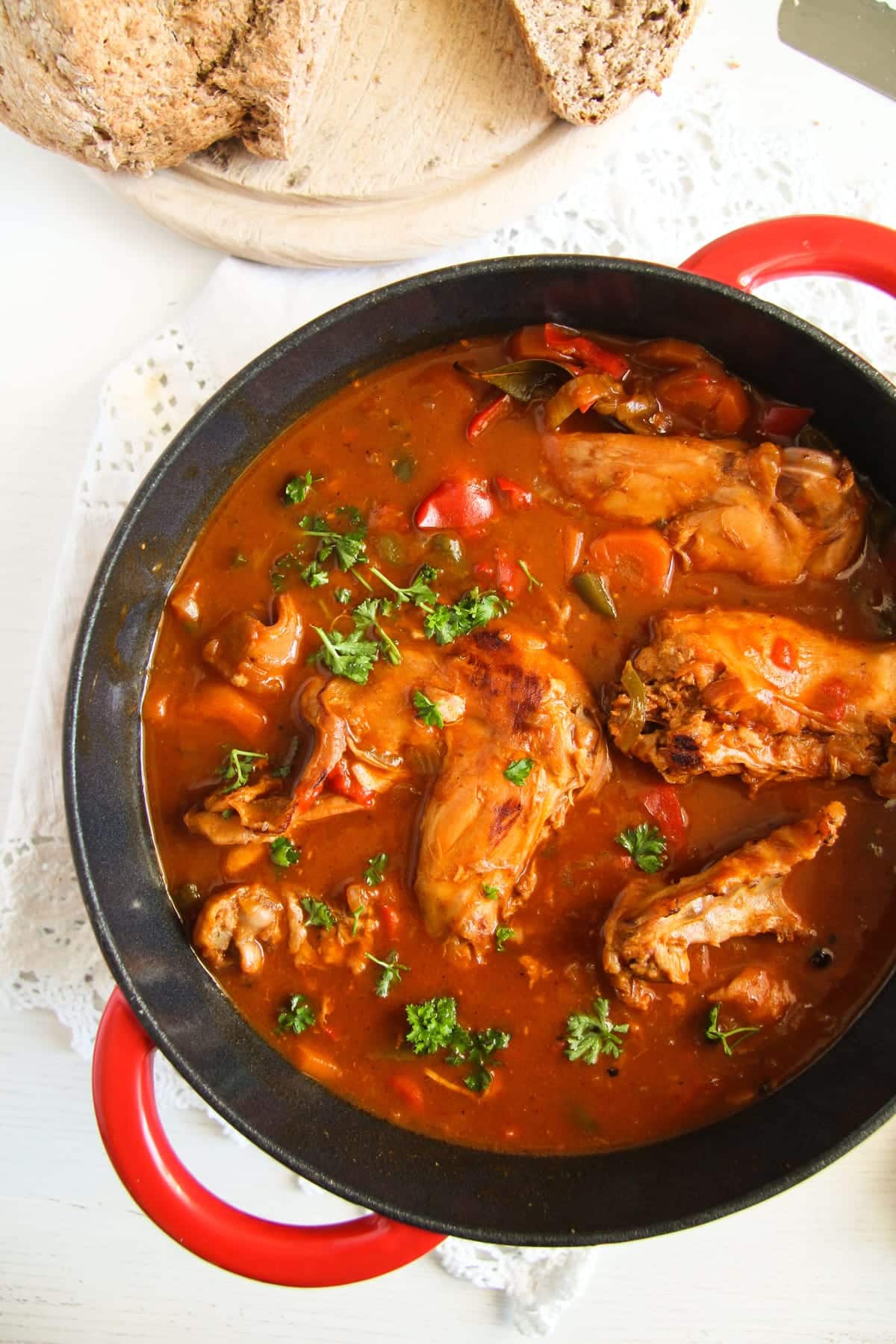 More hearty stews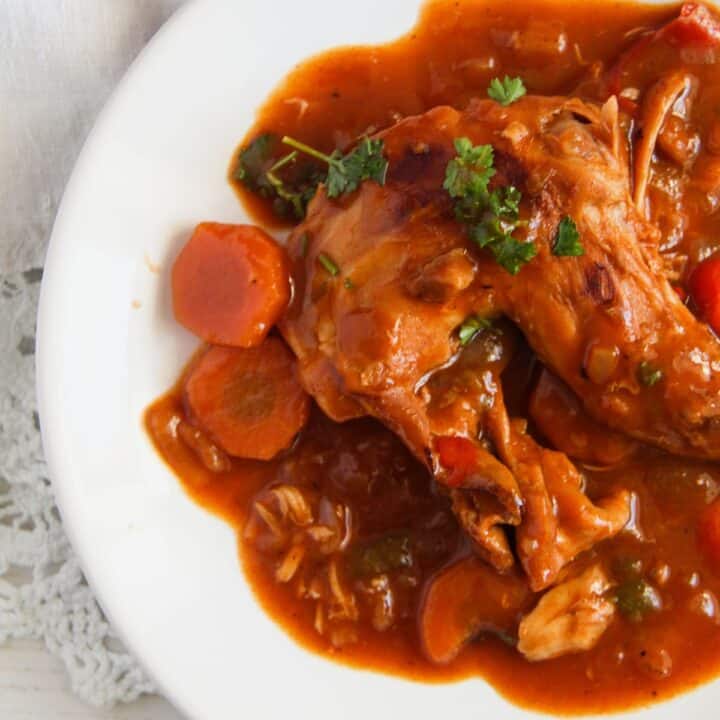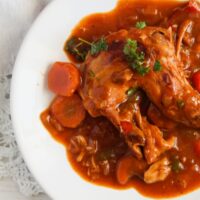 Rabbit Stew with Vegetables
A rich and delicious recipe for rabbit stewed in beer with lots of vegetables.
Print
Pin
Share
Grow
Saved!
Rate
Ingredients
1

rabbit

(Note 1)

2

tablespoons

vegetable oil

2

large onions

1 – 1 ⅓

cup

water

250-300 ml

2

medium carrots

1

large red bell pepper

1 ¼

cup

beer (pils)

150 ml, about ½ bottle + more, if needed

½

cup

pureed tomatoes

125 g

3-4

bay leaves

fine sea salt and pepper
Instructions
Cut the rabbit into 5 or 6 smaller pieces. I didn't use the backbone and the ribs for the stew, I made rabbit and chicken stock with them. See the blog post for more details on that.

Sear meat: Heat 1 tablespoon of the oil in a Dutch oven or another heavy bottom pot and fry the rabbit pieces on both sides until golden. Remove from the pan.

Cook onions: Halve the onions and slice the halves thinly. Pour the remaining oil in the pot, fry the onions on medium-low heat, stirring often, for about 20 minutes. Add some of the water from time to time to prevent them from burning or drying out.

Cook vegetables: In the meantime, slice the carrots and the red bell pepper. Add the vegetables to the onions and continue cooking, stirring a few times in between, for about 3-4 minutes. Add the sweet and the smoked paprika powder (sweet or hot according to taste) and stir well for about 1 minute.

Place the rabbit pieces back in the pot, add the beer, pureed tomatoes, and enough water to barely cover the rabbit, the meat pieces should not be completely underwater. Add the bay leaves, the juniper berries, some salt, and pepper.

Simmer stew: Cover the pot, bring to a boil and simmer gently for about 1 ½ hour or until the meat is really tender, it should basically fall off the bone. Don't forget to stir from time to time and add a little more beer if the liquid reduces too much.

Adjust the taste with salt and pepper and serve with mashed potatoes and pickles. Or with boiled potatoes and roasted or boiled vegetables or salad.
Notes
Rabbits are generally small; one weighs about 1,2 kg/ 2.6 lbs.
The back and the ribs don't have much meat, I usually remove them and use them to make stock.
See Simple Roasted Rabbit for instructions on how to cut a rabbit into pieces.
Nutrition
Serving:
1
g
|
Calories:
249
kcal
|
Carbohydrates:
32
g
|
Protein:
10
g
|
Fat:
10
g
|
Saturated Fat:
1
g
|
Polyunsaturated Fat:
8
g
|
Cholesterol:
18
mg
|
Sodium:
558
mg
|
Fiber:
10
g
|
Sugar:
16
g