Last Updated on
A very aromatic stew with tender pork pieces and spinach – Mancare de spanac cu carne.
This Spinach and Pork Stew in Tomato Sauce is one of my favorite ways with spinach. A rich tasting yet pretty light stew with lots of spinach and tender meat pieces, all stewed in a flavorful tomato sauce, this is Romanian traditional food at its best.
I've mentioned it a few times before that Romanian people love their stews dearly, and that we pretty much stew anything that can be eaten. There is no vegetable or meat that we do not stew, from asparagus to zucchini. And sometimes we stew fruits as well, in savory dishes of course, with or without meat, for example apples like in this delicious Beef Apple Goulash or prunes, plums, apricots, quinces, pears and so on.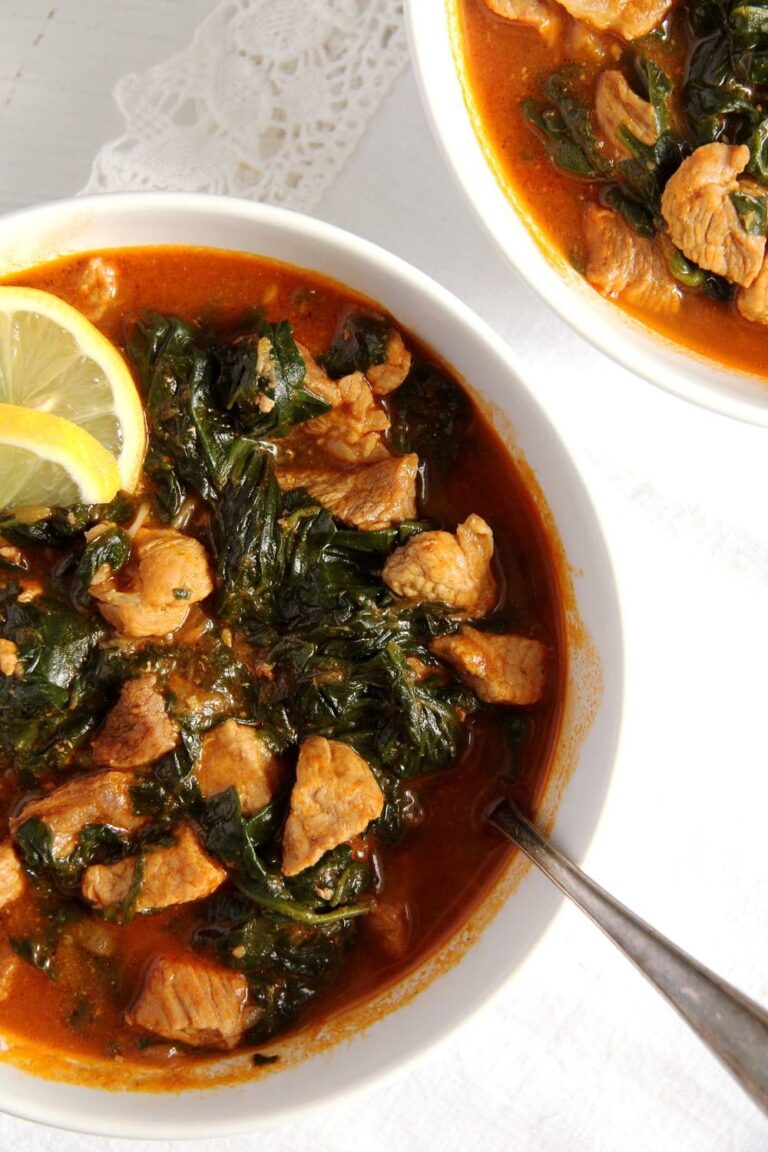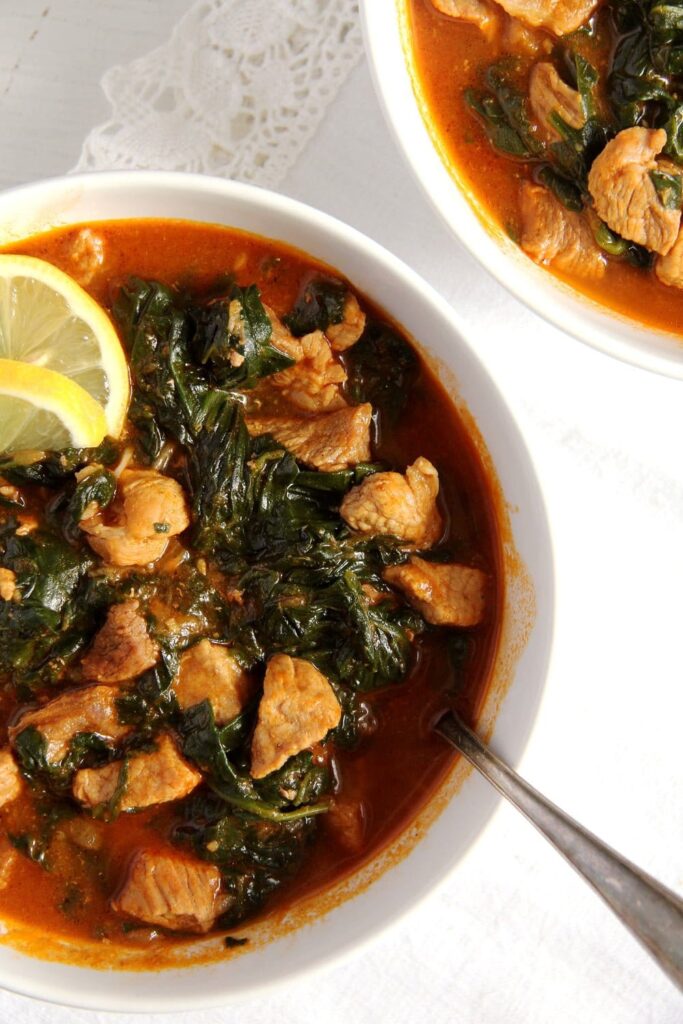 Most often the vegetables, fruits or meat would be stewed in an aromatic tomato sauce, made either with fresh ripe tomatoes in summer or with a typical Romanian tomato sauce made in late summer, called bulion de rosii. I don't have this bulion in Germany and for me it makes absolutely no sense to make it, the tomatoes we buy here cannot even remotely compare with the tomatoes I know from my childhood. Maybe only the cherry or mini-tomatoes, but they are usually too expensive to use them for making tomato bulion. So instead of that I normally take either passata or pureed tomatoes from a pack, which I thin with a little bit of water and spice generously with salt, pepper and sometimes a sprinkle of celery salt.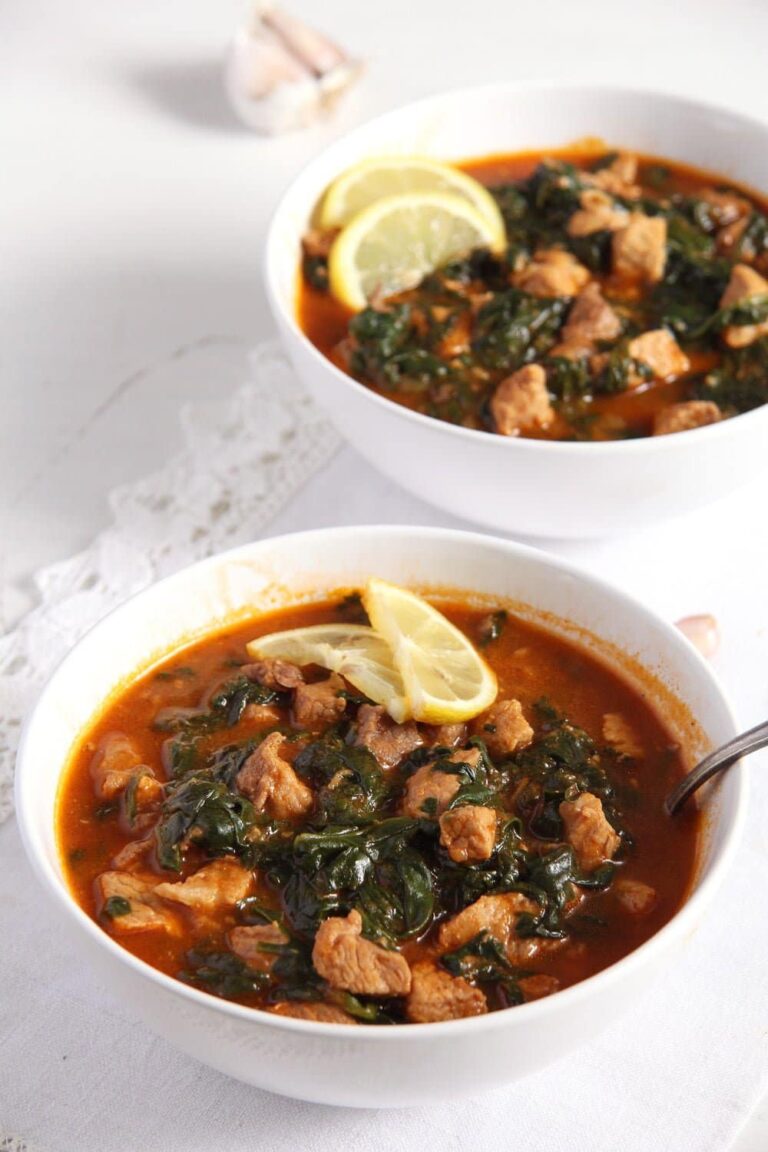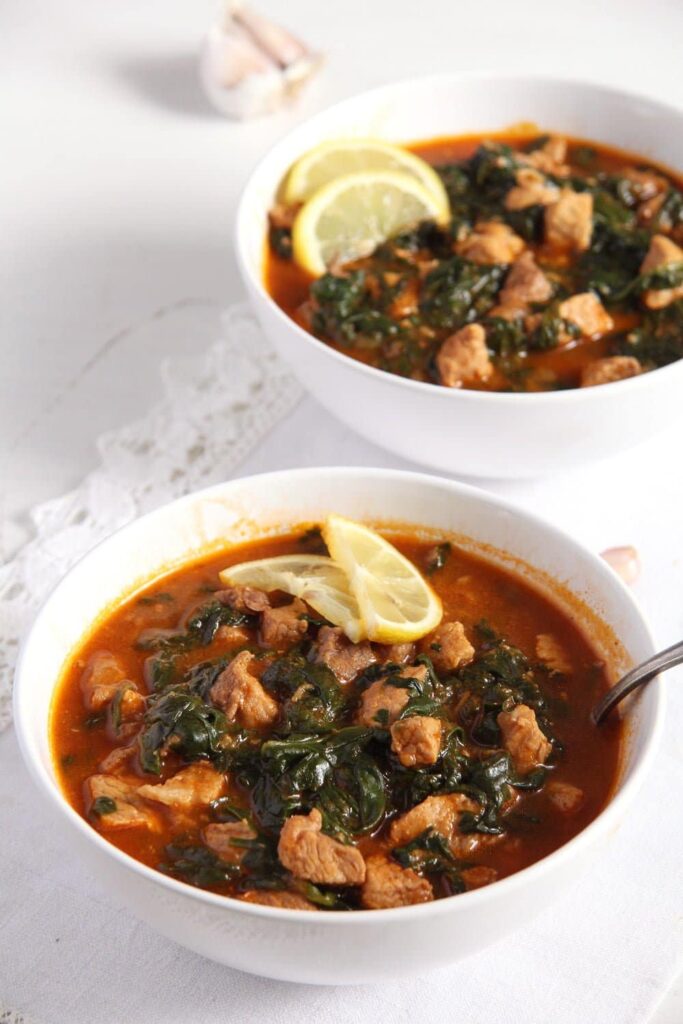 This Spinach and Pork Stew is a very easy to make recipe, but so delicious and satisfying you will keep making it again and again. My grandmother used to make lots of spinach in tomato sauce with lots of garlic as well, but mostly vegetarian. It was an easy spring dish that we would eat often with just a slice of white bread on the side. Sometimes she would make it with meat as well, often pork but sometimes with chicken as well. She would always take chicken thighs or drumsticks, but when I do make it myself I tend to use chicken breast pieces. So in case you decide to make this dish with chicken, be aware that the cooking time will differ. The pork pieces will need about 30-40 minutes to soften before you add the spinach, while the chicken thighs or drumsticks will only need about half that time. Chicken breast pieces will take an even shorter time to cook, I only brown them slightly before adding the rest of the ingredients.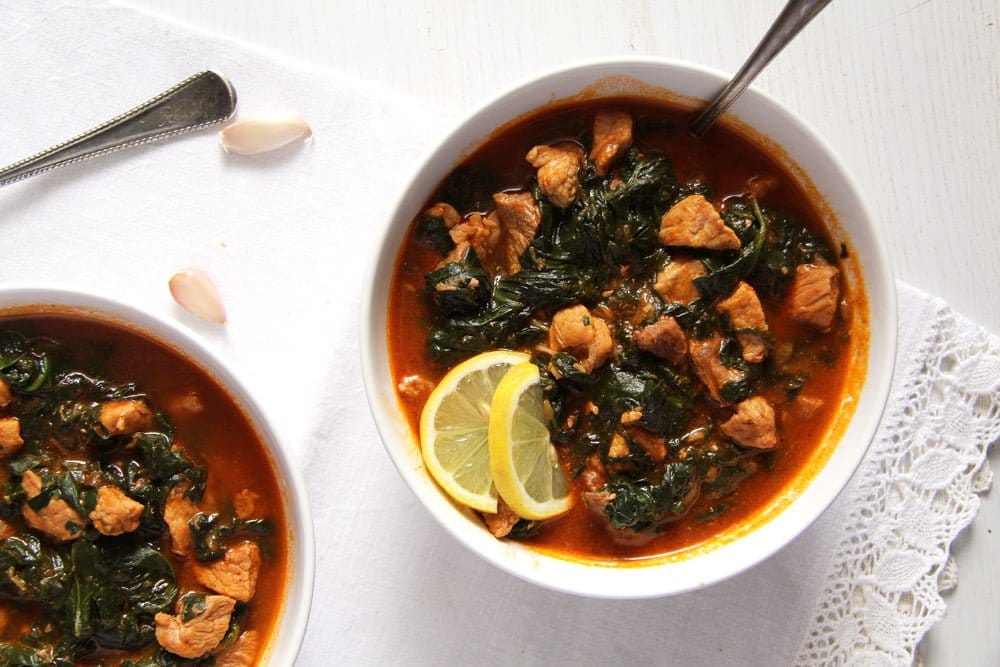 Oh, and in case you decide to make it with chicken thighs or drumsticks, please remove the skin. If there is one thing I absolutely dislike when coming to chicken is the soft, floppy consistency of stewed chicken skin. I do like it crispy and spicy from the oven, but definitely not when it's stewed.
And because I felt sorry of throwing away so much of the spinach, I mean the stems, I searched for a way of using them and found this very easy and delicious idea: Pasta with Spinach Stems. I added some finely chopped tomatoes, garlic and some cream cheese and I definitely got a winner recipe, everybody just loved it.
Otherwise, I wish you a very nice weekend, hopefully spring is already there in your part of the world.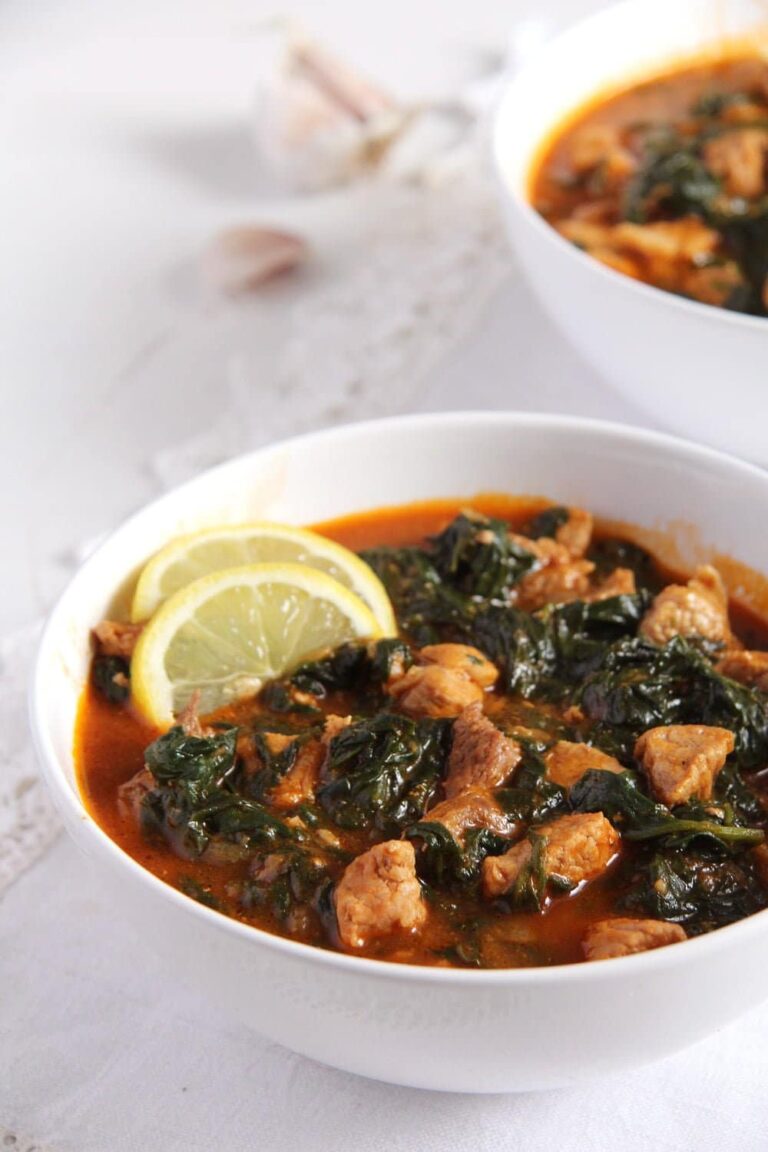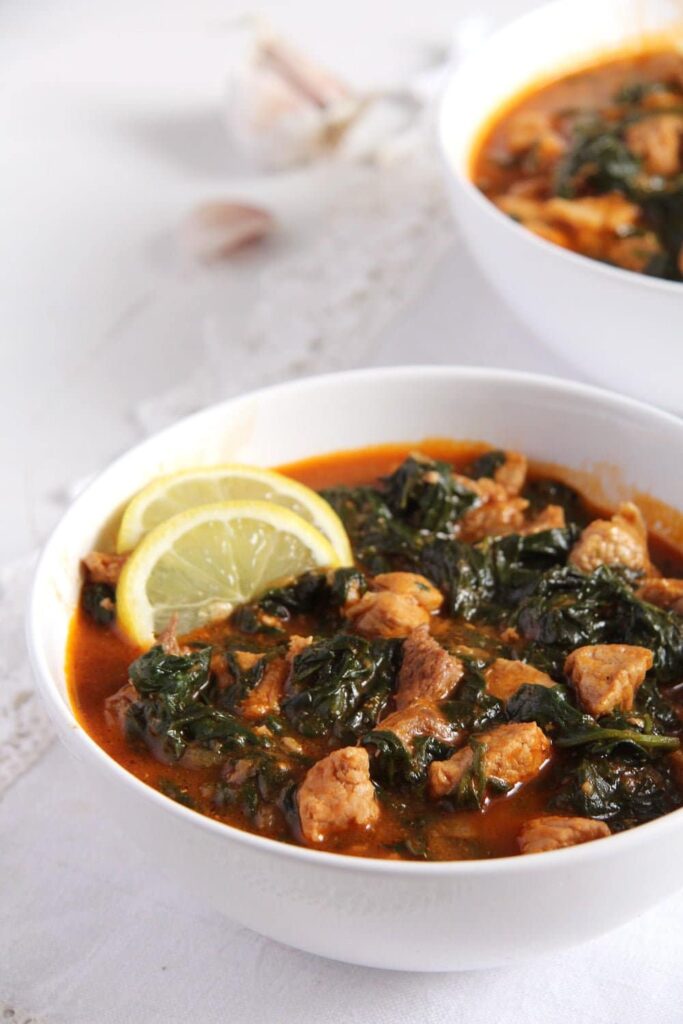 Ingredients
750 g/ 26.5 oz/ 1.6 lbs lean pork meat

2 tablespoons vegetable oil

1 onion, medium to large

1 kg/ 35.2 oz/ 2.2 lbs spinach, weighed after removing the stems

250 ml/ 8.5 fl.oz/ about 1 cup tomato puree

50 ml/ 1.7 fl.oz/ scant ¼ cup vegetable broth

3 large garlic cloves

2 teaspoons fresh lemon juice or more to taste

salt and pepper
Instructions
Chop the meat into pretty small cubes. Chop the onion finely.
Heat the oil in a large, deep pot and cook the onion for about 1 minutes. Add the meat cubes, stir well, cover, turn down the heat and cook for about 10 minutes.
Add half of the tomato puree, the vegetable broth and about ¼ teaspoon salt to the meat. Cover again and continue stewing on low heat for about 30-40 minutes or until the meat is very tender. Stir from time to time and add very little extra water you think it might get too dry.
In the meantime remove the stalks of the spinach and chop the spinach leaves very roughly, large leaves will only be sliced two or three times, otherwise leave the spinach leaves whole. Wash the spinach.
Add the wet spinach to the pot. Leave it for a couple of minutes until wilted, add the remaining tomato puree, then stir well and cover again. Continue cooking for about 10-15 minutes or until the spinach is cooked but not mushy. Chop the garlic finely and add it to the pot during the last five minutes of the cooking time.
Adjust the taste with the lemon juice and salt and pepper.
Serve with bread or potatoes or rice.
This post contains affiliate links. The price you pay as a consumer does not change, but if you make a purchase we will receive a commission which helps support the blog.
You might also like: