Tender pork pieces in an aromatic onion and paprika sauce, served with Hungarian flour dumplings – nokedli.
Another delicious Hungarian recipe that can be enjoyed with the Hungarian Flour Dumplings – Nokedli, one of our favorite side dishes for stews. Pörkölt is another typical, authentic Hungarian dish, which is also very common in Romania, especially in Transylvania. Another dish I have been eating all my life, although my grandmother never actually called it pörkölt, she would call it "tocana de porc" – pork stew or even goulash.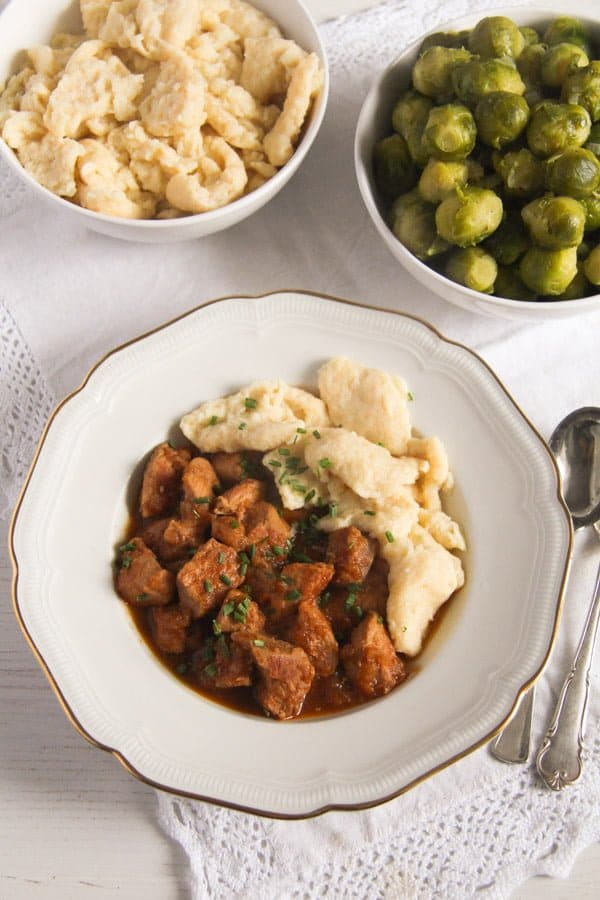 However, I have learned that both "tocana" or "tokany" in Hungarian and goulash would be the wrong names for this particular stew. According to Wikipedia there are differences between the three dishes: Pörkölt is made of meat (beef, pork, lamb), onions and paprika and does not have a lot of sauce. Goulash on the other side has more sauce, it is almost like a thick soup and also contains peppers and other vegetables.
Tokany is originating in Transylvania – Romania and doesn't contain so much paprika (well, my grandma's tocana always did have lots of paprika in it…) and it is made with different kinds of meat and normally lots of vegetables. And when it comes to tocana, I really am an expert, I have made tocana with all kinds of meat (including rabbit) and with all possible vegetables. Have a look at some of these recipes, they could all be some kind of Romanian tocana: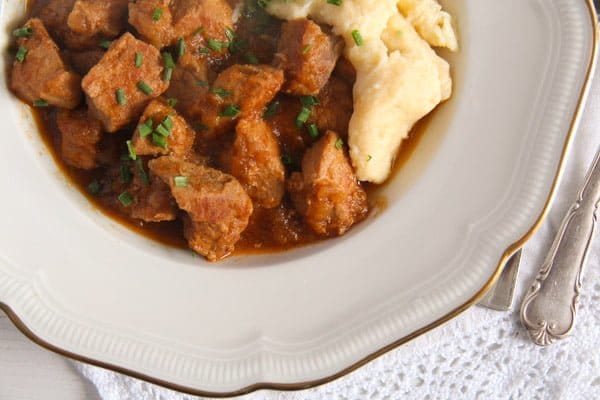 How to make Hungarian Pork and Paprika Stew – Pörkölt:
Well, it is actually a very easy, straightforward recipe using only a few, good quality ingredients: meat, onions, paprika and lard.
When using lard, just make sure you buy the pure lard Massa Natural Meats – Pasture-Raised, Heritage Pork Lard
and not some hydrogenated stuff, which is not good for you. Pure lard, it is easily available here in Germany, but I am not sure how easily you will find it elsewhere. If you don't find the good stuff (have a look at the ingredient list), you could make your own or use oil instead.
A good quality sweet paprika powder Hungarian Sweet Paprika 50gr/1.76oz
is very important as well, make sure you buy the best you can afford, really cheap one just won't do, I have made that experience myself.
Do not add too much water from the beginning, start with the indicated quantity and only add more if the stew becomes too dry threatening to start catching at the bottom of the pot.
The dish will need over an hour to be ready, check not only that the pork is tender (it should be really tender) but also check the onions, they should be – like my grandmother would have said it – melted, dissolved, you should not be able to recognize them as onions anymore.
My favorite side dish for the Hungarian Pork and Paprika Stew are the nokedli – flour dumplings, but I have also had this with mashed or boiled potatoes, German Spätzle or regular pasta.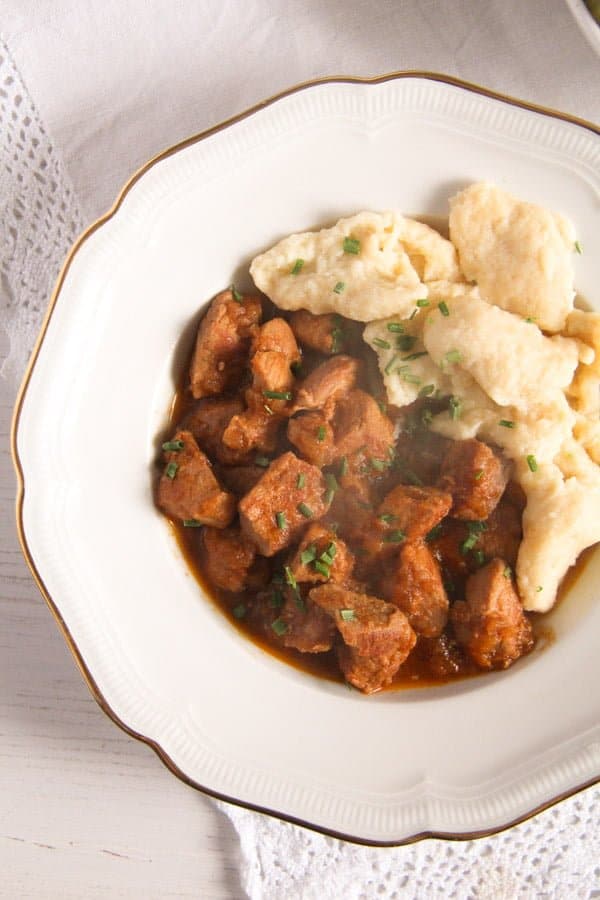 This post contains affiliate links. The price you pay as a consumer does not change, but if you make a purchase we will receive a commission which helps support the blog.