Crispy Hungarian fried bread – Langos – topped with garlic sour cream and grated cheese or simply sprinkled with sugar.
I have been eating langos or scovergi (Romanian name) lots of time throughout my childhood, but I never knew until I moved to Germany, that langos are actually a Hungarian meal and not Romanian. That has been the case with many of the dishes that my grandmother cooked all her life, things like Goulash or Pörkölt, which my grandma would call tocanita de porc, Paprikash with flour dumplings which we ate at least once a month or Plum Dumplings – Galuste cu prune.
Actually, with one exception, all the recipes I will post during the next two weeks are Hungarian recipes that are so consolidated in the Romanian cooking that probably many Romanians think them to be original Romanian recipes.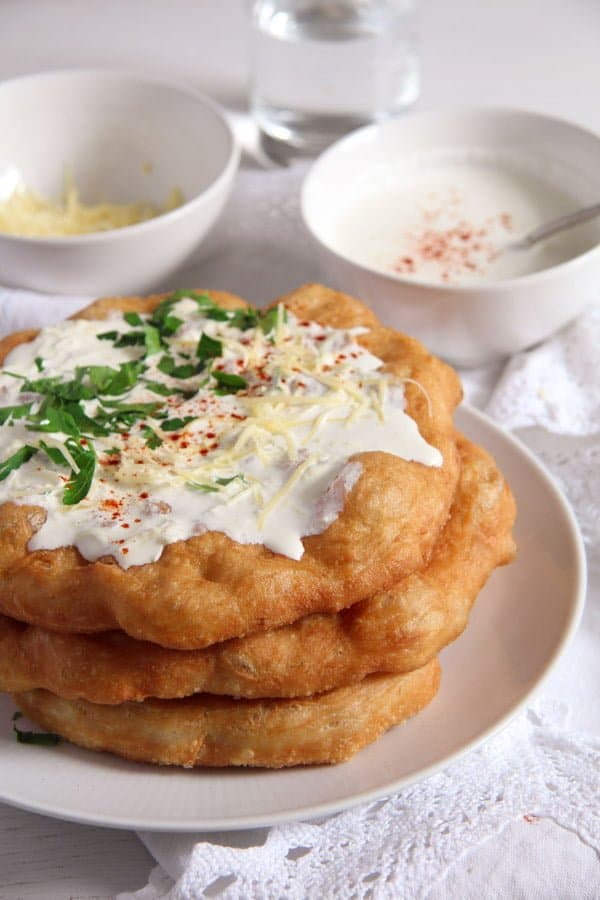 And why Hungarian recipes all of a sudden? Well, I have started with the Gypsy recipes last month, the Gypsies being the largest ethnic minority group in Romania. On the second place are the Hungarians, they make 6,5 % of the total population of Romania, that is more than 1.200.000 people. Most of them live in Transylvania and the North-West of the country at the border with Hungary.
Their influence on the regional cooking is indeed significant and funny thing, although my grandmother spent most of her life in Sibiu, the city with the largest German minority in Romania, she cooked lots and lots of Hungarian dishes, but I cannot think of one dish she cooked that I could identify as German. Well, except Schnitzel, but Schnitzel is something very traditional in probably every European country.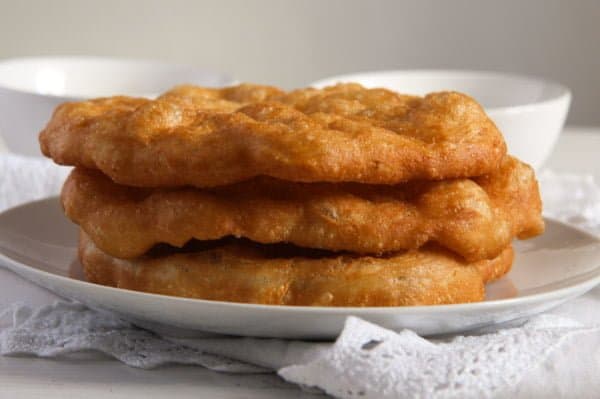 And coming back to the Hungarian Fried Bread – Langos, like I have mentioned above it is something my grandmother cooked very frequently when I was a child. I even remember one particular Sunday when I asked her if she would make crepes with sugar, one of the very few desserts she would ever make. She told me she cannot make any because she doesn't have any eggs in the house, but when she saw how disappointed I was, she said she would make scovergi – langos instead, she would not need any eggs to make them and she did happen to have some fresh yeast in the fridge.
We almost always ate langos sprinkled with sugar and maybe sometimes with a bit of jam instead of the sugar. Of course, the best way to eat them is fresh, still warm, but I remember I used to enjoy nibbling on the very dry sugar langos the next day as well. The sugar would have dissolved and cover the center of the bread in a sweet wettish film and the edges would be rock-hard. I loved it!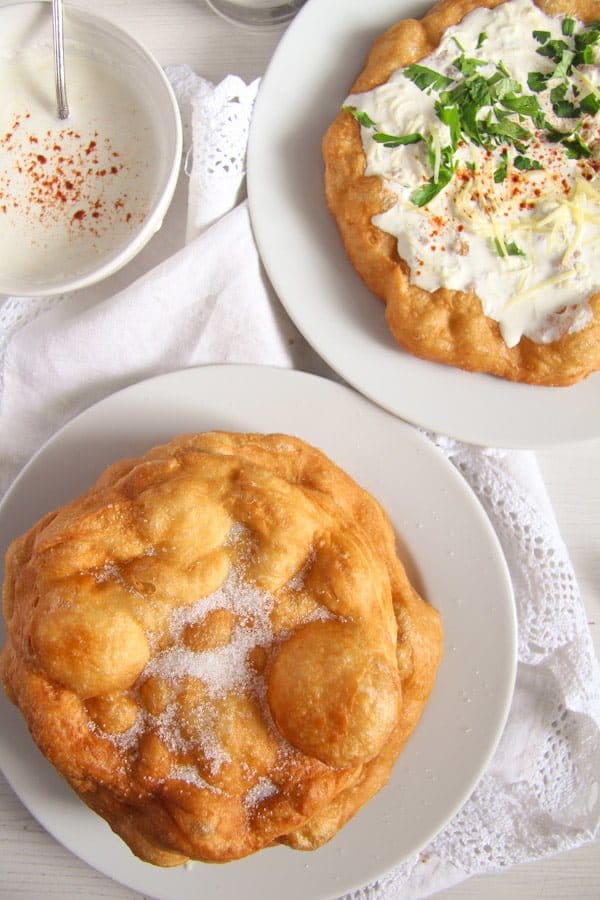 The first time I had the sour cream garlic topping was in Germany. Langos is not something a typical German person would cook at home, but you can buy langos at pretty much any fair you attend around here. As I am such a garlic junkie I had to try that version and I loved it instantly.
I don't make langos often at home, not as often as my grandmother used to anyway, I am normally not that much into fried goods (the calories, the smell in the house, the oil all over the stove…) but I really had to post this recipe, it is such a well-known dish in the Romanian kitchen, I could not leave it out. Not to mention how happy I can make my husband and kids with such a treat from time to time!
How to serve langos:
My favorite way of eating them is with garlic sour crème/smetana topping. You could also replace the smetana or sour cream with crème fraiche or take yogurt, either Greek or plain, for a lighter version. My children love the langos sprinkled with sugar or smeared with jam.
At the fair you have lots of other alternatives for the topping. These are some I remember:
sour cream + cheese + ham
sour cream + Alp cheese + green onions
sour cream + bacon + cheese
sour cream + feta + herbs
nutella
cinnamon sugar
jam
And if you are interested in similar flatbreads, have a look at these recipes: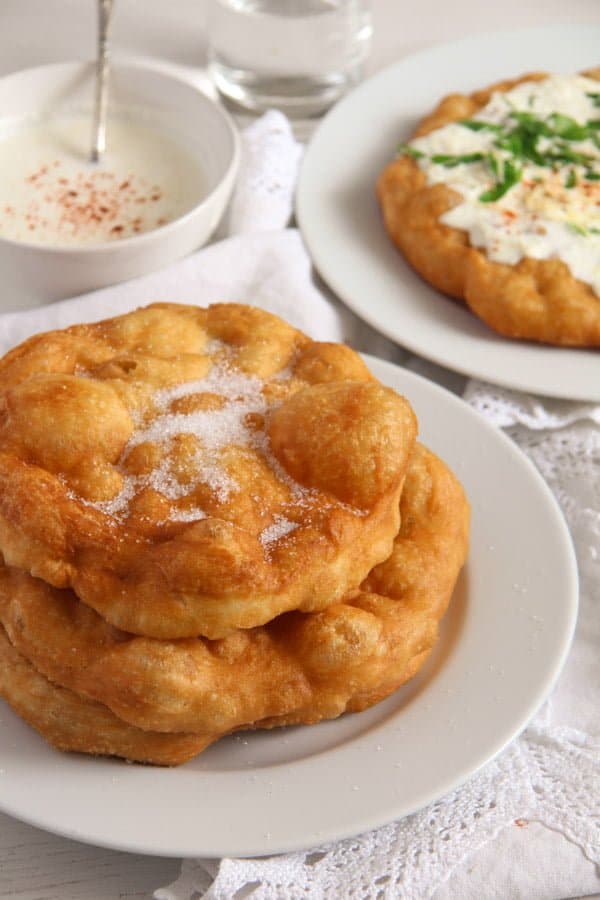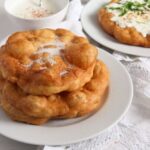 Ingredients
25 g/ 0.9 oz fresh yeast or 1 sachet (7 g/ 0.25 oz) dry instant yeast

300 ml/ 10.1 fl.oz/ 1 ¼ cups lukewarm water

500 g/ 17.6 oz/ 4 cups all-purpose flour

1 teaspoon sugar

1 teaspoon salt

2 tablespoons oil

vegetable oil for frying

For the topping:

3-4 garlic cloves, to taste

1 teaspoon mustard

1 tablespoon oil

75 g/ 2.6 oz/ ¾ cup grated cheese (Gouda), more if you wish

250 g/ 8.8 oz/ about 1 cup sour cream or smetana

sweet paprika powder or chili flakes

salt

chopped parsley

For a sweet topping:

sugar, jam or nutella
Instructions
Dissolve the fresh yeast in the lukewarm water. If you are using dry instant yeast mix it with the flour.
Mix the flour, salt and sugar in a large bowl. Give the yeast water to the flour, add the oil and mix well with a wooden spoon. When the dough is well mixed, start kneading it until the dough is smooth and no longer sticks to the bowl.
I do the kneading in the kitchen machine – Thermomix. I give the flour, salt and sugar to the machine, add the yeast water and let the machine do the kneading for about 2-3 minutes, until the dough is smooth and doesn't stick to the walls of the machine anymore.
Give the dough to a bowl, cover with a clean towel and let rise in a warm place until doubled in size. It took me about 40 minutes, but my kitchen was pretty warm. Just check and leave it a bit longer if necessary.
Place the risen dough on the very lightly oiled working surface. Knead shortly and divide the dough into 8 equal parts. Form 8 balls.
Take one ball and with lightly oiled hands start pressing and stretching it on the working surface to form a circle of about 15 cm/ 6 inches. You will not need a roll pin, press the dough with your hands and fingers.
Heat enough oil in a wok or deep frying pan so that the langos can swim. I fried only one langos at a time, they are so large you will not be able to fit two in a regular sized pan or wok.
Make sure the oil is hot enough before you start frying your first langos. To check that carefully insert a tooth pick in the oil, if you see little bubbles forming around it, then you will know that the oil is hot enough.
Carefully give one langos to the oil. Fry it for about 2-3 minutes on each side or until deeply golden. Take it out with a slotted spoon and place it on paper towels to absorb the fat. I also pat it dry on the other side with an extra paper towel.
While the langos are frying prepare the topping:
Grate the garlic cloves and gave them to a small bowl. Add the mustard and the oil and stir well until the mixture emulsifies slightly. Add the sour cream or smetana and stir well. Add about half of the grated cheese and stir again. Adjust the taste with salt.
Serve the langos immediately topped with the sour cream, the remaining grated cheese, a sprinkle of paprika or chili and some chopped parsley.
If you prefer to eat them sweet you can sprinkle them with sugar or spread some jam or nutella on top of the langos.
This post contains affiliate links. The price you pay as a consumer does not change, but if you make a purchase we will receive a commission which helps support the blog.