Last Updated on 02/04/2020 by Adina
Sweet Cheese Pie, Branzoaice or Poale-n brau: this is a Moldavian sweet cheese pie recipe made with cottage cheese and raisins, so good you will not be able to stop at only one piece.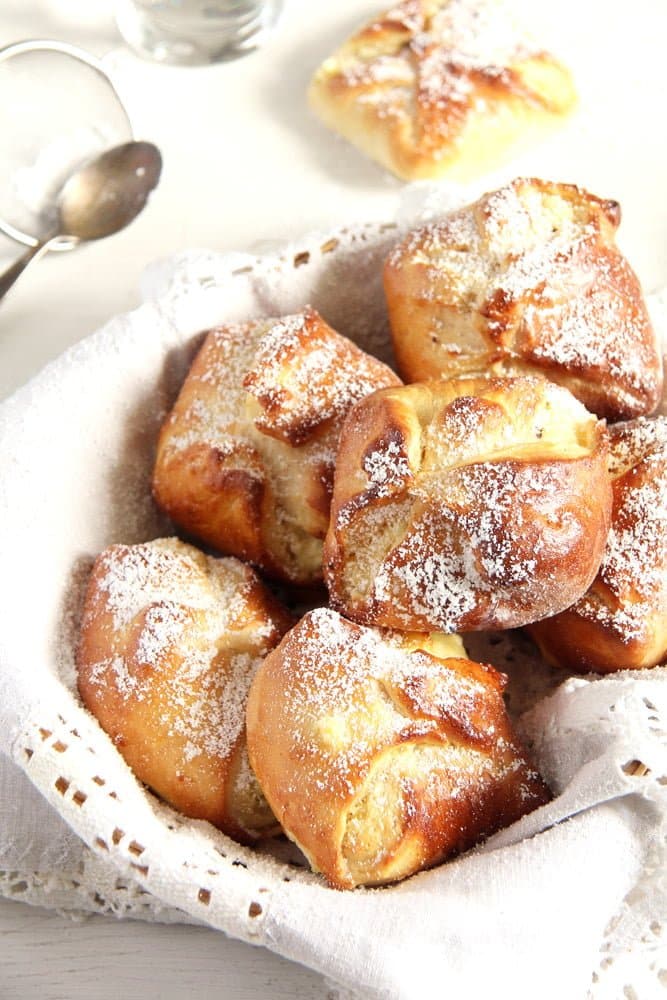 Like the Moldavian Yeast Pastries – Mucenici and the Romanian Cheese Pie, these Romanian Sweet Cheese Pies are another staple in the Moldavian or Moldovan cuisine. They are utterly anchored in the Moldavian food tradition, but so good that just about anybody in Romania has heard of them and tasted them at one point or another.
The names of these cheese pies are rather strange: Branzoaice, roughly translated Cheesies or Poale-n brau, roughly translated – Laps in the girdle. While it is obvious why these pies should be called Cheesies, they are filled with cheese after all, I really could not understand why Poale- brau, I am not even sure if translating that with laps in the girdle makes any sense whatsoever in English, girdle is a word I haven't even heard before …
However, I got curious and googled this strange Romanian name for a recipe. And I found out that it originates in a habit that peasant women in Moldova had of stuffing the corners of their aprons in the girdle to make sure that it wouldn't get in the way or get dirty while they washed or worked in the house. I suppose this kind of folding and stuffing the apron was somewhat similar to the way of folding the Romanian cheese pies after stuffing them with cheese. So now you know and I do too. 🙂
I have also found out that originally, in the Moldavian villages, these pies used to be made with branza de burduf, a typical Romanian cheese which is rather salty and has a very strong taste. The women would sweeten this kind of cheese with sugar and raisins. Modern versions of these pies are made with the Romanian branza de vaci, which is rather bland, giving these pies a more delicate taste and texture.
I chose cottage cheese as the main ingredient for these pies, because I find that to be quite similar to the Romanian intended cheese, but I would really like to try the original version made with branza de burduf one day, that really is my favorite cheese and I can imagine this salty-sugary mixture to be quite interesting. Oh, it is really time I 'd try my hand at making cheese, I have been reading about it here and there lately and it doesn't seem to be thaaaaaaaaaat difficult.
I realize now that this is the third yeast dough recipe on Where Is My Spoon in a very short time. So, even if you are a yeast dough beginner, I could say that if you decide to make all these three recipes: Moldavian Yeast Pastries – Mucenici, the Romanian Cheese Pie and the Romanian Sweet Cheese Pies, you will be quite good in working with yeast dough by the end of the process. And here you can find more yeast recipes.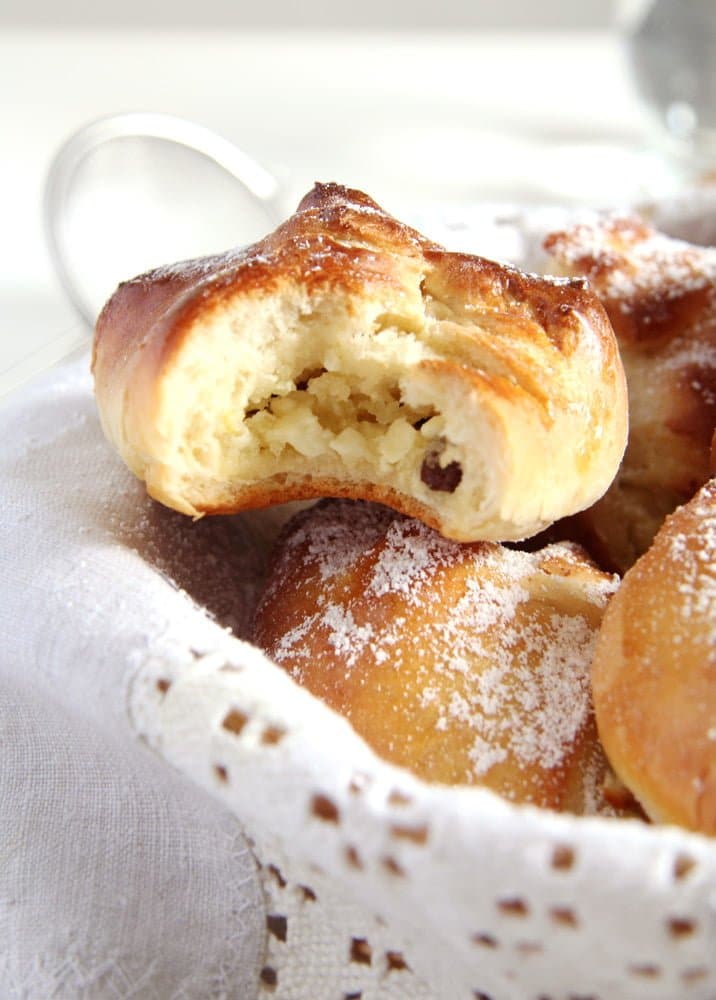 And working with yeast is really not that difficult, especially if you have a food processor, which can knead the dough for you. Making yeast dough without the food processor is easy as well, but it requires a bit more physical work on your side and a bit more dedication.
Forming the pies is quite easy as well, have a look at the pictures and there should be no problem. The only word of advice I can give you is to make sure that you press the corners of the pastry very thoroughly together to make sure that the pies are properly sealed. Otherwise they will open during the baking process and although they will taste just as delicious if opened, they will not look so pretty anymore. I had about 5-6 branzoaice, that opened in the oven.
And you will have to start a bit in advance, the cottage cheese needs to be drained thoroughly, I let it drain in a fine mesh sieve for about 3 hours.
The recipe for the yeast dough is adapted from one found on LaLena, a Romanian food blog, which I visit quite often. The recipe for the filling is my own, I put that together after reading several filling versions found online and in some cookbooks. I had about 2 or 3 tablespoons of extra filling that did not fit into the pies anymore, it made its way directly to my mouth…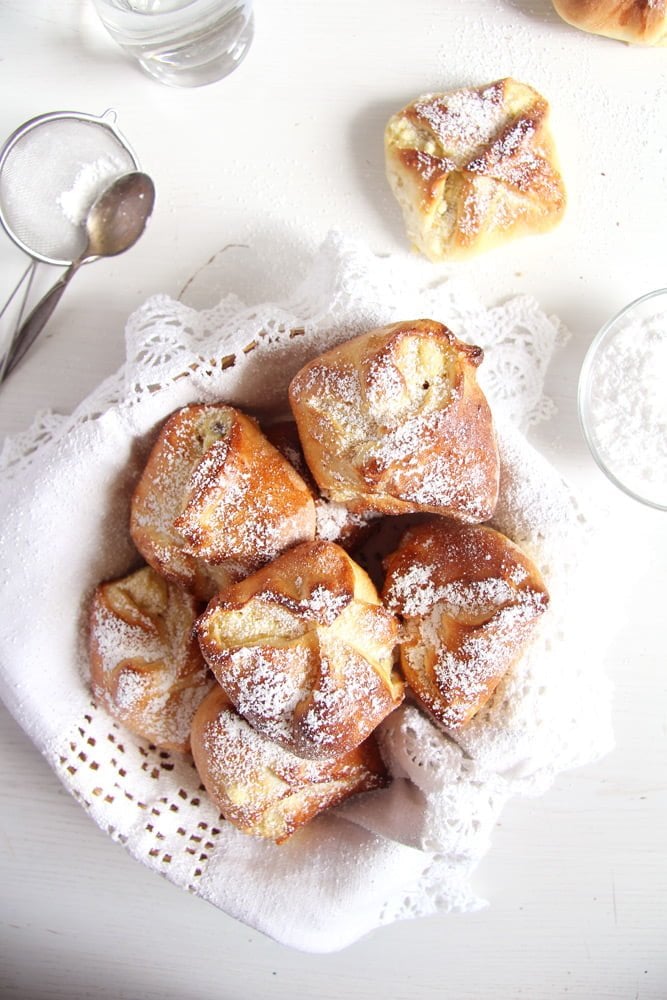 Ingredients
For the yeast dough:

450 g/ 15.9 oz/ 3 cups all-purpose flour

42 g/ 1.5 g fresh yeast

200 ml/ 6.7 fl.oz/ 0.8 cups lukewarm milk

4 tablespoons sugar, divided

2 eggs, about 55-60 g/ 1.6-2.1 oz each

½ teaspoon salt

4 tablespoons vegetable oil

For the filling:

500 g/ 17.6 oz/ 2 ¼ cups cottage cheese

1 egg, 55-60 g/ 1.6-2.1 oz

140 g/ 4.9 oz/ scant 2/3 cup sugar

1 teaspoon vanilla extract

1 teaspoon grated lemon zest

a pinch of salt

75 g/ 2.6 oz/ ½ cup raisins

65 g/ 2.4 oz/ 1/3 cup semolina

1 small egg for brushing

icing sugar
Instructions
Start by draining the cottage cheese in a fine mesh sieve thoroughly, for about 3 hours.
To make the yeast dough, sieve the flour in a large bowl or in the bowl of your food processor. Make some place in the middle, crumble the dough in there, add 2 tablespoons of the lukewarm milk and 1 tablespoon of the sugar. Let rest for about 15-20 minutes until quite frothy.
Add the rest of the lukewarm milk, 2 eggs, the remaining 3 tablespoons sugar and the salt. Mix well and add the vegetable oil. Knead well with the food processor until the dough is elastic and doesn't stick anymore, but keep in mind that the dough should be soft. If you knead the dough by hand, you might have to add a little bit of extra flour when kneading, but don't overdo it, the dough should remain soft.
Form a ball and let it rise in a oiled bowl for 1 hour, covered with a clean kitchen cloth and in a warm place. I usually place the bowl in the oven and turn the oven light on. Just the oven light, not the oven itself! The dough should have more than doubled its size by the end of one hour.
In the meantime prepare the filling. Give the drained cottage cheese to a bowl. Add the lightly beaten egg, sugar, vanilla extract, lemon zest, salt, raisins and semolina and mix well.
Preheat the oven to 180 degrees Celsius/ 360 degrees Fahrenheit. Line the baking tray with baking paper.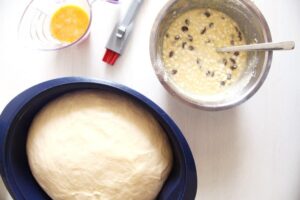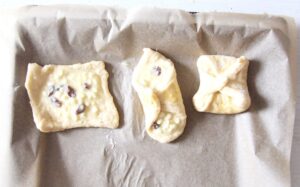 To form the pies, roll the dough into a large rectangle about 3-4 mm/0.11-0.15 inches thick. Divide it into 16 smaller squares. Divide the filling between the squares, about 1-2 teaspoons into each square. Eat the remaining filling, if you have any and are not worried about the raw egg inside it.
Beat the egg needed for brushing the pies in a small bowl. Lightly brush the free edges of the pies around the filling. Take two opposite corners of the pastry and press them well together, in the middle, with your fingers. Take the other two opposite corners and press them well with your fingers as well. Press along the lines that are formed as well, so that the pastries are closed. Make sure that the pockets are really well sealed, so that they will not open in the oven.
Brush the pastries with the beaten egg all over and bake them for about 15-20 minutes or until deeply golden brown. Let cool slightly, dust with icing sugar and enjoy warm or cold.
This post contains affiliate links. The price you pay as a consumer does not change, but if you make a purchase we will receive a commission which helps support the blog.