Placinta cu branza or Romanian Cheese Pie – this is a savory version of the many cheese pie recipes you will find in Romania.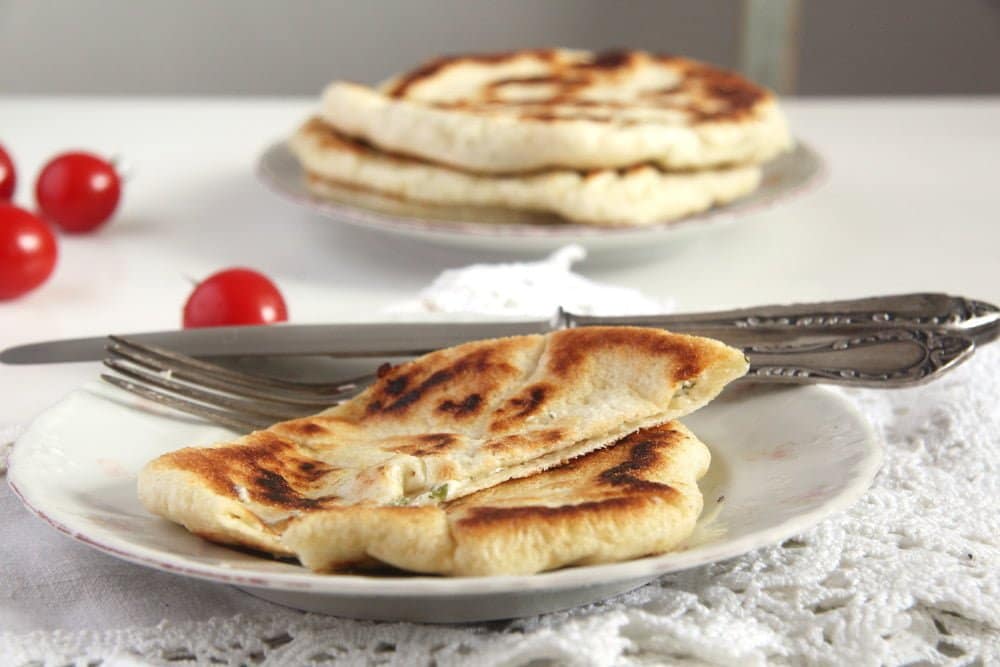 What is placinta?
Placinta is a traditional Romanian pastry, also popular in the Republic of Moldova and Ukraine. It is a round-shaped piece of dough filled with various fillings, savory or sweet.
The most common pies are placinte cu branza or cheese pies and they can be sweet or savory as well. Today's placinte are filled with salty feta cheese and dill but have a look at the Branzoaice as well. They are filled with a sweet cheese filling and they are just divine!!!
The recipes for placinta differ slightly from region to region I would say, but the bottom line is: Romanian people love their pies or placinte in any form.
The Romanian cheese pies are traditionally made with yeast dough, but nowadays you will find many puff pastry, filo, or shortcrust pastry versions as well. They can be baked, shallow-fried, or deep-fried. I prefer to make my cheese pies either shallow-fried or baked, I am not much into frying... the smell, the hot oil, the extra calories...
And if you ever visit Romania, do make a point in eating gogosi (fried pies filled with everything from cheese to Nutella), they are better than any other pies you can imagine... and you can probably buy them at any street corner. They are addictive, I must say after you had one, you will go buy one every day for the rest of your stay in Romania...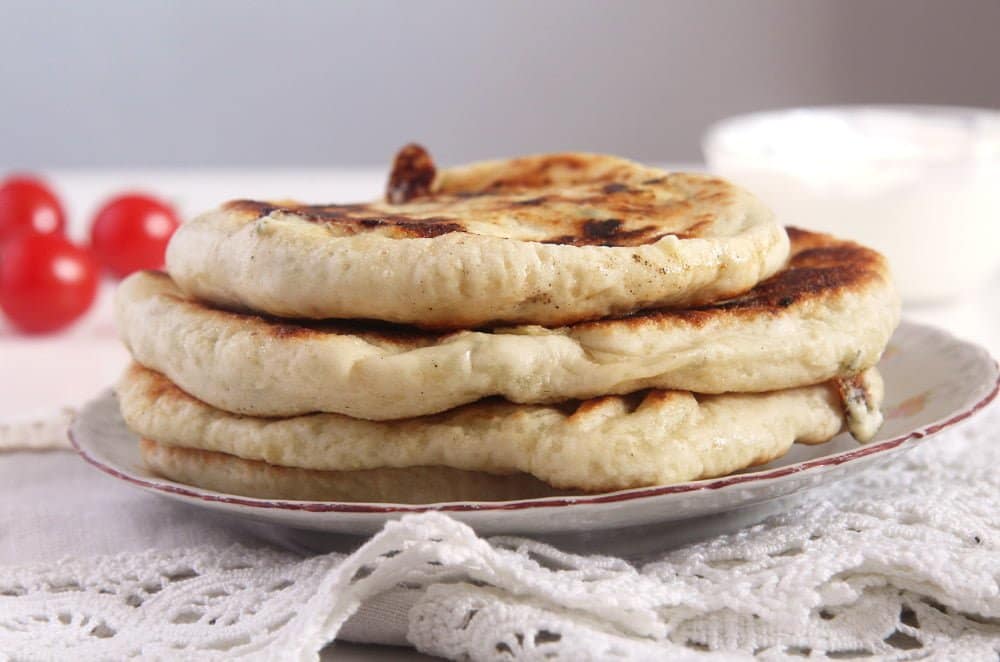 How to make?
When making Romanian cheese pies at home I prefer this Moldavian pie recipe. It is fried as well, but only very little oil is needed for the process. The result is these wonderful, savory cheesy pies, soft and delicious and not so heavy as their deep-fried version. They kind of remind me of a soft naan bread filled with cheese.
Cheese:
Ideally I would use Romanian cheese – branza de burduf to fill these pies, the same cheese I would use to sprinkle over the Moldavian stew with cheese and eggs or to eat with polenta.
When I cannot find any original cheese, feta cheese remains my favorite substitute, preferably sheep's feta.
Yeast:
There are two kinds of yeast: fresh and dry yeast.
And also there are two kinds of dry yeast: active dry yeast and instant yeast.
Fresh yeast:
This is the best kind of yeast you can use.
A cube of fresh yeast weighs 42 g/ 1.48 oz in Germany and it is usually enough to bake a regular-sized bread or to make the dough for a large yeast cake, for instance.
However, always follow the quantities indicated by the recipe you are following.
For these Romanian cheese pies, you would need half a cube fresh yeast, so about 20 g/ 0.7 oz fresh yeast
Dry yeast:
Active dry yeast has larger granules and has to be dissolved in water before using.
Instant dry yeast has finer granules and the yeast can be mixed with the dry ingredients before adding the milk (or water). This is the kind of yeast I used for this recipe.
Both types of dry yeast are usually sold in small packages and one package is the equivalent of ½ cube fresh yeast. One package of dry yeast weighs 7 g/ 0.24 oz (in Germany).
Dill:
Fresh dill is an important part of this recipe, it gives the placinte their typical taste.
Frozen dill is a good substitute, but never use dried dill for this recipe (or any other recipe actually, dried dill is not particularly interesting).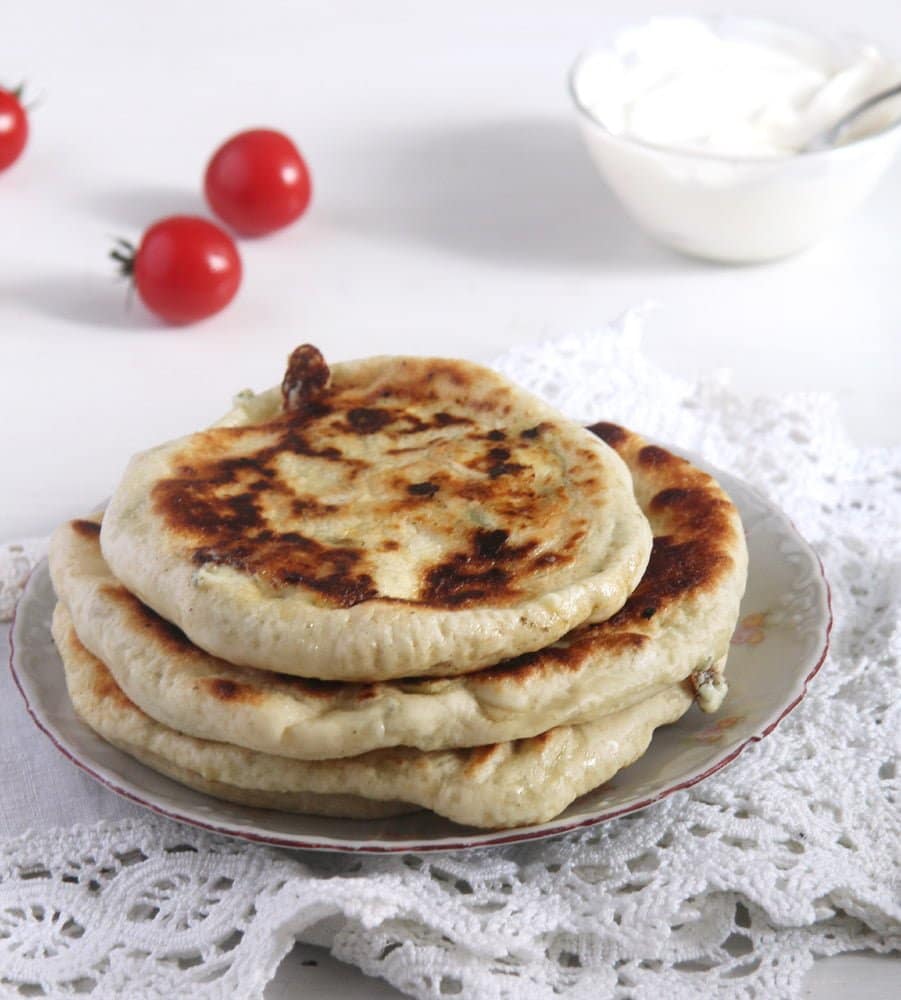 How to form?
The picture shows you how to form the pies. The pies in the picture are filled with cabbage, but the forming method is the same.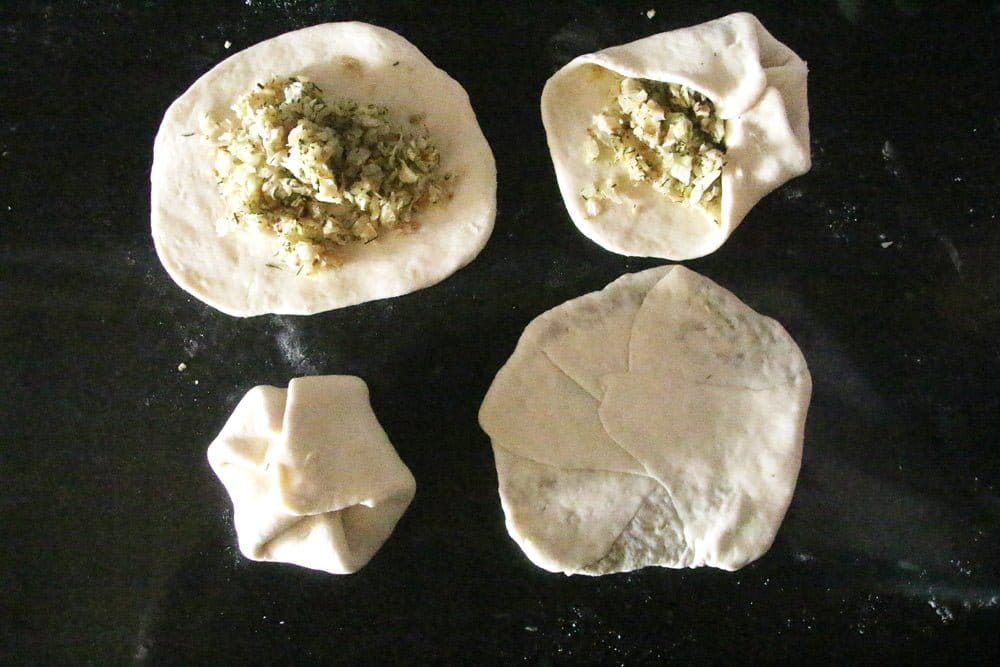 Tips for making yeast dough
Always use a kitchen scale for measuring the ingredients, cup measuring is too imprecise. Too much flour will make the pies dense and chewy.
The water needed to proof the yeast should be lukewarm, it should have body temperature, if the water is too hot it will kill the yeast.
Adding sugar helps the yeast to bubble, salt helps the gluten develop and that will help the pies keep their shape.
A warm kitchen is always best when you are letting the yeast dough rise. If your kitchen is not warm enough, place the bowl with the dough in the oven and turn on the oven light. Only the oven light and not the oven itself. That will help with the rising of the dough as well.
The dough should double its size. Give it enough time for it to double, but don't let it rise anymore after that stage is achieved. Dough that rises too much will fall again afterward.
How to serve placinte?
The Romanian cheese pies should be served immediately. They are fine to eat when cooled as well, but just like it is with most yeast baked goods, eating them when super fresh is best.
They are mostly served as a snack.
However, they make a wonderful and filling main meal when served together with tomato and onion salad, green salad with yogurt dressing or a fresh vegetable salad similar to the Shopska salad.
More cheese pies
Romanian Cabbage Pies - Placinte cu varza - The vegan version of today's pies.
Sweet cheese Pies or Branzoaice: These are traditional Romanian sweet rolls filled with cottage cheese and raisins, you will not be able to stop eating them.
Gibanica - Serbian Cheese Pie - Delicious layered cheese pie or cheese pita made with phyllo or yufka dough and lots of cheese.
Savory Cheese Pie - Dobrogeana - Layers of yufka filled with a mixture of eggs and cheese like quark, feta, and yogurt, this is a Romanian style Borek.
Vargabeles - Hungarian Noodle Cheese Pie - A sweet cheese pie with noodles, quark, and raisins baked between layers of filo or yufka pastry.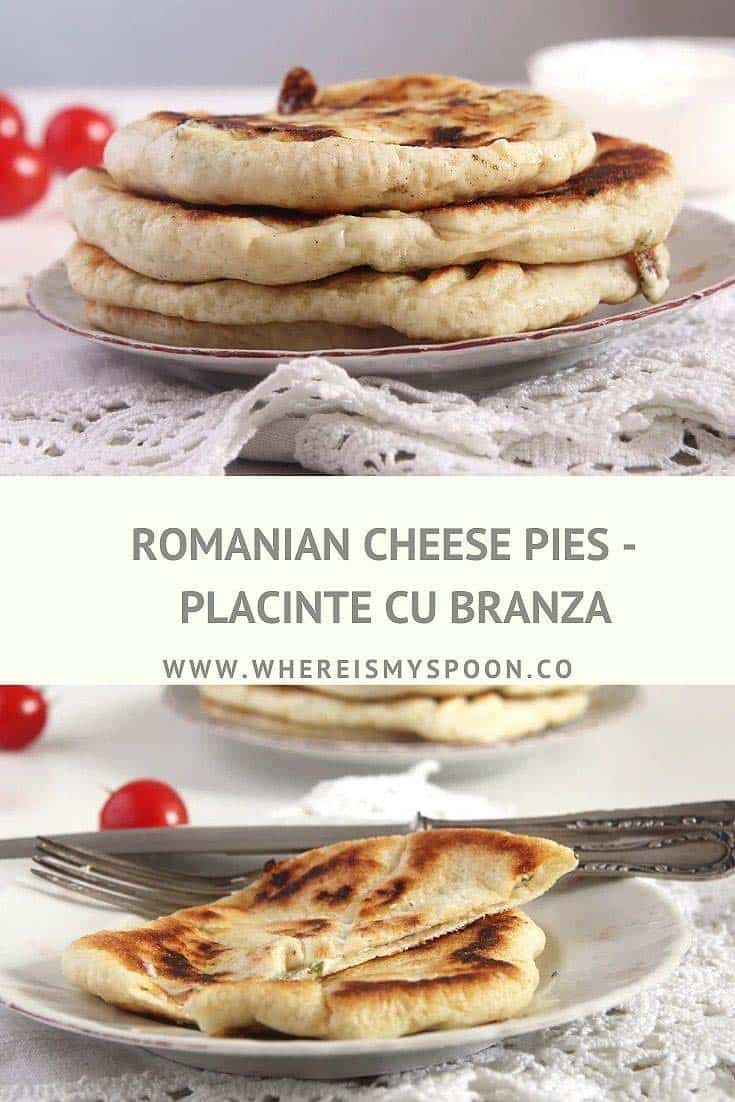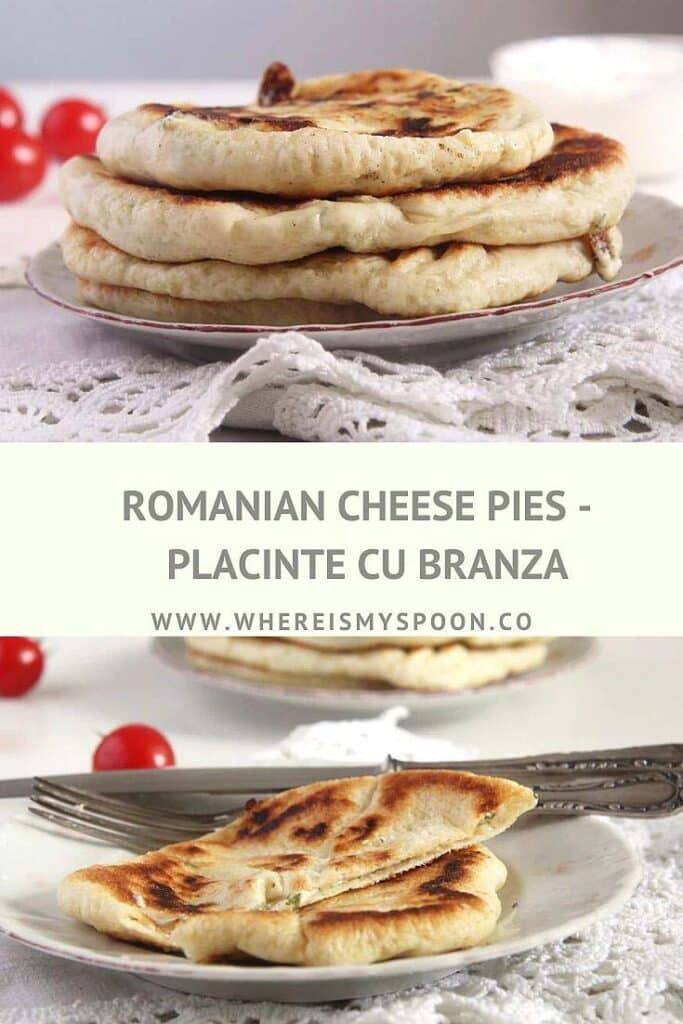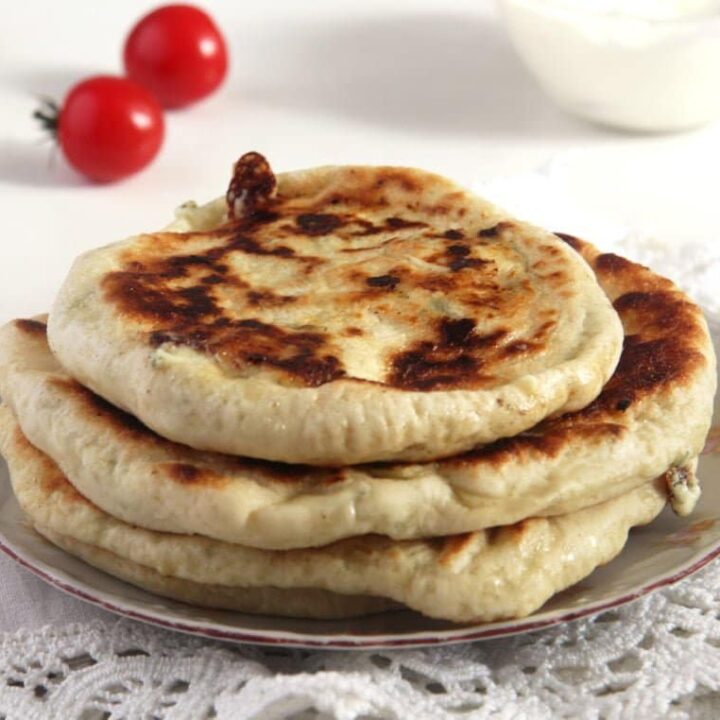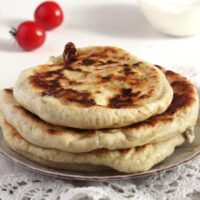 Romanian Cheese Pies - Placinta
Placinta cu branza or Romanian Cheese Pie – this is a savory version of the many cheese pie recipes you will find in Romania.
Print
Pin
Share
Grow
Saved!
Rate
Ingredients
500

g/ 1.1 lbs/ 4 ¼ cups all-purpose flour

1

sachet instant dry yeast

1

teaspoon

granulated sugar

1

teaspoon

fine sea salt

250

ml/ 8.4 fl.oz/ 1 cup lukewarm water

350

g/ 12.3 oz feta cheese

preferably sheep's feta

3

green onions

1

small bunch dill

fine sea salt and pepper

a little oil for frying
Instructions
Yeast dough:
In a large bowl mix together the flour, yeast, sugar, and salt.

Slowly start adding the lukewarm water, mixing with a spoon until the flour is incorporated. Knead the dough for about 10 minutes or until it stops sticking too much to the walls of the bowl, flouring your hands from time to time if necessary.

Cover the bowl with a kitchen cloth and let rise in a warm place for about 1 hour or until doubled in size.

Alternatively, you can prepare the yeast dough in a food processor using the appropriate kneading accessories. I knead this kind of dough for about 3-4 minutes in the stand mixer.
Filling:
Crumble the feta cheese finely, but don't turn it to a paste, it is enough if you use a fork to crumble it.

Chop the scallions and the dill very finely.

Mix everything together and adjust the taste with salt and pepper.
Shape the pies:
Knead the risen dough very shortly to bring it in shape again. Divide it into 10 parts and form 10 balls. Roll each ball into a thin circle.

I did not require extra flour for rolling but do sprinkle the working surface and the rolling pin very lightly with flour if the dough starts to stick.

Place some filling in the middle of the circle and form a pocket by bringing together all the sides of the circle and pressing lightly to seal the pocket.

Roll the pocket again to make it flat. (See pictures above)

Place the pies on a piece of baking paper and let rest for 10 minutes.
Fry:
Heat a large non-stick pan. Brush it or spray it with a little oil and fry the pies about 2-3 minutes on each side.

You will have to work in two or three batches. Keep the finished pies warm in the lightly heated oven. Serve immediately.
Nutrition
Serving:
1
pie
|
Calories:
304
kcal
|
Carbohydrates:
41
g
|
Protein:
10
g
|
Fat:
11
g
|
Saturated Fat:
5
g
|
Polyunsaturated Fat:
5
g
|
Cholesterol:
31
mg
|
Sodium:
640
mg
|
Fiber:
2
g
|
Sugar:
2
g