Romanian or Moldavian placinta cu branza or Romanian Cheese Pie – this is just one version of the many cheese pie recipes you will find in Romania.
And I have tried many many of these Romanian cheese pies: savory or sweet, made with yeast dough or with puff pastry, filo pastry or shortcrust pastry, baked, shallow-fried or deep fried. They differ slightly from region to region I would say, but the bottom line is: Romanian people love their cheese pies – placinte cu branza in any form.
Today I will give you the savory version of the Romanian or Moldavian cheese pie or placinta cu branza and Saturday the recipe for the sweet Moldavian cheese pies or Poale-n brau or Branzoaice. I could not say which version of these cheese pies I like best, I love them both and I could eat them every week.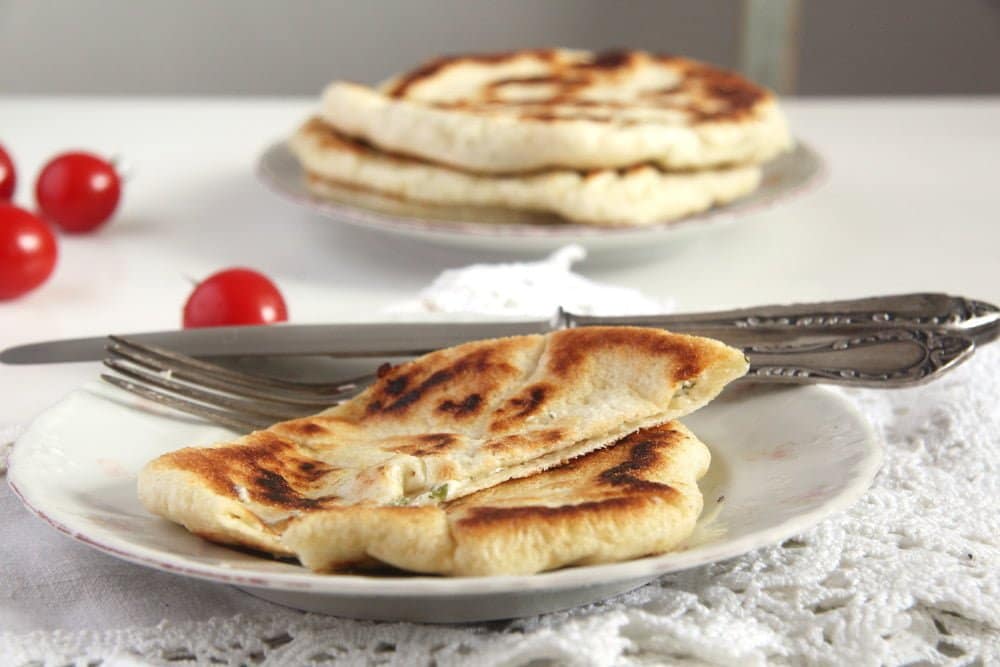 One of the things I look most forward to when visiting Romania is eating some of the Gogosi cu branza or placinta cu branza sold all over the town. There are several small shops selling gogosi all over the town, but I prefer the one in the center of Sibiu, I think it was one of the first that ever opened, many years ago while I was still living there and it really sells the best gogosi in town.
Gogosi are not exactly these pies, although they look rather similar, they are the deep-fried version of this Romanian placinta recipe. They are really out of this world and they are filled not only with cheese (my favorite version) but also with ham and cheese, chocolate, jam or if you wish, they can be just plain.
I still have that heavy, oily smell of deep-frying in my nose every time I think of those gogosi. My husband loves them as well, I remember the last time we were there together (quite a few years ago), we would eat gogosi each time we were in the center of the town and we always had to stay in line for at least 10 minutes to be able to get our hands on those hot and oily pockets full of melting cheese. And although there are so many fillings one can choose from, I only ever had cheese or ham and cheese from time to time. Putting Nutella or chocolate in those pies just doesn't appeal to me, although many people love those as well.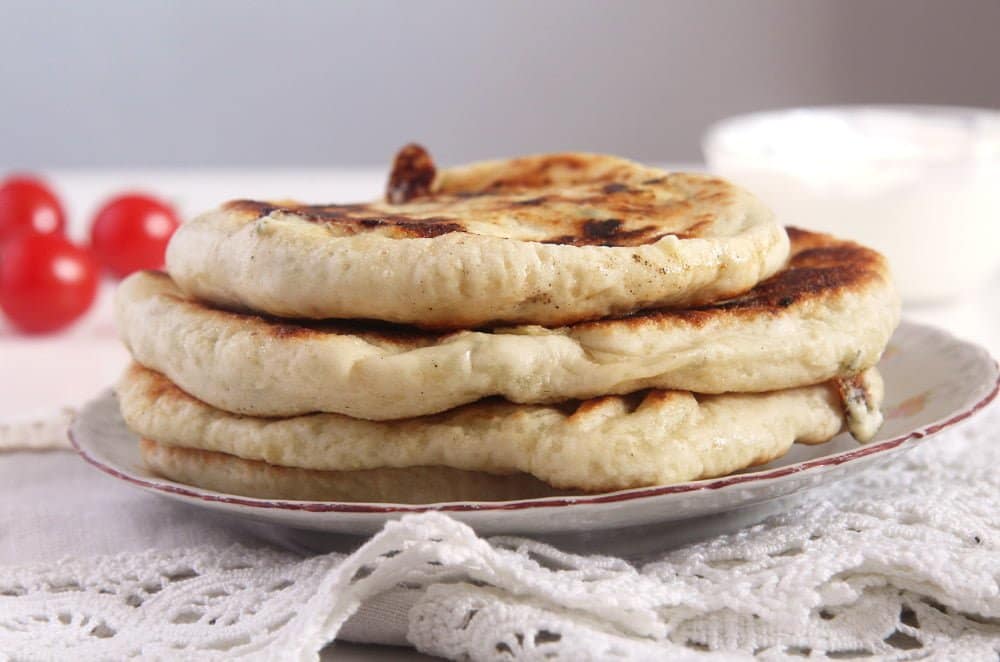 However, when making Romanian cheese pies at home I prefer this Moldavian pie recipe. It is fried as well, but only very little oil is needed for this process. The result are these wonderful, savory cheesy pies, soft and delicious and not so heavy as their deep-fried version.
Ideally I would use Romanian cheese – branza de burduf to fill these pies, the same cheese I would use to sprinkle over the Moldavian Stew with Cheese and Eggs or to eat with Polenta. As I cannot get that in Germany feta cheese remains my favorite substitute, preferably sheep's feta.
The yeast dough is easy to make, don't let that scare you. I know many people are a bit cautious when it comes to working with yeast, but once you have done that once or twice, you will realize your fears were pointless. And that more so if you happen to have a good food processor, like my Vorwerk TM5 Thermomix Countertop Blender
or a  KitchenAid KSM150PSER Artisan Tilt-Head Stand Mixer with Pouring Shield, 5-Quart, Empire Red
, which will make most of the work for you. (I am not being paid to talk about these kitchen gadgets, I just happen to love them).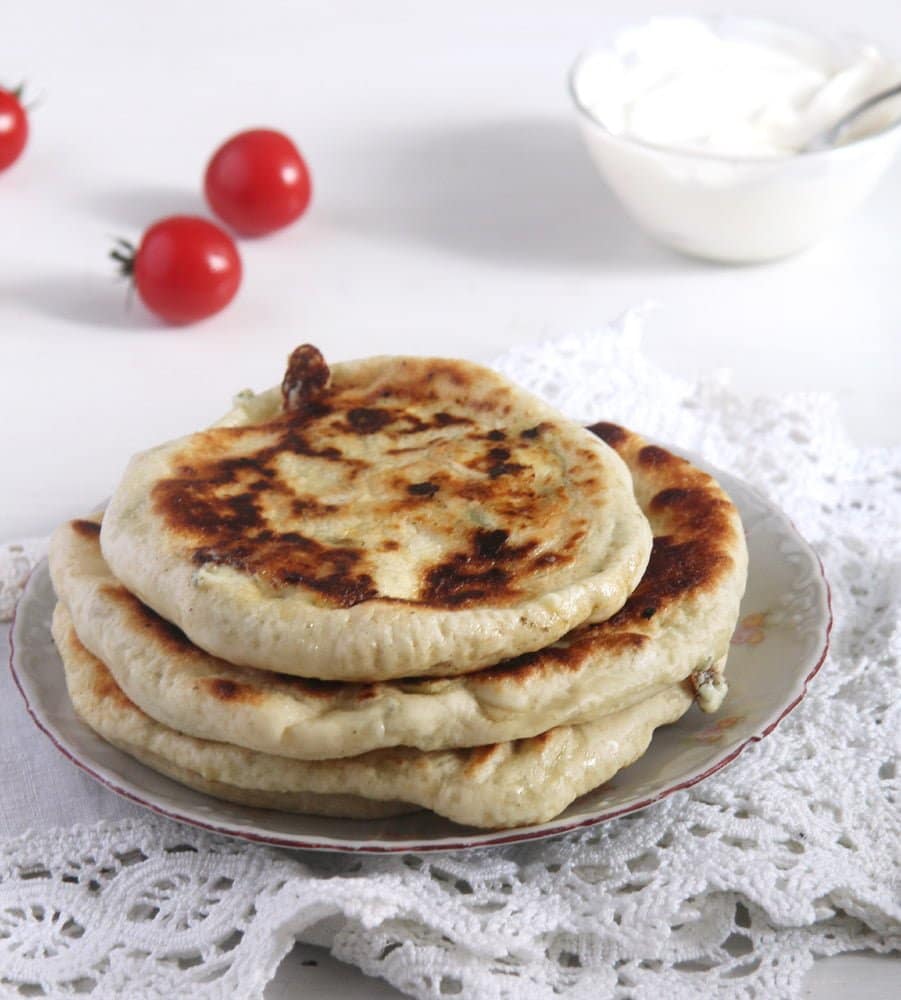 And some more delicious Moldavian recipes: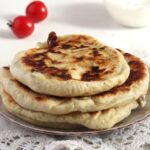 Ingredients
500 g/ 1.1 lbs all-purpose flour

1 teaspoon salt

1 sachet dry yeast

1 teaspoon sugar

250 ml/ 8.4 fl.oz/ 1 cup lukewarm water

350 g/ 12.3 oz feta cheese, preferably sheep's feta

3 scallions

1 small bunch dill

salt and pepper

a little oil for frying
Instructions
In a large bowl mix together the flour, yeast, sugar and salt. Slowly start adding the lukewarm water, mixing with a spoon until the flour is incorporated. Knead the dough for about 10 minutes or until it stops sticking so much to the bowl, flouring your hands from time to time if necessary. Cover the bowl with a kitchen cloth and let rise in a warm place for about 1 hour or until doubled in size.
Alternatively, you can prepare your yeast dough in a food processor using the appropriate kneading accessories. I knead this kind of dough for about 3-4 minutes in my Thermomix, then transfer it to a bowl where it can rise.
In the meantime prepare the filling. Crumble the feta cheese finely, but don't turn it to a paste, it is enough if you use a fork to crumble it. Chop the scallions and the dill very finely. Mix everything together and adjust the taste with salt and pepper.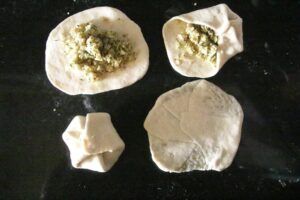 Knead the risen dough very shortly to bring it in shape again. Divide it into 10 parts and form 10 balls. Roll each ball into a thin circle. I did not require extra flour for rolling, but do sprinkle the working surface and the rolling pin very lightly with flour if the dough starts to stick. Place some filling in the middle of the circle and form a pocket by bringing together all the sides of the circle and pressing lightly to seal the pocket. Ligthly go over the pie with the rolling pin to flatten it again. See the pictures!
Place the pies on a piece of baking paper and let rest for 10 minutes.
Heat a large non-stick pan. Brush it or spray it with a little oil and fry the pies about 2-3 minutes on each side. You will have to work in two or three batches. Keep the finished pies warm in the lightly heated oven.
Serve immediately with tomato and onion salad or eat cold as a snack.
This post contains affiliate links. The price you pay as a consumer does not change, but if you make a purchase we will receive a commission which helps support the blog.