Vargabeles or Hungarian sweet noodle pie made with filo pastry, cheese, and raisins, you can serve it as a dessert or sweet main meal.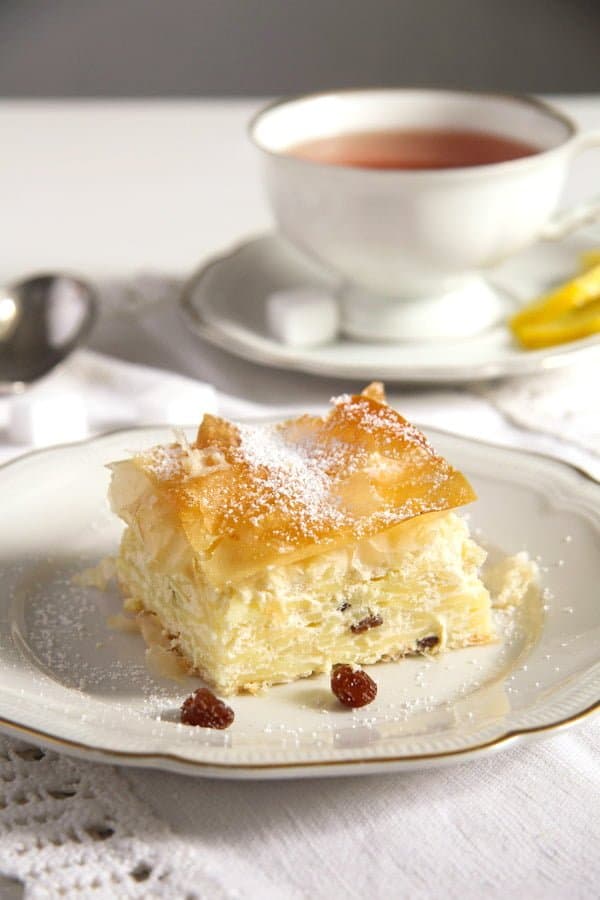 What is vargabeles?
Vargabeles or Hungarian sweet noodles, a delicious dessert made with layers of pastry filled with a sweet cheese and noodle filling. Unusual, but so delicious!
Apparently it was created in Cluj - Romania by a Hungarian innkeeper named Vargas during the 18th century. Another story attributes this recipe to the Darvas family, which also lived in Cluj, but at the beginning of the 20th century. They had a restaurant as well and managed to make this dessert very popular in the region.
However, regardless its exact origin, this recipe is really worth knowing and baking. Not to mention eating, it is a real comforting, sweet delight.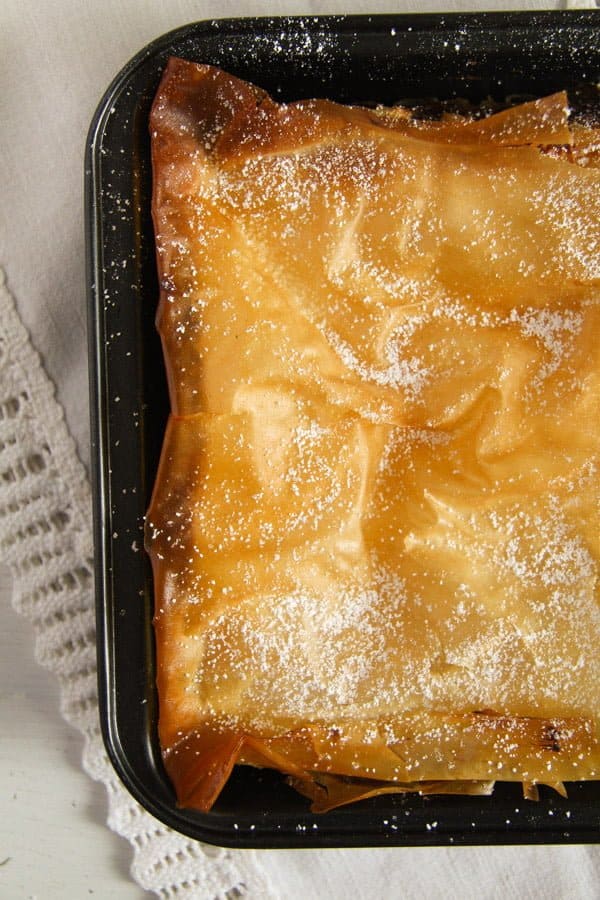 About the ingredients
Pastry:
I chose to make vargabeles because I had an opened yufka pastry packet in the refrigerator. And because it was such a large packet I ended up making lots of yufka pastry recipes like the Skinny Pumpkin Pie or the Turkey and Vegetable Strudel Rolls.
A layer should be formed with 3 sheets of yufka pastry, depending on the size of one sheet you will between 1 and 3 sheets, which should be cut to fit into the baking dish.
Alternative pastry:
Filo pastry: In this case, you should layer 5 sheets, filo is even thinner than yufka.
Puff pastry: You will only need one sheet for each pastry layer, puff pastry is thicker than yufka or filo.
Noodles:
Thin wheat noodles, also known as "soup" noodles in some parts of the world or as vermicelli.
If you know them under the name of vermicelli, just make sure you buy the wheat vermicelli and not those made of rice.
Cheese and other dairy:
The original recipe uses the so-called Romanian cow cheese, which is a kind of soft, mild, white cheese.
I usually replace that with quark (20 % fat content), which has a similar taste and consistency and which is very common in Germany.
Smetana is a popular product in Romania and Eastern Europe generally, but if you have difficulties in finding it use crème fraiche instead (or Schmand if you are in Germany).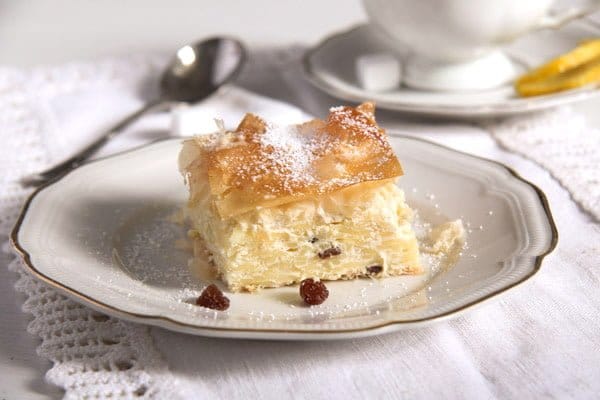 How to serve?
The Hungarian sweet noodles can be eaten warm or at room temperature. You can also reheat the dish in the oven. Or serve it at room temperature.
More Hungarian desserts:
Beigli - Hungarian Traditional Nut Roll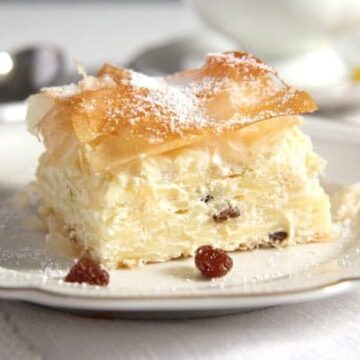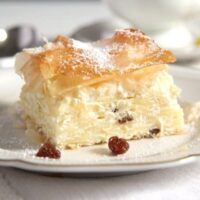 Vargabeles - Hungarian Sweet Noodles
Vargabeles or Hungarian sweet noodle pie made with filo pastry, cheese, and raisins, you can serve it as a dessert or sweet main meal.
Print
Pin
Share
Grow
Saved!
Rate
Ingredients
75

g/ 2.7 oz thin noodles

Note 1

1

teaspoon

unsalted butter

2

eggs

3

tablespoons

sugar

separated (or more to taste)

1

teaspoon

vanilla extract

200

g/ 7 oz/ about ¾ cup smetana or crème fraiche

500

g/ 1.1 lb/ 2 ½ cups quark

20% fat

50

g/ 1.8 oz/ ⅓ cup raisins

1

teaspoon

lemon zest

1

teaspoon

cornstarch

1

tablespoon

dried breadcrumbs

2-3

sheets yufka pastry

depending on size (Note 2)

2-3

tablespoons

vegetable oil or melted butter for brushing the pastry layers

icing sugar
Instructions
Preheat the oven to 200 degrees Celsius/ 400 degrees Fahrenheit. Butter a small square baking dish of about 20 cm/ 8 inch.

Bring a pot of water to a boil and cook the noodles according to the package's instructions. Drain well, return to the pan and stir in the butter.

Separate the eggs. Beat the egg whites until stiff. Add 1 tablespoon of the sugar and continue beating until the egg whites are stiff and glossy.

In another bowl beat together the egg yolks and the remaining 2 tablespoons sugar. Add the vanilla extract, the smetana or crème fraiche, and the quark. Stir well, then add the raisins, lemon zest, cornstarch, and dried breadcrumbs.

Carefully fold the noodles into this mixture. Fold in the egg whites as well. Taste and see if you need more sugar.

Cut the pastry sheets to fit the baking dish. If using yufka pastry place one sheet of pastry into the prepared baking dish. Brush with some of the oil or melted butter and cover with another pastry sheet. Repeat with the 3rd yufka sheet.

If using filo pastry, follow the same procedure but layer 5 filo pastry sheets instead of 3.

If using puff pastry, one layer will suffice. Don't brush the puff pastry with oil or butter.

Place the filling over the pastry, level nicely, and build the upper pastry layer the same way you did it before.

Brush the top of the pastry with some oil or butter as well and bake the pie for about 45 minutes or until golden and set.

Serve warm or at room temperature and dust the pie with icing sugar if you wish. The pie can be reheated in the oven.
Notes
The so-called "soup" noodles, or vermicelli made of wheat, not rice vermicelli.
Filo pastry can be used instead. In this case, form the bottom and the upper layer of pastry by stapling 5 filo sheets for each layer.
Puff pastry can also be used. In this case, you will only need one sheet of puff pastry for the bottom layer and one for the upper layer.
Nutrition
Serving:
1
square
|
Calories:
286
kcal
|
Carbohydrates:
22
g
|
Protein:
10
g
|
Fat:
18
g
|
Saturated Fat:
9
g
|
Polyunsaturated Fat:
7
g
|
Cholesterol:
83
mg
|
Sodium:
142
mg
|
Fiber:
1
g
|
Sugar:
13
g