A hearty and comforting Hungarian goulash with pork, potatoes, red bell peppers and lots of paprika powder.
PORK PAPRIKASH
This is the kind of pork stew recipe or pork goulash my grandmother used to make often. Almost always in autumn or winter, I can still remember the smell in the house, in the morning, when she used to cook this Hungarian goulash with pork or a similar dish.
This kind of dish is always called "tocana" in Romania or better "tocana de..." meaning "stew of..." and the dots can be filled with any kind of meat or vegetable you can think of. The kind of stew we used to eat more often than any other was the simple potato stew, which was mostly vegetarian.
I make this potato stew nowadays very often as well, but I add some sausages most of the time, my kids like that version better.
HUNGARIAN PORK PAPRIKASH WITH POTATOES
When my grandmother really wanted something special, then she would make this Hungarian style paprikash with pork, lots of sweet paprika powder and potatoes. She would add the red bell peppers from time to time because they really belong to this dish, but as I hated nothing more than cooked peppers as a child, she would more often leave them out just to avoid any complaints.
And in case you are wondering why a Hungarian goulash in a Romanian family, well, there is a large Hungarian community living in Transylvania – Romania, so the Romanian cooking style is very much influenced by the Hungarian cuisine, especially in Transylvania, where I was born and raised.
Another absolutely delicious and even more basic Hungarian pork stew recipe is this Pörkölt recipe served with Hungarian flour dumplings, you should definitely give it a try as well.
INGREDIENTS
The ingredients used to make this Hungarian goulash with pork are very basic and cheap: pork, potatoes, lots of onions, peppers and paprika powder.
Meat for the pork stew:
The cut of pork used to make this pork stew recipe is usually called pork goulash meat in Germany (Schweinegulasch), however, to make things simpler and because I am pretty sure that this kind of meat is not called goulash everywhere in the world, I've asked my neighbor, a very nice lady who works at the butcher's.
The meat used to cut the goulash pieces is taken from the leg/ ham of pork, either out of the top round, the gammon piece or more commonly the flank of the pork. The top round and the gammon piece are also used for cutting schnitzel and many times the so-called goulash meat is a mixture of all these three parts of the leg.
However, my neighbor's opinion is that the best meat to use for pork goulash is meat pieces cut off the flank of the pork.
Vegetables:
You will need quite a lot of onions, about the same amount of onions as meat and potatoes. So, in this case 500 g/ 1 lb pork, 500 g/ 1 lb onions and 500 g/ 1 lb potatoes.
500 g onions are about 5 medium onions in Germany, but as I am pretty sure that the size of a medium onion differs from country to country maybe is better you check. More or less, don't fret if you have slightly more or slightly fewer onions (or potatoes).
The potatoes I use are regular predominantly waxy potatoes.
My grandmother would have used pointed greed peppers, the typical Romanian or Hungarian peppers. However, I definitely prefer using red peppers in cooking, they are sweeter and milder in taste. Either pointed red peppers or red bell peppers are fine.
The fat:
My grandmother would have almost always made any kind of stew using lard to cook the meat and the onions. Lard was cheaper than oil, she always rendered the fat and made the lard herself and it was the traditional way of cooking in Romania.
I find it sad that lard got such a bad reputation during the past decades, it is a natural product, healthier than it was said to be for so many years and definitely a zillion times healthier than margarine.
However, if you cannot find lard, it can be definitely be replaced with vegetable oil, lard is just more genuine. I make lard at home myself and not that seldom either, but it is mostly a small amount using fat and skin from chickens.
Spices:
The paprika powder plays an important part in this Hungarian goulash with pork, so make sure you use good quality paprika powder, there are differences of quality for sure. The very cheap paprika powder I was tempted to buy once or twice tasted only of dust, it was probably just red-colored dust, so let that be.
Really good paprika powder is not very expensive either, and it is definitely worth it to pay one or two Euros (or dollars) more to get real and tasty paprika powder.
Otherwise, you will also need some bay leaves, some rosemary and oregano (or summer savory) to make this particular pork and potato stew.
The stock:
I used homemade chicken stock to make the Hungarian goulash with pork, I have it in the fridge or freezer most of the time. You can also use bone broth, beef stock or vegetable stock. If you don't make stock yourself, make sure you buy a good and tasty stock.
I dilute the stock I use especially if it is already salted, so about half the quantity stock and half the quantity hot water. This way I can make sure that the pork stew is not too salty by the end of the cooking process.
HOW TO MAKE PORK PAPRIKASH?
The most important thing I feel I have to mention is to make sure that you brown the meat properly before adding the rest of the ingredients.
To obtain the best results, make sure that the pork cubes are dry before you start frying them in lard or oil. Dry them with some kitchen paper.
Heat the fat (in batches) in a wide thick-bottomed pot and fry the pork cubes in batches. Do not overcrowd the pan or the meat will stew instead of browning, too many juices will be released and the meat will not sear properly anymore.
Remove the browned meat from the pan, add a little more of the fat and continue until all the meat is browned, by this rather small amount of meat 2 or 3 batches should be enough, but it really depends on the size of the pan.
Remove all the meat from the pan and give the onions and carrots to the pot. Make sure to scrape the bottom of the pan well. When softened add the paprika powder, dried herbs, and stock.
Simmer the pork paprikash for about 20 minutes and in the meantime, peel and cut the potatoes into large chunks. Slice the red bell peppers as well. Add them to the pot and continue simmering for about 45 minutes or until the potatoes are cooked through and the meat is very tender.
If that is not the case after 45-50 minutes, continue simmering the pork stew checking regularly to see if the meat is tender.
Adjust the taste with some freshly ground black pepper. I don't need to add any salt most of the time, the reduced stock is usually salty enough, but do add some salt if you feel it is necessary.
The pork stew with potatoes can be served immediately, but it also reheats very well. We traditionally serve it with pickled vegetables, but salad, coleslaw or boiled vegetables make a suitable accompaniment as well.
MORE PORK RECIPES?
CABBAGE CASSEROLE WITH PORK RIBS - Comforting cabbage casserole recipe with smoked pork spare ribs and tomatoes, a typical Romanian cabbage recipe.
PORK AND ONION STEW - A hearty pork stew with pearl onions and chickpeas in a luscious slightly sour sauce, comfort food for these grey autumn days.
SPINACH AND PORK STEW - A very aromatic stew with tender pork pieces and spinach.
BAKED PORK CHOPS AND POTATOES - Spicy and tender baked pork chops and potatoes – a perfect sheet pan meal after a long and busy day.
JÄGERSCHNITZEL - GERMAN HUNTER SCHNITZEL - An authentic recipe for the well-known German schnitzel with mushroom sauce.
PIN IT FOR LATER!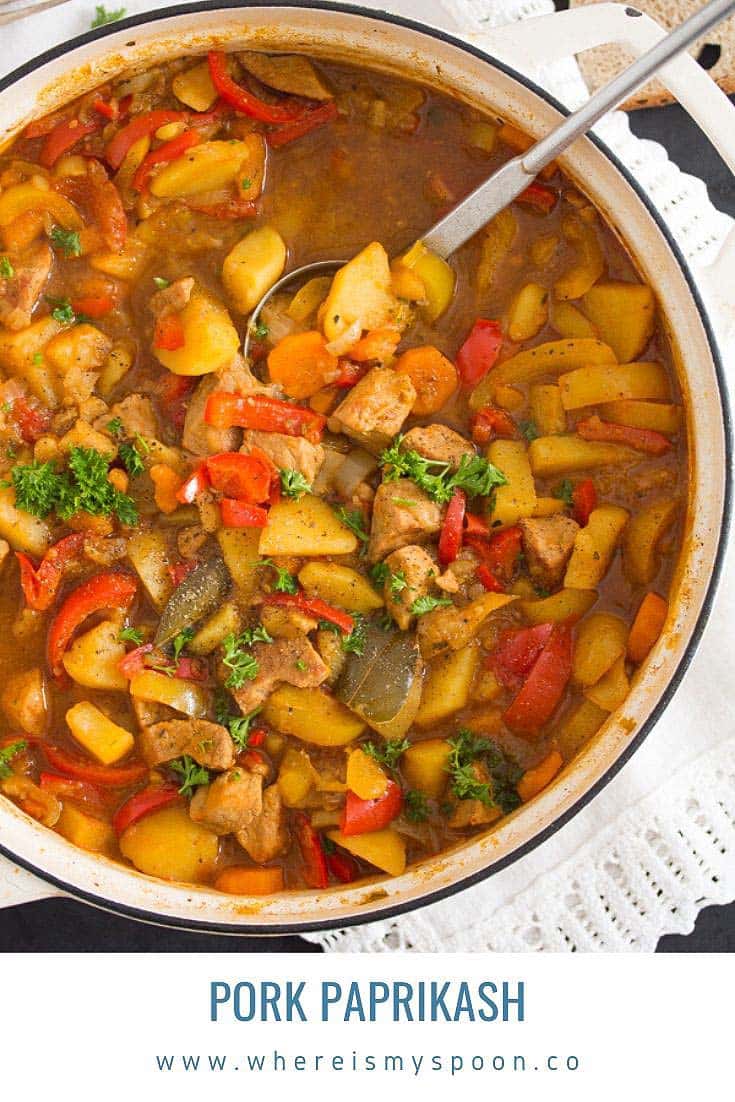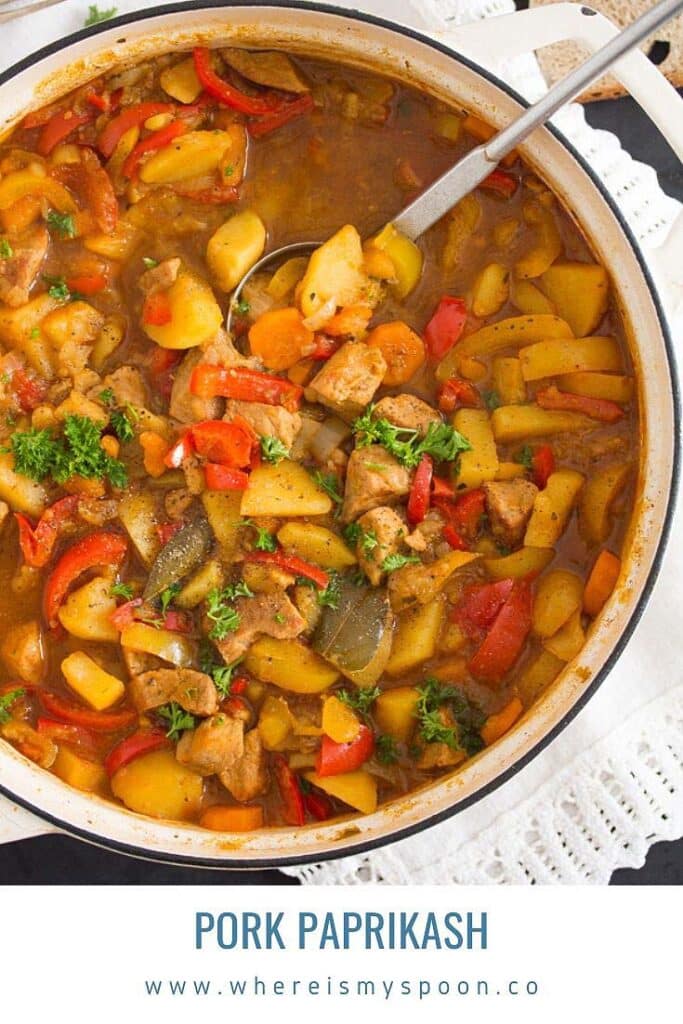 Pork and Potato Stew
A hearty and comforting Hungarian goulash or stew with pork and potatoes, red bell peppers and lots of paprika powder.
Print
Pin
Share
Grow
Saved!
Rate
Ingredients
500

g/ 1 lb pork

cut from the flank or the entire leg/ham of the pork

1

tablespoon

lard

See note 1

500

g/ 1 lb onions

about 5 medium onions

200

g/ 7 oz carrots

about 3 medium carrots

3-4

bay leaves

1 ½

teaspoon

sweet paprika powder

½

teaspoon

hot paprika powder

but not smoked

½

teaspoon

dried rosemary

1

teaspoon

dried oregano

See note 2

250

ml/ 8.4 fl.oz/ 1 cup stock

See note 3

250

ml/ 8.4 fl.oz/ 1 cup hot water

500

g/ 1 lbs potatoes

predominantly waxy potatoes

2

red bell peppers

fine sea salt and freshly ground black pepper
Instructions
Cut the pork meat into small cubes, about 1,5 cm/ 0.6 inches. Pat dry with kitchen paper. Heat about ⅓ of the lard or oil in a thick-bottomed, wide stewing pot or a deep pan.

Fry the pork in batches until browned all over, this should take about 7-8 minutes per batch. Do not overcrowd the pan and add more of the fat between the batches. Save a small amount of fat for the onions as well or add more if necessary.

Remove the meat from the pan and add the remaining lard or oil, the onions, and the carrots. Scrape the bottom of the pan while you stir the onions and cook the onions until nicely colored and softer, about 5-6 minutes.

Add the bay leaves, both paprika powder sorts, and dried herbs. Stir well for about one minute. Return the pork cubes to the pot. Add the stock and the hot water. Cover the pot, bring to a boil, turn the heat down and simmer for about 20 minutes.

In the meantime peel and cut the potatoes into larger chunks. Cut the peppers into slices. Add both to the pot, cover leaving a small crack open, and continue simmering the pork stew for about 45-50 minutes or until the potatoes are soft and the meat is very tender. Don't forget to stir from time to time and add a small amount of water if the pork stew seems to get too dry.

If the meat is not tender enough, prolong the cooking time, checking every five minutes or so, until the meat is very tender.

Adjust the taste with freshly ground black pepper and add some salt as well if necessary. If the stock was salty enough, you might not need to add extra salt.

Serve immediately or reheat. Read above for side dish suggestions.

Notes
You can replace lard with vegetable oil.
Dried summer savory or thyme can be used instead, about 1 teaspoon of it.
I use homemade chicken stock most of the time, but beef stock, bone broth, or vegetable broth can be used instead. If you don't make stock, use your favorite stock brand to make the stew.
Nutrition
Serving:
1
g
|
Calories:
560
kcal
|
Carbohydrates:
51
g
|
Protein:
41
g
|
Fat:
22
g
|
Saturated Fat:
8
g
|
Polyunsaturated Fat:
12
g
|
Cholesterol:
115
mg
|
Sodium:
504
mg
|
Fiber:
7
g
|
Sugar:
13
g