This is one of the most traditional Romanian chicken stews: chicken and peas stew. A very popular dish with children, just like the grandma used to make.
The chicken and peas stew or mazare cu pui used to be my favorite dish for a while during my childhood. It still is one of my favorite traditional Romanian stews. And now it is my daughter's favorite stew as well.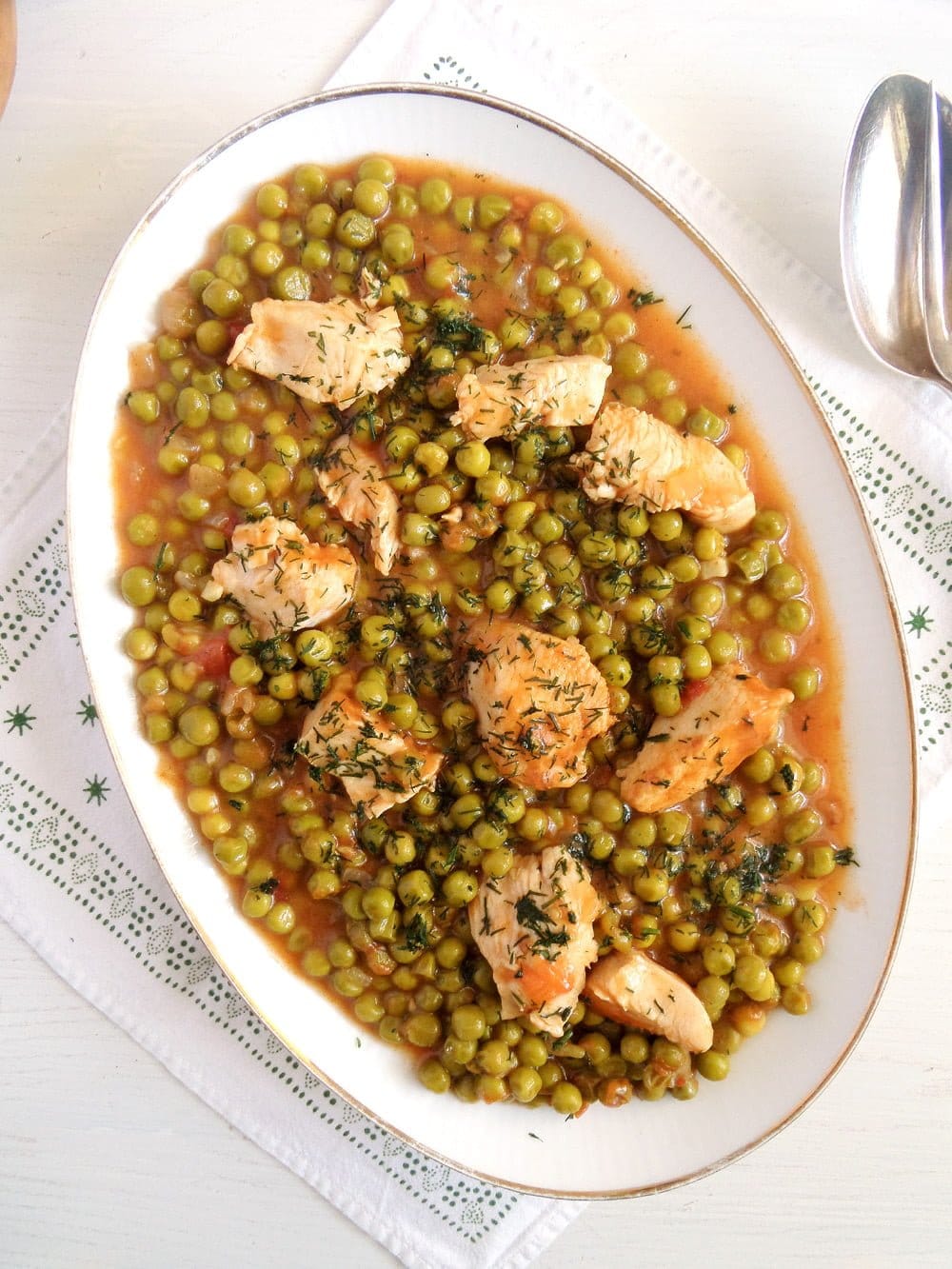 Sweet peas and tender chicken pieces in a light tomato sauce with lots of dill. What is not to like? Really, this is a super popular dish with kids, I haven't met one who didn't like it yet.
I remember my grandmother podding peas when I was a child. For some reason, she always used to do that in the living room, sitting in her red armchair, and not in the kitchen. I assume she preferred to sit for such a long time in a more comfortable armchair instead of the kitchen chair. I never asked and now it is too late for that.
I also remember my grandma sometimes saying that she couldn't cook this dish because she couldn't afford to buy chicken. And I always said that it didn't matter, I liked the pea stew with or without the chicken.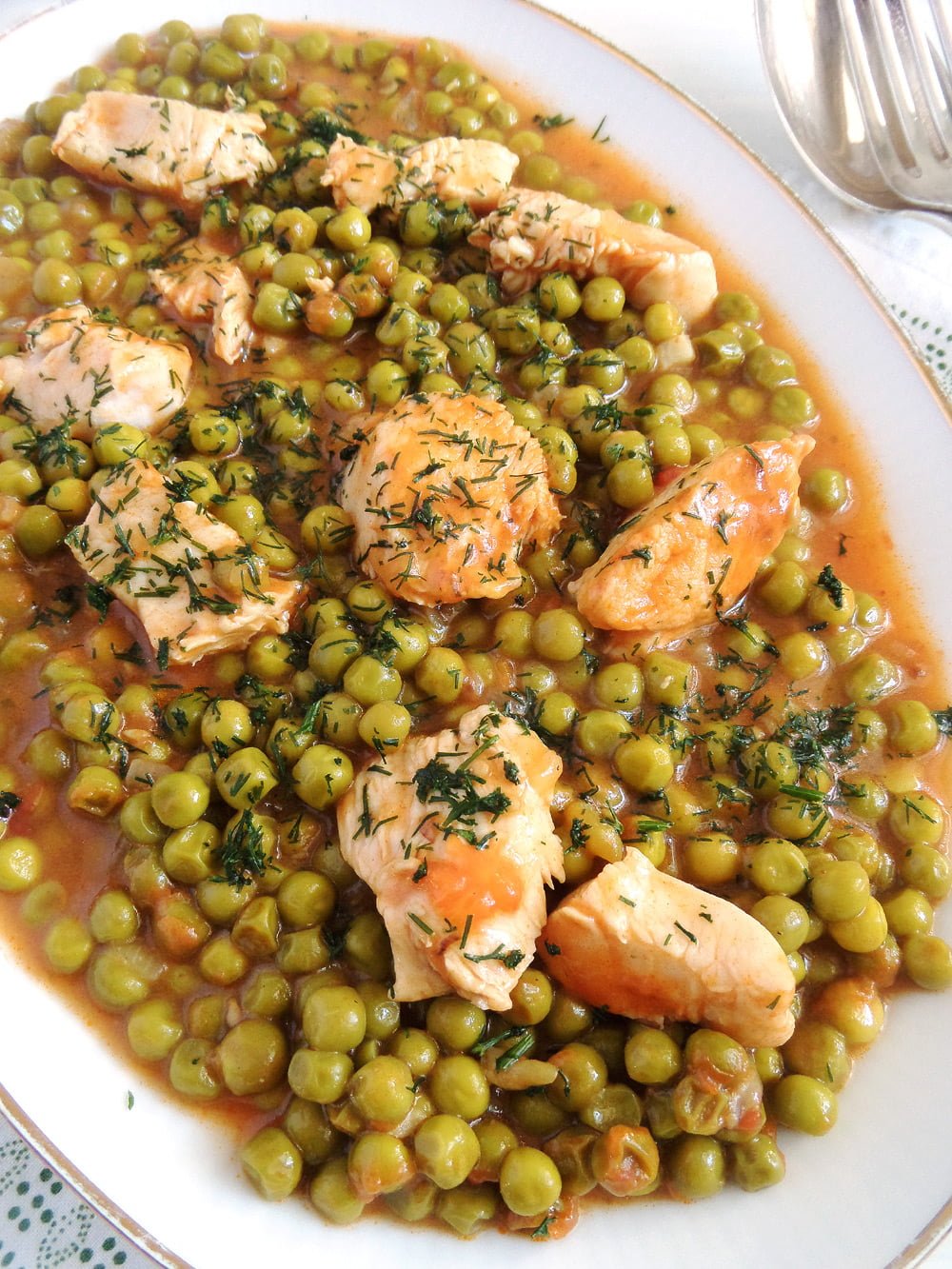 Ingredients
Peas:
The pea podding times are long gone now. Not because I wouldn't like to do it sometimes, it is because I haven't seen any peas in their pods since I left Romania. In Germany, they only seem to come frozen or in cans.
But luckily I love frozen peas. I always have a bag in the freezer and I use them a lot, not only to make this stew but also for all kinds of soups, stews, stir-fries or side dishes, you name it, when I don't know what else to throw into a pot, I always end up with adding a handful of peas.
Chicken:
There are a few possibilities here and they are all great.
Breast:
You can use chicken breast. This is very convenient, as most of us have some chicken breast in the freezer at all times.
Chicken breast can be quickly defrosted and used to make this stew.
Just cut it into pieces (not too small) and add them to the stew. They will be cooked in about 5 minutes.
Chicken drumsticks:
This is the way my aunt cooks this chicken stew most of the time.
The chicken drumsticks are cooked separately, you can fry them in a pan or bake them in the oven.
Serve separately with the stew.
Leftover chicken:
I use it very often. Either leftover from making chicken stock, rotisserie chicken, or leftover roasted chicken.
Tear or cut the leftovers into pieces, add them to the stew and heat until piping hot.
Leftover turkey can be used as well.
Stock:
I use homemade stock, especially when I also have meat from making soup.
Otherwise, a good brand of stock is perfectly fine.
Dill:
So important!!!
Don't leave it out and don't replace it, it is a crucial ingredient in this stew, no other herb will taste the same.
Use either fresh or frozen dill, never dried dill.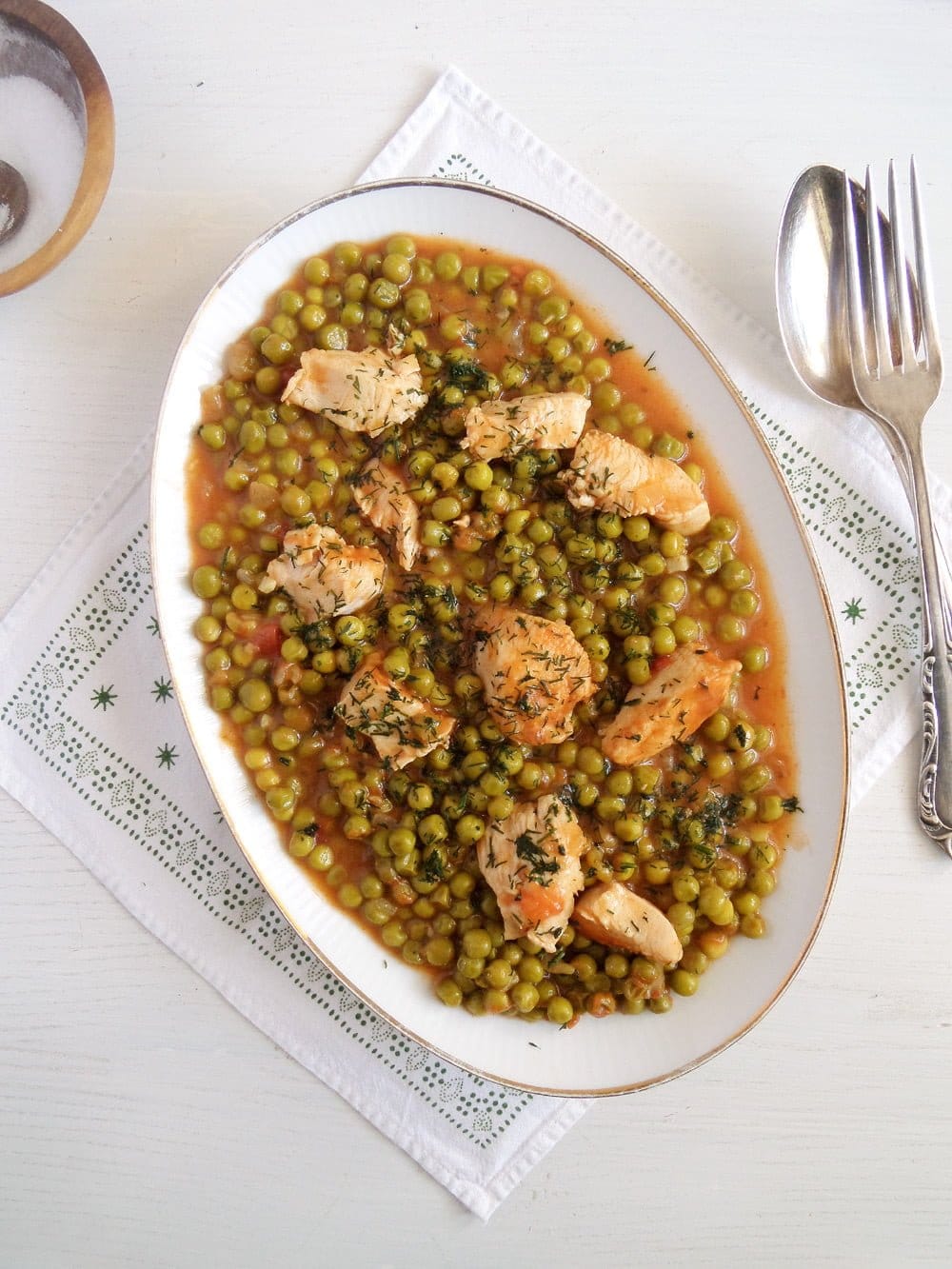 How to make Romanian chicken stew?
Cook the onion until translucent.
Add the tomato paste and stir well for one minute.
Add the peas (no need to defrost them) and stir well.
Add enough stock to barely cover the peas, about 600 to 750 ml/ 20 to 25 fl.oz/ 2.5 to 3 ¼ cups. It really depends on your pot.
Bring to a boil, lower the heat and simmer, covered, for about 10 minutes.
Add the raw chicken breast pieces and continue cooking for about 5 minutes or until the chicken is cooked through.
Add the dill and adjust the taste with salt and pepper.
If using leftover chicken, add and reheat well.
If using roasted or pan-fried drumsticks served separately with the pea stew.
Using cornstarch to thicken the sauce is completely optional, it depends on how you like the sauce.
You can leave it as it is and maybe cook it down slightly if you think it is too much.
Or you can stir in the cornstarch for a thicker, more velvety sauce. Don't use too much though, the sauce should not be too thick. You still want it on top of the mashed potatoes.
Make-ahead or reheat
You can definitely make the Romanian chicken stew ahead and reheat it again.
It keeps well in the fridge for about 3 days.
Serve
The chicken stew with peas is traditionally served with mashed potatoes or white bread.
Mashed potatoes are the better option.
More Romanian chicken recipes?
Chicken in Cream Sauce - Tender meat in cream, a typical Romanian recipe.
Romanian Easter Drob - The Romanian Easter drob is a traditional appetizer for the Easter brunch, and this version is a very popular twist on the well-known lamb drob.
Paprikash with Dumplings  - Transylvanian stew with flour dumplings.
Polenta Chicken  - A simple recipe full of comfort and flavor.
Roasted Chicken and Vegetables - Just like my grandma used to make.
Pin it for later!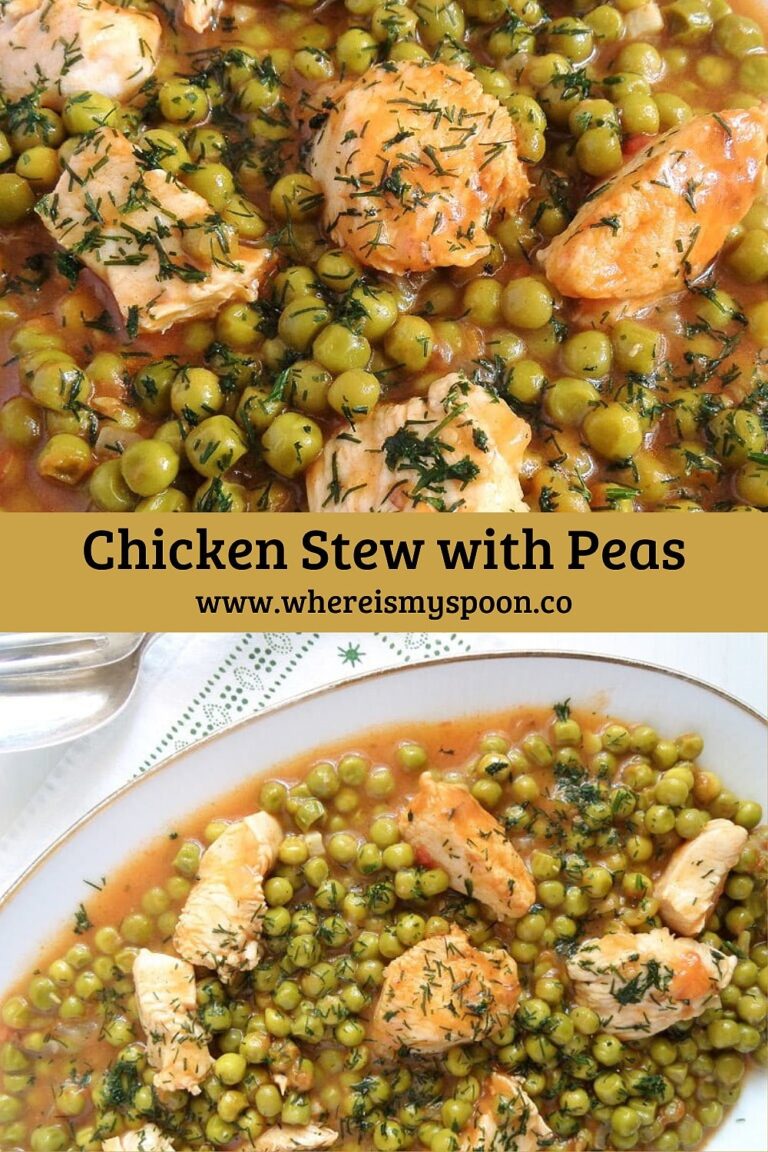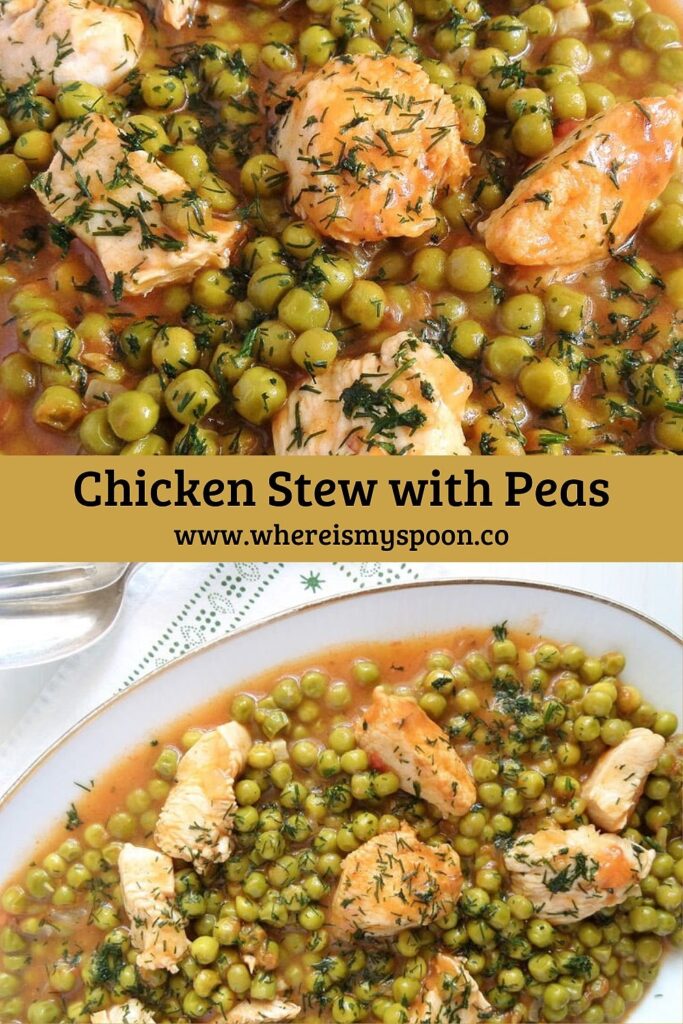 First published: September 30th, 2015.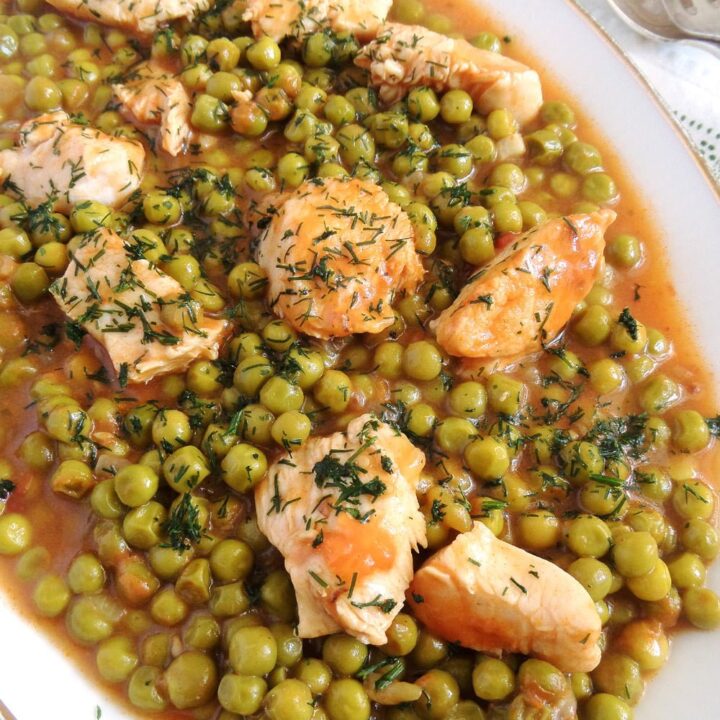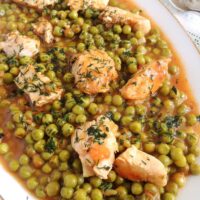 Romanian Pea and Chicken Stew
This is one of the most traditional Romanian chicken stews: chicken and peas stew. A very popular dish with children, just like the grandma used to make.
Print
Pin
Share
Grow
Saved!
Rate
Ingredients
1

tablespoon

sunflower oil

1

onion

1

very heaped tablespoon tomato paste

2.2

lbs

frozen peas

2.5 to 3 ¼

cups

chicken stock

(650 to 700 ml) to barely cover the peas in the pot

1

lb

chicken breast

See note

2

teaspoons

cornstarch

optional for a thicker sauce

a bunch of fresh dill or 2-3 tablespoons chopped frozen dill

fine sea salt and black pepper

to taste
Instructions
Saute: Heat the oil in a pot. Chop the onion finely and cook until translucent, about 3-4 minutes, stirring. Add the tomato paste and stir for 1 minute. Add the frozen peas, cover barely with chicken stock, and bring to a boil. Cook for about 10 minutes.

Cook chicken: In the meantime, chop the chicken breasts into cubes. Add them to the pan and cook everything for 5 minutes or until the chicken is cooked through. Don't overcook the chicken.

Thicken sauce (optional): If you want to thicken the sauce (optional), mix the cornstarch with 1-2 tablespoons cold water to obtain a paste. Make a little space in the middle of the pan by pushing the peas away as much as possible and pour the cornstarch paste in a thin stream while whisking all the time with a small whisk. Stir everything very well and let bubble for 1 minute.

Adjust the taste with salt and pepper. Add the finely chopped dill.

Serve with mashed potatoes.
Notes
Leftover chicken (or turkey) can be used instead.
Alternatively, you can pan-fry or roast chicken drumsticks and serve them with the pea stew.
Nutrition
Serving:
1
/6 of the dish
|
Calories:
342
kcal
|
Carbohydrates:
34
g
|
Protein:
36
g
|
Fat:
7
g
|
Saturated Fat:
1
g
|
Polyunsaturated Fat:
5
g
|
Cholesterol:
68
mg
|
Sodium:
441
mg
|
Fiber:
10
g
|
Sugar:
13
g