Tender oven-roasted chicken and vegetables like garlic, peppers, and carrots, a simple and delicious chicken recipe.
A particularly flavorful dish of roasted chicken and vegetables, healthy and very easy to make, a Romanian style chicken dish with lots of garlic, something my grandmother used to make on a regular basis.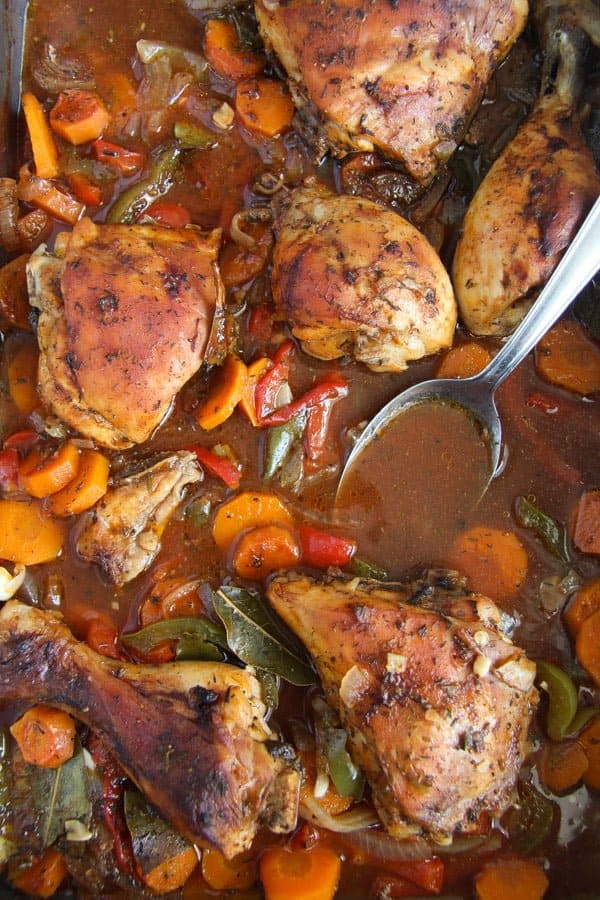 This roasted chicken and vegetable dish was another one of my grandmother's signature dishes, I used to call it sticky chicken because somehow she managed to make this really sticky. I am sorry to say that I have never managed that with this particular dish, I have no idea what I am doing wrong…
My version of grandma's recipe is absolutely delicious and I could eat all the time, but still is not entirely the way I used to know it. My suspicion is that I just don't use as much oil as my grandmother did, she was always extremely generous with it.
Normally, I can get away with it, most dishes taste just as good with only 1 or 2 tablespoons oil and not a quarter bottle like my grandma used to pour into each dish. But maybe not this recipe, I definitely think she used to cook it in quite an equal amount of broth and oil, which I just cannot bring myself to do…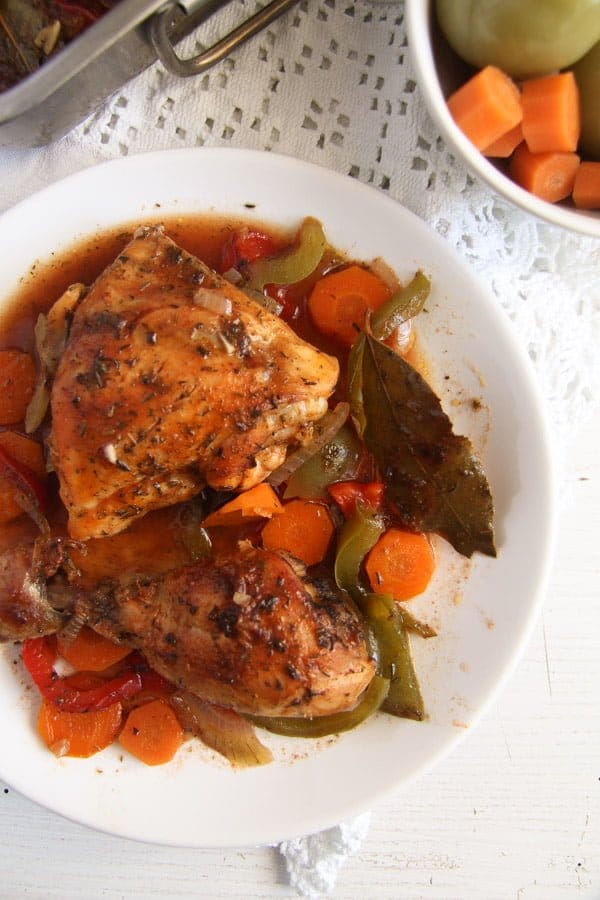 How to make?
The recipe for roasted chicken and vegetables is very simple and uses only cheap and easy to find ingredients and spices.
Dividing the legs at the joint is not particularly difficult. Use a good large knife and make sure to find the right spot between the thigh and the drumstick where you have to cut. If you get it right, going through the joint will be very easy.
If you encounter resistance, then you are not at the right spot. Move the knife a few millimeters more to the right or to the left and try again.
Remove the skin from the meat. The thighs will cook in liquid and that always makes the skin soft, I definitely don't like it that way.
Chop the carrots and cook them together with the chicken pieces in a little water for about 3 minutes. Remove from the pan, but keep the cooking liquid.
Place the meat, carrots, sliced peppers, onions, garlic, and bay leaves into a roasting tin.
In a small bowl, mix together two soup ladles full of cooking liquid, the savory, stock powder, tomato paste, salt, and pepper. Pour into the tin, adding the oil as well.
Roast everything for 1 hour and 30 minutes in the preheated oven or until the meat is very tender and cooked through.
Flip after about 30 minutes. Baste the meat with the cooking juice a few times in between.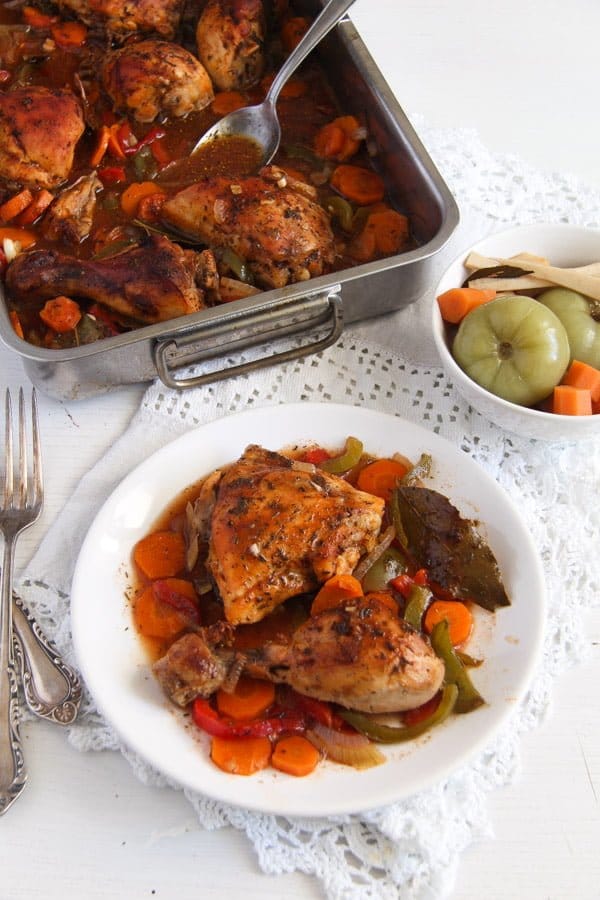 How to serve?
The perfect side dish is mashed potatoes. But you could also have white bread on the side.
A simple white cabbage salad would be great as well, otherwise green salad or cucumber salad with vinaigrette.
You can easily reheat the leftovers.
Use the remaining poaching liquid to add to a soup or a stew.
Other roasted chicken recipes: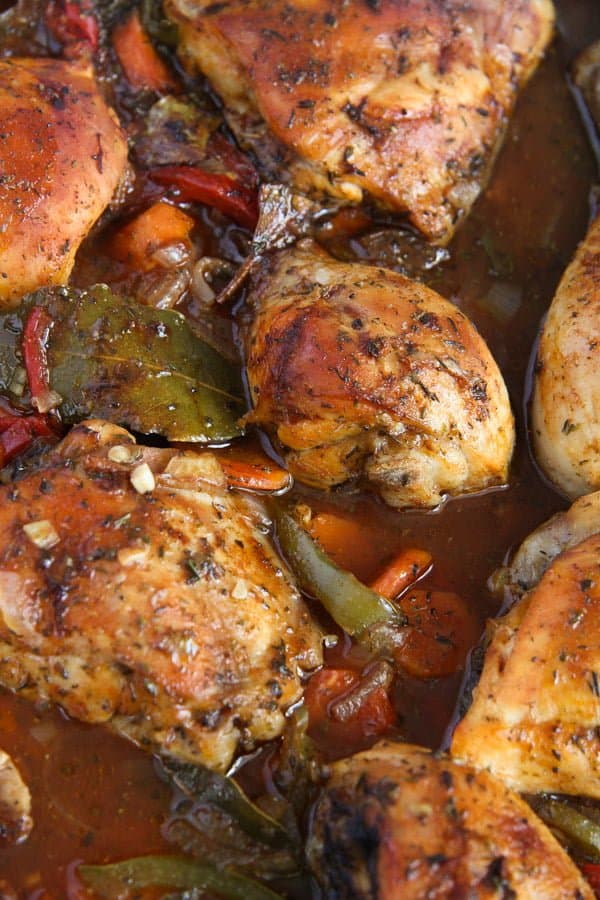 Roasted Chicken with Vegetables
Cook Time:
1 hour
10 minutes
Total Time:
1 hour
40 minutes
Tender oven-roasted chicken and vegetables like garlic, peppers, and carrots, a simple and delicious chicken recipe.
Ingredients
6 chicken legs
250 g/ 8.8 oz carrots
2 red bell peppers
2 onions
8 garlic cloves
4 bay leaves
1 tablespoon dry savory
1 teaspoon organic vegetable/chicken stock powder
2 tablespoons tomato paste
1 teaspoon fine sea salt
freshly ground black pepper
2 tablespoons vegetable oil
Instructions
Preheat the oven to 200 degrees Celsius/ 400 degrees Fahrenheit.
Halve the chicken legs at the joint and remove their skin. Place the chicken into a pot and cover it with water, just enough to cover the chicken, do not fill the pot. Chop the carrots into slices about ½ cm/ 0.2 inch and give them to the chicken as well. Bring to a boil and boil for 3 minutes. Remove from the heat.
Take the chicken and the carrots out of the cooking liquid but reserve the liquid. Place the chicken parts and the carrots into a casserole dish.
Slice the onions, bell peppers, and garlic. Add them to the casserole dish as well and arrange them between the chicken parts. Add the bay leaves as well.
Take two large soup ladles from the chicken cooking liquid and place them into a small bowl. Stir in the dry savory, vegetable or chicken stock powder or cube, tomato paste, salt, and pepper. Pour this mixture into the casserole dish. Pour the oil over the chicken as well.
Use the remaining poaching liquid for making a soup or a stew, for instance.
Place the casserole dish into the hot oven and bake for about 1 hour and 10 minutes or until the chicken is cooked through and the vegetables are soft. Turn the chicken parts after 30 minutes and don't forget to baste the chicken with the cooking juices from the casserole dish a few times in between.
Serve with mashed potatoes or white bread and white cabbage salad.
Nutrition Information:
Yield:

6
Serving Size:

1/6 of the dish
Amount Per Serving:
Calories:

539
Total Fat:

31g
Saturated Fat:

8g
Trans Fat:

0g
Unsaturated Fat:

22g
Cholesterol:

282mg
Sodium:

699mg
Carbohydrates:

13g
Fiber:

3g
Sugar:

5g
Protein:

54g
Nutritional information is not always accurate.