Winter is finally here, there is a blizzard outside, the likes I haven't seen in a long time. The kitchen is warm and dark, the children are listening to "Frozen" on the CD player and the house smells of mandarins. It is really idyllic here right now. Almost like Christmas! 🙂
The only draw back is that the darkness and the coziness makes me really drowsy, I would actually like to get on the couch with a nice book and a cup of tea. Oh well, I would probably fall asleep within five minutes if I start reading now…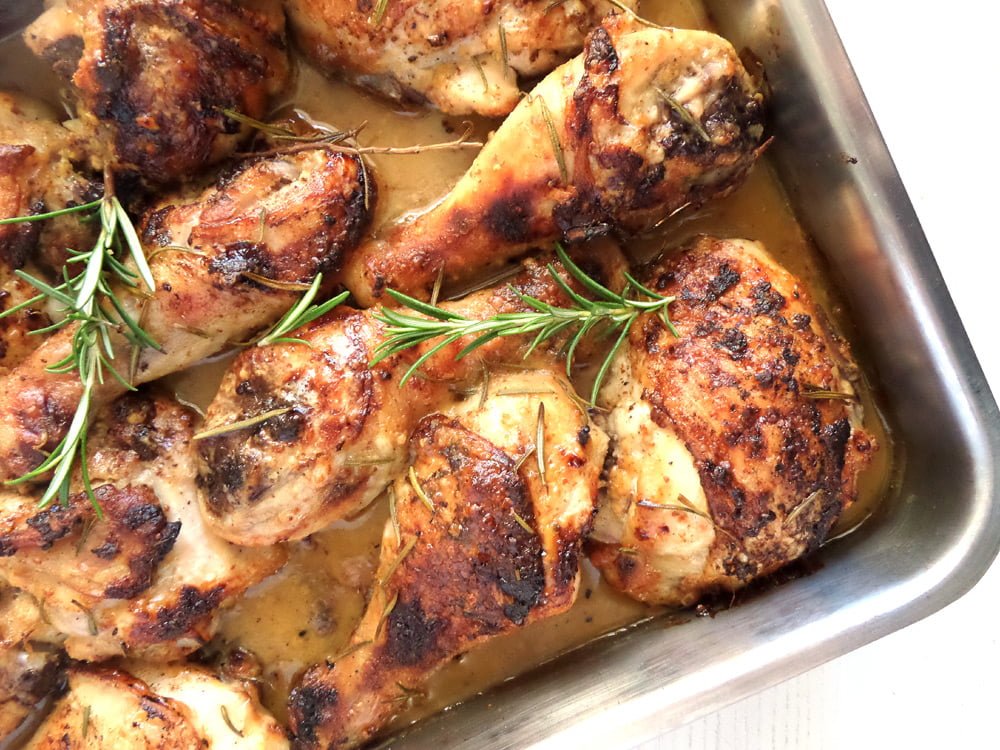 So I'd better tell you about this chicken. Baked chicken thighs in a delicious honey mustard sauce. It was amazing, we had this last weekend and I was that close to cooking it again today. Too bad I had forgotten to unfreeze the chicken legs. I found the recipe on Damn Delicious, a blog with soooo many amazing chicken recipes, it is really hard to decide what you want to cook once you start perusing them. I decided to make this one because I had everything I needed at home. I changed it slightly, using whole chicken legs and marinating the chicken for a while.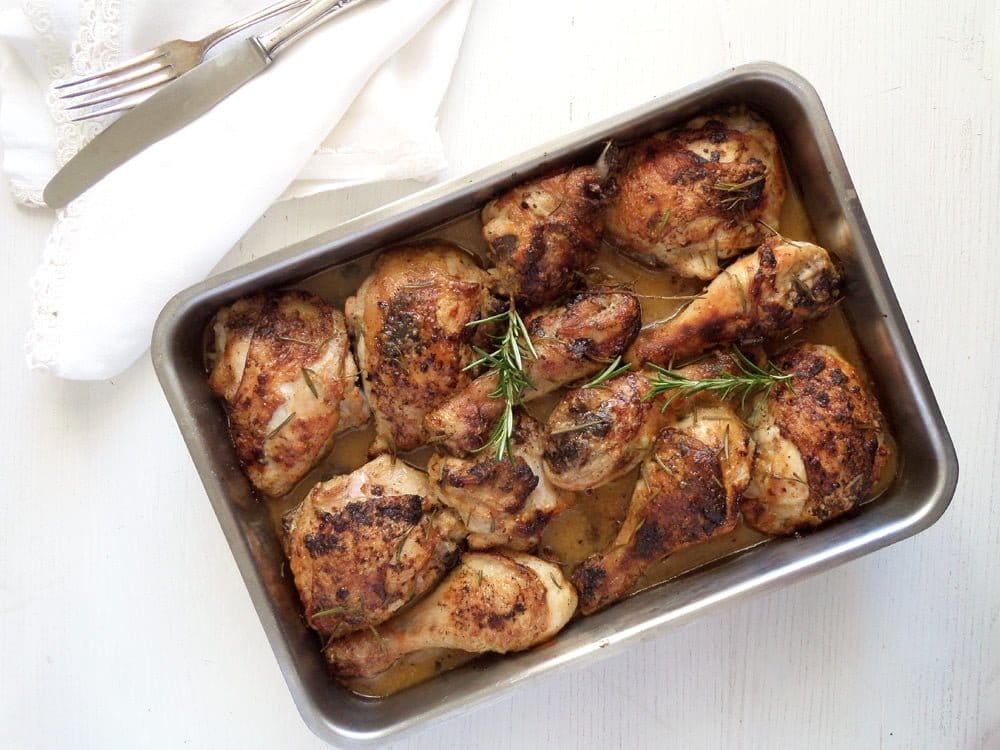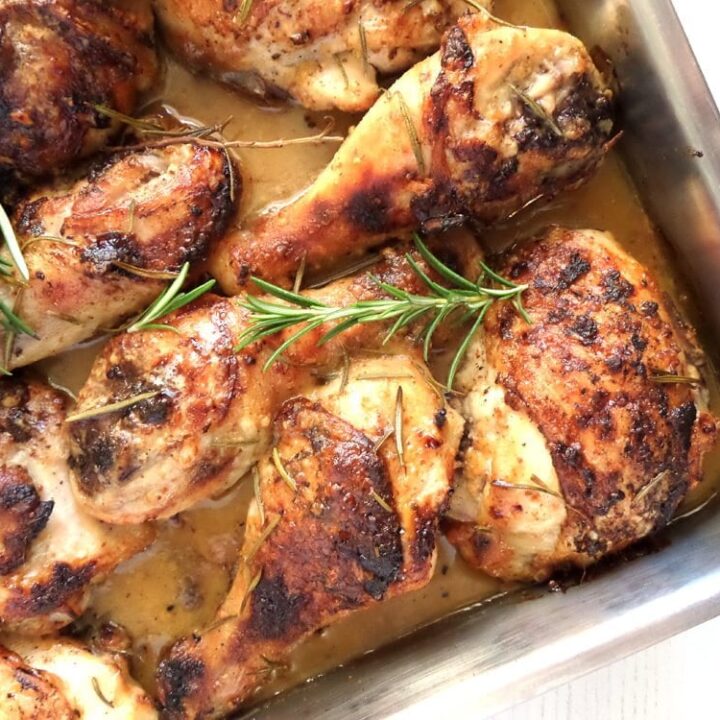 Chicken in Honey Mustard Sauce
Baked chicken thighs in a delicious honey mustard sauce, a simple recipe for any day of the week.
Ingredients
6 whole chicken legs (quarters)
2 tablespoons whole-grain mustard
4 tablespoons olive oil, divided
fine salt and pepper
5 tablespoons Dijon mustard
5 tablespoons whole-grain mustard
5 tablespoons clear honey
5 tablespoons chicken stock
5 rosemary sprigs
Instructions
Divide the chicken legs at the joint and remove the fat hanging on the inside of the thigh. I also remove the upper part of the chicken thigh, the one where the back of the chicken begins. I use those parts to make chicken broth. But you can leave that on if you don't want the extra work or you can use chicken thighs where that part has already been removed.
Mix the whole grain mustard and 2 tablespoons of olive oil. Place the chicken in a large shallow dish and rub it all over with this mixture. Cover with plastic foil and leave to marinate in the fridge for about one hour.
Preheat the oven to 200 degrees Celsius/ 390 degrees Fahrenheit.
Heat the remaining olive oil in a large oven-proof skillet, large enough to hold all the chicken parts in one layer. Place the chicken in the pan, skin-side down, and fry on all sides until golden brown. This should take about 2-3 minutes per side.
In the meantime stir together the Dijon mustard, the whole grain mustard, the honey, and the chicken stock. Add to the browned chicken, sprinkle everything with the rosemary, place the skillet in the oven and cook for about 25 minutes or until the chicken is cooked through. To make sure that the chicken is cooked through pierce the thighs with a toothpick, the juices should run completely clear.
Serve with baguette and green salad.
Nutrition Information:
Yield:

6
Serving Size:

1 chicken leg
Amount Per Serving:
Calories:

634
Total Fat:

34g
Saturated Fat:

8g
Trans Fat:

0g
Unsaturated Fat:

23g
Cholesterol:

328mg
Sodium:

905mg
Carbohydrates:

17g
Fiber:

2g
Sugar:

15g
Protein:

64g
Nutritional information is not always accurate.