Tender chicken in a delicious, comforting and easy to make cream sauce, this is the recipe for the Moldavian Chicken in Cream Sauce.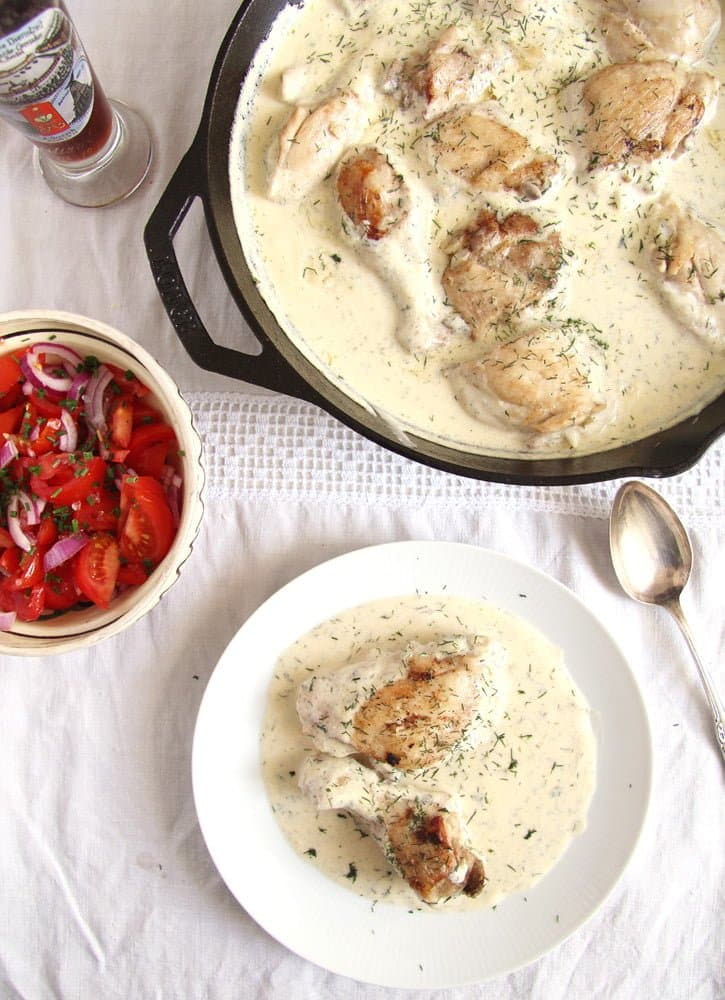 This Chicken in Cream Sauce is another Moldavian or Moldovan recipe that is famous all through Romania, I think most Romanian people have at least heard of it and many of them tasted one version or another of this delicious chicken recipe.
I actually remember the first time I have ever had this kind of chicken in cream sauce. I was not more than 10 I suppose and we were spending a part of our summer holidays in Moldova, where my grandfather was living at the time. He used to live in a small, neat town called Falticeni, which was not too far away from his birth village, where some of his family was still living. Unfortunately, I don't remember very much about his family, I am not even sure how many sisters and brothers he had, my grandparents split up when I was quite little and although my relationship to him was very close as a child, I really haven't seen him much afterward.
A shame to have lost all relations in that direction, especially since, if you ask me, I am more like my grandfather than any of his many other grandchildren. Especially during the last years I sometimes get a shock when unexpectedly looking into the mirror and seeing my grandfather staring back at me…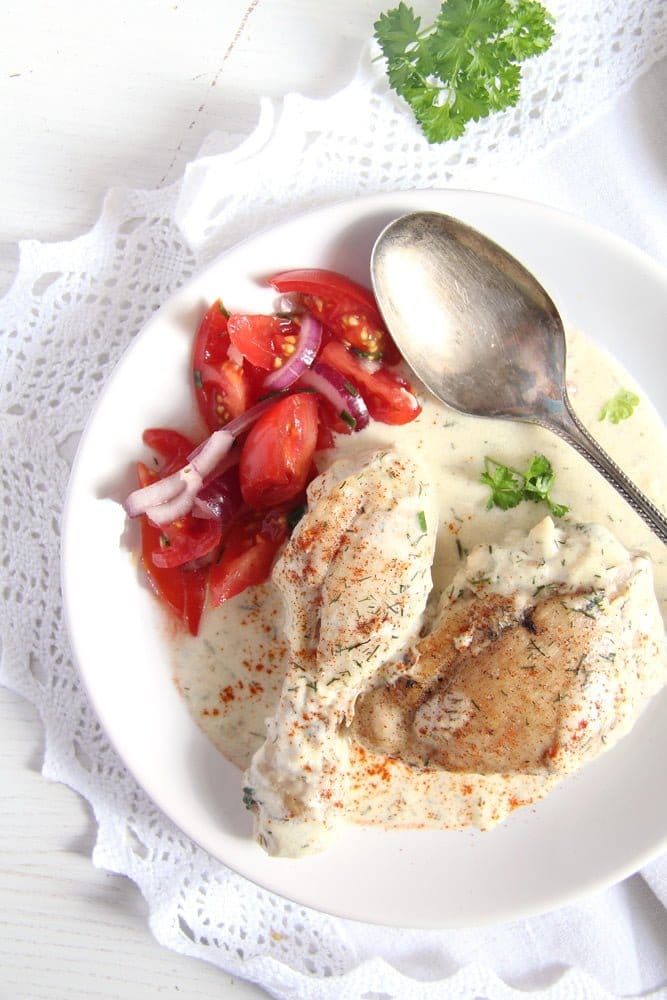 Anyway, one day during these summer holidays, we went to his village, Dolhasca and spent a very hot summer day there, my sister and I running around the garden with some other children, relatives from my grandfather's family, people I have never ever seen again afterward. So, I am not really sure who exactly we were visiting there, either a sister of my grandpa and her husband or the other way around, one of his brothers and his wife.
However, the woman of the house, an old woman wearing peasant clothing and a headscarf cooked this delicious chicken with cream sauce, which we ate in the garden, in the sun and which left such a vivid memory in my mind. I really don't remember much of that trip, but I do remember the heat, the amazing brightness of that day and the food…. Greedy, even then. 🙂 Another character trait I definitely inherited from my grandfather, my grandmother was quite ascetic when it came to food.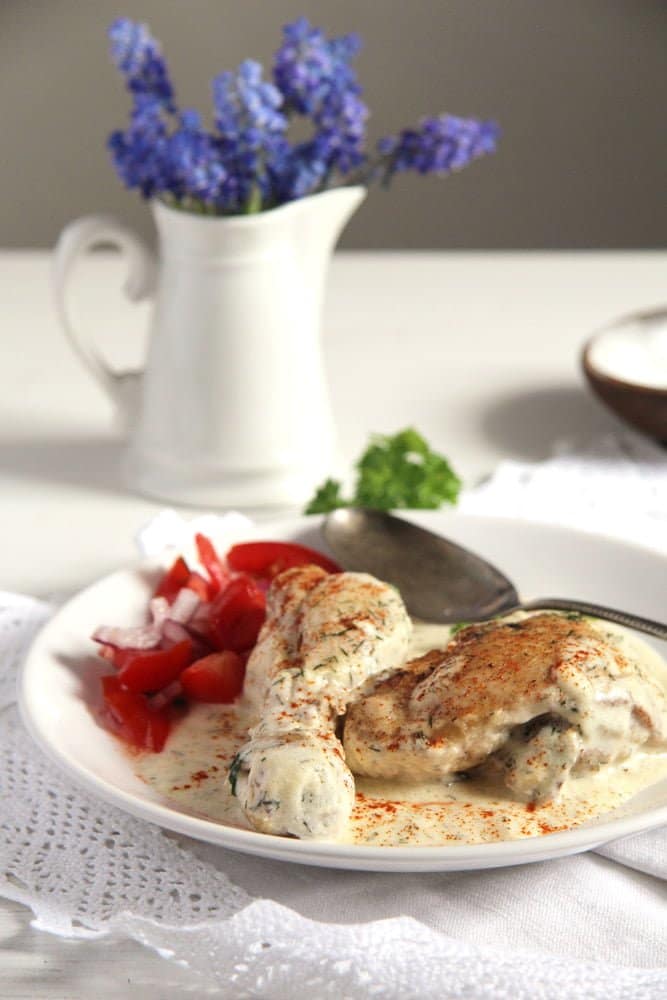 This recipe for Chicken in Cream Sauce couldn't be easier. You will only need 2 main ingredients: chicken and smetana or crème fraiche, very cheap ingredients and you will be set with a meal fit for a king. An original peasant recipe that, in its simplicity, tastes at least as good or better than any fancy meal made with expensive ingredients. The amount of time and work you will need to make this chicken in cream sauce is minimal, your children will adore it and you will probably end up making it again and again.
The Chicken in Cream Sauce is best served with Polenta, but in case you don't have any, don't like it or are completely unfamiliar with it, rice, boiled potatoes or even pasta (in extreme cases – I consider pasta to be quite un-Romanian) would do just as well. A green salad or tomato salad on the side or even some pickled vegetables like pickled green tomatoes or cucumber would be great as well. If you go for salad, I suggest adding an extra tablespoon of vinegar to the vinaigrette, I find the vinegar to be able to cut through the extreme creaminess of the cream sauce very well. But that it is just a taste matter, try it and see how you like it best.
Traditionally, you would take a whole chicken, cut in pieces for this recipe. I did that and it is great of course, but most of the times I prefer using chicken legs. It is the kids, they both like chicken legs best, so I tend to go for them just to make sure that there are no complaints and fighting over the chicken legs in the pot…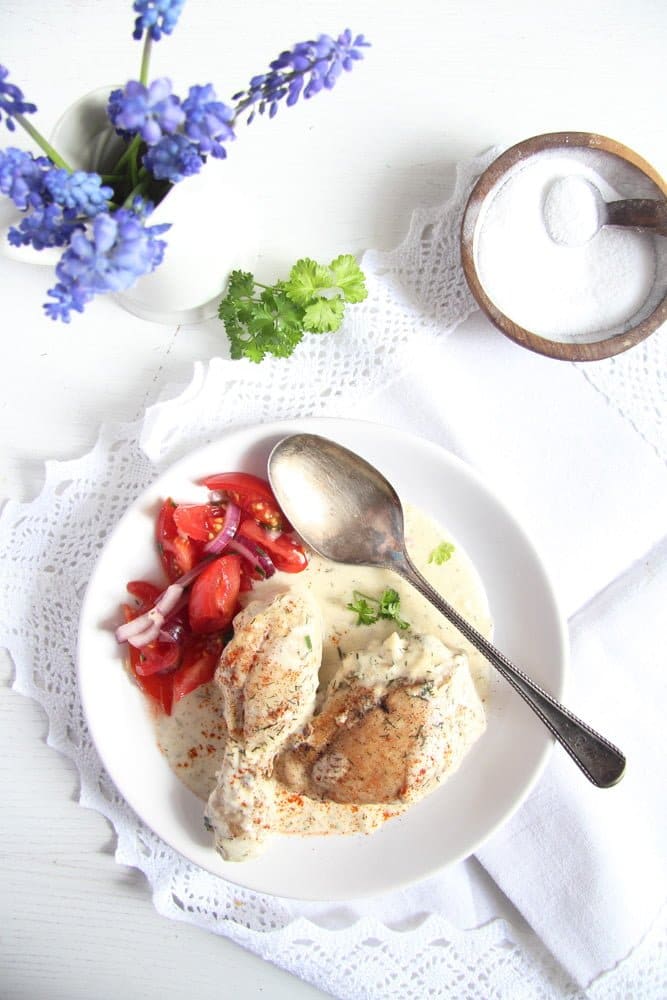 Other Moldavian recipes to try:
Ingredients
1 medium chicken or 4-6 whole chicken legs

1 tablespoon butter

1 medium onion

2 garlic cloves

about 500 ml/ 2 cups chicken stock or water (to barely cover the chicken parts)

400 ml/ 1 ¾ cups smetana or crème fraiche

2 teaspoons all-purpose flour

1 egg yolk

1 small bunch parsley

1 small bunch dill

salt and pepper
Instructions
Cut the chicken into pieces: drumsticks, thighs, wings and breasts. If using only chicken legs divide them at the joint into chicken thighs and drumsticks. Salt the chicken parts.
Melt the butter in a large heavy bottomed pan. Fry the chicken parts until golden on all sides, about 2-3 minutes on each side together with the finely chopped onion. Add the garlic during the last 2-3 minutes. Pour water or better some chicken stock into the pan to cover about ¾ of the chicken. Cover and cook slowly for about 30 minutes or until the chicken is cooked through, don't overcook it though. To make sure that the chicken is done, pierce the thickest part of a thigh with a fork or a sharp knife, the juices should run clear.
Mix the smetana or crème fraiche with the flour and the egg yolk. Pour the mixture into the pan, bring to a boil and let bubble for about 1 minute. Remove from the heat, adjust the taste with salt and pepper, add the chopped parsley and dill and serve hot with polenta (or rice or potatoes) and green salad, tomato salad or pickled vegetables.
This post contains affiliate links. The price you pay as a consumer does not change, but if you make a purchase we will receive a commission which helps support the blog.