I hope you had a wonderful Christmas!
We sure did! Or better said for me was the usual mixture of delight and stress. Delight because I absolutely love Christmas, I love seeing the kids excited at the thought of the presents and Christkind, I love sitting with the whole family on Christmas Eve and Christmas Day and then with friends over the next couple of days, I love the food and the cookies, the slow walks around the village, well, everything that makes Christmas for us.
And stress because of all the elaborate preparations, all the cooking, the timing, the cleaning-up, then cooking and baking again, more cleaning and so on. I swore to myself yesterday and made my husband promise that he will remind me of this next Christmas, that I will try to keep it simpler next year, at least when cooking. I wanted too much this year and I have to admit, I was a bit overwhelmed and spent too much time in the kitchen, time that I would have rather spent in the living room with the family. So simplicity is next year's motto!
And talking about simplicity, simple is the following dish. A typical Romanian recipe, I would say, something my grandmother made sometimes in a similar way. Just a few ingredients, not too much work and not too much time involved and you will have an absolutely delicious and comforting stew, something that both adults and children will love (well, as long as they like garlic:)).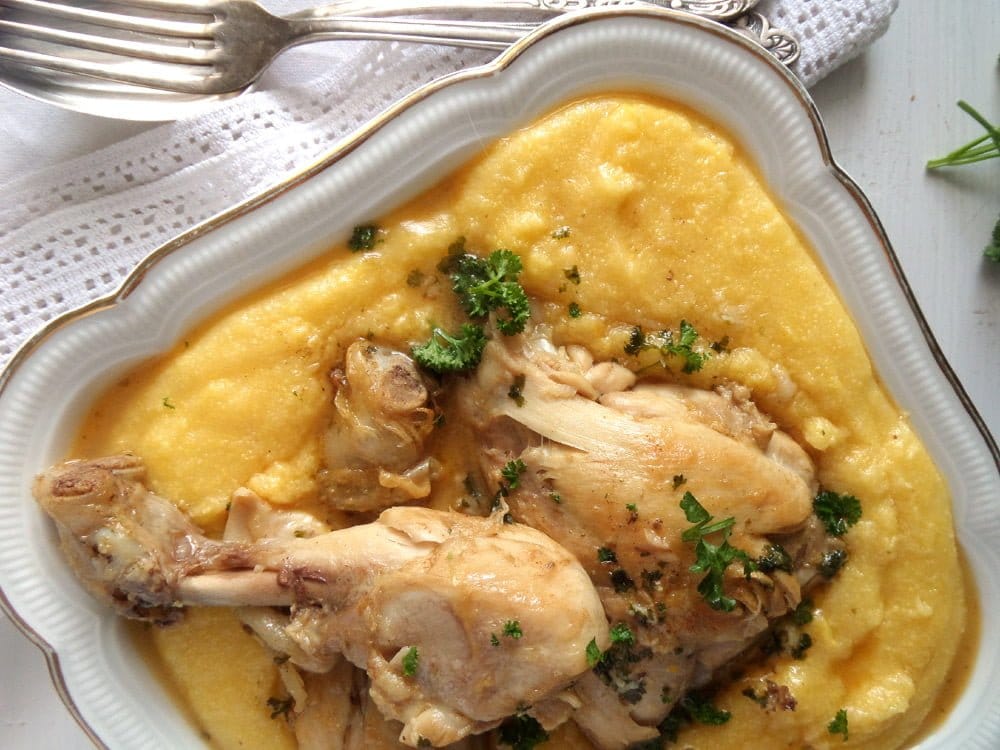 We love this with polenta, a softer polenta than the one I usually make, it is perfect for the rather thin sauce. I normally cook the polenta according to the packet's instructions. To make it softer I just take about 120 ml/ ½ water more than instructed.
And I use quite a lot of garlic, which only gets cooked for a minute or so, that makes the sauce really "garlicky". And I loooooove that, I am really a garlic junkie. We all are in this house! 🙂