Make the most of your Thanksgiving leftovers with a tasty creamed turkey recipe! Use your extra turkey and some pantry staples to create a delicious dish that's great on toast or biscuits.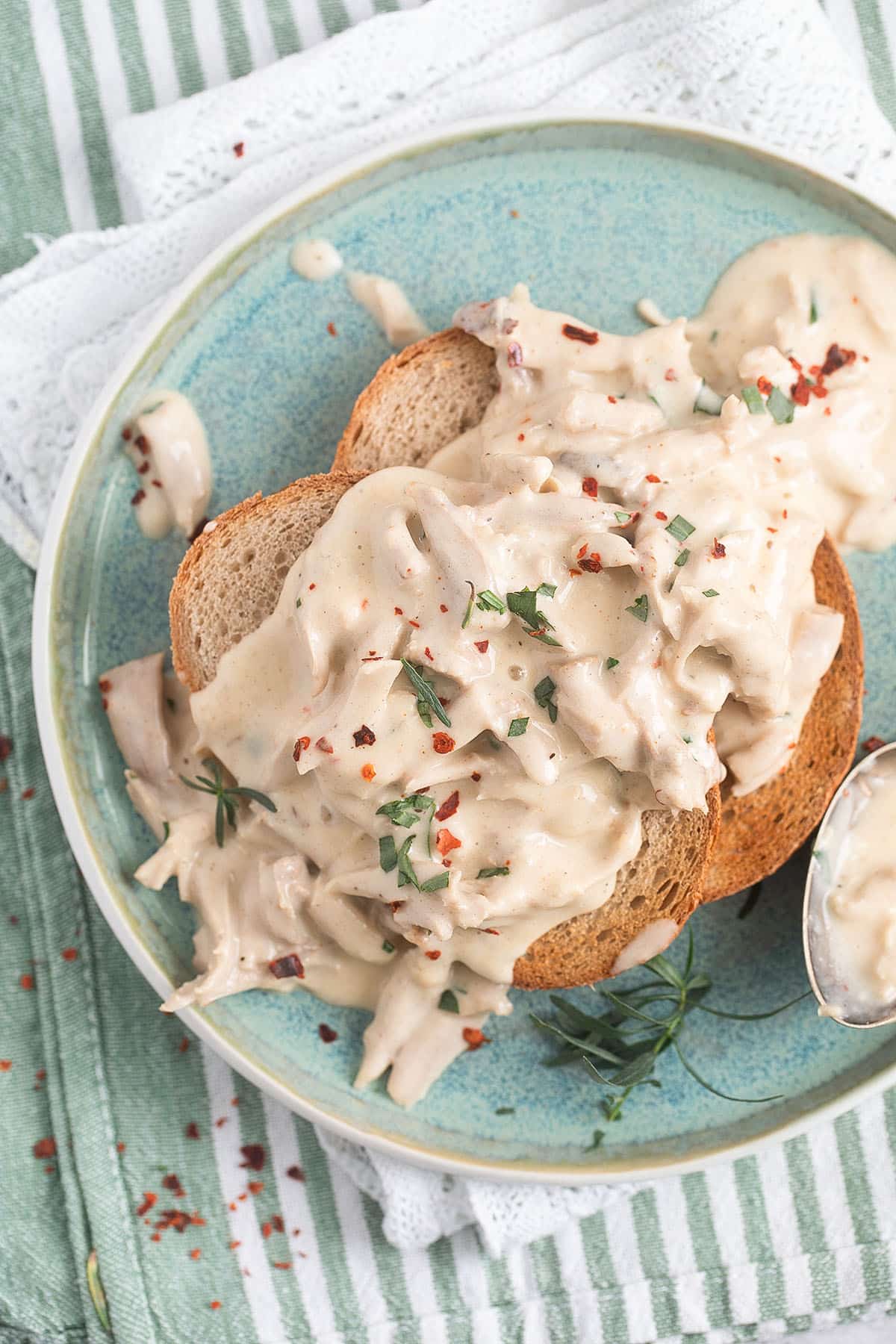 This great recipe for creamed turkey mixes tender leftover meat with a creamy white sauce for a simple, flavorful, and quick meal. It's easy to make and perfect for enjoying leftover holiday turkey in a new way. 
I don't know about you, but we eat lots of turkey. Not only during the holiday season but year-round. I might reserve this Red Wine Turkey recipe for a special occasion, but simple Slow Cooker Turkey Legs, Roasted Turkey Wings, or a whole Roasted Turkey Thigh with Potatoes are everyday affairs. 
And we always have leftovers. This creamed turkey recipe is pure comfort food and one of the easiest ways of repurposing turkey leftovers. And it makes such a delicious meal, whether you serve it on toast or biscuits, over mashed potatoes, or stuff it into sandwiches.
Bonus: You can also make this recipe using leftover chicken. 
Jump to recipe
📋Recipe ingredients and substitutions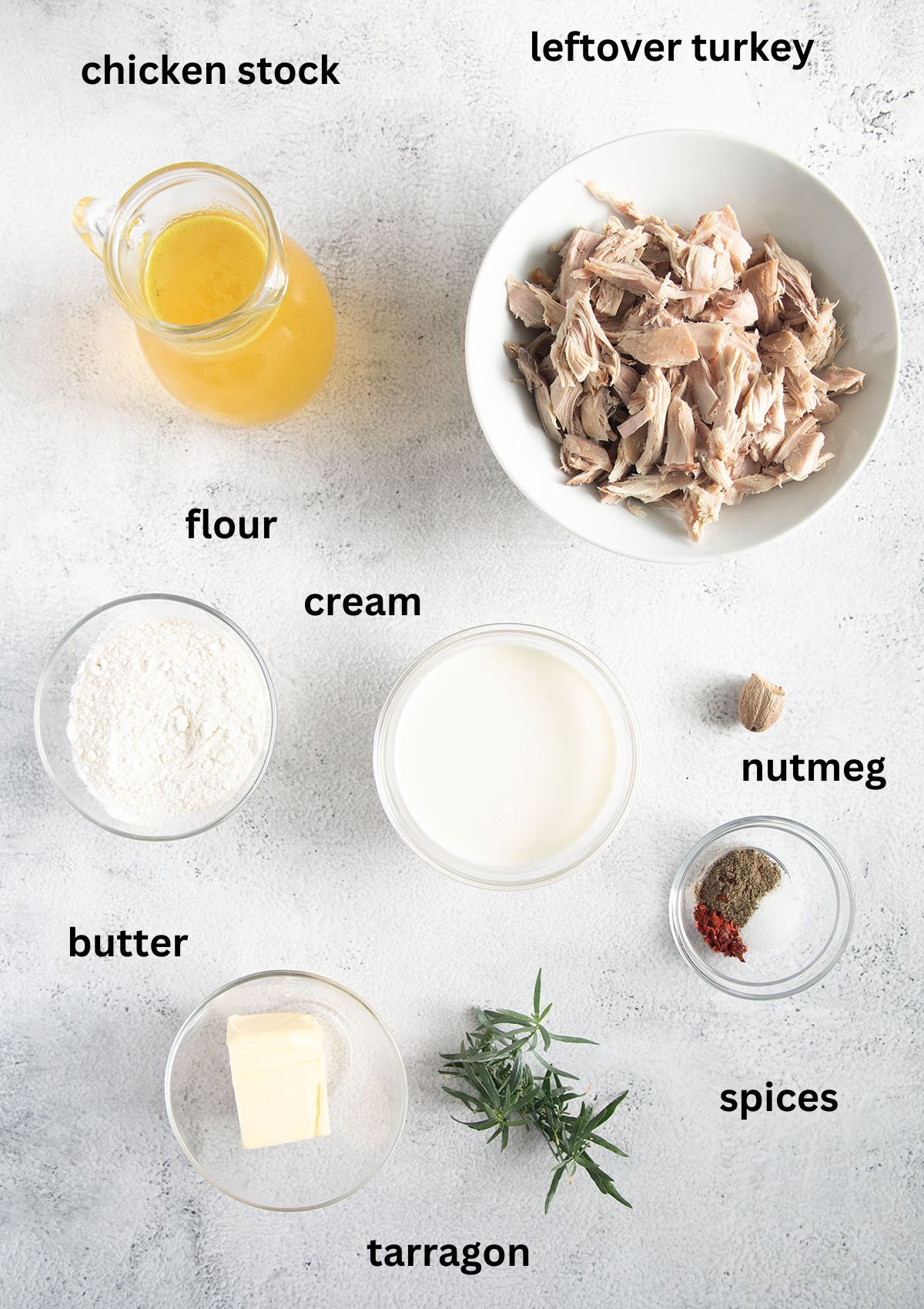 Leftover turkey: White or dark meat, whatever you have. I used about 3 cups of shredded turkey, but a bit more or less than that is perfectly ok. If you don't have enough meat for this amount of sauce, you can add some cooked veggies to make up for it. 

And if you have lots of leftover meat, you can easily double the white sauce you make. Or you can make this Leftover Turkey Fricassee instead. 
Substitute cooked turkey with rotisserie chicken or other cooked chicken parts, leftover ham, or beef roast.
Ingredients for the white sauce: Salted or unsalted butter, all-purpose flour, chicken stock or broth, and heavy cream.

Substitute chicken broth with turkey stock or broth if you've made some with the turkey's carcass. 
Substitute heavy cream with half-half or even whole milk.
Spices and herbs: Fine sea salt, ground black pepper, nutmeg, a touch of cayenne pepper or red pepper flakes, and fresh tarragon.

Tarragon is optional; if you don't have it, you can leave it out or replace it with parsley, dill, or chives. But if you have it, use it: it imparts a wonderful flavor to the sauce.
👩🏻‍🍳How to make creamed turkey?
Shred or chop the leftover meat. Set aside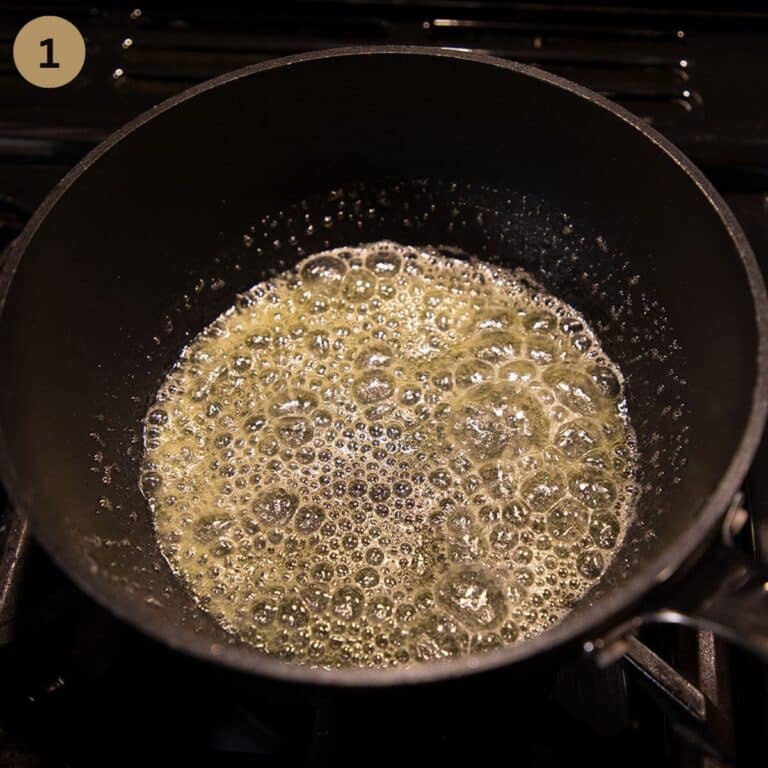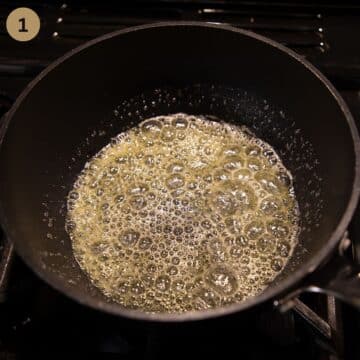 Melt butter in a medium saucepan over medium heat.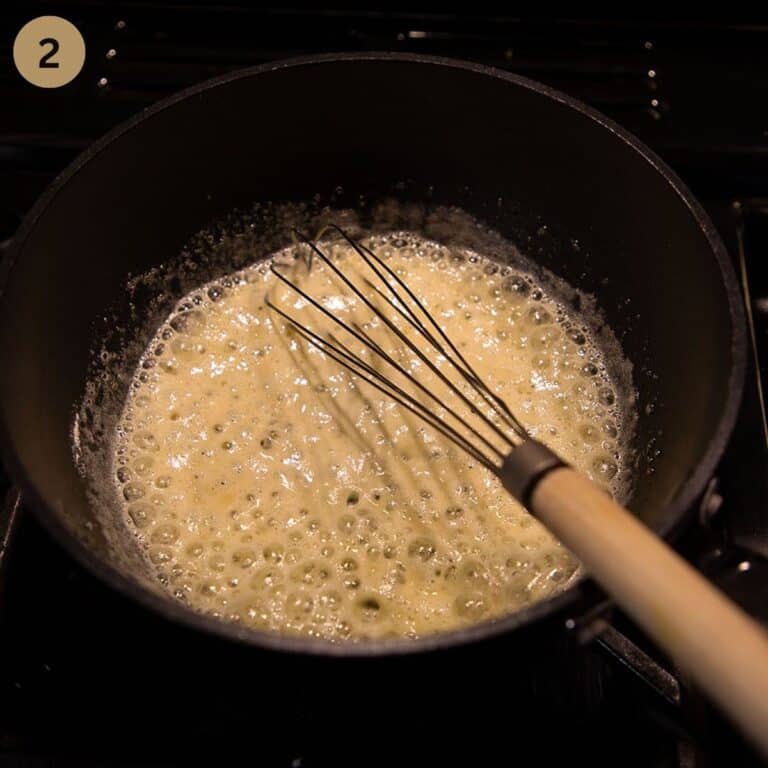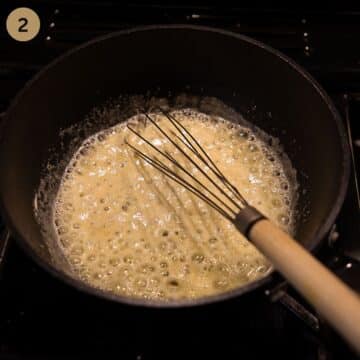 Whisk the flour into the melted butter to form a smooth paste. Cook for 1-2 minutes until it slightly changes color.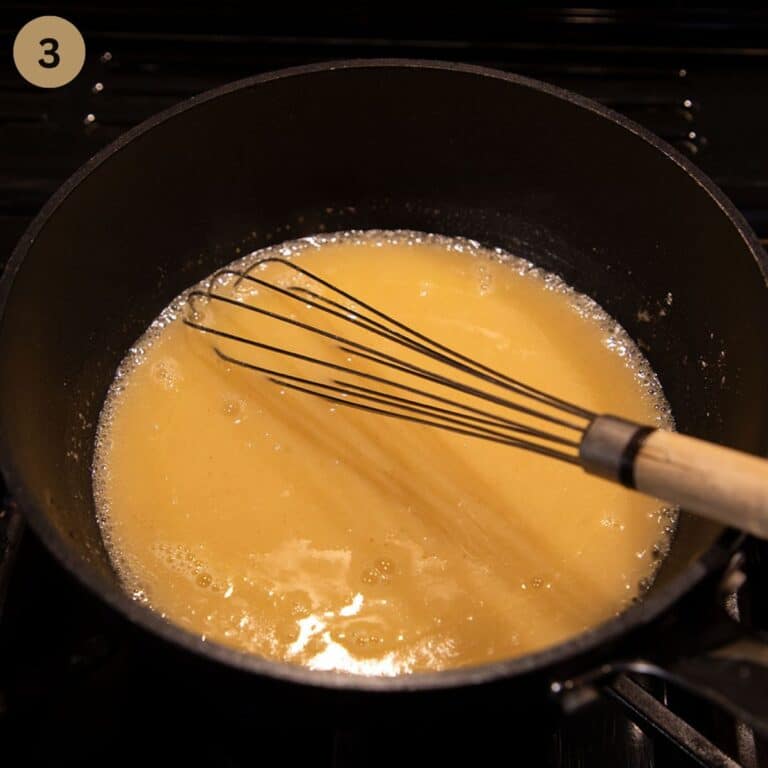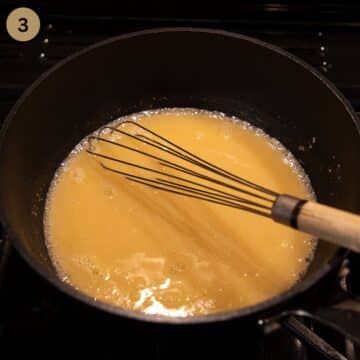 Gradually add broth while whisking the roux with a wire whisk to create a creamy sauce.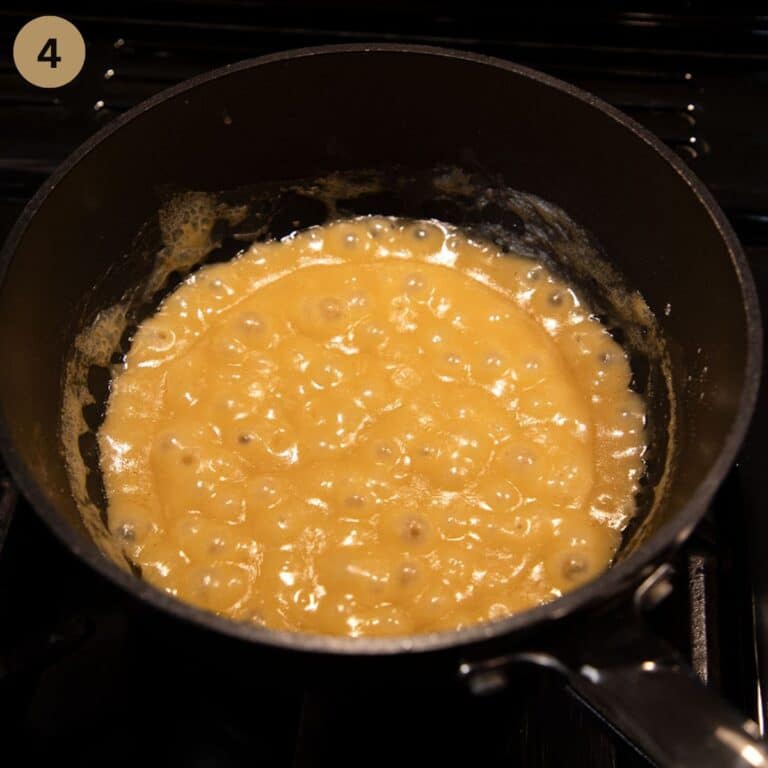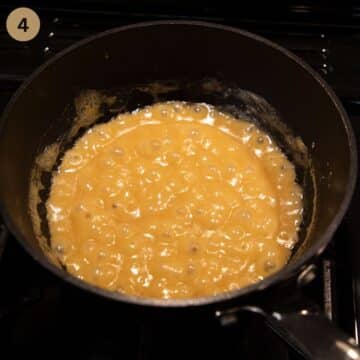 Simmer gently, stirring occasionally, until it thickens slightly, about 10 minutes.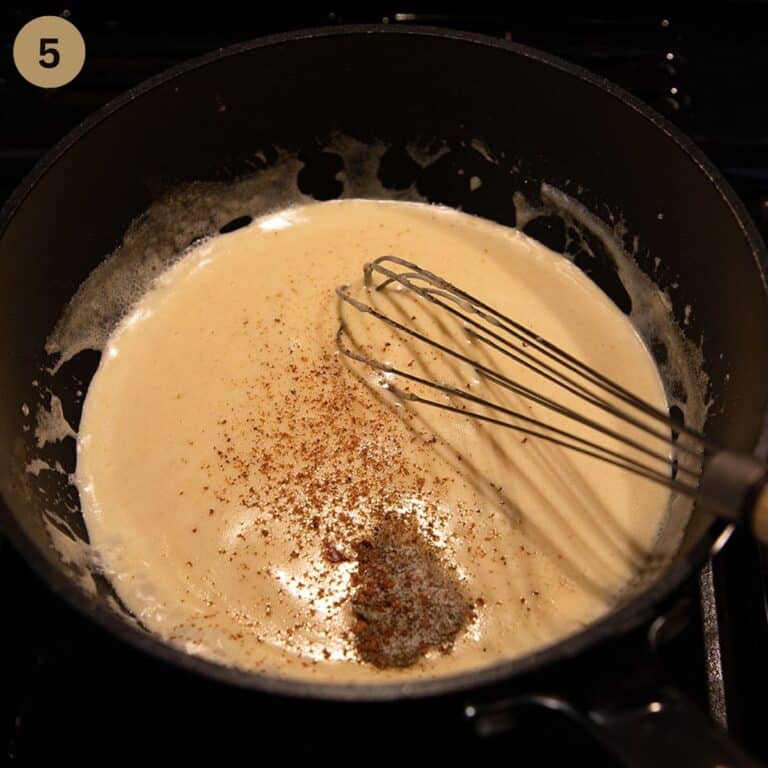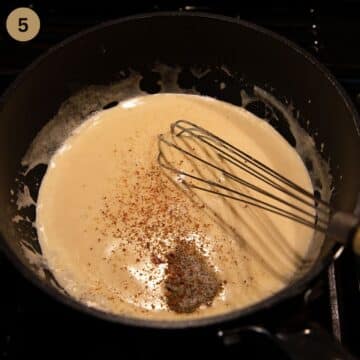 Add cream and seasoning and stir well.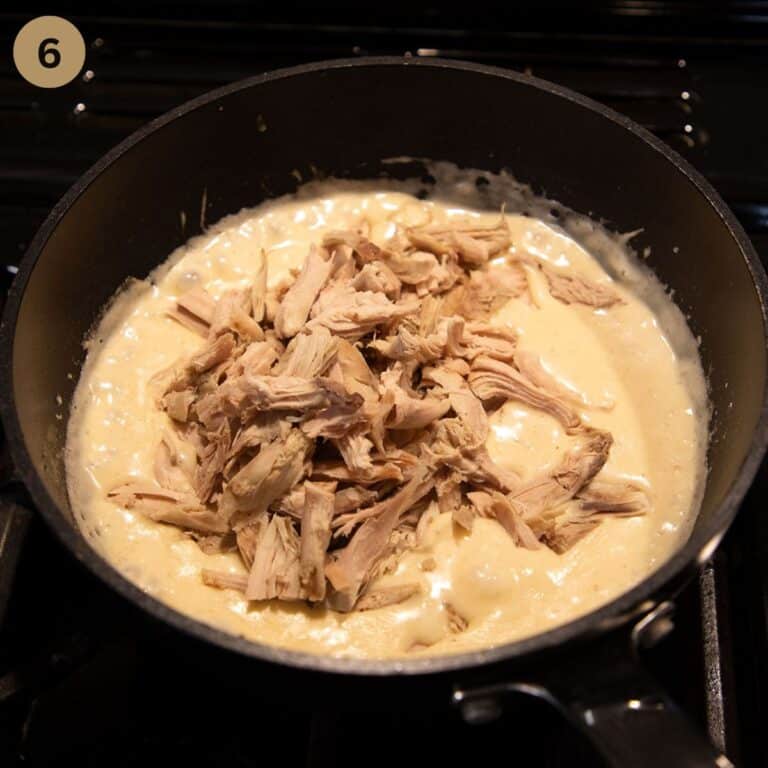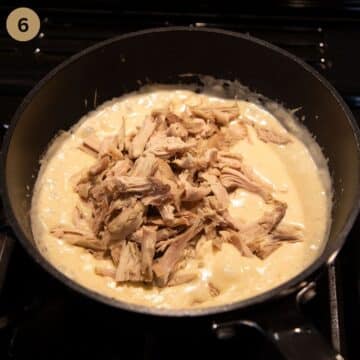 Add shredded meat, stir to combine, and reheat gently.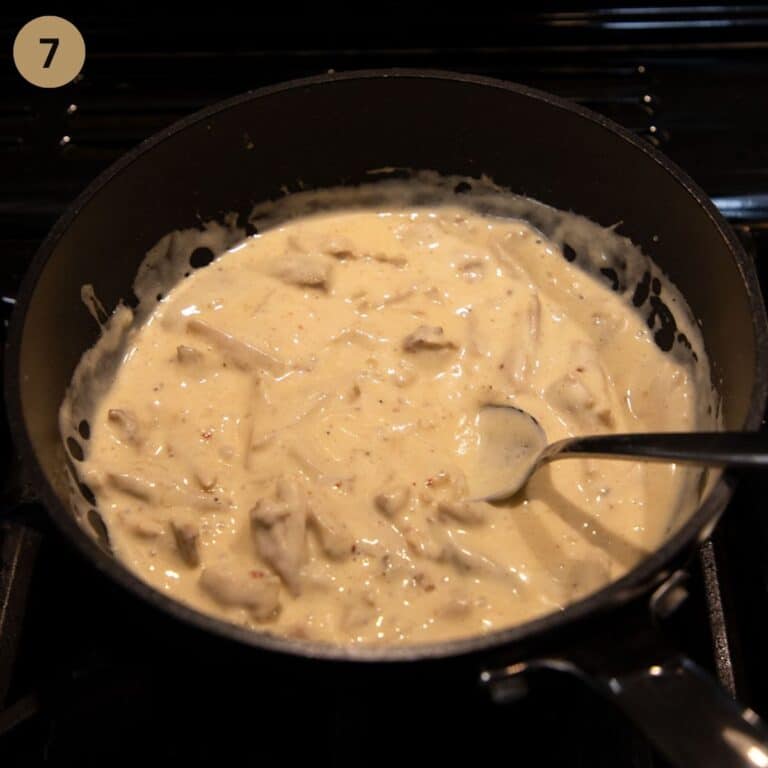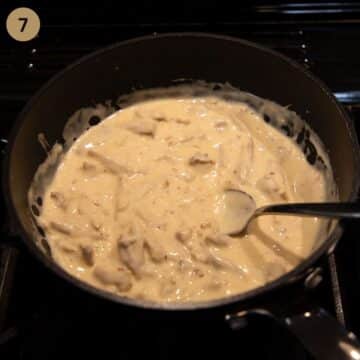 Stir well.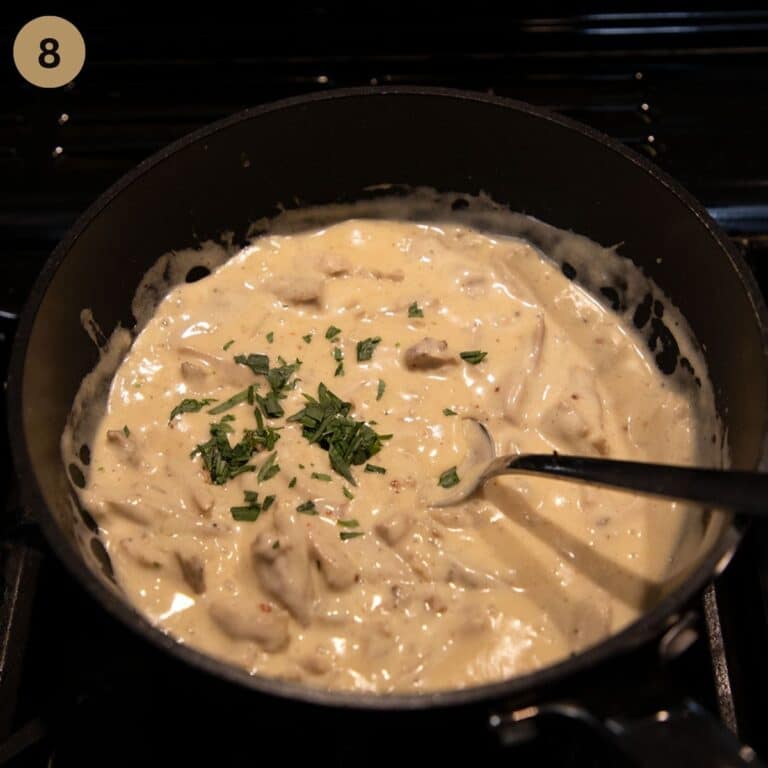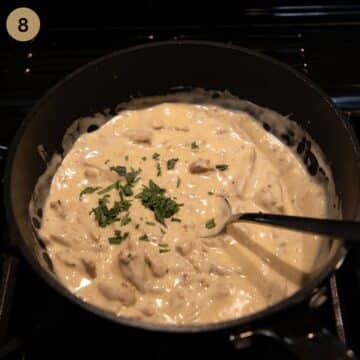 Add chopped tarragon and adjust the seasoning. 
🍲Additions
Make the most of more leftovers:
Add about ¼ - ½ leftover turkey gravy to the sauce. 
Add leftover cooked vegetables like peas, corn, chopped carrots, mushrooms, or chopped green beans. A drained can of mushrooms works great, too. 
Serve the creamy turkey over leftover biscuits, cornbread, dinner rolls, or whatever carbs you have left over, like roast potatoes, mashed potatoes, rice, or noodles. You can also serve it with some cranberry sauce on the side if you still have some.
Make it cheesy: Add a few tablespoons of freshly grated Parmesan, Cheddar, or another tasty cheese you like (not mozzarella; it's too plain).
🔊Expert Tips
Thickness of the sauce: Let it simmer longer to reduce and thicken if you prefer a thicker sauce. Alternatively, adding a bit more flour while cooking can also help thicken the sauce. If your sauce seems too thick, you can thin it with a bit of extra broth, cream, or milk.
Prepare vegetables correctly: If adding fresh vegetables, ensure they're cooked to your preferred tenderness before combining them with the turkey and sauce. This prevents any undesirable crunchiness in the final dish.
Use moderate heat and stir continuously to maintain the sauce's smooth and creamy texture.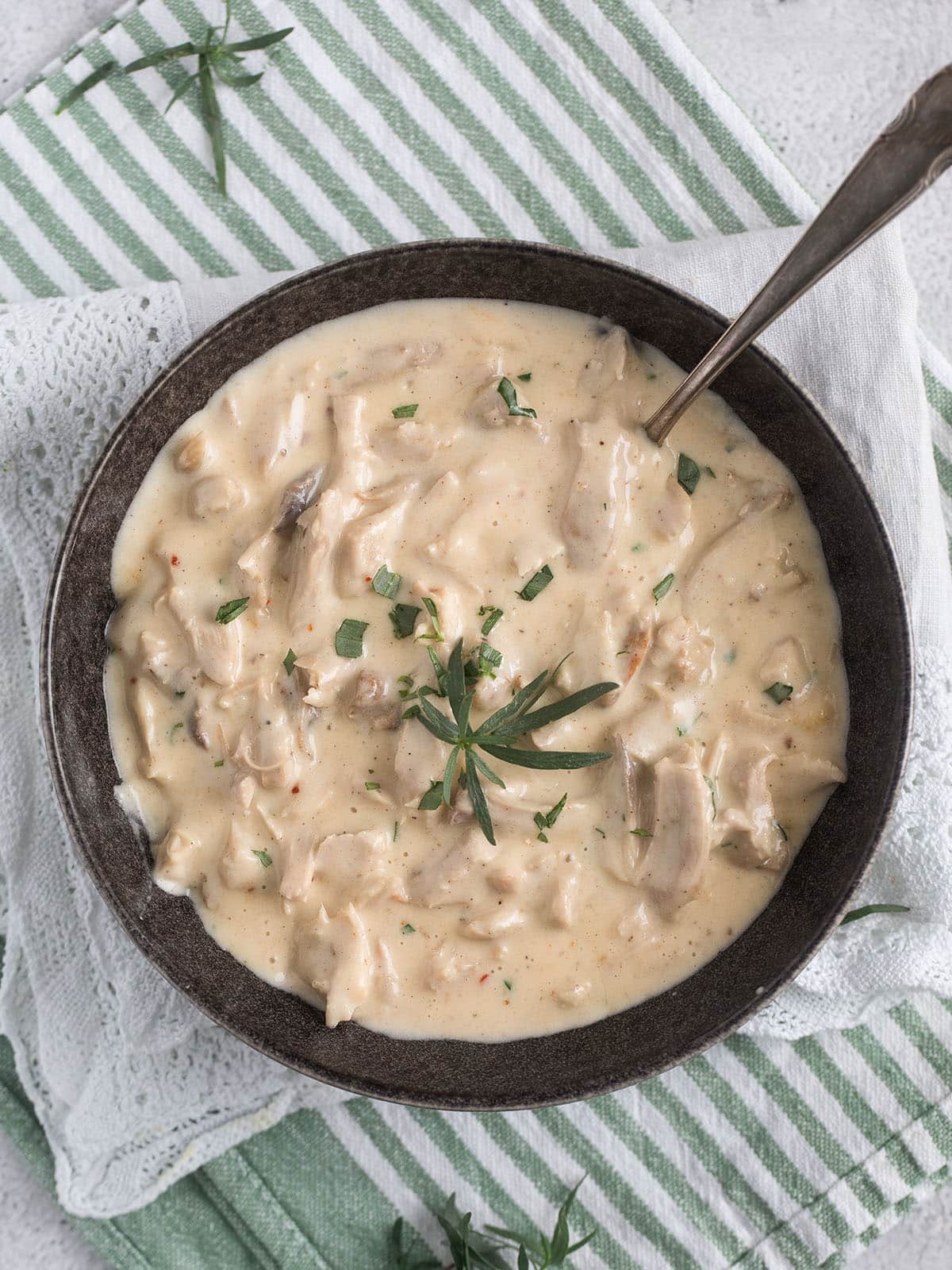 ❓Recipe FAQ
Can I make this recipe in advance for a gathering?
Yes. It's a great dish to make in advance for convenience.
Can I use non-dairy products for this recipe?
Yes, you can substitute dairy milk and butter with non-dairy alternatives. Keep in mind that the flavor and consistency may vary slightly.
How to store and reheat?
Leftovers can typically be refrigerated for 3-4 days when stored in an airtight container.
Freeze it: Allow it to cool completely, then store it in a freezer-safe container or zip-top bag for 2-3 months. Thaw overnight in the refrigerator before reheating.
Reheat in the microwave or on the stovetop over low heat, occasionally stirring until heated through. You might need to add a splash of milk or broth to retain the creamy texture.
🍽️How to serve creamed turkey?
Over toast or biscuits: The traditional and classic way to serve creamed turkey is ladled generously over warm, buttered toast or freshly baked buttermilk biscuits. The bread absorbs the creamy sauce.
Over mashed potatoes: Spoon the sauce over creamy mashed potatoes (you can use reheated leftover mashed potatoes).
Stuff it in baked potatoes: Hollow out baked potatoes and fill them with the creamy mixture. Top with cheese or fresh herbs.
Over noodles or pasta such as egg noodles or fettuccine.
Over rice, quinoa, or other grains.
With steamed vegetables such as broccoli, green beans, or carrots.
As a sandwich filling: Pile it between slices of bread or stuff it into a roll or croissant.
Family favorite: Use the creamed turkey as a filling for crepes. Roll the crepes, place them in a casserole dish, sprinkle with grated cheese, and bake until hot and bubbly.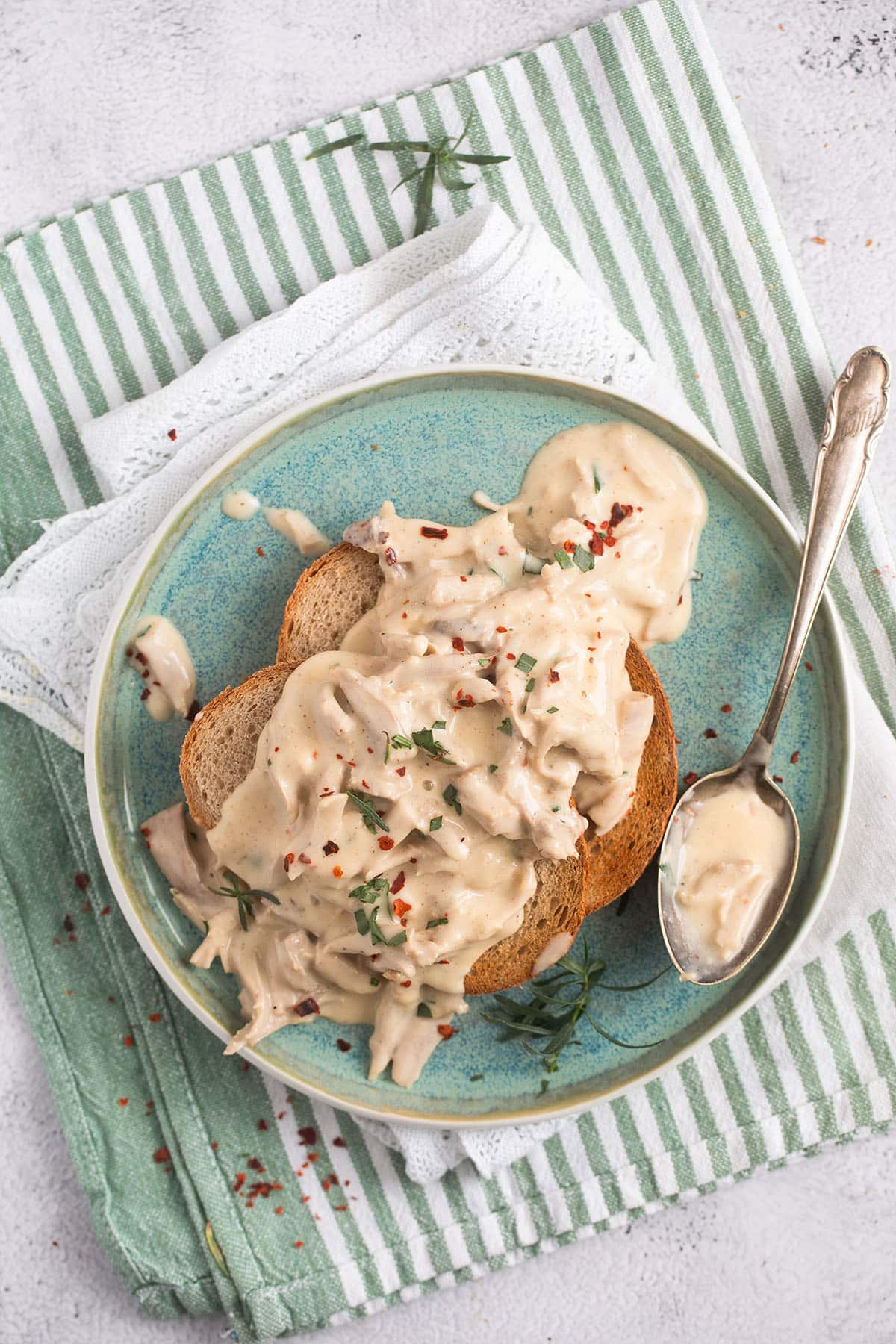 🦃More leftover turkey recipes
📖Recipe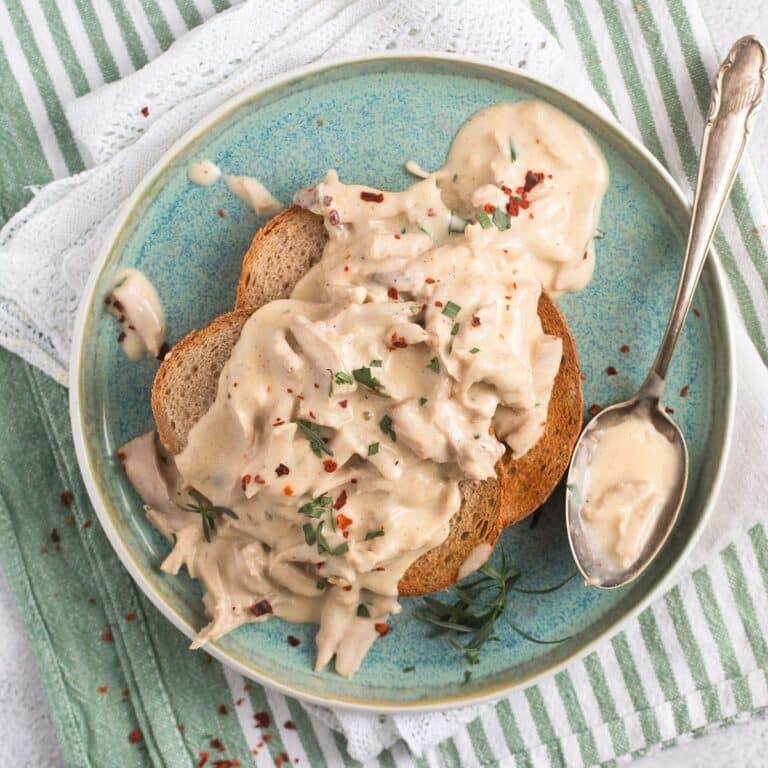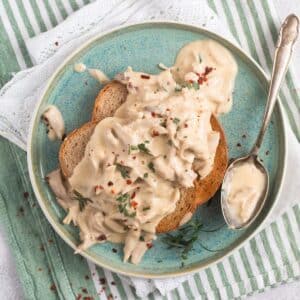 Creamed Turkey – Great on Toast or Biscuits!
This creamed turkey recipe is a simple yet flavorful way to make the most out of your holiday leftovers. Try this comforting dish for a delightful twist on your post-Thanksgiving meals!
Print
Pin
Share
Grow
Saved!
Rate
Ingredients
3

cups

cooked turkey

300-350 g Notes 1, 2

2

tablespoons

butter

Note 3

2

tablespoons

all-purpose flour

1

cup

chicken broth

250 ml, Note 4

½

cup

heavy cream

125 ml, Note 5

a pinch of cayenne pepper

or red pepper flakes, to taste

a few gratings of

nutmeg

fine sea salt and ground black pepper
Instructions
Turkey: Shred or cut the meat into bite-sized pieces. Set it aside.

3 cups cooked turkey

Optional: If using vegetables (cooked), chop or dice them into small pieces.

Make a roux: Melt butter over medium heat. Sprinkle in the flour and whisk it into the melted butter to form a smooth paste. Cook it for 1-2 minutes until it slightly changes color but doesn't brown.

2 tablespoons butter

+

2 tablespoons all-purpose flour

Gradually add the broth while continuously whisking continuously to obtain a smooth sauce. Simmer gently, stirring occasionally, until it thickens slightly; it will take 8 to 10 minutes.

1 cup chicken broth

Stir in the heavy cream and season the sauce generously. Let simmer for another 1 or 2 minutes until the sauce thickens to your liking (Note 6).

½ cup heavy cream

+

a pinch of cayenne pepper

+

a few gratings of nutmeg

+

fine sea salt and ground black pepper

Incorporate turkey (and vegetables if using) and reheat gently. Add chopped tarragon, stir again, and adjust the seasoning.

Serve hot over toast, biscuits, mashed potatoes, in crepes, or so on (See blog post for more suggestions).
Notes
Meat: You can use either white or dark meat for the turkey. If you don't have turkey, cooked chicken, ham, or other roast leftovers work, too.
Amounts: I used around 3 cups of shredded meat, but a bit more or less is okay. If you're short on meat, add cooked veggies like peas, corn, green beans, or canned mushrooms to make up for it.
Butter: You can use salted or unsalted; adjust the salt you need accordingly.
Broth or stock: Use turkey stock if you have some.
Cream: Although heavy cream makes the creamiest sauce, you can substitute it with half-half or whole milk.
Thickness of the sauce: If the sauce should be thicker, simmer it for a few minutes longer. If it should be thinner, add a bit more stock, cream, or milk.
Nutrition
Serving:
1
portion from 4
|
Calories:
290
kcal
|
Carbohydrates:
4
g
|
Protein:
26
g
|
Fat:
19
g
|
Saturated Fat:
11
g
|
Polyunsaturated Fat:
1
g
|
Monounsaturated Fat:
5
g
|
Trans Fat:
0.2
g
|
Cholesterol:
122
mg
|
Sodium:
990
mg
|
Potassium:
296
mg
|
Fiber:
0.1
g
|
Sugar:
1
g
|
Vitamin A:
654
IU
|
Vitamin C:
0.2
mg
|
Calcium:
37
mg
|
Iron:
1
mg