A delicious leftover turkey lasagna with vegetables and a white sauce made with cream cheese and cottage cheese.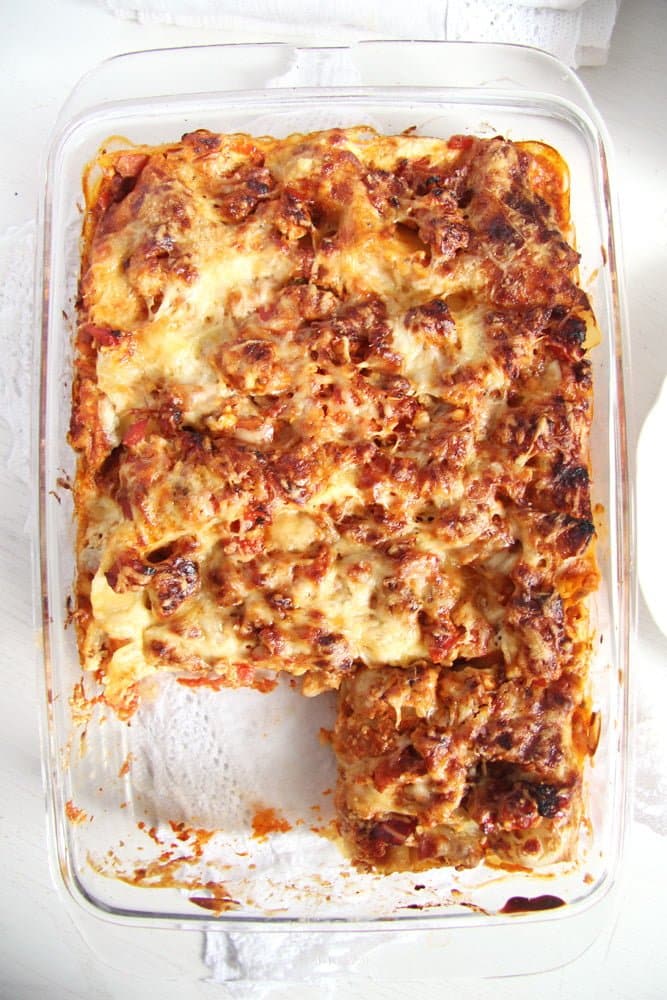 Delicious leftover turkey lasagna with a healthier kind of white sauce. A dish that is comforting and full of flavor, perfect for using some of the leftover turkeys from Thanksgiving or Christmas.
I used to make this lasagna many years ago, using this cream cheese and cottage cheese sauce. During those times, the dish was mostly vegetarian, with lots of different veggies like carrots, peppers, broccoli, and even kohlrabi once. But then, like with many recipes we love at one point or another, we kind of forgot about it.
Recently, while perusing one of my first recipe notebooks, I found the recipe again and thought it would be a great idea to make it again and, this time to put some turkey into it as well.
With so many turkey roasts lately (have a look at this delicious Oven Roasted Turkey Breast or these Oven Roasted Turkey Drumsticks), I did find myself with lots of turkey leftovers in the fridge.
The Quick Fricassee with Leftover Turkey, Turkey Lentil Soup, and Vegetable Strudel with Turkey were wonderful, but more recipes were needed.
I really hope you will give this leftover turkey lasagna a try; it is really worth it! And unlike most lasagna recipes, it will really not leave you with a guilty conscience. After all the holiday indulgence, I always find myself in need of some thoroughly healthy recipes, and this lasagna fulfills this goal perfectly.
And best of all, you will not even be able to taste that it is so healthy; it tastes just like a regular, calorie-loaded lasagna and so delicious you will make it again and again.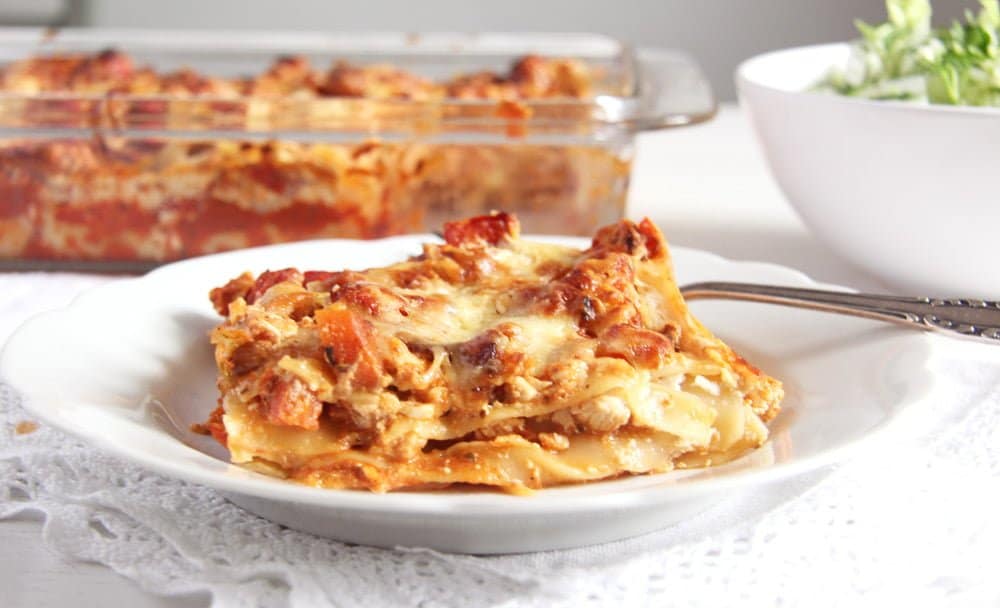 Ingredients
Turkey:
I used leftover turkey to make this lasagna.
If you don't have leftovers, use fresh turkey strips, which you will fry in 1 teaspoon of olive oil and season with salt and pepper.
Tomato sauce:
I used homemade pizza sauce, which I had in the freezer.
That was basically 1 lb pureed tomatoes mixed with salt and pepper, a pinch of sugar, dry oregano, and dry basil.
Making that mixture could not be easier or cheaper, but if you wish, you can use any pizza or tomato pasta sauce brand you like.
Dairy:
I used low-fat cream cheese 4% fat, low-fat cottage cheese 0,2% fat, low-fat milk, and sour cream 10% fat.
You can use that or higher-fat versions, that is definitely up to you, but if you have been looking for a low-fat, healthier lasagna, then you will probably be interested in using the low-fat products.
Lasagna sheets: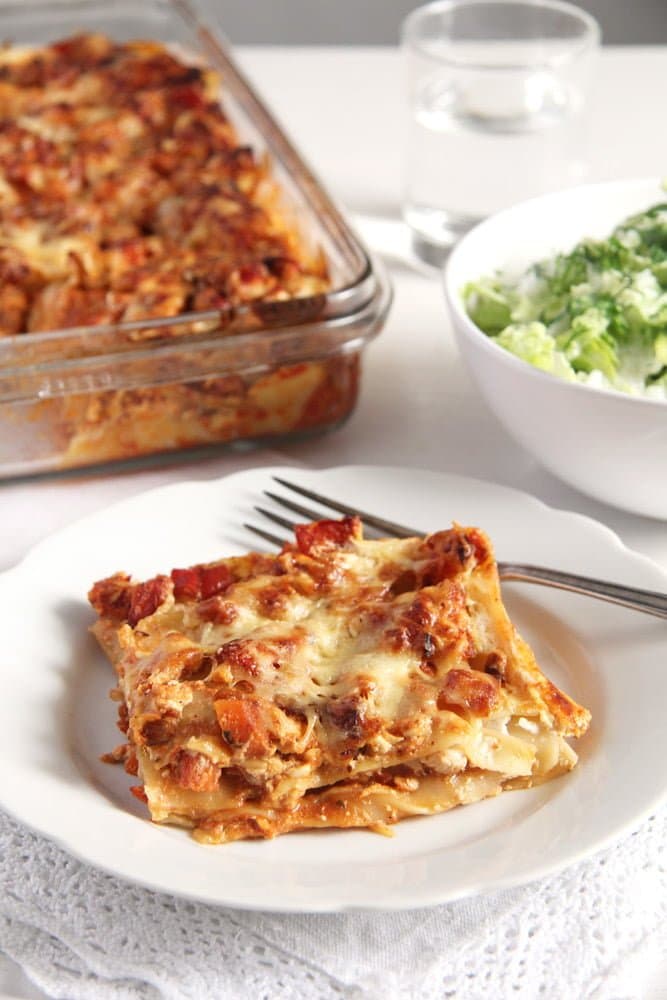 More lasagna recipes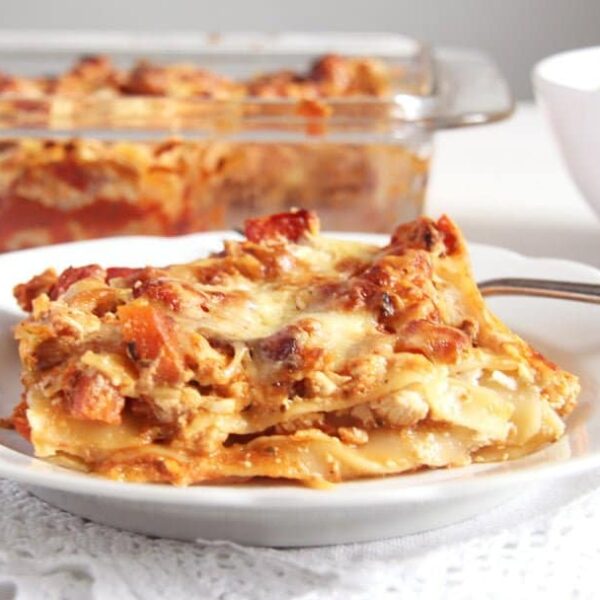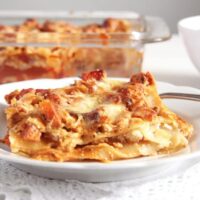 Leftover Turkey Lasagna
A delicious leftover turkey lasagna with vegetables and a white sauce made with cream cheese and cottage cheese.
Print
Pin
Share
Grow
Saved!
Rate
Ingredients
3

cups

shredded leftover turkey

or fresh

1

onion

2

garlic cloves

9

oz

carrots

about 3 thick ones

1

large red bell pepper

1-2

teaspoons

olive oil

1

lb

pizza or tomato sauce of choice

1

cup

low-fat cottage cheese

⅔

cup

low-fat cream cheese

4% fat

⅔

cup

sour cream

10% fat

½

cup

low-fat milk

9

sheets

lasagna

no boil, oven ready

½

cup

Gouda cheese

¼

cup

Parmesan

fine sea salt and ground black pepper
Instructions
Chop turkey: If you are using leftover turkey chop it into very small pieces. If you are using fresh turkey, chop it, season it with salt and pepper and fry it in 1 teaspoon olive oil until golden. Take out of the pan and set aside.

Prepare vegetables: Slice the onion into thin half rings. Chop the garlic finely. Chop the carrots and the bell pepper into small cubes.

Saute: Heat one teaspoon olive oil in the pan, add the onion rings, and cook shortly until translucent. Next, add the garlic and the carrots. Cook often stirring for about 2 minutes, add the peppers and cook for another 2 minutes. (I usually chop the peppers while the carrots are in the pan and add them as soon as I am finished chopping them).

Cook vegetables: Add about ⅓ cup/ 75 ml water, salt, and pepper to taste, and some dried oregano. Cover leaving a crack open and cook the vegetables for about 10 minutes or until slightly softer.

Add the pizza or tomato sauce and reheat.

In the meantime, preheat the oven to 400 degrees Fahrenheit/ 200 degrees Celsius.

Whisk the cream cheese, milk, and sour cream. Set aside.

Stir tomato sauce: When the tomato sauce is warm, add the cottage cheese and the finely chopped turkey to the sauce and stir well.

Assemble lasagna: Place a few tablespoons of the tomato-vegetable-turkey sauce into a rectangular casserole dish (about 30x20 cm/ 12x8 inches). Arrange 3 lasagna sheets on top, cover with ⅓ of the cheese sauce and ⅓ of the tomato sauce.Add the following 3 lasagna sheets, ⅓ of the cheese sauce, and ⅓ tomato sauce.Place the last 3 lasagna sheets on top and finish with the remaining cheese sauce, followed by the remaining tomato sauce.Spread the grated Gouda and Parmesan on top.

Bake for about 35-40 minutes or until the noodles are cooked through.
Nutrition
Serving:
1
/6 of the dish
|
Calories:
399
kcal
|
Carbohydrates:
26
g
|
Protein:
32
g
|
Fat:
19
g
|
Saturated Fat:
9
g
|
Polyunsaturated Fat:
8
g
|
Cholesterol:
112
mg
|
Sodium:
1182
mg
|
Fiber:
4
g
|
Sugar:
10
g