Curried chicken and pumpkin lasagna with coconut milk, fusion food at its best, this is one of the most delicious lasagne you can think of.
This chicken and pumpkin lasagna is so amazing!!!!!!! I don't even know what else I could say about it except that we ate it last Friday and I really had to struggle not to make it again today with the next pumpkin I bought. I made the Easy Pumpkin Soup with Ginger instead.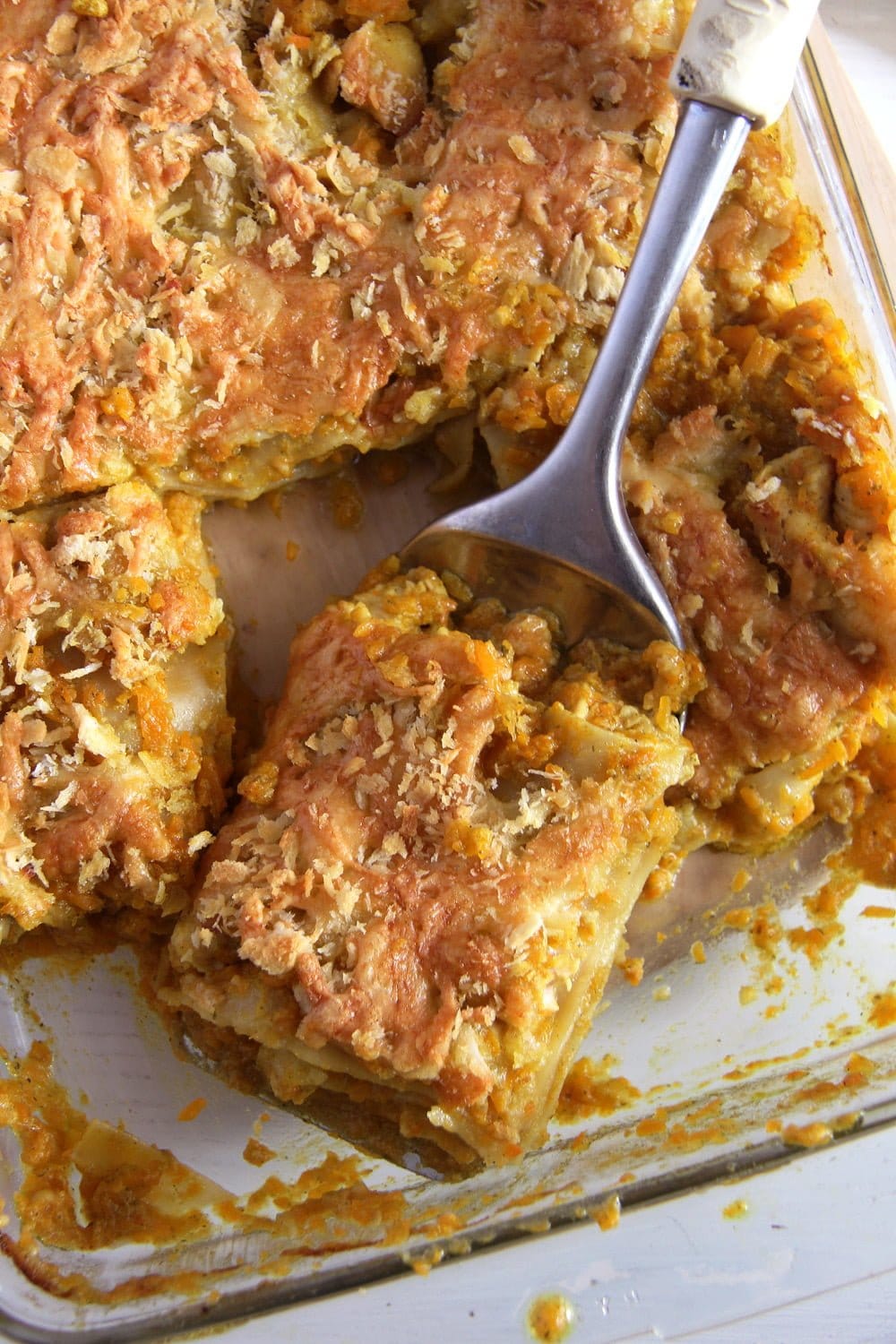 What do you need?
I used Hokkaido pumpkin again, which doesn't need any peeling, but you can use butternut squash or any other tasty sweet variety. I say tasty because I really had some other kinds of pumpkin in my life, which tasted just watery and bah.
You can use any sort of curry paste you like (green, red, yellow), I like the green one I have because it's not too spicy so the children don't have problems with eating it too.
The lasagna sheets I have are pretty small so I needed 9 of them, use what you need to get 3 layers. The lasagna sheets I used do not need to be pre-cooked.
The cheese I used was Gouda, but you can replace it with mozzarella, Cheddar, Parmesan, anything you like.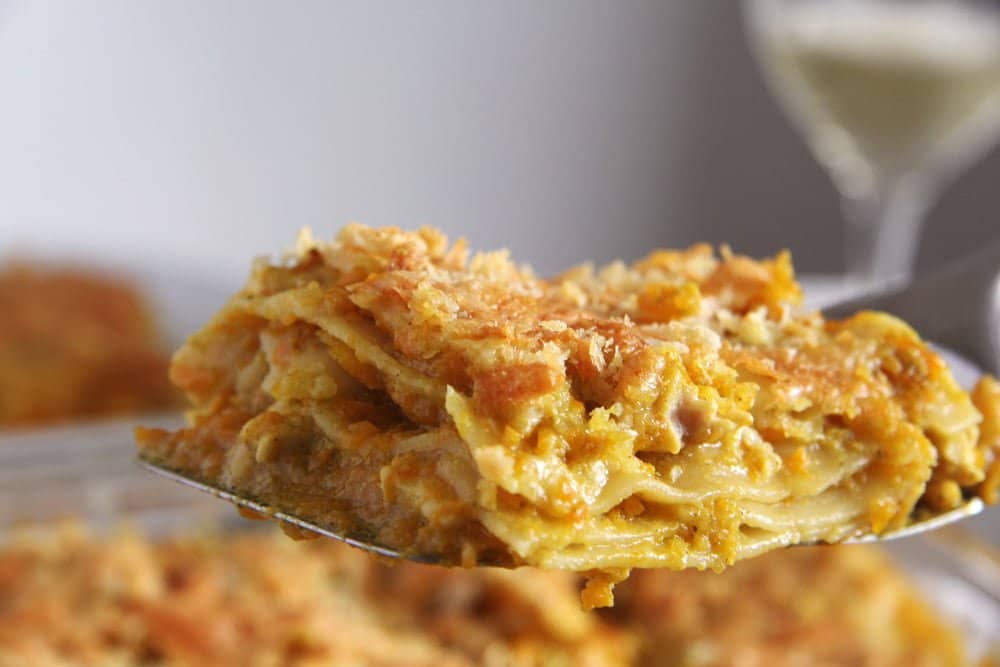 How to make?
Sauce:
Grate the pumpkin and cut the chicken into small pieces.
Stir the curry paste in the hot pan for 1 minute.
Add coconut milk, fill the empty can with water and pour the water into the pan.
Bring to a boil, add lemon juice and soy sauce and simmer for 3 minutes.
Add pumpkin and chicken. Cook for about 10 minutes until the chicken is cooked through and the pumpkin soft.
The sauce should be quite runny, if it's not add a little water to thin it.
How to assemble the lasagna?
You will need a rectangular baking dish of about 30×20 cm/12×9 inches, a little more or less is ok.
Divide the sauce into 4 equal parts. Do this with your eyes, you don't have to weigh anything.
Pour 1/4 of the sauce into the baking dish and spread it all over.
Cover with no-boil lasagne sheets, I can fit 3 into my baking dish.
Cover with another 1/4 of the sauce and another layer of pasta.
Spread another 1/4 of the sauce and cover with pasta sheets.
Spread the remaining sauce as a last layer.
Mix the grated cheese and breadcrumbs and sprinkle all over the lasagna.
Bake in the preheated oven for about 30 minutes or until the noodles are cooked through and the top is golden brown.
Check with a fork, you should be able to pierce the pasta easily.
Turn off the heat, but let the dish in the oven for about 5-10 minutes more.
How to serve?
Serve immediately.
The chicken and pumpkin lasagna can be reheated in the oven.
You can also freeze the leftover pieces for up to 3 months.
I always make a green salad with yogurt dressing or vinaigrette to serve with the chicken and pumpkin lasagna.
More Pumpkin Recipes?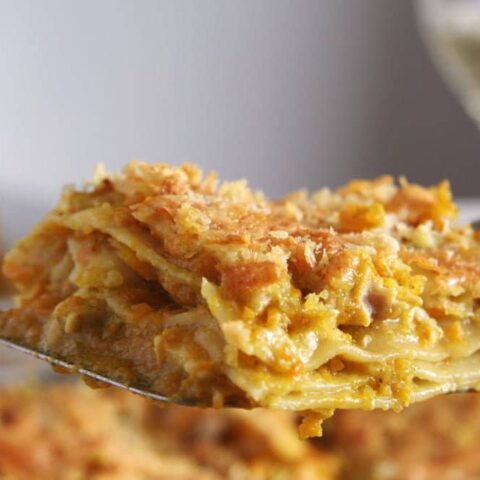 Chicken and Pumpkin Lasagna
Total Time:
1 hour
5 minutes
Curried chicken and pumpkin lasagna with coconut milk, fusion food at its best, this is one of the most delicious lasagne you can think of.
Ingredients
2 tablespoons green curry paste
1 can coconut milk
1 empty can of coconut milk filled with water
juice of half a lemon
1 tablespoon soy sauce
1 small Hokkaido pumpkin or ½ butternut squash (about 700 g/1 ½ lbs)
500 g/1 lb chicken breast, without skin and bones
9 no-boil lasagna sheets (more or less depending on size, about 170 g/ 6 oz)
150 g/ 5.3 oz/ 1 1/3 cup grated cheese
30 g/ 1 oz/ ½ cup Panko breadcrumbs (or regular dried breadcrumbs)
Instructions
Preheat the oven to 180 degrees Celsius/ 350 Fahrenheit.
Grate the pumpkin coarsely. Cut the chicken breasts into very small pieces.
Heat a large pan over moderate heat and add the curry paste. Stir well for 1 minute then pour in the coconut milk. Fill the empty can with water and add that to the pan as well. Bring everything to a boil, add the lemon juice and the soy sauce and let simmer for about 3 minutes.
Add the chicken and pumpkin to the pan, bring to a boil, reduce heat, and cook, covered, until everything is soft, about 10 minutes but check. The sauce should still be quite runny, if it is not, add a bit more water.
Spread ¼ of the sauce in a rectangular pan of about 30x20 cm/ 12x9 inches. Cover with lasagne sheets. Add another ¼ of the sauce, lasagne sheets, another ¼ sauce, lasagne sheets, and ¼ of the sauce again. You should have 4 layers of sauce and 3 layers of lasagne sheets.
Mix the cheese and the breadcrumbs together and sprinkle them over the last sauce layer.
Bake in the hot oven for 30 minutes or until the pasta is cooked through and the cheese is golden brown. Turn off the oven and let sit inside for another 10 minutes.

Nutrition Information:
Yield:

6
Serving Size:

1/6 of the dish
Amount Per Serving:
Calories:

483
Total Fat:

26g
Saturated Fat:

18g
Trans Fat:

0g
Unsaturated Fat:

6g
Cholesterol:

97mg
Sodium:

443mg
Carbohydrates:

26g
Fiber:

2g
Sugar:

8g
Protein:

37g
Nutritional information is not always accurate.