Flaky crust and a delicious spicy sweet pumpkin filling – Harry Potter's famous pumpkin pasties sold in the Hogwarts Express.
PUMPKIN PASTIES RECIPE
One of the most famous recipes from the Harry Potter world: pumpkin pasties with a sweet filling, which the young wizards can buy in the train on their way to Hogwarts.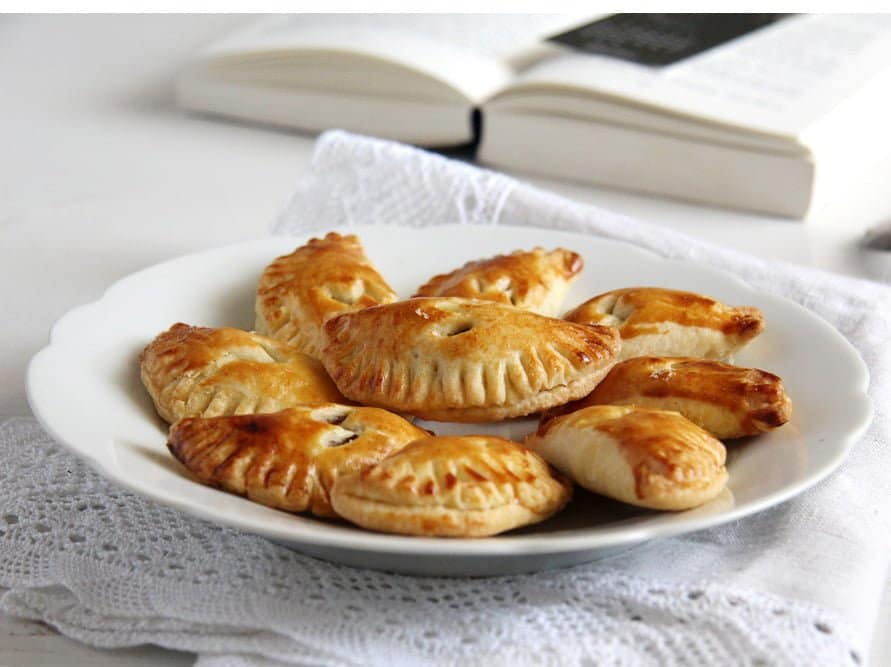 I am a huuuuuuuuuuuuuuuuuuge Harry Potter fan. I have been reading the books since I was about 18 or 19, every year, all the books, in the order of their appearance.
Normally I do that about this time of the year, this year I was a bit early though… I just felt the need to do it sometimes in the summer. But as I am currently reading the books to my kids as well, I still get to sink into Harry's world almost every day for a while. We just finished The Goblet Of Fire
last night and we will start reading The Order Of The Phoenix
tonight. The first time I read the books in German as well, so it really never gets boring. 🙂
And Harry Potter movies
? I cannot even begin to count how many times I've seen them… I remember the first one that came out, I think I went to the cinema at least 5 times…
All the others I have only seen once in the cinema, but of course I have them all at home and I watch them every time they are on TV as well. And they are on TV at least twice a year and again always around this time of the year.
My husband never read the books himself, except what he is now reading to the kids, but he is a Harry Potter movie expert as well, he has to watch with me every time they are on TV. He knows resistance is useless, he can either watch that or go to bed early… 🙂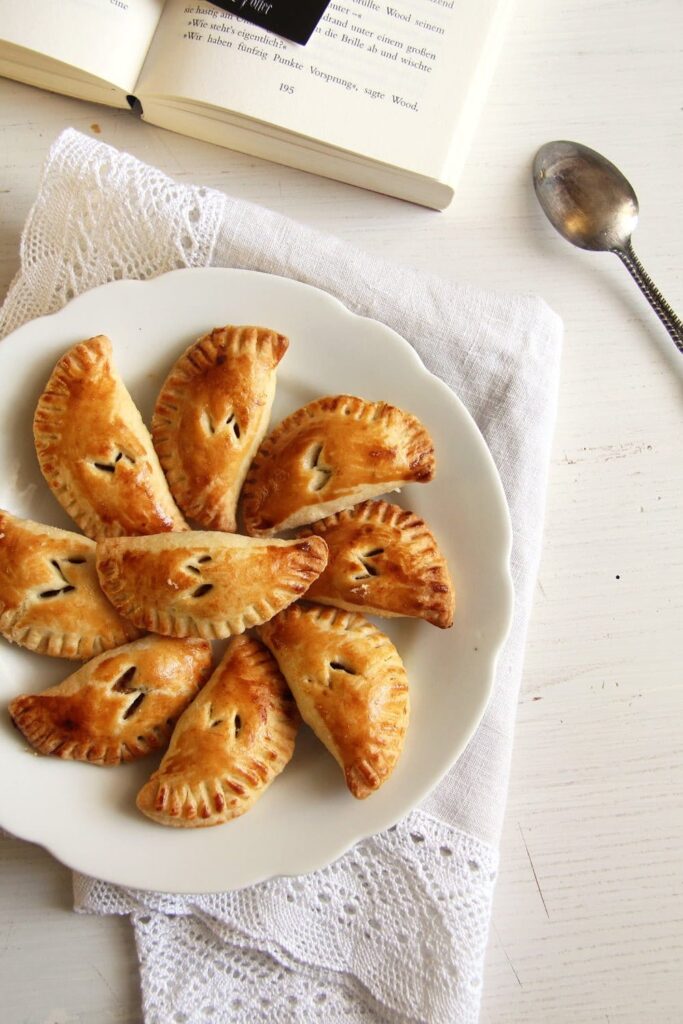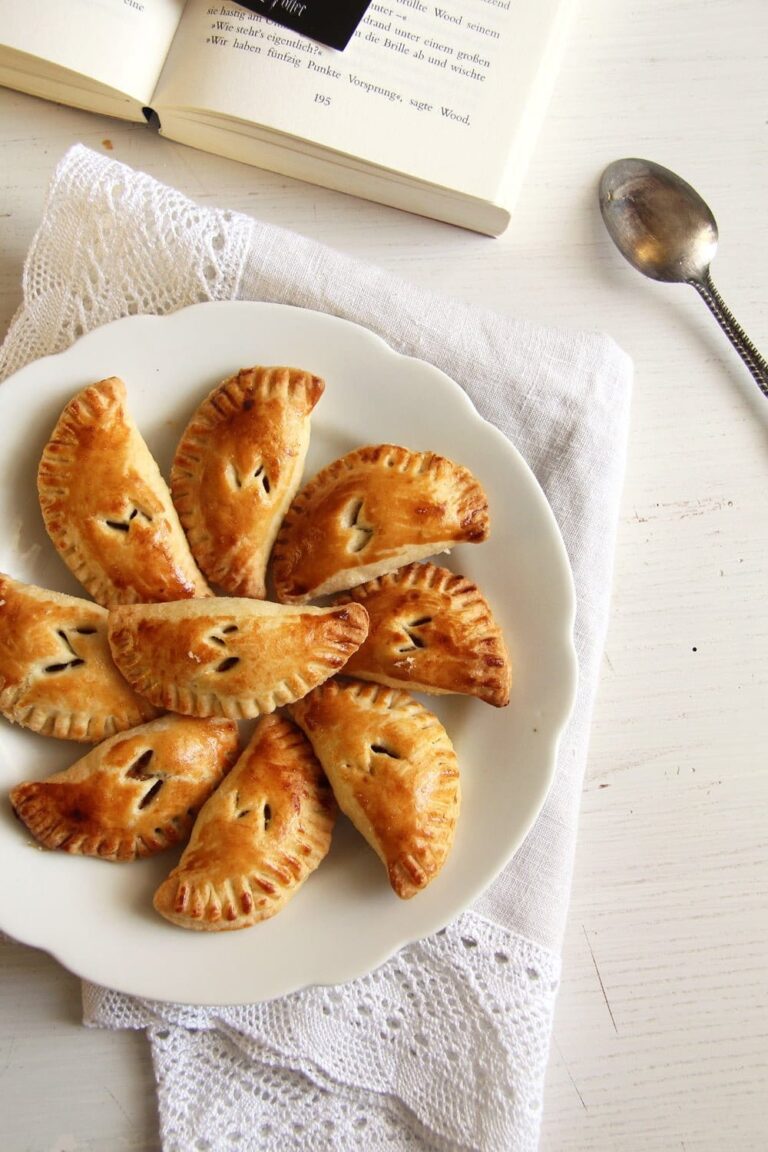 Today is the German premiere of Fantastic Beasts and Where to Find Them
. OK, I admit, it is not a pure Harry Potter movie, everything takes place before Harry Potter and Voldemort's time and I guess there is no Hogwarts to be seen either, but it is as close as it gets.
We already booked the tickets for Friday afternoon (our wedding anniversary as well) and we will see the movie together with the kids. We are all really really excited about it, my Bruno and I particularly, he is infected with the Potter virus as well.
So I thought that the release of this film would be a nice occasion for me to start a Where Is My Spoon Series featuring Harry Potter recipes. There are so many of them mentioned throughout the books that I found it really difficult to choose. Everybody has heard of the famous butterbeer and the pumpkin juice, of the all-flavored beans and the chocolate frogs.
Well, I find that making chocolate frogs or flavored beans at home is close to impossible, I cannot imagine liking pumpkin juice (I am not a juice person generally and pumpkin sounds worst than apple… ) and I got to taste butterbeer at the Harry Potter Studio Tour in London and, sadly, I didn't like it much. It was OK, but it wasn't something I'd want to make at home. The best part of it was the cup it was served in and which we could buy as well.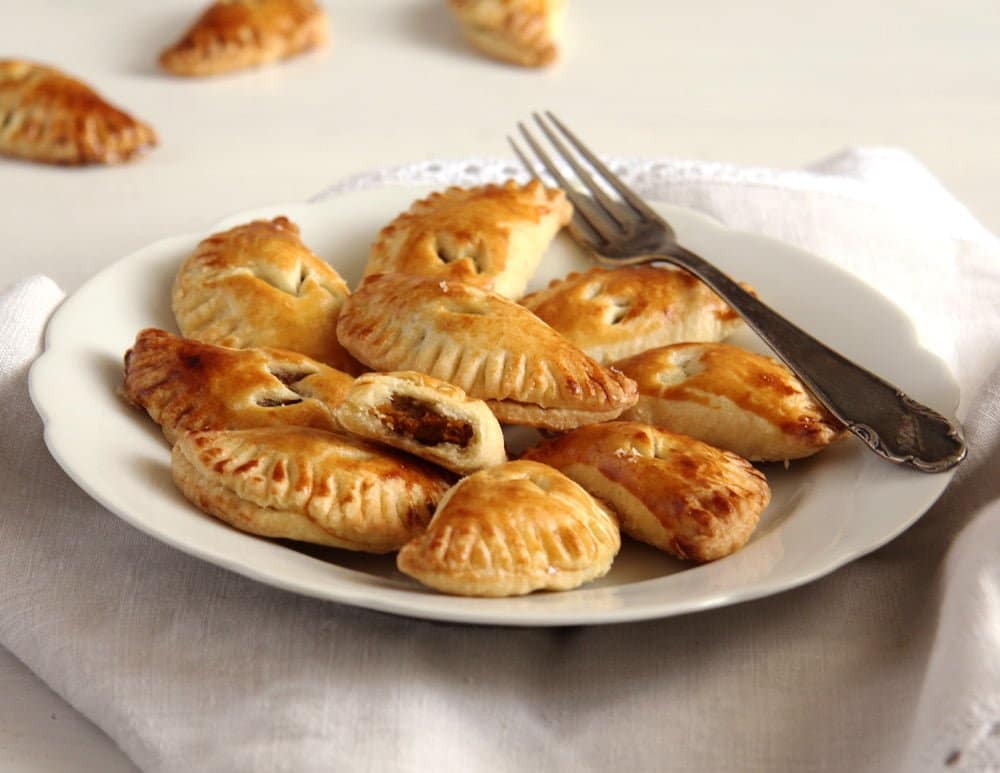 WHAT ARE PUMPKIN PASTIES?
I am starting with the pastry that the Harry Potter books made famous: the pumpkin pasties. They are the first typical wizard food that Harry gets to eat when on his way to Hogwarts in the Hogwarts Express.
The pumpkin pasties are small pastry pockets filled with a delicious sweet and spicy pumpkin filling, having a lot in common with the Cornish pastries which you can buy just about anywhere in England, but which are normally savory.
While reading about the pasties on the Internet I found many articles debating about the taste of the pumpkin pasties. Many think they are actually savory like a typical Cornish pasty. Some other think they are sweet.
I decided to go for sweet version because that is the way I imagined the pasties to be from the very beginning. The Hogwarts Express trolley only sells sweets, so I have always taken it for granted that the pasties are sweet as well.
THE PASTRY FOR PUMPKIN PASTIES
To make the pastry I used a recipe found at Serious Eats – Easy Pie Dough , I made it for the first time a couple of months ago and found it so good, I am using it quite a lot lately, almost every time I make pastry that needs to be nicely rolled.
I like the taste and the consistency very much, but what makes this recipe special is that the pastry dough is so easy to roll. That was always a major thing with the pastry I've made before, it was not so easily rolled, so I mostly just pressed it on the baking dish. But with this particular dough, you will have no problems at all, it works like magic!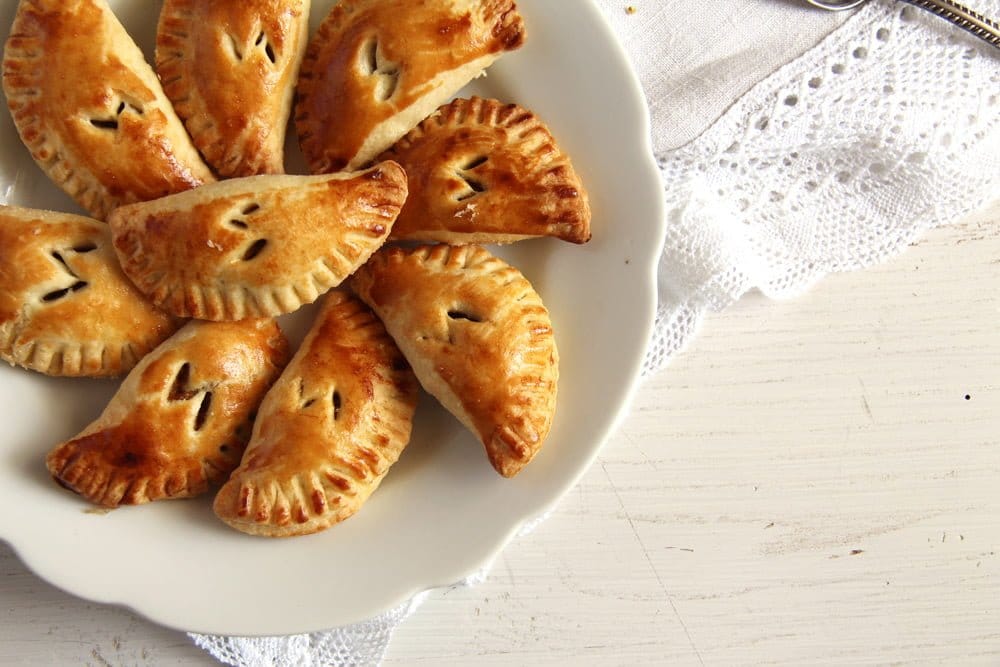 CAN I USE READY-BOUGHT PASTRY?
Yes, of course!
If you don't want to make the pastry (although it is really so quick and easy and tastes so good), you can always take ready-made shortcrust pastry, it is your decision.
I made a large batch of pastry, but used only about the half for the pumpkin pastry, I weighed it, there were about 200 g/ 7 oz necessary for about 15 small pasties.
CAN I FREEZE SHORTCRUST PASTRY?
You could either make the pasties larger or make more of them or use the rest of the pastry for a pie for instance. If not, the pastry will keep in the fridge for a couple of days and for months and months if frozen. I do that often with shortcrust pastry, make a large batch and freeze the leftovers for later use.
PUMPKIN PUREE FOR PUMPKIN PASTIES
You will need some pumpkin puree to make the filling.
I halved, seeded and roasted a very small pumpkin, but still I had way too much puree. I made the filling out of only a small portion of it and used the rest to make pumpkin macaroni and cheese – so good!
You could use the remaining puree to make some pumpkin pancakes or pumpkin smoothies or my pumpkin turkey curry. Or make a soup.
You could use pumpkin puree from a can as well (not pumpkin pie filling), at least I have read that, canned pumpkin puree is not available in Germany.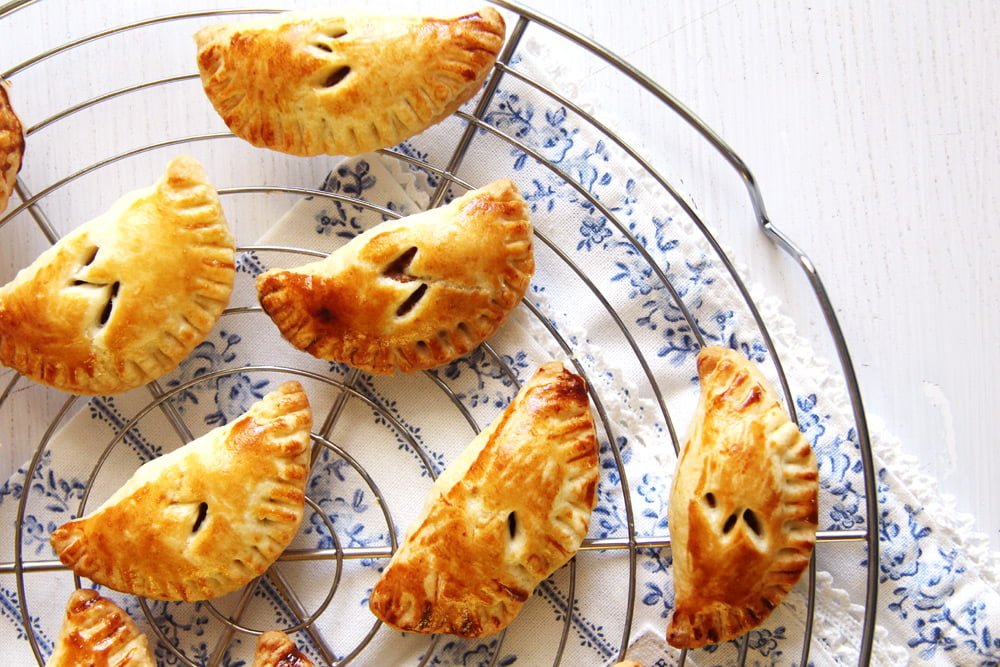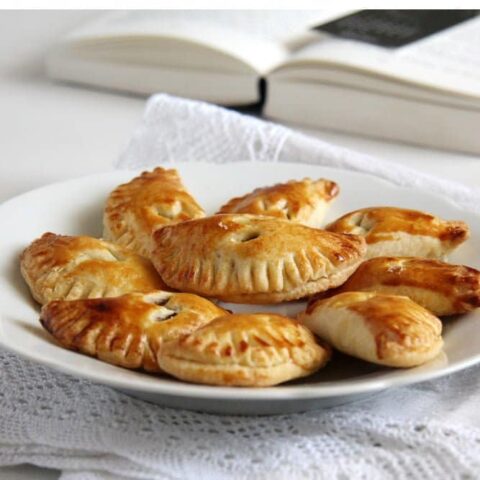 Harry Potter's Pumpkin Pasties
Yield: 15

Prep Time: 45 minutes

Cook Time: 20 minutes

Total Time: 1 hour 5 minutes

Harry Potter's famous pumpkin pasties sold in the Hogwarts Express. Flaky crust and a delicious spicy sweet pumpkin filling.
Ingredients
Pastry:
175 g/ 6.2 oz/ 1 ½ cups all-purpose flour
1 tablespoon granulated sugar (leave out when you want to make a savory pie or pastry)
a pinch of salt
140 g/ 5 oz/ 1 ¼ sticks unsalted butter (European style butter is best, it has less water)
2-3 tablespoons very cold water
Alternative: 1 ready-made pie crust
Filling:
100 g/ 3.5 oz/ scant ½ cup pumpkin puree, homemade or from a can (not pumpkin pie filling)
¼ teaspoon cinnamon
a pinch of allspice
a pinch of cardamom
a pinch of nutmeg
1 tablespoon granulated sugar
Egg wash:
1 egg yolk
2 tablespoons milk
Instructions
Pastry:
Cut the butter into small cubes, place them in one layer on a plate and put them in the freezer for about 15 minutes, they should not be frozen but get really cold.
In the meantime place 2/3 of the flour, sugar and salt in the food processor. Mix well.
Add the butter cubes and process shortly, about 20 short pulses or 20-25 seconds with the Thermomix on level 4. The dough should just begin to clump.
Sprinkle the remaining flour on top and pulse about 3-4 times or about 10 seconds on Thermomix on level 4 or until the dough is just barely broken.
Transfer the mixture to a bowl. Sprinkle with 2 tablespoons of the very cold water and incorporate using a rubber spatula (make sure is a good one, I broke one of mine in the process, but it was a very old one). Fold and press the dough until it comes together.
Add the third tablespoon of water if necessary, sometimes I do add it, sometimes not, it depends on how exactly you weigh the flour and sometimes on the brand of flour itself. The dough should hold together when you press a little bit of it between your fingers.
Form a ball, divide it into two parts, press each portion into a disc and wrap the discs tightly in plastic foil.
Refrigerate for at least 2 hours or overnight.
Alternatively, you can use ready-made shortcrust pastry, sweet.



Filling:

If you want to make your own pumpkin puree halve and deseed a small pumpkin.
Place the halves on a baking tray and bake at 200 degrees Celsius/ 400 degrees Fahrenheit for about 35-45 minutes or until the pumpkin is soft.
Let cool a little, remove the skin and puree the pumpkin flesh in the food processor.
To make the filling you will only need about 100 g/ 3.5 oz of it.
Mix the pumpkin puree with the spices and set aside.


Make the pumpkin pasties:
When ready to roll the dough, preheat the oven to 200 degrees Celsius/400 degrees Fahrenheit.
Sprinkle the working surface with a little flour and roll one of the refrigerated dough discs, about 3 mm / 1.8 inches thick.
Cut round circles using a pastry cutter or the edge of a glass. My circles had a diameter of 8 cm/ 3.1 inch and the resulting pasties were small.
After rolling the remaining scraps a couple of times as well I had 15 pasties.
Spoon about ½ teaspoon of the filling on one side of the pastry circles, dab the pastry edges with a a wet finger and fold the other side over. You will now have the half-moons.
Press the edges with a fork to crimp and close them.
Using a small sharp knife cut some tiny slits on top to create vents. I cut the vents in form of Harry's scar but you don't have to do that, an ordinary X will suffice.
Place the pasties on a baking tray lined with baking paper.



Bake:
Mix the egg yolk with the milk.
Brush the pasties with some of the mixture and bake for about 15 to 20 minutes until nicely golden.
Let cool on the baking tray for about 5 minutes, then carefully transfer to a wire rack to cool completely.

Nutrition Information:
Yield: 15 Serving Size: 1

Amount Per Serving:

Calories: 123 Total Fat: 8g Saturated Fat: 5g Trans Fat: 0g Unsaturated Fat: 3g Cholesterol: 33mg Sodium: 62mg Carbohydrates: 11g Net Carbohydrates: 0g Fiber: 1g Sugar: 2g Sugar Alcohols: 0g Protein: 2g

Nutritional information is not always accurate.
Others you might like: