As an Amazon Associate, I earn from qualifying purchases. There may be affiliate links within the post, see my
Privacy Policy
.
Last Updated on 22/11/2020 by Adina
Roasting pumpkin or squash in the oven cannot be any easier. You can use the roasted pumpkin to make pumpkin puree, soups, baked goods and so on.
ROASTED PUMPKIN
Roasted pumpkin (or anything pumpkin actually) is definitely my thing. Every autumn and winter you will find me roasting pumpkin or butternut squash at least once a month. At least!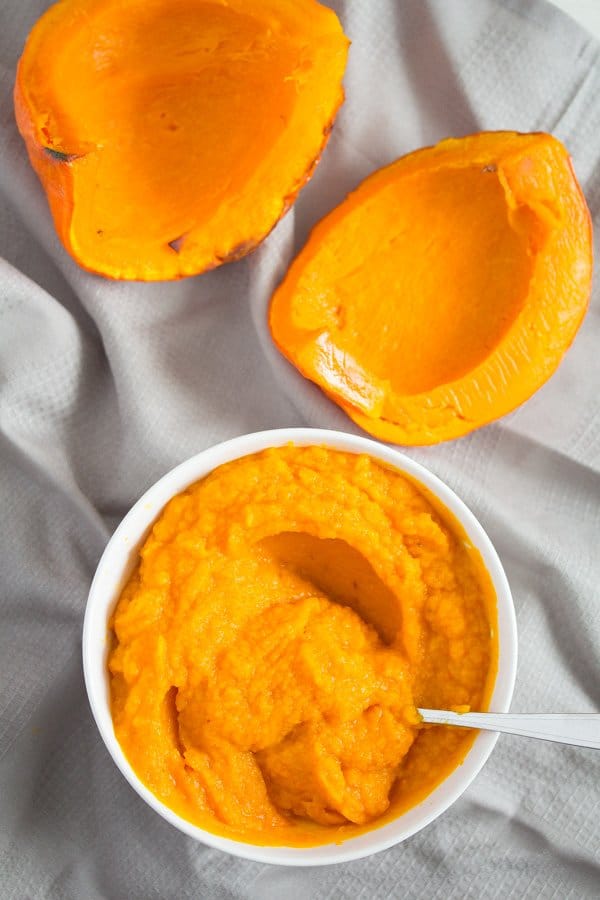 And all the yummy things you can use that roasted pumpkin for! You can use the baked pumpkin to make roasted pumpkin soup or a delicious pumpkin salad.
You can stuff pita breads, tortillas, make sandwiches. Or just eat it as it is.
Or you can turn the roasted pumpkin (or roasted butternut squash) to puree and use it like you would use canned pumpkin. Only tastier, healthier and cheaper.
Spicy roasted pumpkin wedges is one of the most popular recipes on the blog, actually pretty much my number one recipe every autumn. No wonder, those spicy pumpkin wedges are the best thing you can do to a pumpkin or butternut squash.
You should definitely try that recipe: really spicy and delicious pumpkin wedges, which can be served as a light dinner with a yogurt dip, they could also be served as side dish for chicken, fish or whatever, you can add them to a salad and so on.
However, they are pretty spicy and that makes them unsuitable for turning them to a puree.
And that is where today's roasted pumpkin comes in. Simply roasted pumpkin pieces, nothing added, just perfect to make pumpkin puree.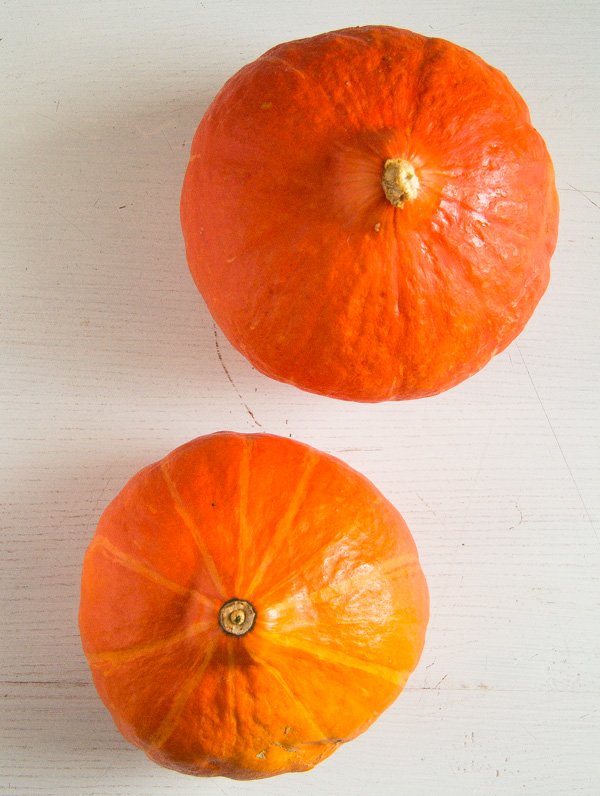 WHAT KIND OF PUMPKIN TO ROAST?
Choosing the right pumpkin for roasting is crucial. There are many sorts of pumpkin or squashes that are edible, but not all of them are tasty.
I remember getting one small jack-o'-lantern or Halloween pumpkin once and thinking I could make soup with it. I threw the soup away… it was pretty disgusting, meaning it had no taste whatsoever. Leave those pumpkins for decoration purposes.
The best pumpkin I can think of is the hokkaido also known as red kuri squash. It is incredibly aromatic – the best tasting pumpkin or squash I know – and it doesn't have to be peeled. Ever! You can do whatever you want with it and never have to peel it. That's is a huge bonus, if you ask me.
My second favorite is the butternut squash. It tastes wonderful as well, but it has to be peeled (in this case after roasting it) and, at least in Germany, it is more expensive than the kuri squash.
Other pumpkins suitable for roasting are rather small sugar pumpkins or pie pumpkins. Whatever you choose, make sure it is a flavorful, sweet sort of pumpkin with soft flesh.
The watery, plain ones, with glassy looking flesh make no sense in the kitchen.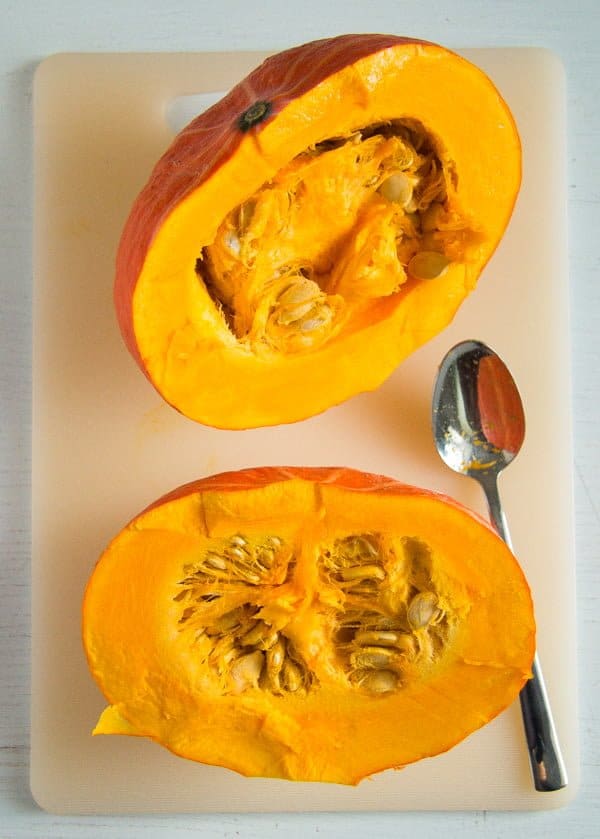 HOW TO CUT THE PUMPKIN?
Cutting the pumpkin is probably the most challenging task when roasting a pumpkin or a squash.
Equipment needed:
Cut the pumpkin:
Remove the stem by slicing the top together with the stem.
Cut the pumpkin or squash in half, from the top to the bottom. The knife you use has to be large and sturdy and you will have to use your strength. Careful with the fingers of the other hand.
Sometimes, when the pumpkin I am cutting is very large, the knife might get stuck inside the pumpkin. Carefully move the knife up and down to get it out of the pumpkin, then start again.
When that doesn't work, I just lift the pumpkin holding the knife and smash it on the working surface. The cut will not be nice anymore, but at least I got the knife out of the squash without cutting my fingers.
This will not happen if your pumpkin or squash is small, which is preferable anyway.
Once you halved the pumpkin, remove the seeds. That is very easy, scoop them out with a spoon.
You could roast the pumpkin seeds, if you like.
If the pumpkin is not very large, leave it as it is now, only halved.
If the pumpkin is larger, cut it into quarters.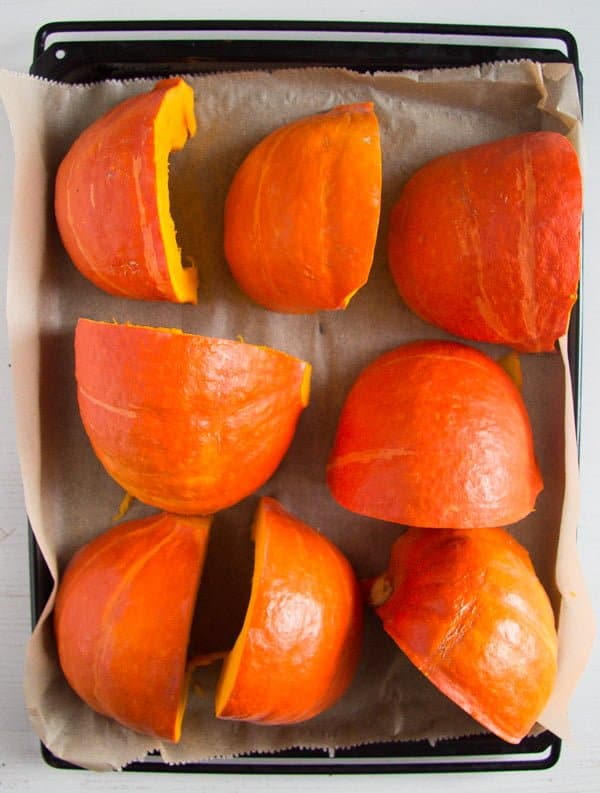 HOW TO ROAST PUMPKIN?
Equipment needed:
Preheat the oven to 200 degrees Celsius/ 400 degrees Fahrenheit. Line a baking sheet with parchment paper.
Place the pumpkin halves or quarters on the prepared baking sheet.
Roast the pumpkin for 40-50 minutes.
The pictured pumpkin quarters (hokkaido or kuri squash) needed exactly 45 minutes, but check.
The roasted pumpkin should be perfectly soft, fork-tender.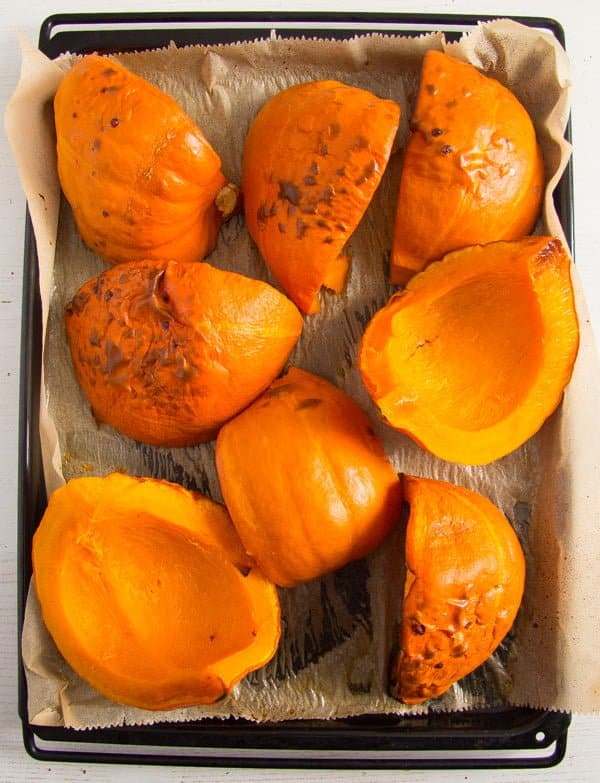 PEEL OR NOT PEEL THE PUMPKIN?
If you had a hokkaido or kuri squash there is no need for you to remove the peel.
If using another sort of pumpkin or squash you will have to remove the peel.
To remove the peel, let the roasted pumpkin or squash cool for about 10 minutes, it should be cool enough for you to be able to handle it without burning your fingers.
Separate the flesh from the skin, either by pulling the skin from the flesh, cutting it away with a small knife or by scooping the flesh out of the skin with a spoon.
If making pumpkin puree or roasted pumpkin soup for instance, scooping out the flesh is perfect.
If you want to use the roasted pumpkin for a salad, you might want to remove the skin more carefully by pulling it away from the flesh or cutting it with a small knife.
HOW TO MAKE ROASTED PUMPKIN PUREE
Place the roughly chopped roasted pumpkin pieces in a food processor.
Puree until smooth and creamy.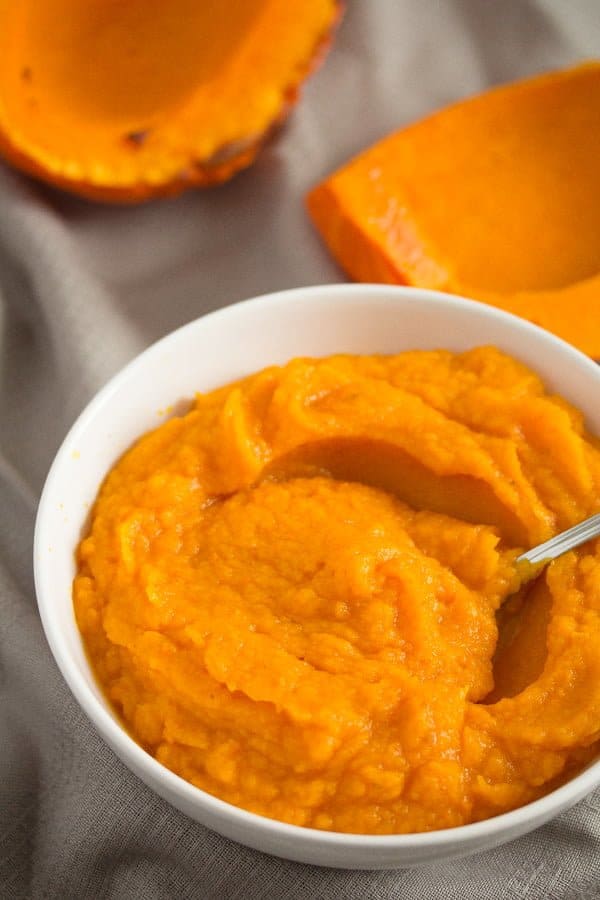 HOW TO STORE ROASTED PUMPKIN
Place the roasted pumpkin pieces or pumpkin puree in airtight containers. Keep them in the refrigerator for up to 5 days.
You can also freeze pumpkin puree in freezer bags. If you would like to use pumpkin puree like you would use a can, freeze in 425 g/ 15 oz portions, that's the amount you will find in a regular pumpkin can.
Pumpkin puree thaws easily at room temperature. Or use the microwave for the purpose.
MORE FAVORITE PUMPKIN RECIPES
PIN IT FOR LATER!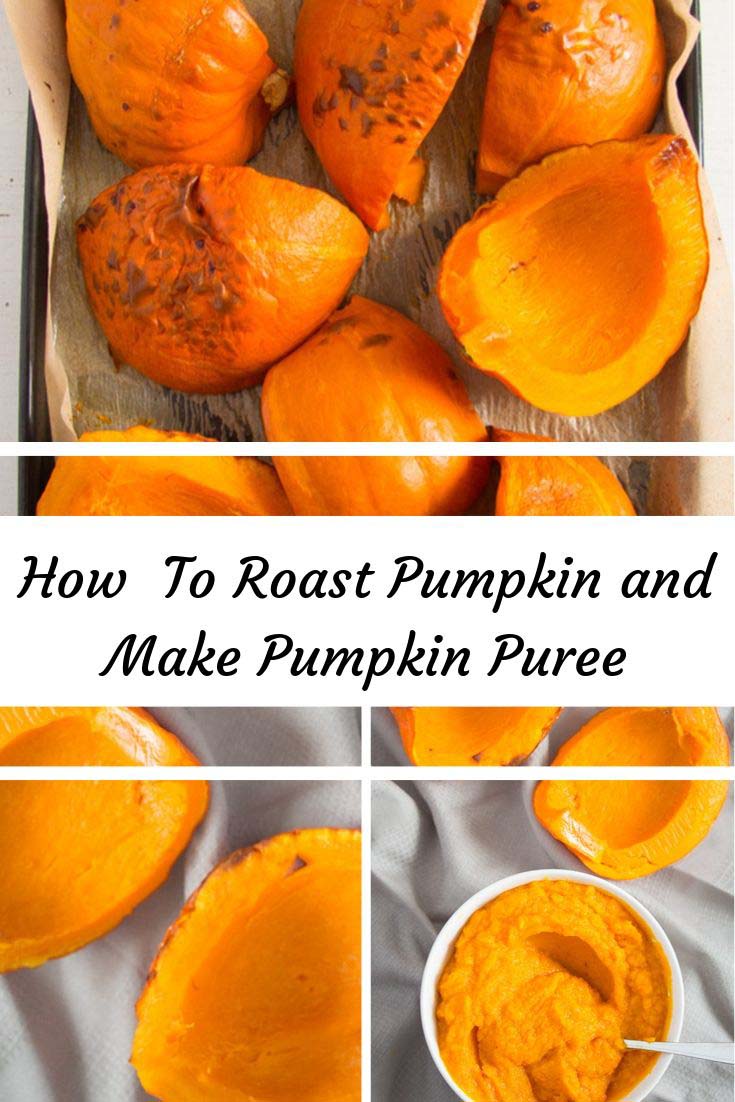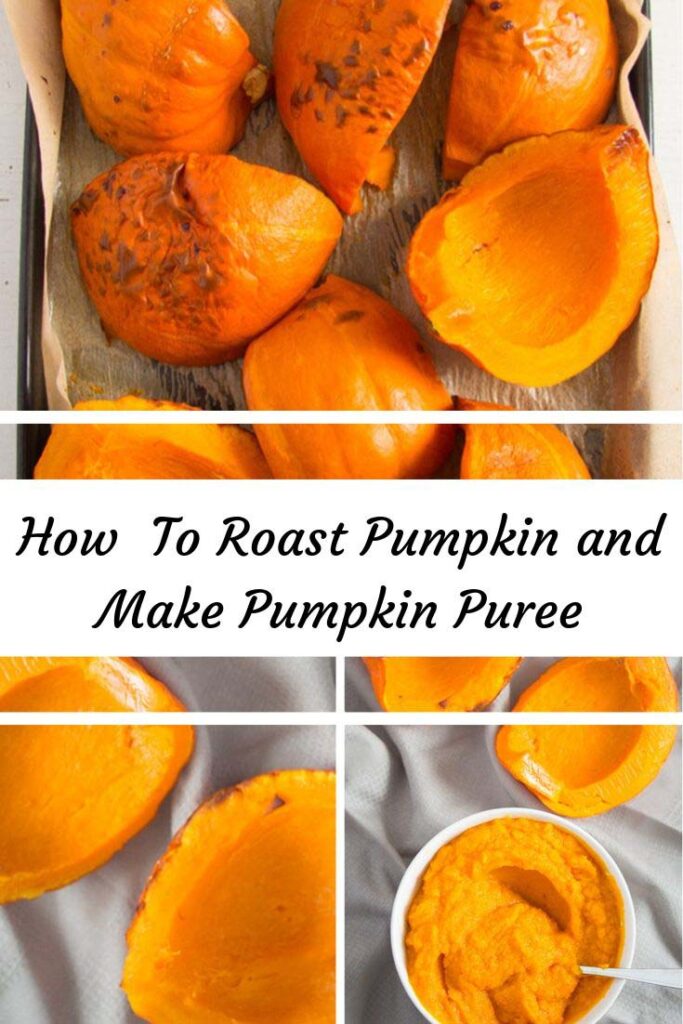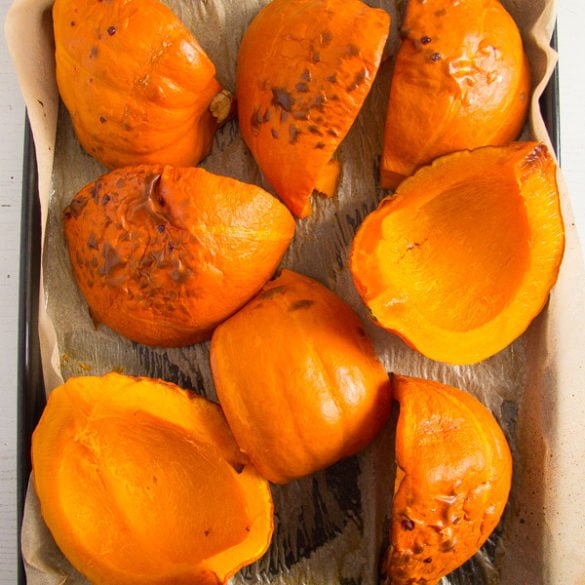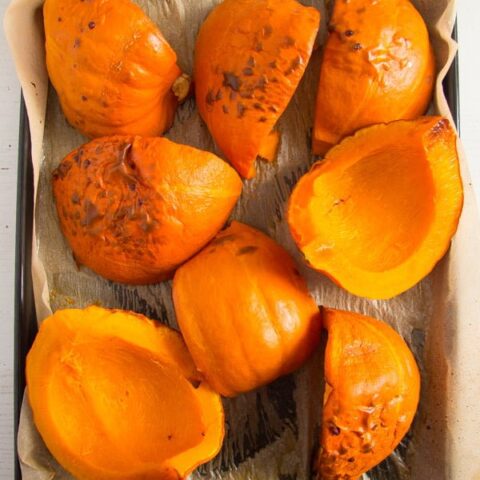 How To Roast a Pumpkin
Roasting pumpkin or squash in the oven cannot be any easier. You can use the roasted pumpkin to make pumpkin puree, soups, baked goods and so on.
Ingredients
1 small pumpkin, between 1 to 1,5 kg/ 1 to 3.3 lbs - (See note)
Instructions
Preheat the oven to 200 degrees Celsius/ 400 degrees Fahrenheit. Line a baking tray with baking paper.
Cut away the stem.
Halve the pumpkin.
Remove the seeds with a spoon.
If the pumpkin or squash is larger, you can cut the halves in two as well, so you will have quarters.
Place them on the baking tray, cut-side down.
Roast the pumpkin pieces for 40 to 50 minutes or until perfectly soft, fork tender.
If using hokkaido/kuri squash you will not have to remove the skin.
If using another sort of pumpkin or squash, let the roasted pumpkin cool for about 10 minutes, until cool enough to handle.
Peel it by pulling the skin away or by scooping the flesh with a spoon. See blog post for more information on that.
If you want to make pumpkin puree, puree the roasted pumpkin in the food processor until smooth.
Notes
You can use hokkaido or kuri squash, butternut squash, sugar pumpkin, pie pumpkin or any other sort of small and very flavorful, sweet pumpkin or squash.
Nutrition Information:
Yield:

8
Serving Size:

1 quarter
Amount Per Serving:
Calories:

38
Total Fat:

0g
Saturated Fat:

0g
Trans Fat:

0g
Unsaturated Fat:

0g
Cholesterol:

0mg
Sodium:

2mg
Carbohydrates:

9g
Fiber:

2g
Sugar:

4g
Protein:

1g
Nutrition information isn't always accurate.