Perfectly roasted pumpkin wedges: an easy, spicy and versatile recipe, you can enjoy this as a vegetarian meal with yogurt dip for instance or as a side dish for meat, poultry or fish.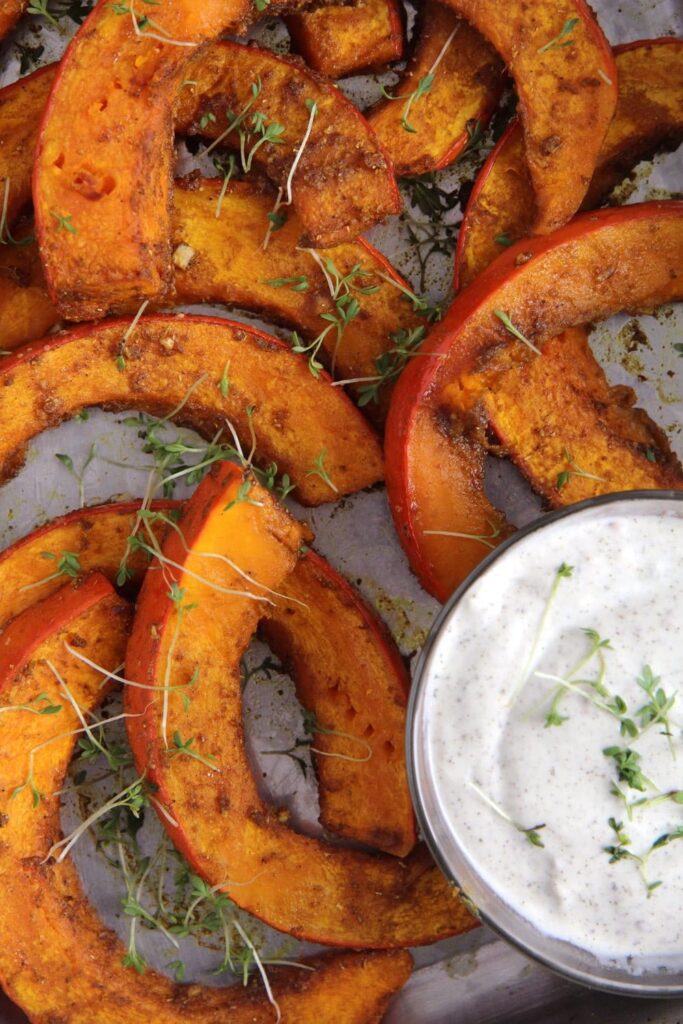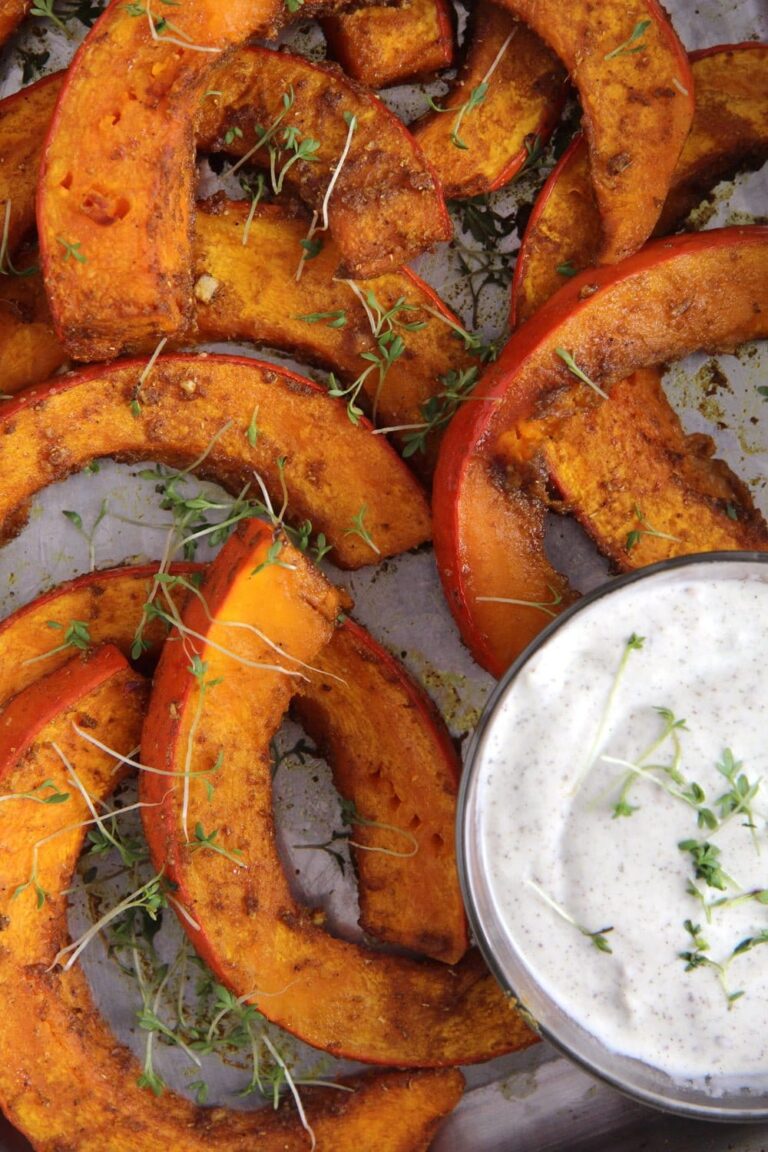 ROASTED PUMPKIN WEDGES
This roasted pumpkin is my last recipe in this Pumpkin Series and I could almost say that this time I saved the best for last. I love every other recipe that I've posted during the past two weeks, but this one is really my favorite.
Not only because it is so thoroughly delicious, but also due to the fact that it is so extremely easy to make and so easy to change according to your taste.
That makes it a perfect choice for any kind of meal during the autumn/winter months: you could eat the pumpkin wedges as they are for lunch or dinner any day of the week, they don't require much work or much time or you could have them as a side dish for your Sunday roast (or Thanksgiving turkey) or almost any other meat/poultry/ fish dish you can think of.
INGREDIENTS FOR SPICY ROASTED PUMPKIN WEDGES
Spices:
The spice mixture I used to make the roasted pumpkin wedges can be changed as well according to your taste or needs at the moment. I chose a Middle-Eastern inspired spice mix this time because I wanted to pair this with a yogurt tahini dip, but actually when it comes to spices the sky is the limit.
Use a few, use many, use any spice mixture you like, let your mood or the main dish inspire you…
Pumpkin:
The pumpkin you can see in the photographs is a Hokkaido pumpkin, also called a red kuri squash, that's why I didn't need to peel it. If you choose butternut squash or another kind of pumpkin (make sure is a tasty one, there are many sorts that don't have much of a taste) for this roasted pumpkin recipe, then do peel them.
HOW TO MAKE OVEN ROASTED PUMPKIN WEDGES
You could prepare the roasted pumpkin wedges in advance:
Cut the Hokkaido pumpkin or butternut squash into wedges, about 1.5 cm/ 0.6 inches thick, place them in the casserole dish. Keep in mind that Hokkaido pumpkin doesn't have to be peeled, but butternut squash needs peeling.
Make the marinade by mixing together the grated garlic, spices, olive oil, salt and pepper to taste. Rub the pumpkin wedges with the spice mixture until coated all over and let them marinade until ready to roast them.
Bake the pumpkin wedges in the preheated oven at 200 degrees Celsius/ 400 degrees Fahrenheit for about 25-30 minutes or until the pumpkin wedges are as soft as you like them, I like them very soft.
In the meantime make the yogurt tahini dip, if serving it with the roasted pumpkin wedges. Mix all the ingredients together and set aside.
That's it! And the result, the best roasted pumpkin wedges ever, if you ask me.
This recipe serves two or three as a main dish and 4 as a side dish, but it can be easily doubled, just use a baking tray instead of a roasting pan, if you do.
What to serve with the roasted pumpkin recipe: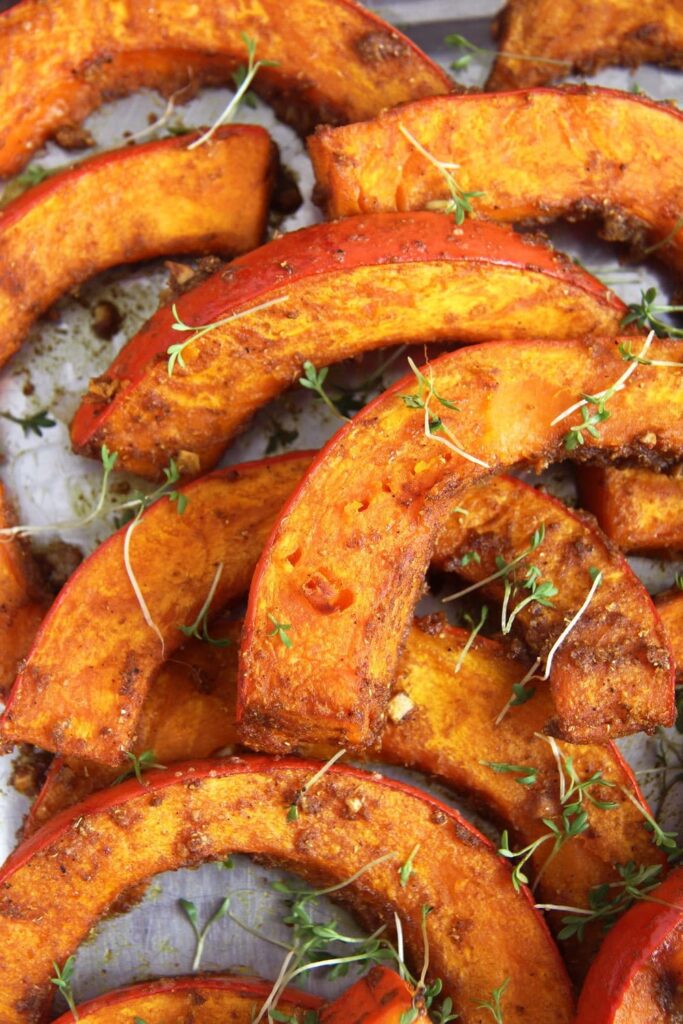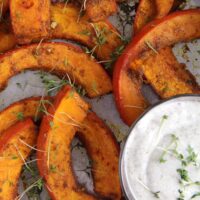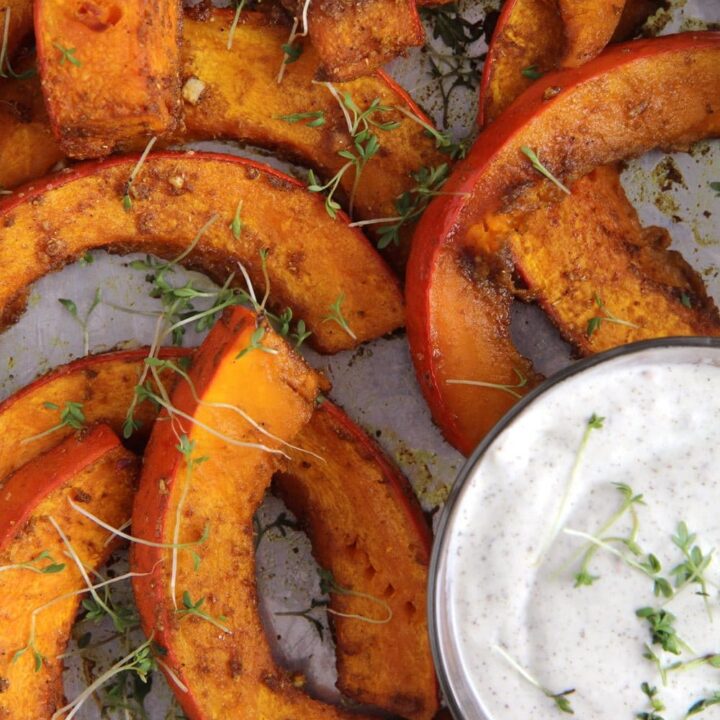 Spicy Roasted Pumpkin Wedges
Yield: 3

Prep Time: 15 minutes

Cook Time: 30 minutes

Total Time: 45 minutes

Perfectly roasted pumpkin: an easy, spicy baked pumpkin recipe, you can enjoy this as a vegetarian meal with yogurt dip for instance or as a side dish for meat, poultry or fish.
Ingredients
Roasted pumpkin
750 g/ 26.5 oz Hokkaido pumpkin, one small (See note)
2 garlic cloves
1 teaspoon ground cumin
½ teaspoon ground coriander
1 teaspoon hot paprika powder
½ teaspoon turmeric powder
3-4 tablespoons olive oil
salt and pepper to taste
Yogurt tahini dip:
150 g/ 5.3 oz/ about 2/3 cup Greek yogurt
1 tablespoon tahini
1 teaspoon za'atar
1 garlic clove
lemon juice, to taste
fine sea salt
pepper
Instructions
Preheat the oven to 200 degrees Celsius/ 400 degrees Fahrenheit.

Wash and dry the Hokkaido pumpkin, you don't have to peel this sort. If you are using butternut squash or other sort of pumpkin, you will have to peel those. Remove the seeds. Cut the pumpkin into wedges, about 1.5 cm/ 0.6 inches thick. Place them in a bowl or in a casserole dish if you are baking them directly.

In a small bowl mix together the roughly chopped garlic and the spices. Add the olive oil and stir to blend. You could add more olive oil if you wish, but I don't find it necessary. Add salt and pepper to taste.

Pour the mixture over the pumpkin wedges and rub well with your hands to make sure that all the wedges are coated in the spice mixture. Leave to marinate for a while or roast immediately for about 25-30 minutes until the wedges are as soft as you like them. You could start checking after about 20 minutes already.

Serve hot with yogurt tahini dip or as a side dish.

Yogurt tahini dip: mix together Greek yogurt, tahini, za'atar, grated garlic clove and salt, pepper and lemon juice to taste.



Notes
Hokkaido is also called red kuri squash. Butternut squash can be used instead, but butternut squash has to be peeled before roasting.
Nutrition Information:
Yield: 3 Serving Size: 1/3

Amount Per Serving:

Calories: 386 Total Fat: 27g Saturated Fat: 4g Trans Fat: 0g Unsaturated Fat: 22g Cholesterol: 6mg Sodium: 467mg Carbohydrates: 28g Fiber: 5g Sugar: 13g Protein: 13g

Nutrition information isn't always accurate.
Others you might like: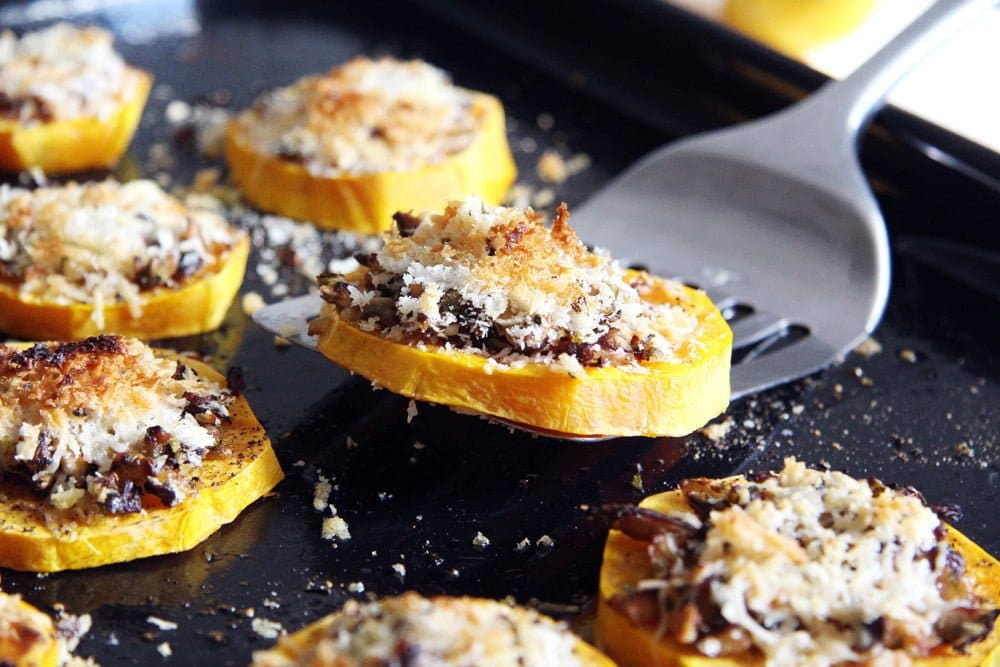 Baked Butternut Squash Parmesan Slices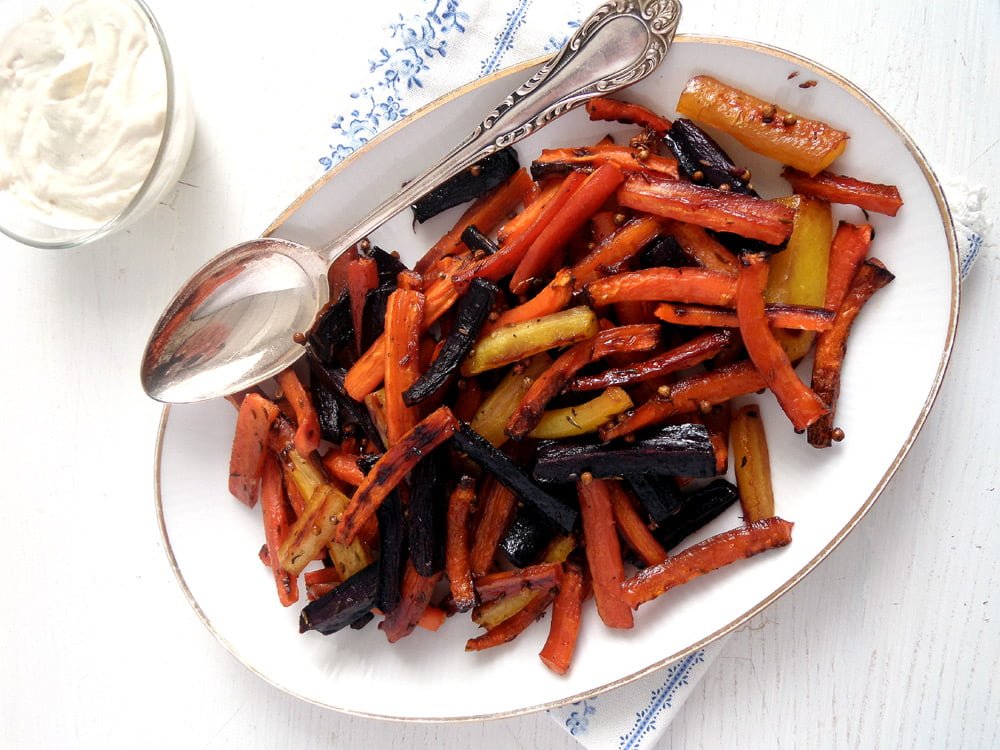 Honey-Glazed Carrots with Tahini Dip