Try our tasty vegan bulgur wheat salad! It's made with chewy bulgur wheat, chickpeas, and lots of herbs. This nutritious dish is perfect for lunch or dinner and is ready in about 15 minutes.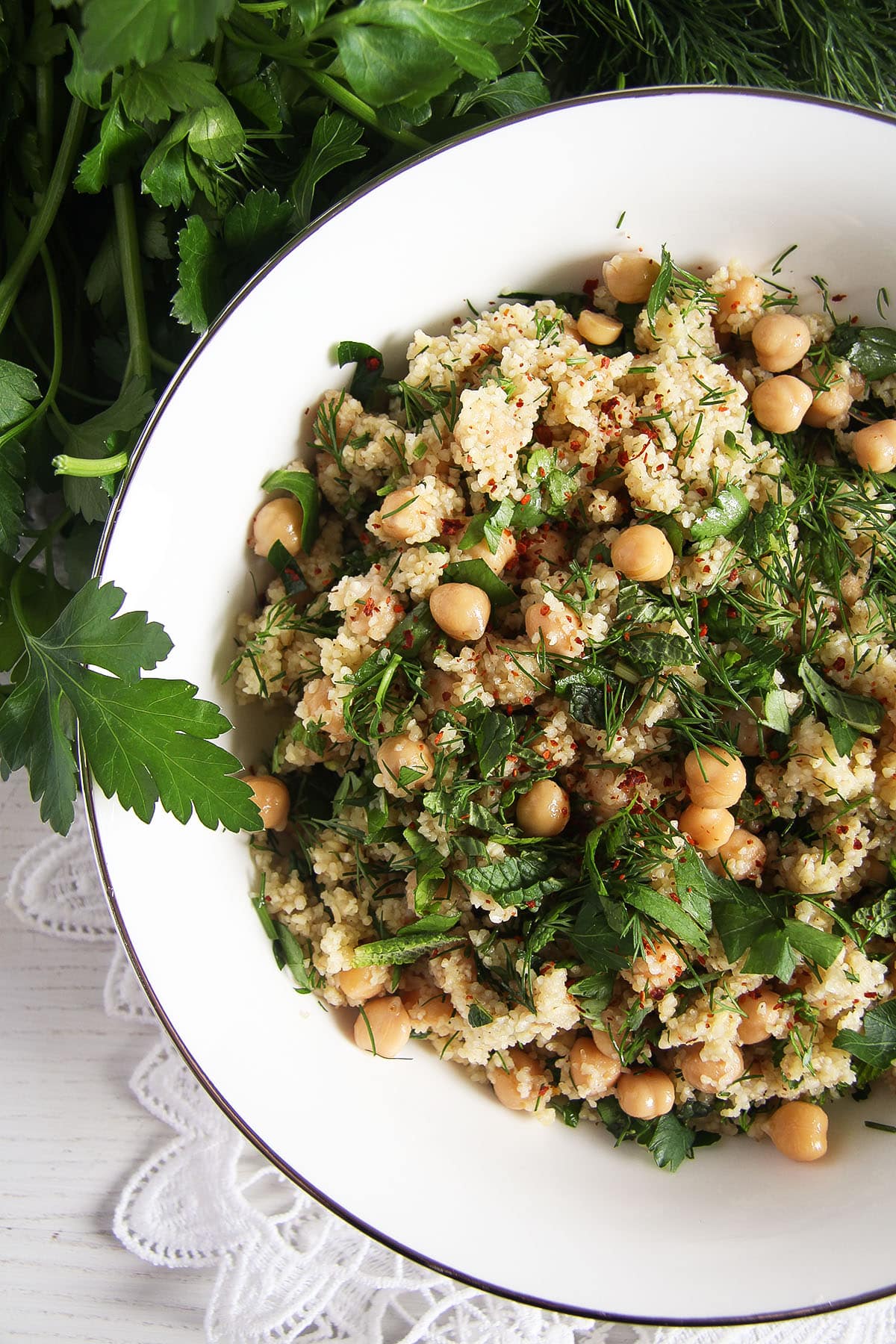 Discover a simple and delicious vegan bulgur wheat salad with chickpeas and fresh herbs. This easy-to-make dish combines wholesome ingredients for a satisfying meal. Savor the yumminess of nutty bulgur, filling chickpeas, and tasty herbs. It's a delicious and healthy choice for your meals.
Check out more vegan grain salads: Mediterranean Parsley Salad, Summer Quinoa Salad, and Curried Couscous Salad.
Jump to recipe
Why should you make this salad?
Quick and easy to make, this salad makes the perfect light and healthy lunch, a great office lunch, or a picnic item.
Packed with nutrients: Chewy bulgur, protein-rich chickpeas, and aromatic fresh herbs, great for boosting your well-being.
Suitable for various diets, including vegetarian, vegan, low-fat, and dairy-free.
What is bulgur?
Bulgur, also known as bulgar or burghul, is a whole grain made from pre-cooked durum wheat. Bulgur is a common ingredient in Indian, Middle Eastern, and Mediterranean cooking, but it is mainly known in the West as the main ingredient in tabbouleh.
This recipe for vegan bulgur wheat salad with chickpeas and herbs is also a bit like tabbouleh, not precisely so, but similar.
How to cook Bulgur?
There are three sorts of bulgur: fine, medium, and coarse.
When you cook bulgur, make sure to read the packet's instructions regarding the cooking method and the cooking times. I have bought so many sorts and brands of bulgur over the years, and the experience has taught me always to read the packet's instructions.
The easier type to use, the one I buy the most, is the fine or the medium bulgur. Like couscous, the fine bulgur only needs to be soaked in hot broth, making it very convenient. Medium bulgur usually needs to be cooked shortly.
The ratio of fine or medium bulgur to liquid is usually 1:2, but again, check the packet's instructions for certainty.
However, I prefer coarser bulgur when cooking a more substantial meal. In this case, the ratio of bulgur to liquid is generally 1:3.
Bring the stock to a boil, add the bulgur, and cook, uncovered and stirring from time to time, for about 15-20 minutes or according to the packet's instructions. The bulgur should have absorbed the liquid by the end of the cooking process.
Bulgur substitutes
You can replace it with most other cereals or grains in recipes. Couscous would be the first choice, as you can soak just the way you would soak the fine bulgur.
Otherwise, I already cooked a similar salad to this vegan bulgur salad with quinoa, and I imagine it's delicious when made with buckwheat, wheat or spelt berries.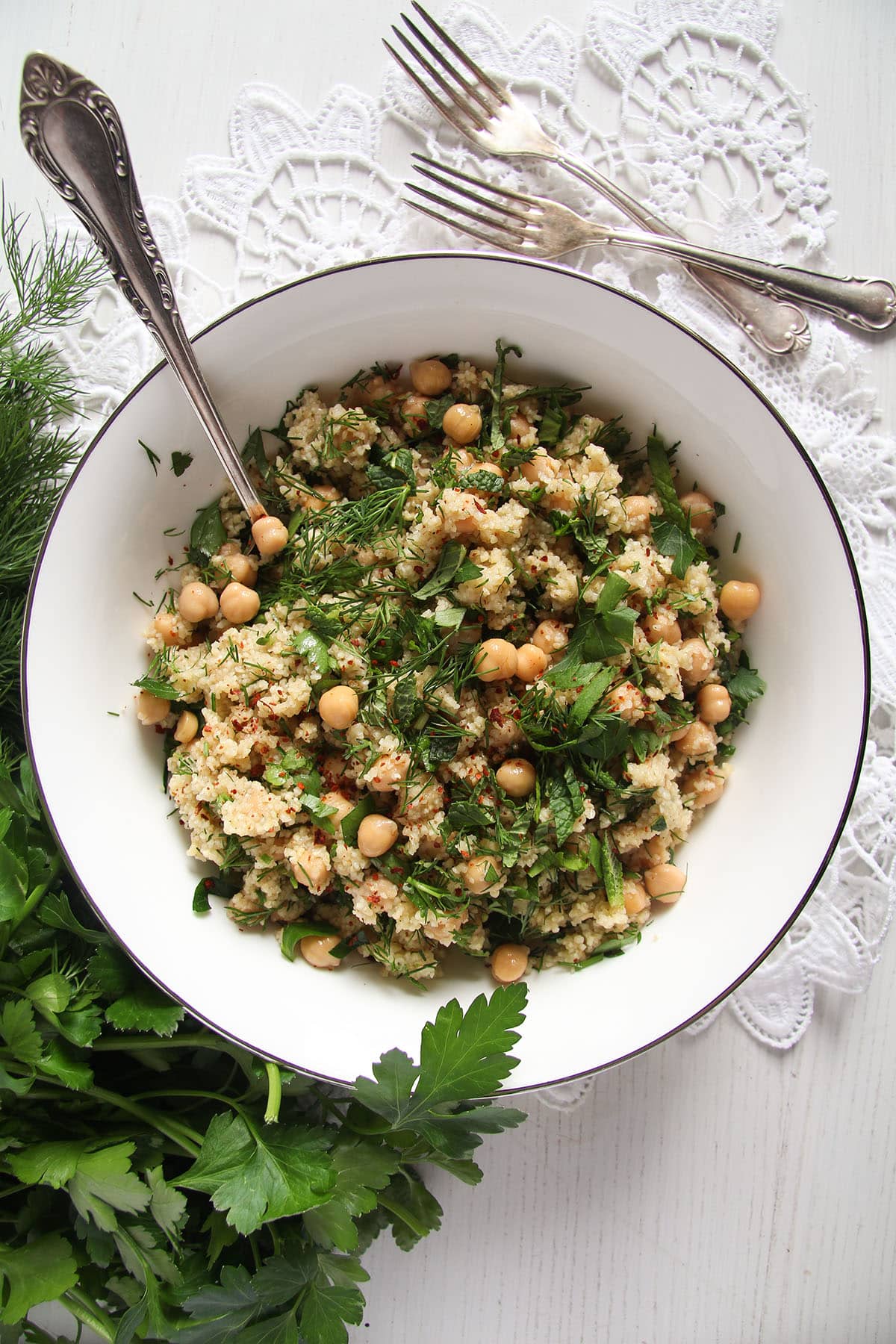 Recipe ingredients
Fine bulgur: It has a pleasant chewy texture and a slightly nutty flavor, adding substance to the salad.
Chickpeas: Drained from a can or the same amount of cooked chickpeas.
Fresh parsley, dill, and mint: These aromatic herbs bring a burst of freshness and vibrant flavors to the dish.
Olive oil: A heart-healthy oil that adds richness and depth to the salad's flavors.
Red chili flakes for a hint of spiciness.
Vegetable broth: It serves as a base for cooking the bulgur and infusing it with a savory taste.
Additions
Avocado adds a luscious texture and healthy fats to the salad.
Toasted nuts or seeds like almonds, walnuts, pumpkin, or sunflower seeds provide a crunch and a protein boost.
Diced cucumbers
Cherry tomatoes
Red Bell Peppers: Either fresh or roasted from a jar.
Olives: Black or green olives.
Red or green onions
Chopped fresh baby spinach
Feta cheese if you don't care about keeping the salad vegan.
How to make vegan bulgur wheat salad?
Soak and, if necessary, cook the bulgur in vegetable broth according to the packet's instructions. In my case, I only soaked it in hot vegetable broth for 5 minutes.
Pour the vegetable broth into a saucepan and bring to a boil. Add the bulgur, cover, and remove from the heat immediately. Let stand for 5 minutes. Transfer to a bowl, loosen with a fork, and let cool slightly.
Drain and rinse the chickpeas. Add them to the bulgur and stir to combine.
Add the chopped herbs, olive oil, balsamic vinegar, and chili flakes. Combine and adjust the taste with salt and pepper.
Expert Tips
Most important tip: Check the bulgur's packet and cook the grain according to it. As mentioned above, there are three types of bulgur, and they all have different cooking times. You can use any type to make this vegan bulgur salad; just ensure you cook the grain as required.
Vegetable broth adds flavor to the grains as they cook, so I don't recommend using just water.
Allow the salad to sit for a short while before serving. This gives the ingredients time to meld, intensifying the flavors and improving the overall taste.
Recipe FAQ
Is bulgur gluten-free?
No, it contains gluten. If you have a gluten allergy or celiac disease, you should switch to gluten-free alternatives like brown rice, quinoa, amaranth, or, my favorite lately, buckwheat.
Can I use other grains instead of bulgur in the salad?
You can substitute it with grains like quinoa, couscous, farro, or even rice. Adjust cooking times accordingly.
Can I make this salad ahead of time?
Yes, you can cook the grains and combine them with the chickpeas and the dressing beforehand. However, I would only add the fresh herbs shortly before serving to maintain freshness.
How to store bulgur wheat salad?
Refrigerate leftover vegan bulgur wheat salad in an airtight container for 2-3 days. The flavors will continue to mingle.
The bulgur salad is not suitable for freezing.
What to serve with bulgur salad?
As a main dish with additional sides to complement it. A side of roasted vegetables, steamed greens, or a mixed green salad can round out the meal.
Serve with grilled chicken, tofu, or fish for a balanced meal.
Try it with roasted leg of lamb, pulled lamb, roasted whole chicken with oranges, pan-fried chicken thighs, or cast-iron chicken breast.
Create a Mediterranean-inspired feast with easy hummus, pita bread, falafel, and olives.
Make a bowl: Add some protein (chicken, tofu, eggs, etc.), steamed or roasted vegetables, low-calorie hummus or fava bean dip, olives, roasted nuts, etc.
Pack the salad in individual containers and take it to the office or a picnic.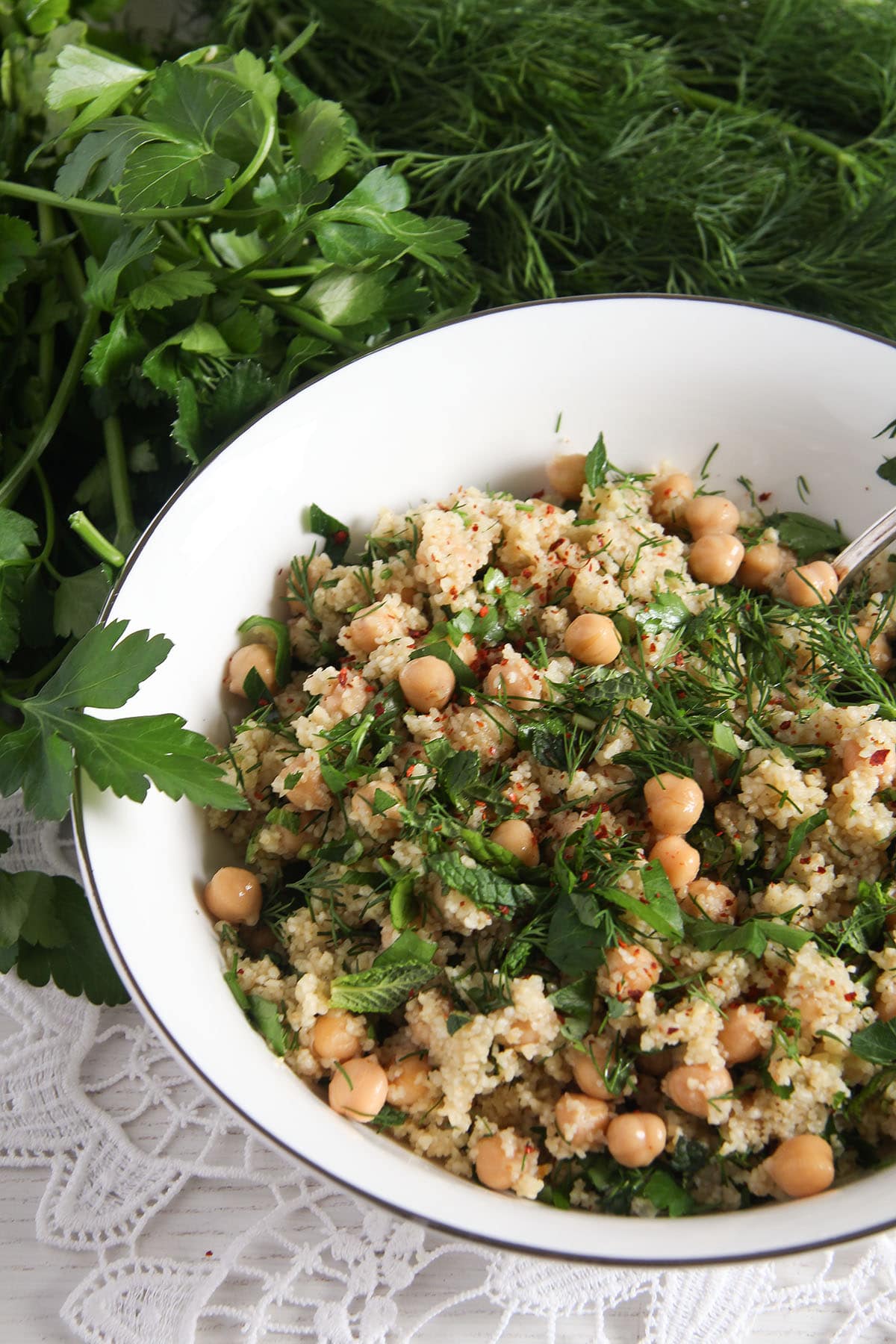 Other recipes with grains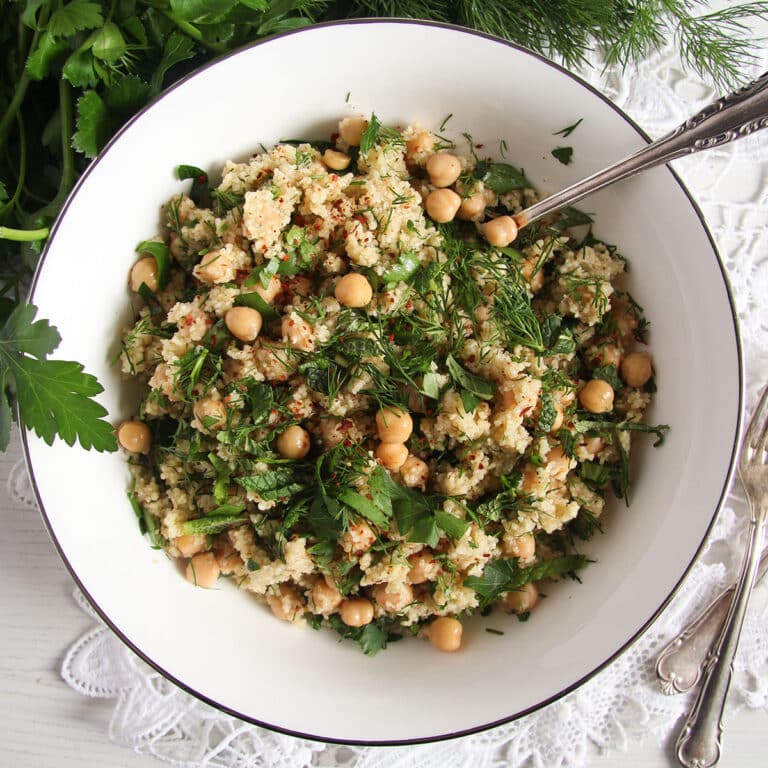 Vegan Bulgur Salad with Chickpeas
Enjoy our tasty vegan bulgur wheat salad! With chewy bulgur wheat, chickpeas, and plenty of fresh herbs, it's a colorful and healthy option for lunch or dinner, ready in just 15 minutes!
Print
Pin
Share
Grow
Saved!
Rate
Ingredients
scant 1

cup

vegetable broth

200 ml/ 6.7 fl. oz

⅔

cup

fine bulgur

150 g/ 5.5 oz, Note

1

can chickpeas

400 g/ 14 oz

4

tablespoons

parsley

chopped

3

tablespoons

dill

chopped

2

tablespoons

mint

chopped

2

tablespoons

olive oil

1

tablespoon

balsamic vinegar

chili flakes

to taste

fine sea salt and ground black pepper

to taste
Instructions
Prepare bulgur wheat: Pour the vegetable broth into a saucepan and bring it to a boil. Add the bulgur, cover, and remove from the heat. Let stand for 5 minutes. Transfer to a bowl, loosen with a fork, and let cool slightly. scant 1 cup/ 200 ml vegetable broth + ⅔ cup/ 150 g fine bulgur

Drain and rinse the chickpeas. Add them to the bulgur and stir. 1can chickpeas

Add the chopped herbs, olive oil, balsamic vinegar and, chili flakes, some salt and pepper to taste.4 tablespoon parsley + 3 tablespoon dill + 2 tablespoon mint + 2 tablespoon olive oil + 1 tablespoon balsamic + chili flakes + salt + pepper

Stir to combine and adjust the taste again.
Notes
The fine bulgur I used only needed to be soaked in the hot broth for 5 minutes. However, there are different sorts of bulgur, some finer, some coarser. Coarser kinds need to be cooked differently. Please make sure you read the packet's instructions as well. Prepare the bulgur as indicated on the box and proceed with the recipe.
Nutrition
Serving:
1
g
|
Calories:
213
kcal
|
Carbohydrates:
29
g
|
Protein:
6
g
|
Fat:
9
g
|
Saturated Fat:
1
g
|
Polyunsaturated Fat:
7
g
|
Sodium:
451
mg
|
Fiber:
6
g
|
Sugar:
7
g