Super easy to make vegan bulgur wheat salad with chickpeas, parsley, dill and mint, aromatic side dish or light dinner. Ready in 10 minutes.

VEGAN BULGUR RECIPE
What is bulgur?
Bulgur, also known as bulgar or burghul is a whole grain made from pre-cooked durum wheat. Bulgur is a common ingredient in the Indian, Middle Eastern and Mediterranean cooking, but it is mostly known in the West as the main ingredient in tabbouleh.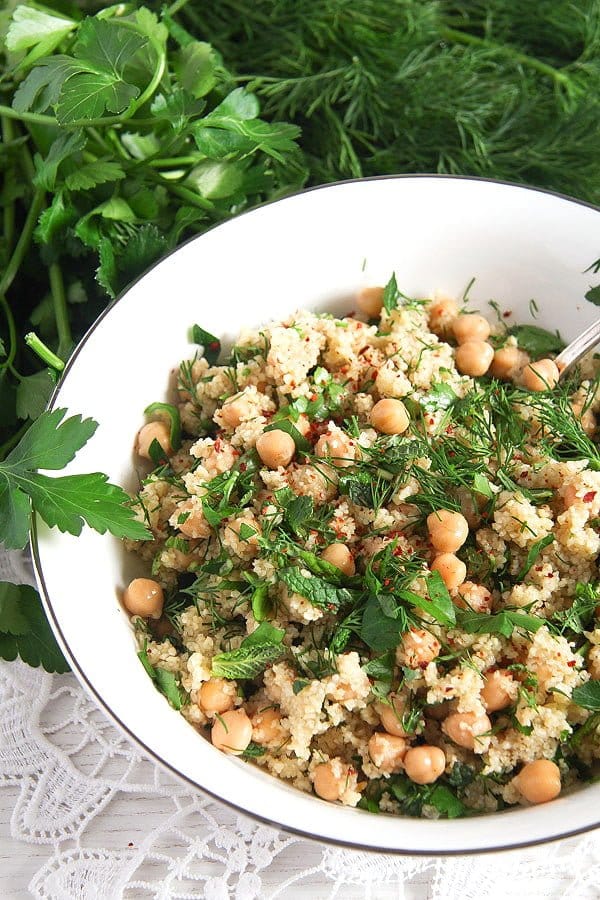 Is Bulgur gluten-free?
Bulgur does contain gluten, which doesn't make it a choice for people suffering from celiac disease. If you have a gluten allergy or the celiac disease, you should definitely switch to gluten-free alternatives like brown rice, quinoa, amaranth or my favorite lately, buckwheat.
However, if gluten is not an issue for you, bulgur is a very good alternative to more refined carbohydrates packed foods like pasta, for instance.
Is Bulgur healthy?
Bulgur wheat is low in fat, high in plant-based protein, fibers, and minerals
There are many health benefits that according to some sources, bulgur might have.
For instance, according to livestrong.com, bulgur might help to alleviate chronic inflammation, researchers have found that people who consume more betaine, a metabolite found in whole wheat, have lower chances of developing heart disease, Alzheimer's, osteoporosis or type 2 diabetes.
Also, bulgur might reduce the risk of developing gallstones and the magnesium it contains is "essential for normal brain and nerve function". Its iron content might help against developing anemia.
Regarding type 2 diabetes, it is also said that bulgur helps "improve the blood sugar levels in the body" and "by optimizing the release of insulin it can help to prevent the spikes and plunges of blood sugar that can be so dangerous for people suffering from diabetes." (organicfacts.net)
Bulgur has a much higher content of dietary fiber than other cereals and that high content stimulates digestions, helping against constipation or bloating for instance.
And if you are trying to lose some weight, as mentioned above, bulgur is low in fat and also low in calorie, but its high fiber content will make you feel full and this way prevents you from overeating or snacking between the meals.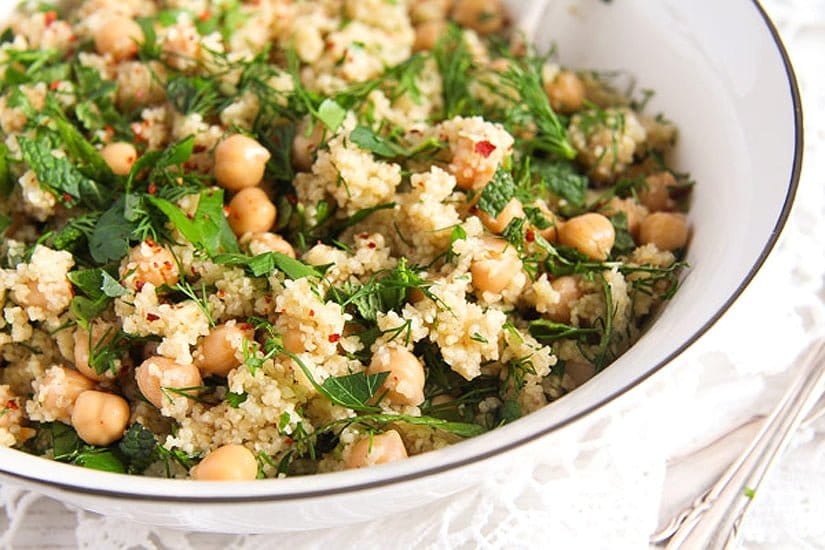 HOW TO COOK BULGUR?
There are three sorts of bulgur: fine, medium and coarse.
When you cook bulgur, make sure to read the packet's instructions regarding the cooking method and the cooking times. I have bought so many sorts and brands of bulgur over the years and the experience has taught me to always read the packet's instructions.
Fine or medium bulgur:
The easiest bulgur to use, the one I buy the most, is the fine or the medium bulgur. Similar to couscous, the fine or medium bulgur only needs to be soaked in hot broth in order to be cooked, which makes it very convenient.
Fine bulgur is usually cooked after about 5 minutes soaking time, while the medium bulgur usually needs about 15 minutes.
The ratio of fine or medium bulgur to liquid is usually 1:2, but again, do check the packet's instructions for certainty.
Coarse bulgur:
However, when cooking a more substantial meal, I prefer to use a coarser bulgur. In this case, the ratio of bulgur to liquid is generally 1:3.
Bring the stock to a boil, add the bulgur and cook, uncovered and stirring from time to time, for about 15-20 minutes or according to the packet's instructions.
The bulgur should have absorbed the liquid by the end of the cooking process.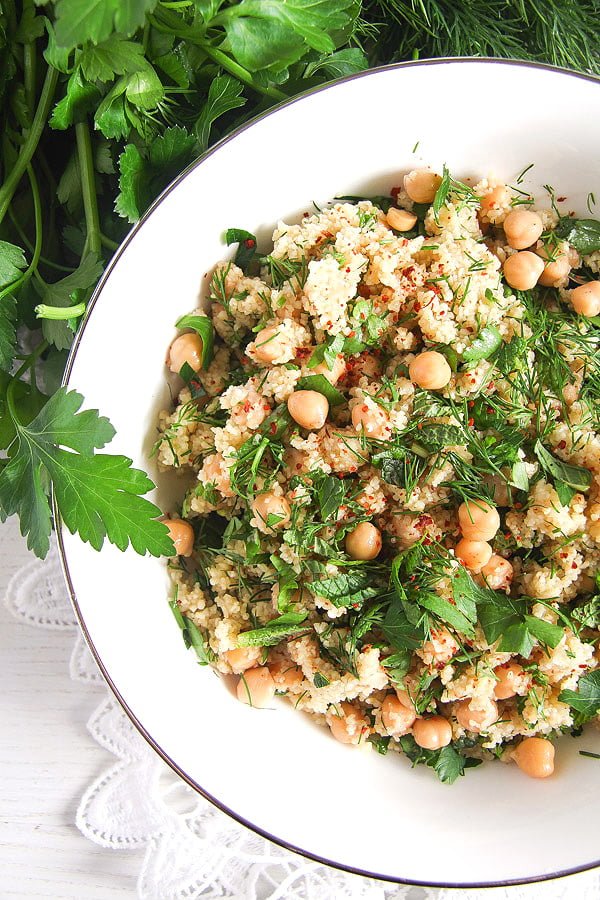 Bulgur substitutes:
Thanks to the large Turkish community, bulgur is very easily available in our region, you can buy it just about anywhere, but my favorite shop to buy it is a Turkish/Russian supermarket not very far away from us.
They sell all possible sorts of bulgur, from at least 4 or 5 brands of fine or medium to other several brands of coarser bulgur. Recently, I was even able to buy bulgur mixed with some kind of tiny (and I think fried) noodles.
You could replace bulgur with most other cereals or grains in recipes. For instance, I have already cooked a similar salad to this bulgur salad with quinoa and I can totally imagine making it with buckwheat or even wheat or spelt berries.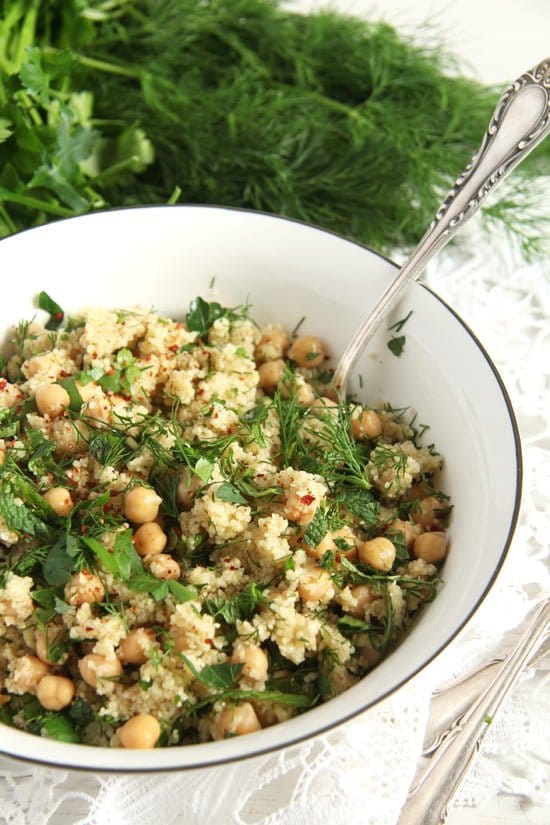 Variations of the bulgur salad:
This is one of my favorite bulgur recipes. I don't make this exact recipe all the time, but variations of it find their way on our table very often indeed.
For instance, I have made similar bulgur wheat salads with more herbs like in this bulgur tabbouleh, with finely chopped tomatoes, cucumbers and olives in it, I have added feta cheese or even Cheddar, I have mixed it with different sorts of cooked beans and I have even added tuna and anchovies once. I loved it every time!
But if there is one more thing I have to say is that I never make this bulgur salad in any form unless I have fresh herbs. Either fresh herbs from my garden or, during this cold season, huge bunches of fresh herbs that I also buy in the Turkish store.
How to serve this salad?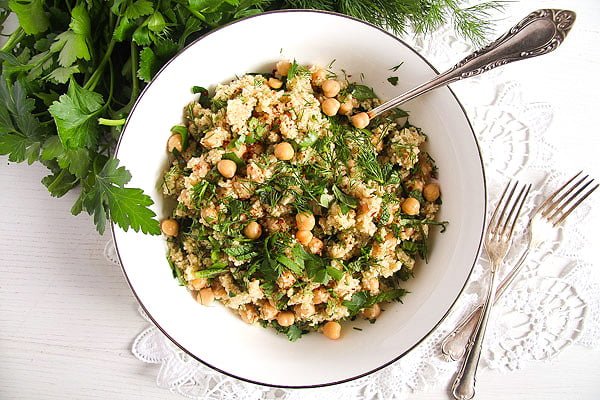 Other recipes with grains:
PIN IT FOR LATER!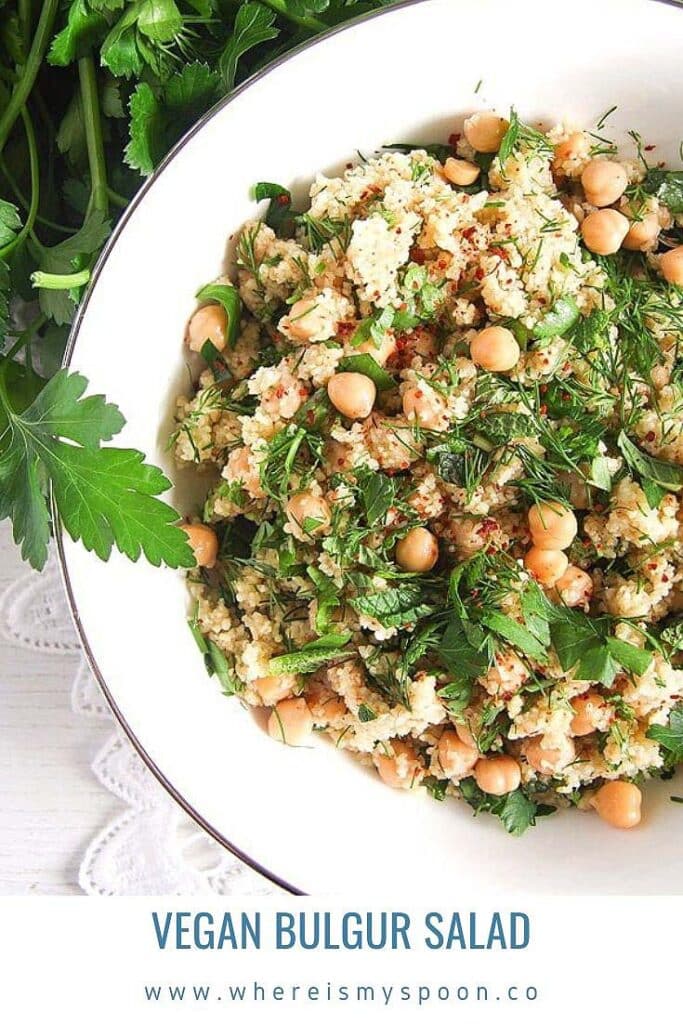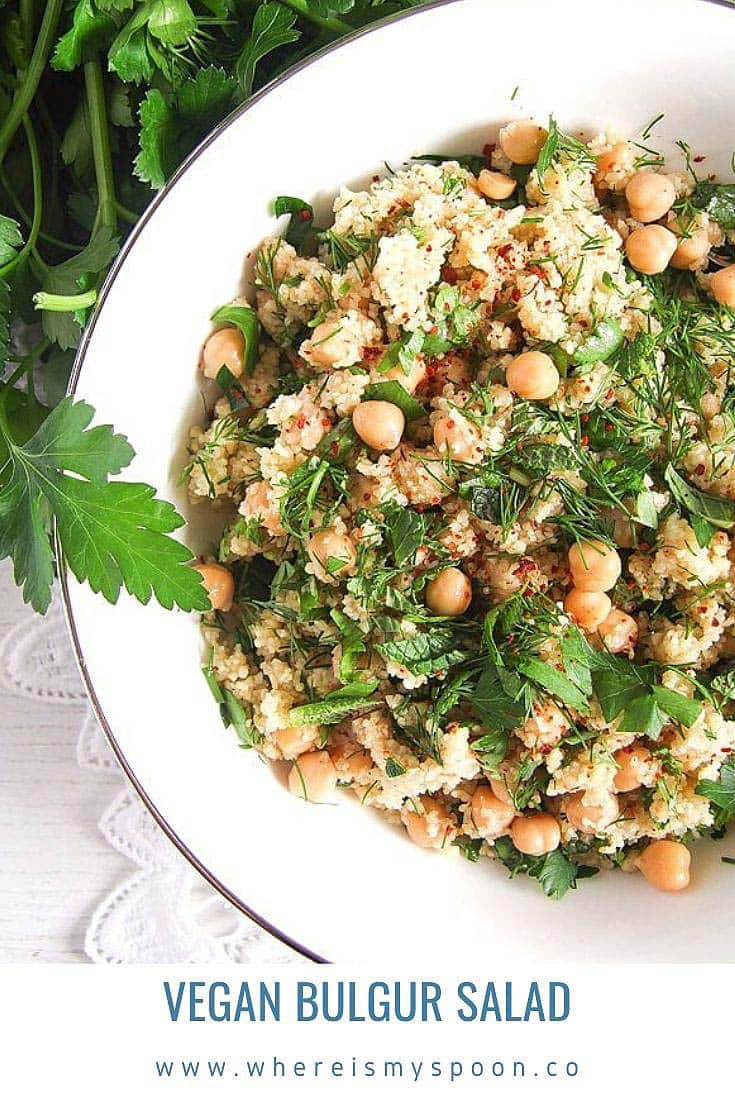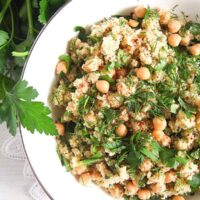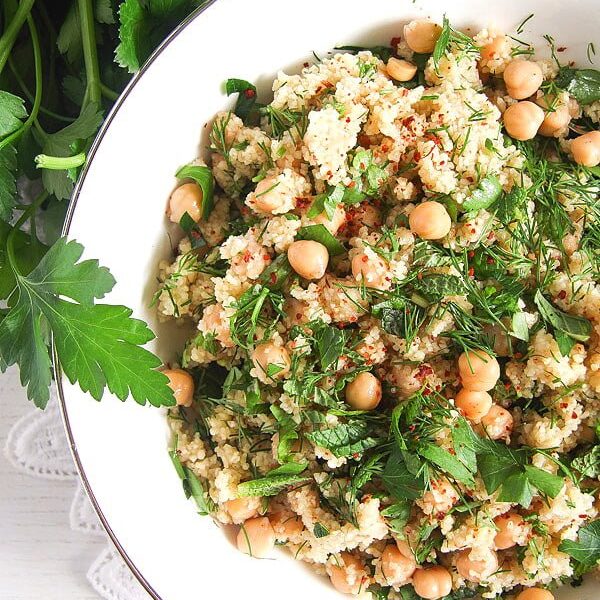 Vegan Bulgur Salad with Chickpeas
Super easy to make vegan bulgur salad with chickpeas, parsley, dill and mint, an aromatic side dish or light dinner.
Print
Pin
Share
Grow
Saved!
Rate
Ingredients
200

ml/ 6.7 fl.oz/ scant 1 cup vegetable broth

150

g/ 5.3 oz/ 2/3 cup fine bulgur

See note

1

can chickpeas

400 g/ 14 oz

4

tablespoons

chopped parsley

3

tablespoons

chopped dill

2

tablespoons

chopped mint

2

tablespoons

olive oil

chili flakes to taste

fine sea salt and pepper
Instructions
Pour the vegetable broth into a saucepan and bring to a boil. Add the bulgur, cover, and remove from the heat. Let stand for 5 minutes. Transfer to a bowl, loosen with a fork, and let cool slightly.

Drain and rinse the chickpeas. Add them to the bulgur and stir.

Add the chopped herbs, olive oil and chili flakes, salt, and pepper to taste.
Notes
The fine bulgur I used only needed to be soaked in the hot broth for 5 minutes. However, there are different sorts of bulgur, some finer, some coarser. Coarser sorts need to be cooked differently. Please make sure you read the packet's instructions as well. Prepare the bulgur as indicated on the packet and proceed with the rest of the recipe.
Nutrition
Serving:
1
g
|
Calories:
213
kcal
|
Carbohydrates:
29
g
|
Protein:
6
g
|
Fat:
9
g
|
Saturated Fat:
1
g
|
Polyunsaturated Fat:
7
g
|
Sodium:
451
mg
|
Fiber:
6
g
|
Sugar:
7
g