This is the center piece on any serious Easter table in Romania: the roast leg of lamb. OK, I admit, there are people in almost every family who would crinkle their nose at the word lamb (I know – oh – so many of them) but still, an Easter lunch is not a real Easter lunch without the roast lamb.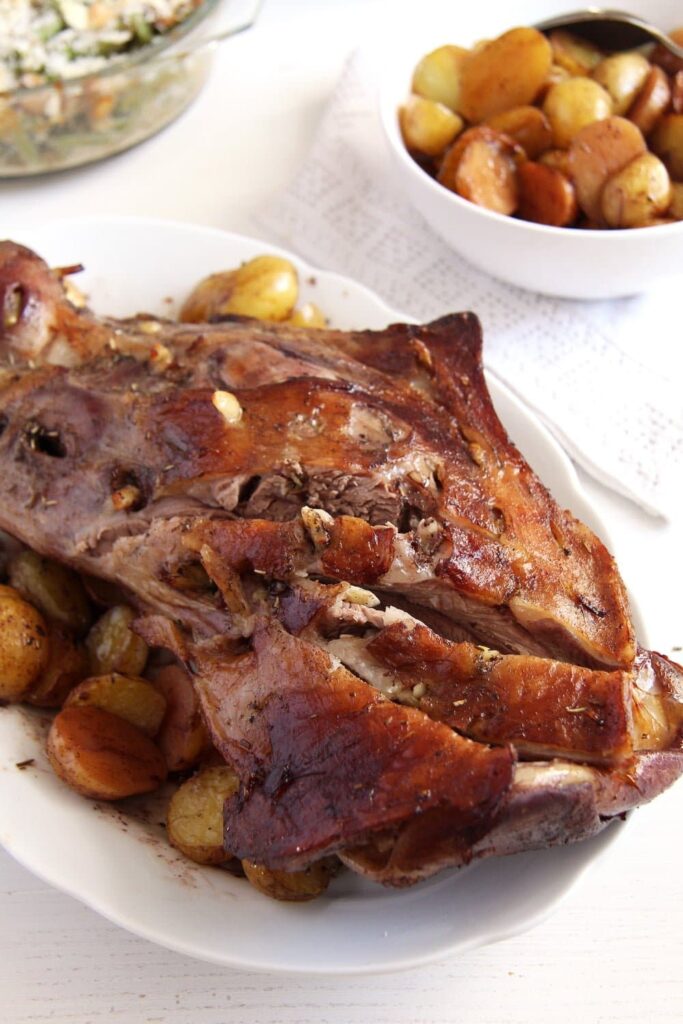 Unfortunately, due to all these "crinkle noses" (aka my mother-in-law and my brother-in-law) I haven't had roast leg of lamb for Easter lunch in 12 years, but if I cannot have it for Easter I try to make it for us either before or after Easter or better on the Romanian Easter, in those years when the Orthodox and the Evangelic/Catholic Easter don't fall on the same date. Like this year for instance: we have Easter in Germany this week but only in May in Romania.
Fun story about my mother-in-law not liking lamb. About 30 years ago, her husband ate roasted sheep in a restaurant and said it wasn't good. My mother-in-law, never ever tasted either sheep nor lamb, but she is convinced that it cannot taste good, so would never taste it in her life. And my brother-in-law won't eat it because he never had it in his life, so it's not worth trying. And it's lamb, something so unusual, I suppose. Luckily, my husband is more open minded about his food, so I don't have to worry about this kind of things. And surprise, surprise, both my kids eat lamb and like it. 🙂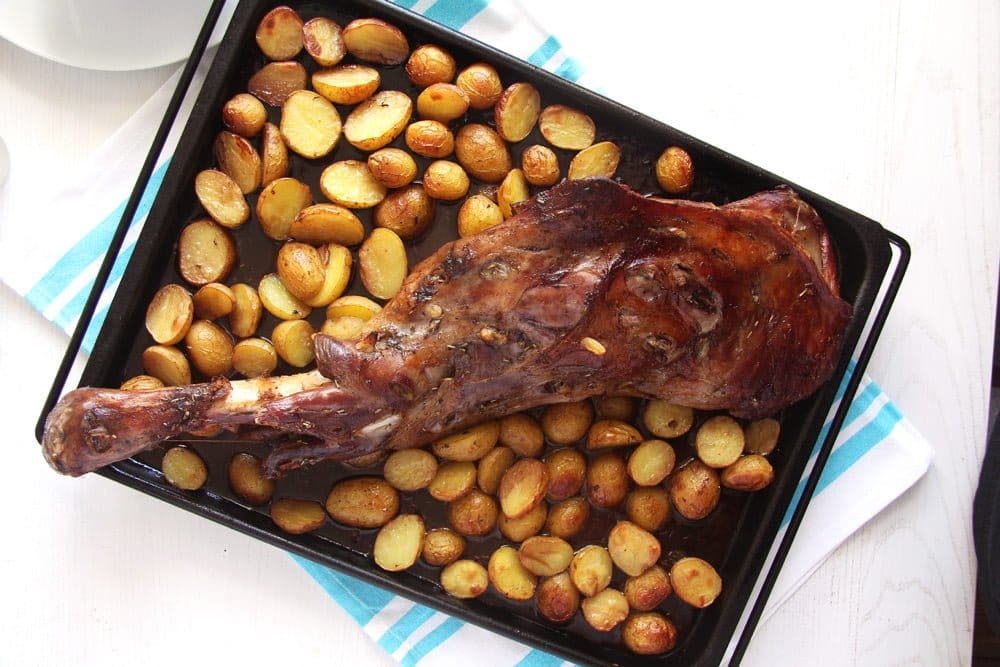 My grandmother was not a great lamb eater either but she would still make it every year for my grandfather and I, so I grew up eating lamb only once a year but still loving it. The best lamb though, didn't come from my grandmother, but strangely enough from my mother. I say "strangely" because as I didn't grow up with my mother, I barely have any memories regarding her cooking. But I can still remember the smell that filled her house on that Easter Sunday more than 20 years ago, when she made roast lamb in red wine. It was slow cooked for hours and my sister and I kept asking when we could finally eat and it was really hard waiting because of that unbelievable aroma everywhere.
I tried to recreate that recipe, it is not the same for sure, but at least something similar. We loved it all of us and I am sure I will make it again next year. I used white wine instead of red because I thought I still had red wine in the cellar, which I didn't. But the roast was delicious anyway.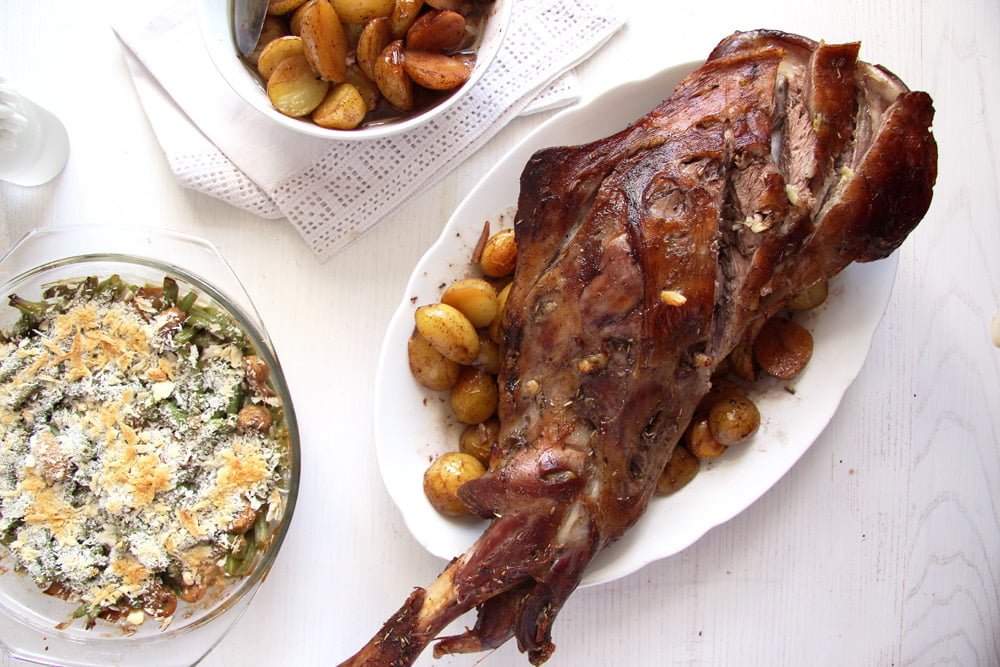 Rating 5.0 from 2 reviews
Prep time:
Cook time:
Total time:
Ingredients
1 leg of lamb, about 2 kg/ 4.4 pounds
6 large garlic cloves
250 ml/ 1 cup white wine
250 ml/ 1 cup warm water
3-4 tablespoons sunflower oil
2 sprigs rosemary
2 bay leaves
1 kg/ 2.2 lbs new potatoes, small
salt and freshly ground black pepper
Instructions
Preheat the oven to 200 degrees Celsius/ 390 degrees Fahrenheit.
Wash the leg of lamb very thoroughly and dry it with kitchen paper. Make some deep slits in the meat using a small, sharp knife. Cut the garlic cloves into slivers and stuck these slivers into the slits in the meat.
Rub the leg of lamb all over with the oil and sprinkle with salt and pepper on both sides. Place in into a slightly oiled, large roasting tray, place the rosemary sprigs and the bay leaves around the meat and pour in the white wine and the warm water. Cover loosely with aluminum foil and roast the leg of lamb, taking care that the liquid doesn't evaporate completely. If that happens happens, keep adding white wine to the tray from time to time. Also don't forget to baste the meat with the liquid every 15 minutes or so.
After 30 minutes (1), turn the leg on the other side, cover again with the foil and continue roasting for another 15 minutes (2).
In the meantime clean the potatoes very thoroughly. You don't have to peel them. Cut the larger potatoes in half.
After the 15 minutes, turn the leg of lamb again, place the potatoes around the meat and continue baking, covered with the foil for another 30 minutes (3).
Remove the foil and bake for 15 or 30 minutes (4) more or until it has a nice color and the potatoes are soft.
Romanian people generally like their meat well cooked, so if you want the meat to be pink, cook it for a total time of 1 hour and 15 minutes, taking care to add the potatoes to the tray about 10 -15 minutes sooner.
Take out of the oven, cover loosely with foil and let rest for about 10 minutes. Serve with the potatoes and the Green Bean Casserole.