Pasca is a traditional Romanian Easter cheesecake or Easter bread. A sweet yeast dough filled with a smooth cheese and raisins filling.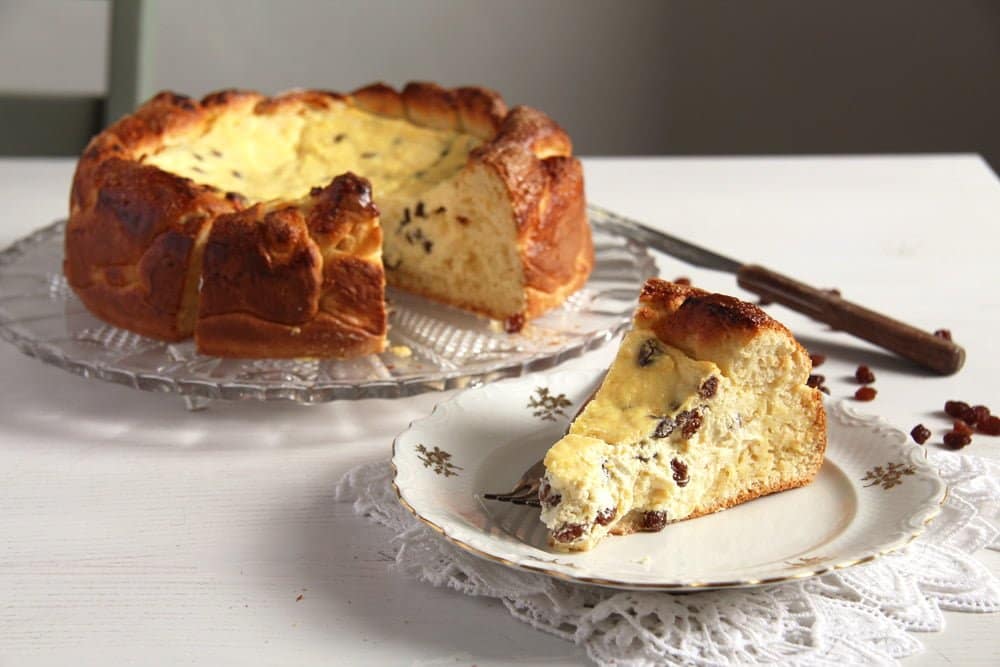 What is pasca?
This is a traditional Romanian Easter recipe: Pasca de pasti or Easter cheesecake. Basically, a cheesecake made with the so-called "cow's cheese – branza de vaci", but untypically baked in a sweet bread case.
Pasca, the sweet bread filled with walnuts - cozonac, the lamb, and the eggs are the most important culinary and spiritual components of Orthodox Easter.
The sweet bread represents the joy of celebration, that is why it is something that is baked not only for Easter but also for Christmas, weddings, or christenings. The lamb represents Christ, the innocent sacrificing himself for the other, and the eggs represent life, the red eggs symbolize the sacrifice that Jesus made for the people. Pasca represents the blessed bread, originally the bread eaten by the Jews when they left Egypt. In the Christian symbolism, it represents the promise of resurrection and of eternal life.
Traditionally the sweet bread must be brought to the church on Easter night to be blessed by the priest. He will sprinkle it with red wine, and through this ritual, the bread will become a representation of Jesus' sacrifice. The Easter bread is normally adorned with a dough crucifix on top, but I didn't want to overdo it.
Ingredients
Cheese:
Pasca is made with branza de vaci or cow's cheese in Romania.
The name of the cheese doesn't only mean that the cheese is made with cow's milk, it is the name of a certain kind of cheese, some kind of light, mild-tasting cheese, similar to quark or cottage cheese.
As you will probably not be able to find that cheese outside Romania, you can replace it low-fat quark, cottage or farmer's cheese, which are all similar in taste, although the consistency of the cottage/farmer's cheese is different.
If you decide to use cottage or farmer's cheese, blend it with an immersion blender until smooth before you add it to the filling.
Some people also use ricotta to make pasca. I am not a fan, in this case, I think the ricotta is too bland and doesn't have the acidity that the other kinds of mentioned cheese have.
Yeast:
I use active dry yeast, which needs to be activated/proofed/bloomed before adding it to the rest of the dough ingredients.
Instant dry yeast is a good substitute, and it doesn't need to be activated. Just mix it with the flour and continue with the recipe.
Semolina:
The semolina is needed to bind the cheese filling, don't leave it out.
Vanilla:
A fresh vanilla pod is wonderful, but if you don't have it, you can replace it with more vanilla extract. Add the vanilla extract to the lukewarm milk.
Raisins:
I love raisins, but I know many people who don't care for them. If you are not a fan, you can just leave them out, although I highly recommend you use them.
Other ingredients: flour, sugar, butter, oil, eggs, lemon zest.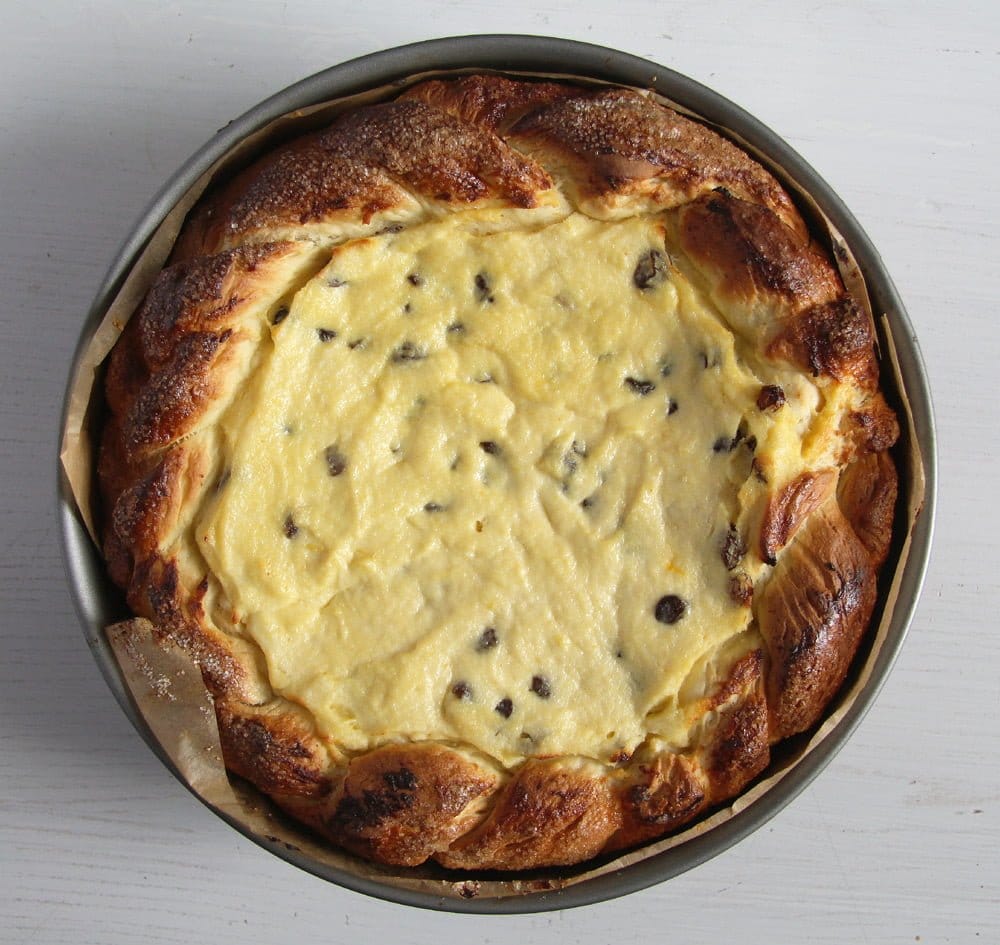 Tips for making pasca
Making the yeast dough in a stand mixer is definitely easier.
If you don't have one, knead the dough as long as possible with the kneading attachments of a hand-held mixer and continue to knead with the hand.
You will need some flour to help you here because the dough is rather sticky.
Add only very small amounts of flour to help you with kneading, the dough should remain soft and slightly sticky.
Make sure you knead the dough long enough so that the gluten to form. That will make the bread rice nicely and have the right consistency.
I only used 3 tablespoons sugar for the filling. However, if you would like the filling to be sweeter, you can add 1-2 tablespoons of sugar more.
How to store?
Keep the sweet bread in an airtight container in the refrigerator. It will be fine for at least 5-6 days.
Due to the cheese filling, pasca is not suitable for freezing, the filling would become soggy when thawed.
More traditional Romanian Easter recipes
And check out these Easter Baking Recipes as well.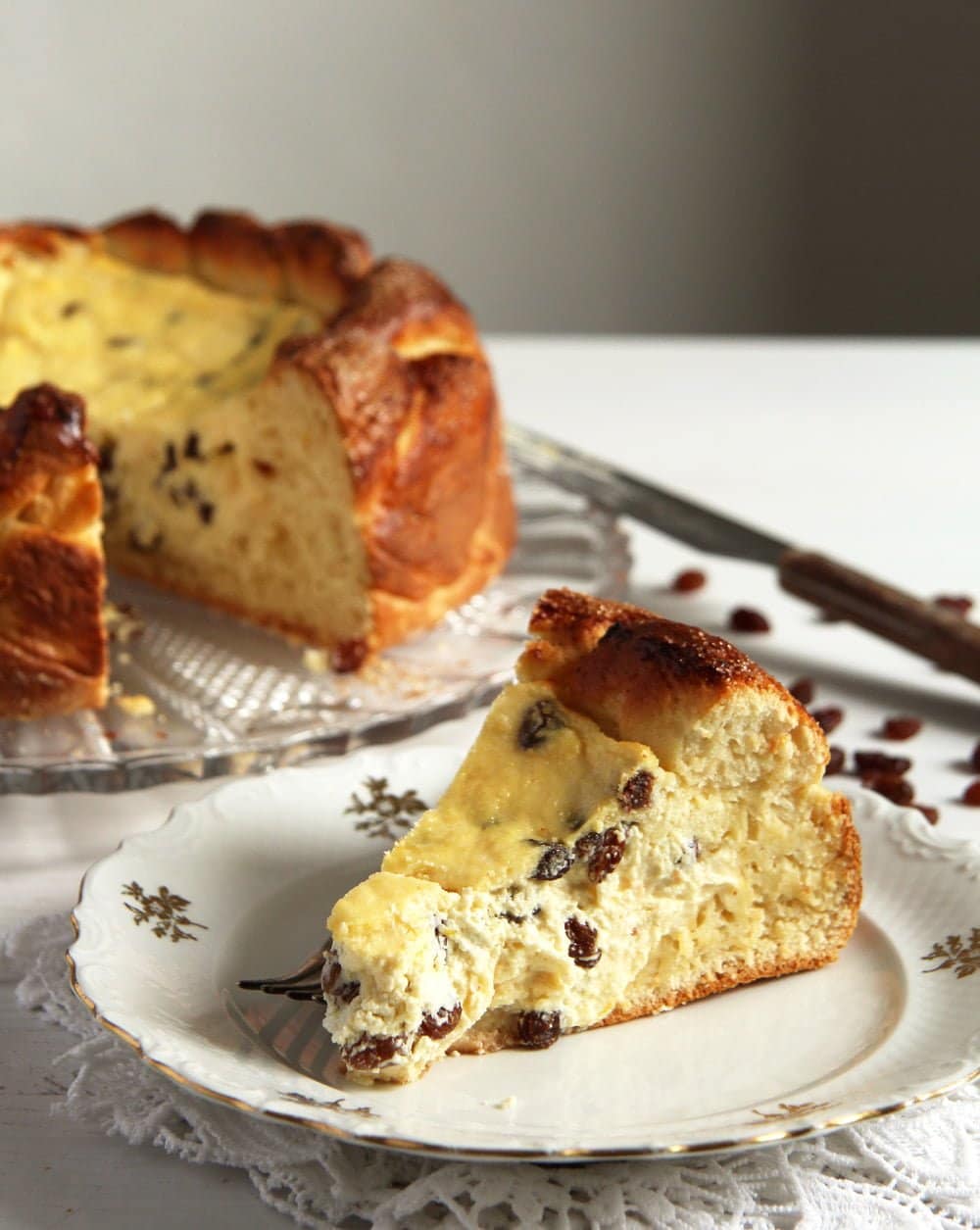 Do you like this recipe?
Please leave a good rating in the recipe card below. Stay in touch through social media:
Pinterest
,
Facebook
, and Instagram. Don't forget to tag me #whereismyspoon when you try a recipe!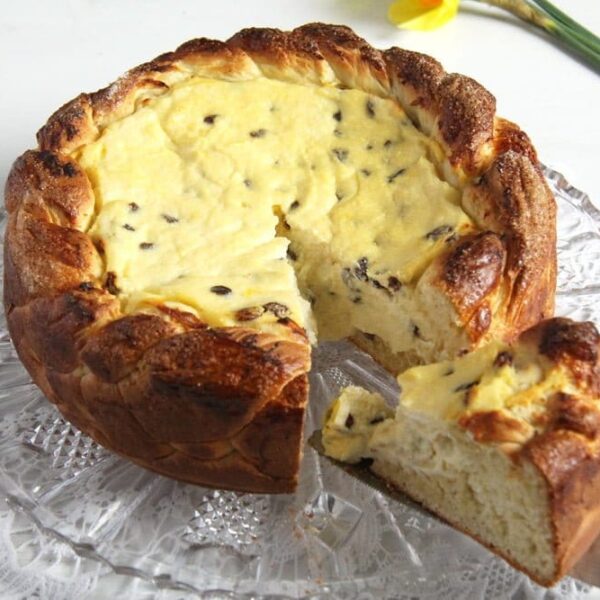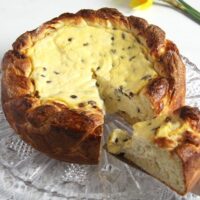 Pasca - Romanian Easter Cheesecake
Pasca is a traditional Romanian Easter cheesecake or Easter bread. A sweet yeast dough filled with a smooth cheese and raisins filling.
Print
Pin
Share
Grow
Saved!
Rate
Ingredients
Yeast dough:

1

vanilla pod

250

ml

milk

8.5 fl.oz/ 1 cup + 2-3 tablespoons more if necessary

1

sachet active dry yeast

7 g/ 0.2 oz/ 2.5 teaspoons

500

g

all-purpose flour

17.6 oz/ 4 ¼ cups

120

g

granulated sugar

4.2 oz / ⅔ cup

50

g

unsalted butter

1.7 oz/ scant ¼ cup

50

ml

vegetable oil

1.7 fl.oz/ scant ¼ cups

2

egg yolks

zest of 1 organic lemon

a pinch of fine sea salt

Filling:

400

g

Romanian cow's cheese/ low-fat quark/ cottage cheese/farmer's cheese

14 oz/ 2 cups , (Note 2)

2

eggs

3

tablespoons

granulated sugar

more to taste

100

g

raisins

3.5 oz/ ½ cup

3

tablespoons

semolina

1

teaspoon

vanilla extract

zest of 1 organic lemon

1

small egg for brushing

some sugar to sprinkle on top
Instructions
Yeast dough:
Prepare vanilla milk: Scrape the seeds of the vanilla pod. Set aside. Add the empty pod to the milk and bring to a boil. Leave to cool until lukewarm.

Proof yeast: Place the dry yeast in a small bowl. Add 2 tablespoons of the flour, 1 tablespoon of the sugar, and 3-4 tablespoons of the lukewarm milk, enough to stir a paste. Cover with a kitchen towel and let rise for about 10-15 minutes in a warm place.

Sieve: In the meantime, sieve the flour in the bowl of your kitchen machine/stand mixer.

Combine: Add the remaining sugar to the remaining lukewarm milk and stir until dissolved. Melt the butter, add the oil to the butter, and mix. Leave to cool until needed.

Stir: Pour the yeast mixture over the flour, add the egg yolks, vanilla seeds, and lemon zest. Mix shortly, then start adding the milk little by little to form the dough. Stir for a couple of minutes and add a little more milk if necessary to obtain a softer dough. I added about 3 tablespoons more.Add the salt and, little by little, the melted and cooled butter oil mixture. Only add the next splash when the previous one is completely incorporated.

Knead the dough in the stand mixer for about 10 minutes. The dough will be pretty soft and sticky. Transfer it to a clean bowl and bring it briefly in shape with the hands. Cover with a kitchen towel and let rise for about 1 hour or until doubled in size.
Filling:
Preheat the oven to 180 degrees Celsius/ 350 degrees Fahrenheit. Butter a springform of about 26 cm/ 10 inch, and cover its bottom and walls with baking paper.

Blend: If using cottage or farmer's cheese, blend it with an immersion blender until smooth.

Mix the cheese, eggs, semolina, raisins, sugar, lemon zest, and vanilla extract. Taste and add more sugar if you find it necessary.
Assemble:
Make the plait: Oil your hands lightly and take the dough out of the bowl. Divide it in two.

Form one half to a fat sausage and cut this sausage into 3 parts. Roll each of these balls into long, thin strings about 40 cm/ 15 inches long. Plait these strings into a braid.

Assemble: Take the other half of the dough and place it in the springform. Press it down to cover the bottom of the pan completely. Prick it with a fork all over to ensure that the dough will not rise too much in the oven.

Take the plait and place it in the pan to form a nice rim. Pour the filling inside.

Egg wash: Brush the top of the plait with the whisked egg and sprinkle with a bit of sugar.

Bake for 40 - 50 minutes until the cheesecake has nicely risen and is golden.
Notes
Always use a digital kitchen scale in baking; it ensures the best results (Amazon affiliate link).
Traditionally, you will use Romanian branza de vaci – cow's cheese. However, low-fat quark, cottage, or farmer's cheese are very similar. If using cottage or farmer's cheese, blend it until smooth before making the filling.
Nutrition
Serving:
1
slice
|
Calories:
314
kcal
|
Carbohydrates:
48
g
|
Protein:
10
g
|
Fat:
10
g
|
Saturated Fat:
3
g
|
Polyunsaturated Fat:
5
g
|
Cholesterol:
67
mg
|
Sodium:
159
mg
|
Fiber:
2
g
|
Sugar:
16
g