Hearty and comforting, traditional Romanian meatball soup or ciorba de perisoare, this is one of the most popular soups in Romania.
Pork Meatball Soup
Ciorba de perisoare – this is my grandmother's recipe for one of the most cooked soups in our country: Romanian meatball soup.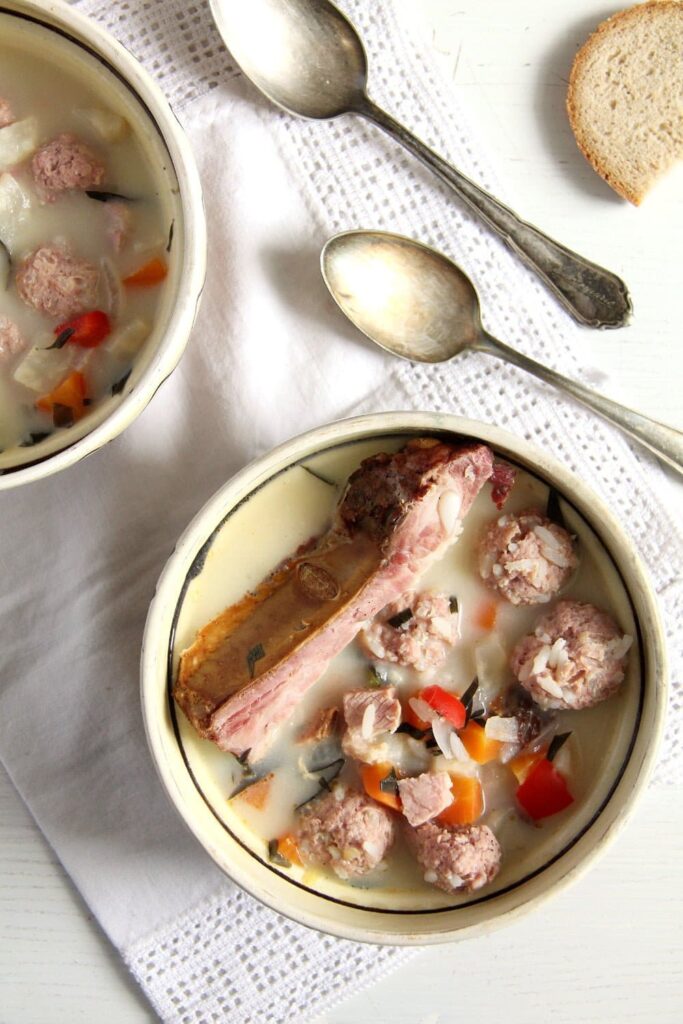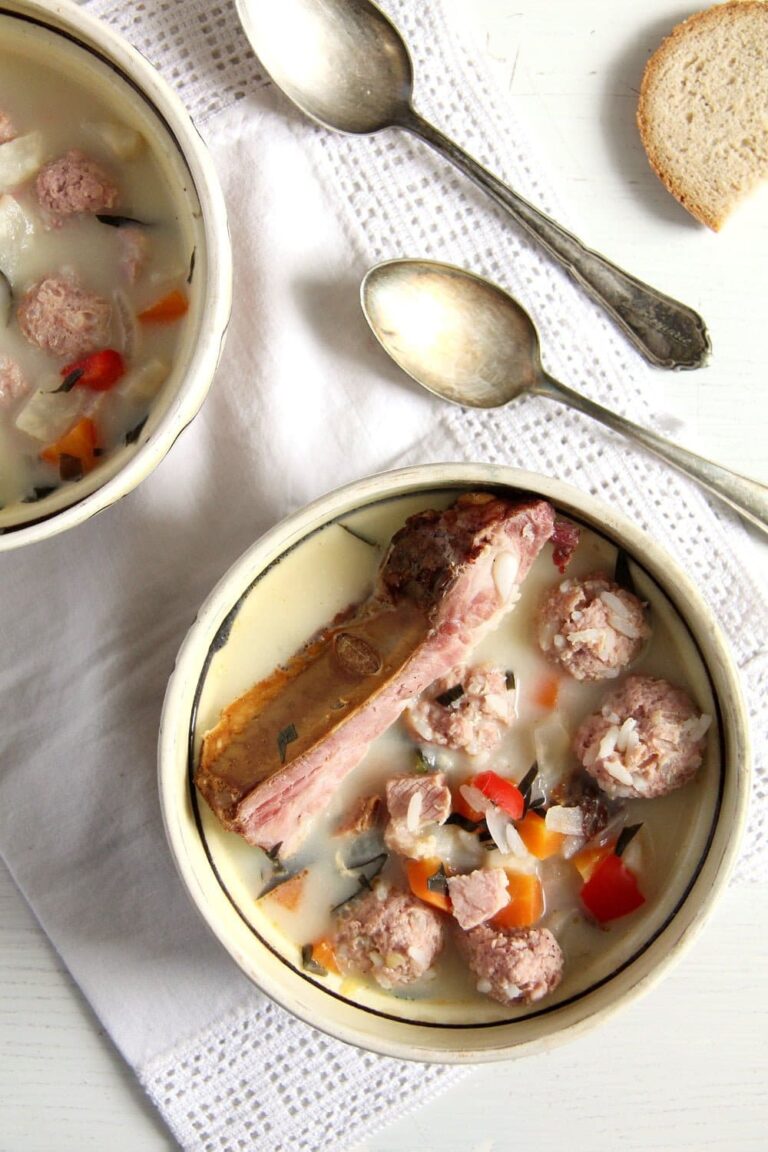 It is a really typical Romanian soup, another one of those items you will find a recipe for in each and every Romanian family. It must be the most popular Romanian soup right after the Semolina Dumpling Chicken Soup.
It is eaten all through the year, but you can be sure to find this on the Easter or Christmas table as well, it would be either this or the chicken soup. Or both!
It is a very comforting, nourishing soup, one slice of bread and some hot, pickled Romanian peppers on the side and you will be satisfied on a regular day.
But not on Easter Sunday! This would be just an appetizer, together with the Boeuf Salad and the colored eggs, mushroom salad with mayonnaise, cheese rolls, meatballs, green onions, radishes, and bread.
Followed by a slice of pork or lamb roast with potatoes and sarmale (cabbage rolls) with sour cream, more white bread or polenta. And then again followed by the sweets. I am telling you, you leave the table weighing at least two kilos more.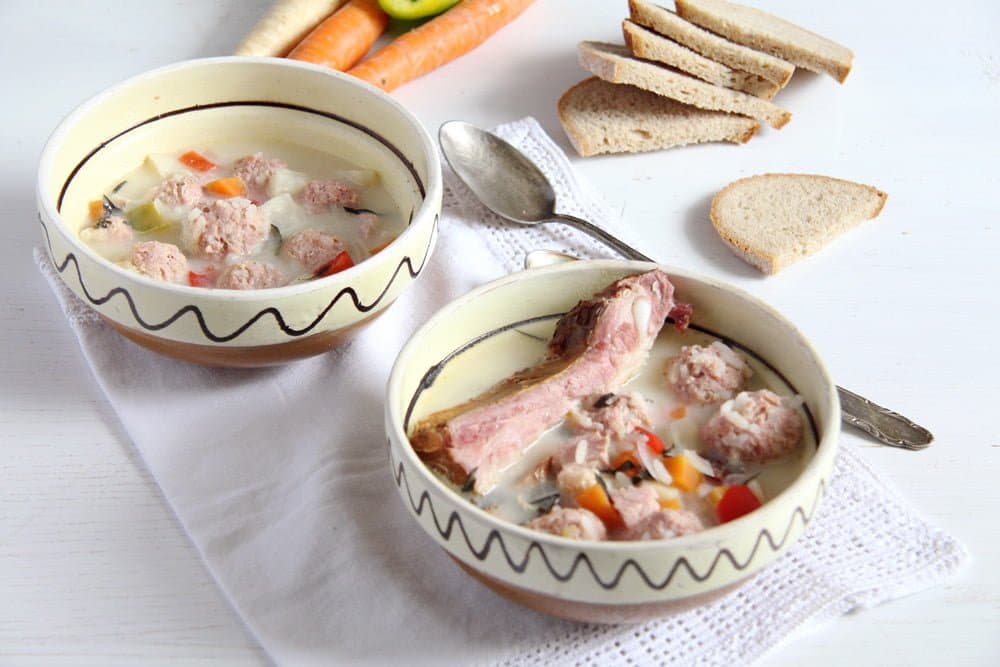 What is ciorba?
Ciorba is a kind of soup popular in Romania and other Eastern European countries. In Romania there is a difference between a soup and a ciorba, actually, we never call the ciorba soup.
A soup is rather thin, more liquid than other ingredients, and most importantly, it is not soured, while a ciorba is full of meat and/or vegetables and is always sour.
There are different ways of souring ciorba, and you might do it just one way or the other, depending on where you live in Romania.
In some regions, people would use bors (borsh), which is fermented wheat bran, other people would use lemon juice, while others only use vinegar. My grandmother never used bors, it was not popular in our region, she only ever used vinegar or pickled tarragon leaves and their pickling liquid.
Ingredients
Smoked ribs:
I use smoked spare ribs to give this soup the typical taste. I don't know how this works in your area, but here I have to order them at the butcher's a week in advance.
They're not expensive but not particularly popular in Germany, that is why I have to order them in advance.
Pickled tarragon:
I use pickled tarragon for this soup and many other Romanian soups.
I don't think you can buy that, still, it is a staple in the Romanian kitchen.
I have a huge tarragon bush in the garden planted just for this purpose, I pick the leaves from the stalks, stuff them into very small jars, press them down well and cover them with white wine vinegar. They keep in the cellar for at least one year, probably even more.
For the soup, I usually use a whole little jar, drained well. That is about a small handful pickled tarragon, which I chop finely before adding it to the soup.
You can replace it with 1 teaspoon dried tarragon or a small bunch of fresh tarragon, adding one or two tablespoons white wine vinegar to the soup. Taste after adding one tablespoon and add more according to your taste. I like it on the sour side.
Other vegetables:
Celery root (or 2-3 celery stalks), carrots, one parsley root, one red bell pepper, and one onion.
Other ingredients:
Ground pork, long-grain rice, two egg yolks, flour, and sour cream.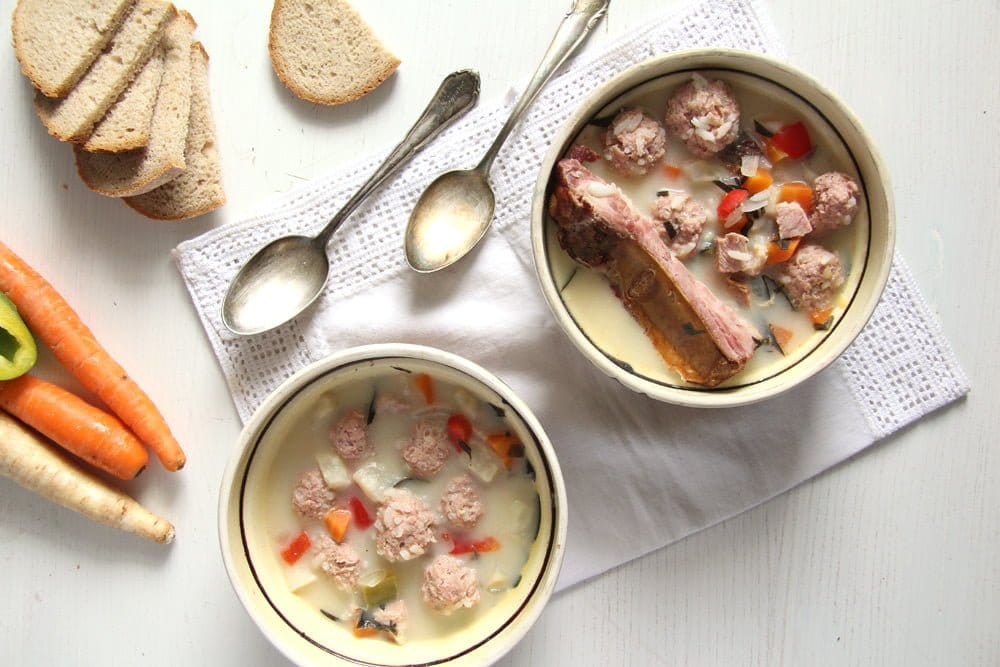 How to make Romanian meatball soup?
Cook the smoked ribs first, they will need more cooking time than the rest of the ingredients. Cover with the water, bring to a boil and simmer for about 30 minutes. Don't forget to remove the scum or the foam that is produced by the proteins, which are starting to congeal.
Prepare the vegetables while the ribs are cooking. Chop them into small cubes and add them to the soup after the first 30 minutes.
Prepare the meatballs as soon as you add the veggies to the soup. Mix the ground pork with one of the egg yolks and three tablespoons of the rice. They should be about as large as a small walnut, I usually get about 30-35. Lightly turn the meatballs through the flour, shake gently to remove the excess and add to the soup.
Add the remaining rice to the soup and simmer gently for about 20 minutes. Check a meatball to make sure that the rice is cooked through.
Thicken the soup slightly. Many Romanian ciorbe are thickened with an egg yolk mixed with sour cream. You will have to mix the egg yolk with the cream, temper the mixture by adding some liquid from the soup in a slow stream while whisking all the time. Only then, slowly add the egg yolk mixture to the soup, stirring continuously. Do not let the soup cook anymore once you add the egg or the mixture might curdle.
How to serve?
You can serve the Romanian meatball soup immediately or you can reheat it repeatedly for 2-3 days. Keep refrigerated.
Serve with bread, and pickled hot peppers.
More traditional Romanian Easter recipes
Romanian Boeuf Salad – Traditional potato salad made with chicken instead of the beef mentioned by the name of the dish.
Roast Leg of Lamb – The centerpiece of the Easter table in Romania.
Lamb Stew – Tender lamb pieces stewed in an aromatic sauce, this is the best lamb stew there is.
Cozonac – Romanian Sweet Bread with Walnuts – Easter and Christmas are not the same without cozonac.
Pasca – Romanian Easter Bread – Pasca is a traditional Romanian Easter cheesecake or Easter bread.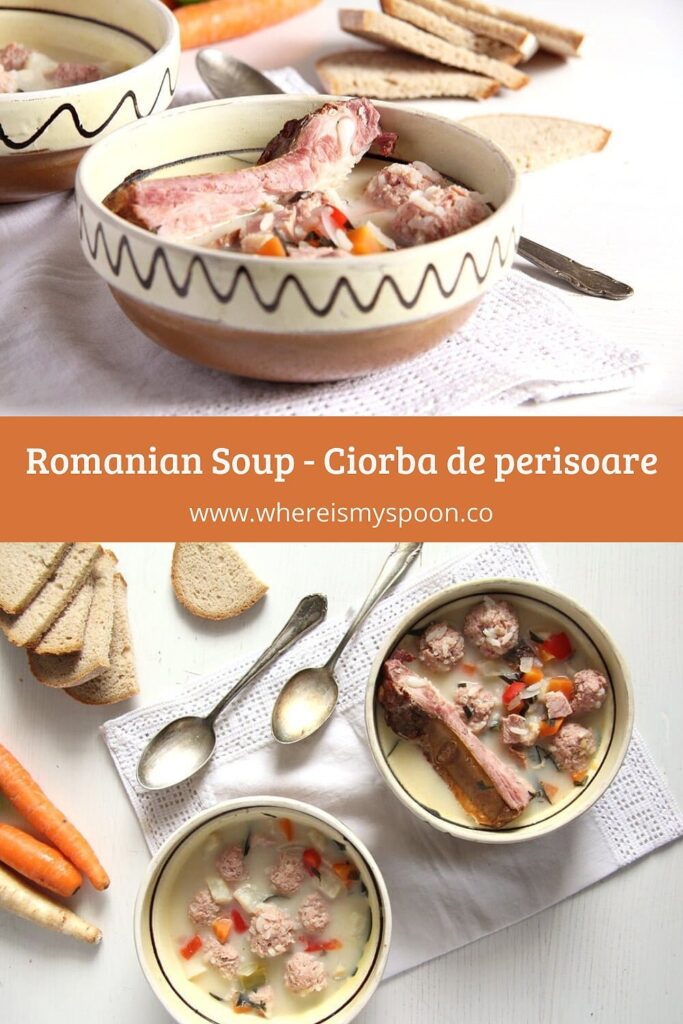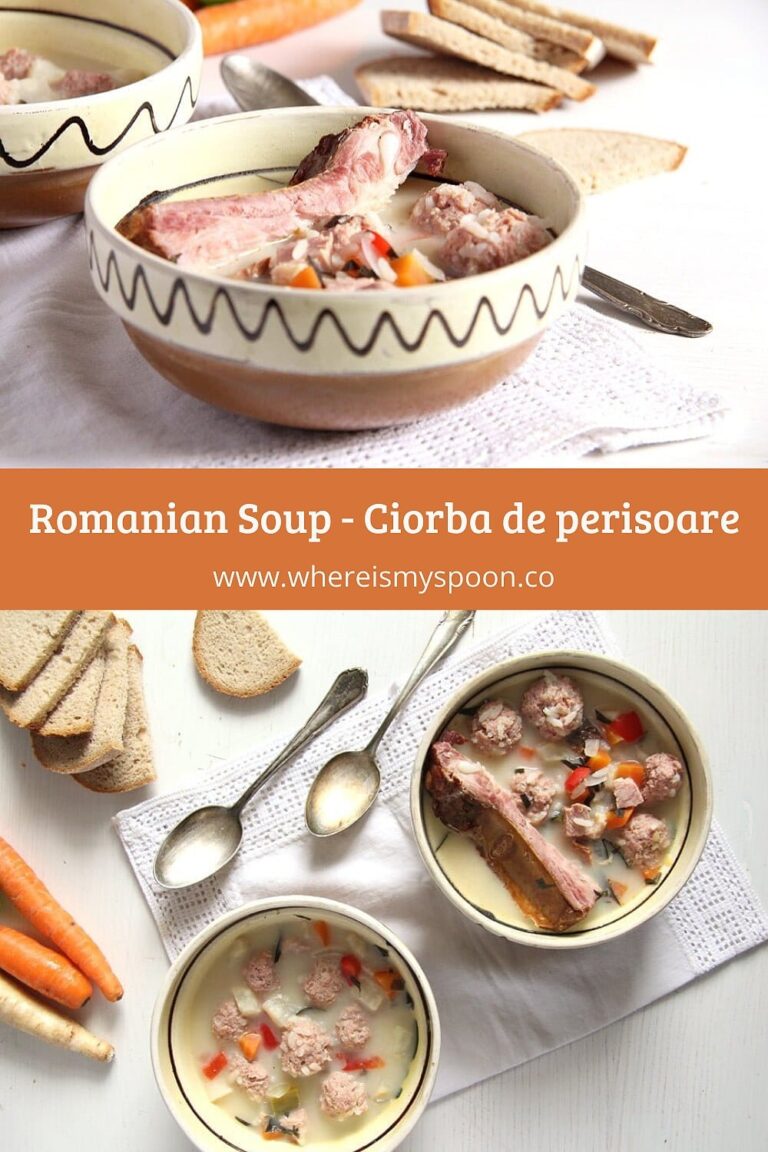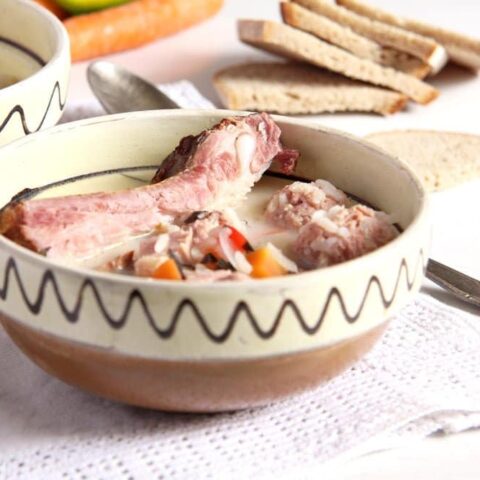 Romanian Meatball Soup - Ciorba de perisoare
Total Time:
1 hour
20 minutes
Hearty and comforting, traditional Romanian meatball soup or ciorba de perisoare, this is one of the most popular soups in Romania.
Ingredients
500 g/ about 1 lb smoked spare ribs
2,5 liter/10 ½ cups water
2 carrots
1 parsley root
1 piece of celeriac
1 large onion
1 large bell pepper
450 g/ 1 lb ground pork
5 tablespoons long-grain rice, divided
2 egg yolks, divided
2 tablespoons all-purpose flour
2 heaped tablespoons sour cream
about 2 tablespoons finely chopped pickled tarragon (See note)
fine sea salt and pepper
Instructions
Place the smoked spare ribs in a large soup pot and cover with the water. Bring to a boil and cook slowly for about 30 minutes. Remove the foam with a slotted spoon.
In the meantime clean and chop the vegetables into small cubes. Add them to the soup. If using dried tarragon, add it to the soup now.
Immediately start making the meatballs by mixing the ground pork with 1 of the egg yolks and 3 tablespoons of the rice. Add salt and pepper generously.
Form walnut-sized meatballs (I had about 35). Place the flour on a plate and turn the meatballs into it, shaking a bit to remove the excess. Add them to the soup together with the remaining two tablespoons of rice and cook on low heat for about 20 to 30 minutes or until the rice and the vegetables are soft.
Mix the sour cream and the remaining egg yolk in a small bowl. Slowly add some of the hot soup to the mixture, about two soup ladles, while stirring all the time. Pour this mixture slowly into the soup while stirring. Do not let it cook anymore.
Drain the pickled tarragon leaves, saving the vinegar. Chop the leaves very finely and add them to the soup. Adjust the taste with salt and pepper and some of the saved vinegar.
Alternatively, add fresh tarragon to the soup and some white wine vinegar to taste.
Divide the spare ribs and serve the soup with white bread and hot pickled peppers.
Notes
The pickled tarragon can be replaced with the leaves of 1 small bunch of fresh tarragon + 1-2 tablespoons white wine vinegar (to taste) or with 1 teaspoon dried tarragon + 1-2 tablespoons white wine vinegar (to taste).
Nutrition Information:
Yield:

8
Serving Size:

1/8 of the soup
Amount Per Serving:
Calories:

422
Total Fat:

29g
Saturated Fat:

10g
Trans Fat:

0g
Unsaturated Fat:

14g
Cholesterol:

151mg
Sodium:

403mg
Carbohydrates:

14g
Fiber:

1g
Sugar:

6g
Protein:

26g
Nutrition information isn't always accurate.