A simple and delicious side dish or salad with green beans and Romanian garlic sauce.
A simple and delicious side dish or salad with green beans and Romanian garlic sauce.
These green beans with garlic were one of my grandmother's specialties, one of the dishes I was most looking for every summer. A very simple and cheap recipe, yet the perfect accompaniment for any kind of meat, grilled or fried in the pan, delicious with chicken or pork, although we often ate it with only one thick slice of white bread on the side.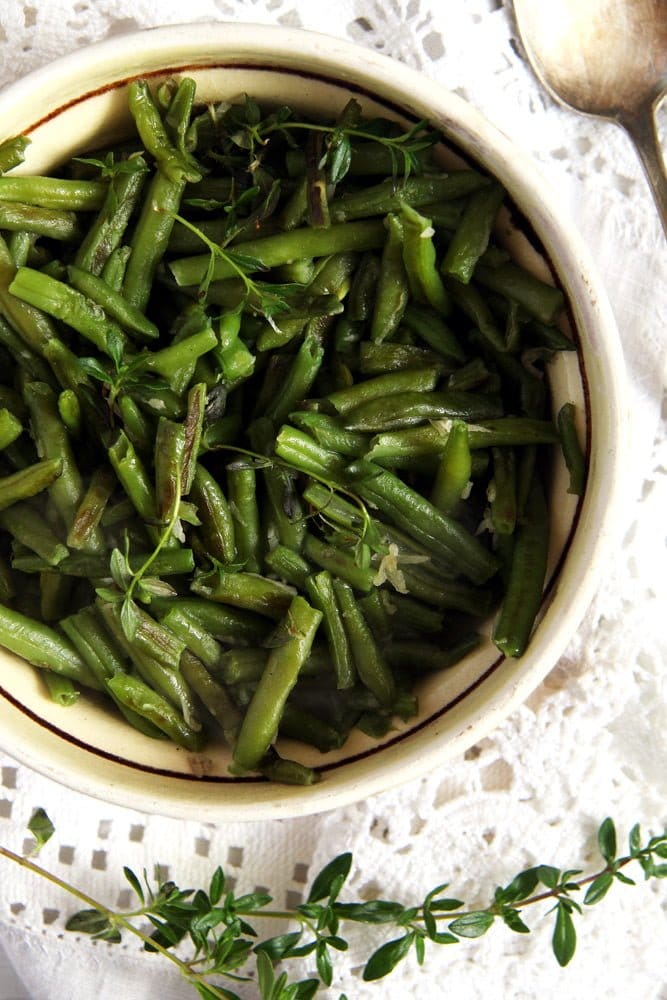 Mmm! I used to love to dip pieces of the soft bread in that very garlicky sauce, let the bread get soaked in it and then eat it. I am telling you, meat was good when we had it, but if there wasn't any, it wasn't really missed either. But of course, this green beans recipe would be great with these Grilled Pork, Ham and Vegetable Skewers, with the Basic Skillet Chicken Breasts or with these Chicken Schnitzel with Potato Parmesan Crust.
I have decided to include my grandmother's Green Beans with Garlic in this Oltenia series, because it is a recipe she used to say she learned when she was living in Oltenia. You see, my grandfather was an officer in the Romanian army all his life, so during their married life my grandparents lived in different parts of the country.
Although they met in Sibiu, my hometown, where my grandmother's family moved after the Second World War and where I suppose my grandfather (who was from Moldova) went to military school, they spent the first 20 years or so of their marriage in Oltenia, in the South of Romania, where both my aunt and mother were born. Later on they moved back to Transylvania and then to Sibiu again, where I was born.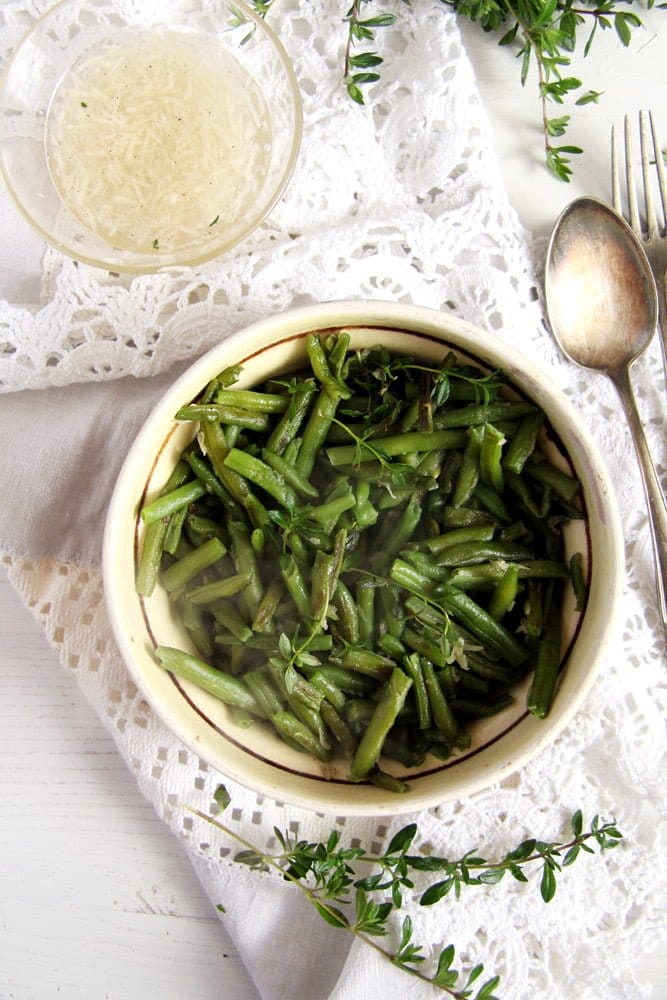 So my grandmother's cooking was very much influenced by Oltenia's cooking style, where I suppose she actually learned how to cook. She was only 18 when she got married, so that is why I think that she only really learned how to cook after moving into her own house in Oltenia. It was not only this recipe for the Green Beans with Garlic she brought from Oltenia, there were several other dishes like chicken fricassee, orache or garden sorrel soup or the vegetable hodgepodge – ghiveci, which she would sour with unripe grapes.
I've never requested this recipe from my grandmother, it was so simple that I've never thought I would need to write it down. And I was right, I have been able to make this perfectly from the very first time and the taste is always the same. The only difference I noticed is in the color of the cooked beans: my grandmother's beans used to get pale and yellowish while mine remain green. I suppose this difference is due to my habit of not cooking the beans quite as long as my grandma did and of rinsing them with very cold water immediately after draining them.
The garlic sauce is the very basic and delicious Romanian mujdei de usturoi, which is basically just water, crushed garlic and salt. I like adding a bit of mustard and maybe a tablespoon of oil to it from time to time, but you don't have to do it. Another version of this garlic sauce is this amazing Garlic Dip. If you would like your green beans to be creamier, you could make that sauce instead, the end result would look different, but it will be equally delicious.
You can use fresh or frozen green beans for this recipe, it doesn't really matter. Concerning the time you should fry the green beans after they are cooked, some like to do it for only a few minutes, until they are nicely coated in the oil. I like to do it for a longer time, until the beans get some dark spots here and there. That's the way my grandma used to do it and I love the taste of the beans cooked that way.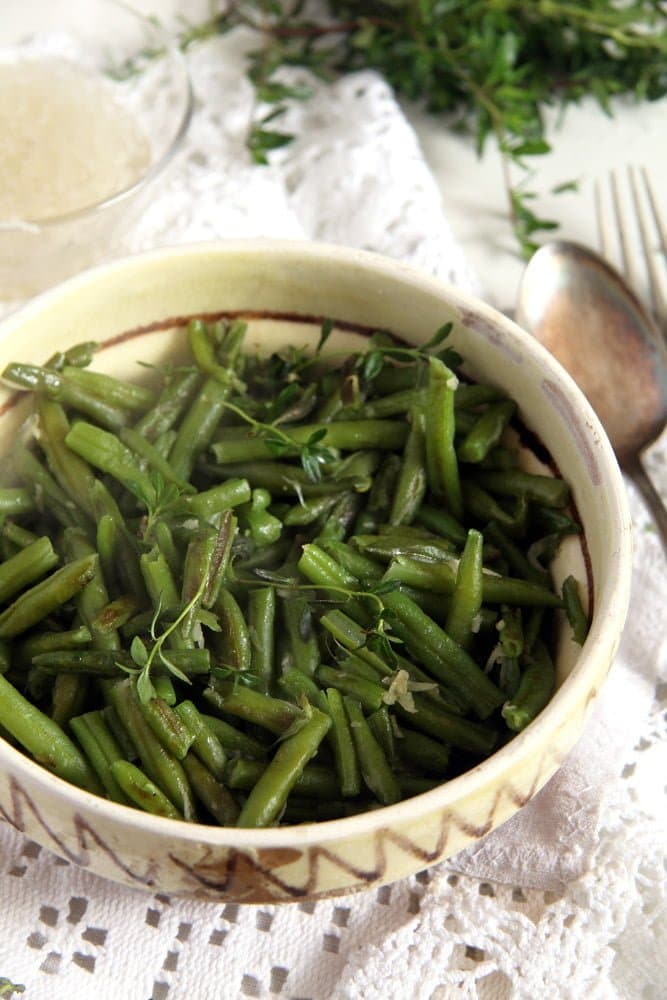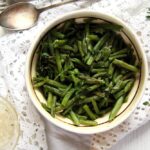 Ingredients
500 g/ 1.1 lbs green beans

3 tablespoons vegetable oil

100 ml/ a bit less than ½ cup water

3 garlic cloves

salt and pepper
Instructions
Break the green beans in two or three parts, depending on how long they are. Give them to a large pot, cover with water, bring to a boil and cook for about 20 minutes or until done to your liking. Drain well and rinse immediately in very cold running water. Drain very well again and pat dry with some kitchen towel if still too wet.
Heat the oil in a large skillet. Fry the green beans until they start getting some darker spots here and there. Stir often.
In the meantime prepare the garlic sauce. Give the water to a small bowl. Grate or crush the garlic cloves into the water. Mix well and add salt and pepper to taste.
When the beans are done to your liking, add the garlic sauce and mix well.
You can serve the beans warm or cold as a side dish for grilled or fried meat, chicken or fish. Or you could serve them (warm) as a main meal with white bread or polenta.
This post contains affiliate links. The price you pay as a consumer does not change, but if you make a purchase we will receive a commission which helps support the blog.