Tender chicken schnitzel with a crunchy potato-Parmesan crust, you will love them, I am sure. It is a different twist on a schnitzel, something I have never had before, but I am glad I discovered this recipe. The potato crust is really delicious, easier to make than one might think at first and you won't even need to cook an extra starchy side dish anymore, the potato crust is enough for that purpose. A nice garlicky dip and a simple tomato salad made the dish complete.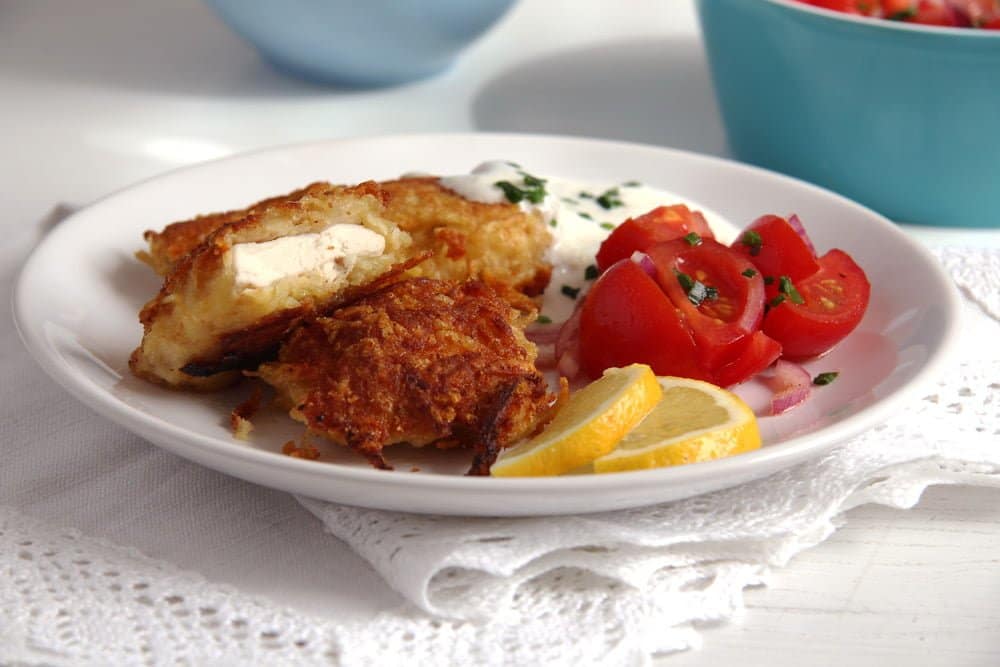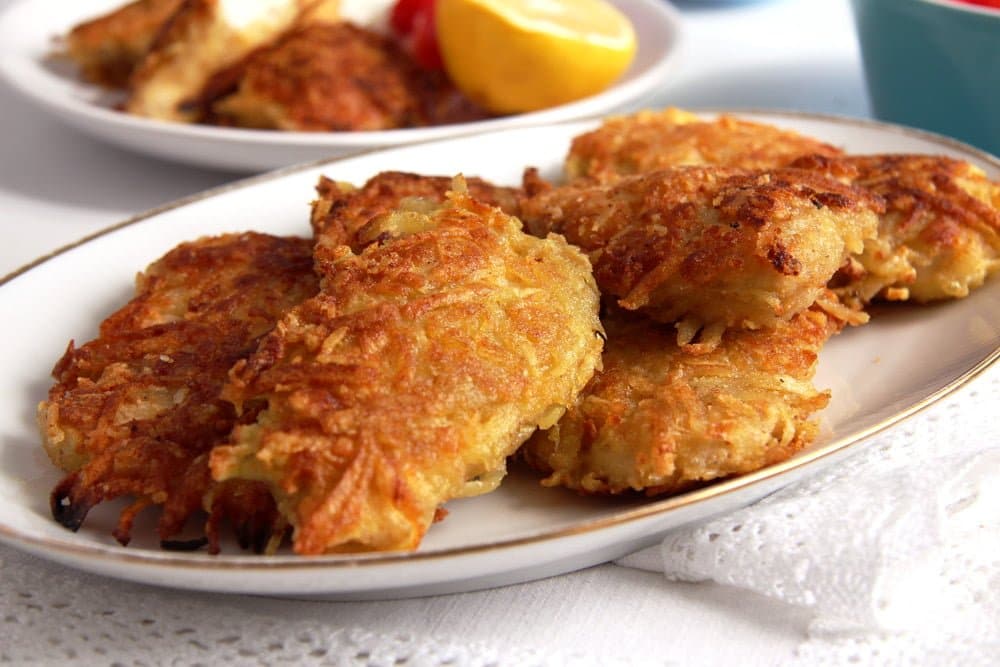 I used 600 g/ 1.3 lbs potatoes for the recipe. After grating them all and adding the Parmesan and the breadcrumbs, I had a lot of the stuff, I was pretty sure it was way too much and that I would have lots leftover. But I didn't, I used all of it, so don't stress if it seems like too much at first.
Otherwise, I have to keep it short today, I am on a really tight schedule. I hope you enjoy the recipe!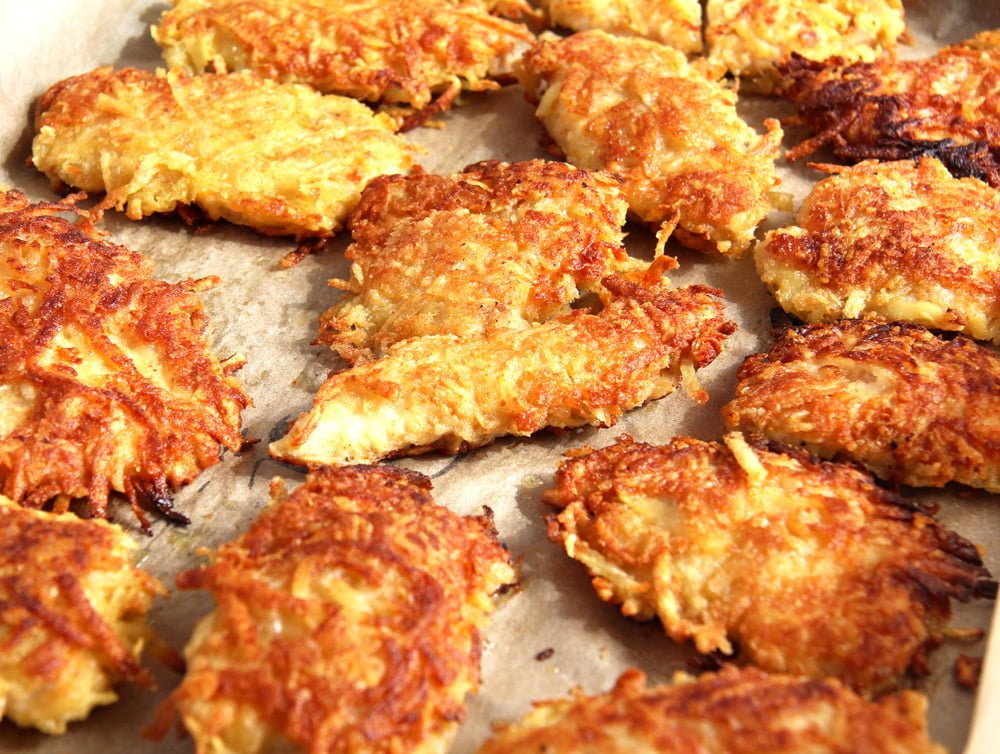 Rating 5.0 from 2 reviews
Prep time:
Cook time:
Total time: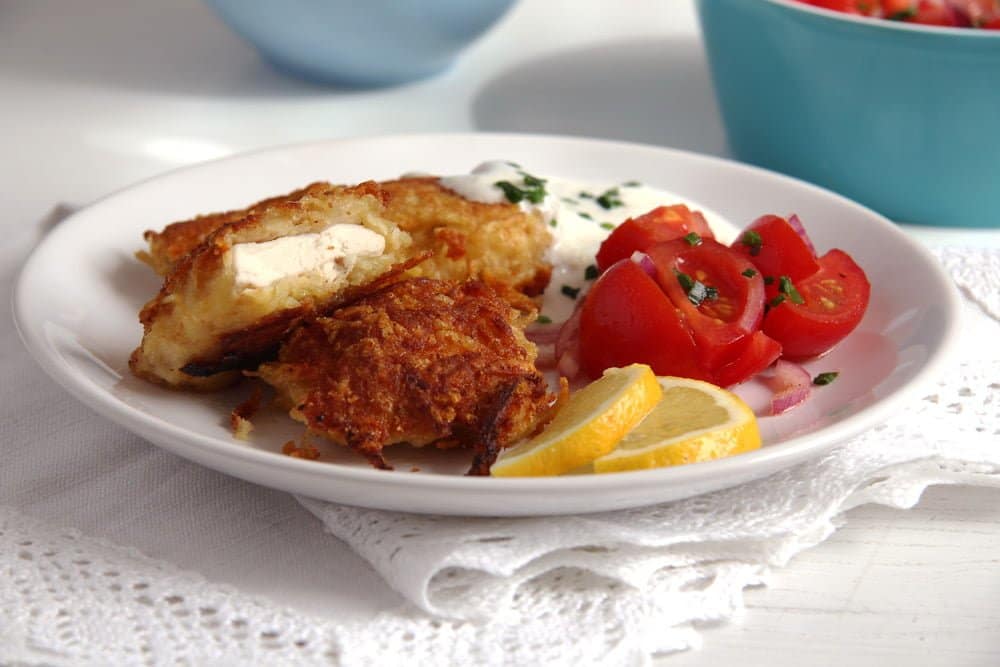 Ingredients
600 g/ 1.3 lbs waxy potatoes
75 g/ ¾ cup/ 2.6 oz Parmesan, freshly grated
5 tablespoons dry breadcrumbs
600 g/ 1.3 lbs chicken breast
2 large eggs
2 tablespoons all-purpose flour
about 6 tablespoons vegetable oil or more if needed
250 g/ 1 cup/ 8.8 oz creamy yogurt
2 garlic cloves
some chives
500 g/ about 1 pound small tomatoes
1 small red onion
1 tablespoon (sunflower) oil
1 tablespoon balsamic vinegar
salt and pepper
Instructions
Clean and peel the potatoes. Grate them roughly directly on a clean kitchen towel. Use a larger grater, not the very fine one because they would get too mushy in that case. Form a bundle with the kitchen towel and squeeze the potatoes very well, trying to release as much liquid as possible from the potatoes.
Place the squeezed potatoes in a large casserole form. Add the Parmesan and the dry breadcrumbs. Mix together very well.
Place the flour on a plate and whisk the eggs lightly in a shallow bowl.
Preheat the oven to 175 degrees Celsius/ 350 degrees Fahrenheit. Line a baking sheet with baking paper.
Place each chicken breast between two sheets of plastic foil and tenderize them using a meat mallet or a heavy saucepan. Cut each filet in 2 or 3 pieces, each piece should weigh approximately 50 g/ 1.7 oz. Sprinkle the chicken generously with salt and pepper.
Coat the chicken pieces in flour, shake to remove the excess, dip them in the eggs and coat with the potato-Parmesan mixture. Press lightly to ensure that the coating is holding its place.
Heat a large heavy skillet. Add two tablespoons of the oil. When the oil is hot, add the first batch of schnitzel and fry them for about 2-3 minutes on each side until the coating is golden. Place the fried schnitzel on the baking tray and continue with the second and maybe third batch.
After each batch remove the potatoes pieces that might remain in the skillet with a spoon, if you leave them there until all the frying is done, they will burn and that won't be nice. Add 1 or 2 tablespoons oil for each new batch of chicken schnitzel.
When all the schnitzel are on the baking tray, place them in the oven and bake for about 8 minutes or until cooked through.
In the meantime, make the dip by mixing the yogurt with the grated garlic cloves, salt, pepper and finely chopped chives.
For the salad, slice the tomatoes and mix them with the finely sliced or chopped onion, add 1 tablespoon of sunflower oil and 1 tablespoon of balsamic vinegar and salt and pepper to taste. Serve immediately.
The schnitzel can be easily reheated by placing them again in the oven for about 10 minutes or until hot.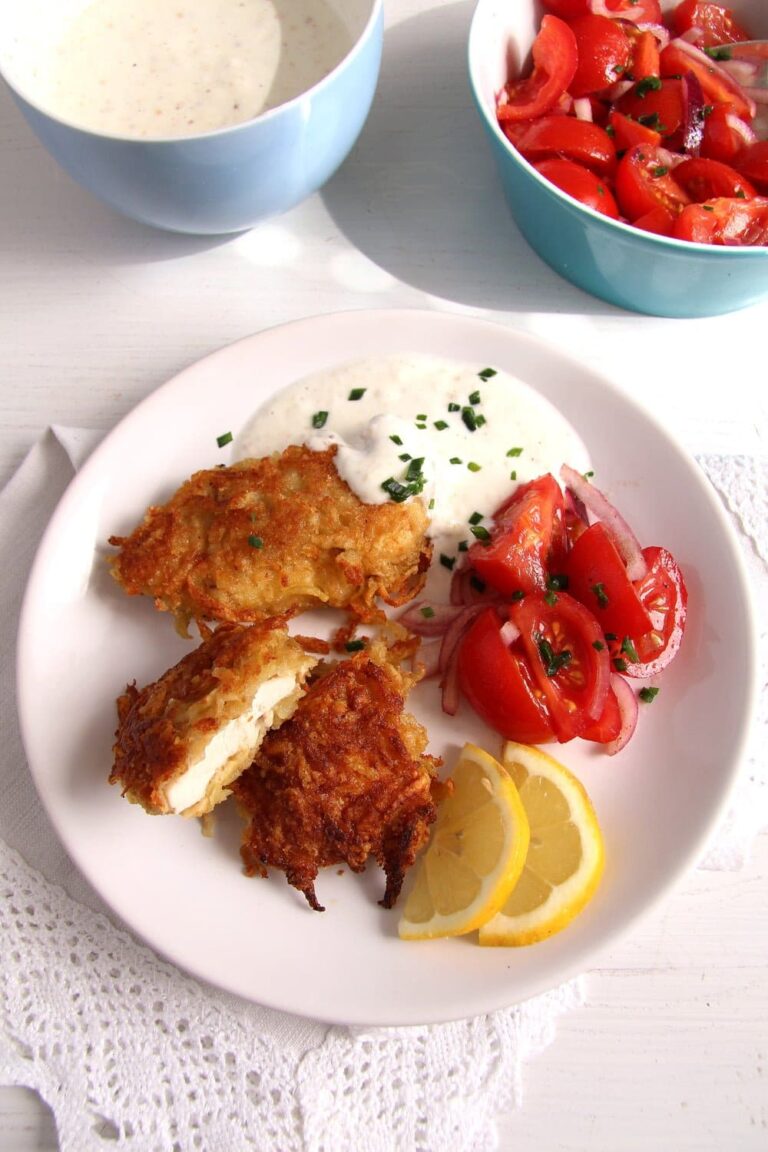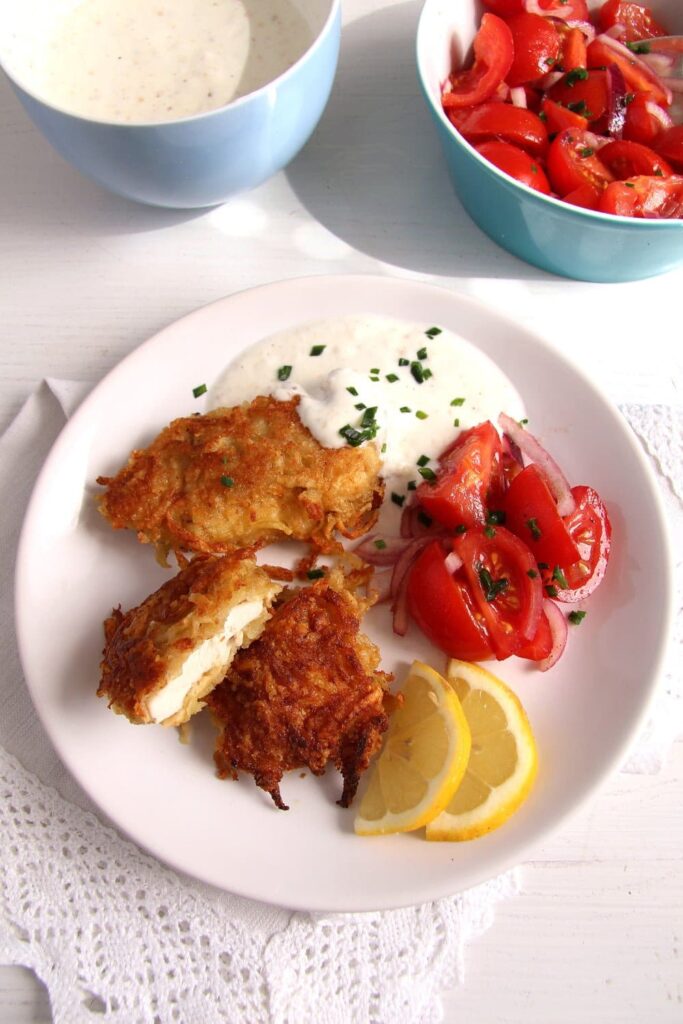 Others you might like: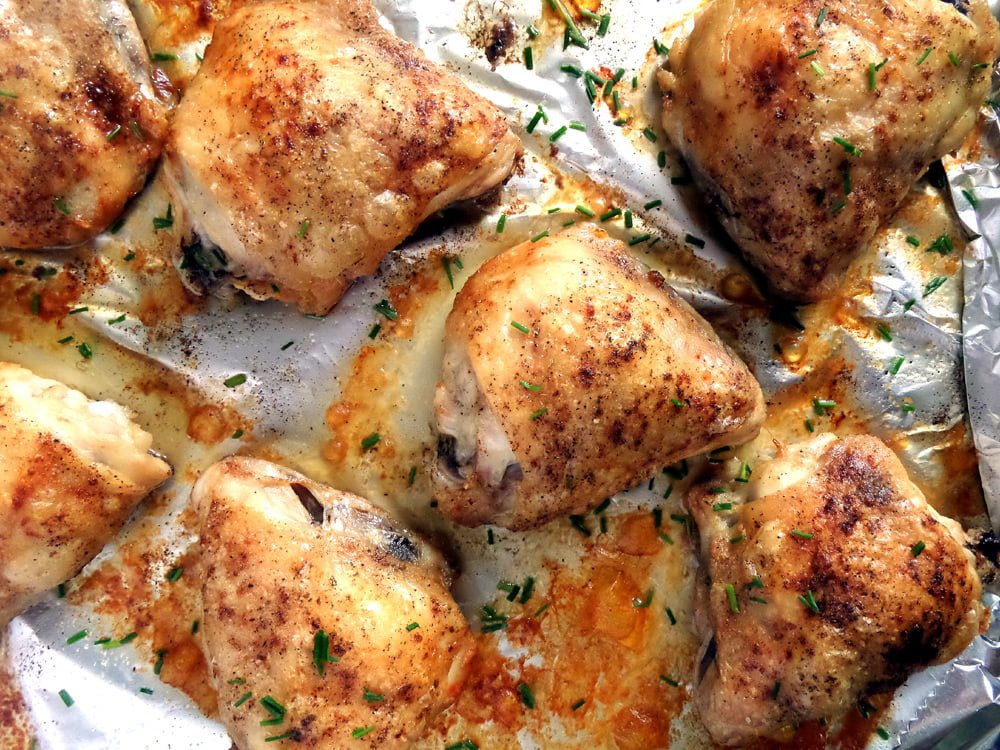 Baked Chicken Thighs, Basic Recipe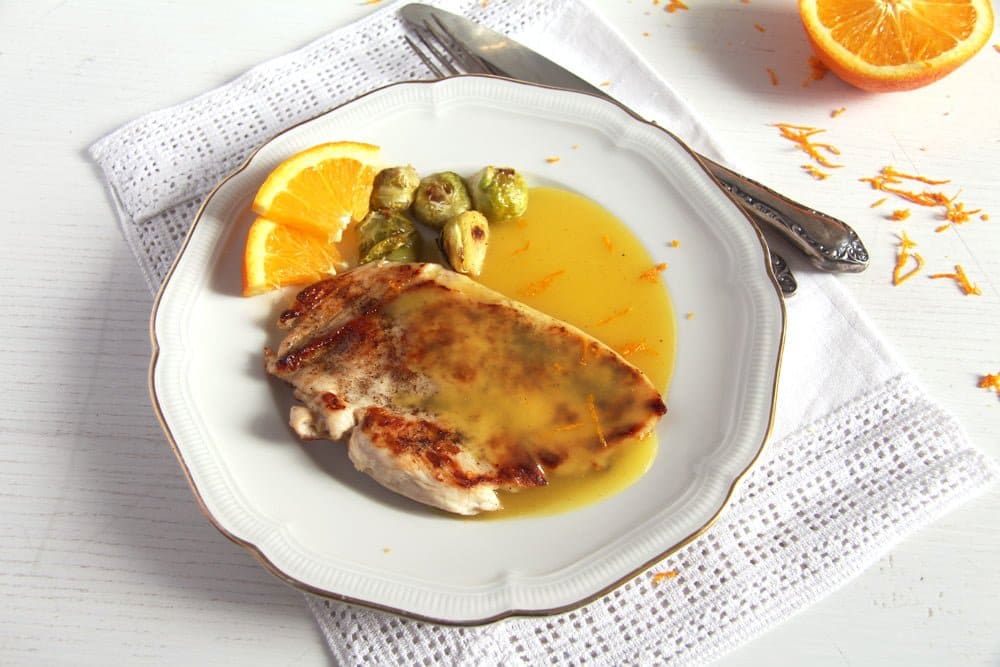 Chicken with Orange Sauce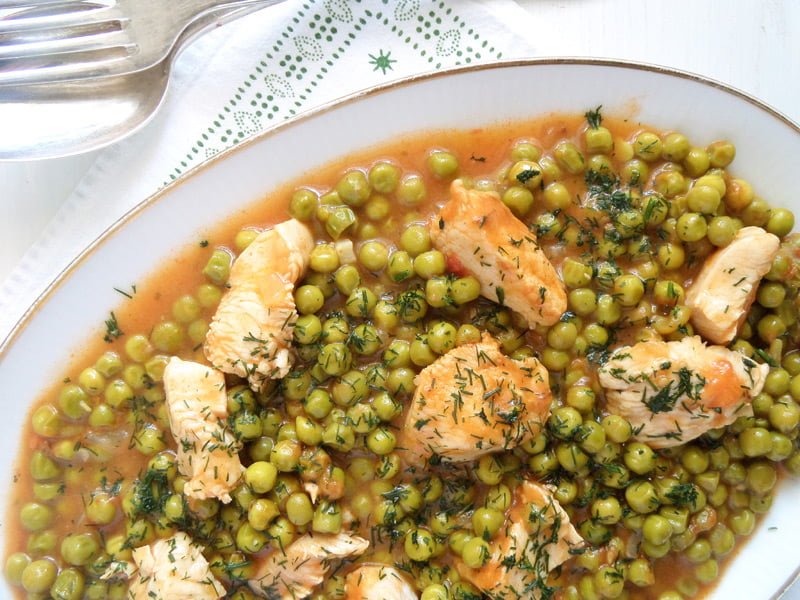 Romanian Pea and Chicken Stew