The second recipe in the Schnitzel series is basically the same recipe as the pork schnitzel from Saturday with a pretty important difference (for me at least). Although using the same ingredients and achieving the same end result, these schnitzel are not fried in lots of oil, they are just brushed with very little oil and baked.
I was a bit skeptical in the beginning, didn't really believe that I could achieve the same crispness and nice golden color by just baking the schnitzel, but – surprise, surprise – it works!!! I would have not spotted the difference between the two kinds of schnitzel, if someone else would have served me the two without telling me which schnitzel is fried and which one is baked.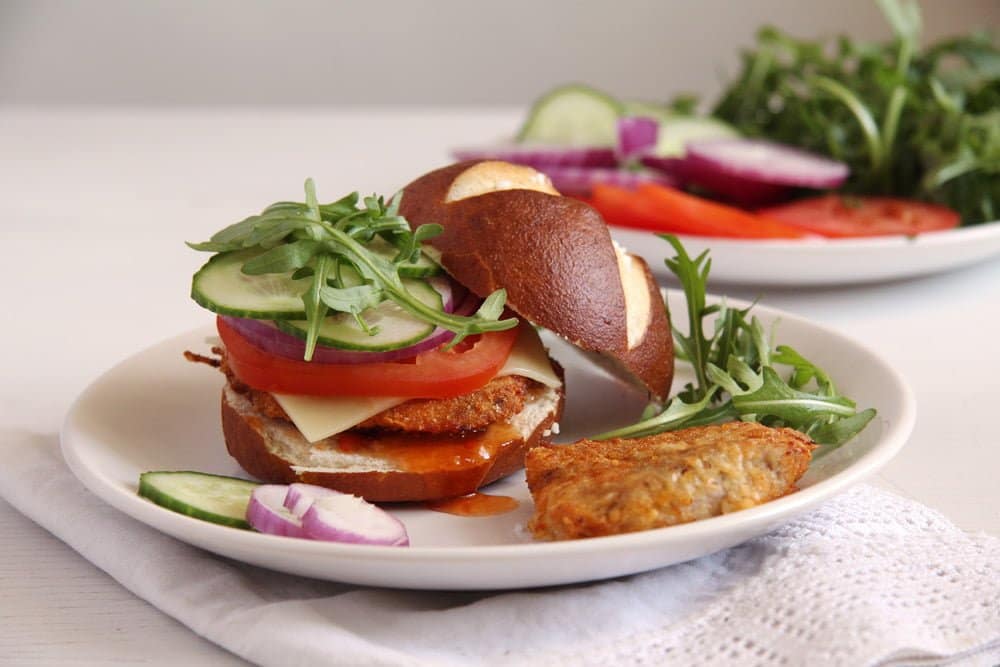 The big advantage of baking a schnitzel instead of frying it, is obviously the fact that you would not have to use and then eat so much fat. But another huge advantage in my eyes is the "cleanliness" of this method. No more splutter and fat everywhere, no frying smell filling every corner of your house. And you can place all of your meat on one baking tray and put it in the oven, instead of having to stay in front of the stove, frying the schnitzel only two at a time. This would allow you to make a larger amount of schnitzel for guests, for instance. And no more need of taking a shower and changing all your clothes after you're finished cooking (I have to do that all the time, I cannot bear this frying smell in my clothes and in my hair).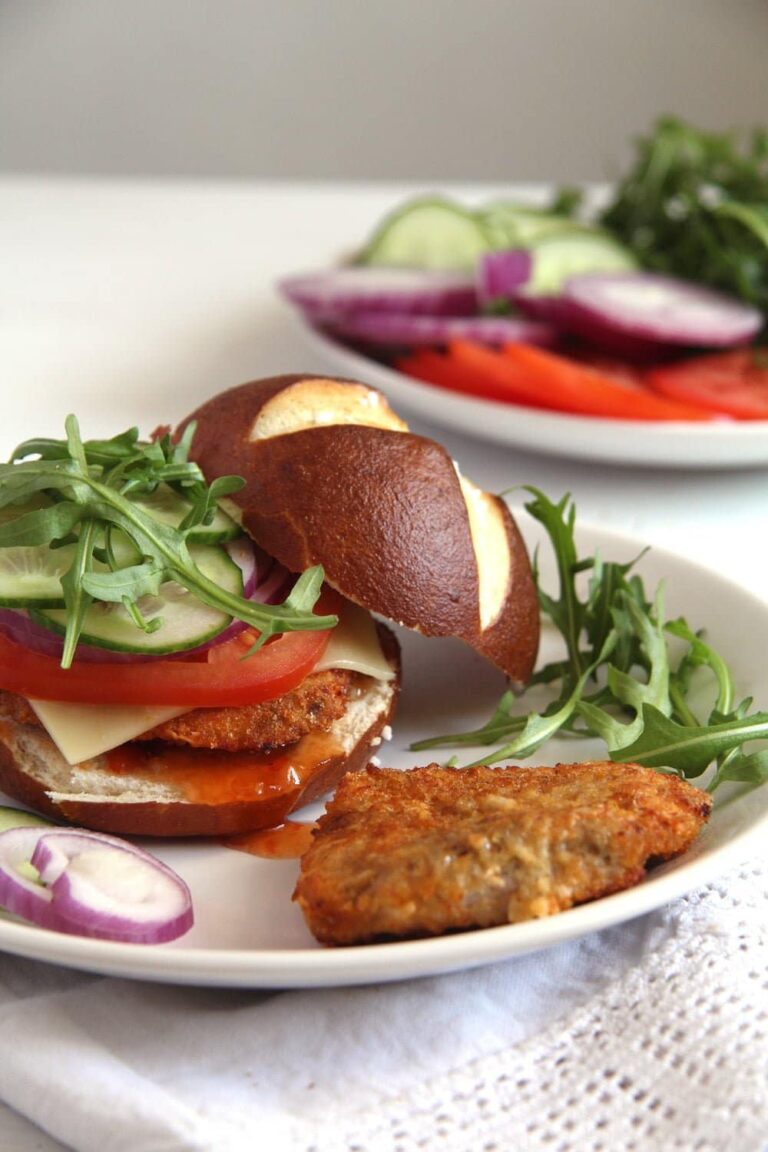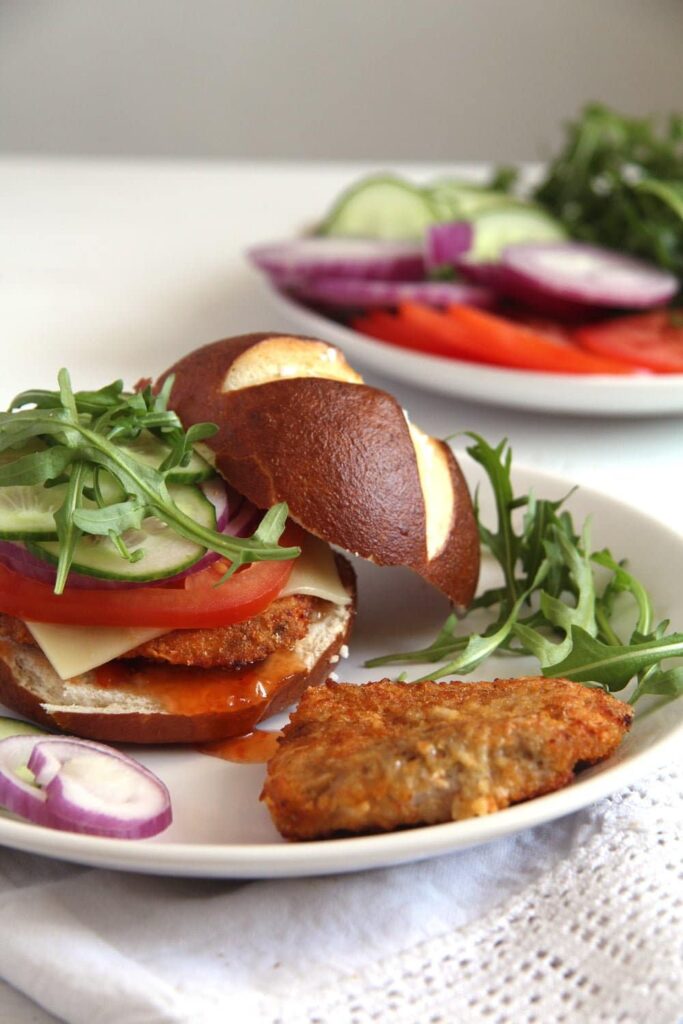 For this recipe I halved the normal-sized pork schnitzel, because I wanted to have smaller pieces which would fit into a bun. I baked the schnitzel for 20 minutes, if they are larger increase the baking time slightly, to about 23-25 minutes. I always check by cutting one of the schnitzel in the middle. You can use this same method to make chicken or turkey schnitzel, for instance, in this case the cooking time will also be shorter.
I served this mini-schnitzel as burgers in a bun with a slice of cheese, chili sauce and vegetables. It was a great combination, which I am sure I will make again, the kids absolutely loved it. You could also serve the schnitzel the traditional way with hunter sauce, potatoes and green salad or with potato salad, mashed potatoes, noodles etc.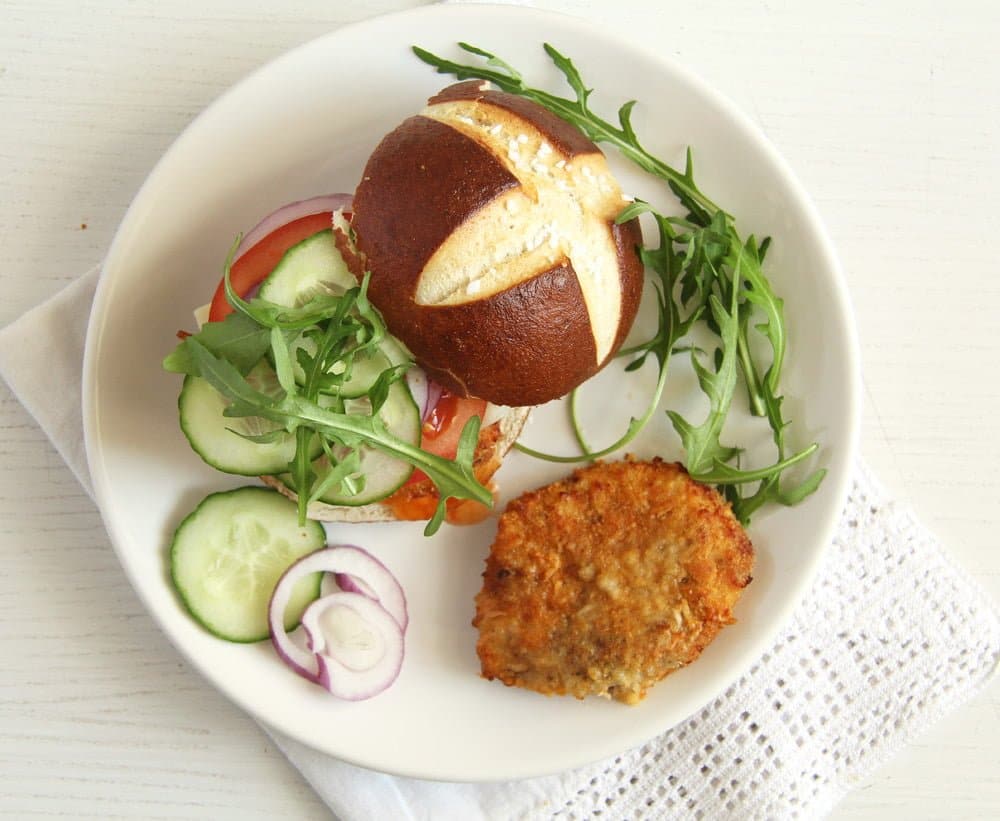 Rating 5.0 from 4 reviews
Prep time:
Cook time:
Total time: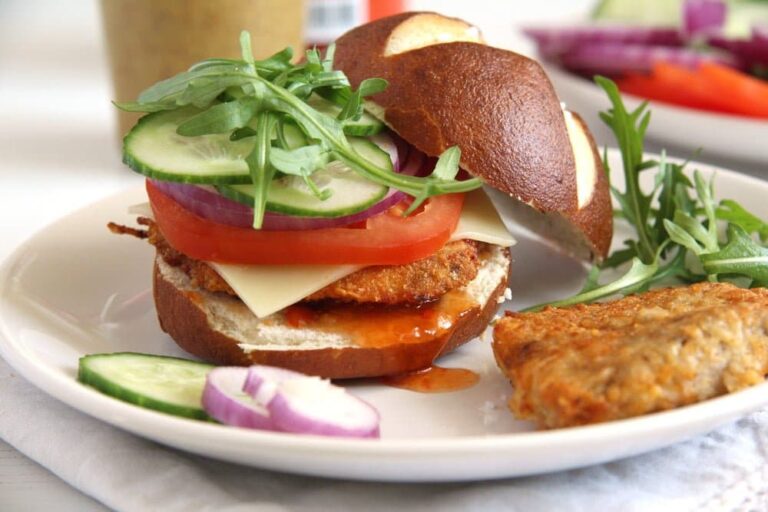 Ingredients
8 pork schnitzel/ boneless pork chops about 50 – 70 g/ 1.7 – 2.4 oz each
salt and pepper
2 eggs
60 g/ ⅔ cup dry breadcrumbs (or more if necessary)
30 g/ ⅓ cup Parmesan, freshly grated
30 ml/ a bit more than ⅓ cup olive oil
1 teaspoon sweet paprika
To serve as burger:
4 buns of choice, halved horizontally
1 large tomato, thickly sliced
1 large piece of cucumber, sliced
1 red onion, sliced
some arugula or other salad leaves
4 small cheese slices
some chili sauce or ketchup
Instructions
Preheat the oven to 220 degrees Celsius/ 430 degrees Fahrenheit.
Wash and dry the schnitzel. Tenderize them slightly between two sheets of plastic foil. Sprinkle them with salt and pepper and set aside.
Lightly beat the eggs in a shallow bowl. Mix the breadcrumbs and the Parmesan in another large shallow bowl.
Mix the olive oil and the sweet paprika in a small bowl.
Line a baking tray with baking paper. Lightly brush the baking paper with some of the oil mixture.
Dip the schnitzel in the beaten eggs, then coat them with the breadcrumb-Parmesan mixture. Place them on the baking tray and brush them lightly with the oil mixture as well. Use only as much oil as to lightly coat the schnitzel, don't use it all just because it's there.
Bake for about 10 minutes, turn the schnitzel and bake for another 10 minutes. You could already check after a total time of 18 minutes if the schnitzel are done, the cooking time greatly depends on your oven.
If your schnitzel are larger (about 100 – 150 g/ 3.5 – 5.3 oz) increase the cooking time to about 23-25 minutes.
Halve the buns horizontally, smear some chili sauce or ketchup on the lower half and top with schnitzel , vegetables, cheese and salad. Place the second bun half on top.
Others you might like: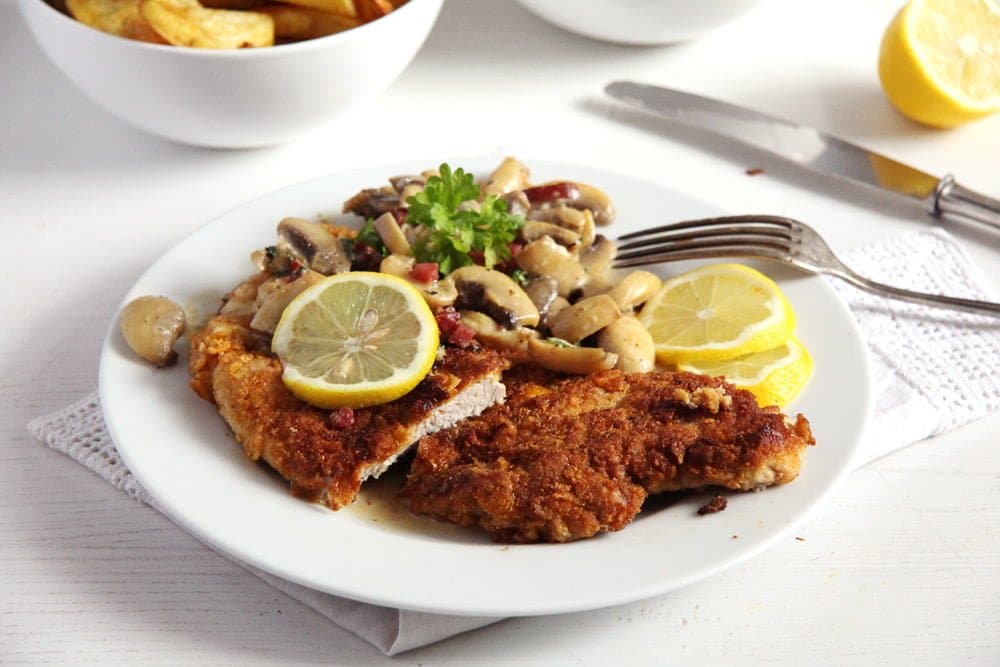 Hunter Schnitzel
Homemade Gyros or Döner
Chicken Nuggets and Copycat McDonald's Sweet and Sour Sauce