Chicken breasts filled with ham and cheese, coated with breadcrumbs and baked instead of fried. This is a recipe I first saw in a TV cooking show a few weeks ago, while lying sick on the sofa around midday. Although feeling ill and having no appetite at all, I liked the look of this dish so much (and it fit so well into my schnitzel theme) that I decided I have to make something similar as soon as I get well again. Well, it took a bit longer than that, but I finally managed and I am so glad I did. I change the recipe quite a bit, the most important change being the fact that I baked the chicken instead of frying it.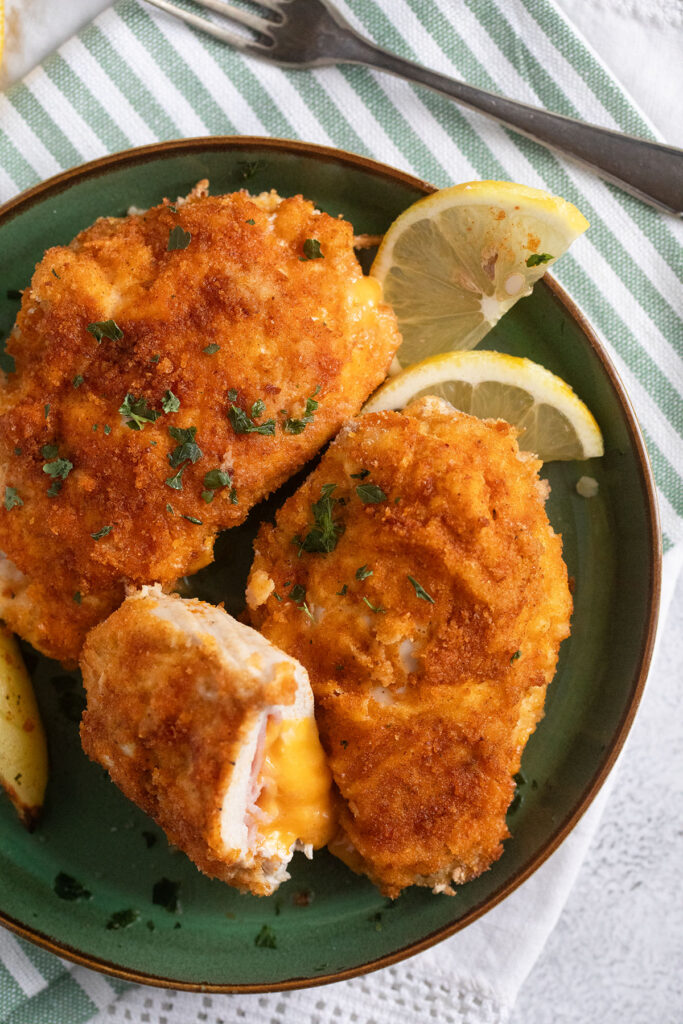 It is similar to something I ate a long time ago (I was 19, I remember that), basically a schnitzel filled with cheese and ham. I liked that cheese schnitzel so much, I remember telling my grandmother about it, asking her if she could cook that as well, but no way. My grandma was very particular about her food, she was a great cook, her food was always delicious and she would only use the freshest and top quality products, BUT… She would only cook the same (maybe about 20 – 30) dishes, day after day and year after year and NEVER EVER try anything new.
She was stubborn in all aspects of life, including cooking, and in her opinion all those who didn't cook exactly the way she cooked, were actually bad cooks (so all the people of this world were bad cooks), unable to cook anything properly. She would go so far, that she would refuse to eat when invited to dinner, because she might have noticed or heard that some ingredient used was not something that she would use or some cooking step in the process was not exactly the way she would make it. And she would come to me and, talking in a low voice, forbid me to try that dish (in vain), because it was not properly cooked or the peppers were not of the right color, for instance.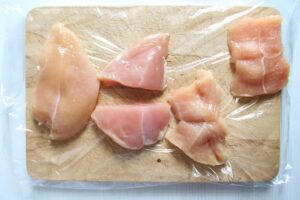 The breaking point was when she refused to taste my cooking the first and only time I ever cooked for her. I made chili con carne, she was all the time behind me watching what I do and telling me continuously that that is not the proper way to cut onions, and that I should first cook one thing and then add another and so on. After a while I exploded and told her that if I make everything the way she wants me to, than I will end up having a pot of Romanian food with meat and beans, which will taste as ever, and which will have nothing to do with chili con carne. End of story, she refused to taste my food and I was frustrated.
This schnitzel is an interpretation of the famous Wiener Backhendl. A typical backhendl are chicken parts coated in egg and breadcrumbs and fried in lots of fat. I thought that recipe to be too similar to all the other schnitzel recipes posted recently, so this ham and cheese pockets were a perfect solution. And as I didn't want to fry again, I baked this in the oven. You will love this dish, I can tell you that! I told you last week that the chicken schnitzel in pancake batter was my children's favorite variation. Well, that was only because they hadn't had these schnitzel yet. They ate and ate and because I have made a larger batch, they have already announced that they would want to eat the chicken pockets again in the evening.
So here it is, the last recipe in this Schnitzel Series, I hope you enjoyed it!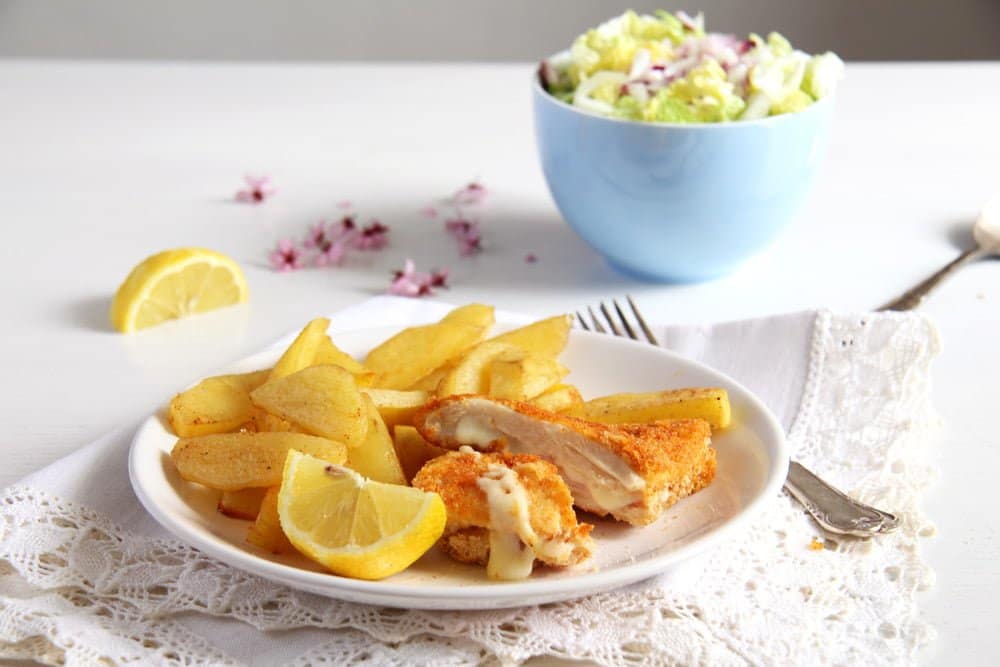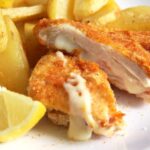 Ingredients
4 chicken breast filets, boneless and skinless, about 150 g/ 5.3 oz each

2 large and thin Gouda slices (or more depending on their size)

2 large and thin cooked ham slices (or more depending on their size)

salt and pepper

3 tablespoons oil

½ teaspoon sweet paprika powder

2 tablespoons all-purpose flour

2 eggs

zest from ½ organic lemon

some nutmeg

about 100 g/ 3.5 oz dry breadcrumbs or more if necessary
Instructions
Preheat the oven to 200 degrees Celsius/ 400 degrees Fahrenheit.
Cut the chicken breasts across in half. Slice each half in the middle but make sure the breast still holds together at one side. Open up the breast, place it between two sheets of plastic foil and tenderize it very gently using a heavy saucepan.
Slice the ham and the cheese slices into smaller slices, large enough to fit in the chicken breasts. Place 1 slice of cheese and 1 of ham on the lower part of each meat pieces, fold up the upper meat piece and press lightly so that they hold together. Sprinkle with salt and pepper on both sides.
Mix the oil and the sweet paprika powder in a small bowl. Line a baking tray with baking paper and brush it with the oil-sweet paprika mixture.
Place the flour on a large plate. Lightly beat the eggs in a shallow bowl. Add the lemon zest and some nutmeg. Place the breadcrumbs on another large plate.
Coat the chicken in flour and shake carefully to remove the excess flour. Dip them in the eggs and coat them in breadcrumbs. Place them on the prepared baking tray. Brush the chicken breasts lightly with some of the oil-sweet paprika mixture as well, reserve the rest of the oil for later.
Bake for a total time of 15 minutes or until the chicken is cooked through, turning halfway through. After turning, brush the schnitzel very lightly with the leftover paprika oil and finish baking.
Serve with potato salad or oven potatoes and a green salad.
Others you might like: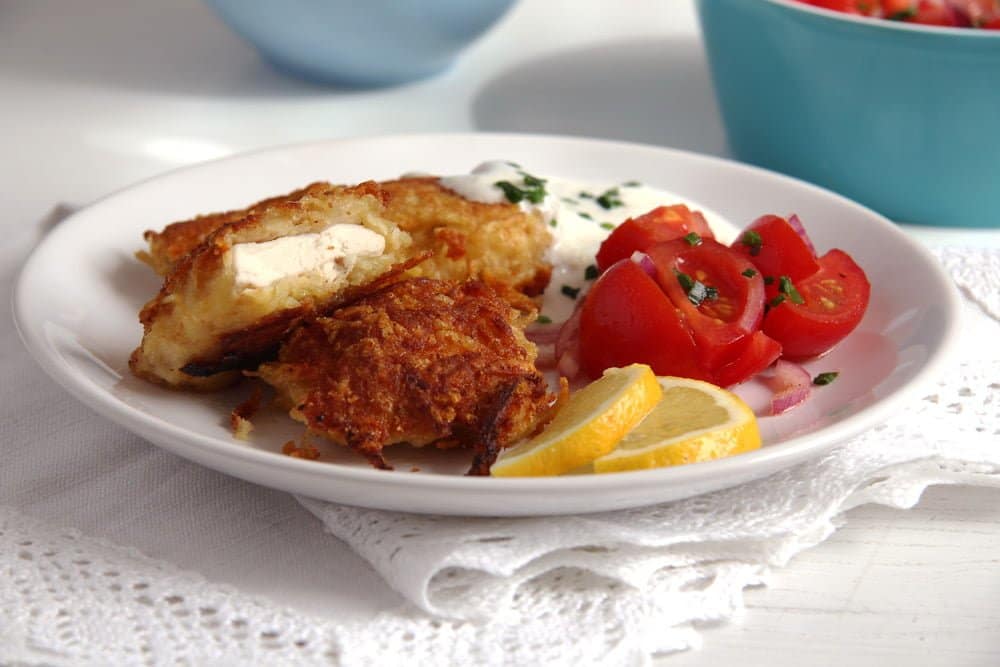 Chicken Schnitzel with Potato Parmesan Crust
Chicken Schnitzel in Pancake Batter