Air fryer potato wedges, crispy on the outside and tender on the inside. A super easy to make side dish or light and a healthy main meal served with a dip or two.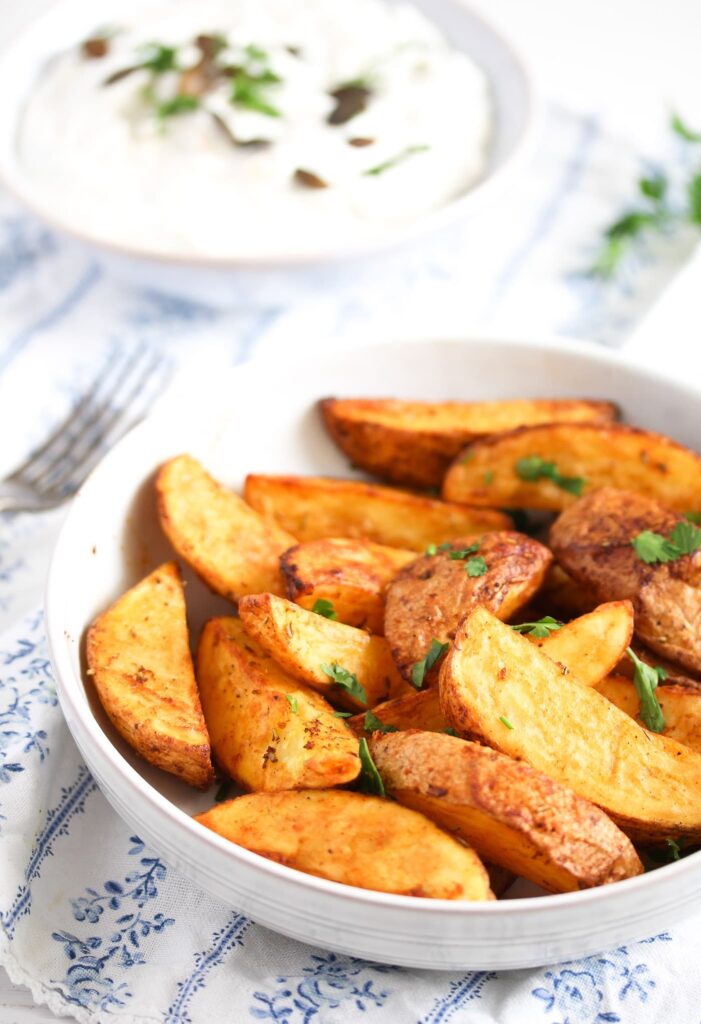 Easy to make air fryer potato wedges, healthy and so delicious. They are just as good as deep fried potatoes, but with way less calories. All you need is one tablespoon of olive oil for perfectly crispy and golden brown wedges.
We absolutely love baked potato wedges. I make them more often than any other potato side dish, not even mashed potatoes come close. And they are perfect not only as a side dish, I serve them just as often as a light lunch or dinner with sour cream or quark dip and salad on the side.
Baking potatoes is super simple and rather fast, but air frying them is even faster and easier. All you need is the kitchen gadget, some spices (whatever you like), one tablespoon oil, and about 15 minutes' time. That's it! About half the time, you will need to bake the wedges in the oven.
The only drawback is that if you are feeding more than two adults and 2 children, you might need to make a double batch.
How does air frying work?
The machine doesn't actually fry. It blows hot air around the food producing a convection effect that browns and crisps the exterior of the food, which is placed in a basket with holes.
Air-fried food is more similar to deep-fried food (still not the same, but close enough), than the same food baked in the oven.
You can also cook frozen food items in the fryer, adding just some minutes more to the cooking time. See these Frozen Chicken Breast or the Frozen Chicken Wings, for instance.
How to air fry potato wedges?
All you need to do is to cut the potatoes into wedges, mix them with the oil and the spices.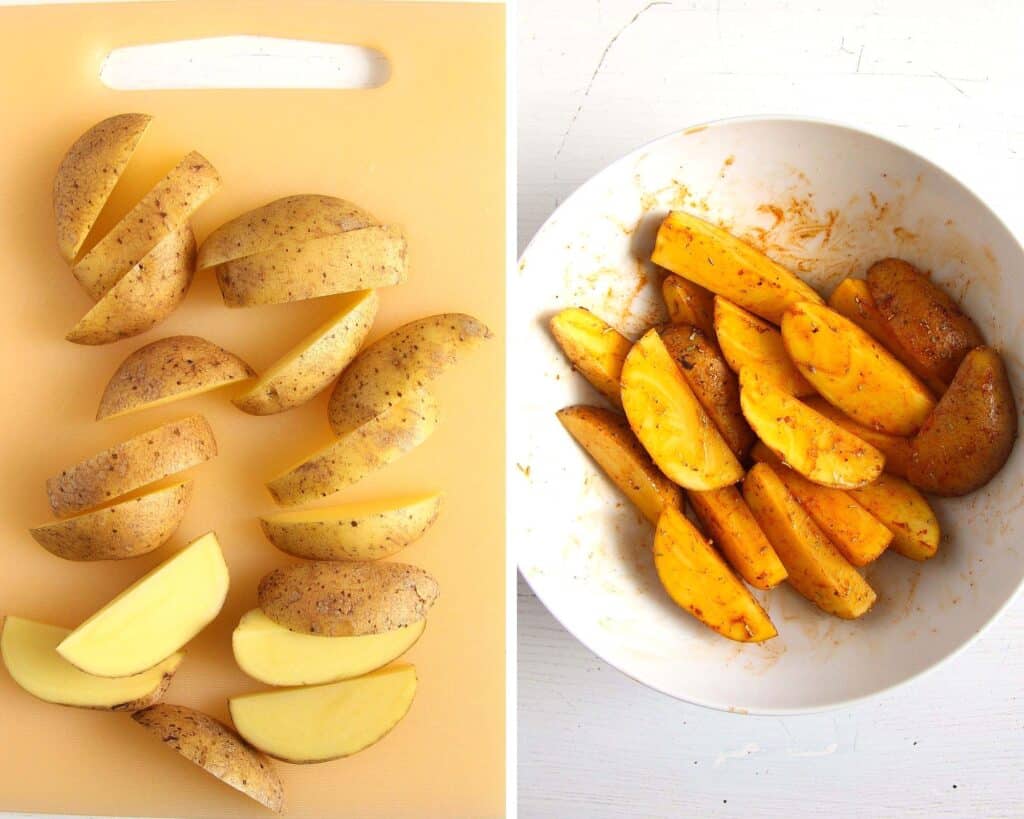 Preheat, if needed, some machines require this step, some don't. I have to preheat mine for 3 minutes. Read the instructions for the type of machine you have.
Place the wedges in the basket in a single layer. Having one layer is important so that the hot air can circulate and make the food crispy.
Cook for 10 minutes, flip with the help of a plastic spatula or shake the basket very well. I prefer using the spatula to make sure I've turned them all and that they lay in a single layer as well.
Cook for another 5 minutes and check. They should be crispy on the outside and really tender on the inside. If they are not quite there, give them a few more minutes.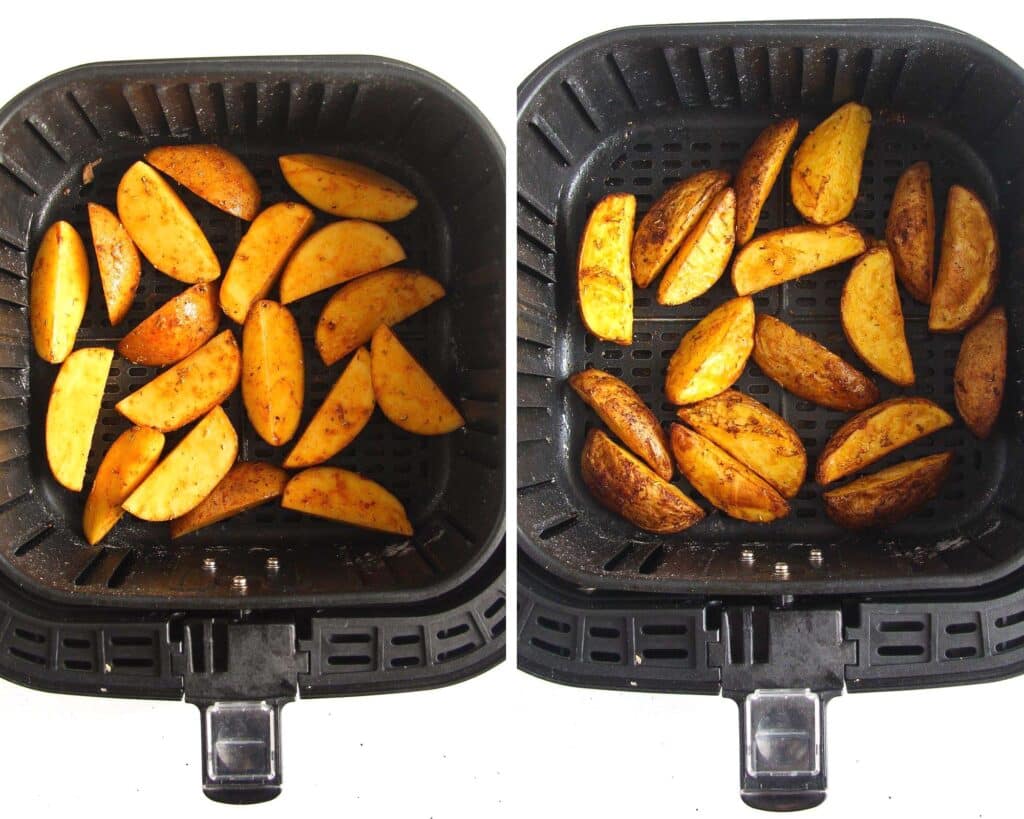 Tips
The best type of potatoes to use for making wedges are some with a high starch content, which will turn crispy on the outside and become nice and fluffy on the inside. Russet potatoes are great for this task. In Germany, choose mehligkochende Kartoffeln.
The potatoes should preferably be large so that you get long nice wedges. However, this is not mandatory, if they are small they will taste just as good. Small potatoes should only be quartered or halved.
Try to use potatoes of similar size so that all the pieces cook evenly.
My favorite spices for either air-fried or baked potato wedges are paprika, dried rosemary, garlic powder, salt, and pepper. I like to combine sweet paprika with hot (or sometimes smoked) paprika powder.
Alternative spices: whatever you like. Either a favorite ready-mixture, curry powder, chili, other dried herbs like thyme, oregano or marjoram, and so on.
Make sure that the food is arranged in a single layer in the basket and don't forget to flip.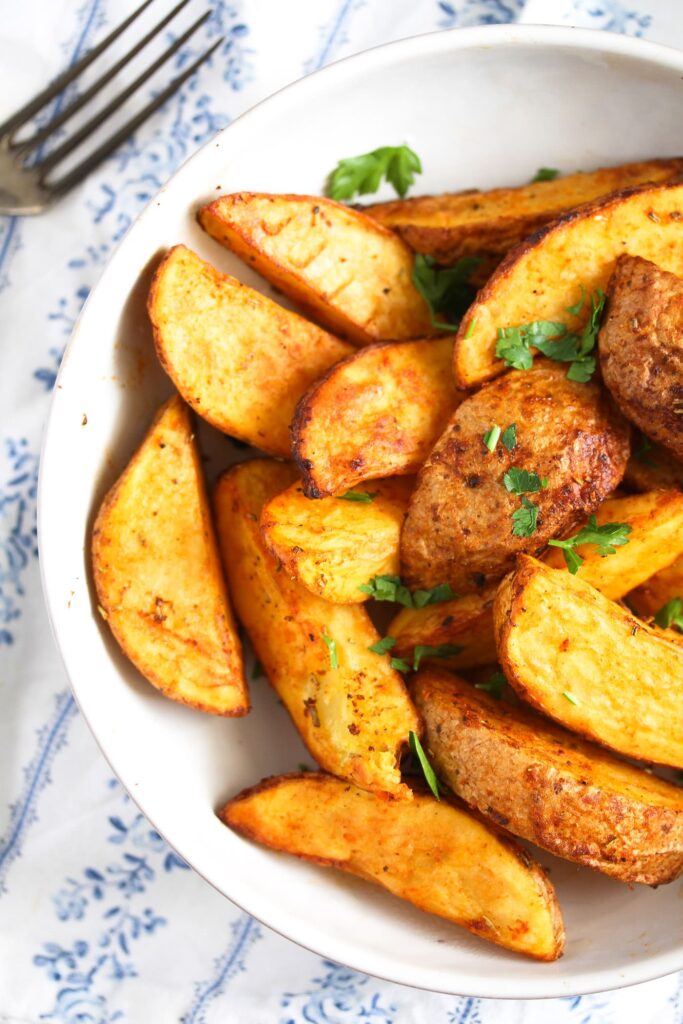 How to serve air-fried potatoes?
As a light main meal with a dip and a salad. Try some of our favorite dips, like the Egg Salad with Greek Yogurt, Spicy Avocado Spread, Körözött, or Egg Leek Salad. Chili sauce is great as well if you like things really spicy. And add a salad with Yogurt Dressing, Cucumber Salad or Tomato, and Avocado Salad.
The air fried potato wedges are best served immediately.
However, you can definitely reheat them. Between 3 and 5 minutes in preheated machine should be fine, just check.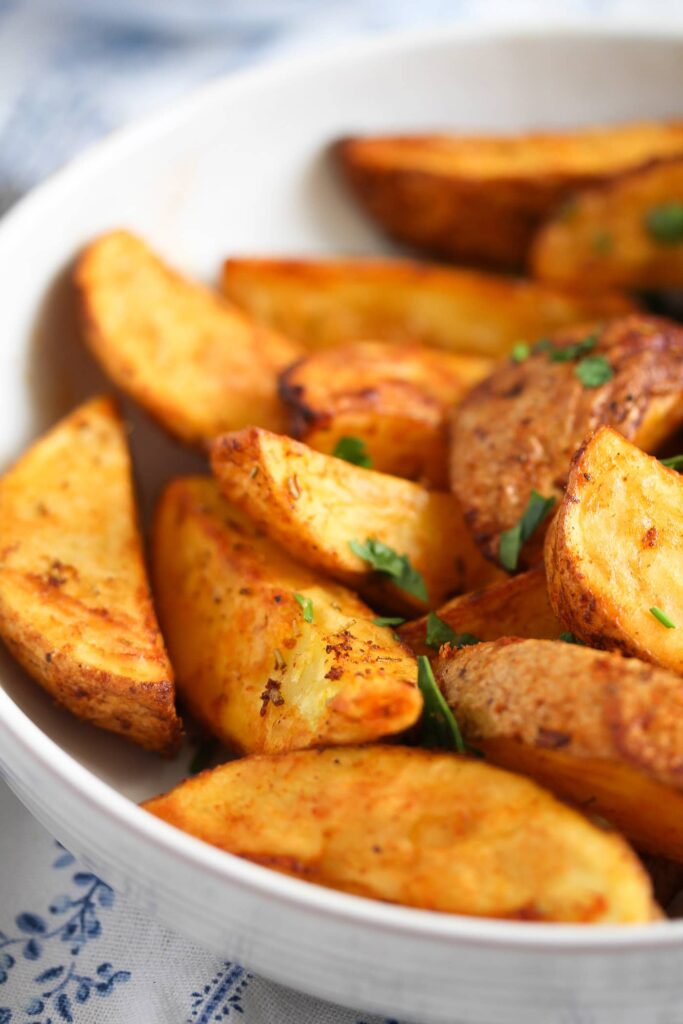 More air fryer recipes: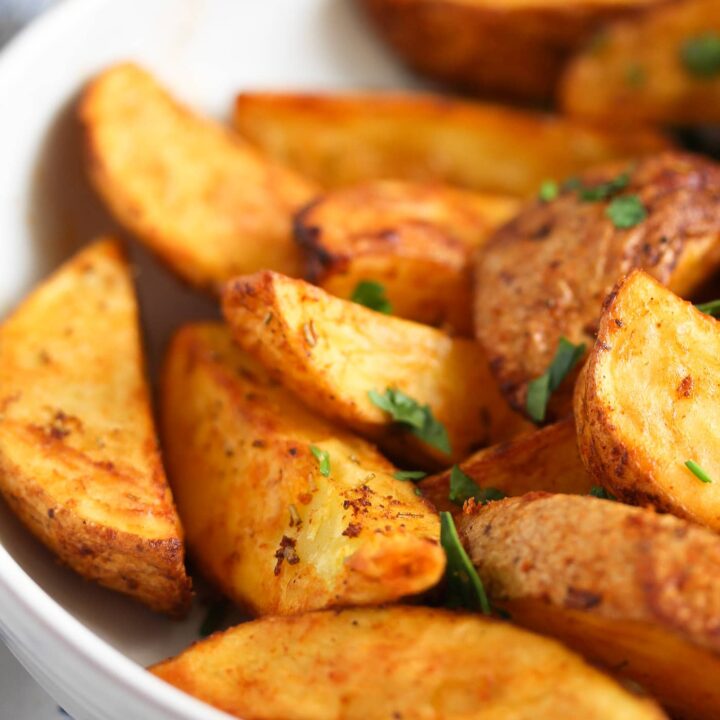 Air Fryer Potato Wedges
Air fryer potato wedges, crispy on the outside and tender on the inside. A super easy to make side dish or light and a healthy main meal served with a dip or two.
Ingredients
3 large potatoes, each about 150 g/ 5.3 oz (Note 1)
1 tablespoon olive oil
1 teaspoon sweet paprika (Note 2)
¼ teaspoon hot paprika
1 teaspoon dried rosemary
¼ teaspoon garlic powder
about ½ teaspoon fine sea salt, to taste
black pepper, to taste
Instructions
Scrub and dry the potatoes. If large, cut each one into 8 wedges. If they are small, quarter or halve.
Place in a bowl. Add the oil and all the spices. Rub well with the hands to coat all over.
Preheat the air fryer according to the machine's instructions (some fryers don't need preheating, so make sure to check).
Place the wedges in the basket in a single layer. Fry for 10 minutes at 190 degrees Celsius/ 380 degrees Fahrenheit.
Flip with a spatula (or shake the basket well). Cook for another 5 minutes or until the wedges are crispy on the outside and perfectly soft on the inside. Check, if they are not very soft on the inside, give them a few more minutes.
Notes
Use starchy potatoes, like Russet. In Germany, mehligkochende Kartoffeln.
Use whatever seasoning you like, this is just our favorite mixture.
Nutrition Information:
Yield:

3
Serving Size:

1/3 of the dish
Amount Per Serving:
Calories:

186
Total Fat:

5g
Saturated Fat:

1g
Trans Fat:

0g
Unsaturated Fat:

4g
Cholesterol:

0mg
Sodium:

369mg
Carbohydrates:

33g
Fiber:

4g
Sugar:

2g
Protein:

4g
Nutritional information is not always accurate.