Super quick and easy recipe for pancake battered chicken that your children will adore! Crispy batter and incredibly tender chicken breast, what is not to love?
This is probably one of the most delicious ways of cooking a chicken breast. At least that is what my children will say if you asked them...
I mean what is not to like? Super tender chicken pieces and a crispy pancake batter coating. Pancake and chicken in one! I really don't know one child that doesn't love both chicken and pancakes.
And the best thing about this pancake battered chicken recipe? Is that you don't have to deep fry the meat. Shallow-frying it will be enough, you will use less oil but the result will still be crispy and super tasty.
This is one of my aunt Geta's and cousin Georgi's recipes, I have only ever eaten the chicken in pancake batter at their houses before. But now I cook the recipe myself quite often, it is one of my children's most requested dishes.
Ingredients
A short and cheap list of ingredients. All you need is:
Chicken breast:
Boneless, skinless chicken breast.
I always cut them into thinner slices, but if you want to take the easier and quicker route you can use already cut cutlets.
Pancakes:
Eggs
Flour
Milk
Sparkling water – makes the batter airier, fluffier.
Dried breadcrumbs – not typical for making pancake batter, but my family always used it, it adds a little bit of extra crunch to the batter and also helps with the consistency.
Tips for making battered chicken
Pancake batter:
Do use sparkling water for making the pancake batter, as mentioned above the bubbles make the batter airy and light.
Start with using only 7 tablespoons of flour and breadcrumbs.
Add the sparkling water slowly, stirring well until the batter is rather thick and very slow running.
If you feel the batter is too thin and runs too quickly from the spoon, start adding more of the remaining flour, a little at a time, stirring well in between and checking the consistency.
When I first made this recipe, I only fried one chicken piece at first, just to make sure the consistency of the batter is right. Nowadays, I don't need to do that anymore, I just know how the batter is supposed to feel and look like.
If you feel that it is too thick, you can do the opposite and add a small glug of sparkling water to the batter. Mix well and check the consistency again.
Shallow-frying:
As mentioned above, the battered pieces are shallow-fried and not deep-fried.
That means they will not need to swim in oil. However, you will need to use enough oil to coat the bottom of the pan.
The cooking time is short, only about 2-3 minutes per side.
Flip the meat often while frying it, at least 3-4 times in between. This will ensure that the batter will not become too dark.
Once cooked, remove from the pan and place on kitchen paper towels, they will absorb the excess fat.
Make sure you don't staple the pieces, that will make the pancake batter soggy, it will not be nice and crispy anymore. This rule applies to any other battered or breaded chicken/schnitzel/fish you make as well.
How to serve?
The pancake battered chicken is best served immediately so that it is still crispy.
Leftovers will not be that crispy anymore, but they will still taste delicious.
You can reheat the leftovers in the oven or you can make sandwiches with the cold schnitzel. Have a look at these katsu sando sandwiches for inspiration.
Otherwise, smear some mustard/ ketchup/ mayonnaise/ chili sauce on bread, add the chicken, salad leaves, thin tomato slices, sliced red onions, sliced gherkins, etc, top with another slice of bread (optional) and serve. So good!
What to serve with battered chicken?
The nutrition is calculated considering 4 tablespoons of oil. You might need more, depending on the size of your pan and on how many batches of chicken you fry, but some of it will remain in the pan.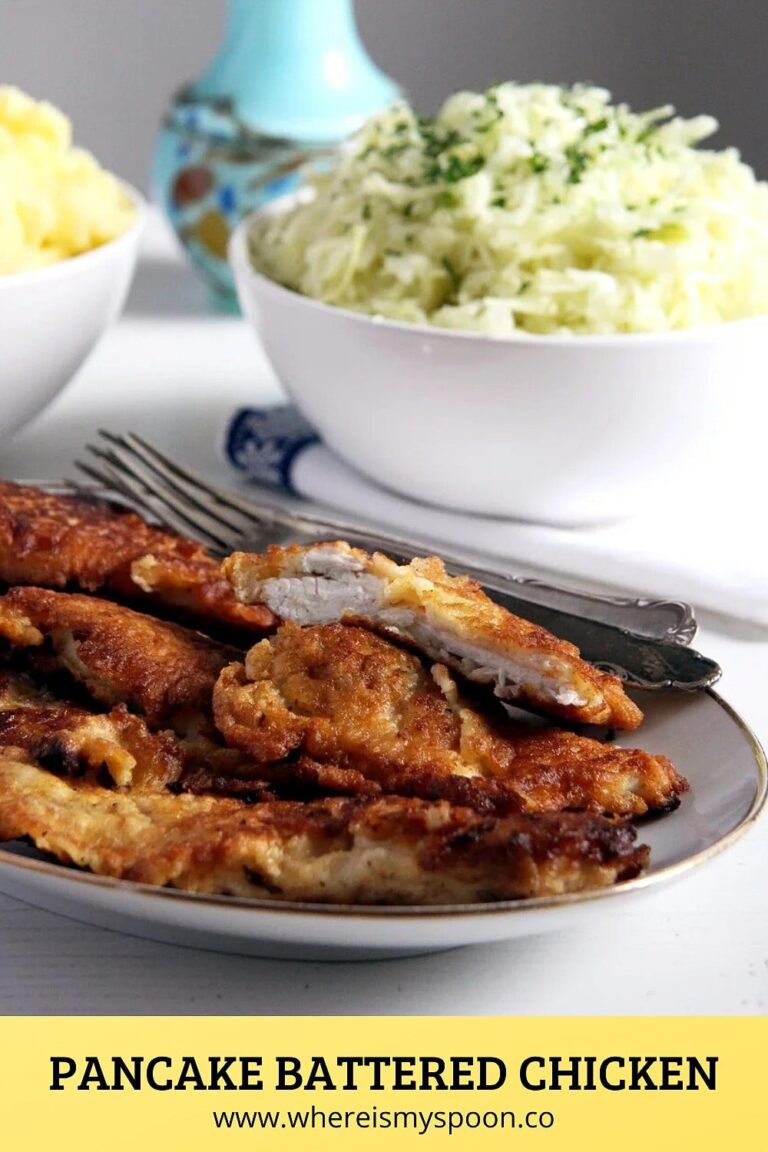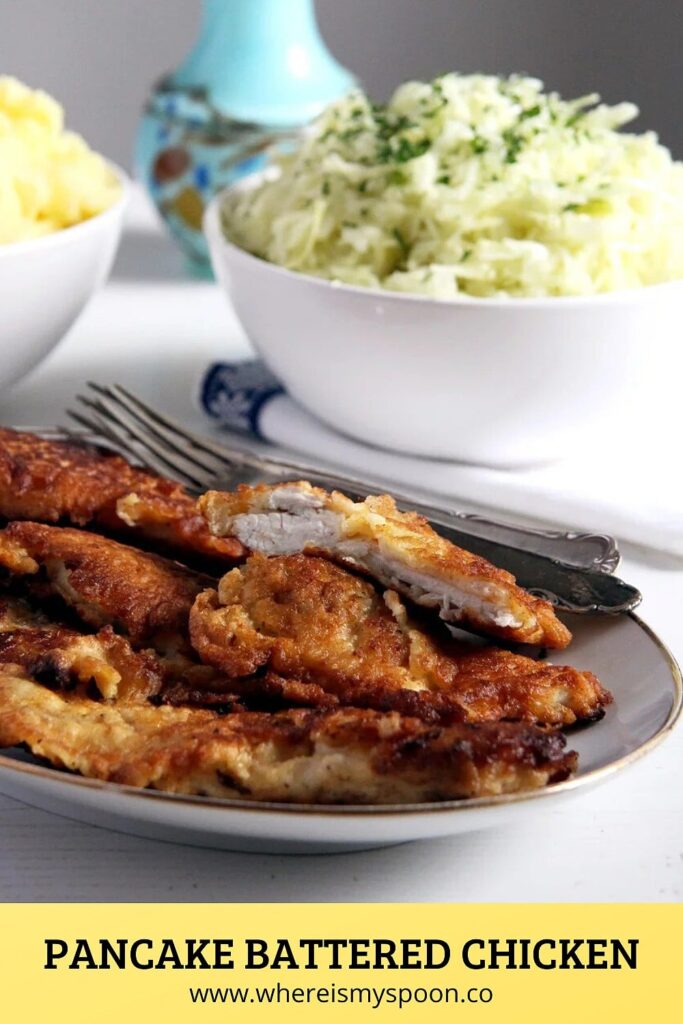 Pancake Battered Chicken
Super quick and easy recipe for pancake battered chicken that your children will adore! Crispy batter and incredibly tender chicken breast, what is not to love?
Print
Pin
Share
Grow
Saved!
Rate
Ingredients
1.7

lb

boneless skinless chicken breast

2

eggs

⅔

cup

milk

8-9

tablespoons

all-purpose flour

divided + more if necessary

1

tablespoon

dried breadcrumbs

½

cup

sparkling water

vegetable oil for frying

fine sea salt and pepper
Instructions
Tenderize chicken: Slice the chicken breasts once or twice horizontally to obtain cutlets about 1 cm/ 0.4 inch thick. Place the chicken pieces between two sheets of cling film and tenderize them lightly using a mallet or the bottom of a heavy saucepan. Sprinkle generously with salt and pepper on both sides.

Batter: In a medium bowl, mix the eggs, milk, 7 tablespoons of flour, and the breadcrumbs. Slowly start adding the sparkling water; add only as much as to obtain a thick, slowly running batter. Add salt to taste. Tip: I always fry a single schnitzel first to see if the batter has the right consistency. If the batter is too thin, add some more flour a little at a time; if the batter is too thick, add more sparkling water, a very little at a time.

Heat a large non-stick pan. Pour enough vegetable oil to cover the skillet's bottom. You might need to add more oil after every batch.

Flour chicken: Place 1-2 tablespoons of the remaining flour on a plate. Coat the chicken breast slices in flour and shake well to remove the excess flour.

Batter and fry: When the oil starts making tiny bubbles, drag the chicken through the pancake batter and fry on medium heat until golden brown on both sides, about 2-3 minutes per side. Flip the chicken several times in between using a spatula.

Place on paper kitchen towels to absorb the excess fat. Don't staple on top of each other; that will make the crust soggy. Serve immediately.
Nutrition
Serving:
1
/6 of the recipe
|
Calories:
384
kcal
|
Carbohydrates:
11
g
|
Protein:
46
g
|
Fat:
16
g
|
Saturated Fat:
3
g
|
Polyunsaturated Fat:
12
g
|
Cholesterol:
177
mg
|
Sodium:
243
mg