This schnitzel variation, in pancake batter, was my children's favorite schnitzel from this series. They actually enjoyed this series more than any other before, but I think this pancake schnitzel was their absolute number 1. I mean, schnitzel and chicken and pancake in one, what would you expect?
This is one of my aunt Geta's and cousin Georgi's recipes, I have only ever ate them at their houses and I have been meaning to make the schnitzel for years before I actually did. They are particularly tender and delicate, you have to take a bit of care when frying them so that the batter won't turn too dark, but the cooking process is short and the result more than worth it.
We serve this in a typically Romanian style with mashed potatoes and pickled vegetables, like sauerkraut, gherkins or pickled green tomatoes, but of course, any other kind of potatoes, salads or veggies would make just as good a side dish.
Otherwise just a little fun/ totally weird/ insane story happening recently. I don't know if a food blog is the right place for it, but it is so crazy I have to share it. It actually happened on the 1st of April, Fool's Day here in Germany and I have to admit I was never so fooled on this day as on this occasion. The culprit was our cat Pisu.
The weather was nice and sunny, so in the early afternoon I decided to go for a walk in the fields around the village. After about an hour I was almost at home and had to walk along the main street for about 20 meters or so. Suddenly I saw that there was something lying on the street, knew immediately it was a dead cat and already dreaded that I have to walk so close by. I am not good with this kind of things, I cannot watch when a dead animal lays dead on the roadside, I even close my eyes when there is a body or blood in a regular film on TV, I would never watch a horror movie or anything disgusting like that.
But I really had to watch this time because even from a distance I thought it was our Pisu. So I watched, and without giving you any details, it was the most disgusting and disturbing thing I ever saw. And I was 100% sure it was our cat, the fur colors were matching (she has a regular striped gray color but an orange belly and tail) and there was not much else one could recognize anymore anyway. I came home crying, told my husband about it, he went and brought the cat home and buried it behind the house. I spent the whole afternoon and early evening crying!
In the evening my husband went shortly outside and when he came back I heard a "Miau-miau" in the hall. I thought I was imagining it and almost started crying again, when our cat came in with my husband. He was laughing like crazy, shouting "Who the hell did I just buried in the backyard?" and she was as whole and cheerful as ever. She (I find it weird to say "it") never received as many kisses from me as on this occasion, despite the fact that I was feeling sorry for the other unfortunate cat, I was so happy to have her back.
Crazy story but something that we will remember for the rest of our life. And another dead cat buried around our house (third one). At least she was buried in a dignified way and didn't end up in the trash or wherever dead animals on the street are brought to.
In the hope that this story didn't completely spoil your appetite, here is my recipe.
Prep time:
Cook time:
Total time:
Ingredients
800 g/ 1.7 lbs chicken breast cutlets
2 medium eggs
150 ml/ scant ⅔ cup milk
8-9 tablespoons all-purpose flour, divided + more if necessary
1 tablespoon dry breadcrumbs
100 ml/ a little more than ⅓ cups sparkling water
vegetable oil for frying
salt and pepper
Instructions
If your chicken breasts are already sliced in cutlets is OK, if not slice the breasts once or twice horizontally to obtain cutlets about 1 cm/ 0.4 inch thick. Place the cutlets between two sheets of plastic foil and tenderize them lightly using a mallet or the bottom of a heavy saucepan. Salt and pepper the cutlets generously on both sides.
In a medium bowl mix the eggs, milk, 7 tablespoons of the flour and the breadcrumbs. Slowly start adding the sparkling water, add only just as much as to obtain a thick, slowly running batter. Add salt to taste. I always fry a single schnitzel first just to see if the batter has the right consistency. If the batter is too thin, add some more flour a little at a time, if the batter is too thick add more sparkling water a very little at a time.
Heat a large heavy bottomed skillet (or a pancake pan). Pour enough vegetable oil to thinly cover the skillet's bottom. You might need to add more oil after every batch.
Place 1-2 tablespoons of the remaining flour on a plate. Coat the schnitzels in flour and shake well to remove the excess flour. When the oil starts making small bubbles, drag the schnitzels through the pancake batter and fry on medium heat until golden brown on both sides. It will not take more than 2-3 minutes per side for the schnitzels to be cooked, but stay close by and turn the schnitzels several times in between using a spatula. If you leave them unattended and too long on one side they will easily burn. Turning them 3-4 times in between yields best results.
Take them out of the pan and place them on paper kitchen towels to absorb the excess fat. Don't staple them on top of each other, that will make them soggy. This rule applies for any other schnitzel you make as well.
Serve immediately with mashed potatoes and pickled vegetables or any other kind of potatoes and salads.
Others you might like: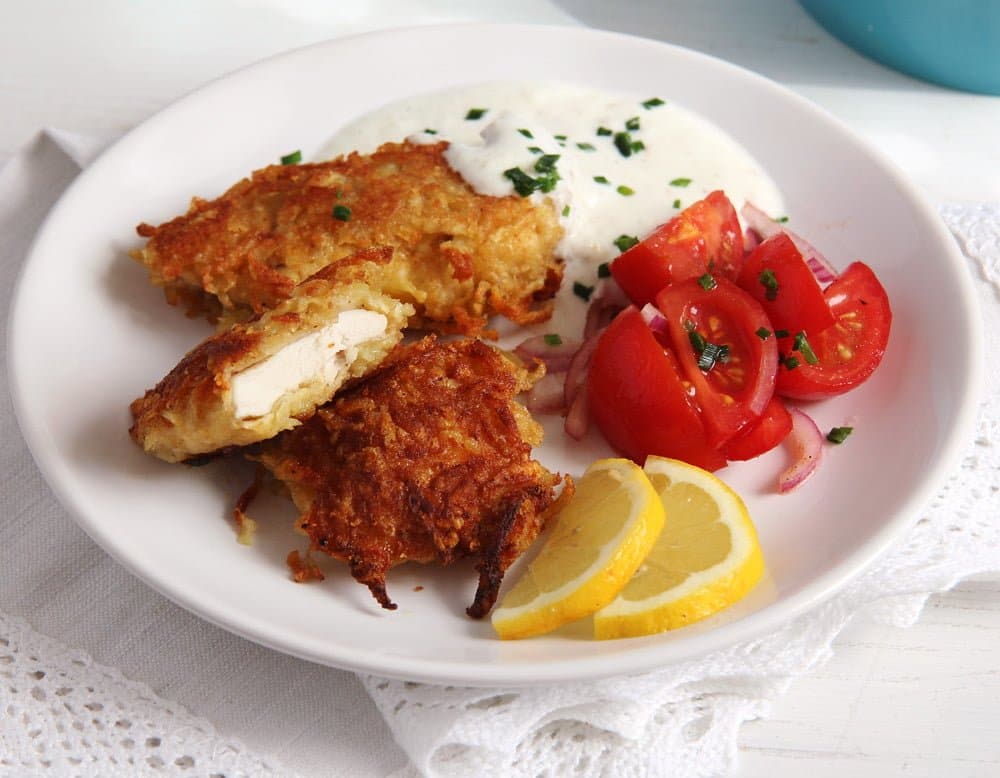 Chicken Schnitzel with Potato Parmsan Crust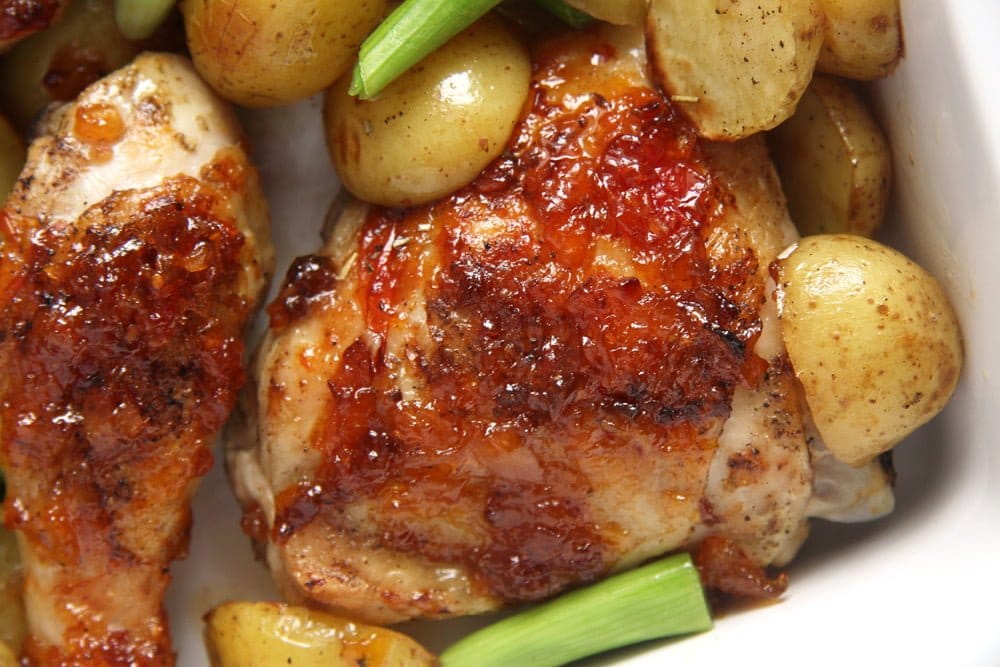 Chicken with Green Onions and Mango Chutney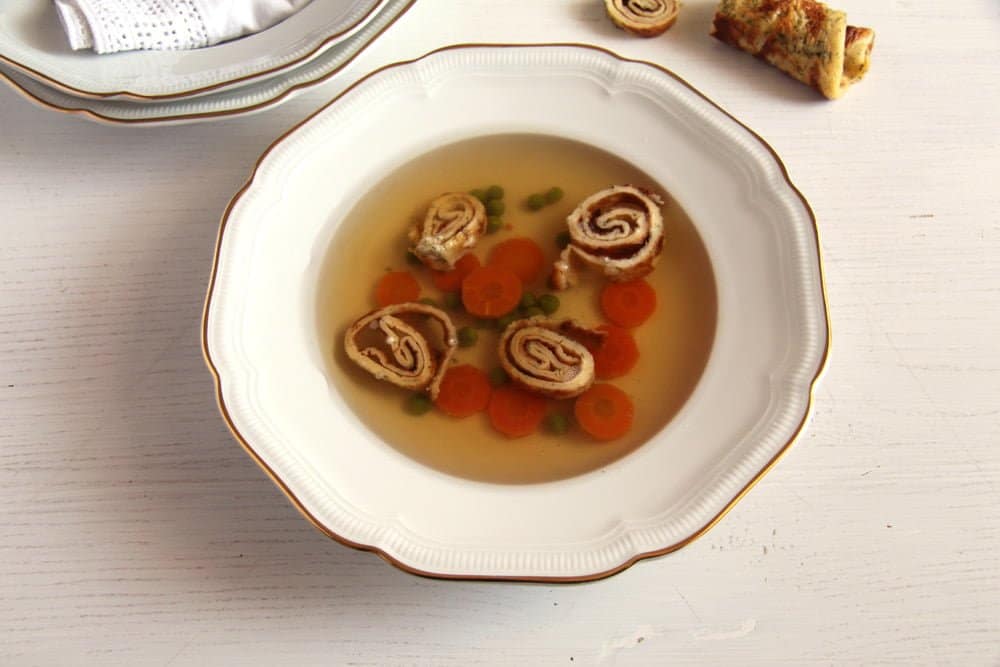 Beef Broth and Dill Pancakes