A dairy-free green bean casserole with mushrooms made from scratch, this recipe would make the perfect side dish for Thanksgiving.
A traditional green bean casserole for Thanksgiving is not exactly healthy. It contains canned condensed cream of mushroom soup and canned fried onions, cheese, cream or milk, and so on.
But not this dairy-free green bean casserole. A delightful dish made from scratch, a creamy white sauce made with non-dairy milk and nutritional yeast. You will cook your own mushrooms (it only takes minutes) and lose the canned onions.
During the past three years, I've cooked this casserole many times, not for Thanksgiving, which is not celebrated in Europe, but for Christmas or for regular Sunday lunches.
It came to be vegan and dairy-free because the first time I've cooked we had vegan guests for dinner. We loved it so much that I have never even considered going back to the regular recipe.
Ingredients
Green beans:
Fresh green beans are always the best choice, they are crispier, have a more pronounced taste, and don't become soggy like frozen beans sometimes do. But, for convenience frozen beans are fine as well.
Trim and cut them into smaller pieces.
Mushrooms:
Definitely fresh mushrooms, no canned soup, and no canned or frozen mushrooms.
You can use either white button or cremini mushrooms.
Wipe them clean with kitchen paper and halve them.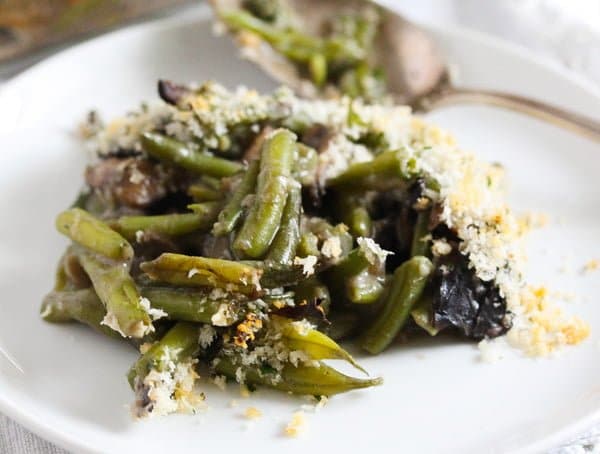 Breadcrumbs:
I always use Panko breadcrumbs to make this dish. (Amazon affiliate link)
Panko are Japanese breadcrumbs, they are larger and much crispier than regular breadcrumbs.
They will replace the fried onions in this dish, saving you lots of calories.
Soy sauce:
I admit that this is very unusual for a traditional American recipe, but it works, enhancing the flavor of the dish.
White sauce:
Non-dairy milk, my favorite is always almond milk, but any other nut milk or soy milk would be fine.
Whole wheat flour. All-purpose flour can be used instead if you don't have whole wheat in the house.
Nutritional yeast for a cheesy taste.
How to make from scratch?
Vegetables:
Trim and cut the green beans. Bring them to a boil, drain and rinse under cold water. Rinsing them immediately with cold water helps them remain crisp and achieve a beautiful, intense green color.
Wipe the mushrooms clean with kitchen paper and halve them. If larger, quarter them.
Cook the mushrooms and chopped onions for a few minutes until the mushrooms turn golden.
Add the white wine, stir well and cook for a few more minutes until all the wine and the water released by the mushrooms are evaporated.
White sauce:
Pour the dairy-free milk into a saucepan. Thoroughly whisk in the flour.
Bring to a simmer and cook for a few minutes while whisking continuously.
The sauce will thicken quite fast.
Remove from the heat, add nutritional yeast, vinegar, and soy sauce. Adjust the taste with salt and pepper.
If the sauce seems too thick after adding the nutritional yeast, thin it with a little extra non-dairy milk.
Casserole:
Add the vegetables to the sauce (or pour the sauce over the veggies) and mix well.
Lightly oil a suitable baking dish and pour in the mixture.
Top with mixed panko and parsley.
Bake in the preheated oven until the panko is golden, about 35-40 minutes.
Can you make it ahead?
Definitely and this will save you some stress before the actual dinner.
Prepare everything, but don't top the casserole with panko breadcrumbs.
Cover the dish with cling film/plastic wrap and refrigerate for up to 24 hours.
Remove the plastic wrap, top with the panko breadcrumbs, and bake as instructed before the guests come.
Can you reheat it?
Yes. If you have leftovers, cover the dish with plastic wrap and refrigerate for up to 3 days.
Reheat in the preheated oven at 180 degrees Celsius/ 350 degrees Fahrenheit for about 15 minutes or until properly heated through.
It doesn't freeze well.
How to serve?
This casserole is a perfect side dish for Thanksgiving, Christmas, or any other festive meal. It goes well with roasts of all kinds, including a vegan nut roast.
No meat or dairy lovers will ever notice that this green bean casserole is vegan or dairy-free.
It also makes a wonderful, light meal on its own. We love it with mashed or oven-baked potato wedges, no need for anything else.
More dairy-free side dish ideas?
Vegan Bulgur Salad with Chickpeas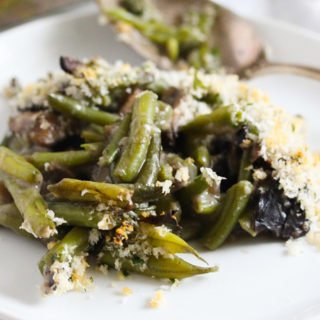 Dairy-Free Green Bean Casserole
Total Time:
1 hour
10 minutes
A dairy-free green bean casserole version of the traditional Thanksgiving. This delicious side dish is made from scratch and uses only fresh ingredients.
Ingredients
900 g/ 2 lbs green beans
1 tablespoon olive oil
400 g/ 14 oz mushrooms (See note)
1 small onion
350 ml/ 12 fl.oz/ 1 1/2 cups non-dairy milk (Note)
3 tablespoons all-purpose flour
1 tablespoon soy sauce
a few gratings of nutmeg
30 g/ 1 oz/ 1/4 cup nutritional yeast, more to taste
1 tablespoon chopped parsley
fine sea salt and ground black pepper
Instructions
Preheat the oven to 180 degrees Celsius/ 350 degrees Fahrenheit.
Bring a large pot of water to a boil.
In the meantime trim the green beans and cut them into 2,5 cm/1 inch pieces. Put them into the boiling water, bring to a boil and cook for about 3 minutes, they should still be crisp. Drain and refresh under cold water. Set aside.
Wipe the mushrooms clean with kitchen paper, halve or quarter them as necessary. If very small, leave them whole.
Chop the onion. Heat the oil in a large non-stick pan, add onion and cook for about 2 minutes. Add the mushrooms and cook until they turn golden and all the released juices evaporate about 8-10 minutes. Set aside. Adjust the taste with salt and pepper.
Pour the nut milk into a saucepan and add the flour gradually while whisking all the time. Cook while whisking continuously until the sauce thickens (it will happen fast). Season well with salt, pepper, and nutmeg. Stir in the nutritional yeast. Add a splash of extra milk if the sauce seems too thick. Add to the mushroom-onion mixture together with soy sauce and green beans. Stir well.
Mix the Panko breadcrumbs and parsley.
Lightly oil a suitable casserole dish, place the mixture inside and sprinkle the Panko mixture on top. Bake for about 35 to 40 minutes until golden brown.
Notes
Almond milk, any other nut milk or soy milk.
White button or cremini mushrooms.
Nutrition Information:
Yield:

6
Serving Size:

1/6 of the casserole
Amount Per Serving:
Calories:

181
Total Fat:

5g
Saturated Fat:

1g
Trans Fat:

0g
Unsaturated Fat:

3g
Cholesterol:

5mg
Sodium:

312mg
Carbohydrates:

28g
Fiber:

8g
Sugar:

11g
Protein:

10g
Nutritional information is not always accurate.