Last Updated on 18/03/2020 by Adina
Super easy whole roasted cauliflower with cumin and curry powder, the perfect side dish for any kind of meal.
Gone are the days when eating cauliflower only meant struggling through a mushy plate of overcooked white something. God, I hated that! Actually, I pretty much avoided eating cauliflower as a side dish for years, I loved it in form of a creamy soup or a typical Romanian Cauliflower Salad with Garlic Mayonnaise, but I really hated it as a side dish.
It was always so soft and overcooked, it smelled weird and it just didn't improve any meal I served it with. Actually, to say that I served it with something it's exaggerated, I have rarely cooked cauliflower as a side dish myself, this was a "treat" I was actually having in restaurants or at parties.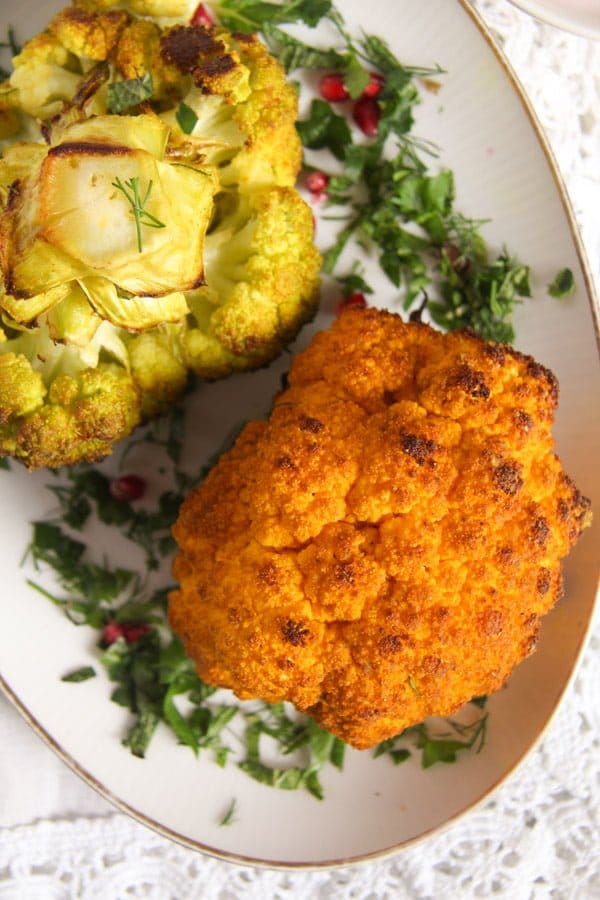 But a few years ago, thanks to so many wonderful blogs out there, I've finally discovered that cauliflower can actually be served roasted as a side dish instead of being cooked to death in salted water. And what a revelation that was! Ever since we have been having roasted cauliflower like this Simple and Spicy Whole Roasted Cauliflower regularly, at least every couple of months, I would say.
Usually, I would divide the cauliflower into smaller florets, spice them well and roast them. But from time to time, as a special treat, I bake a whole cauliflower. And I do that mostly when I have the luck of finding such beautiful colorful mini-cauliflowers. It is not often that I find them, but each time I see them I pick them up immediately despite the fact that they cost about 3 times as much as regular sized white cauliflower. But they are just so cute!
Usually, 2 heads of cauliflower, even if they are mini, are too much for our family, my kids refuse to eat more than the mandatory floret (they always have to at least try, everything except mushrooms, I gave up on those…). So I use the leftovers to make either the mayonnaise salad mentioned above or these Best Broccoli Cauliflower "Meatballs" with Almonds and Cheese , a small portion of Creamy Cauliflower Soup with or without the almond balls or these amazing Crispy Oven Baked Cauliflower Potato Patties.
Notes on the Simple and Spicy Whole Roasted Cauliflower
Such an easy recipe, practically nothing to do, except spicing the cauliflower and placing it in the oven.
I used two mini-cauliflower heads, each weighing about 300 g/ 10.6 oz. They needed about 45 minutes roasting time, until they were cooked through, but still retaining a good bite.
If you are using a regular sized cauliflower head (they weigh about 800 – 1000 g/ 1.7 – 2.2 lbs around here) increase the roasting time. Usually, I would need about 1 hour and 20 minutes or maybe a bit more for a large cauliflower head of about 1 kg/ 2.2 lbs. Make sure to start checking after about one hour and 10 minutes roasting time and keep checking until the cauliflower is done to your liking.
I chose to spice this particular Simple and Spicy Whole Roasted Cauliflower with cumin and a rather spicy yellow curry powder, I thought it would fit yesterday's Slow-Cooked Shoulder of Lamb with Mint Pomegranate Yogurt well, and it did. But you can choose other spices according to your taste or to make the side dish fit the main dish.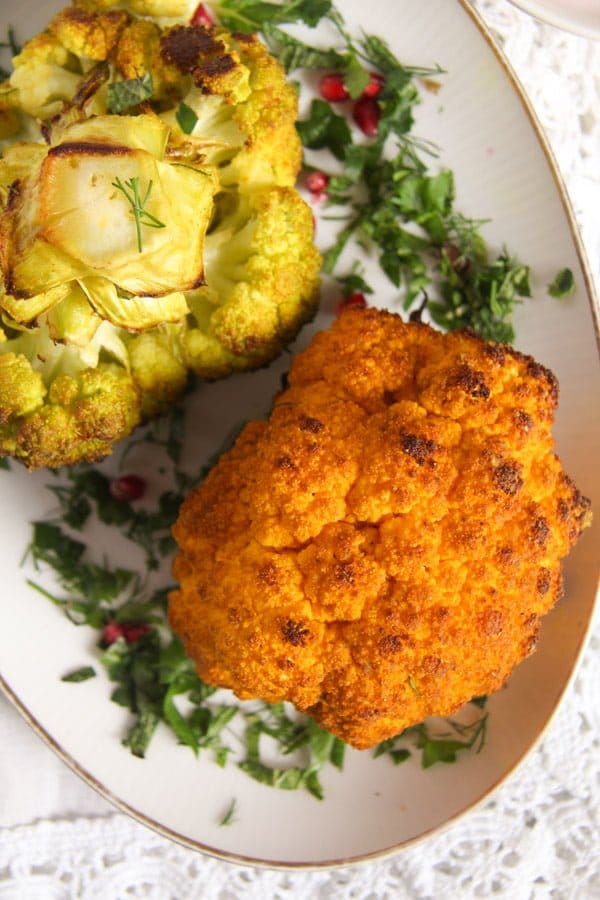 I often spice the Simple and Spicy Whole Roasted Cauliflower with a mixture of oil, crushed garlic and paprika (sweet and hot) or with other oil spice mixtures including ground coriander and cumin, some cinnamon, different sorts of curry powder, za'atar, dried herbs and so on. Really, the spice mixture can be different every time you cook the Simple and Spicy Whole Roasted Cauliflower, this way it will never get boring.
Serve the Simple and Spicy Whole Roasted Cauliflower as a side dish for any kind of roast, for chicken, stews or goulash or even as a main meal with a dip on the side, some really good flat bread, olives and maybe a good tomato and cucumber salad. Or serve it over couscous or bulgur, again with a nice yogurt dip on the side.
Other side dish ideas for Easter: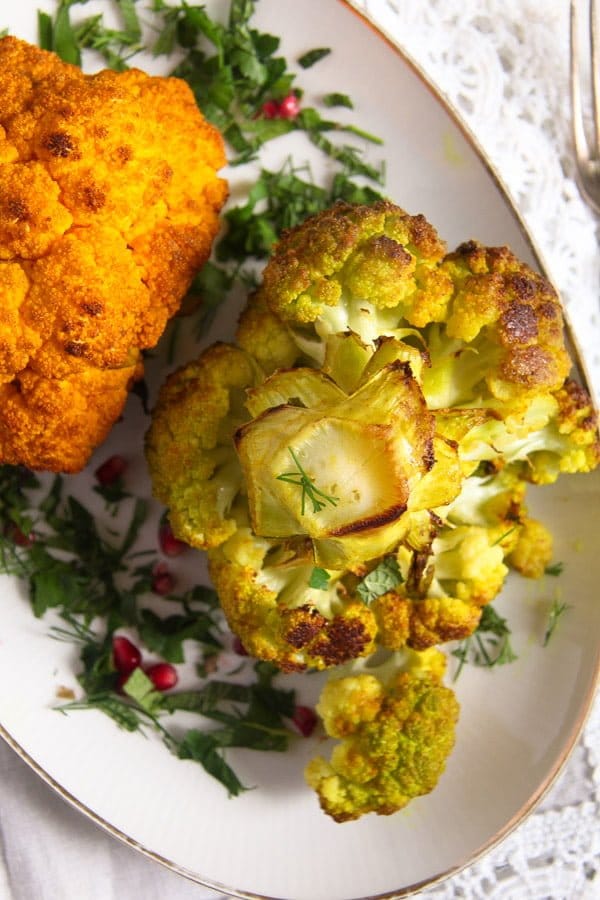 Ingredients
2 small heads cauliflower, each about 300 g/ 10.6 oz (See note)

3 tablespoons vegetable oil

1 teaspoon yellow curry powder

½ teaspoon cumin

½ teaspoon salt

lemon wedges and herbs to serve
Instructions
Preheat the oven to 200 degrees Celsius/ 390 degrees Fahrenheit.
Wash and thoroughly dry the cauliflower. I usually do that in advance, so that the cauliflower has the time to get really dry.
In a small bowl mix together the oil and all the spices. Rub the cauliflower very well with this mixture.
Place the cauliflower into a roasting pan and roast for about 40-45 minutes or until done to your liking. You should be able to insert a skewer easily into the cauliflower, but make sure it still retains a bite.
If your cauliflower is larger, see note.
Squeeze some fresh lemon juice on top and sprinkle with chopped herbs (parsley, mint, chives etc).
Read above for more suggestions regarding serving the Simple and Spicy Whole Roasted Cauliflower.
Notes
You can use regular sized cauliflower, which usually weighs between 800 – 1000 g/ 1.7 – 2.2 lbs. The roasting time will have to be increased, the cauliflower will need about 1 hour and 20-30 minutes in this case. Keep checking!
This post contains affiliate links. The price you pay as a consumer does not change, but if you make a purchase we will receive a commission which helps support the blog.