Easy to make, healthy vegan cauliflower and potato curry with coconut milk. A dish that is full of comfort and flavor.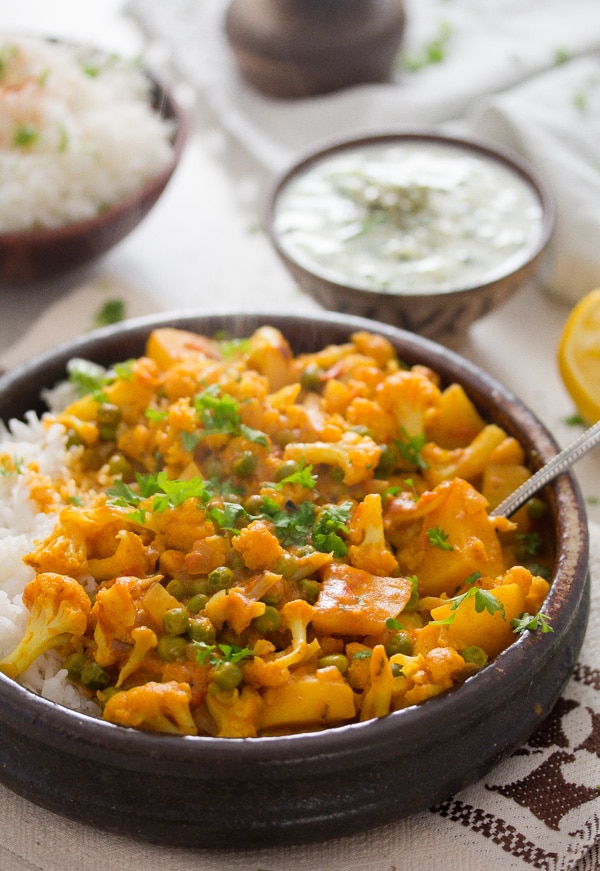 EASY VEGAN CURRY
This super easy cauliflower curry with potatoes and coconut milk is warm, comforting, full of veggies and flavor.
The cauliflower makes it healthy and vitamin-packed, the potatoes make it comforting and filling, the coconut milk makes it creamy and utterly delightful and the spices make it aromatic, interesting and sooo delicious!
A trip into the land of flavors without leaving your kitchen. A beginner's curry, easy and quick to make, cheap, totally healthy and thoroughly delicious.
I am crazy about curries, I love their flavors, the stew-like consistency, the fact that they are so versatile.
You can use the same spice mixture over and over again, if you wish or you can make something totally different, by just replacing the sort of curry powder you use or by adding or leaving out certain spices.
You can make the curries fiery hot, mild or not hot at all, you can make them creamy by adding coconut milk or cream or you can make them dry to serve with other creamier dishes.
You can make them with any kind of meat you like, with fish or meat substitutes. You can make them vegetarian or vegan.
Actually, if you are not a vegan, but you wish to cook something vegan, the first thing I would recommend is to make a vegan curry.
It is what I do most of the time when cooking for vegan friends or for friends who think that food without meat is pointless. I know I can never go wrong with a good vegan curry, I have never managed to make a curry that was not delicious.
So, when cooking for vegan friends I know that I can make them happy with Indian vegan curry and when cooking for meat lovers I know I can surprise them and show them that vegan food can be just as good as anything cooked with meat.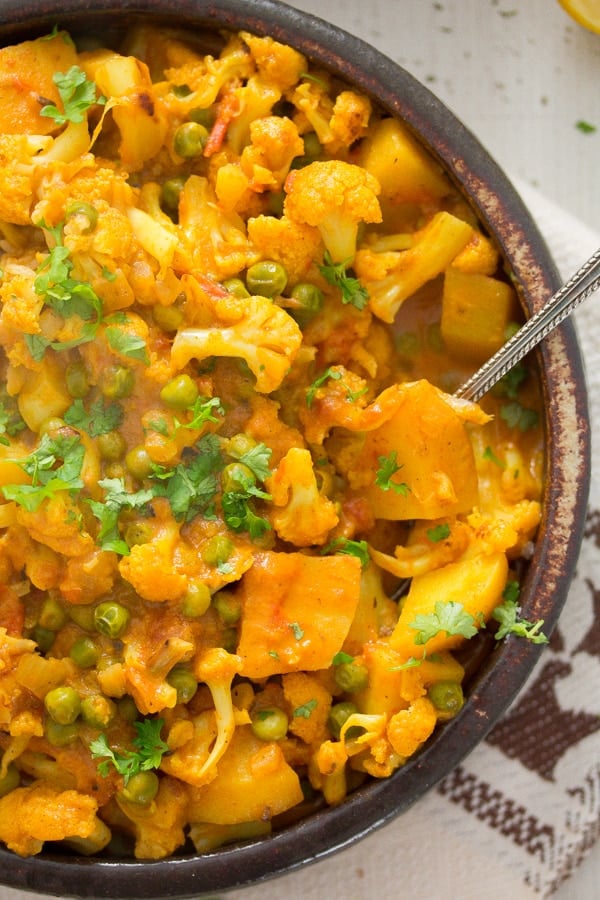 WHAT DO YOU NEED TO MAKE THIS CURRY?
One head of cauliflower, the exact size is not so important, mine weighed about 800 g/ 1.7 lbs, but I only weighed it for the blog. Otherwise, I would use a standard head of cauliflower, not too small and not too large.
If you don't have fresh cauliflower, you can use frozen and defrosted cauliflower florets. But I prefer fresh cauliflower for this vegan curry, the cauliflower remains crunchier even after cooking. Frozen cauliflower has a soggier consistency.
All-purpose potatoes. Don't use mealy potatoes, they would kind of disintegrate in the curry.
Coconut oil. It is healthy and I like using it when cooking with coconut milk, I think it enhances the flavor slightly. But it is definitely not mandatory, use olive oil or vegetable oil instead.
Mild yellowish curry powder. If using hotter curry powder, adjust the quantity according to taste.
Other spices: turmeric, ground cumin, sweet paprika powder (not smoked) and pure ground chili (not a mixture of different spices) or cayenne pepper.
Frozen peas, which I removed from the freezer when I started cooking. They can be only partially defrosted when you add them to the pot.
You will also need a can of chopped tomatoes, a can of coconut milk, some fresh lemon juice and some fresh herbs like parsley or coriander to sprinkle on top of the cauliflower curry with potatoes.
Fresh coriander or cilantro would be more authentic, but it is not always available (where I live) and not everybody likes it.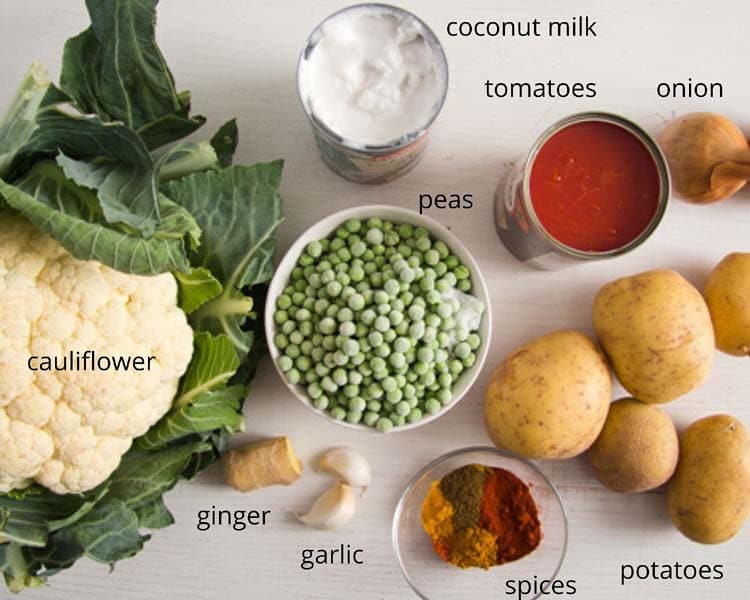 HOW TO MAKE CAULIFLOWER CURRY?
Remove the peas from the freezer and let them on the counter until needed.
Clean and divide the cauliflower into small florets, chop the stem of the cauliflower and the potatoes.
Cook the onion, add the cauliflower and potatoes.
Add the spices, stir well and add the tomatoes, coconut milk, and water.
Cook gently until the potatoes and cauliflower are tender, add the peas.
Adjust the taste with lemon and salt and sprinkle with chopped herbs.

CAN YOU REHEAT CURRY?
Definitely.
Any curry can be made in advance and then reheated.
That's why curries are always great to serve to guests. Not only do they taste terrific, but you can cook them in advance and reheat them when needed. No stress before the guests arrive.
The cauliflower curry with potatoes keeps well in the fridges for 3-4 days. Reheat thoroughly before serving.
I often make a bigger pot of curry and freeze the leftovers. They are great on days where I have little time for cooking.
Defrost overnight in the fridge or on the counter when you have smaller portions, it will take about a couple of hours and it doesn't have to be completely thawed when you start reheating it.
Just make sure you stir often while reheating and that everything is piping hot before serving.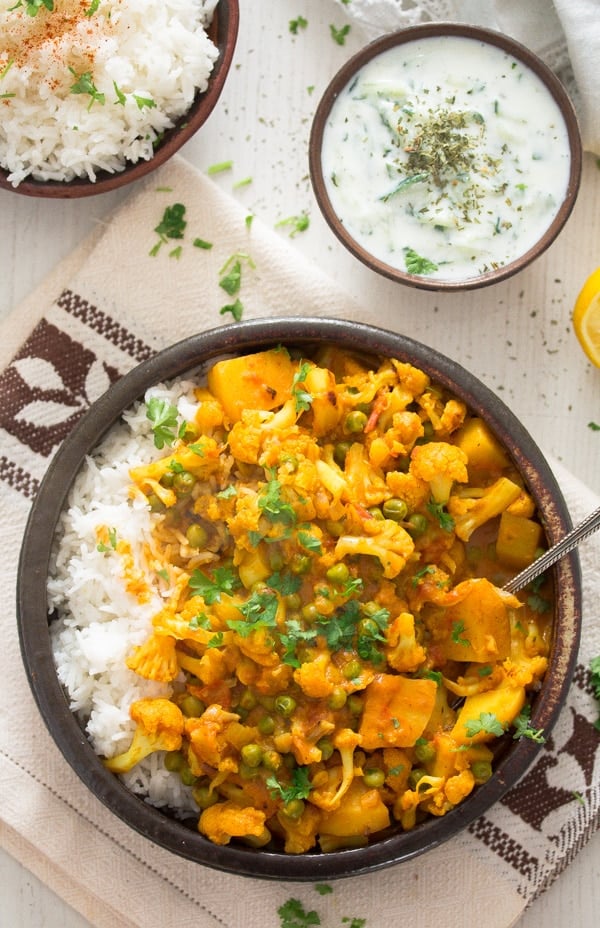 WHAT TO SERVE WITH CURRY?
Serve this vegan curry (or any kind of curry) over plain rice.
To make the rice more interesting you can cook the rice in vegetable broth and add some spices to it.
You can serve the curry with Indian naan bread or my Afghan naan bread, which is fluffy and so tasty.
To make the raita you can see in the photographs:
Roughly grate the cucumber, squeeze it in your hands to remove the excess water.
Place in a bowl, add yogurt and dried or fresh chopped mint to taste.
Add salt, pepper and maybe some chili flakes.
Raita is, of course, not vegan.
MORE CURRY RECIPES?
SPICY MEATBALL CURRY - A spicy meatball curry with turkey meatballs, turmeric and lots of other spices, this kofta curry is one of the best I've ever had.
CHICKEN SAAG CURRY - A healthier and simplified version of the famous chicken saag, this easy spinach chicken curry will definitely satisfy your curry cravings.
VEGAN POTATO CURRY WITH TOFU - Simple ingredients simmered in a flavorful sauce.
RAJMA - INDIAN KIDNEY BEAN CURRY - Learn how to make rajma – a vegetarian, spicy Indian kidney bean curry topped with fried onions.
PANEER TIKKA MASALA - Tender paneer tikka in a spicy masala sauce, a super delicious vegetarian Indian paneer curry.
PIN IT FOR LATER!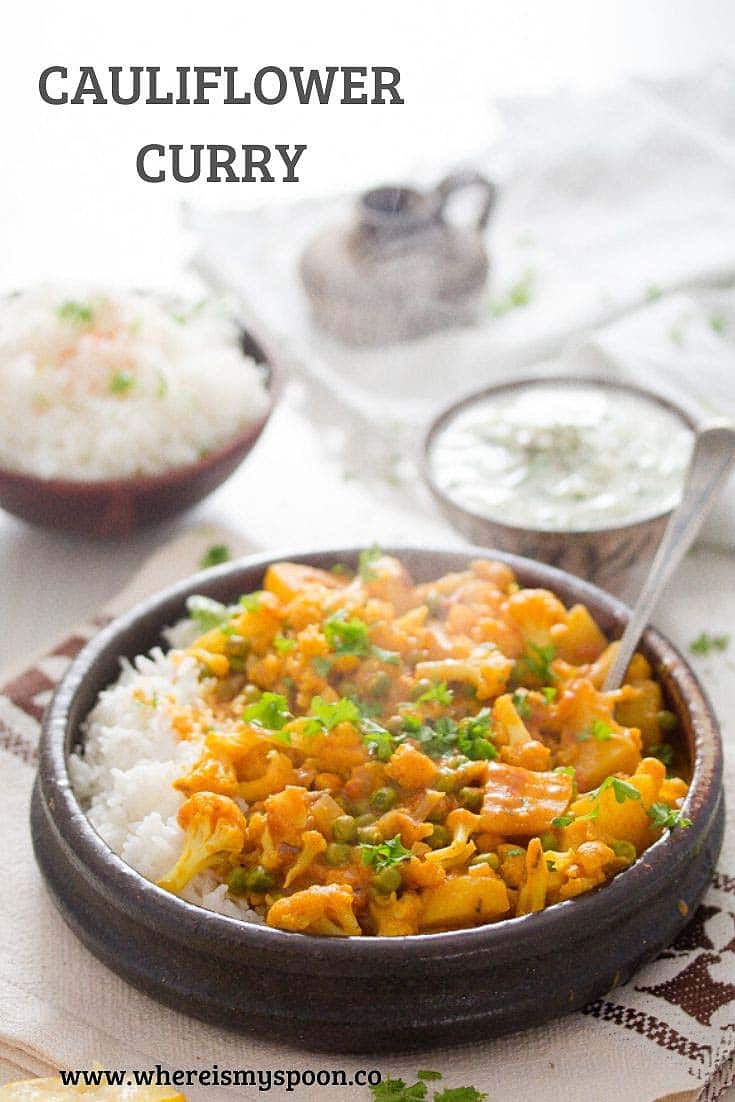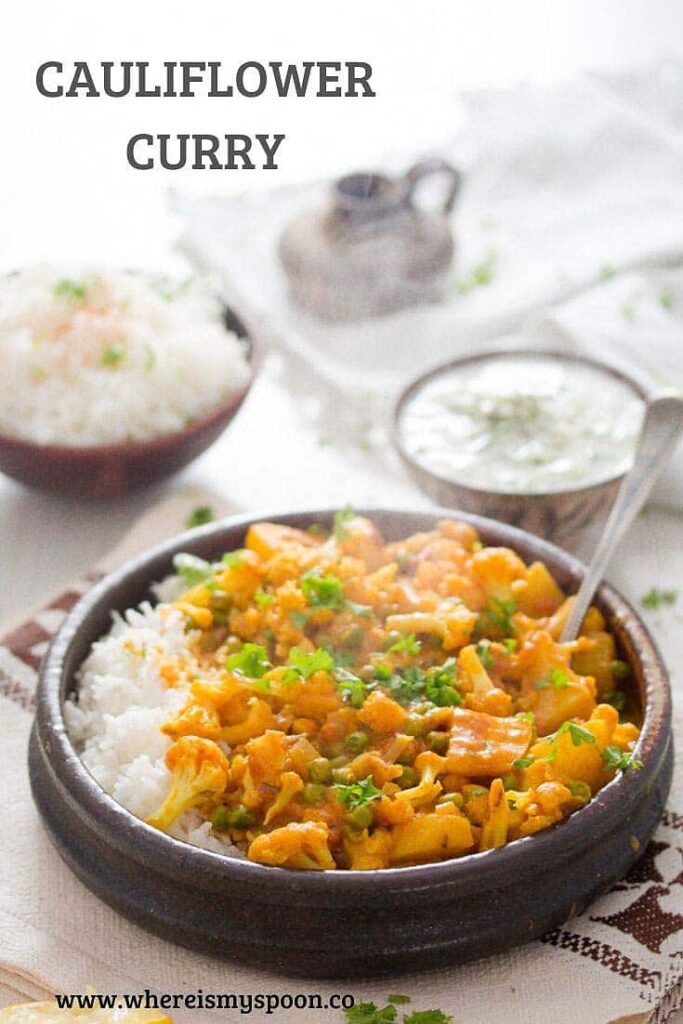 Cauliflower Curry with Potatoes – Vegan
Easy to make, healthy vegan cauliflower and potato curry with coconut milk. A dish that is full of comfort and flavor.
Print
Pin
Share
Grow
Saved!
Rate
Ingredients
1

cauliflower

about 800 g/ 1.7 lbs

700

g/ 1.6 lbs potatoes

1

tablespoon

coconut oil

or olive oil

1

onion

about 150 g/ 5.3 oz

1

thumb-sized piece of ginger

2

garlic cloves

2

teaspoons

curry powder

1

teaspoon

turmeric

1

teaspoon

ground cumin

2

teaspoon

sweet paprika powder

¼

teaspoon

pure ground chili

more or less to taste

1

can chopped tomatoes

400 g/ 14 oz

1

can coconut milk

400 g/ 14 oz

125

ml/ 4.2 fl.oz/ ½ cup water

150

g/ 5.3 oz frozen peas

2

teaspoon

fresh lemon juice

fine sea salt

cilantro or parsley to sprinkle on top
Instructions
Clean the cauliflower and divide it into small florets. Peel the cauliflower stem and chop it into small cubes. Peel and chop the potatoes into small cubes. Finely chop the onions.

Melt the coconut oil in a large pan. Add the onions and cook on medium-low heat for about 3 minutes or until slightly softer, but not dark. Add the cauliflower and potatoes and stir for another 3 minutes.

In the meantime, grate the ginger and the garlic. Add the spices, garlic, and ginger to the pan and stir well for another minute.

Add the chopped tomatoes, coconut milk, and water. Stir well. Cover and simmer for about 20 minutes or until the potatoes and cauliflower are tender.

Add the peas during the last 5 minutes of the cooking time. Add some lemon juice and salt to taste.

Sprinkle with chopped herbs and serve as suggested above.
Nutrition
Serving:
1
/4 of the dish
|
Calories:
501
kcal
|
Carbohydrates:
61
g
|
Protein:
13
g
|
Fat:
26
g
|
Saturated Fat:
22
g
|
Polyunsaturated Fat:
2
g
|
Sodium:
597
mg
|
Fiber:
13
g
|
Sugar:
11
g