Last Updated on 26/03/2020 by Adina
A delicious leftover turkey casserole with noodles and white sauce, this turkey pasta bake will become a family favorite.
LEFTOVER TURKEY CASSEROLE
This leftover turkey pasta recipe is a recipe I cook very often. Not only with leftover turkey, but with leftover chicken as well. Or I cook some chicken breast just for this purpose.
It is a recipe my son once found in a magazine, he couldn't even read at the time, but he was hungry and the picture of the noodle casserole made him even hungrier.
So, I cooked that for him and I have been cooking it regularly ever since. I have changed the recipe quite a lot during this time, the recipe was too complicated for every day cooking, too many steps and too many pots to wash when finished.
INGREDIENTS FOR THE LEFTOVER TURKEY CASSEROLE
Meat:
I do have quite a few recipes using leftover turkey, we eat quite a lot of turkey and not only during the winter holiday season. If you would like more ideas, have a look at our favorite leftover turkey fricassee, leftover turkey soup or this leftover turkey lasagna.
The recipe for leftover turkey casserole is very versatile.
And a leftover recipe through and through. You can make it using not only leftover meat pieces, but also using leftover cooked noodles and any kind of leftover cheese (or a mixture of several leftover cheese sorts) you happen to have in the fridge
As mentioned above you can make the noodle casserole using leftover turkey, leftover chicken or you can cook a small chicken breast and use that.
Or you can make this noodle casserole with cooked ham or even pork roast leftovers.
The quantity of meat you need is also not a settled matter. I use more or less 150 g/ 5.3 oz/ 1 ¼ cups chopped meat, but if you have a bit more or less is fine.
Pasta:
I use any kind of noodles I happen to have, if there is an open noodle bag in my pantry, then I will be sure to use that.
Leftover cooked noodles can also be used.
Cheese:
When it comes to cheese for the turkey noodle casserole, I use mostly Gouda because that is the most common and cheapest type of cheese eaten in Germany.
But otherwise, you can use pretty much any kind of cheese you like. I would not go for only mozzarella, for instance, because mozzarella is pretty mild in taste and you might miss the cheesy taste then.
But you can definitely use a mixture of mozzarella and Parmesan (or another stronger tasting kind of cheese), you can use Swiss cheese, different types of hard cheese or any kind of cheese leftovers you have in your fridge.
I mixed most of the grated cheese in the white sauce, which makes the sauce even creamier and tastier. I only leave a small amount of cheese to top the turkey pasta casserole, to make it golden and nice.
HOW TO MAKE LEFTOVER TURKEY CASSEROLE?
Cook the pasta according to the packet's instructions. Drain well.
Cook the onions and garlic and set aside.
Make the white sauce by slightly coloring the flour in melted butter. Slowly add the milk while whisking continuously. Let bubble for a couple of minutes until slightly thickened.
Add cheese, mustard, nutmeg, salt and pepper to the sauce.
Separate the eggs. Add the yolks to the sauce.
Beat the egg whites until stiff and fold into the sauce.
Place the cooked pasta and the cooked chopped turkey into the casserole dish.
Add the sauce, stir well and adjust the taste.
Sprinkle with remaining cheese and bake until golden brown and heated through, about 20 minutes.
Serve with a green salad with yogurt dressing, cucumber dill salad, red cabbage slaw or a simple white cabbage salad.
Leftover Turkey Lasagna – a healthier, lighter lasagna with cream cheese and cottage cheese, perfect to feed a crowd.
Vegetable Strudel with Leftover Turkey – you can cook another festive meal using leftover turkey.
Turkey Fricassee – our favorite way of using leftover turkey, this quick fricassee is creamy and comforting.
Leftover Turkey Risotto – a creamy risotto with leftover turkey and Parmesan.
PIN IT FOR LATER!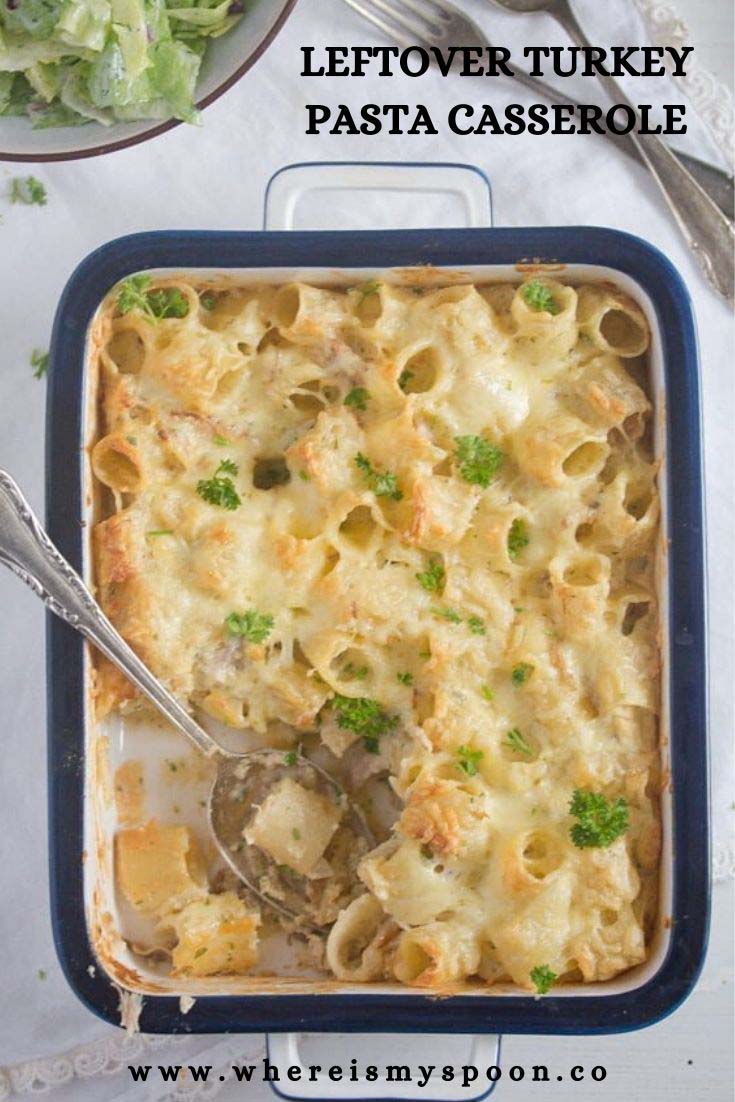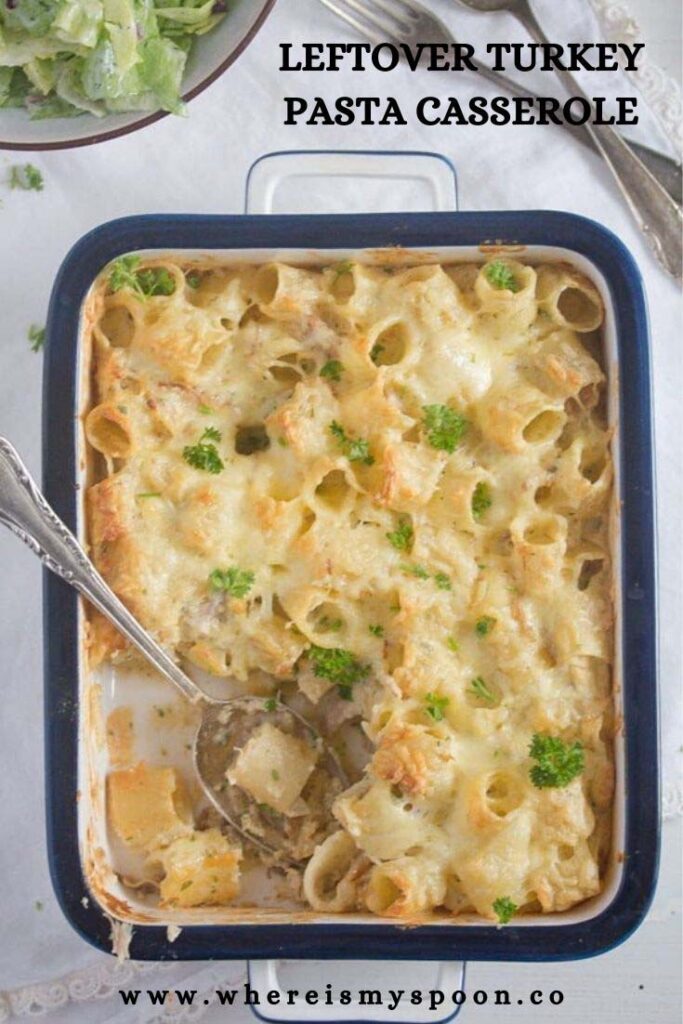 Leftover Turkey Pasta Recipe
A delicious leftover turkey casserole with noodles and white sauce, this turkey pasta bake will become a family favorite.
Ingredients
250 g/ 8.8 oz pasta (Note 1)
2 tablespoons butter, divided
1 medium onion (about 100 g/ 3.5 oz)
1 large garlic clove
1 tablespoon all-purpose flour
250 ml/ 8.4 fl.oz/ 1 cup milk
150 g/ 3.5 oz/ 1 ½ cup grated Gouda (Note 2)
1 teaspoon Dijon mustard
a few gratings of nutmeg
150 g/ 3.5 oz/ 1 ¼ cup chopped leftover turkey (See note 3)
2 eggs
1 teaspoon fine sea salt (more or less to taste)
freshly ground black pepper
Instructions
Preheat the oven to 200 degrees Celsius/ 400 degrees Fahrenheit. Lightly grease a casserole dish, of about 25x20 cm/10x8 inches.
Bring a large pot of water to a boil. Salt the water and cook the noodles according to the package instructions. Let drain well.
In the meantime, halve and slice the onion. Heat 1 tablespoon of the butter in a non-stick saucepan. Cook the onion slices for 4-5 minutes or until golden. Add the finely chopped garlic and stir for another minute. Remove to a bowl or small plate.
Melt the remaining tablespoon butter in the same saucepan. Sprinkle the flour on top and stir it for one minute. Slowly start adding the milk while whisking all the time to avoid the formation of clumps. If you do happen to have too many clumps anyway, you can save the sauce by blending it shortly with a hand held blender. Let the sauce bubble gently for about 2 minutes while stirring very often. Take it off the heat and stir in ¾ of the grated cheese, mustard, nutmeg, salt and pepper.
Separate the eggs. Add the egg yolks to the sauce and stir very well to incorporate. In a clean bowl, whisk the egg whites until soft peaks form. Gently fold the egg whites into the sauce.
Place the cooked pasta and the chopped turkey meat into the prepared casserole dish and mix them well. Pour the sauce over the noodles in the casserole dish and mix everything together.
Sprinkle the remaining cheese on top and bake the noodle turkey casserole for about 20 minutes until heated through and golden.
Let rest for about 5 minutes and serve as suggested above.
Notes
You can use any kind of pasta you happen to have. If using spaghetti, you might want to break them once to make them shorter.
Or any kind of strong tasting cheese you like. Cheddar, for instance, would be perfect as well.
A little more or less meat would be fine. Cooked chicken or cooked ham could be used instead.
Nutrition Information:
Yield:

4
Serving Size:

1/4 of the dish
Amount Per Serving:
Calories:

446
Total Fat:

23g
Saturated Fat:

13g
Trans Fat:

0g
Unsaturated Fat:

9g
Cholesterol:

197mg
Sodium:

1025mg
Carbohydrates:

28g
Fiber:

2g
Sugar:

2g
Protein:

30g
Nutrition information isn't always accurate.