I cannot even begin to tell you how much we all loved this beef apple goulash. It was just perfect: the meat was tender, the sauce was creamy, the apples were tart and almost dissolved into the sauce adding a luscious note to the entire dish. Absolutely loved it. It was the first time I made this but it will definitely become one of those few and precious dishes that become a staple in our kitchen.
I chose this recipe as a way to use the millions of apple in my cellar, there are so many of them this year everywhere. The trees are hanging full of apples everywhere you look, the neighbors who have apple trees in their gardens, keep bringing their apples and you can go apple picking just about anywhere. I picked a lot from a little tree on the children's playground, delicious, small, tart yet sweet apples. And there are tons of trees in the area belonging to the community, where anyone can just pick as many apples as they want.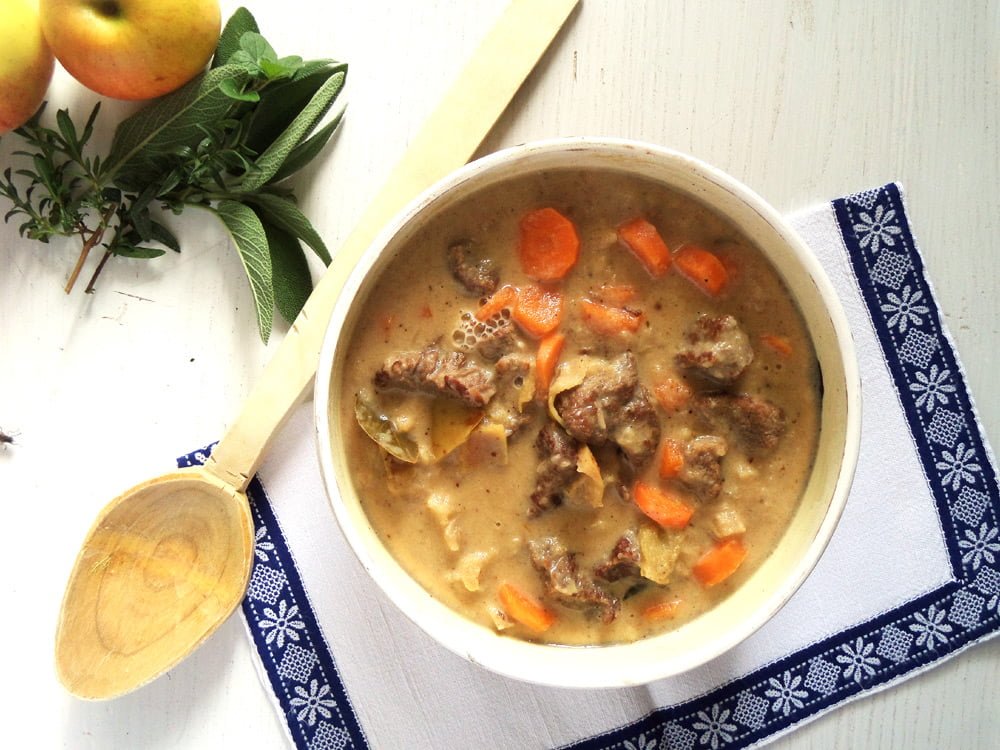 And that is a great thing. I love picking apples and other stuff generally but somehow I am particularly happy about apples, as I know how many pesticides are used on the apples you buy at the store, even the so-called organic ones have a certain amount of pesticides or wax on them. I have read many times that apples, strawberries and grapes are the fruit with the highest amount of pesticides on them and as my kids love all these three kind of fruits, you imagine that I am particularly happy when I manage to get my hands on clean products.
These apples are really clean, they grow almost wild, nothing whatsoever touches them, not even the traffic gases are a problem as most of these trees are to be found on the sides of field ways. So I picked and picked this year, not only apples but also pears and now I have a lot. I figure that if they are stored carefully (and I did do my best), they will be enough for us to eat during this entire cold season.
We had this goulash with the traditional German Semmelknödel, the store bought variety because I didn't feel like making any myself. Spätzle is also a great alternative, otherwise regular pasta or boiled potatoes will do as well. I feel that stewed red cabbage is a must! (Recipe coming soon).