I cannot even begin to tell you how much we all loved this beef apple goulash. It was just perfect: the meat was tender, the sauce was creamy, the apples were tart and almost dissolved into the sauce adding a luscious note to the entire dish. Absolutely loved it. It was the first time I made this but it will definitely become one of those few and precious dishes that become a staple in our kitchen.
I chose this recipe as a way to use the millions of apple in my cellar, there are so many of them this year everywhere. The trees are hanging full of apples everywhere you look, the neighbors who have apple trees in their gardens, keep bringing their apples and you can go apple picking just about anywhere. I picked a lot from a little tree on the children's playground, delicious, small, tart yet sweet apples. And there are tons of trees in the area belonging to the community, where anyone can just pick as many apples as they want.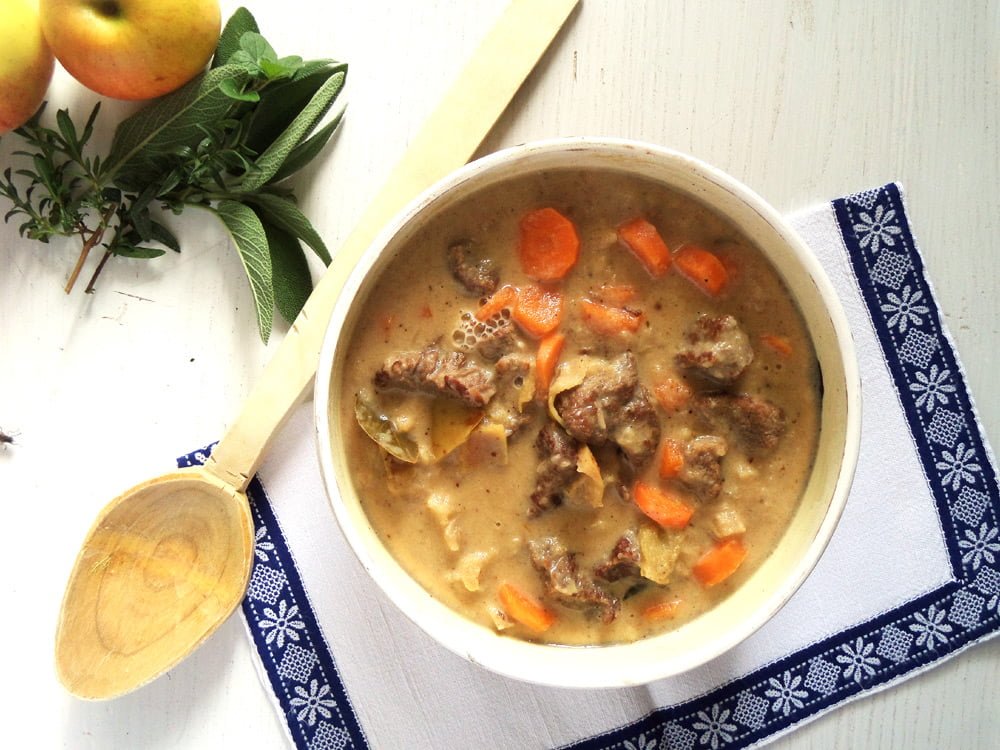 And that is a great thing. I love picking apples and other stuff generally but somehow I am particularly happy about apples, as I know how many pesticides are used on the apples you buy at the store, even the so-called organic ones have a certain amount of pesticides or wax on them. I have read many times that apples, strawberries and grapes are the fruit with the highest amount of pesticides on them and as my kids love all these three kind of fruits, you imagine that I am particularly happy when I manage to get my hands on clean products.
These apples are really clean, they grow almost wild, nothing whatsoever touches them, not even the traffic gases are a problem as most of these trees are to be found on the sides of field ways. So I picked and picked this year, not only apples but also pears and now I have a lot. I figure that if they are stored carefully (and I did do my best), they will be enough for us to eat during this entire cold season.
We had this goulash with the traditional German Semmelknödel, the store bought variety because I didn't feel like making any myself. Spätzle is also a great alternative, otherwise regular pasta or boiled potatoes will do as well. I feel that stewed red cabbage is a must! (Recipe coming soon).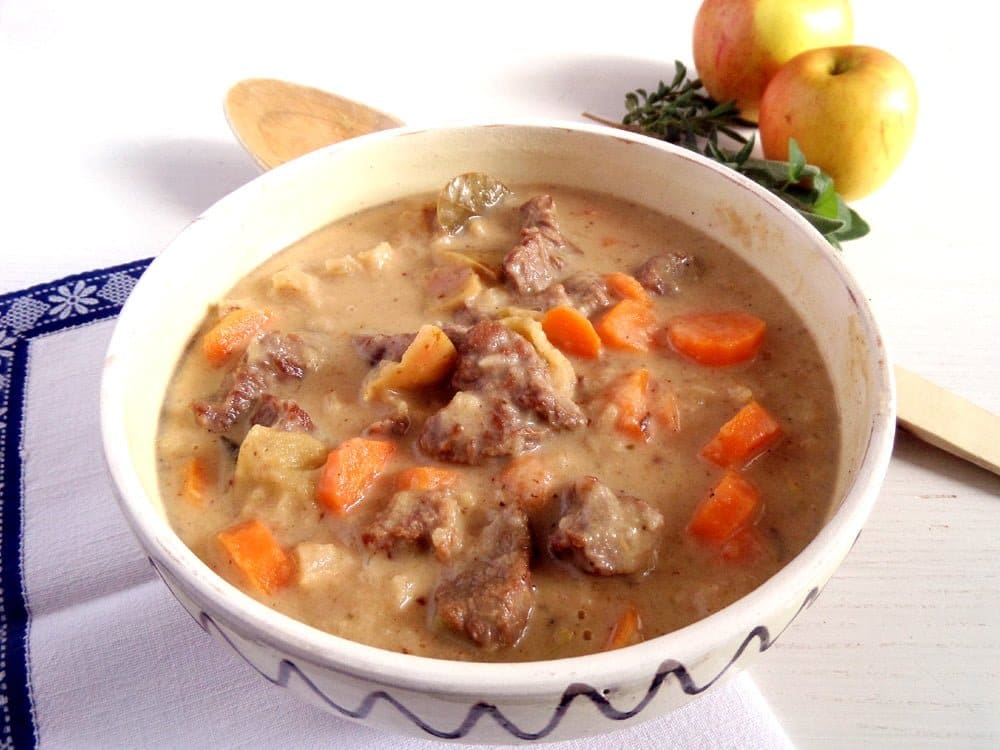 Prep time:
Cook time:
Total time: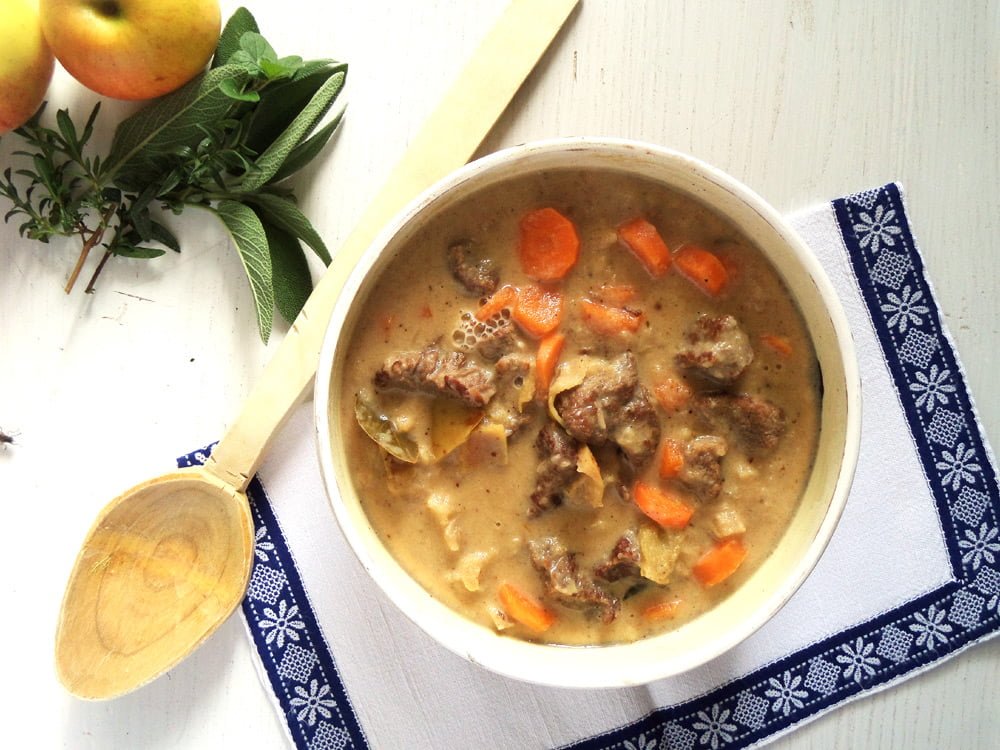 Ingredients
800 g/ 28 oz good quality beef flank/stewing beef
1 tablespoon all-purpose flour
2 tablespoons vegetable oil
2 large onions
2 large garlic cloves
2 bay leaves
500 ml/ 2 cups beef stock
250 g/ 9 oz carrots
2 sprigs thyme
2 sprigs marjoram
2 medium tart apples
1-2 teaspoons clear honey
200 ml/ ¾ cup heavy cream
1 level tablespoon all-purpose flour
salt and black pepper
Instructions
Chop the meat into bite size pieces. Place them in a bowl, sprinkle 1 tablespoon flour on top and mix thoroughly using your hands. Remove excess flour by patting the meat pieces with your hands.
Heat 1 tablespoon of the oil in a large pan. Divide the meat in two or three batches depending on the size of your pan and brown them in the hot oil all over. Add some more of the rest of the oil before adding a new batch of meat to the pan. Do not overcrowd the pan.
In the meantime roughly chop the onions and the garlic cloves.
After finishing browning the last batch of meat, add the onions and the garlic. Let them get slightly colored, then add the rest of the browned meat, the bay leaves and the beef stock. There should be enough liquid in the pan to cover the meat. Cover the pan, bring to a boil and let simmer for 60 minutes.
Clean and slice the carrots and add them to the goulash. Continue simmering for another 15 minutes.
Chop the peeled apples into small cubes and add them to the pan. Simmer for another 15 minutes. Actually you can leave the peel on if you like (I did) but it tends to remain whole in the goulash while the flesh of the apple almost melts away. It is your choice, do as you please.
Taste the food and add 1 or 2 teaspoons clear honey if the apples are too tart.
Stir together the heavy cream and the level tablespoon of flour, taking care to dissolve the clumps. Whisk this mixture into the goulash and let cook gently for about 1 minute.
Season with salt and pepper to taste.
Serve with boiled potatoes or Semmelknödel (German bread dumplings) or Spätzle (German homemade noodles) and German stewed red cabbage.