Braised fennel and apples in the pan or skillet, a quick and delicious side dish.
BRAISED FENNEL RECIPE
Fennel and I had a complicated relationship for a long time… There are only a few things I don't like when it comes to food and especially to vegetables, fennel was one of them.
I am not a fan of anything licorice and the anise taste of fennel was not something I particularly enjoyed. But I am persistent (when it comes to food) and I kept trying. I was never convinced until very recently.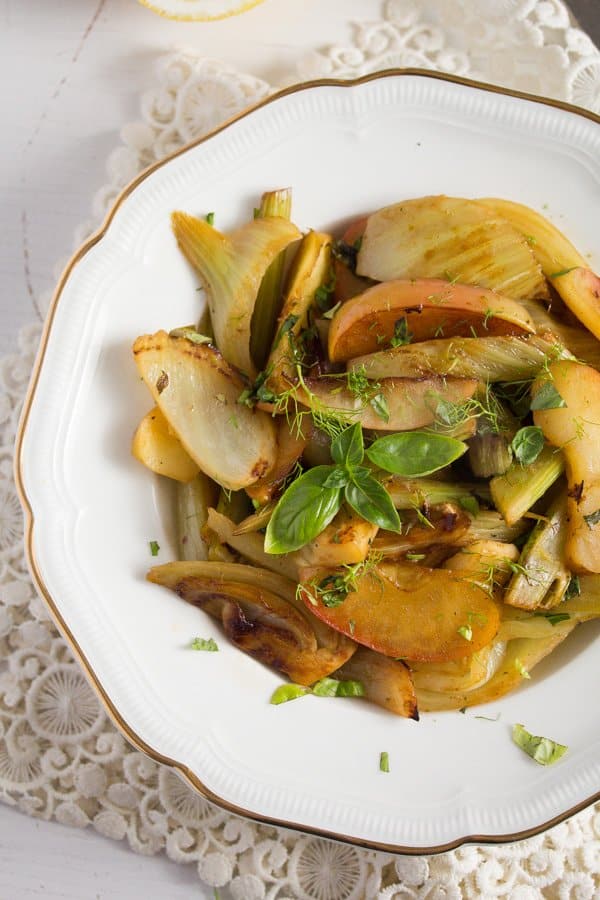 We were invited to a wedding and one of the vegetable side dishes served there was braised fennel. And I like it so much, I had to make it myself as soon as possible. And the best thing about it is that the braised fennel I made at home was even better than the one served in the restaurant.
So good, that I just had to cook it repeatedly over the past few weeks and I didn't stop to just braised fennel. I've made salads with fennel, roasted fennel and I have even tried a soup… which I didn't like much, so I have to work some more on finding a really good soup recipe.
I bought more fennel during this time than during the last 5 years or so, I would say… I love fennel now!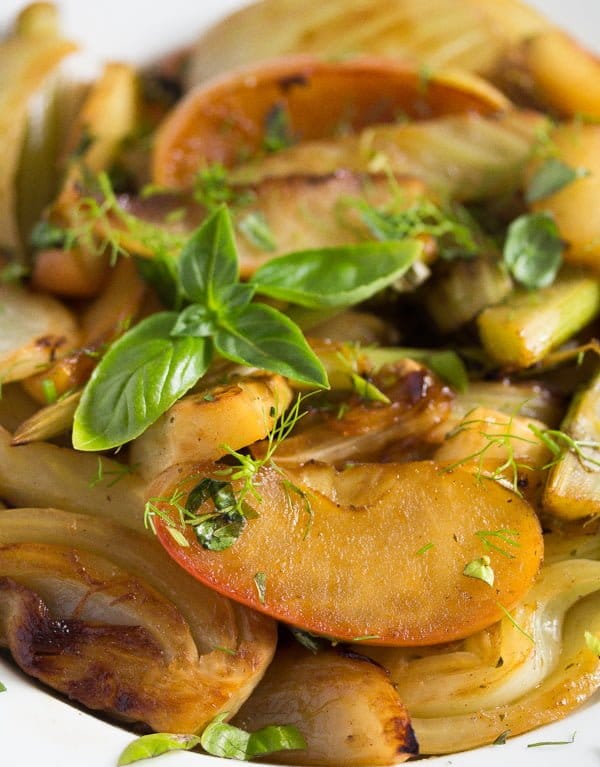 WHAT IS FENNEL?
Fennel is a plant belonging to the carrot family. I never would have guess it, but then again, pumpkin is a berry and peanuts are legumes.
It originates in the Mediterranean area, but nowadays it is grown in many parts of the world.
Fennel is a bulbous vegetable with a long top that has fronds looking very much like dill. Actually, during our recent holiday in Croatia, I sent my husband shopping and asked him to bring some fresh dill. He brought fennel fronds, a whole bunch of it. I put it in every salad we ate during the holiday…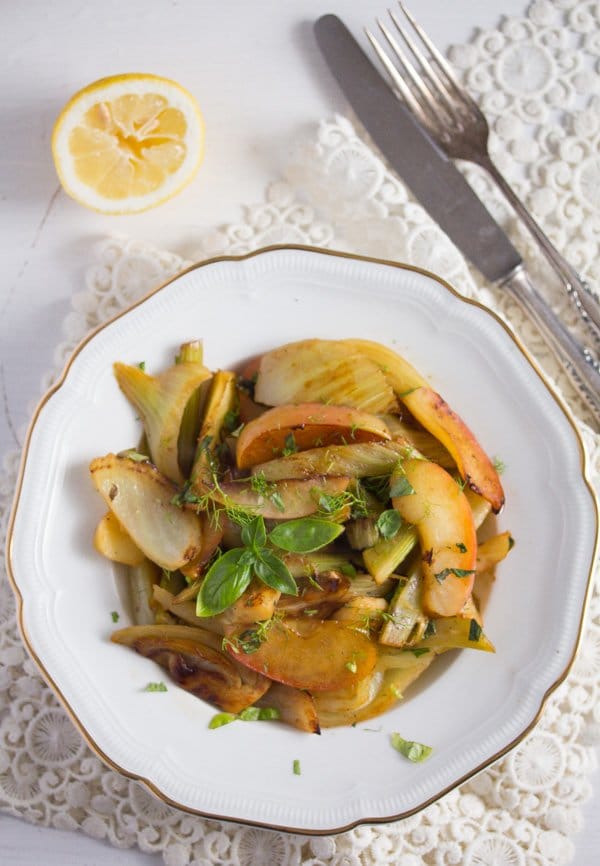 The fennel bulb has that distinctive anise taste, it is firm, fresh and very crunchy. It can be eaten raw in salads, it can be grilled, roasted or braised.
The fennel seeds are just amazing, I loved them long before I started to like the fennel bulb. They can be used for teas and for spicing up many dishes. I adore this fennel flavored zucchini soup or this albondigas in tomato sauce with fennel seeds.
Fennel is not one of the world's most popular vegetables, due to that particular anise/licorice taste that one has to learn to appreciate, I suppose. But once you're there, you will just love fennel. It is fresh and aromatic and it stands out in any dish.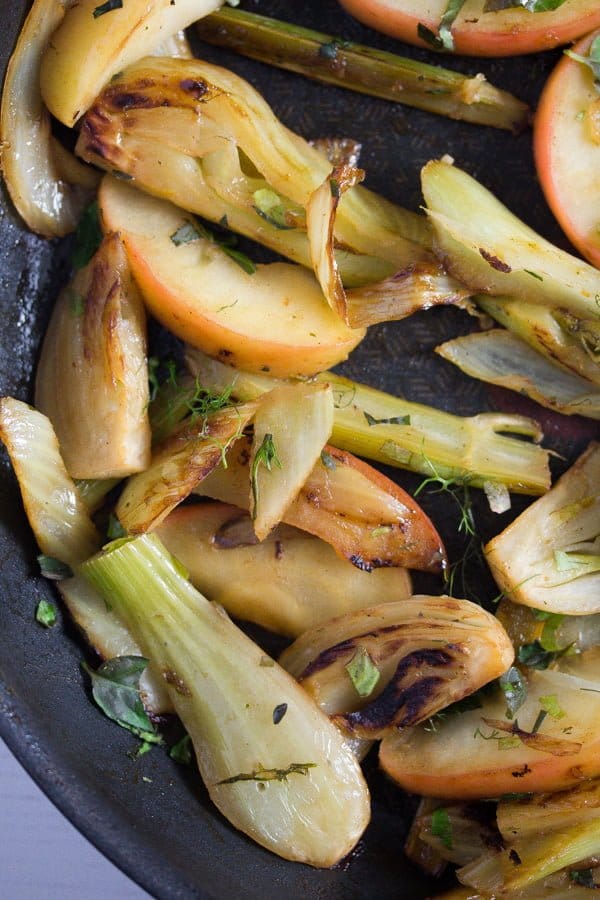 HOW TO MAKE BRAISED FENNEL?
How to cut a fennel bulb?
Cut the long stalk and the fronds using a chef's knife. Keep some of the fennel fronds for sprinkling over the finished dish. You can discard the stalks, I tried cooking them a few times, but they always remain though. If your fennel bulb has lots of fronds, you can use them for salads, for instance, they add a wonderful slight licorice flavor.
Cut the fennel bulb in half lengthwise.
Remove the tougher bottom of the fennel and part of the core. Usually, when slicing the fennel for a salad, I remove the core completely. When preparing the fennel for this braised fennel dish, I leave part of the core where it is. This helps the fennel wedges hold together (more or less) during cooking.
Place the bulb, cut side down, on the working surface. Cut the halves into wedges/thick slices. I was able to cut about 5 thick slices from each fennel half, my fennel was of medium size and the slices about finger-thick. If your fennel is larger, cut more slices.
Apple:
Use a crisp, slightly sour sort of apple, which will not become mushy during cooking.
Halve, core and slice the apple as well. The slices will be thinner than the fennel slices, about 5-6 slices from each apple half.
Braising fennel:
Heat the butter and the oil in a large skillet or non-stick pan.
Add the fennel slices and cook for about 4 minutes until the fennel is golden. Stir a few times in between to make sure that the fennel cooks on all sides.
Add the apple slices and cook for 3 more minutes, turning the fennel and the apple slices on all sides as well. The apple should also become golden.
Sprinkle the sugar and some sea salt on top and, stirring gently, let the sugar caramelize slightly, about 1 minute.
Add the vegetable broth, cover the pan and braise the fennel and the apples for 3 minutes.
Remove the lid, add the lemon juice, stir gently and let the liquid reduce to a glaze. It will take about 1 minute.
Adjust the taste with a little sea salt and freshly ground black pepper.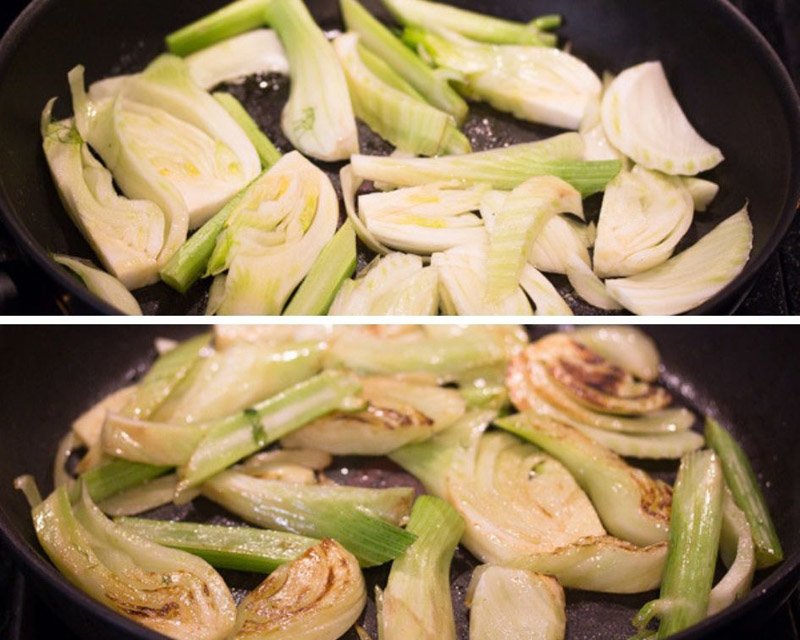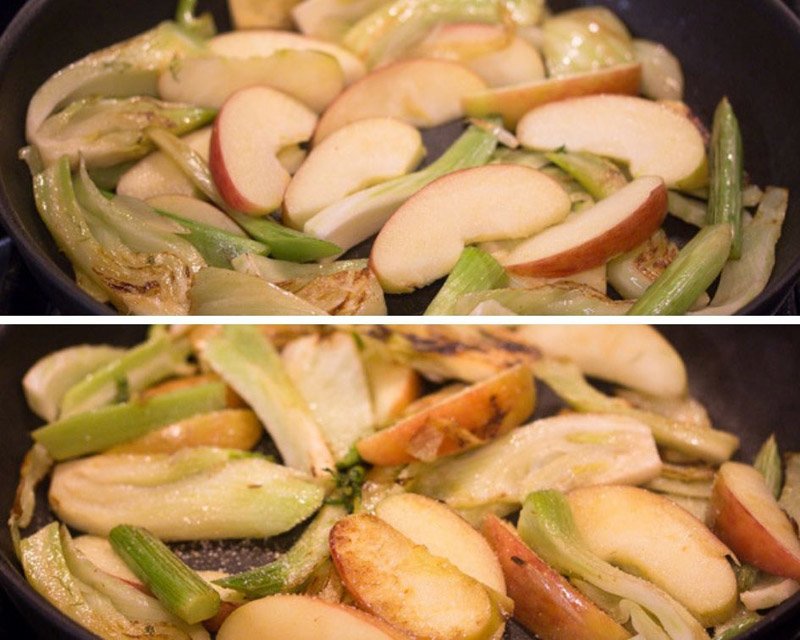 WHAT TO SERVE WITH BRAISED FENNEL?
Braised fennel makes a beautiful, very aromatic and flavorful side dish for roasted chicken or fish.
This particular braised fennel recipe can also be enjoyed as it is, as a light vegetarian meal with some crusty bread on the side. Or why not try it over soft polenta? It is delicious!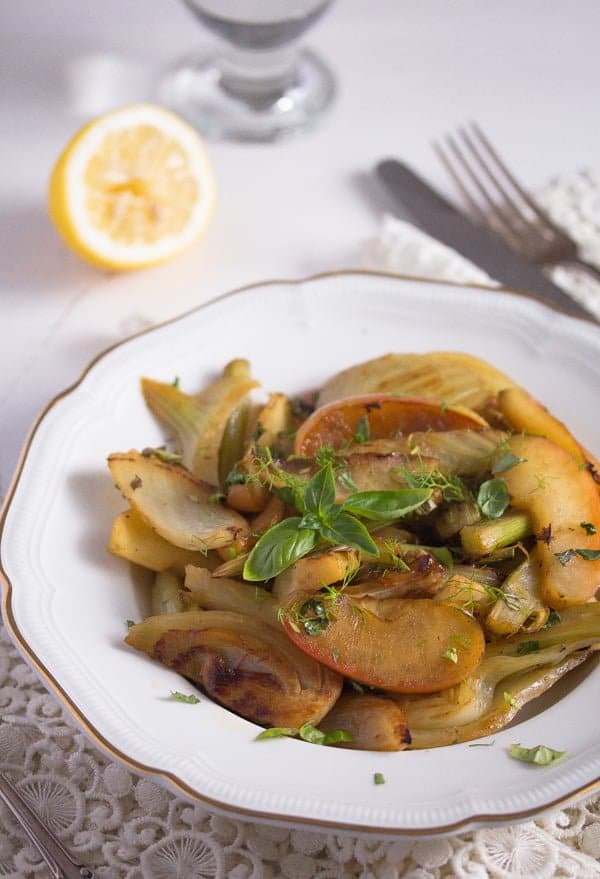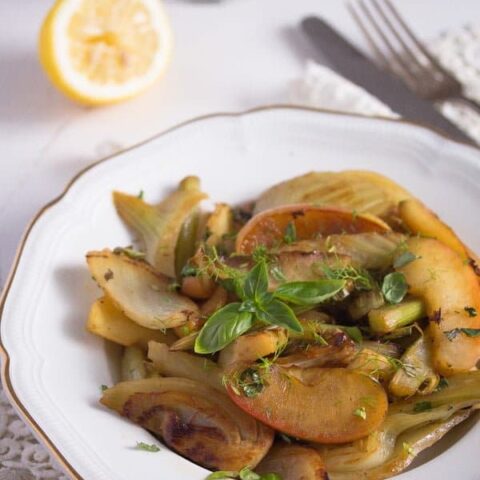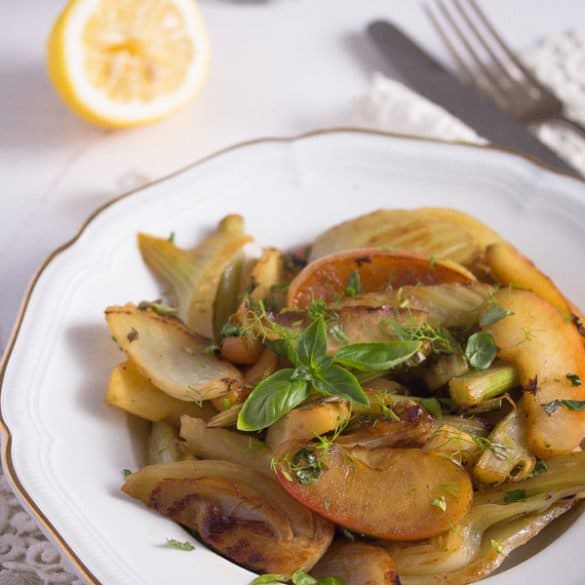 Braised Fennel with Apples
Braised fennel and apples in the pan or skillet, a quick and delicious side dish.
Ingredients
1 medium fennel bulb
1 medium crisp apple
1 teaspoon butter
1 teaspoon olive oil
1 teaspoon granulated sugar
125 ml/ 4.2 oz/ ½ cup vegetable broth
1 tablespoon lemon juice
fine sea salt and freshly ground black pepper
Instructions
Cut the fennel tops and bottoms. Reserve some of the fronds and set them aside. Cut the fennel bulbs in half, lengthwise. Quarter each half, making sure you leave some of the core attached so that the fennel pieces don't fall apart too much during cooking. I had 5 slices from each half.
Halve the apple, core it, and cut it into slices as well, I had about 6 slices from each half.
Heat the butter and oil in a large pan. Add the fennel and cook, stirring occasionally, for about 4 minutes or until slightly golden.
Add the apple slices and continue cooking, stirring occasionally, for another 3 minutes until golden.
Sprinkle the sugar and some sea salt on top. Stir gently for 1 minute until the sugar caramelizes slightly. Add the vegetable broth, cover the pan and cook on medium-low heat for further 3 minutes.
Add the lemon juice, remove the lid and cook for 1 more minute until all the liquid reduces to a glaze. Adjust the taste with a little salt and freshly ground black pepper.
Sprinkle with the reserved fennel fronds and serve immediately as suggested above.
Nutrition Information:
Yield:

2
Serving Size:

1
Amount Per Serving:
Calories:

111
Total Fat:

4g
Saturated Fat:

2g
Trans Fat:

0g
Unsaturated Fat:

3g
Cholesterol:

5mg
Sodium:

745mg
Carbohydrates:

19g
Fiber:

4g
Sugar:

14g
Protein:

1g
Nutritional information is not always accurate.