A very aromatic easy to make strawberry and rhubarb jam made without added pectin.
This recipe, Rhubarb Strawberry Jam, is very simple. A classic, sweet and aromatic rhubarb and strawberry jam that will make everyone happy. No chia seeds, sugar substitutes or anything fancy, just plain old jam with only fruit and sugar.
While I do like the new ways of making jam with chia seeds and maple syrup and so on (it does feel good when you know you're eating healthier), I do like the real jam as well. And my children definitely like that better than the new varieties (it is understandable, they don't care about being brave and eating less sugar, on the contrary I would say).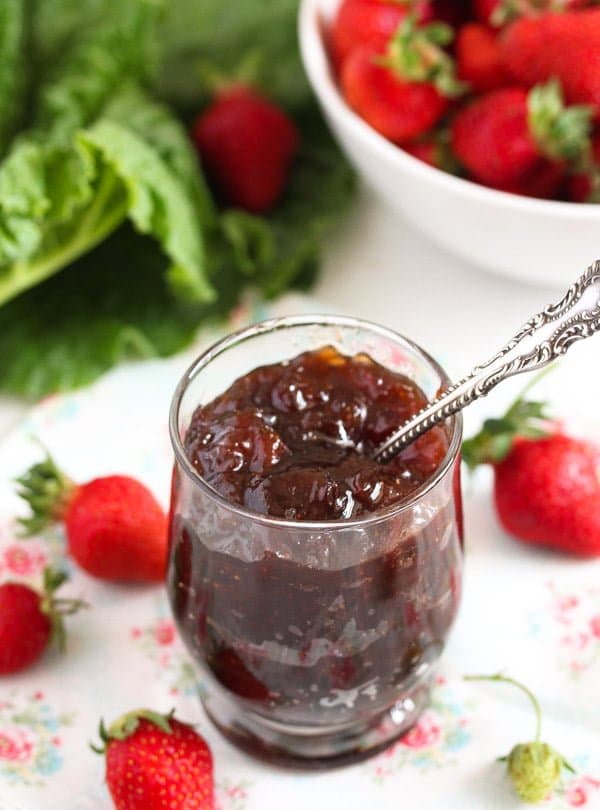 So this Homemade Strawberry Rhubarb Jam is for you out there who like the jam to taste like your grandma's used to do. This one does actually taste very much like my grandma's, although my grandma never used rhubarb for anything, except a Rhubarb Meringue Cake.
But she did make a killer strawberry jam, very sweet so you would only put a teaspoon of it on your bread slice or crepe and that would still be sweet enough, but so aromatic that you sometimes just had to eat a teaspoonful of it without bread at all, just for the taste of it.
My jam is not quite as sweet as my grandma's, the addition of rhubarb and lemons gives it a wonderfully tart note.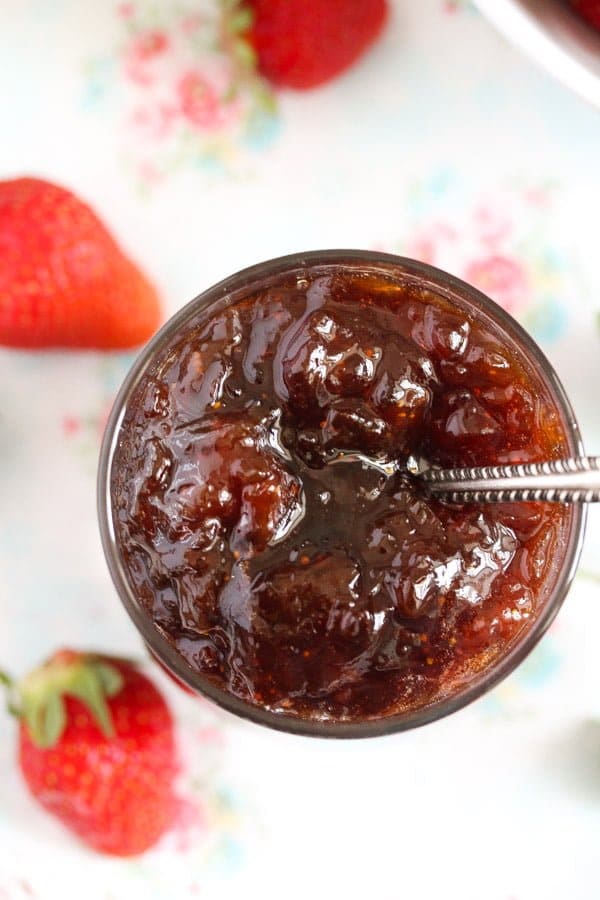 Homemade Strawberry Rhubarb Jam – Rhubarb Recipes
How to make Strawberry Rhubarb Jam
Making jam is actually very easy. Chop the fruit, give it to a large pot together with the sugar and boil until the jam thickens. If you are into making jams this time of the year, check out this Simple Rhubarb Raspberry Jam, Lower Sugar or this Delicious Jelly with Fresh Lemon and Clementine Juice.
There will be quite a lot of foam forming during this time, make sure you remove that properly at the end, it is not nice to have it in your jam, and the jam will not keep that long if you haven't removed the foam before pouring the jam into the jars.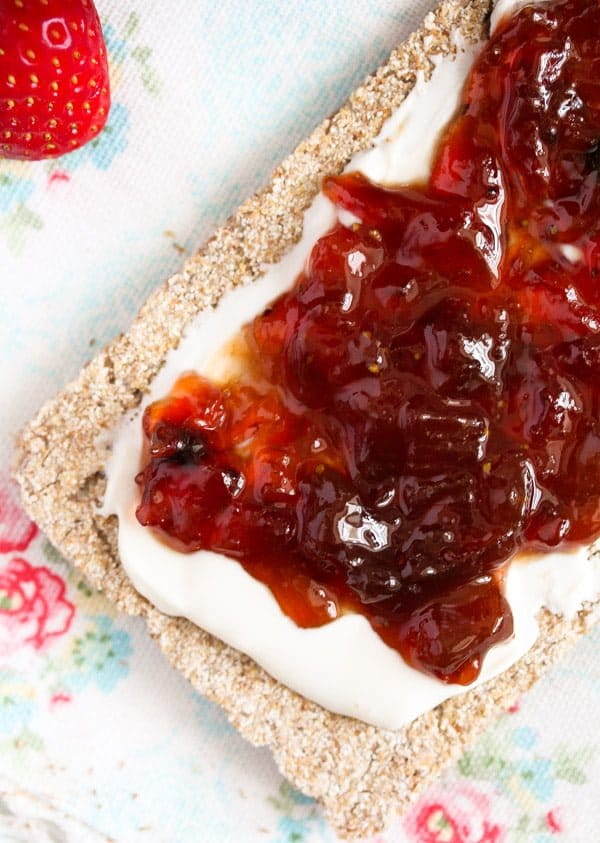 How long to cook jam:
The only problem that might arise when making jam is deciding when the jam has thickened enough. If you don't boil long enough it will be too runny, but if you boil it too much it will harden in the jars. I managed to cook a cherry jam once so long that I could not get it out of the jars anymore… I had to throw everything away, jam and jars…
However, after making lots of jam during the last ten years or so, I kind of learned to tell when a jam or jelly has cooked long enough.
The cooking time of the jam depends a lot on how much jam you are making, on how big your pot is and how much pectin the fruit contains.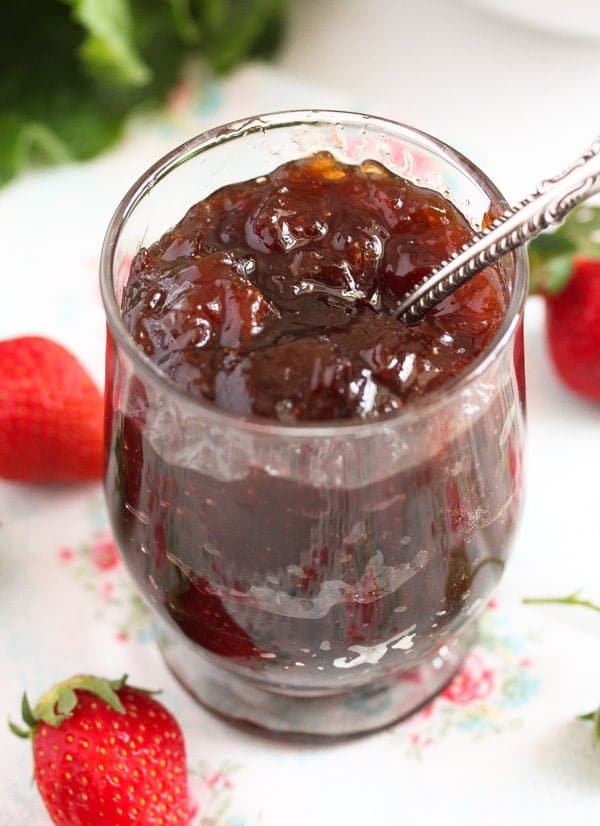 In the case of this Homemade Strawberry Rhubarb Jam you should already start checking after 30 minutes. I normally have an eye for it, I scoop some juice on a spoon and check how the drops are falling down from it, if that happens quickly the jam needs more time, if the drops take a moment to form, kind of come together, fall down slowly and seem to be thick enough than I stop the cooking process.
This method is maybe not very appropriate for an inexperienced eye (it doesn't always work for me either) so for better results you should try the following: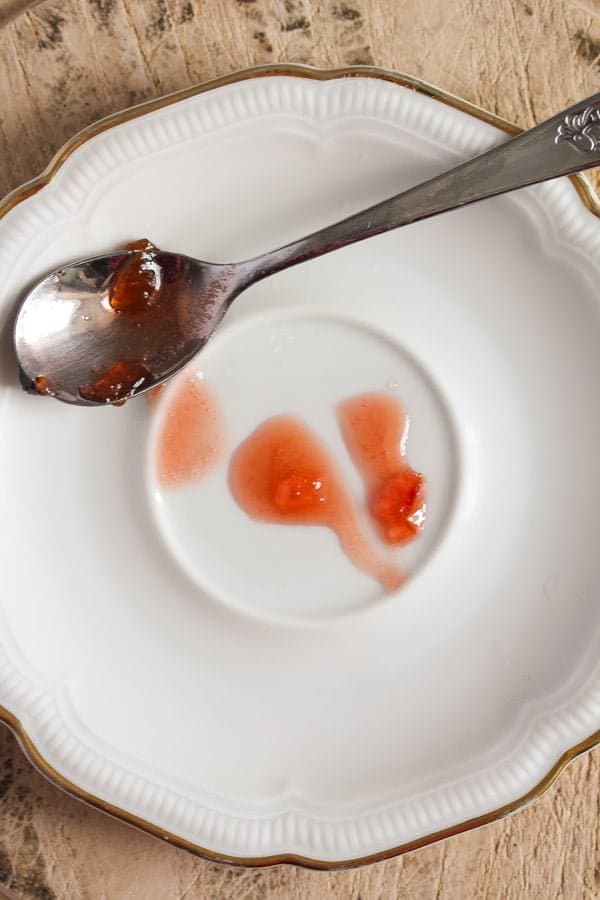 Place a small plate in the freezer at the beginning of the cooking time. Check the consistency of the jam by dropping a few drops of juice on the plate. Put the plate back in the freezer and check again after 1 or 2 minutes. Run a finger through the middle of the jam puddle on the plate, if the trail remains than the jam is ready and you should stop the cooking process.
While the jam is cooking prepare the jars. In the post for Simple Apricot Jam you will find more information on sterilizing your jars properly.