Sugar-free jam with rhubarb, chia seeds, and stevia, a healthier alternative to your usual jam. It can be made using any other kind of fruit or berries.
No-Sugar Rhubarb Chia Jam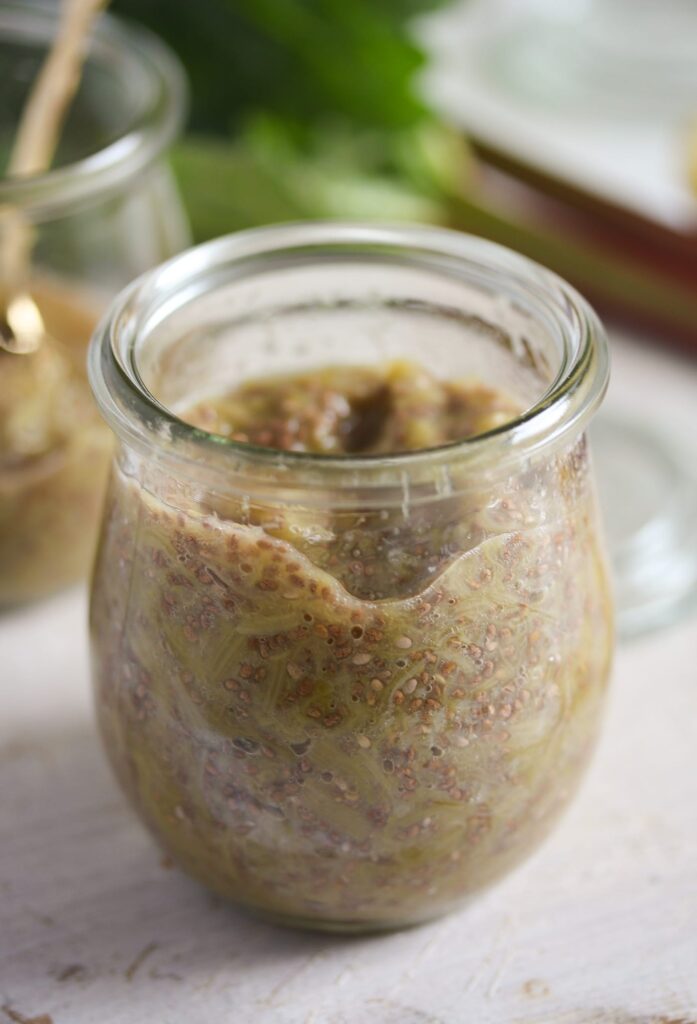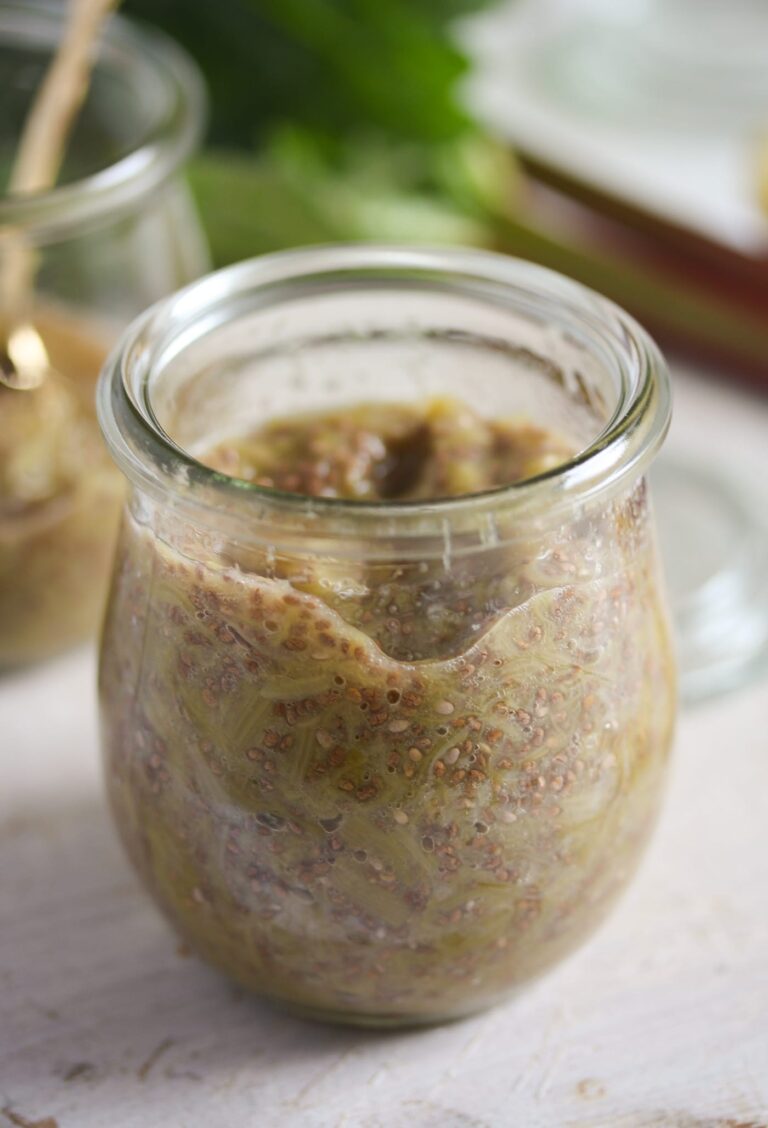 Sugar-free jam! Great! I make the normal sugar jam as well but I find it great that it is possible to enjoy jam in a sugar-free way.
And this recipe is so easy to make, so versatile, you will probably end up making it on a regular basis. All you need is a small amount of fruit or berries, some chia seeds and a sweetener of choice, for me is usually stevia.
Today's sugar-free jam recipe is made with rhubarb. Rhubarb is in season now and I seem to be making something containing rhubarb every couple of days or so. See this amazing rhubarb chicken with honey, you will love it!
But rhubarb is not the only thing you can use for making this chia jam. Strawberries or any other kind of berries, peaches, nectarines or apricots, whatever you like, whatever is in season.
All you have to do is to cook the berries or chopped fruit for about 10-15 so that it softens, add the chia seeds and the stevia and stir shortly. Let cool and refrigerate.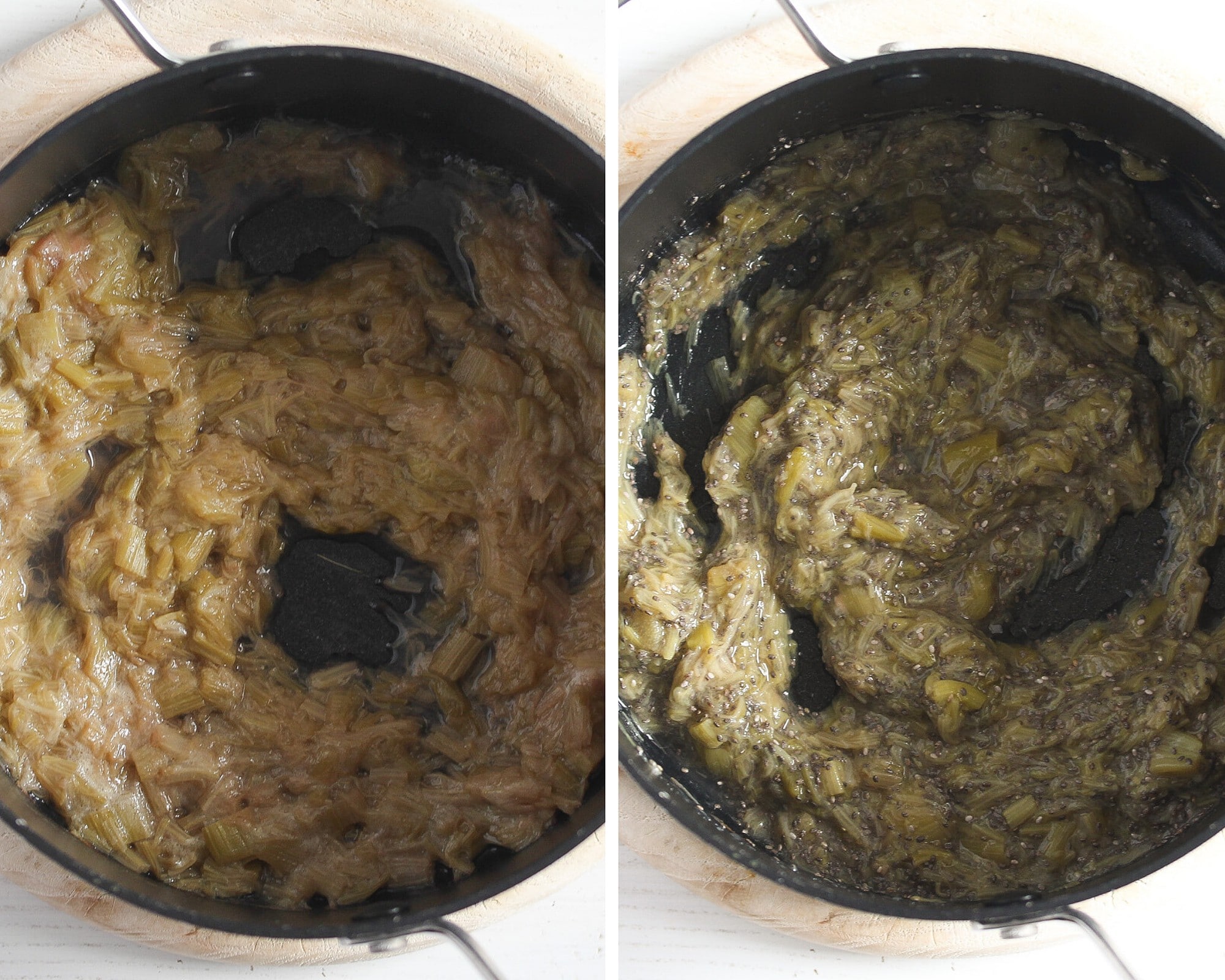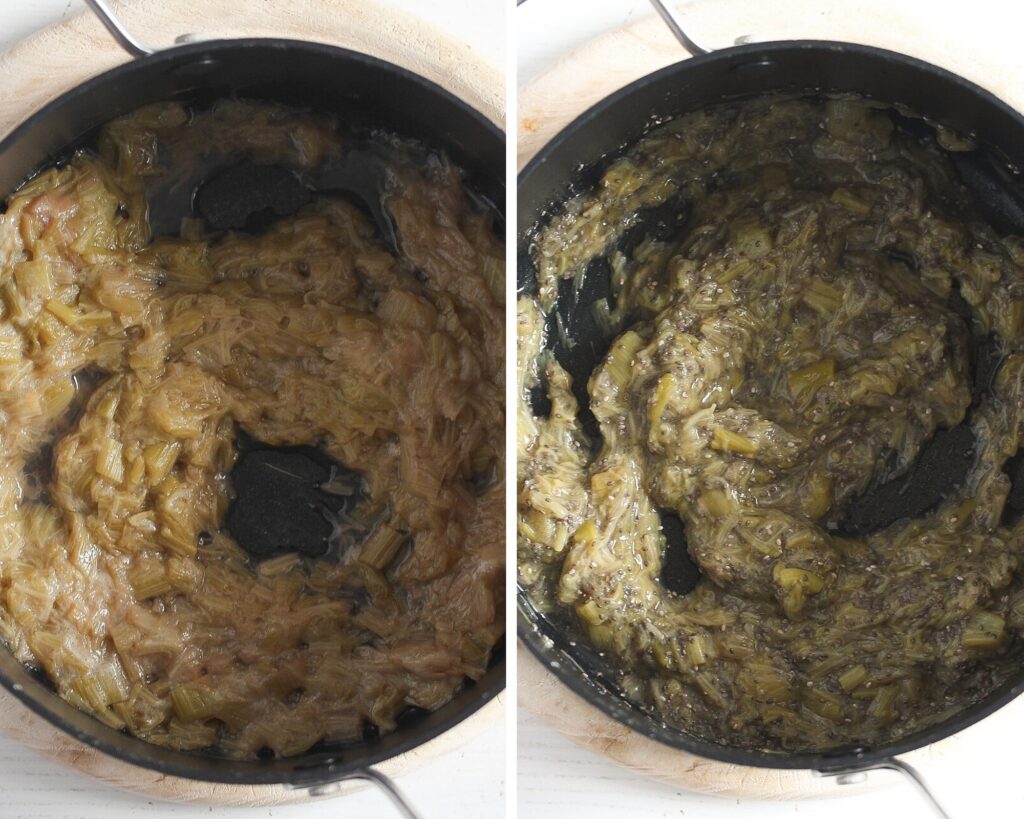 What is stevia?
Stevia is a plant that has been used as a sweetener for centuries.
Although it is 200-300 times sweeter than sugar, it has so few calories that it is considered to be a "zero-calorie" ingredient and is a great alternative for people trying to avoid sugar.
Stevia sweeteners are found in products like Trevia, Splenda, Pure Via, or Enliten.
To make this sugar-free jam I use a German product, a powdered form of stevia that looks like icing sugar. It can replace sugar 1 to 1. However, I find it very sweet, so I usually use even less than recommended.
I think when it comes to stevia it is all about your own taste.
When making this rhubarb chia jam, start with a little sweetener and add more only if you consider it necessary.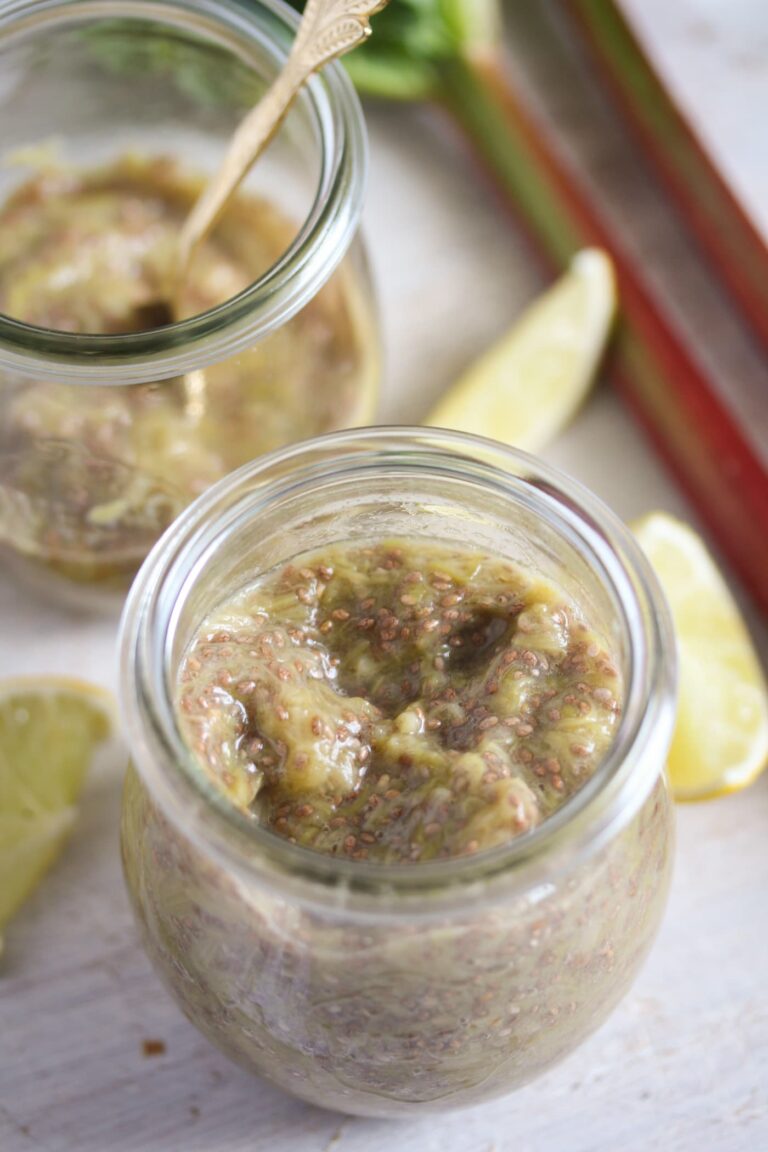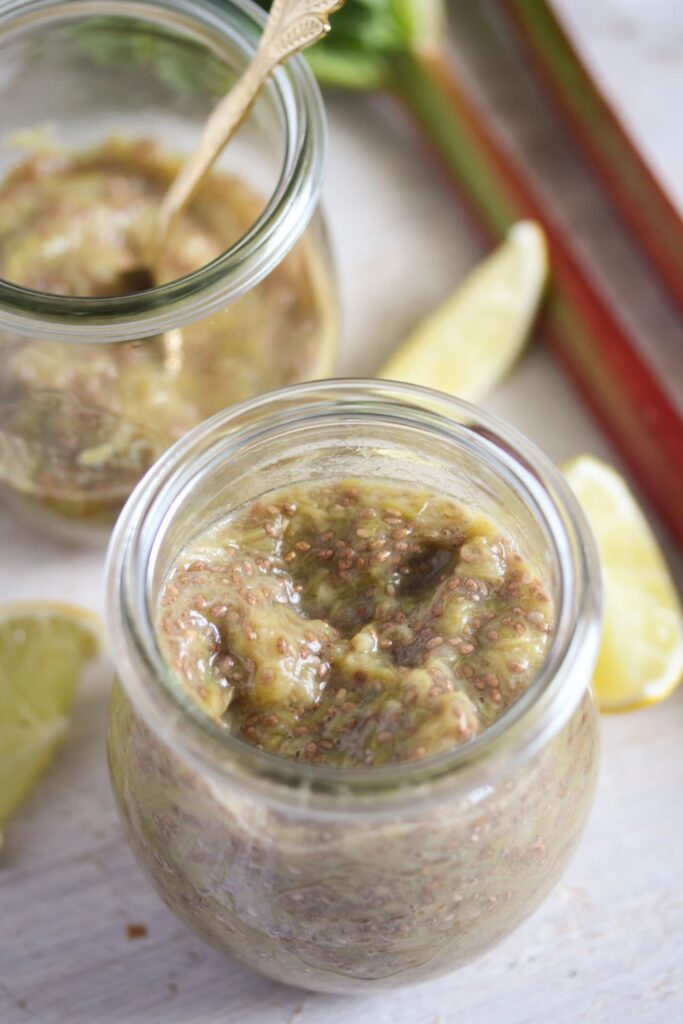 Alternative sweeteners:
If you are not into stevia or cannot find, you can use another powdered sweetener like erythritol. It is also very good, but so much more expensive.
Honey, agave, date or maple syrup are also good substitutes. Always use to taste. Start with one tablespoon and add more as necessary.
How to keep the chia jam?
Sugar-free jam is not meant to be kept for long, regular sugar is a key element in preserving other jams, and there is no sugar here.
Keep the rhubarb jam for one or two weeks tops in the refrigerator.
Always make small amounts that can be consumed within this period of time.
If you want to make a larger batch, freeze the jam.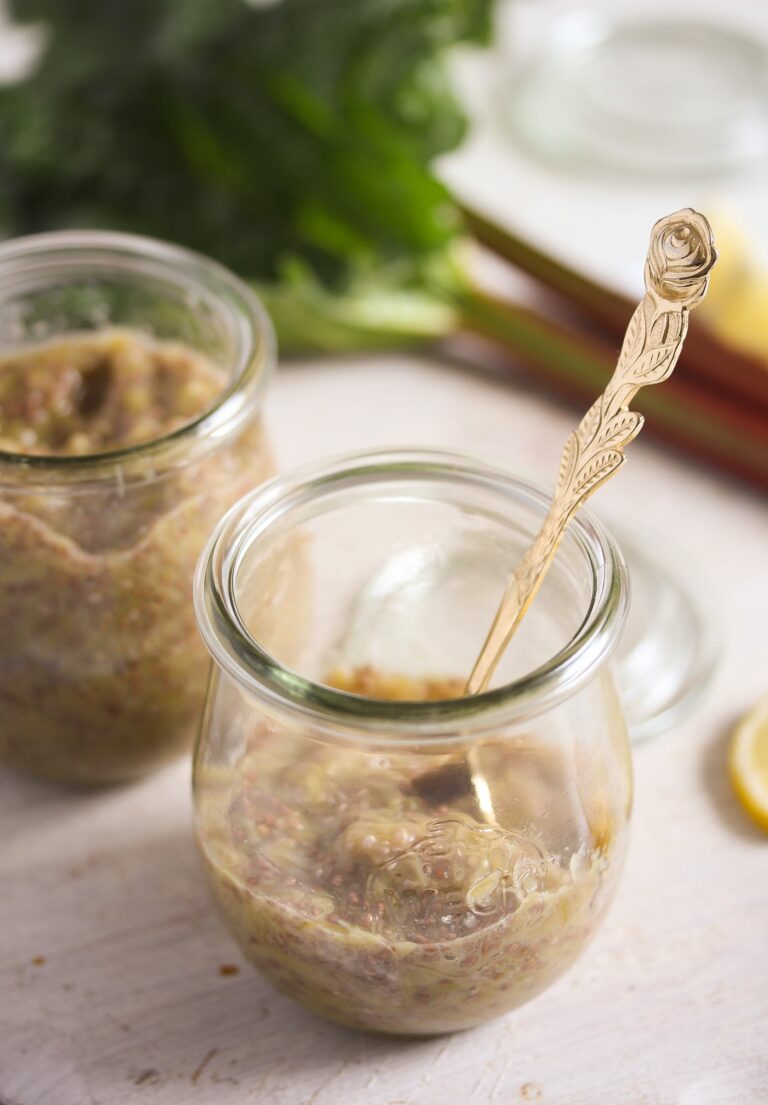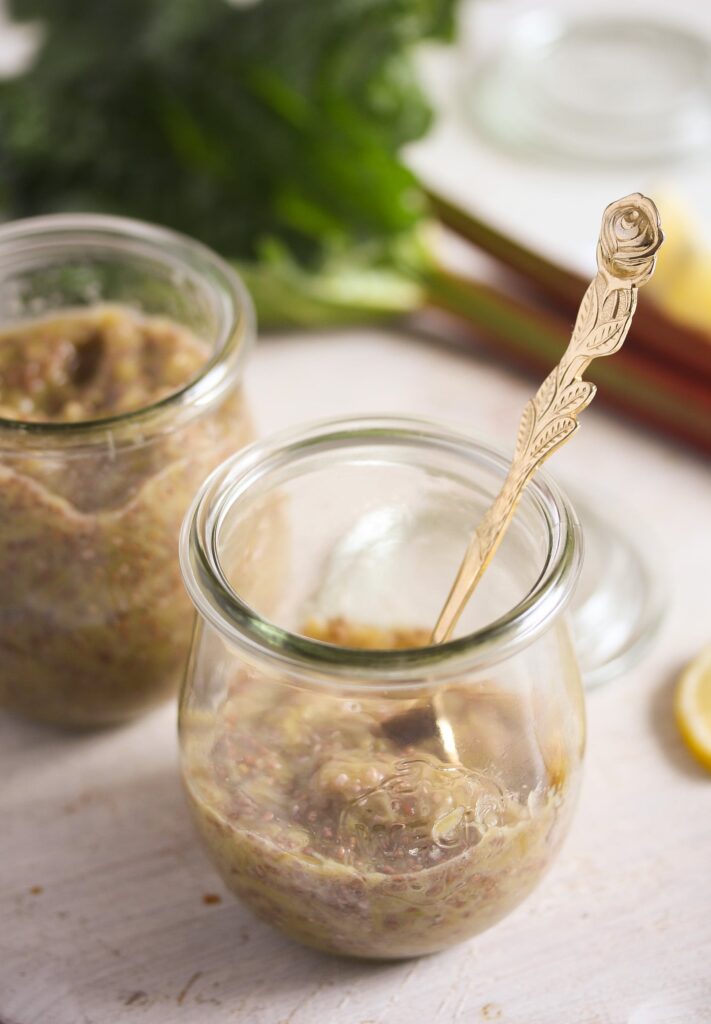 More low-sugar jams and preserves
Low-Sugar Orange Jam - Delicious, bittersweet orange marmalade without pectin.
Rhubarb Raspberry Jam (Lower Sugar) - An aromatic, fruity and lower sugar jam/preserve to celebrate the short rhubarb season.
How to Preserve Cherries (Low-Sugar) - The easiest way of preserving cherries, either sweet cherries or sour cherries, in a low sugar way.
How to Preserve Apricots - This is the easiest, most straightforward way of preserving apricots. Not to mention it is very low-sugar.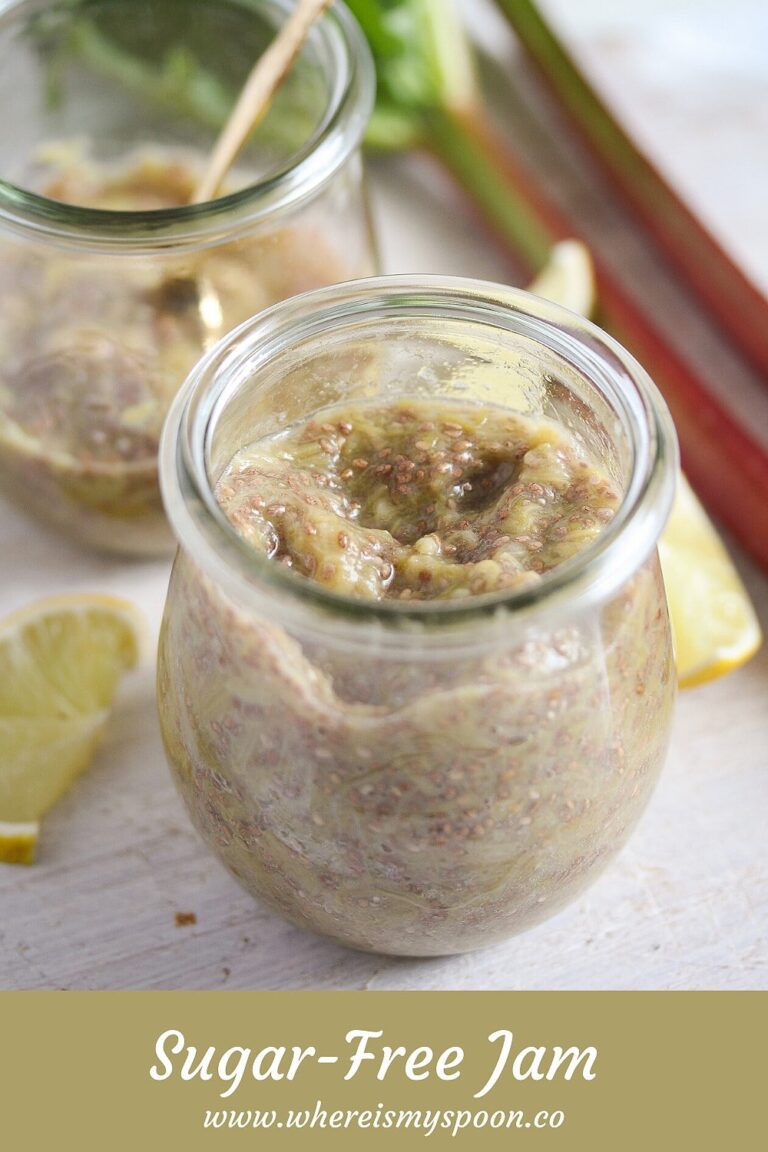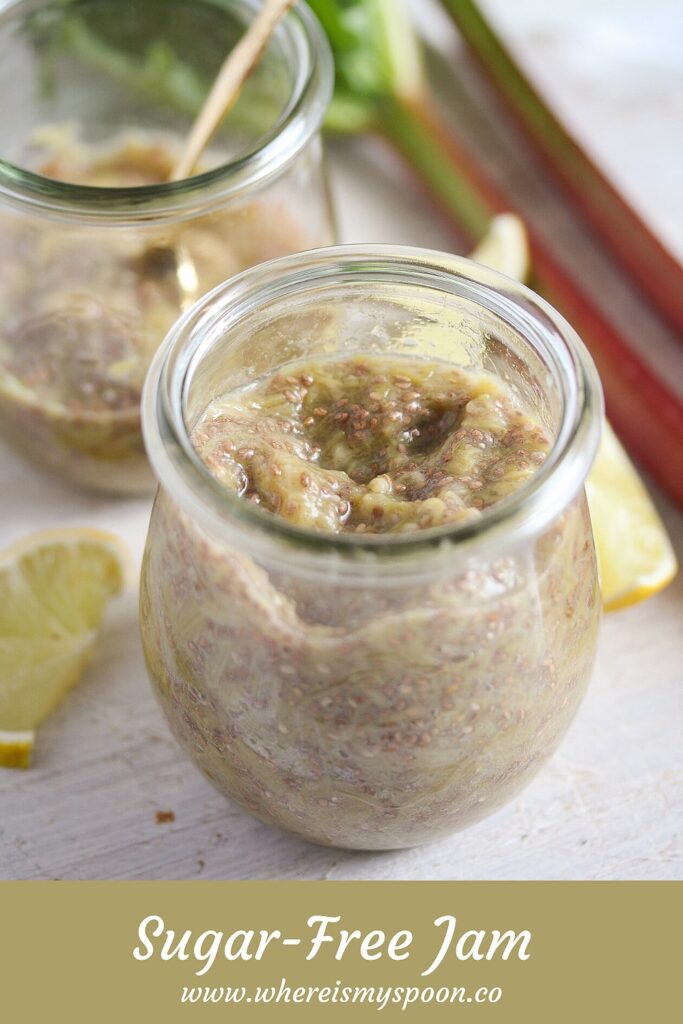 Sugar-Free Jam with Rhubarb
Sugar-free jam with rhubarb, chia seeds, and stevia, a healthier jam or spread perfect for breakfast. Try it with other fruit or berries.
Print
Pin
Share
Grow
Saved!
Rate
Ingredients
12.5

oz

rhubarb

Note 1

5

tablespoons

freshly squeezed orange juice

Note 2

1

tablespoon

lemon juice

2

teaspoons

chia seeds

1-2

tablespoons

powdered stevia

Note 3 and 4
Instructions
Clean and chop the rhubarb.

Cook: Place into a small saucepan together with the orange juice or water. Bring to a boil and cook over medium heat, stirring, until the rhubarb is soft and most of the liquid has cooked off about 10 minutes.

Thicken: Add the chia seeds, lower the heat and stir for about 5 minutes, until nicely thickened.

Sweeten: Remove from the heat and stir in the stevia to taste.

Refrigerate: Transfer to a jar, let cool, cover, and keep in the refrigerator. It will keep for about 1 to 2 weeks.
Notes
Or strawberries, any other kind of berries, peaches, nectarine, apricots, and so on.
Use water if you don't have any oranges in the house.
I use powdered stevia that can replace sugar 1:1. If using another brand, dose according to the packet's instructions and to taste. Start with a smaller amount and add more as required.
Alternatively, you can use erythritol, maple, date or agave syrup or even honey. Always to taste.
Nutrition
Serving:
1
whole jar
|
Calories:
150
kcal
|
Carbohydrates:
49
g
|
Protein:
5
g
|
Fat:
3
g
|
Polyunsaturated Fat:
3
g
|
Sodium:
20
mg
|
Fiber:
9
g
|
Sugar:
11
g