Whip up a delicious Mediterranean zucchini stew. It's a simple, budget-friendly meal that's bursting with fresh flavors.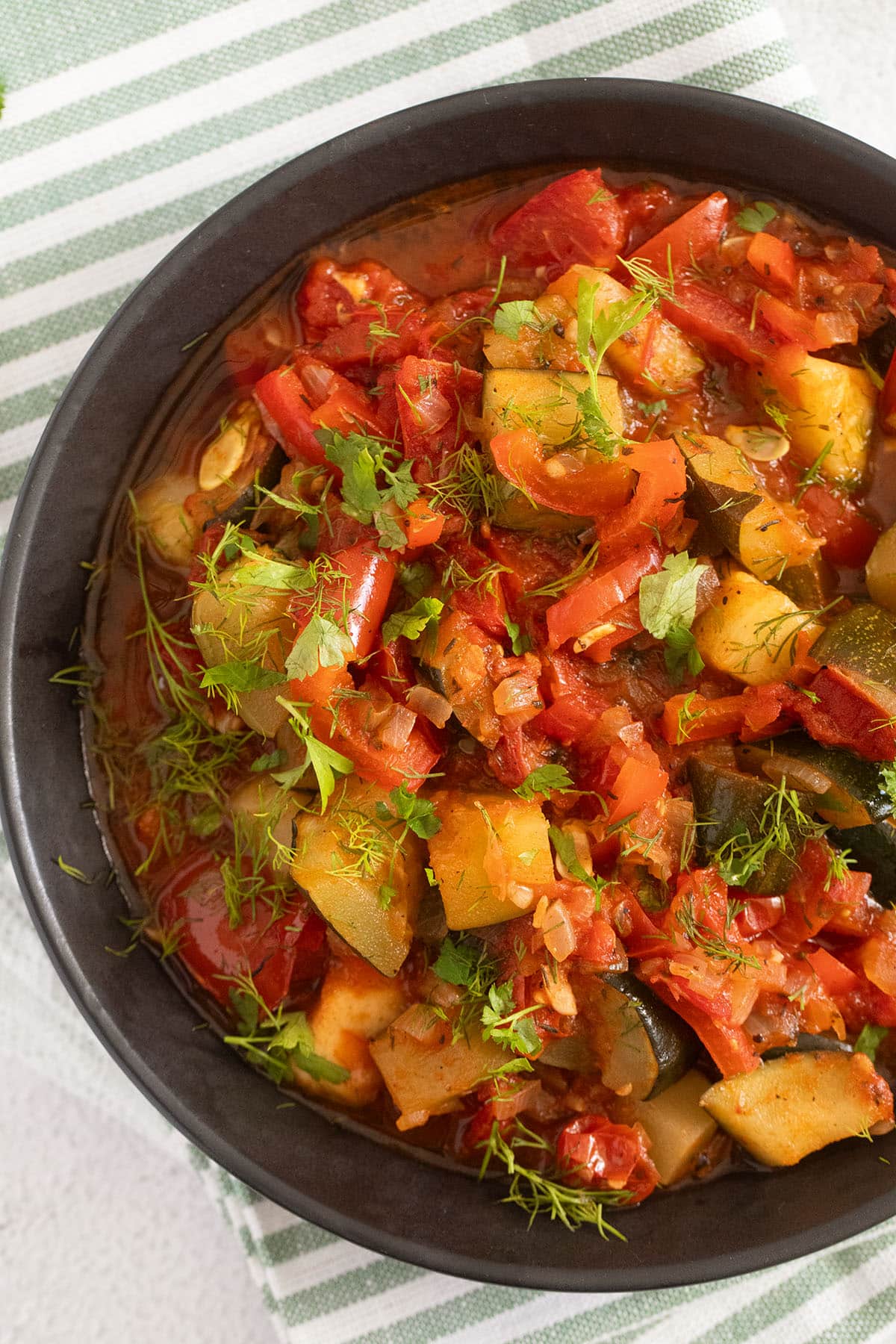 Looking for a tasty, chunky vegetable stew that won't cost a lot? Zucchini stew is the way to go. It's a delicious vegetarian meal that's not tricky to make, even if you're not a cooking pro. This healthy zucchini stew is made with fresh, simple ingredients; it's bursting with Italian flavors; it is easy and quick to make, perfect for a quick weeknight meal.
We'll guide you through each step to cook it just right, and we'll also get creative with different flavors to make it even more delicious.
Check out more stewed zucchini recipes: Zucchini with Pesto, Zucchini Curry, Ground Beef, Zucchini and Potatoes.
Jump to recipe
🌟Why does this simple dish work?
Flavorful ingredients: Fresh zucchini, tomatoes, herbs, and spices go well together. The zucchini absorbs the seasonings and complements the tomatoes, resulting in a delicious stew.
Simplicity: This recipe is to follow, even for beginners. The uncomplicated steps and common ingredients make it a go-to choice for a quick, satisfying meal.
Versatility: Enjoy this easy Italian zucchini stew as a light dinner, a filling lunch, or side dish. It adapts well to variations, allowing you to customize it by adding extra vegetables or protein.
Cost-effective: Zucchini is readily available and budget-friendly, making this recipe a cost-effective way to enjoy a nutritious and tasty meal.
🍅Recipe ingredients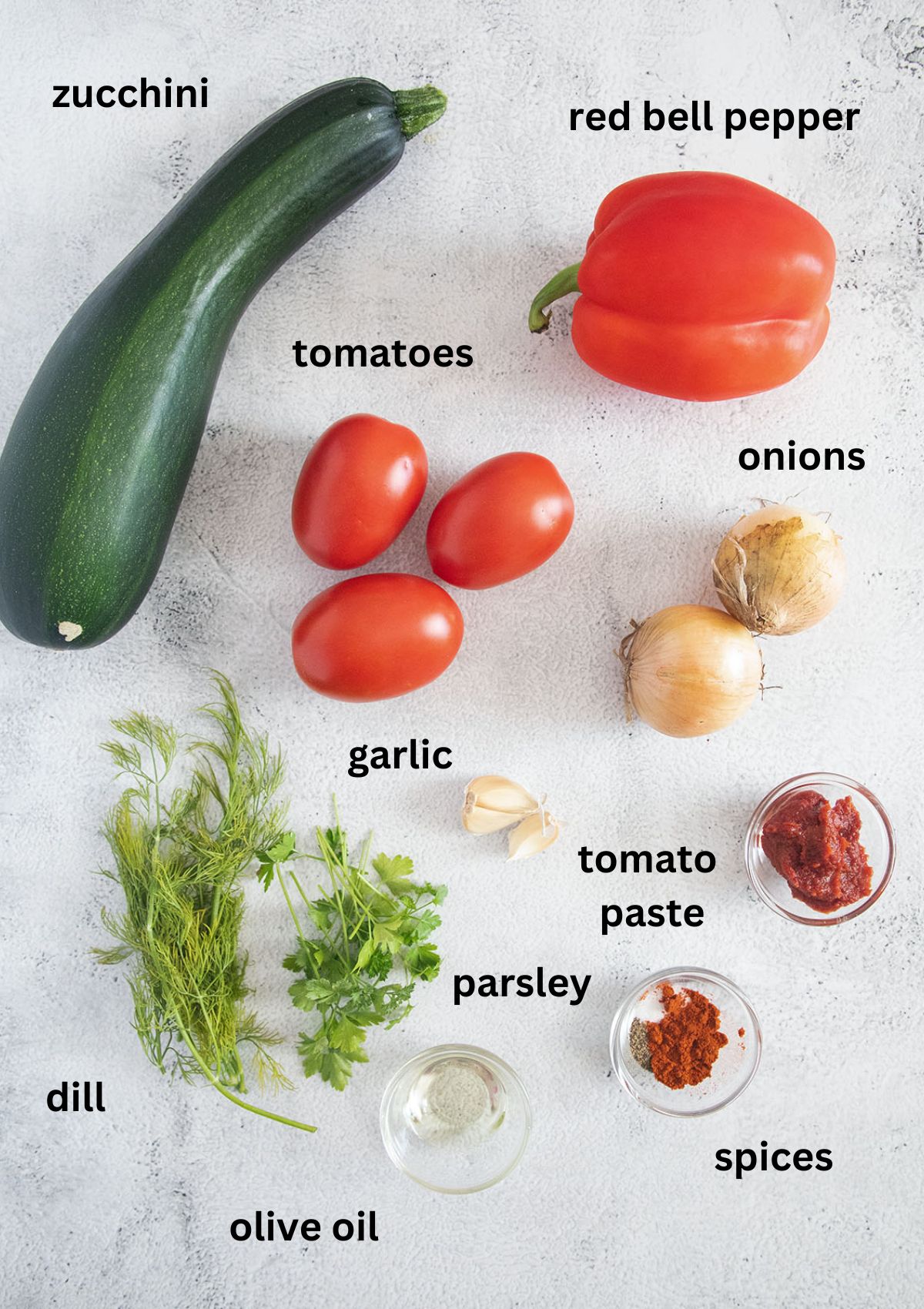 Zucchini: Cut them into even pieces to ensure that they cook swiftly and evenly.
Tomatoes: I prefer to use Roma tomatoes for this zucchini stew recipe. They have a meaty texture that holds well in the stew and less water compared to other tomato varieties, which makes them an ideal choice for stew. This lower moisture content helps maintain the stew's thickness and prevents it from becoming overly watery during the cooking process.

However, other chopped tomatoes are also fine. If they have too many seeds, you can remove them. Or just leave the stew to cook a few minutes longer so that it can reduce more.

Other vegetables: Two onions and one large red bell pepper.
Garlic: I use three fresh garlic cloves, but feel free to tweak the quantity according to your personal garlic preference, as it's a matter of taste. When it comes to garlic, I say, "the more, the merrier... and the funnier for anyone standing nearby!"
Tomato paste: Tomato paste is a concentrated tomato treasure that can add a rich, deep flavor to the stew. A small amount goes a long way in thickening and enhancing the sauce.
Thyme is excellent, but you can use other dried herbs like oregano, basil, marjoram, or sage. Alternatively, simplify things by using an Italian seasoning mix.
Fresh herbs: Fresh parsley and dill added at the end are amazing! They bring an extra layer of flavor I would not want to miss. You can replace dill with fresh basil, but I would not combine basil and dill as the flavors are too contrasting.
Olive oil: In our zucchini stew, olive oil is like the secret ingredient that makes all the flavors mix nicely. It adds a mild, fruity taste that makes the whole dish better.
Other ingredients: Vegetable broth, sweet paprika, fine sea salt (or Kosher salt), and ground black pepper.
Optional: If desired, sprinkle the dish with Parmesan or add some feta just before serving. 
👩‍🍳How to make zucchini stew?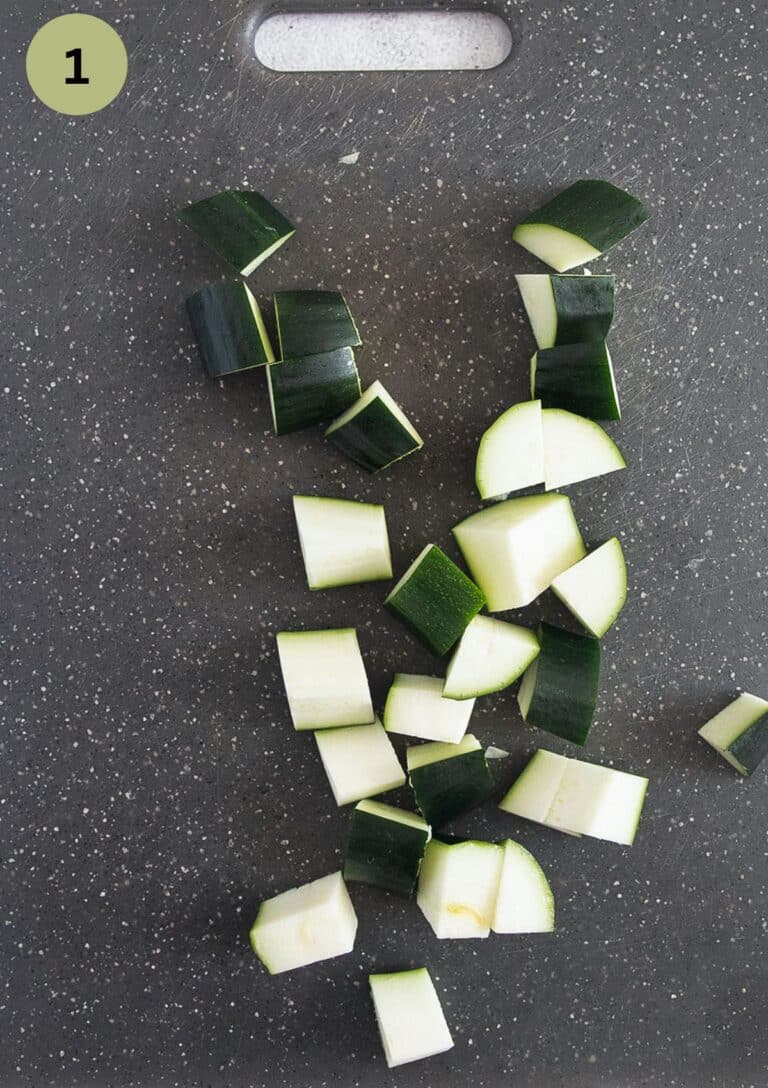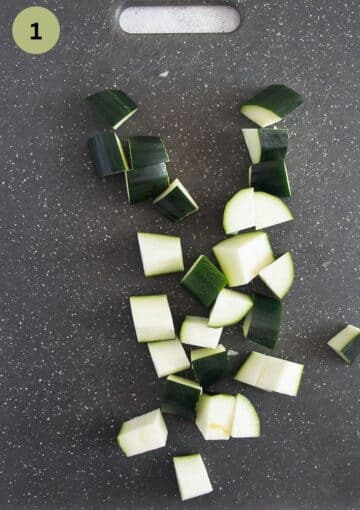 Step 1: Cut the zucchini into regular cubes of about 1 inch/ 2.5 cm.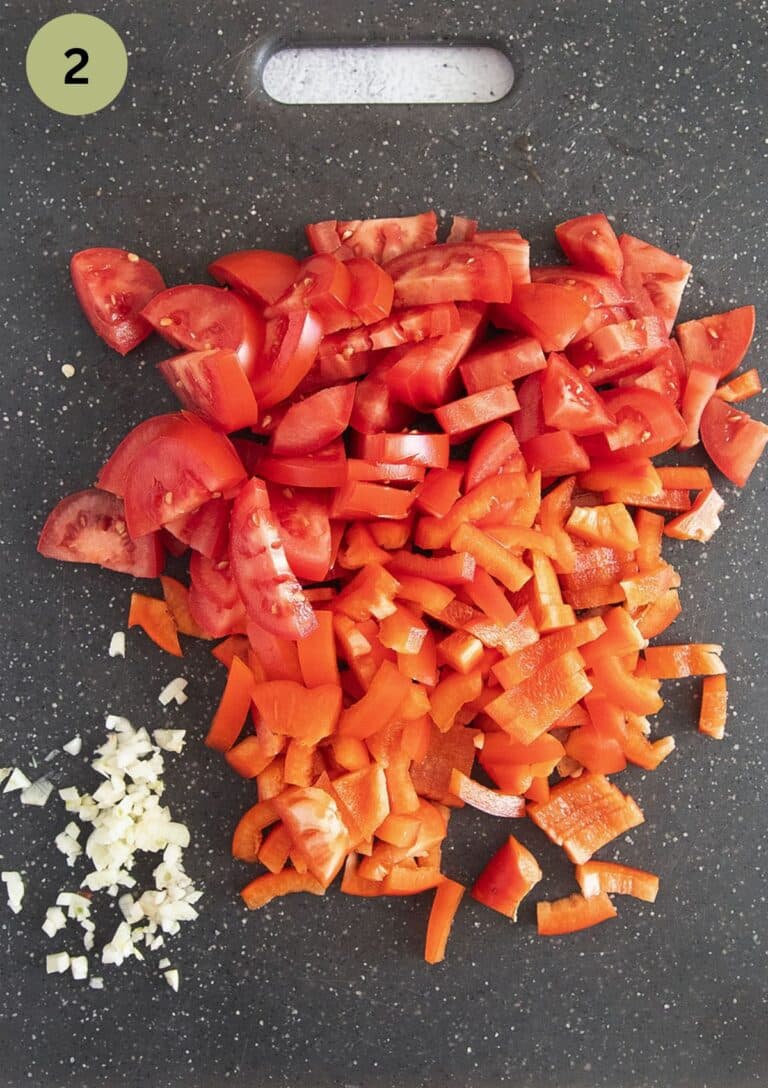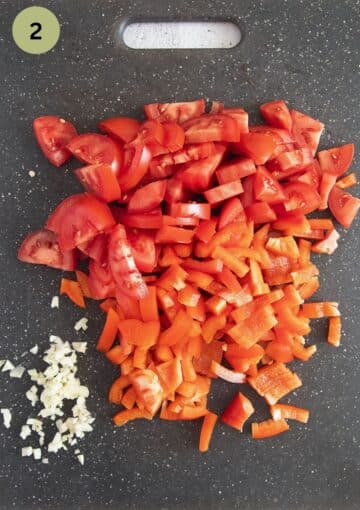 Step 2: Slice tomatoes and peppers, and mince the garlic.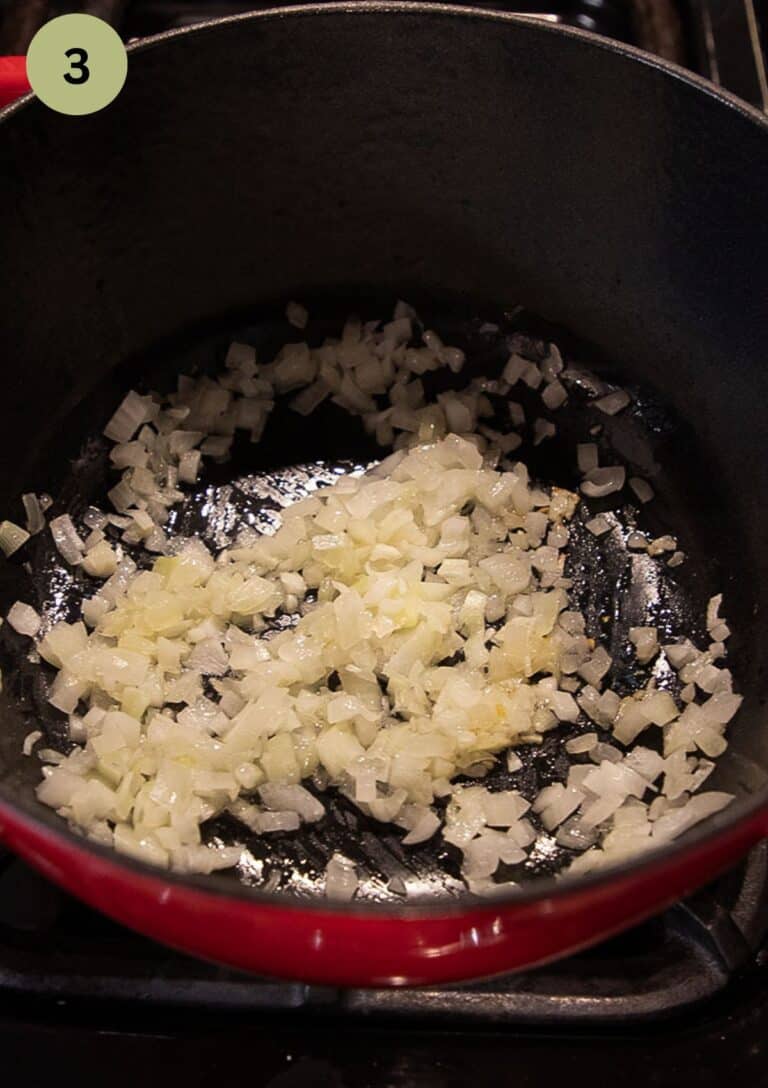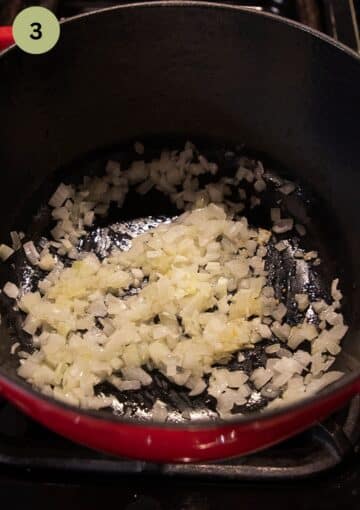 Step 3: Sauté the onions in olive oil in a large Dutch oven until soft but not brown.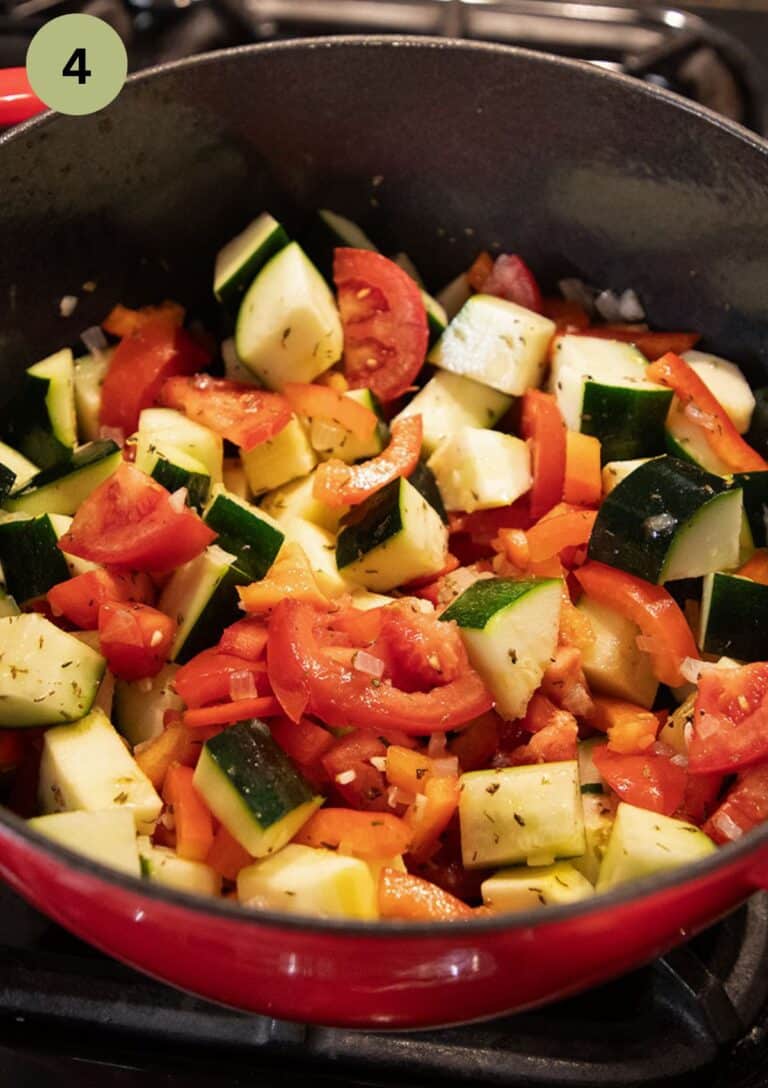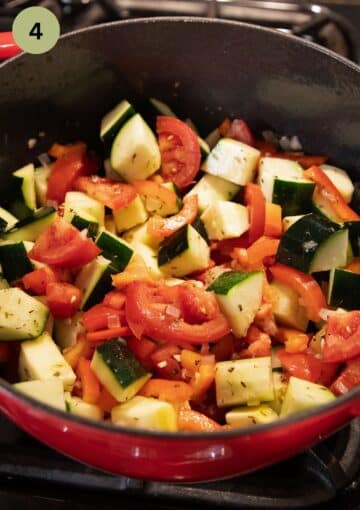 Step 4: Stir in the remaining ingredients, except for the fresh herbs.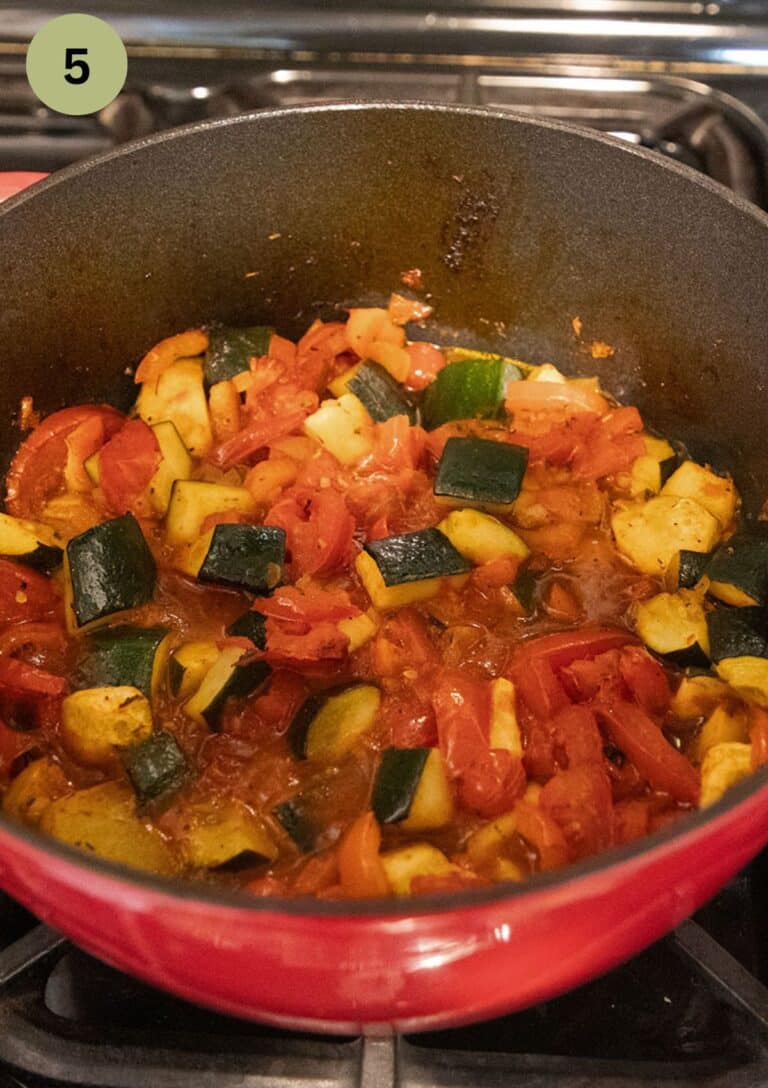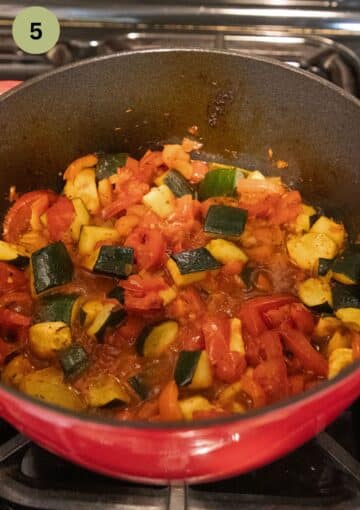 Step 5: Bake in the oven, covered and then uncovered.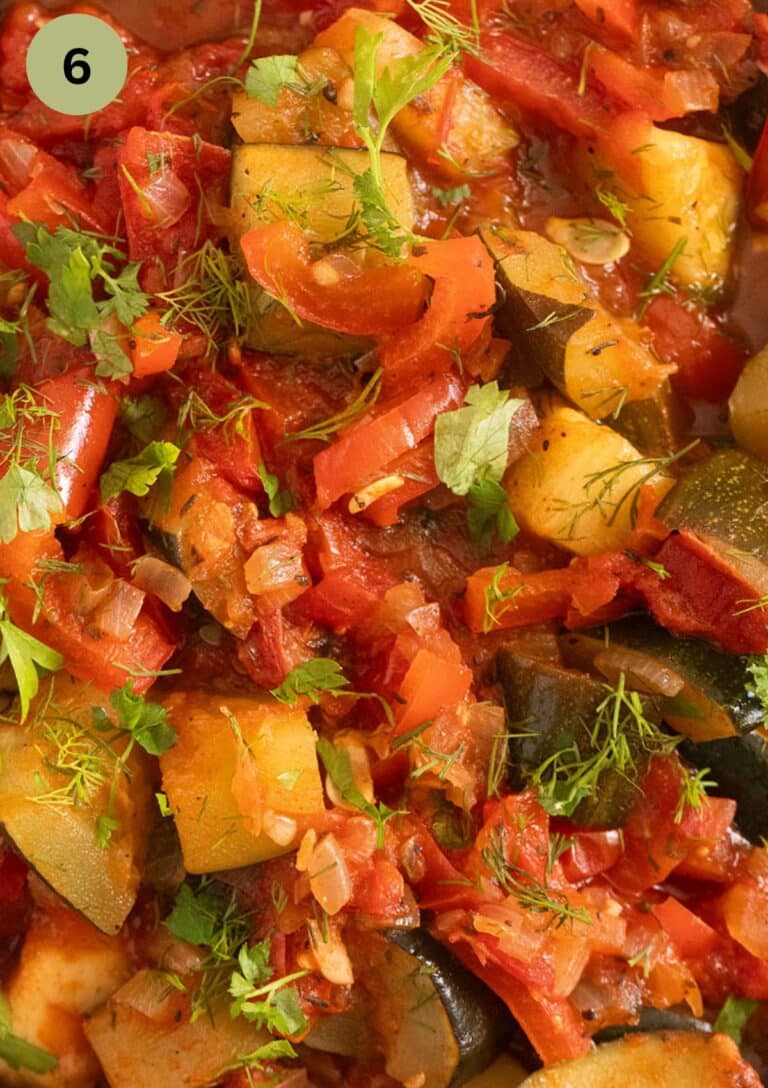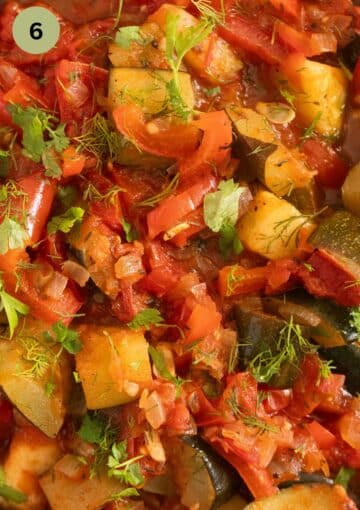 Step 6: Stir in the fresh herbs and drizzle with a bit of olive oil. 
🥗Recipe variations
Add a drained can of white beans (cannellini beans) or chickpeas for extra protein and fiber. 
Use coconut milk instead of broth for a creamy twist. 
If you enjoy a little heat, toss in some red pepper flakes or a pinch of cayenne pepper for a spicy kick.
Stewed zucchini and potatoes: Cook some diced potatoes together with the onions. They soak up the flavors and add substance to the dish. Sweet potatoes are also great (not very Mediterranean, though).
Add other veggies such as eggplants, celery, olives, pumpkin, etc.
Add browned Italian sausage or smoked sausage like kielbasa/ cabanossi. Smoked sausage doesn't need to be browned. Just slice and add it to the stew. 
Stir some cooked grains into the finished stew (rice, quinoa, millet, and so on).
Cheese: Sprinkle the dish with Parmesan cheese just before serving, or add finely cubed feta, stir well, and let it melt slightly before serving. 
Try more of our delicious vegetable stews: Eggplant in Tomato Sauce, Lecso - Hungarian Pepper Stew, Cauliflower in Tomato Sauce, or Potato Stew. 
💡Expert Tips
Consistent slicing: Try to slice the zucchini, onions, peppers, and tomatoes into consistent-sized pieces. This ensures that they cook evenly.
Please don't skimp on garlic or olive oil; they do add tons of flavor.
Simmer slowly: Let the stew simmer in the oven. Slow cooking allows all the flavors to meld and develop, resulting in a more delicious final dish. If you prefer, you can cook the dish on the stovetop. Simmer until the vegetables are almost done, then remove the lid for the last 5-10 minutes to allow the liquid to reduce slightly.
🤔Recipe FAQ
Can I make zucchini stew ahead of time?
Certainly! You can prepare the stew in advance and store it in the refrigerator for a day or two.
How to store?
Cool, transfer the stew to an airtight container, and refrigerate for 3 to 4 days.
Freeze in a freezer-safe container for up to 3 months. Defrost in the fridge and reheat. 
How to reheat?
Reheat on the stovetop over low to medium heat. This allows it to regain its flavors and consistency slowly. 
Reheat in the microwave, stirring occasionally until hot. 
🍽️What to serve with it?
Crusty bread is perfect for dipping into the stew and sopping up every bit of the delicious sauce. Try our Yogurt Soda Bread or make a Cast-Iron Skillet Cornbread.
Grains: Serve the zucchini stew over a bed of fluffy white or brown rice, quinoa, couscous, bulgur, or creamy polenta.
Creamy garlic mashed potatoes are a classic and comforting side.
Mixed green salad with a light vinaigrette or Greek salad with cucumbers, tomatoes, olives, and feta cheese.
Poached or fried eggs on top.
Yogurt or tzatziki. Or try our Mint Yogurt Sauce. 
🍴More side dish ideas
Do you like this recipe?
Please leave a good rating in the recipe card below. Stay in touch through social media:
Pinterest
,
Facebook
, and Instagram. Don't forget to tag me #whereismyspoon when you try a recipe!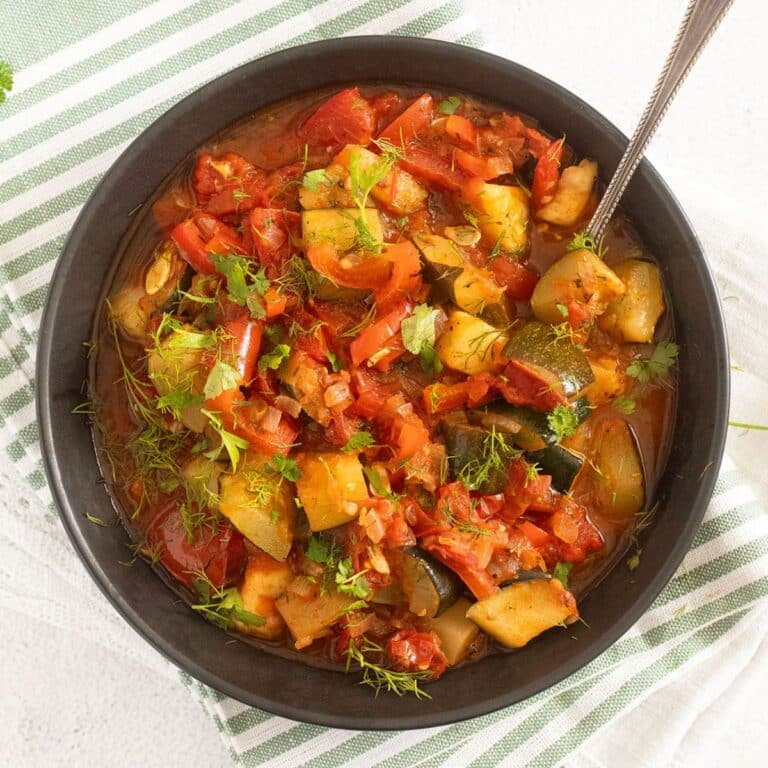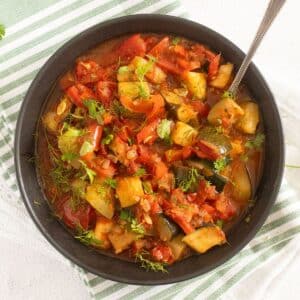 Easy Zucchini Stew (Mediterranean-Style)
Prepare a delicious Mediterranean zucchini stew. It's an easy-on-the-wallet dish filled with vibrant, fresh tastes.
Print
Pin
Share
Grow
Saved!
Rate
Ingredients
1.2

lbs

zucchini

550 g

2

medium

onions

3

Roma tomatoes

about 300 g/ 10.5 oz, Note 1

1

red bell pepper

3

garlic cloves

Note 2

3

tablespoons

olive oil

+ more to drizzle

1

tablespoon

tomato paste

1

teaspoon

thyme

1

teaspoon

sweet paprika

½

cup

vegetable broth

125 ml

fine sea salt and ground black pepper

small bunch of fresh parsley

small bunch of fresh dill

Parmesan or feta optional

Note 3
Instructions
Preheat the oven to 400°F/ 200°C.

Prepare vegetables: Cut the zucchini into even cubes (about 1 inch/ 2.5 cm). Finely chop the onions, but keep them separated from the rest of the ingredients. Halve and slice the tomato halves. Cut the bell pepper into thin strips. Mince the garlic.

Sauté: Heat the olive oil and sauté the onions with a pinch of salt for 5-6 minutes on low heat. They should get softer but not brown.

Add chopped vegetables, paprika, thyme, tomato paste, vegetable broth, and some pepper. Stir well.

Bake: Cover the pot and place it in the preheated oven. Bake for 20 minutes. Remove the lid, stir well, and bake for another 15-20 minutes or until the vegetables are done to your liking; they should be soft but not mushy (Note 4).

Stir in the chopped parsley and dill. Adjust the taste with salt and pepper (Note 3) and drizzle the dish with a bit more olive oil before serving.

Optional: Add grated Parmesan or cubed or crumbled feta if you like, and stir to allow the cheese to melt slightly.
Notes
Tomatoes: I prefer Roma tomatoes for this zucchini stew recipe because of their meaty texture and lower water content, which help maintain the stew's thickness. However, other tomatoes can also work. If they have too many seeds, you can remove them or extend the cooking time to reduce excess moisture.
Don't skimp on garlic or olive oil; they add tons of flavor.
Stovetop: You can also cook the stew entirely on the stovetop, but adjust the time as it will probably go faster. However, I prefer to use the oven; slow roasting in the oven adds an extra layer of flavor.
Cheese is optional but delicious. Use freshly grated Parmesan or good feta (not pre-crumbled). If you add cheese, be careful with the salt; only add more after stirring in the cheese and tasting.
Nutrition
Serving:
1
serving from 3
|
Calories:
221
kcal
|
Carbohydrates:
20
g
|
Protein:
5
g
|
Fat:
15
g
|
Saturated Fat:
2
g
|
Polyunsaturated Fat:
2
g
|
Monounsaturated Fat:
10
g
|
Sodium:
853
mg
|
Potassium:
898
mg
|
Fiber:
5
g
|
Sugar:
12
g
|
Vitamin A:
2571
IU
|
Vitamin C:
100
mg
|
Calcium:
67
mg
|
Iron:
2
mg