Lecso or letscho – a typical Hungarian pepper stew, a delicious vegan meal with rice, or a perfect side dish for any kind of meat, sausage, or fish.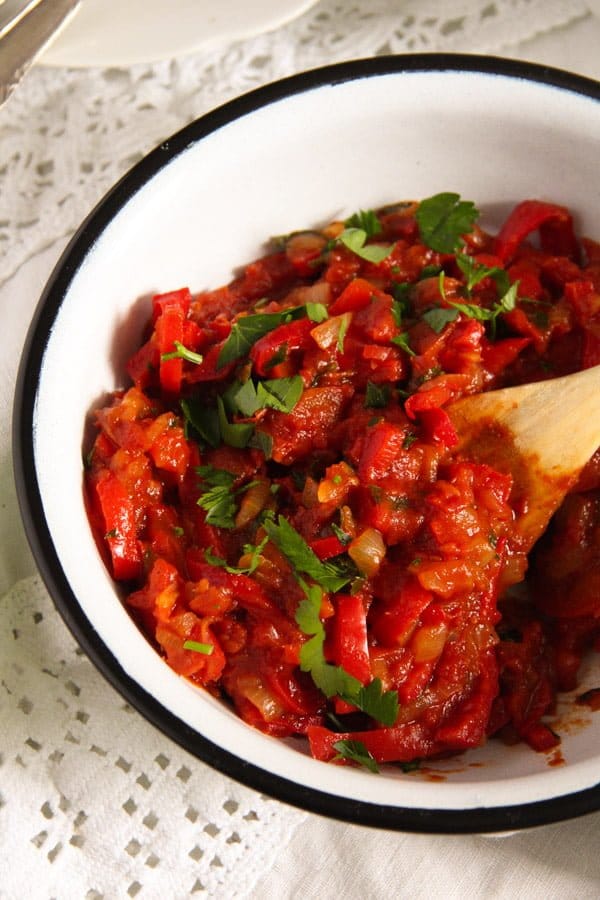 Lecso is the kind of dish you will find in many world cuisines; similar ones are the French Piperade, the Middle Eastern Shakshuka, the Turkish Menemen, the Spanish Pisto, and the Italian Peperonata. The Czech and the Slovak call it Leco, the Polish Leczo, the German Letscho, and the Russian, something in Cyrillic that I cannot read but which I am sure sounds pretty similar. 🙂
Peppers and tomatoes are smothered together to make a delicious and very comforting stew, often eaten with eggs cooked directly in the stew, yet still perfect for either eating plain with some rice, polenta, or bread or alongside a piece of meat or fish.
Jump to recipe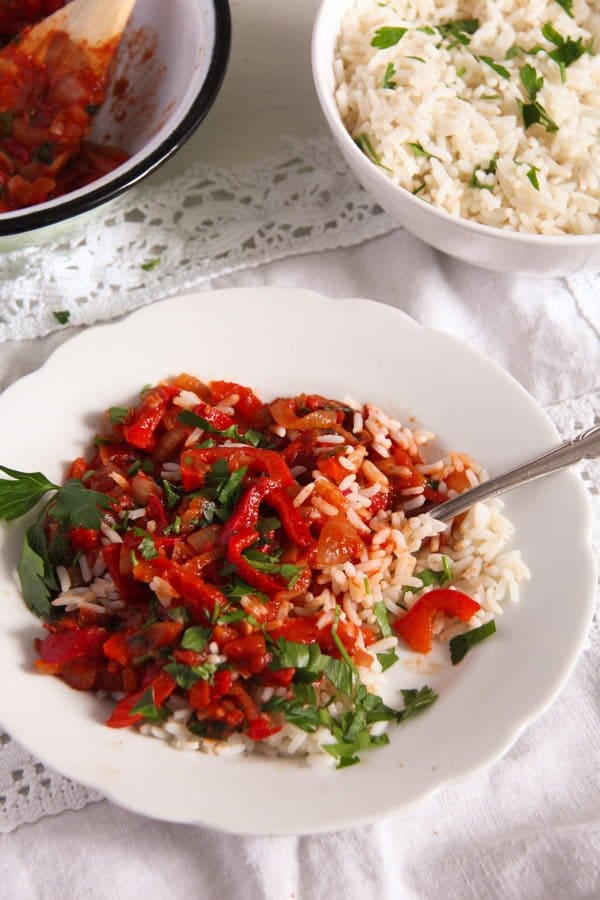 Ingredients
Lecso, or a similar version of it, is a very common dish to find in many houses all over Transylvania, Romania.
Peppers and tomatoes are plentiful in summer and autumn and, nowadays, making lecso in winter is not difficult either.
If I can get ripe and juicy tomatoes in summer, I use them to make lecso. Otherwise, I use a can of tomatoes.
I prefer to use pointed red peppers to make lecso, sometimes combined with 1 or 2 yellow pointed peppers.
Red bell peppers can be used instead, but I have actually never used them for this dish; for me, the authenticity of lecso lies in the use of pointed peppers, like in Romania. 🙂
Red chili is a must if you ask me. I use the Romanian kind of red chili, which is a rather long variety and not too hot. If you use another kind of chili, be careful with the dosage; start with less, and add more to taste.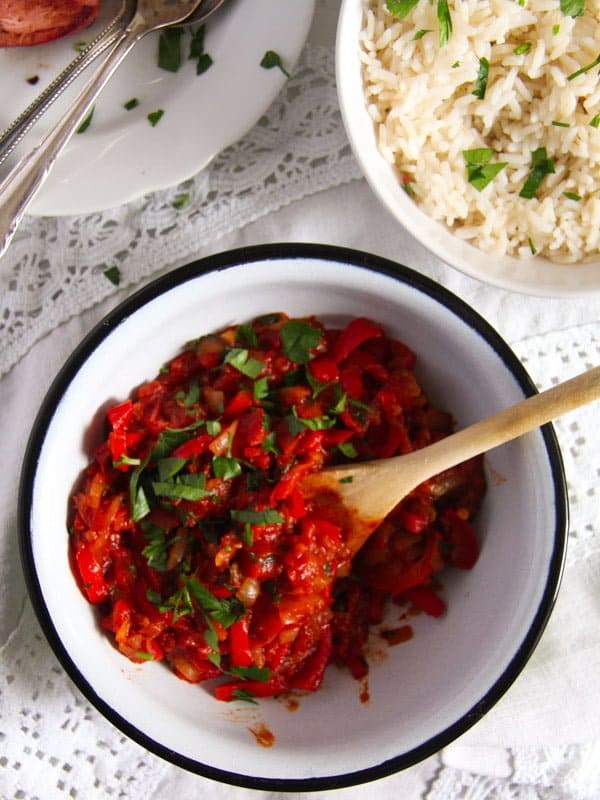 Variations of letscho or lecso
With potatoes or rice
As mentioned above, it can be made plain the way I make it most of the time.
It can be kept vegetarian/vegan by adding potatoes or cooked rice directly to the dish.
Add enough vegetable stock (or chicken stock) to cover the vegetables and cook until everything is tender.
With meat
If you decide to add meat, you should start by frying the meat (mostly pork) and the onions first, like you would do when making any other kind of goulash or meat stew, and then add the peppers and the tomatoes.
Cook until the meat is tender.
Instead of meat, you can add cubed sausages or deli meats. Deli meats or wiener/ frankfurter-style sausages can be added towards the end of the cooking process as they are already cooked.
With eggs
If you would like to make lecso with eggs, cook the pepper stew following this recipe
Add 3 beaten, salted, and peppered eggs to the mixture at the end of the cooking time. Stir for some more minutes until the eggs have set.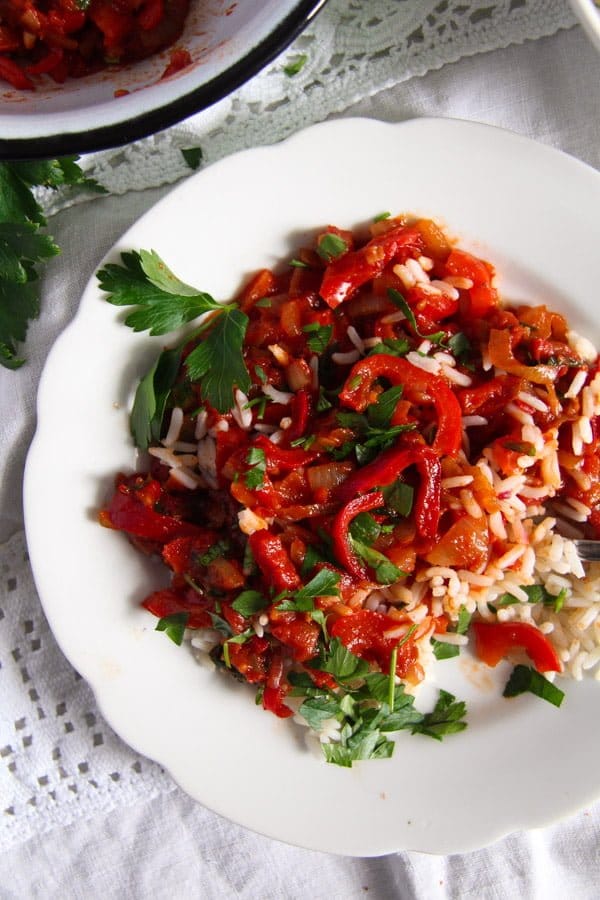 Recipe FAQ
How to store?
Refrigerate in an airtight container for about 3 days.
Reheat on the stovetop or enjoy the leftovers at room temperature.
Can I freeze the stew?
Yes, in an airtight container for about 3 months.
Defrost in the refrigerator and reheat.
Don't freeze lecso if you've made it with potatoes; frozen and defrosted potatoes are not nice.
More vegan stew ideas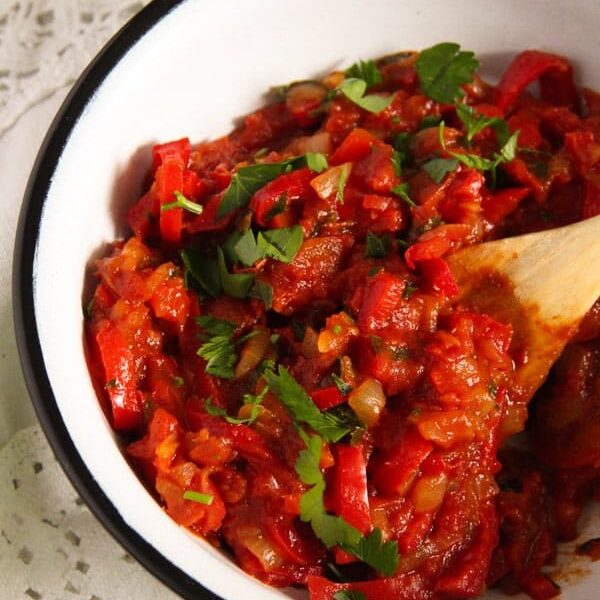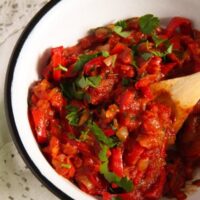 Lecso - Hungarian Pepper Stew
Lecso or letscho – a typical Hungarian pepper stew, a delicious vegan meal with rice or a perfect side dish for any kind of dish.
Print
Pin
Share
Grow
Saved!
Rate
Ingredients
2

large onions

2

tablespoons

oil

1

lb

red pointed peppers

or bell peppers, 450 g

1

red chili

Note 1

1

lb

ripe tomatoes or 1 can of tomatoes 450 g/ 1 lbs

450 g, Note 2

1

teaspoon

sweet paprika powder

½

teaspoon

hot paprika powder

1

bunch of parsley

fine sea salt and pepper

Optional: 3 large eggs
Instructions
Cook onions: Quarter the onion and thinly slice the quarters. Heat the oil and cook the onion until slightly golden. Add 3 tablespoons water, cover the pot and cook the onions until soft, about 10 minutes. Stir several times in between.

Add peppers: In the meantime, deseed the chili and the peppers and slice them thinly. Add them to the pot, add another 2-3 tablespoons of water, cover, and cook on low heat for further 10 minutes.

Add the sweet and the hot paprika powder and stir well to coat the vegetables.

Add the chopped tomatoes or the tomatoes from the can including all their juices. If using fresh tomatoes you might need to add a bit more water, it really depends on how juicy they are. Start with 2-3 tablespoons and add more later if the dish looks dry.

Simmer: Stir well and cook for further 15-20 minutes or until the vegetables are soft. Adjust the taste with salt and pepper.

With eggs: If you would like to add the eggs, whisk them well in a small bowl, add some salt and pepper and pour them into the lecso. Stir and cook the eggs gently until they are set.

Serve: Sprinkle the dish with lots of chopped parsley and serve with rice, polenta, or bread or as a side dish for meat, fish, or sausages (only the eggless version is suitable as a side dish).
Notes
With seeds or deseeded, only ½ or more than 1, depending on the taste and hotness of the chili.
Only use ripe and flavorful fresh tomatoes; if you cannot find them stick to the canned tomatoes or add about 1 or 2 tablespoons tomato paste to the dish together with the paprika powder.
Nutrition
Serving:
1
/4 of the dish
|
Calories:
292
kcal
|
Carbohydrates:
28
g
|
Protein:
12
g
|
Fat:
16
g
|
Saturated Fat:
3
g
|
Polyunsaturated Fat:
10
g
|
Cholesterol:
25
mg
|
Sodium:
653
mg
|
Fiber:
5
g
|
Sugar:
11
g