Last Updated on
This flavorful Romanian Leek and Black Olive Stew makes an amazing vegan/vegetarian main dish or a side dish for any kind of meat or fish.
This Leek and Black Olive Stew recipe is one of those real surprises for me when it comes to cooking. I remember making a similar dish about 10 years ago, maybe more, and not being very impressed by it. But, because this is such a typical Romanian recipe from Oltenia, I really thought it was time to give this dish – Praz cu masline – another try.
So glad I did, I am telling you, this stew really blew me away, so much that I ate almost the whole dish alone. Well, the kids are totally not impress by leeks and my husband is not a fan either, although he had to admit that he did like the leeks in this form. However, he ate his share and I ate all the rest….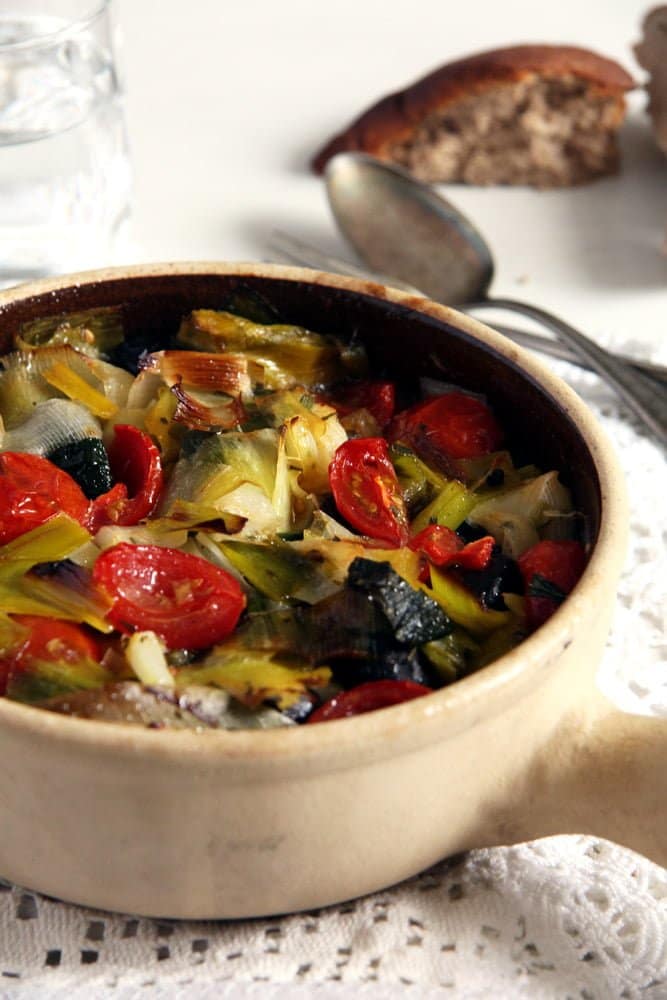 Leeks have a strange fate in Romania, while adored in the South where they have become almost some kind of local "emblem", they remain quite unnoticed in the rest of the country. To tell you the truth, the first time I have ever ate leeks was in Germany and although my grandmother spent 20 years of her life in Oltenia, she never even mentioned leeks, let alone cook them.
The first and only time I have ever heard of leeks in Romania, was in the film "Nea Marin Miliardar" (Uncle Marin Billionaire), a famous Romanian film from the 1970's featuring the long gone Amza Pelea, who managed to make the leeks some kind of a vegetable star in the country… 🙂 But, except from knowing that the leeks looked like some kind of huge scallions, I still didn't get to try any.
That changed when I came to Germany, leeks are extremely popular here, you can find them anytime anywhere. So I do buy them a lot, even if my husband doesn't like them a lot, and although they are not often the star of a dish, they are indispensable in my kitchen.
There was a time when I used to make lots of leek and potato soups, now that I think of it I should cook that again sometimes soon or this delicious Leek Soup with Brown Rice, Beans, Cauliflower and Hazelnuts. Nowadays, I put leeks in any kind of broths or stocks I make (I keep a bag of chopped leeks in my freezer only for this purpose) or I use them to make vegetarian dishes like this Leek and Pea Frittata or one of my favorite leftover dishes: leek casserole with dumplings, which I make almost every time I have leftover German bread dumplings (I should post that as well, the dish is so simple and so good).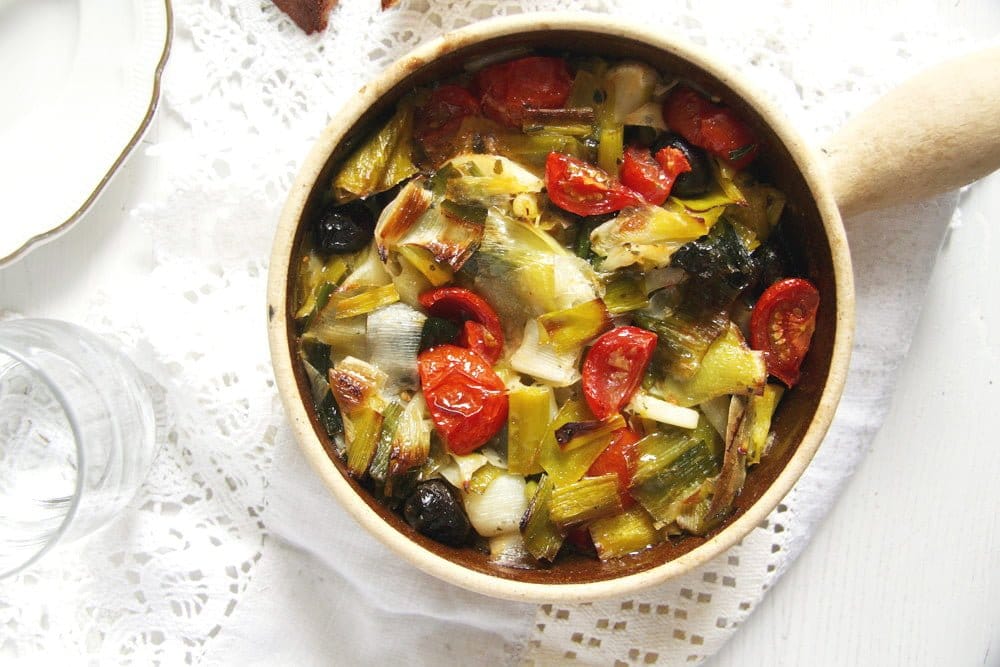 How to clean leeks?
There is only one thing I would like you to be aware of in case leeks are something new to you: leeks need to be very very thoroughly washed. It was not something I was aware of the first time I ate leeks, so I have only washed and cleaned them on the outside. The result was me throwing away the salad I had made because it was full of dirt.
Dirt finds its way between the numerous layers of the leek, at the transition from the white part to the green part of the vegetable, so you will have to actually separate the layers and thoroughly wash the leek in between the layers. The best method to wash the leeks is to slit the leek from the top to the bottom without cutting it all the way through and then carefully separate the layers without taking the leek apart while doing it and wash them under running water until all the dirt is removed.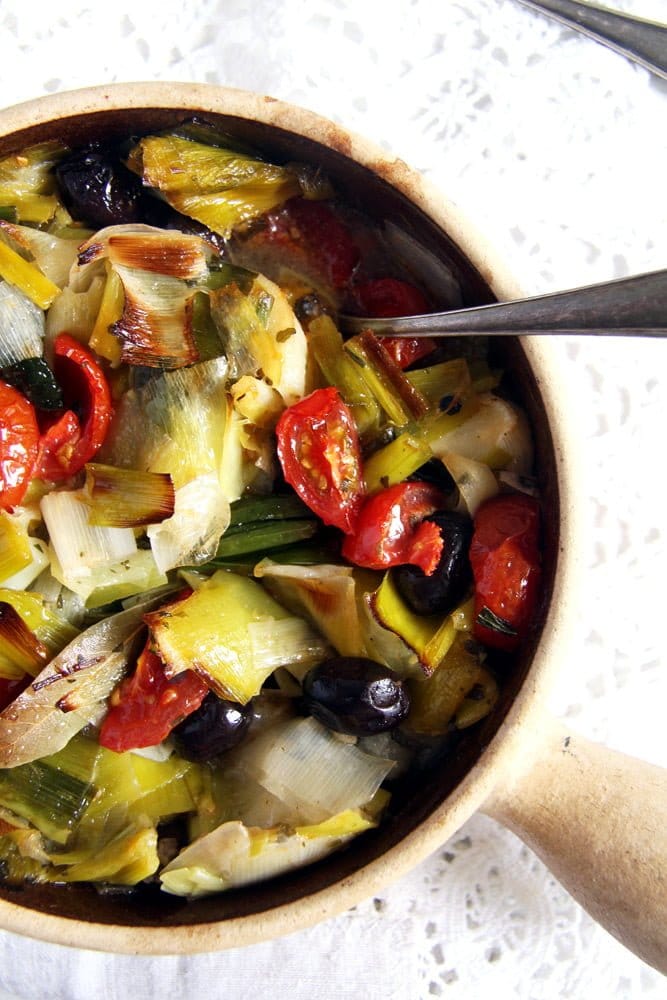 About the Leek and Black Olive Stew and leftovers:
This recipe is another gem from Silvia Jurcovan's "Cookbook for the Young Housewives" a quite old Romanian cookbook. If you would like to try more of this author's recipes, have a look at the Greta Garbo Cake or the Easy Apricot Cake. Silvia Jurcovan uses only the white of the leeks for this recipe.
However, I don't like waste, so I used a part of the green part as well and didn't throw away the leftover green either. I use that for making soups, add it to eggs, casseroles or stews, I make a bread spread with cream cheese, hard boiled eggs and finely chopped leek greens or freeze the greens to use them for stock at a later moment.
Don't stone the olives, remove the stones only when eating the stew. I honestly believe that already stoned olives don't have half the taste of olives still containing their stone. I buy my black olives in large containers in the Turkish shop, they keep well in their brine for at least a couple of months after I open the container and they are so much flavorful than their jarred, stoneless alternative.
The Leek and Olive Stew can be served as a main dish for 2 with only some bread on the side (and a nice cup of wine) or it can be served as a side dish for 4. It is suitable for chicken, like this Basic Skillet Chicken Breasts, meatballs like these Moldavian Meatballs – Parjoale or the Zucchini Beef Meatballs, for fish or Balsamic Roast Beef.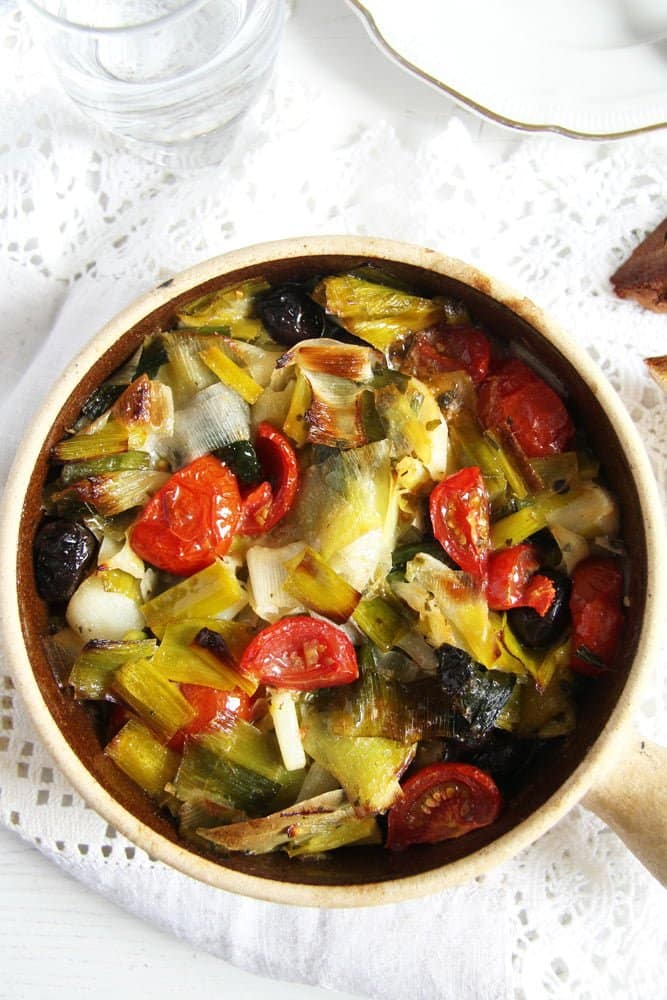 Ingredients
500 g/ 1.1 lbs leeks

2 tablespoons vegetable oil

250 g/ 8.8 oz tomatoes, I had smaller tomatoes

20 black olives with stone

1 tablespoon sugar

2 tablespoons white wine

1 bay leaf

a small bunch fresh parsley

1 teaspoon fresh lemon juice

salt

5 pepper corns

some lemon wedges to serve, optional
Instructions
Clean the leeks very thoroughly. The best method to wash the leeks is to slit the leek from the top to the bottom without cutting it all the way through and then carefully separate the layers without taking the leek apart while doing it and wash them under running water until all the dirt is removed.
Cut most of the green part of the leeks, but don't throw that away, use it for making soups, add it to eggs, casseroles or stew, you could make a bread spread with cream cheese and hard boiled eggs or freeze it to use it for stock at a later moment.
Preheat the oven to 180 degrees Celsius/ 360 degrees Fahrenheit.
Chop the white parts of the leeks and some of the sturdier green parts into 3 cm/ 1.2 inches segments. Heat the oil in a pot, add the leeks and ½ teaspoons salt, cover and stew for about 6-7 minutes, stirring a couple of times in between.
In the meantime cut the tomatoes into wedges. I had smaller tomatoes, so I quartered each one of them. If your tomatoes are large, cut them into thicker slices and halve the slices if still too large.
Caramelize the sugar in a small pan. Give the sugar to the pan and let it get darker. When it is caramelized, add two tablespoons water and stir until all the sugar is dissolved. Pour the sugar syrup into the pot with the leeks, add the tomato wedges, black olives, wine, bay leaf, ½ of the chopped parsley, lemon juice and peppercorns. Adjust the taste with more salt and lemon juice, if necessary.
Stir carefully and if your pot is not suitable for the oven, transfer the food into a small casserole dish.
Bake for about 30 minutes. Sprinkle with the remaining chopped parsley and serve hot with bread as a main dish or with chicken/fish/ meat/ meatballs as a side dish. It can be served cold as well.
This post contains affiliate links. The price you pay as a consumer does not change, but if you make a purchase we will receive a commission which helps support the blog.