Soy granules or chunks stewed in a rich and aromatic sauce full of vegetables.
This is one of my favorite vegan meals. Really! I made this recipe for more than 10 years ago for the first time and it has become a staple in my cooking ever since. Generally, the only recipes I cook on repeat are some I inherited from my grandmother, things like the Chicken Dumpling Soup or the Romanian Pea and Chicken Stew or dishes that my mother-in-law used to cook for her children all the time and that my husband wishes me to cook now from time to time, for instance the German Beef Soup or the Eggs in Mustard Sauce or dishes that my kids love more than anything like the Baked Chicken Thighs or crepes.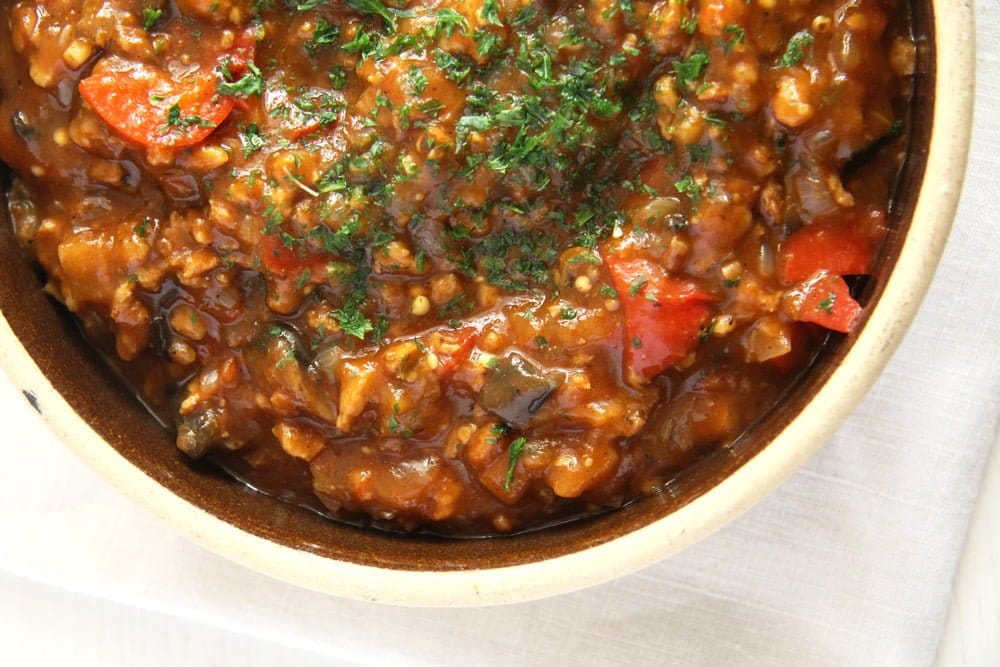 But this Vegan Soy Granules Vegetable Stew with Wine is something I cook again and again just because I love it soooo much myself. Not that anybody else in the house is complaining, this is one of those vegetable dishes that even the children are eating without complaining. OK, they might try and remove any trace of the eggplant they might spot, but otherwise, no stress there, they will gladly lick their plates clean.
I am not sure how popular soy chunks or granules are around the world. In my search for recipes using them I stumbled upon many Indian dishes but otherwise not so much. However, they are quite popular in Romania as a meat substitute during the fasting periods, you can buy them just about anywhere and if you are Romanian, you will find lots of recipes in Romanian language online.
But soy is something I've never eaten in my grandmother's house. I knew these meat substitutes like soy chunks, mince or schnitzel existed, but she never bought any of them, I don't even think she even knew how they tasted, they were just one of those (many) things she would not even consider trying, because they looked odd or didn't have the right color or the right name or whatever it was that always stopped my grandmother from ever ever trying something she did not know.
Actually the first time I have ever tasted soy chunks myself was in this recipe for the Vegan Soy Granules Vegetable Stew with Wine. I don't even remember where I found the original recipe, it is such a long time ago (a long lost Romanian magazine probably), but I scribbled it down in one of my recipe notebooks and cooked it shortly afterward. I have to say though, that never once, not even the first time I made this, did I follow the original recipe exactly. I changed that from the beginning and made it my way ever since. And I like it so much just the way it was, that I was never tempted to change anything again.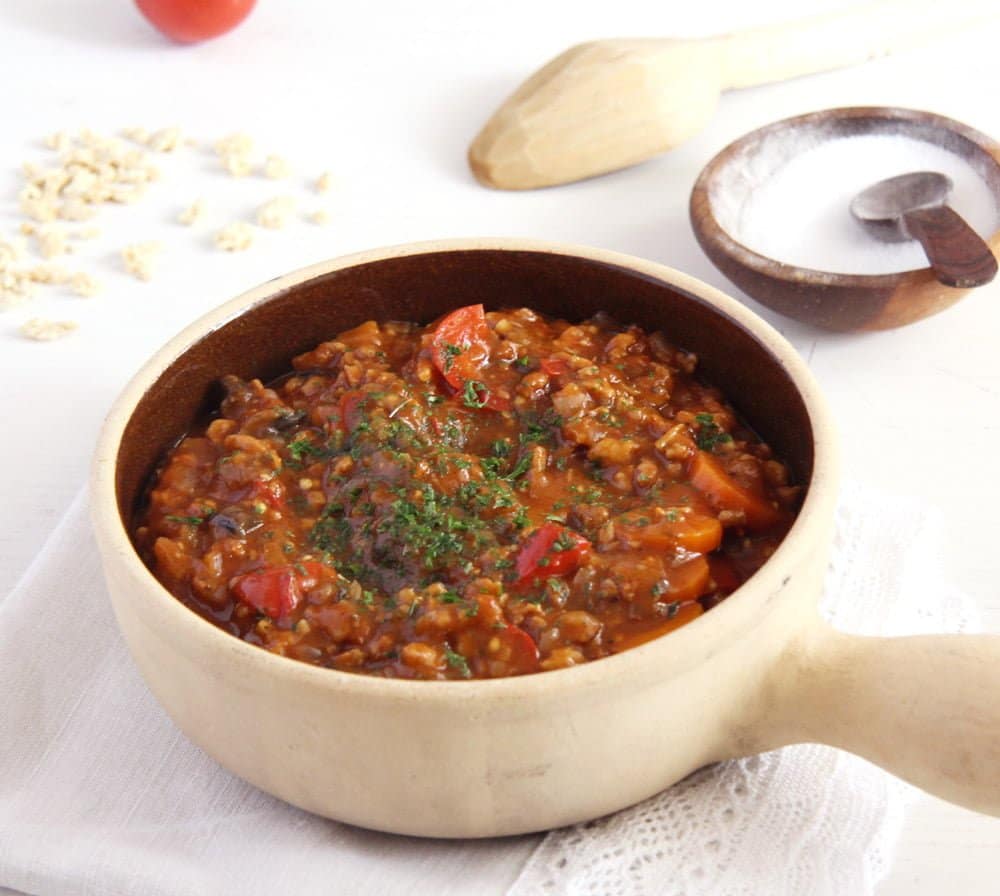 For this Vegan Soy Granules Vegetables Stew with Wine I use either soy granules or soy chunks, it really doesn't matter, the taste is exactly the same only the consistency of the sauce is a bit different, the soy granules are finer so the sauce will be more suitable to be eaten with noodles for instance (a bit like bolognese). Take care to read the packet's instructions, because the soaking time the soy needs is different, the chunks will need a bit longer. Also, if kids are eating as well, I recommend using the granules, at least my kids like the dish better when cooked with granules. You can change the vegetables according to the season and your personal taste, I am sure that pretty much anything would do, but this is really such a good combination you should try it at least once. 🙂
I use cumin for the Vegan Soy Granules Vegetable Stew with Wine, which is definitely not a Romanian spice. I did that the first time because I mistranslated the word for chimen (caraway). I thought that in German Kümmel (caraway) and Kreuzkümmel (cumin) are the same thing. They are not, but still I keep using cumin for this recipe instead of the original caraway, because it just tastes so good. I've never tried it with caraway, so I cannot tell you how that is.
You can serve this with just about anything: bread, potatoes in any form, noodles, rice, polenta, dumplings, millet, quinoa and so on. Our favorite sides are the German bread dumplings (Semmelknödel) or polenta but we have had this with every single one of those other sides over the years and they are all good.
If you like soy granules or if you are willing to give them a try, do make this recipe, I am so sure you will love it.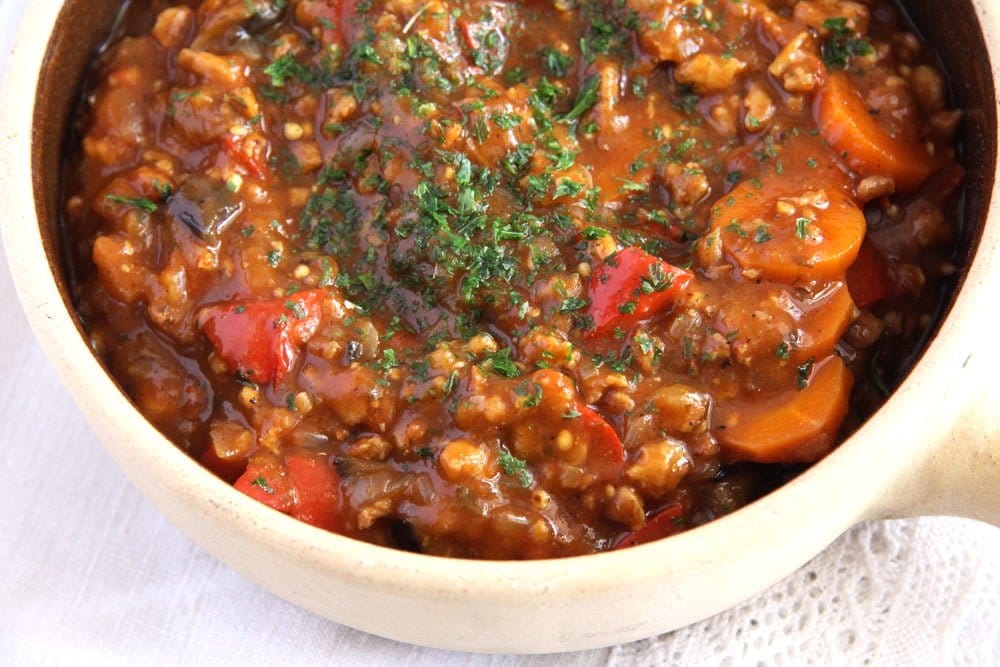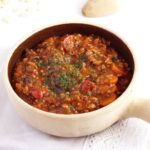 Ingredients
150 g/ 5.3 dry soy granules or soy chunks (See note 1)

500 ml/ 2 cups good quality vegetable broth (See note 2)

125 ml/ ¼ cup red wine (optional – it can be replaced with more vegetable broth)

2 tablespoons vegetable oil

2 medium onions

1 medium eggplant

3 small carrots

2 red bell peppers

1 small can sliced mushrooms

2 tablespoons tomato paste

2 tablespoons all-purpose flour

2 medium tomatoes

2 large garlic cloves

1 teaspoon cumin

1 tablespoons marjoram

1 teaspoon sweet paprika powder

1-2 tablespoons starch, optional for a thicker sauce

salt and pepper

parsley or chives
Instructions
Place the soy granules or chunks in a large heat proof bowl. Bring the vegetable broth to a boil and pour it over the soy. Stir well and add the red wine if using. Let stand for about 30 minutes if you are using chunks and about 15-20 minutes if using granules. Read the packet's instructions to make sure you soak the soy appropriately.
In the meantime prepare the vegetables but keep them separate. Chop the onions finely and set aside. Cut the eggplant into small cubes, slice the carrots and chop the peppers, place these three items together in a bowl. Deseed and chop the tomatoes, drain the mushrooms, grate the garlic. You can place these three ingredients together in another bowl.
Drain the soy granules/chunks and reserve the soaking liquid. Squeeze the soy pretty well to remove as much liquid as possible. To do this I place the soy in the fine sieve and press it with a large spoon.
Heat the oil in a large cast iron or non-stick pot. Add the soy and fry for about 3 minutes, stirring often, until it starts to get some color. Add the onions and continue cooking until the onions are translucent. Add the eggplant, carrots and peppers and cook for 2 minutes more, stirring well a few times in between.
Add the tomato paste and the flour and stir well to coat. Cook for one minute while stirring, then add the soaking liquid, tomatoes, drained mushrooms, garlic, salt and pepper. Add the cumin, marjoram and paprika powder as well. Stir well, cover leaving a crack open, turn the heat down and cook gently for about 20 minutes or until the vegetables are tender. Remove the lid and cook on a higher heat for another 5 minutes or so until the sauce thickens slightly. If you like a thicker sauce, you can thicken it with 1-2 tablespoons starch mixed with a little water to form a paste. Stir this mixture into the cooking sauce while whisking all the time and let boil once.
Adjust the taste with salt and pepper, sprinkle with the chopped herbs and serve with polenta, bread dumplings, rice, noodles, potatoes, quinoa, millet etc.
Notes
Note 1: Read the packet's instructions, because the soaking time the soy needs is different, the chunks will generally need a bit longer. Note 2: You can use vegetable broth made from a cube but make sure it is of organic quality and has no weird stuff in it
This post contains affiliate links. The price you pay as a consumer does not change, but if you make a purchase we will receive a commission which helps support the blog.
Others you might like: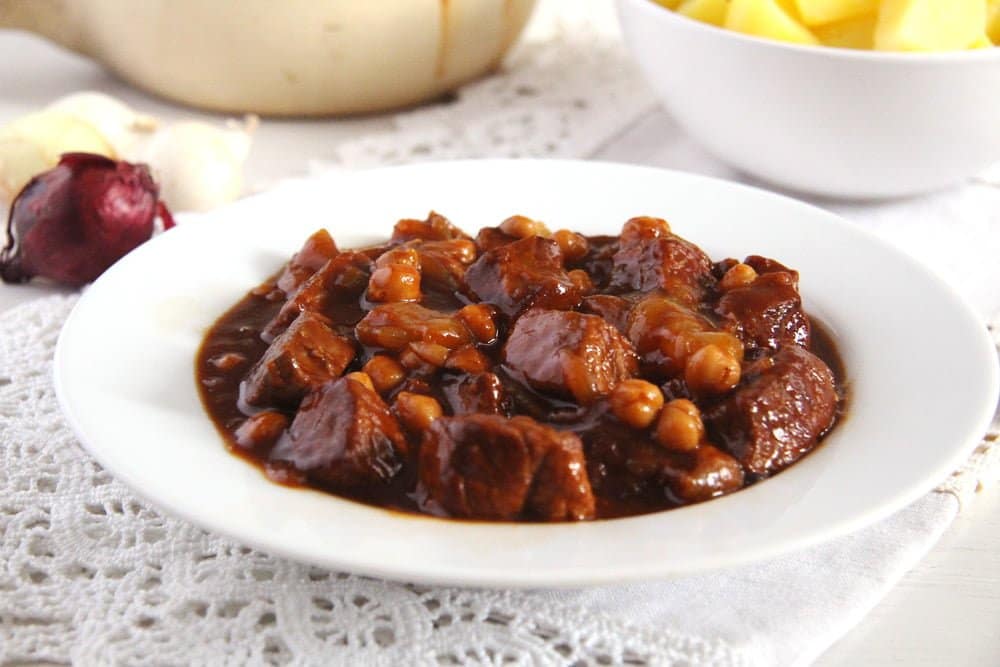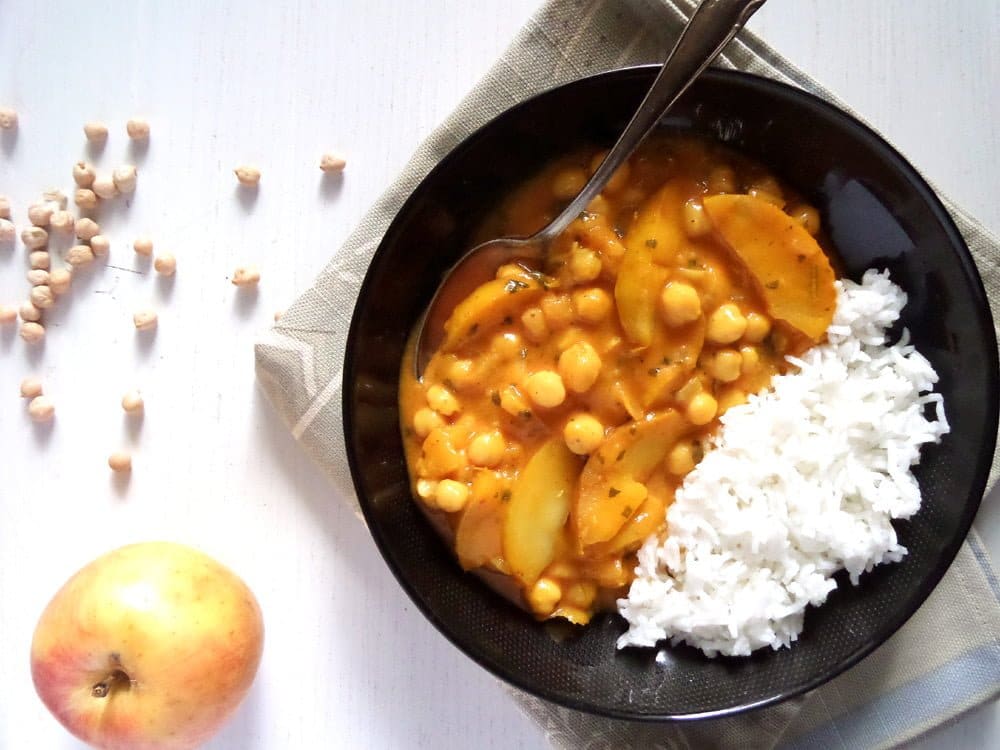 Vegan Apple and Chickpea Curry