An easy vegetarian stir-fry with soya granules or chunks and lots of vegetables, a simple and flavorful vegetable dish served over rice.
I posted the recipe for this soya granules fry recipe years ago as I was just starting with the blog. It had been one of the first times I had cooked it, but I've been making it lots and lots of time ever since.
I enjoy cooking with soya from time to time and the two dishes I cook most of the time are this soya fry, the soya spaghetti, and the soy stew.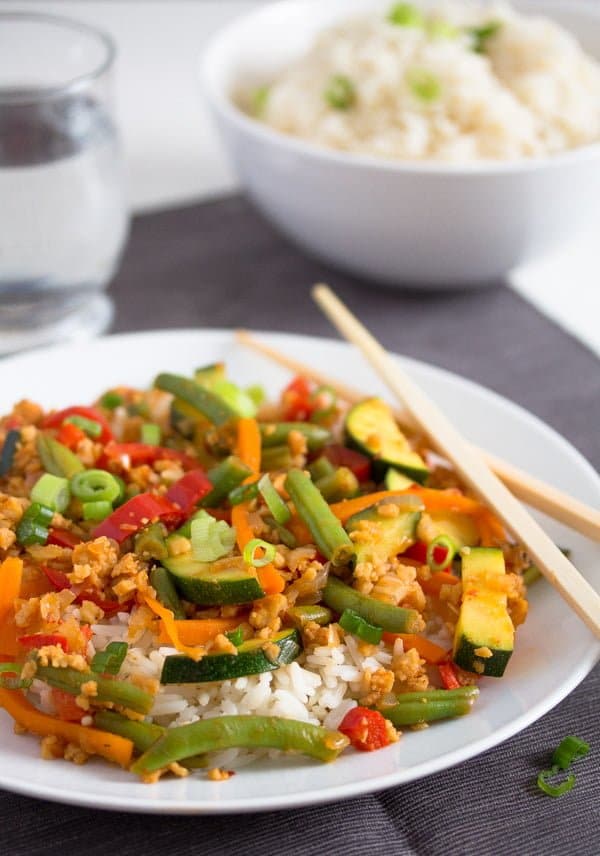 What do you need?
The recipe goes fast, it's easy to make and I always seem to have the ingredients in the house.
I change the vegetables that I use according to what I have in the fridge or what is in season and we normally eat it with rice.
I always keep the carrots and the bell peppers, because I always have those two vegetables in the fridge. But otherwise, I am flexible.
The original recipe was made with broccoli florets and sugar snap pea, but the new pictures I've taken show zucchini slices and green beans. Both versions are delicious, so don't be afraid to swap the vegetables according to your taste and whatever you happen to have in the house.
The carrots, zucchini, and peppers I use to make this soya fry are always fresh, but otherwise, when it comes to green beans, sugar snap peas, regular peas, broccoli, or cauliflower I often use frozen products.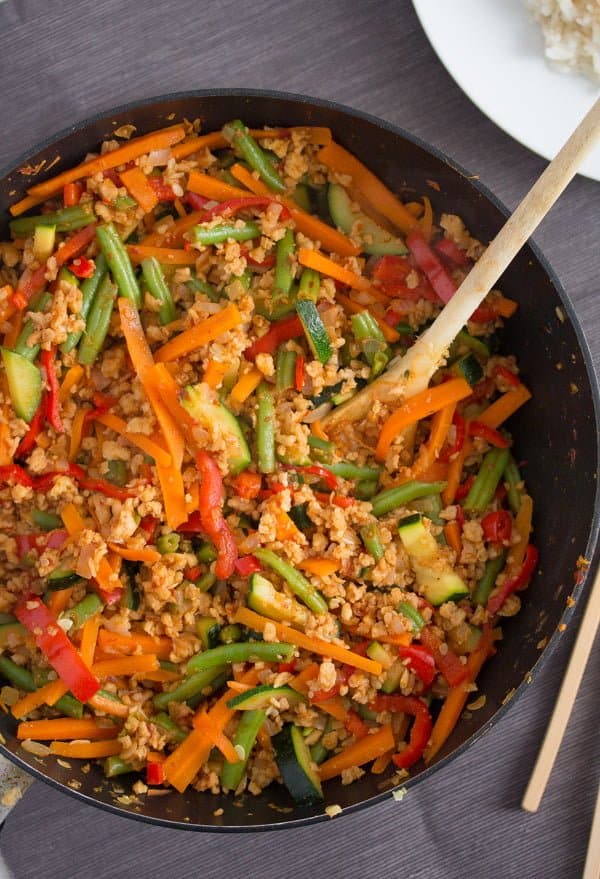 What are soya granules?
Soya granules or soya chunks are textured soy protein or textured vegetable protein. They are defatted soy flour, a by-product of extracting soybean oil, used as a meat substitute, or as a more economical meat alternative.
The granules are very small and are mostly used as a substitute for ground meat, while the chunks are larger and are used to substitute larger pieces of meat.
However, whenever cooking with any of these products, I never actually try to replace any meat. I have my special soya granules recipes, which I like because they contain the soya products and not because they replace the meat.
Are soya granules healthy?
Actually, yes. There is a lot of controversy concerning soya products, controversy I would rather not get myself into.
They are, of course, processed products and many, including myself, feel that eating too many processed products is not good for our health. And not only soya granules or chunks, but tofu, tempeh, and soya milk are processed as well, but, funnily, no one seems to worry as much about them as they worry about the granules or chunks.
However, banning any kind of processed products from our diet seems like mission impossible. I know, I would never even consider giving up cheese, which is a processed food as well.
As always, the key is moderation. No one, either vegan or vegetarian in need of a good source of protein, would even consider eating these products every day.
Soya products are complete proteins, meaning they have all the essential amino acids present. That makes them a good choice for vegans or vegetarians.
A serving contains over 54 grams of protein, which is more than the same serving of eggs or meat. With the extra bonus of containing an almost negligible amount of fat. And considering that the recommended daily intake of protein for men is 56 grams and 46 grams for women, that is pretty good.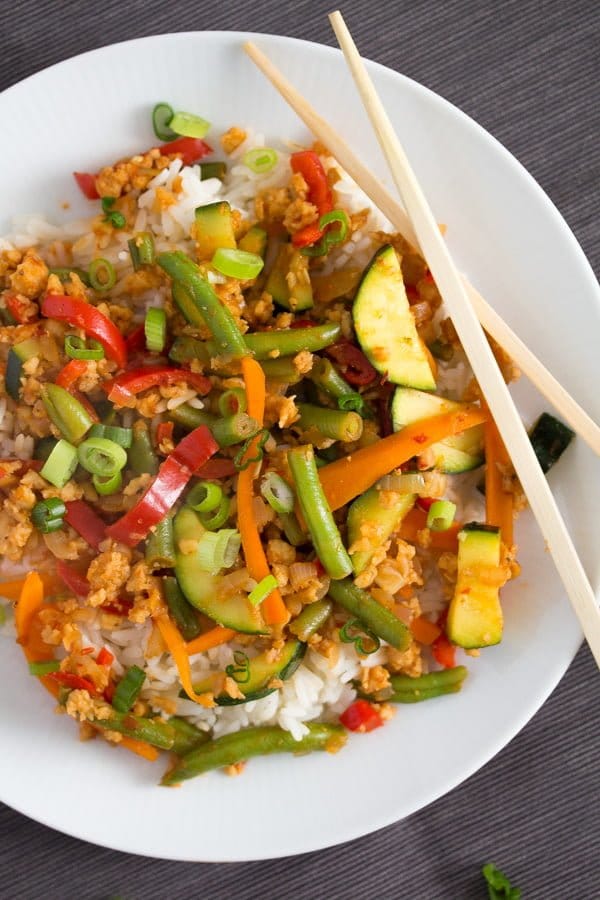 Some other benefits of soya beans and products include their potential of lowering cholesterol levels, especially LDL (bad) cholesterol. They may also improve fertility and they may help reduce menopause symptoms.
Some of the issues concerning people are the influence it might have on thyroid function or their effect on male sex hormones. However, many studies concluded that oestrogen production in the male body can only be affected and that only very little, if a person would eat huge quantities of soy products every day. Which, again, nobody does.
My strongest concern regarding soya and soya products is the fact that, at least in the US, more than 90 % soya produced is genetically modified. As I am not always sure where the stuff sold in the EU comes from, I always buy organic products.
How to use in recipes?
Soak:
Soak before cooking. Always read the packet's instructions. The granules usually need to be soaked for about 10 minutes, while the chunks need up to half an hour, depending on their size. Larger pieces, like soya cutlets, might even need to be boiled for about 5 minutes.
To make this dish, boil them shortly. This is necessary because they will only be cooked very shortly after being drained.
Most packet's instructions recommend soaking in hot water, however, I always use vegetable broth, I feel it improves the taste of the final dish.
Squeeze:
After soaking, drain well.
Once cool enough to handle, squeeze them well in order to remove the excess moisture. The better you squeeze them, the better color and texture they will get when you fry them.
A trick for squeezing the liquid out without having to wait too long for them to cool is to place them into a fine sieve, in batches, and press the liquid out of them with the help of a large spoon.
How to use?
Soya granules or soya chunks are very easy to include into your meals. From stir-fries with vegetables to stews and sauces for pasta. You can make a very tasty kind of bolognese sauce for your spaghetti, you can use the granules to replace the meat in any kind of dish containing ground meat. You can add them to soups or you can make patties.
I noticed that there are lots of Indian recipes out there using these products. As so many Indians are vegetarians, they have adapted lots of traditional Indian dishes to suit their dietary needs.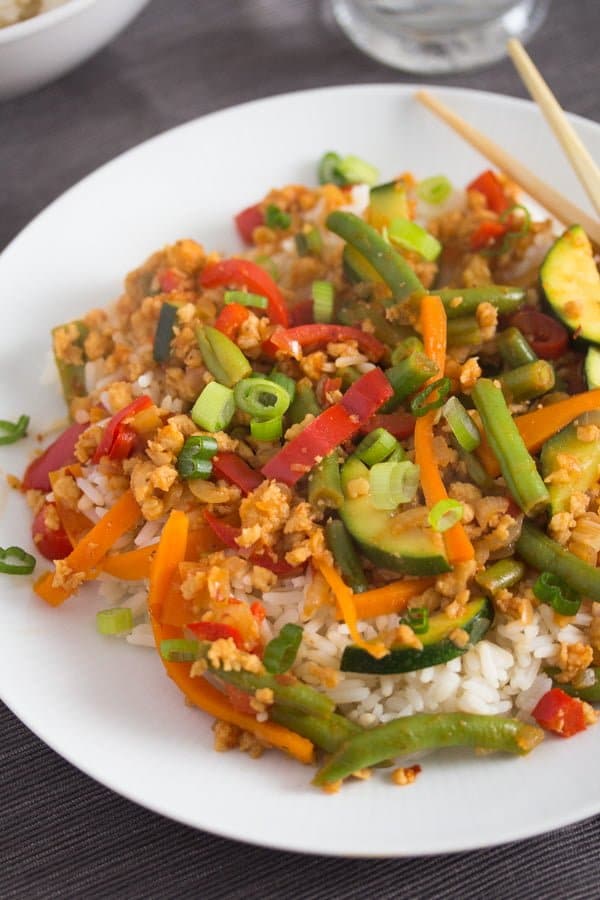 How to serve?
Most of the time I serve this soya granules recipe with plain boiled rice.
However, Chinese egg noodles or vermicelli are very nice as well.
The soya fry can be easily reheated.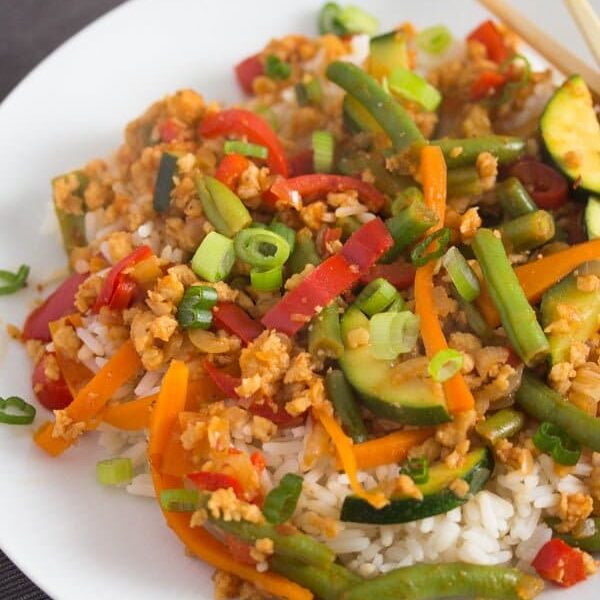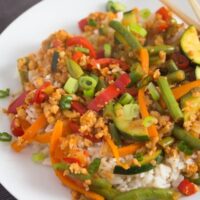 Vegetarian Stir-Fry with Soya Granules
An easy vegetarian stir-fry with soya granules or chunks and lots of vegetables, a simple and flavorful vegetable dish served over rice.
Print
Pin
Share
Grow
Saved!
Rate
Ingredients
150

g/ 5.3 oz/ 2 cups soya granules

700

ml/ 23.6 fl.oz/ 3 cups vegetable broth

2

garlic cloves

2.5

cm/ 1 inch ginger

1

medium onion

2

medium zucchini

2

carrots

2

red bell peppers

2

scallions

150

g/5.4 oz green beans

defrosted, if frozen

1

tablespoon

vegetable oil

5

tablespoons

soy sauce

2

tablespoons

chili sauce

2

teaspoons

sriracha or more chili sauce

fine sea salt and pepper
Instructions
Cover the soy granules with the vegetable broth and bring to a boil. Turn off the heat and let stand for about 10 minutes. Drain and squeeze out the excess liquid.

Chop the ginger and garlic very finely and pound to a paste.

Slice the onions finely. Cut the zucchini in half lengthwise and slice the halves. Cut the bell peppers and the carrots into fine strips. Cut the green beans in two or three pieces, depending on their size. Slice the scallions thinly, but keep the whites and the greens separated.

Mix the soya sauce, chili sauce, and sriracha.

Heat the oil and saute the ginger-garlic paste for about 1 minute until fragrant. Add the onions and fry until slightly translucent. Add the rest of the vegetables, except the greens of the scallions, and stir fry for about 5-6 minutes until they are starting to get softer.

Add the soy granules and stir fry for about 2 minutes.

Add the sauce, salt, and pepper to taste and let everything get hot, about 2-3 minutes.

Sprinkle the stir-fry with the chopped scallion greens.

Serve immediately with rice, egg noodles, or vermicelli noodles.

Nutrition
Serving:
1
/4 of the dish
|
Calories:
132
kcal
|
Carbohydrates:
20
g
|
Protein:
6
g
|
Fat:
4
g
|
Polyunsaturated Fat:
3
g
|
Sodium:
1959
mg
|
Fiber:
5
g
|
Sugar:
11
g