Vegan soya spaghetti dish with soya granules and lots of vegetables, this chunky meatless sauce is delicious, healthy, and satisfying.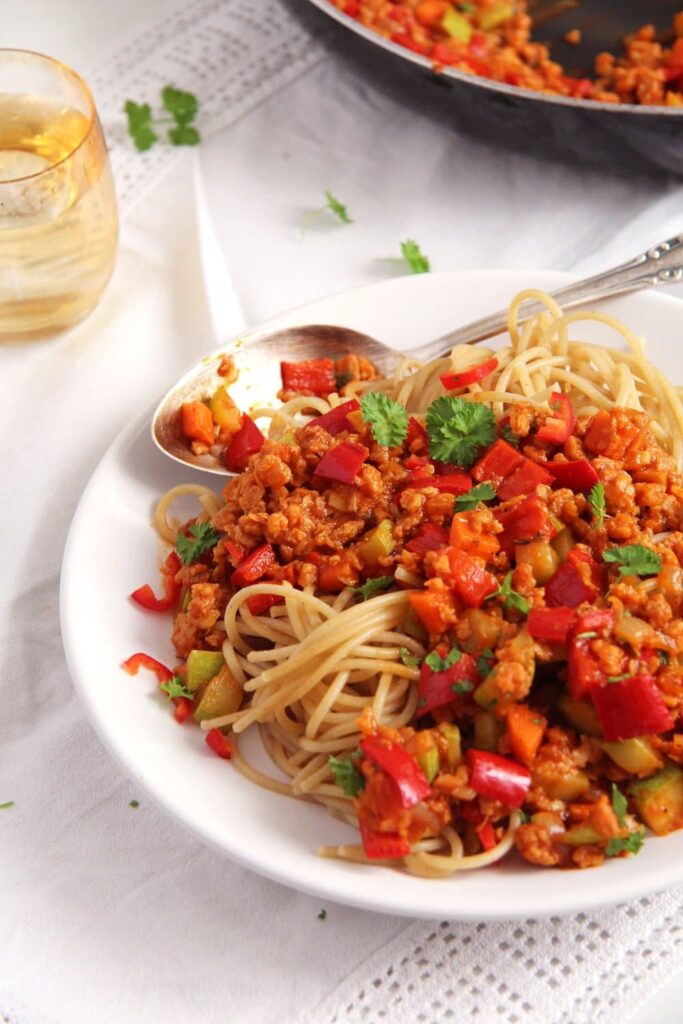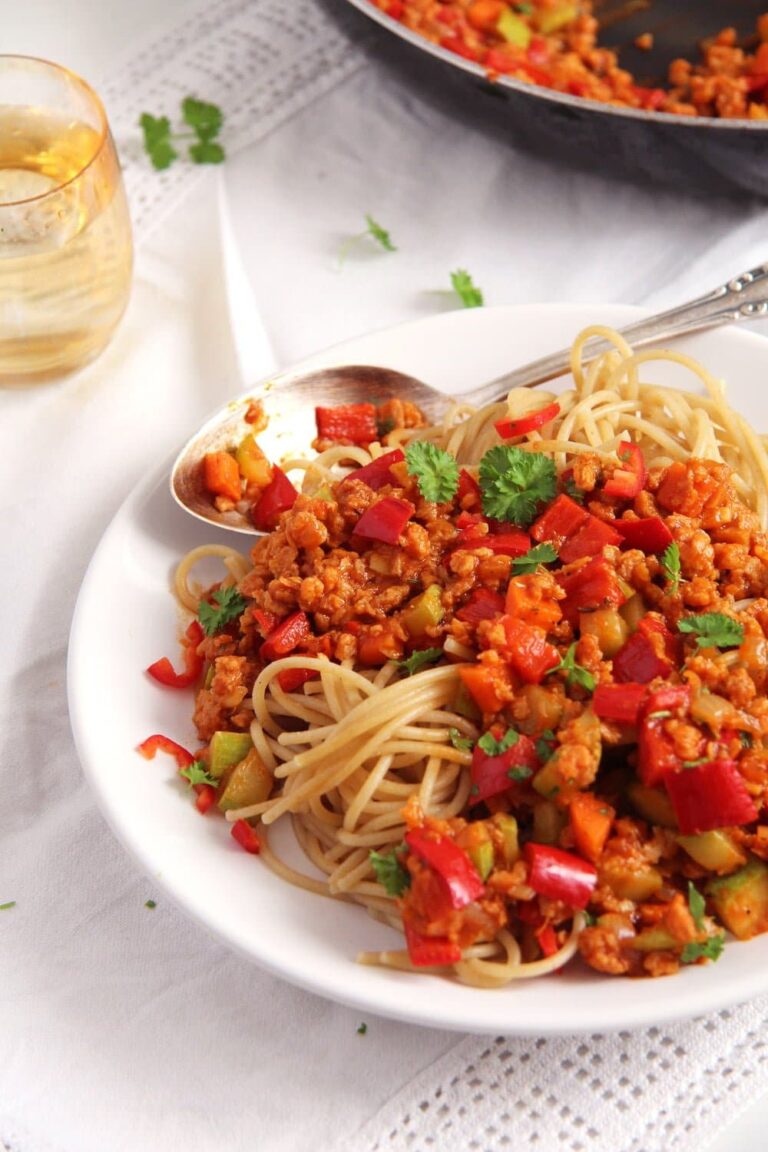 Pasta dishes are a staple in most houses, everybody loves pasta, most pasta dishes are easy, quick and cheap to make and that makes them perfect weeknight meals in most families.
How about trying a vegan alternative to the usual meat sauces? A meatless soya spaghetti sauce where the meat is replaced by tiny soy granules. If you have never tried textured soy protein before, you will have a great surprise!
This vegan pasta dish with soy is filling, healthy and mega delicious, even non-vegans or picky kids will like it.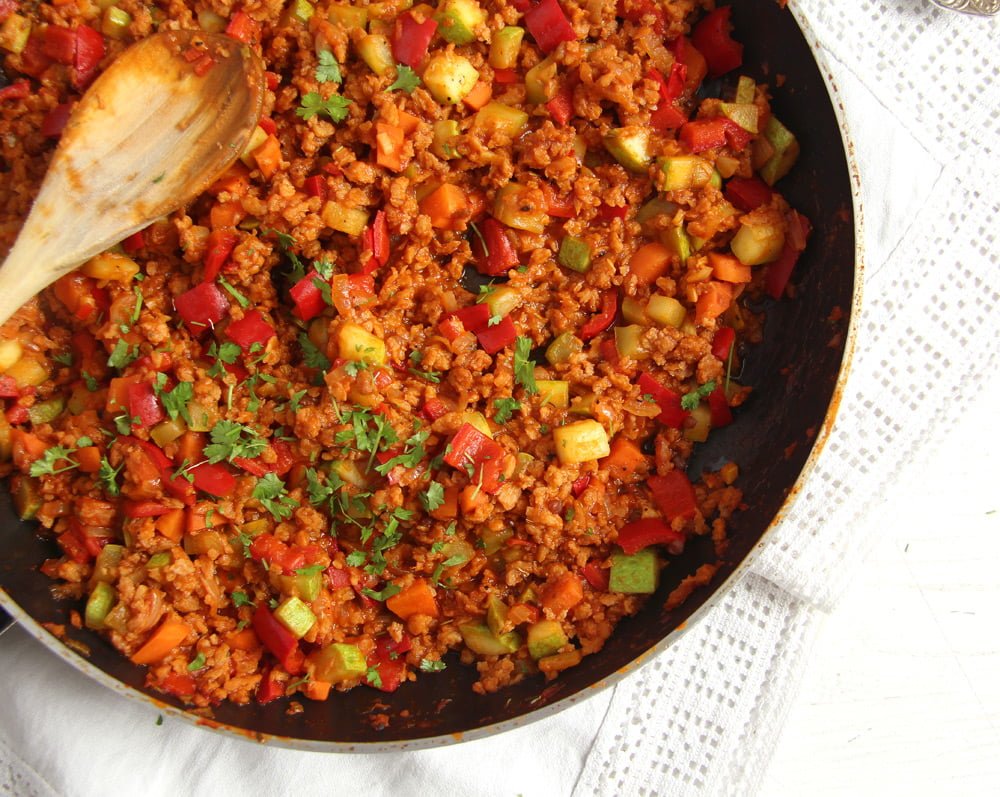 The idea for this recipe came to me one day when I wanted to make spaghetti bolognese but did not want to go shopping for the ground meat. I remembered that I still had about half a bag of the soy granules in my pantry and thought I would give it a try.
The result didn't really have much in common with spaghetti bolognese, but we found the sauce delicious, the whole family was completely satisfied and the kids ate all the vegetables in the sauce without complaining one bit.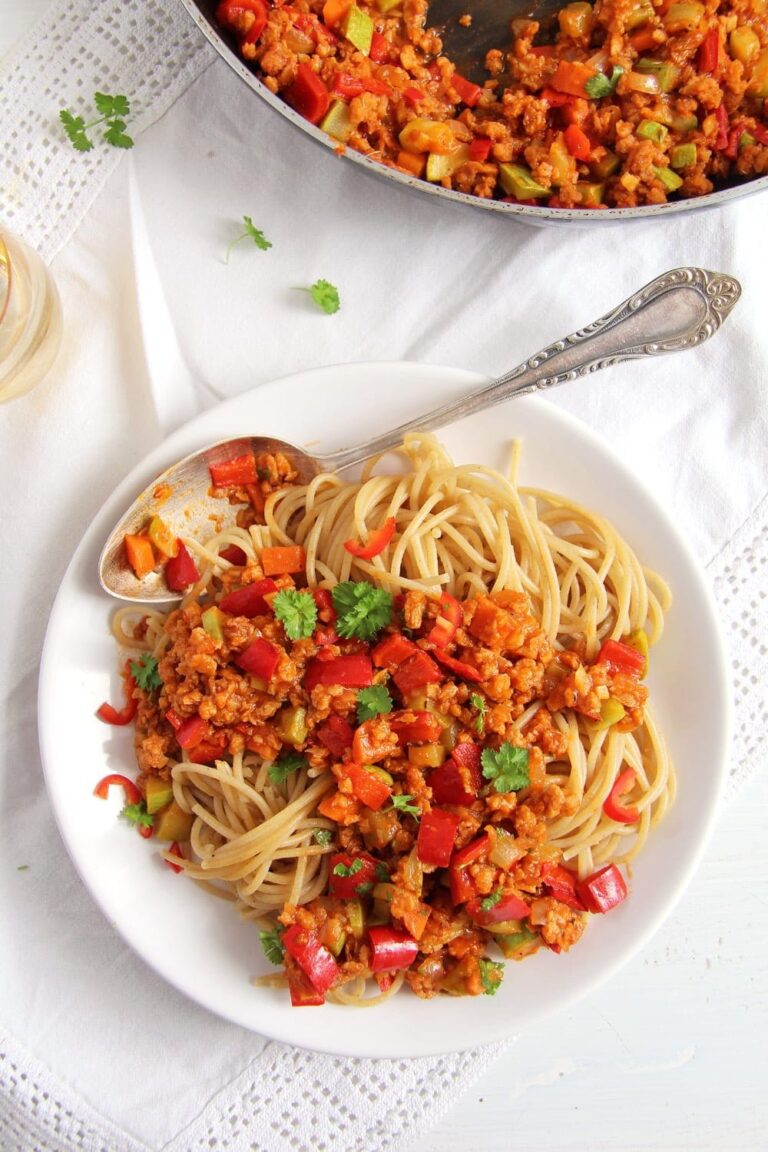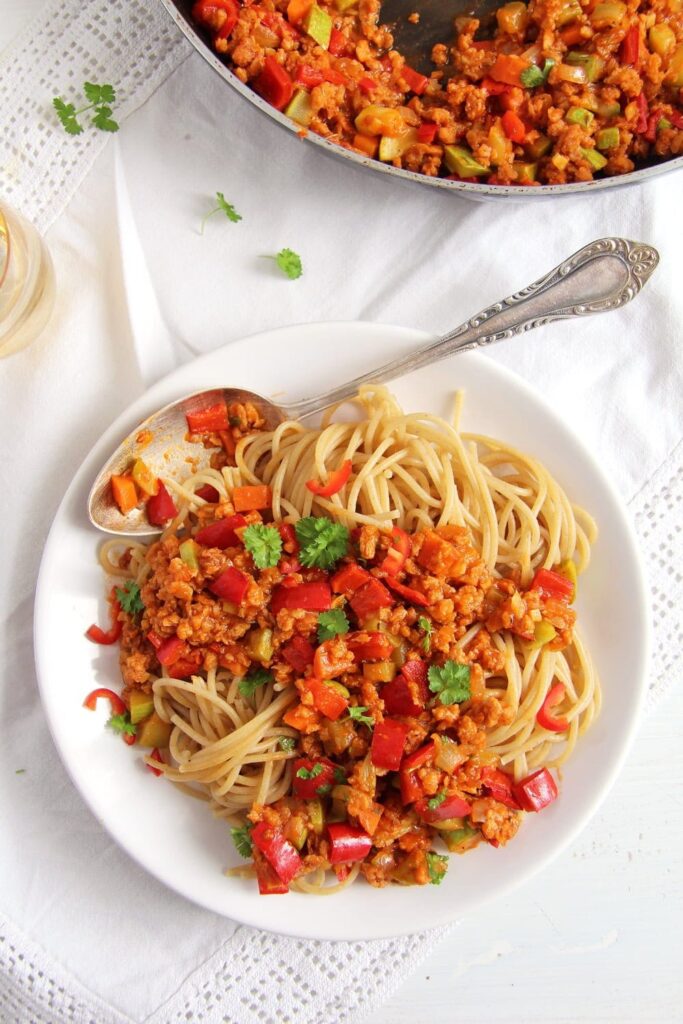 What is textured soy protein (TSP)?
Also called textured vegetable protein (TVP), soy chunks, soy granules, soy schnitzel or soy meat.
The textured soy protein is a by-product of extracting soybean oil. It is often used as a meat replacement and sometimes as a meat extender and has a protein content comparable to certain meats.
It is considered a low-cost healthy food especially if combined with vegetables, like in this recipe.
Textured soy protein in a processed product and its consumption meets with controversy in these days where clean eating is more important than ever. However, I don't worry much about that, we eat textured soy protein just like we eat meat and that is: in moderation.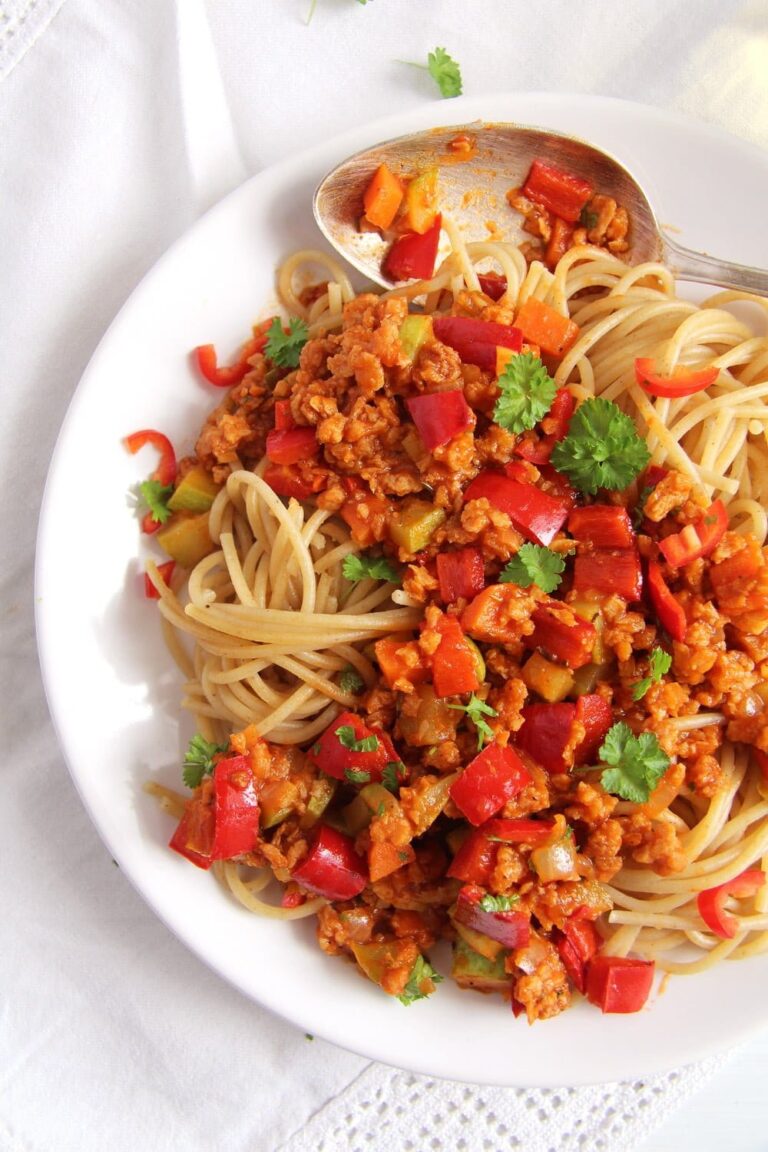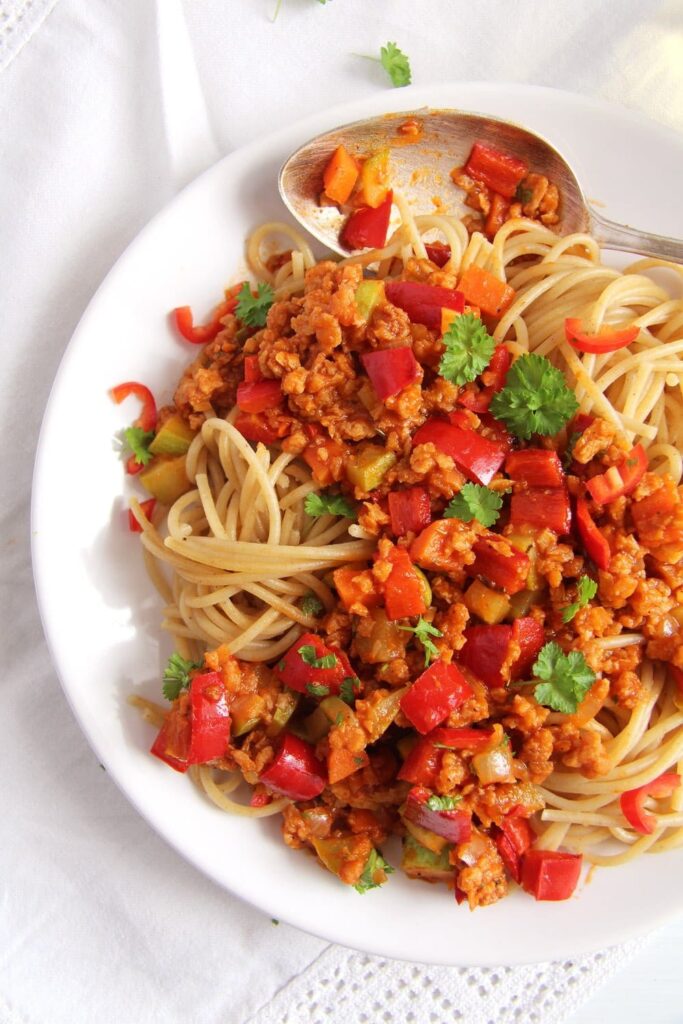 What to do with it?
TSP is very versatile, there are lots and lots of delicious vegan dishes you could try. One of our favorite vegan meals is this vegan soy stew, for instance.
You could also use the soy protein to make stir-fries, you can fry it in the pan and make burritos (so good), tacos, or enchiladas. You could add it to soups or chilies, you could fry it and have with rice, like in this Jamaican rice and peas, which I serve either with fried eggs or with fried soy strips.
How to prepare textured soy protein?
The best advice I can give is to follow the packet's instructions. teaspoon comes in different shapes and sizes and that is why the soaking and/or cooking times differ from sort to sort and sometimes from brand to brand.
From my experience, I can tell you that soy granules need more or less 15-20 minutes soaking time in hot vegetable broth. The soy chunks need about 30 minutes soaking time, while the larger pieces need to be cooked in vegetable broth, then drain and squeezed and then fried.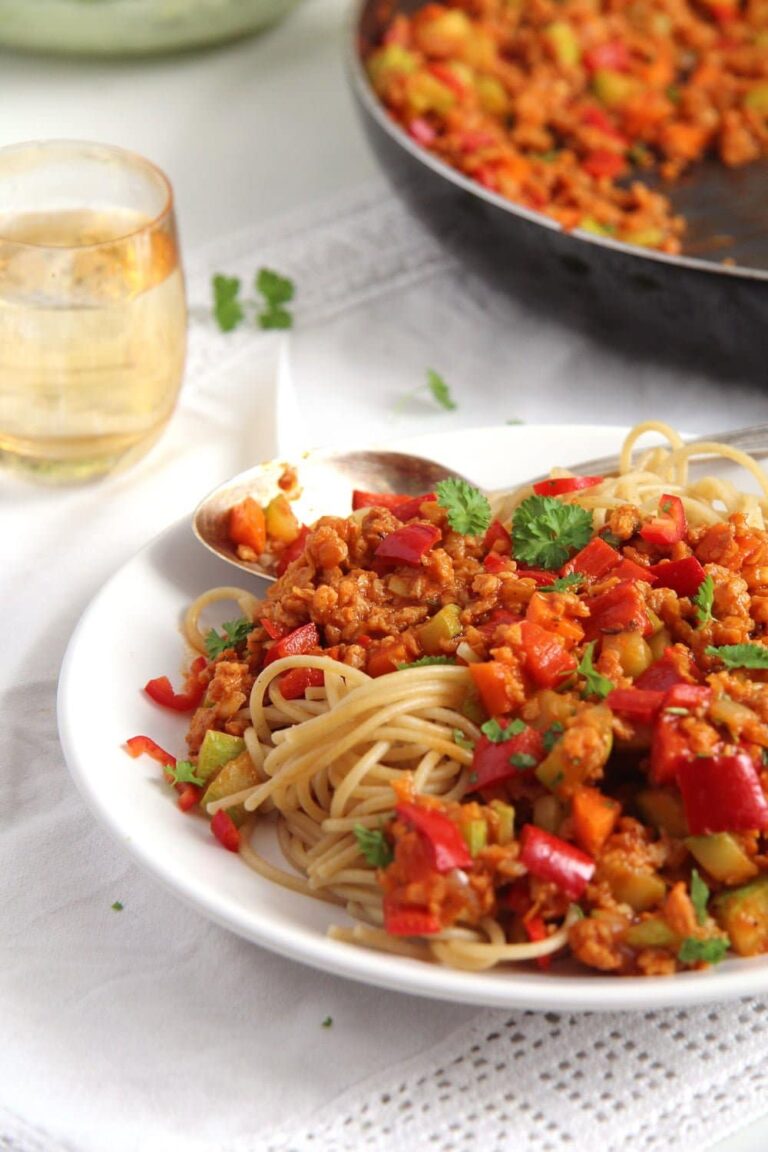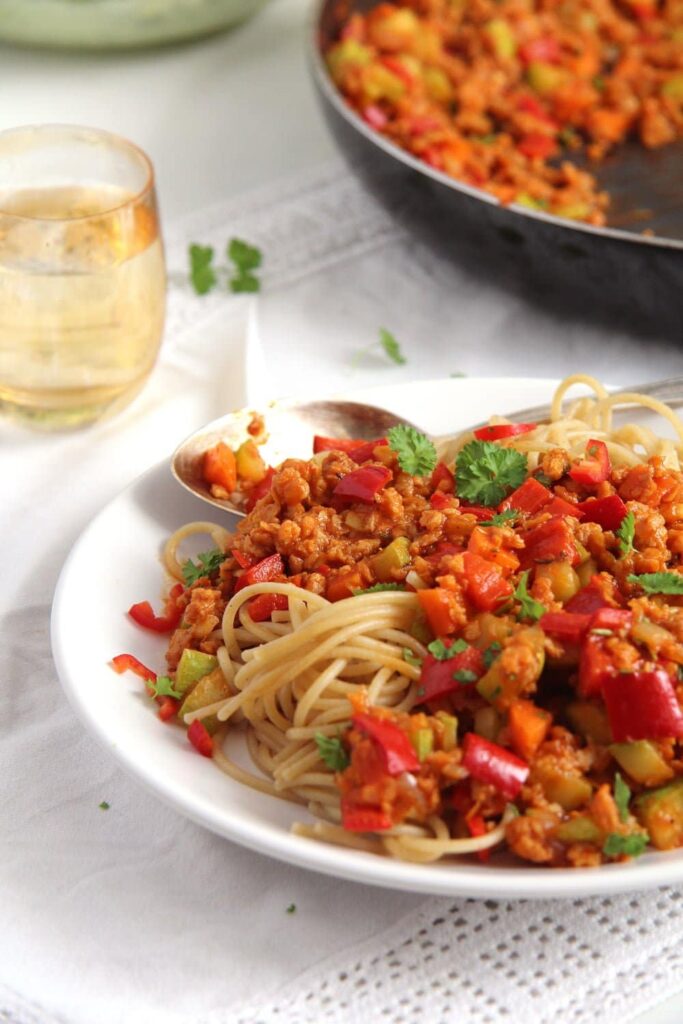 How to make?
In this recipe, we will use soy granules. Although they are granules, the recipe requires you to boil them shortly and let stand for 10 minutes.
In the meantime, bring the water needed for the spaghetti to a boil and prepare the vegetables.
Cook the chopped vegetables until almost done, add the drained soy granules and cook until the veggies are done to your liking.
Adjust the taste and that's it! A super quick sauce for pasta, healthy and delicious.
More meatless pasta sauces?
BUTTERED NOODLES WITH GARLIC AND PARMESAN - incredibly easy to make, aromatic buttered noodles with garlic and Parmesan.
CREAMY PUMPKIN PASTA SAUCE - the best creamy pumpkin pasta sauce with parmesan and parsley, one of the best pumpkin pasta recipes ever!
SKILLET MACARONI AND CHEESE - only three ingredients and less than half an hour cooking time.
PASTA WITH EGGPLANTS - a comforting pasta dish featuring one of my favorite vegetables in the world: eggplants.
CABBAGE NOODLES WITH SOUR CREAM - a pot full of noodles and cabbage with sour cream, this is the perfect winter pasta dish.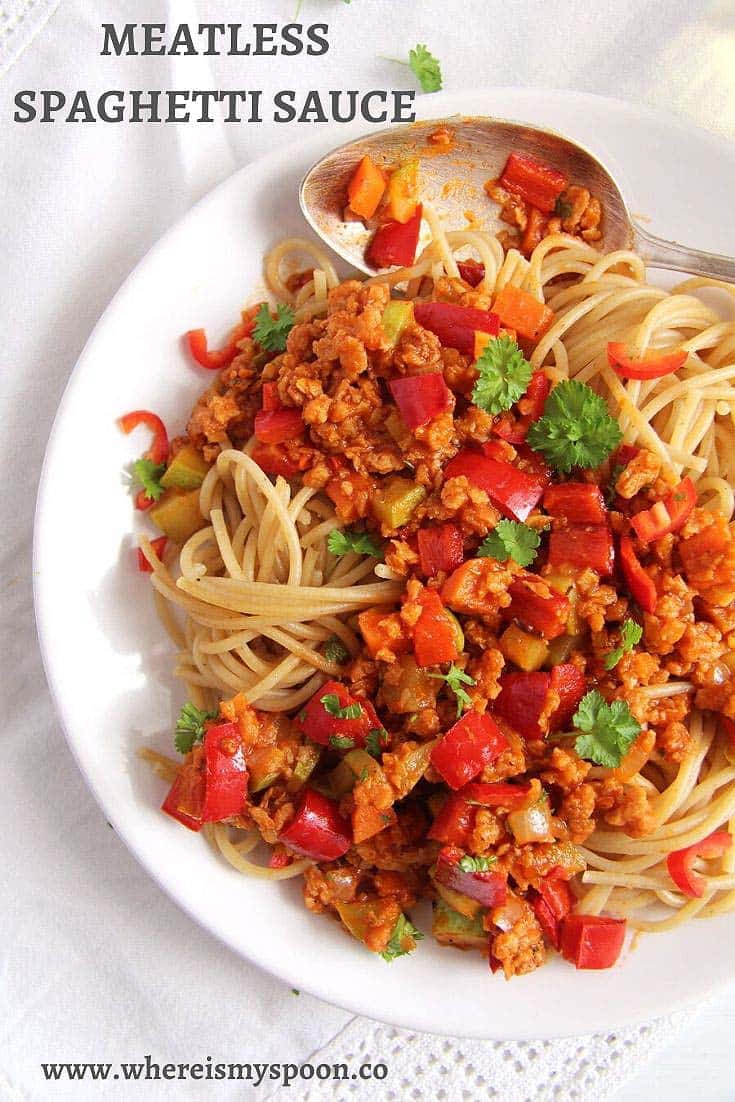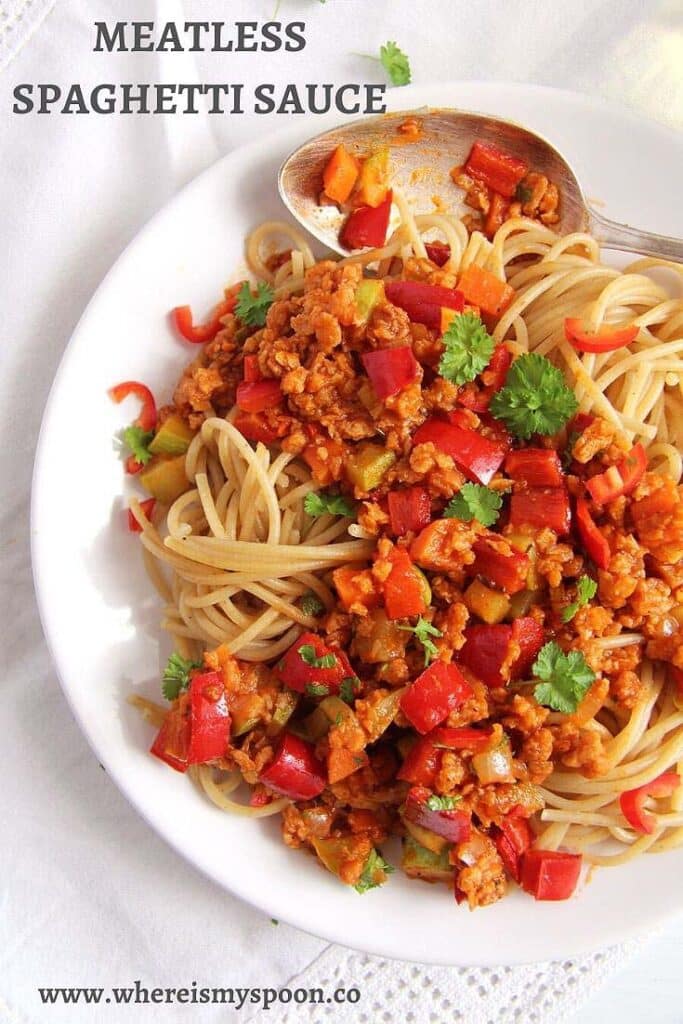 Soya Spaghetti
Vegan soya spaghetti with soya granules and lots of vegetables, this chunky meatless sauce is delicious, healthy, and filling.
Print
Pin
Share
Grow
Saved!
Rate
Ingredients
350

g/ 12.3 oz whole wheat spaghetti

or any other kind of pasta

vegetable broth

2

tablespoons

olive oil

1

medium onion

3

large garlic cloves

1

red chili

mine was large but not very hot, you can make the sauce as hot as you like

1

medium carrot

1

red bell pepper

1

medium zucchini

2

tablespoons

tomato paste

5

tablespoons

water

1

large pinch dried thyme or a few sprigs fresh thyme

finely chopped

2

tablespoons

soy sauce

1

small bunch parsley

fine sea salt and ground black pepper
Instructions
Place the soy granules in a small pot, cover with vegetable broth and bring to a boil. Turn off the heat and let stand, covered, for 10 minutes.

In the meantime, set the water for the pasta and prepare the vegetables. Chop the onions finely. Mince the garlic and the chili and chop the carrot, pepper, and zucchini into small cubes.

When the pasta water starts to boil, add salt generously and the pasta. Cook the pasta according to the packet's instructions.

Heat the oil in a large cast-iron or non-stick pan and cook the vegetables until almost soft, about 7 minutes.

Add the tomato paste and the water and stir well.

Drain the soy granules and add them to the pan together with the thyme. Stir well and continue cooking for another 3 minutes or until the vegetables are cooked to your liking.

Add the soy sauce, stir well, and adjust the taste with salt and pepper. Sprinkle the chopped parsley on top.

Serve the sauce with the spaghetti and salad.

Nutrition
Serving:
1
/4 of the dish
|
Calories:
378
kcal
|
Carbohydrates:
44
g
|
Protein:
17
g
|
Fat:
17
g
|
Saturated Fat:
4
g
|
Polyunsaturated Fat:
10
g
|
Cholesterol:
25
mg
|
Sodium:
1215
mg
|
Fiber:
6
g
|
Sugar:
7
g