Simple French crepes recipe with a crème fraiche and rhubarb filling. Suitable for any sweet or savory filling.
French Crepes Recipe
These easy to make French crepes are just amazing! Thin, melt-in-your-mouth and filled with the most delicious crème fraiche and rhubarb compote filling. However, the rhubarb filling is optional, you can enjoy these crepes with any other fruit or berry compote any time of the year.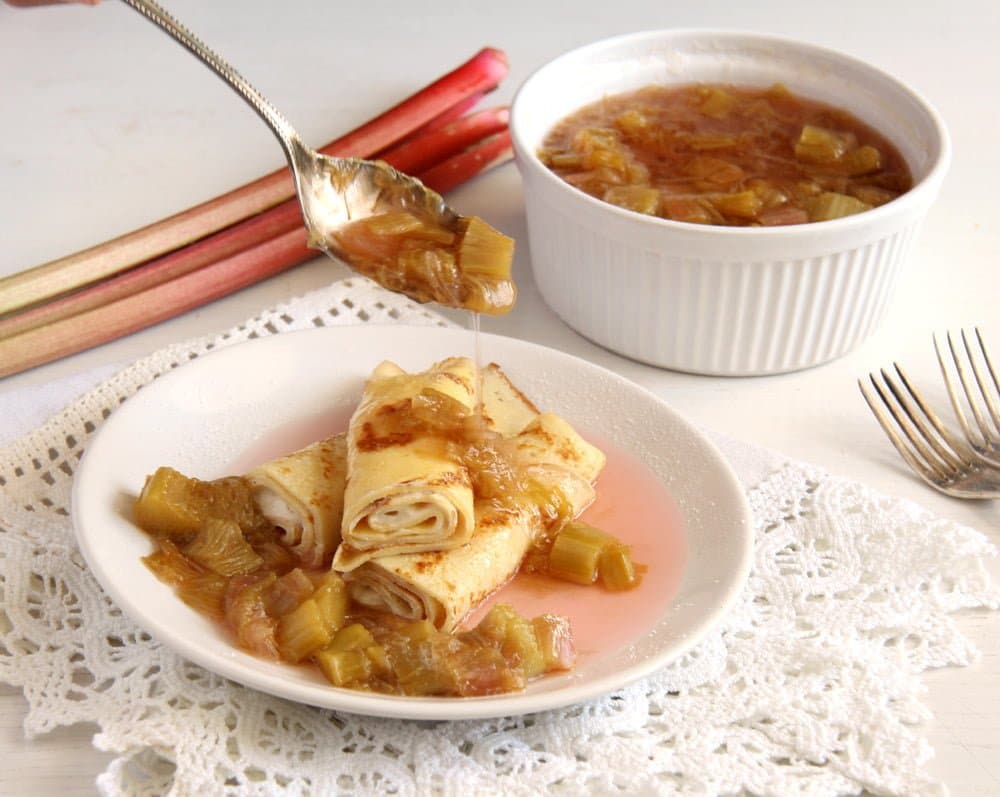 What are crepes?
Crepes are a kind of pancake.
We all know the thick American pancakes, so delicious for breakfast, topped with blueberries or any kind of fruit or berries and dripping with syrup. Mouth-watering!
And then there are the thinner pancakes, baked as large as the frying pan, which can be filled with pretty much anything (sweet or savory), rolled and served. Or which can be filled, topped with cheese and baked.
These are usually made with only milk (and maybe some sparkling water), flour and eggs.
And then are the French crepes, the thinnest, most delicate of all pancakes.
In addition to the above-mentioned ingredients, you will add some melted butter to the batter.
You can serve them in the simplest way filled with sugar (my favorite kind when I was a child), or with jam.
Or you can go the whole way and flambee the famous French crepes Suzette served with orange sauce.
And in between, you can fill them with today's delicious crème fraiche and compote filling.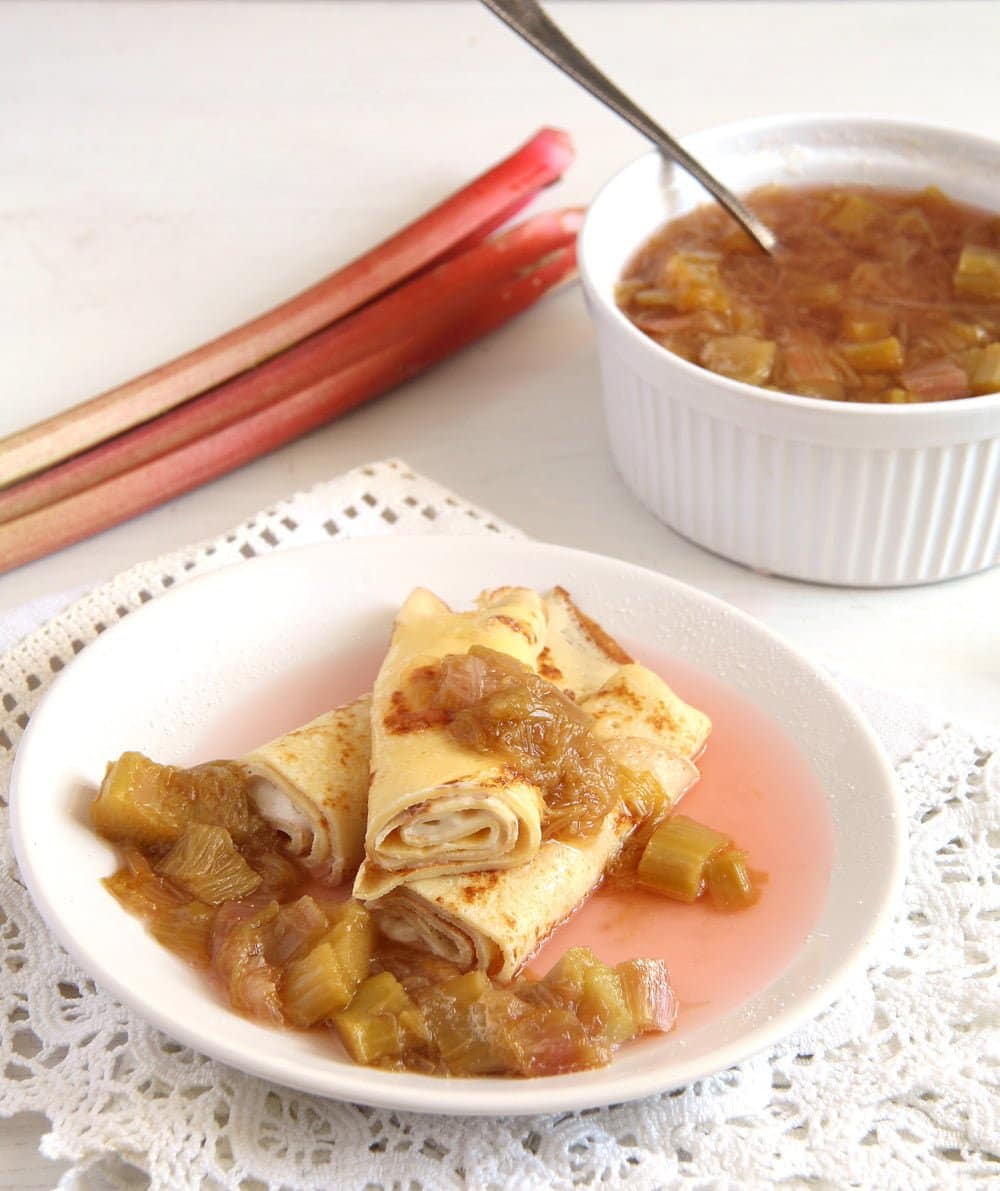 Tips for making crepes
Mixing:
Traditionally, you would use a whisk to mix the ingredients. You can, of course, but I prefer the mixer, it only takes seconds and I have never noticed any difference.
Pan:
Use a crepes pan if you happen to have one.
Otherwise, a large non-stick shallow pan will be perfect.
I definitely recommend non-stick, otherwise, you will need a lot of oil to prevent the crepes from sticking to the pan.
When using a non-stick pan, brush the bottom of the pan with oil very lightly, it will be enough. I usually pour some oil in a small bowl and quickly dip the silicon brush in it for each crepe.
My pan is 25 cm/ 10-inch, but you can use a slightly smaller or larger pan, it will not matter, you will just get a few more or fewer crepes out of this amount of batter.
Swirl:
Add a small amount of batter to the pan and swirl quickly to spread it evenly in the pan.
Cooking time:
It is very short.
Depending on the heat, which should be medium and the pan (thicker or thinner bottomed) it will take around 30-40 seconds on the first side.
Flip the crepes with a rubber spatula (gently) and continue cooking for about 10 more seconds.
You will see how the first crepe comes out, if you like it to be browner, increase the cooking time slightly.
Can you make ahead?
Yes, you can make the batter and keep in an airthigt container until the next day.
You can make the crepes, staple them with pieces of parchment paper in between and cover the whole batch with cling film/plastic wrap. Keep in the fridge for up to 3 days.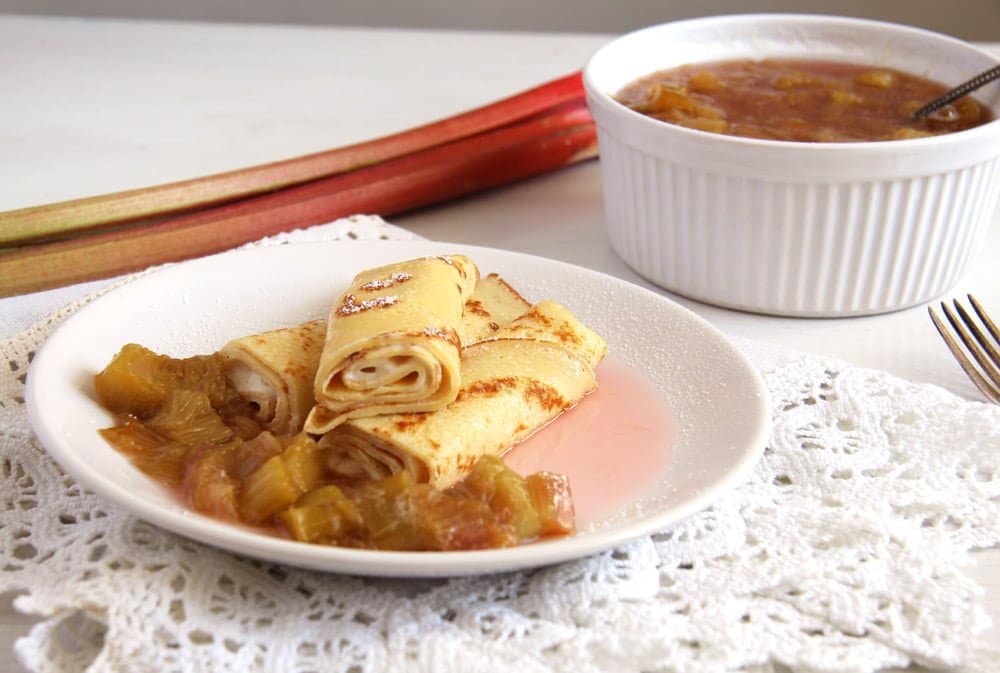 Rhubarb compote
Rhubarb!!! My favorite seasonal produce ever. I like lots of other things, especially in spring, things like asparagus, strawberries or elderflower, but rhubarb is really my number one. I love the sourness, the sweet-sourness that develops when the rhubarb is cooked with sugar, I have had rhubarb in so many different ways and I loved each and every recipe.
And this simple rhubarb compote was created to be served these delicate French crepes filled with vanilla-crème fraiche.
But it is also wonderful when eaten on its own topped with some heavy cream for instance.
Also amazing with vanilla ice cream (I love the cold-hot combination).
Or on top of muesli or porridge.
More crepes and pancakes?
Green Wild Garlic Crepes - with salmon filling
Polish Crepes Nalesniki - with quark filling
Beetroot Crepes - sweet or savory
German Cast-Iron Pancakes - with strawberry sauce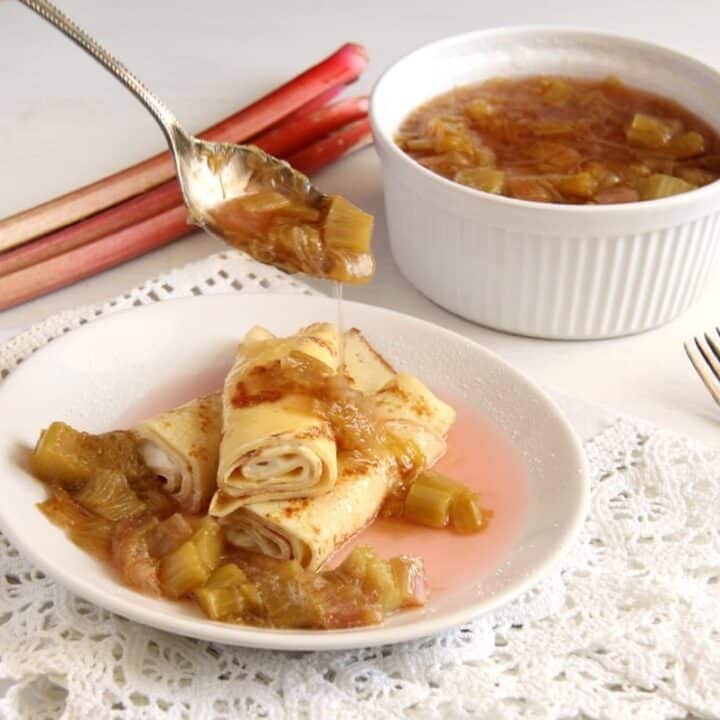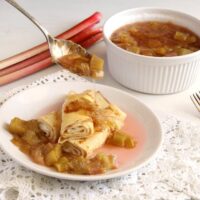 Easy French Crepes Recipe
Simple French crepes recipe with a crème fraiche and rhubarb filling. Suitable for any kind of fruit compote, and any sweet or savory fillings.
Print
Pin
Share
Grow
Saved!
Rate
Ingredients
French crepes:

4

eggs

medium Germany, large US

250

ml

full-fat milk

8.5 fl.oz/ 1 cup

100

g

all-purpose flour

3.5 oz/ ¾ cup + 1 tablespoon

2

tablespoons

unsalted butter

melted

some clarified butter or vegetable oil

Note

Filling:

300

g

crème fraiche

10.6 oz/ 1 ⅓ cups

3

tablespoons

vanilla sugar or pure vanilla extract to taste

Rhubarb compote:

450

g

rhubarb

1 lb

100

g

sugar

3.5 oz/ ½ cup

½

vanilla bean or ½ teaspoon pure vanilla extract

some powdered sugar

to serve
Instructions
French crepes:
Batter: Place the eggs in a medium bowl and mix slightly with a hand-held mixer. Add the milk, flour and melted butter and blend until smooth. Let stand for about 10 minutes. In the meantime, make the rhubarb compote.

Make crepes: Heat a non-stick pan (I have a pancake pan) on medium heat. Brush it well with clarified butter or oil before making each crepe (I use a silicone brush. Add some batter and swirl the pan to distribute the batter all over the pan.

Cook the crepe for about 40 seconds until the underside is golden brown.

Flip: Flip it gently (crepes are delicate) using a rubber spatula and cook the other side for about 10-20 seconds more. Suppose you would like the crepes to be browner increase the cooking time slightly.

Slide it to a plate and repeat until you have 8-10 thin crepes.
Rhubarb compote:
Prepare ingredients: Wash, top and tail the rhubarb. Chop it into slices, about 2 cm/ 0.8 inches thick.

Halve the vanilla pod lengthwise and scrape out the seeds.

Cook rhubarb: Place the rhubarb into a saucepan, add the sugar, the vanilla seeds (or vanilla extract), and the empty vanilla pod. Bring to a boil and simmer, covered, for about 4-5 minutes, until the rhubarb is soft but not entirely disintegrated. Remove the empty vanilla pod.
Creme fraiche filling:
Stir the crème Fraiche and the vanilla sugar together.

Serve: Spread the mixture on the crepes, roll them, sprinkle the crepes with some powdered sugar, if desired, and serve with the rhubarb compote immediately.
Notes
You can use melted butter, clarified butter or oil to cook the crepes. I prefer vegetable oil.
Nutrition
Serving:
1
crepe with filling
|
Calories:
294
kcal
|
Carbohydrates:
22
g
|
Protein:
6
g
|
Fat:
21
g
|
Saturated Fat:
11
g
|
Polyunsaturated Fat:
8
g
|
Trans Fat:
1
g
|
Cholesterol:
121
mg
|
Sodium:
92
mg
|
Fiber:
1
g
|
Sugar:
11
g