Rhubarb!!! My favorite seasonal produce ever. I like lots of other things, especially in spring, things like asparagus, strawberries or elderflowers, but rhubarb is really my number one. I love the sourness, the sweet-sourness that develops when the rhubarb is cooked with sugar, I have had rhubarb in so many different ways and I loved each and every recipe.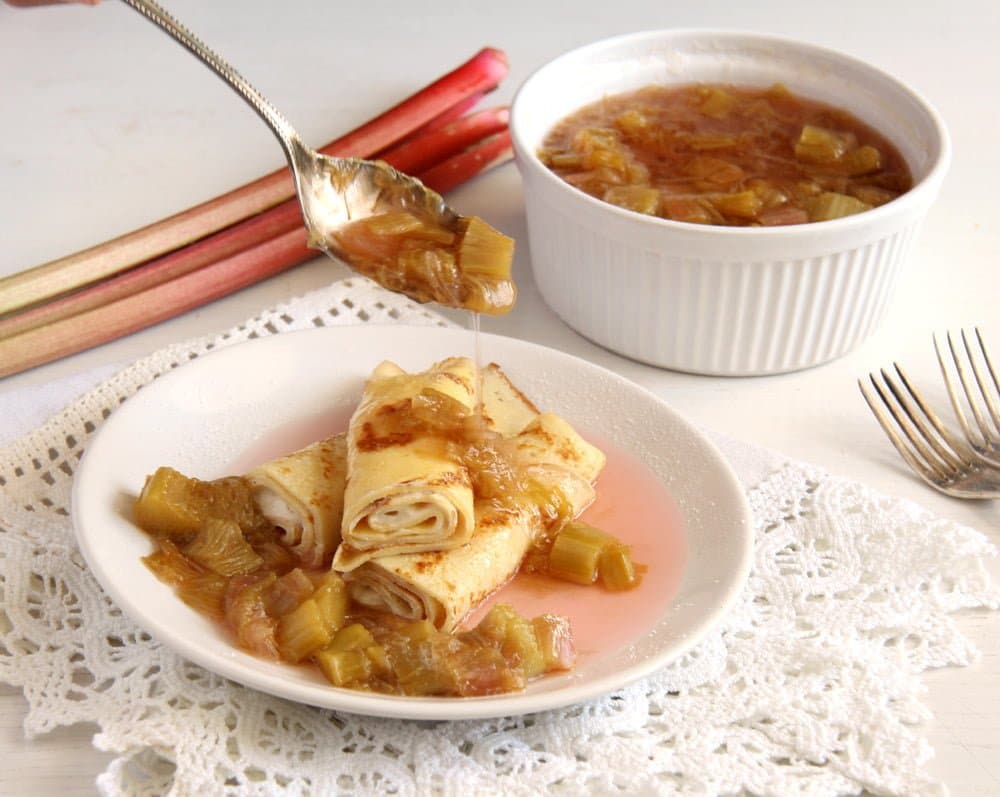 I am starting this Rhubarb Series with a simple rhubarb compote, delicious when eaten with these delicate crepes filled with vanilla crème fraiche, but also wonderful when eaten on its own topped with some heavy cream for instance. Or you could have it with vanilla ice cream (I love the cold-hot combination) or you could top your müsli or porridge with it.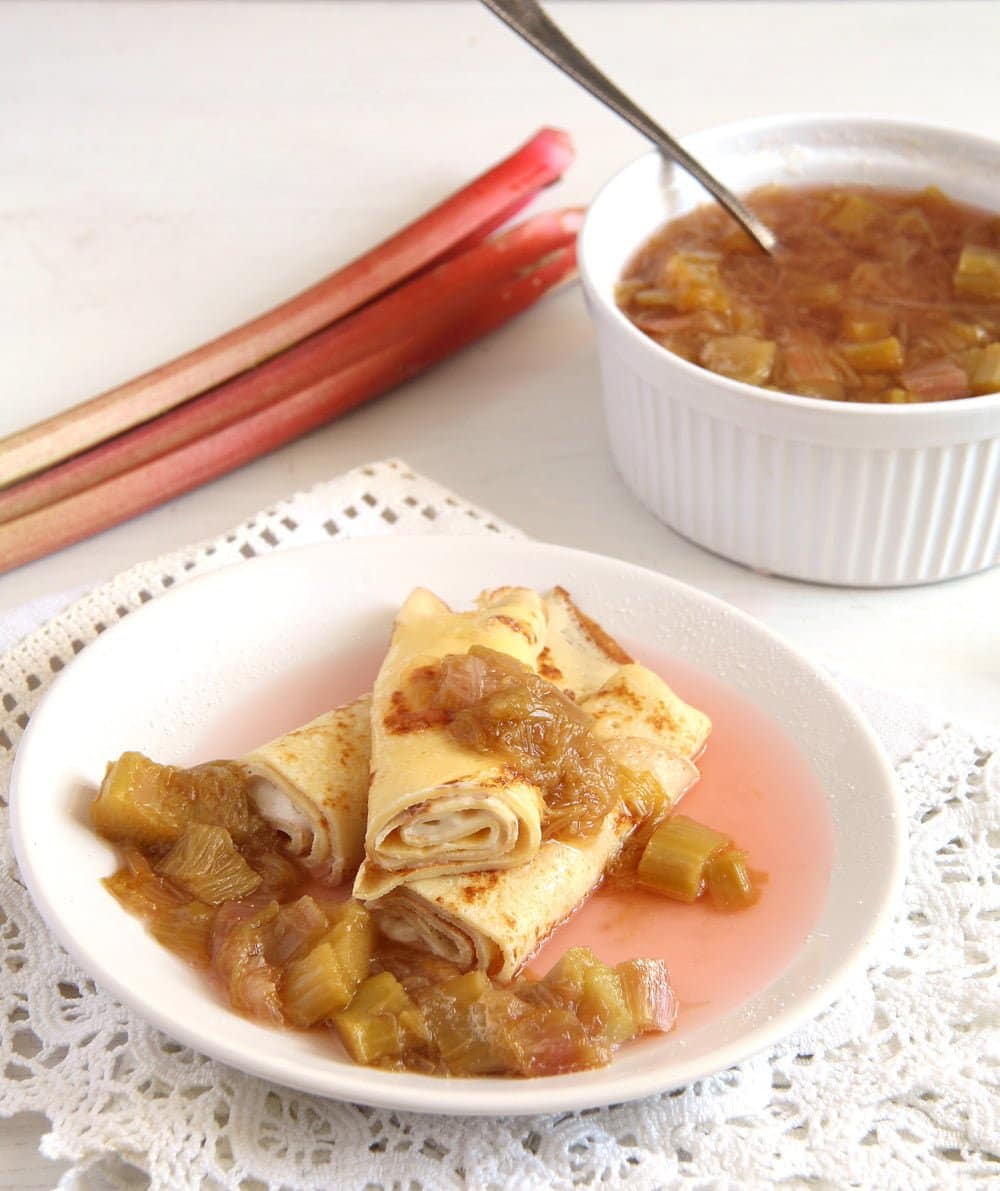 And did you know that rhubarb is actually a vegetable? I didn't, until recently, I always assumed it was some kind of fruit. I suppose I thought that because I had mostly used rhubarb in sweet recipes, I made jam with it and syrup and so on. But no, it is a vegetable and I have to say I've made some scrumptious savory dishes using rhubarb as well, like this super delicious Chicken with Rhubarb Sauce. And I have a couple more savory rhubarb dishes coming + several sweet ones as well, come back, if you wish to see more.
So take advantage of the rhubarb season and use it in all possible ways, it is just amazing!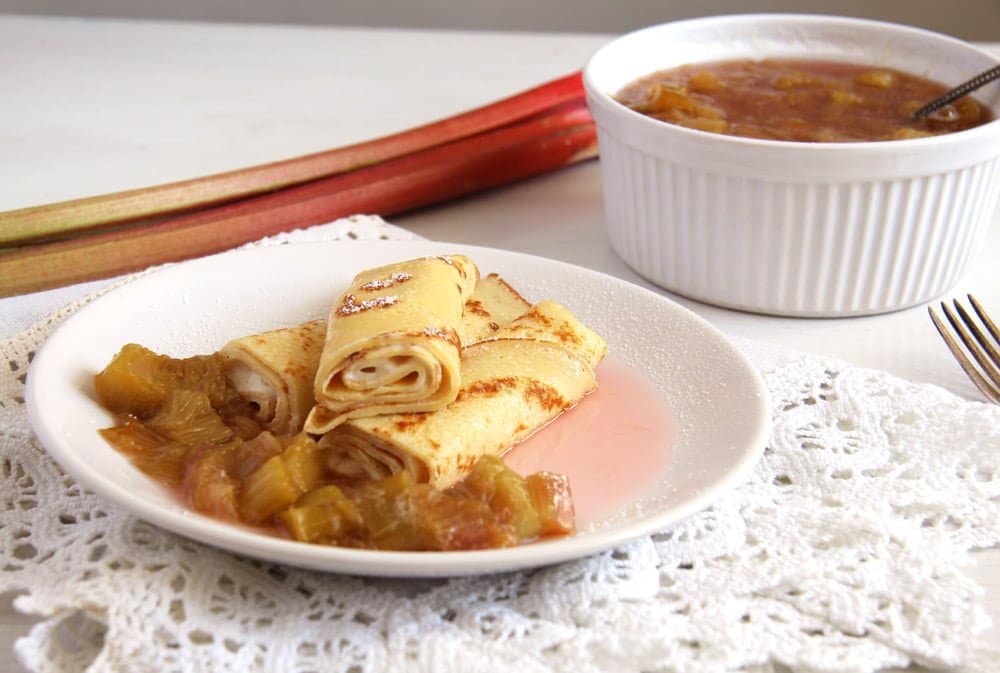 Rating 5.0 from 1 reviews
Prep time:
Cook time:
Total time: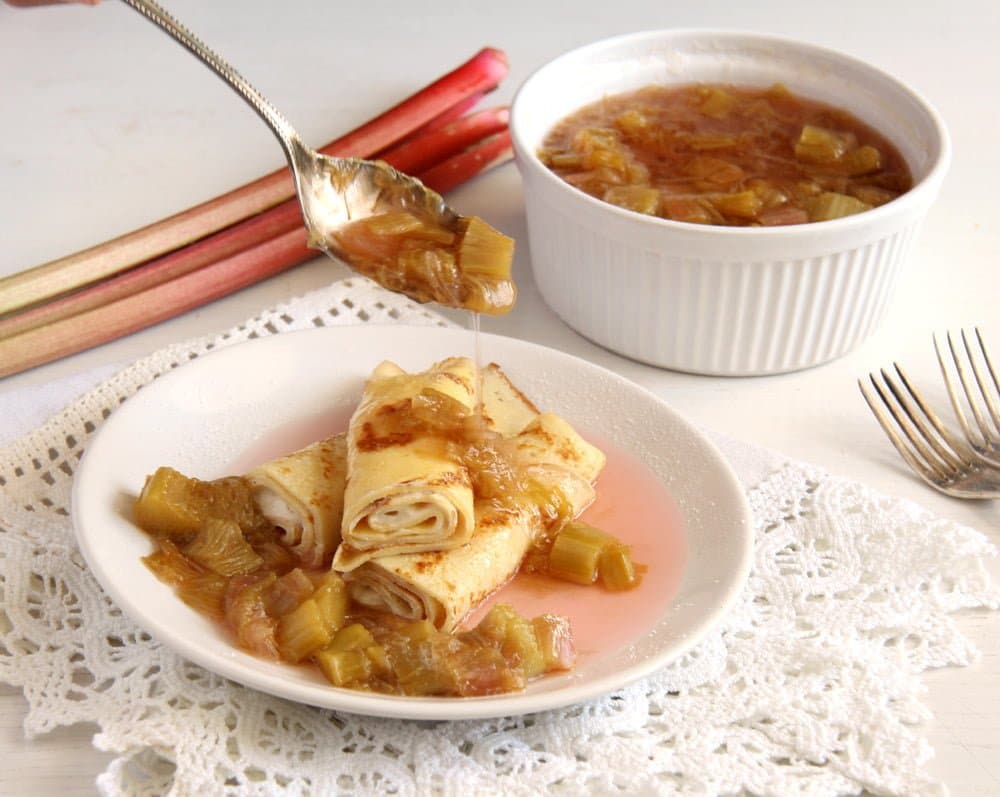 Ingredients
For the crepes:
4 eggs (medium Germany, large US)
250 ml/ 1 cup milk
100 g/ ¾ cup + 1 tablespoon all-purpose flour
some clarified butter or vegetable oil
300 g/ 10.6 oz/ about 1 ¼ cups crème fraiche
3 tablespoons vanilla sugar
For the rhubarb compote:
500/ about 1 pound rhubarb
100 g/ ½ cup sugar
½ vanilla bean
some powdered sugar, to serve
Instructions
For the crepes, place the eggs in a medium bowl and mix slightly with a hand-held mixer. Add the milk and the flour and mix until smooth. Let stand for about 10 minutes.
In the meantime, wash, top and tail the rhubarb. Chop it into slices, about 2 cm/ 0.8 inches thick. Halve the vanilla pod lengthwise and scrape out the seeds.
Place the rhubarb into a saucepan, add the sugar, the vanilla seeds and the empty vanilla pod. Bring to a boil and simmer, covered, for about 4-5 minutes, until the rhubarb is soft but not quite disintegrated. Remove the empty vanilla pod.
Heat a non-stick pan (I have a pancake pan) on a medium heat. Brush it well with some clarified butter or oil before making each crepe. Add some batter and swirl the pan to distribute the batter all over the pan. Cook the crepe for about 2 minutes until the underside is golden brown. Flip it gently (crepes are really delicate) using a plastic spatula and cook the other side for about 1 minute more. Slide it to a plate and repeat until you have 8 thin crepes.
Stir the crème fraiche and the vanilla sugar together. Spread the mixture on the crepes, roll them, sprinkle the crepes with some powdered sugar, if desired, and serve with the rhubarb compote immediately.
Others you might like: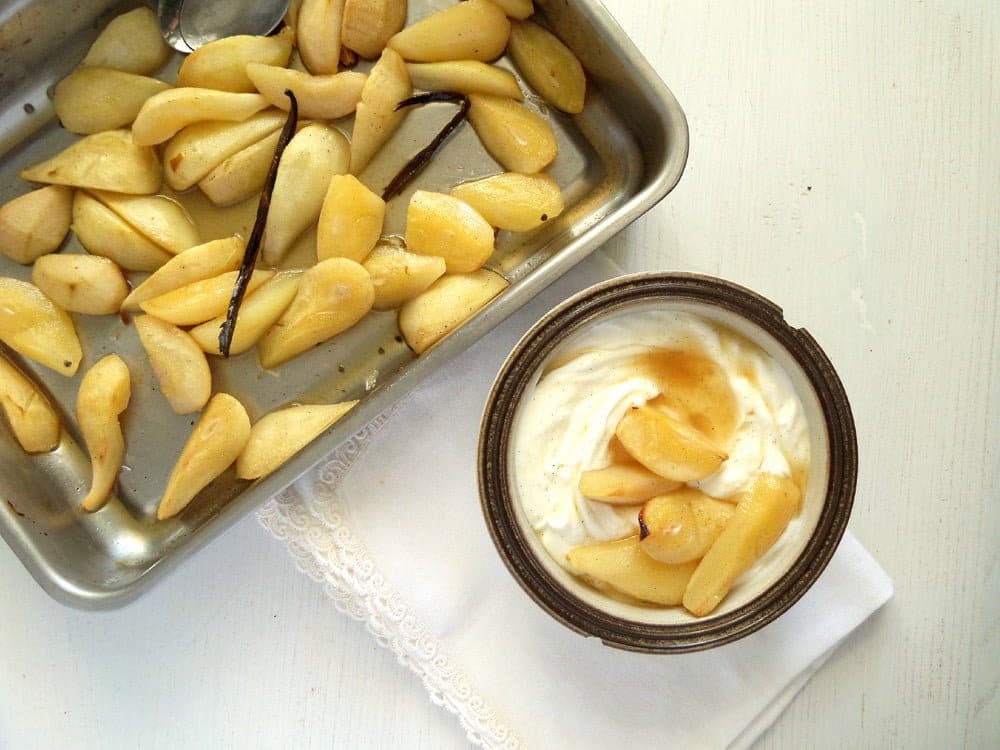 Vanilla Pears with Greek Yogurt
Rate this recipe!
Click on a star to rate it!
Average rating / 5. Vote count:
We are sorry that this post was not useful for you!
Let us improve this post!
Thanks for your feedback!