Pink colored beetroot crepes with a savory or sweet filling, a nice idea for your Valentine's day breakfast.
Pink Colored Crepes
Here's another idea for a romantic breakfast on Valentine's Day.
I served these beetroot crepes with a savory filling, but my kids actually liked them more sprinkled with sugar and then rolled. So, just in case you prefer them sweet while your better half prefers them savory, these beetroot crepes are the solution. Fill them with whatever you like and enjoy.
I have been making similar green crepes either with spinach or with wild garlic in spring for years, but until recently, I have never considered making pink ones.
But the last time we had the spinach sort, my daughter actually asked me if it was possible to make them pink as well. My first impulse was to say no, but then I rapidly remembered the beetroots and their deep color and I said: "Why not? We could try!"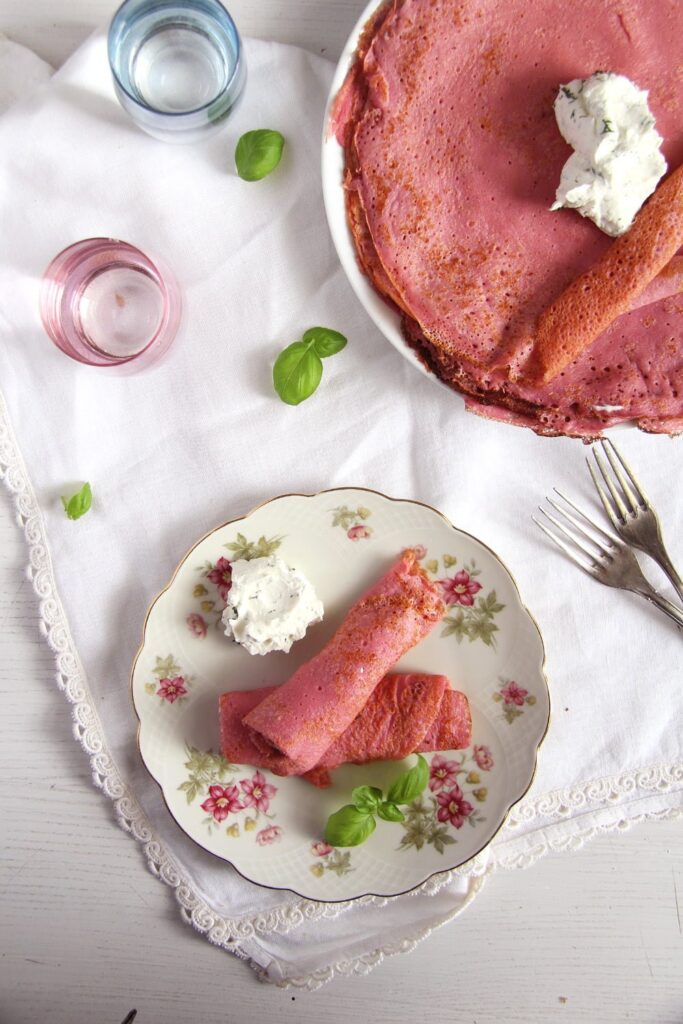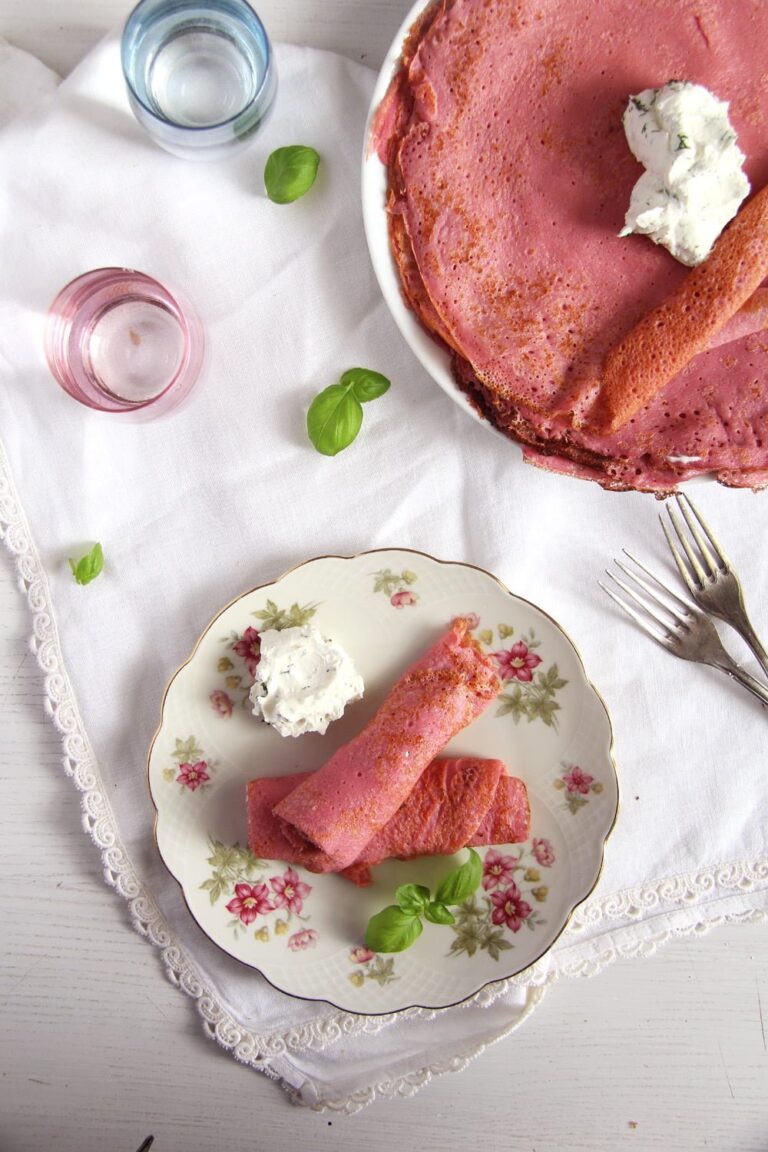 How to make pink-colored crepes?
And we did try!
The first attempt was a complete failure, I was not really in the mood of frying crepes, so I thought I would make one large oven pancake with beetroot.
The color of the batter was just gorgeous and I could already imagine how beautiful the oven pancake would be… But no!
The baked batter had nothing red or purple or pink or whatever in it anymore, nothing except broooooooooown!
A really ugly brown, so gross that I threw away almost the entire pancake, everybody just nibbled a little bit and then gave it up.
The second attempt was better.
I chose to make normal crepes this time using one of my tried and tested recipes and adding some beetroot to the batter.
So the batter retained a nice color, just the quantities I used were not exactly right, the batter was not really good and the crepes kept breaking while I attempted to flip them.
The third time I added more eggs to the mixture and finally got the desired result.
Delicious, easily baked and easily flipped.
The underside will have a darker color because I tend to bake the first side a tick longer.
After flipping I only leave it to bake for less than a minute, so the color is nicer on the second side.
Spread the filling on the browner side and roll the crepes with the nicer colored side on the outside.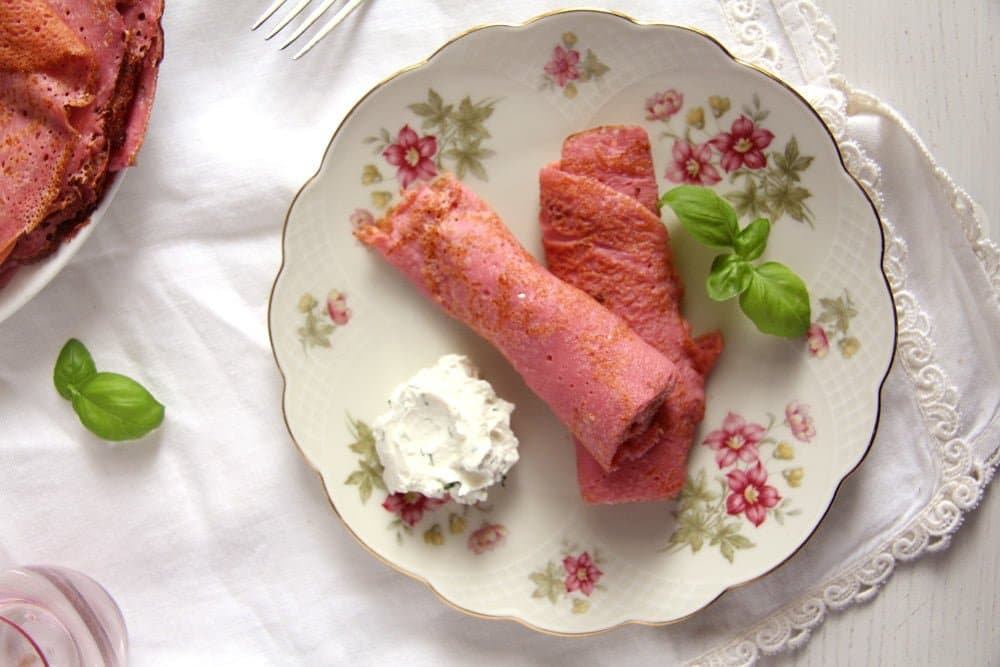 Fillings
Savory filling:
I filled the beetroot pancakes with a savory cream cheese filling with horseradish and dill.
Only use horseradish if you are sure you like it, I know many people who don't.
I do like it a lot and find it to be a perfect match for beetroot generally, I always use it when making a regular beetroot salad for instance.
However, if you don't like horseradish, feel free to leave it out.
I used dill, because again I find it to be a good match for the beetroot, but again, you could replace that with other herbs to your liking.
Sweet fillings:
Like I've already mentioned above, you can eat these colored beetroot crepes not only with a savory filling but also sprinkled with sugar.
You can also fill the pink crepes with any kind of jam you like, try some rhubarb or some apricot jam, for instance.
More crepes and pancakes
BASIC CREPES WITH RHUBARB COMPOTE – Learn how to make easy crepes and a delicious rhubarb compote.
GREEN WILD GARLIC CREPES – Shock green crepes, soft and delicious, with a mild garlic taste.
POLISH CREPES – Nalesniki filled with a smooth, sweet and delicious quark cheese filling.
ZUCCHINI FETA PANCAKES WITH HERBS – Soft, savory zucchini pancakes with feta cheese and herbs, my daughter adores these pancakes.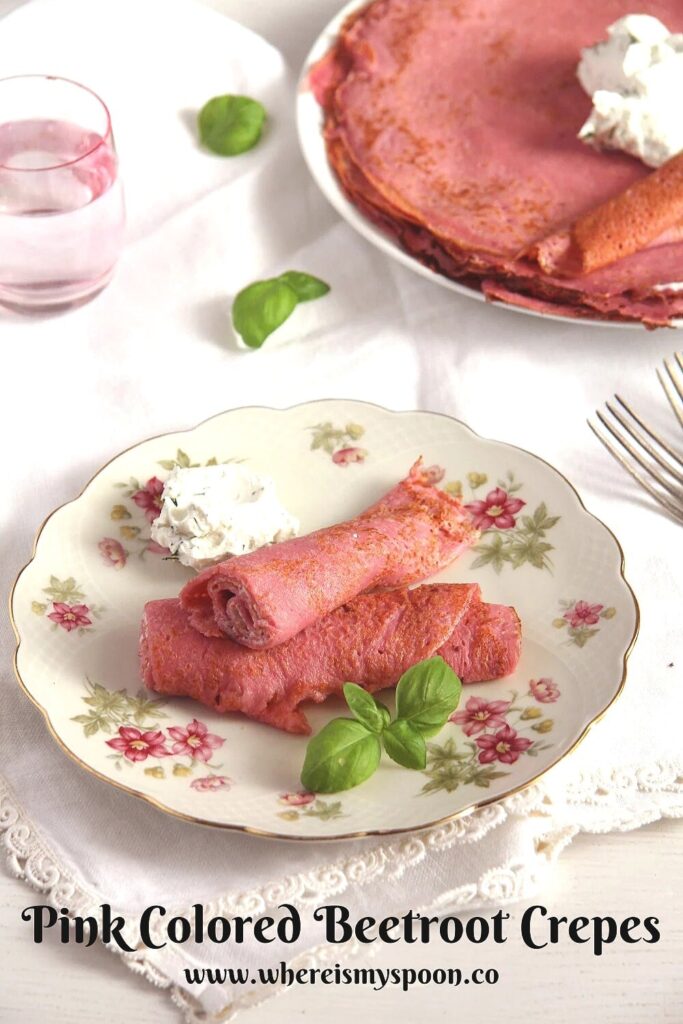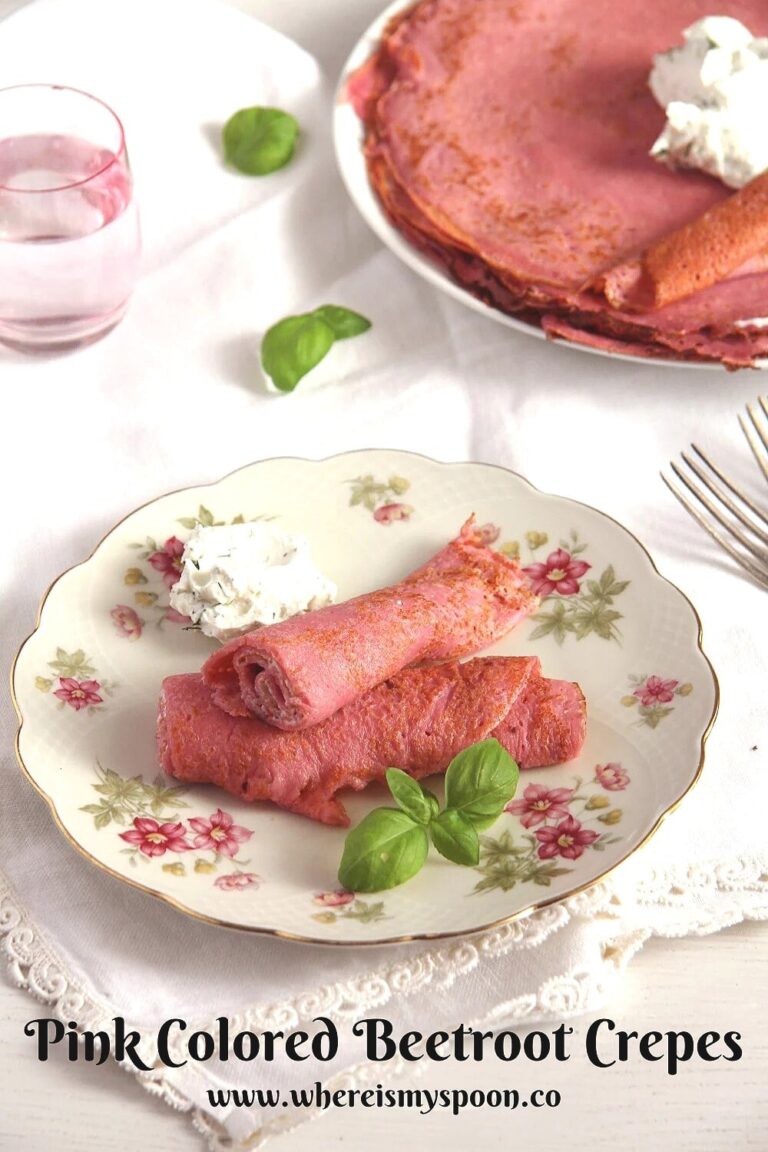 Beetroot Crepes
Pink colored beetroot crepes with a savory or sweet filling, a nice idea for your Valentine's day breakfast.
Print
Pin
Share
Grow
Saved!
Rate
Ingredients
Crepes:

3

large eggs

pinch

of fine sea salt

500

ml

milk

17.fl.oz/ 2 cups

150

g

all-purpose flour

5.3 oz/ 1 ¼ cup

1

cooked beetroot

130 g/ 4.5 oz

2-3

tablespoons

vegetable oil

Filling:

150

g

cream cheese

5.3 oz/ 2/3 cup

60

g

crème fraiche

2 oz/ ¼ cup

1

teaspoon

creamed horseradish

optional

1

teaspoon

chopped dill

fine sea salt and black pepper

OR

granulated sugar

jam of choice

Nutella etc
Instructions
Batter: Place the eggs, salt, half of the milk, flour, and chopped beetroot in the food processor and puree until smooth. Add the rest of the milk and mix well. Alternatively, grate the beetroot very finely and whisk everything together by hand. Leave the batter to rest for about 20 minutes.

Filling: In the meantime, make the filling if serving the crepes with the savory filling. Mix all the filling ingredients until smooth. Adjust the taste and set aside.

Tip: Whisk the batter with a whisk before starting making the crepes and repeat that a few times in between as well.

Cook: Heat a non-stick pan and brush it with a bit of oil. Add one ladle of batter in the pan, swirl the pan to cover the bottom of the pan with batter completely. Cook the underside on medium-low heat for about 2 minutes or until slightly browned.

Flip: Loosen the edges of the crepe and then flip the crepe with a rubber spatula. Cook the second side for less than a minute. Slide the crepes on a large plate and continue with the remaining batter, lightly brushing the pan with oil in between.

Keep warm in the preheated oven at about 150 degrees Celsius/ 300 degrees Fahrenheit. Stack them on a baking tray lined with baking paper and place pieces of baking paper between the crepes as well.

Fill: Spread a little of the filling on each pancake, roll, and eat warm. Alternatively, you can sprinkle them with sugar and roll or serve them with jam or Nutella.
Nutrition
Serving:
1
crepes with savory filling
|
Calories:
158
kcal
|
Carbohydrates:
12
g
|
Protein:
5
g
|
Fat:
10
g
|
Saturated Fat:
4
g
|
Polyunsaturated Fat:
5
g
|
Cholesterol:
59
mg
|
Sodium:
114
mg
|
Fiber:
1
g
|
Sugar:
1
g