A large skillet full of comfort food: zucchini, potatoes, ground beef and herbs. Easy, quick and completely satisfying.
This is one of those meals put together on a Sunday afternoon, when you actually have nothing planned and you just start searching your fridge and freezer in search of something to eat. I actually plan our weekly meals, I love to do it every Saturday or Sunday evening, I like searching for recipes featuring whatever happens to be in season, keeping a balance between new things I would love to try and things I know my kids and my husband would like to eat. It makes it easier and economical when buying the food for the week, it helps me avoid buying too much and ending up throwing away food. I also consider how busy some days are and plan easier, quicker meals for those days and lighter meals following days when I cook something richer. It's like a game and I love it!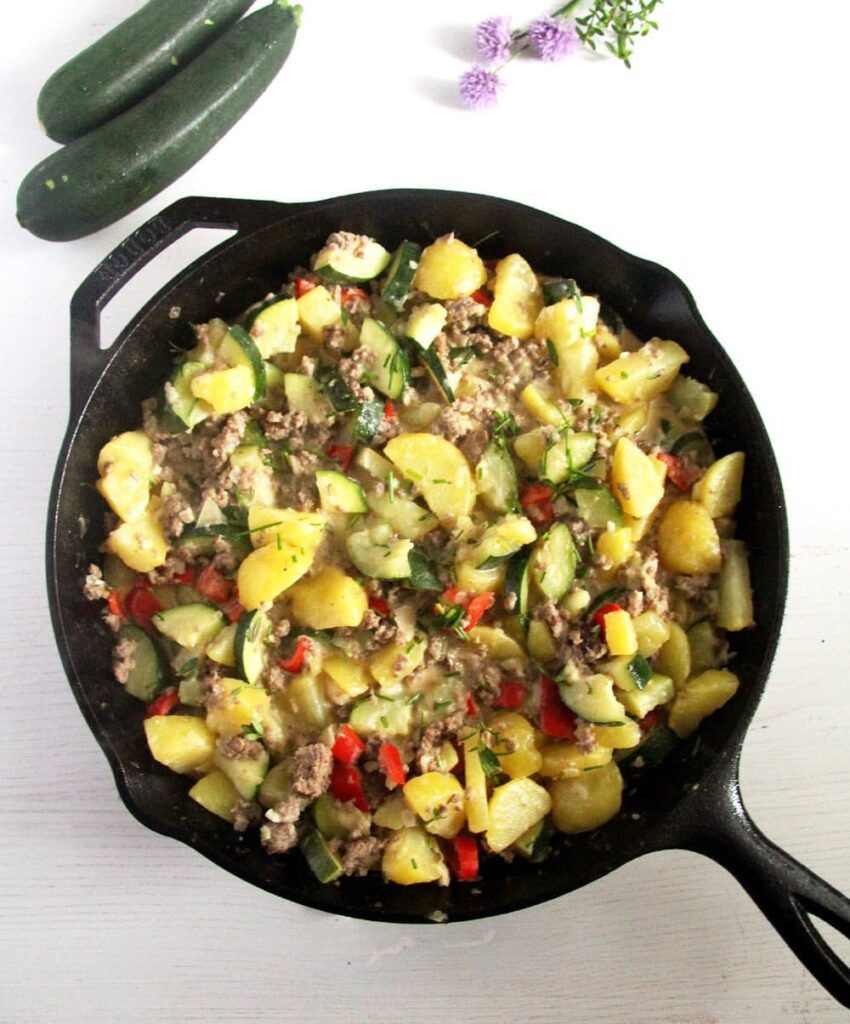 But every week when planning meals I tend to leave out the Sundays. We are often not at home on a Sunday, we like to do something with the kids outside the house, visit friends, going on short trips or whatever. So I leave Sundays out of the meal planning because most of the time we eat elsewhere or order a pizza from time to time.
As most of these activities are quite spontaneous and greatly depending on the weather, there are quite a few Sundays when we don't do anything special after all and stay at home, playing games, reading, watching a film or receiving friends. And when that happens, I kind of despair thinking about lunch or dinner… Many times we decide to eat just spaghetti with pesto or tomato sauce, I always have some homemade jars of pesto in the freezer or tomato sauce in the pantry.
But in this case I happened to have some zucchini lying around, leftover cooked potatoes from Saturday and a last bag of ground beef from the Angus beef I mentioned a few posts ago in the freezer. So I decided to make some kind of hash, or a skillet featuring all these ingredients + a few herbs and extra stuff I found in the fridge. I took some pictures out of habit and decided to post the recipe in this zucchini series because everybody loved it so much. It was easy, quick, comforting and totally delicious, you should give it a try someday!
Prep time:
Cook time:
Total time:
Ingredients
500 g/ 1 lbs potatoes
1 tablespoon olive oil
500 g/ 1 lbs ground beef
1 onion
4 garlic cloves
500 g/ 1 lbs zucchini
1 red bell pepper
250 ml/ 1 cup vegetable broth
100 ml/ scant ½ cup single or heavy cream
2 tablespoons crème fraiche
a few sprigs fresh savory
small bunch of chives
salt and pepper
Instructions
If you don't have any cooked leftover potatoes, start by cooking the potatoes. Let cool slightly until you are able to hold them without burning your fingers, then peel them, halve them if large, and slice the halves thickly. Set aside.
Chop the onion and the garlic cloves. Heat the oil in a large skillet. Add the ground beef and stir for a few minutes. Add the onion and the garlic and cook until the onions are translucent and the ground beef lightly browned.
In the meantime halve the zucchini lengthwise and slice the halves. Chop the bell pepper into cubes. Add both to the skillet and fry for a few minutes. Add the broth, cover the pot and cook for about 5 minutes or until the veggies are done to your liking. Add the potatoes and heat them again.
Add the cream and the crème fraiche, the chopped herbs and salt and pepper to taste. Stir carefully and serve immediately.
Others you might like: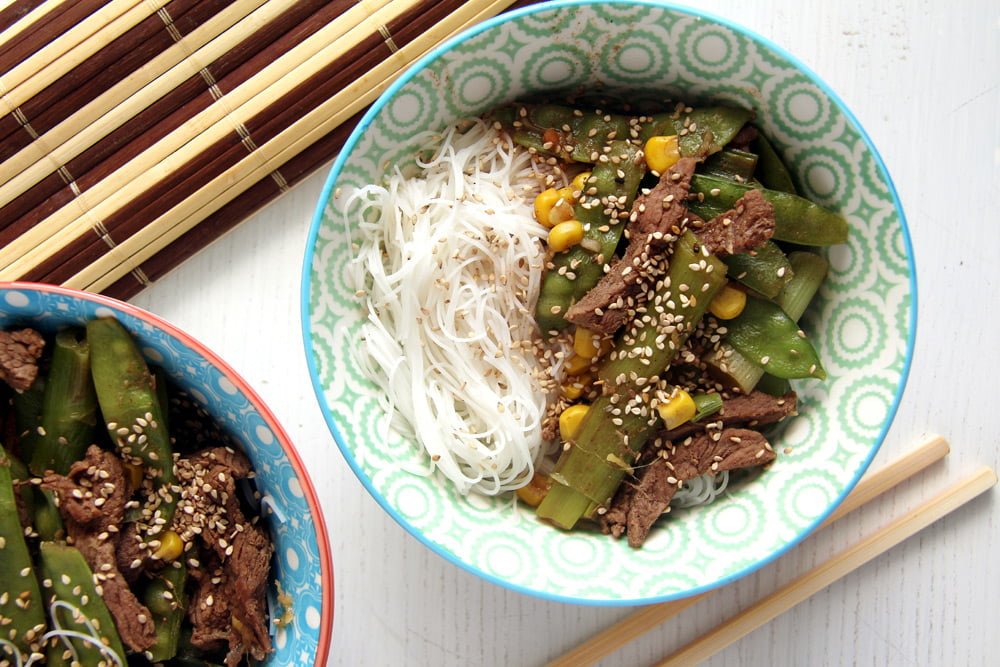 Aromatic Beef with Green Onions
Butternut Squash and Sausage Stew