A gluten free, healthier alternative to pizza: a cheesy polenta pizza that you can top with just about anything you like.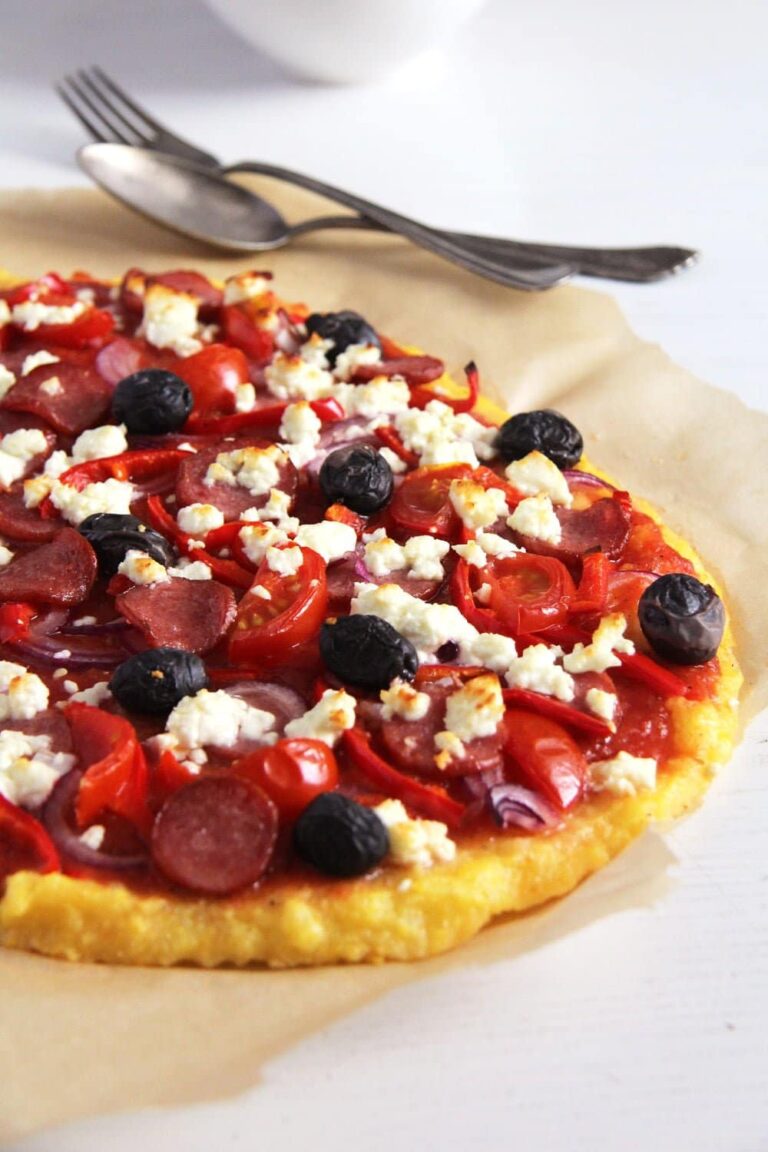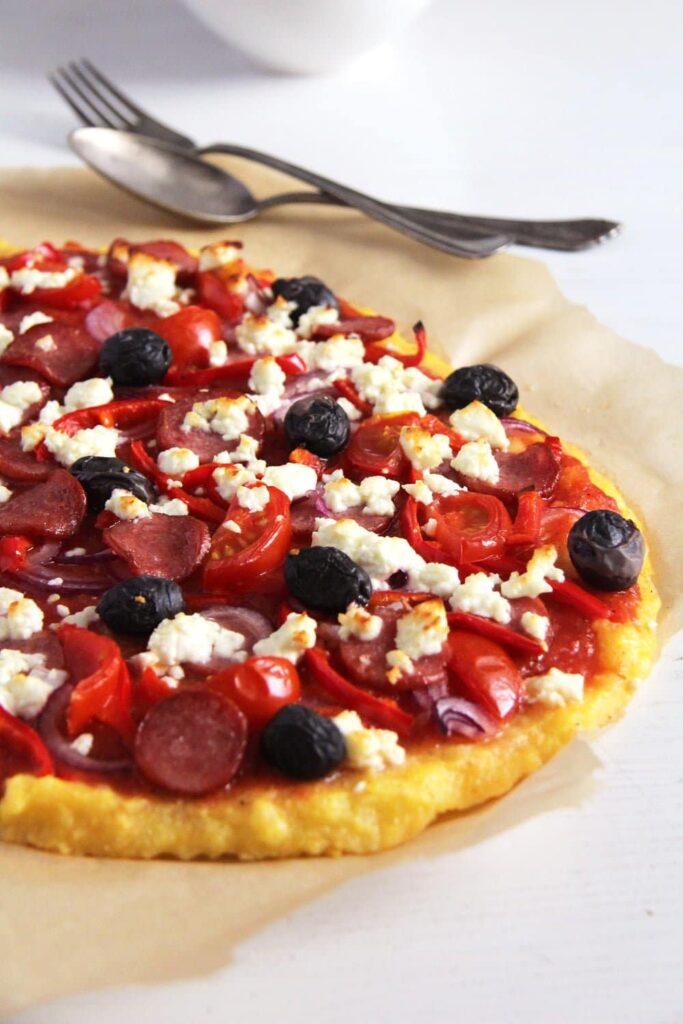 Craving pizza but not wanting to eat all the calories? There is an alternative: polenta pizza. OK, it is not quite the same as a genuine pizza, but that doesn't mean it is not good, quite the contrary, it is delicious. Instead of the bready crust, you will have a nice, tender and cheesy base for your favorite pizza topping.
And you can really let your fantasy and your appetite create your pizza topping. I used what I considered to be a rather typical Romanian topping including cabanossi sausages, onions and feta cheese (as a substitute for the Romanian telemea, which is similar to feta but which I cannot buy in Germany). You can substitute the cabanossi with salami, ham or any kind of sausage you like (I imagine something spicy would be best, chorizo for instance), you could add some anchovies instead, you could make it only with vegetables and cheese, polenta pizza margarita with tomatoes and mozzarella… there are really so many possibilities!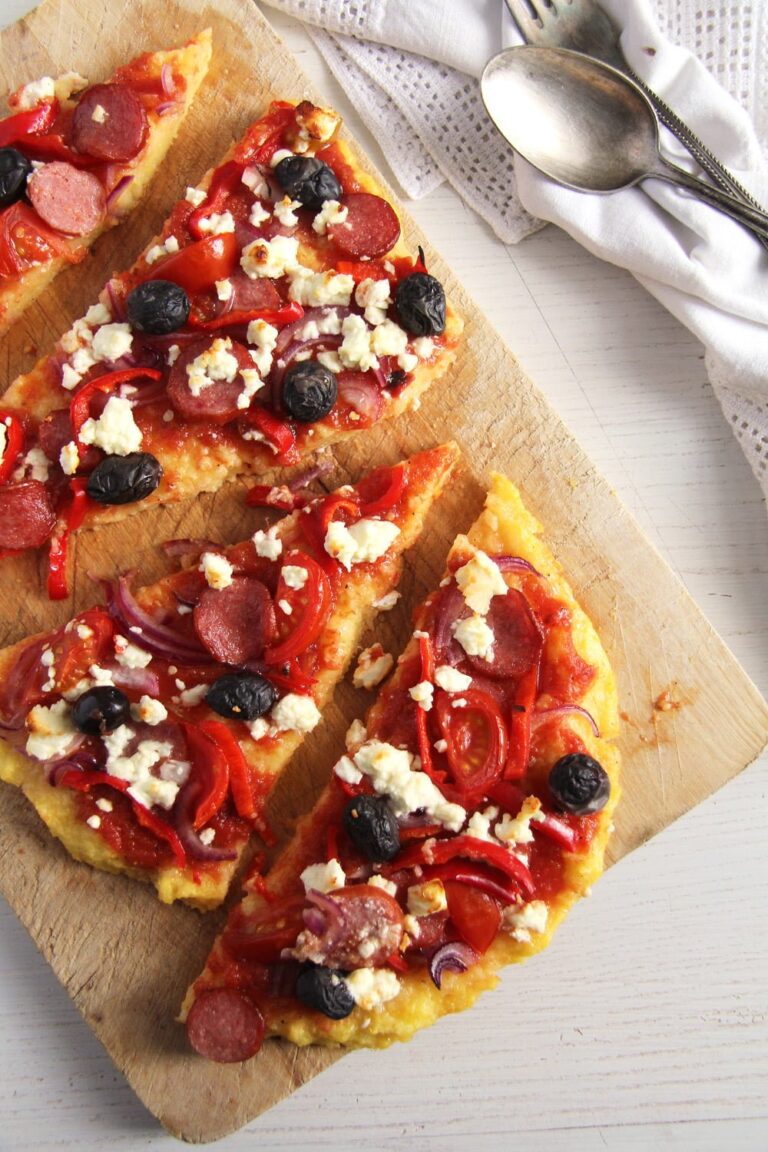 Cornmeal is naturally gluten free, so if you don't want to eat any gluten, this polenta pizza is a great choice. Well, as long as you take care that all the ingredients for the topping are gluten free, which in most cases should be.
This polenta pizza recipe is not something my grandmother would make when I was a child, like I have mentioned a few times before, she was quite conservative in her cooking and nothing unusual was ever put on our plates, but it is something I make rather often myself. It is a great way of using leftover polenta as well, sometimes I make too much of it and even if I don't think about spreading the polenta on a baking tray as long as it is still warm, I can still slice the leftover polenta and spread those slices in a smaller baking dish. Add a bit more cheese on top and the result is pretty similar.
This quantity makes a whole tray of polenta pizza, which is enough to feed at least 6 people. However, it is no problem to halve the recipe, if you want to make less. And if you still have leftovers, you can reheat those the next day. Or just eat them cold, I like them cold as well.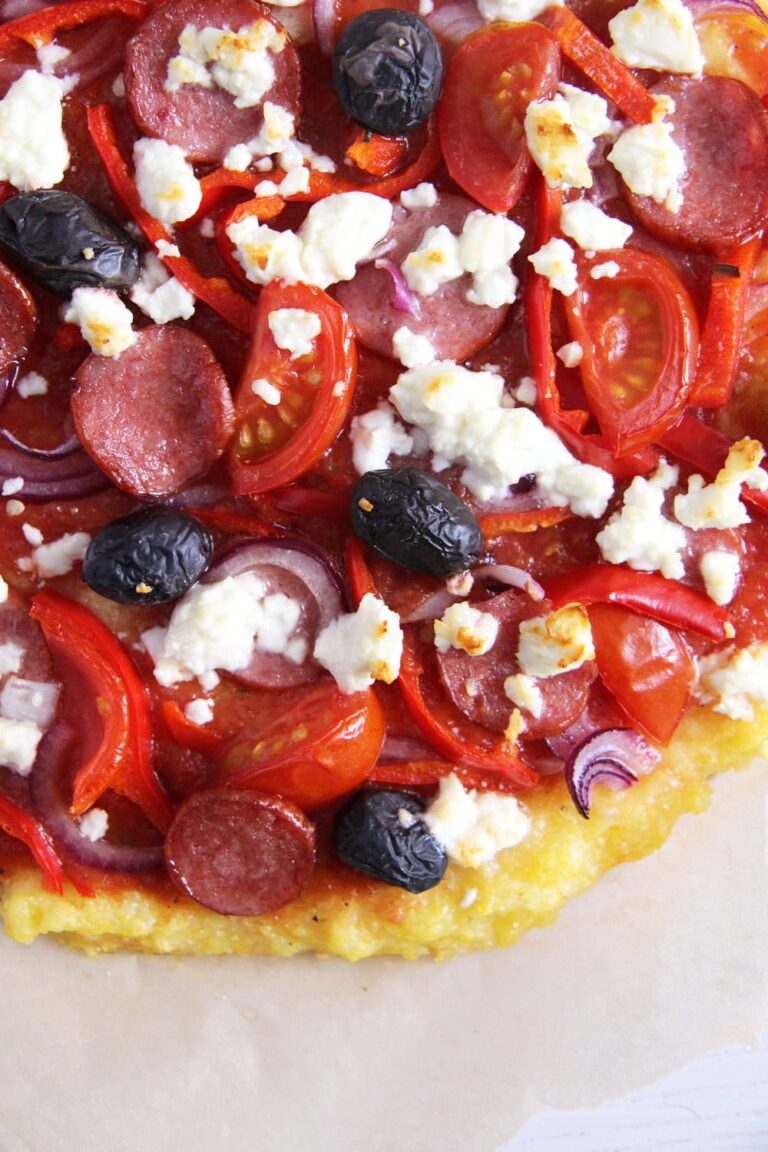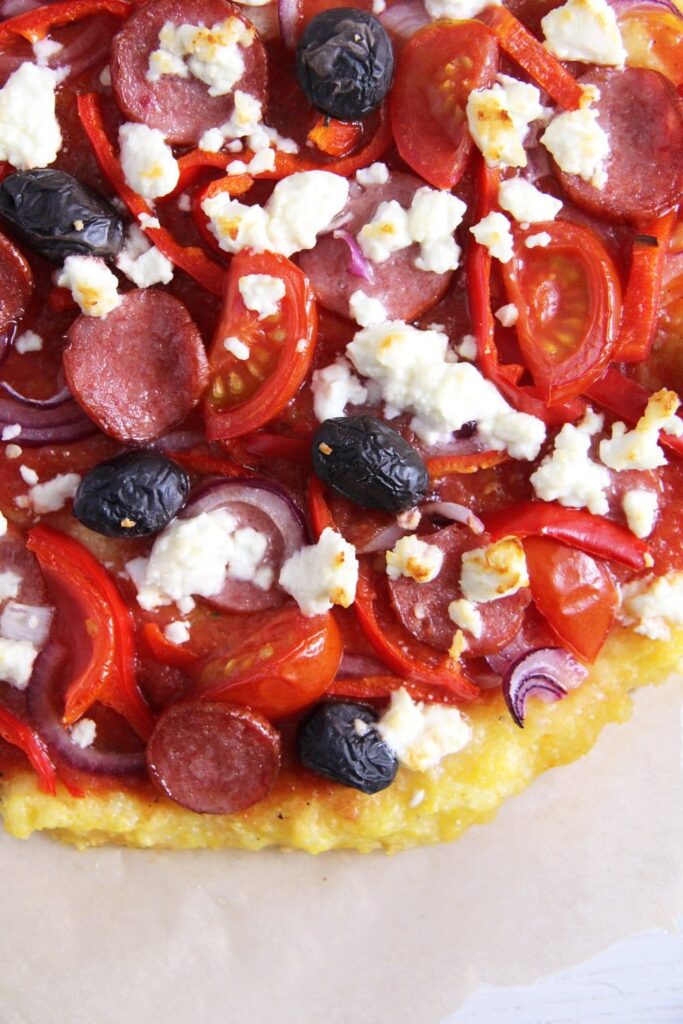 And just in case you might want that: here are some topping alternatives for the polenta pizza:
ham + fried mushrooms + grated cheese
salami + onions + red bell peppers + grated cheese
anchovies + onions + red bell peppers + grated cheese
tomatoes + mozzarella + basil + grated cheese
fried mushrooms + gorgonzola
canned artichokes + red bell peppers + grated cheese
chorizo + olives + red bell peppers + grated cheese
broccoli + onions + fried mushrooms + grated cheese
cooked red beets + mozzarella + grated cheese
bacon + onions + grated cheese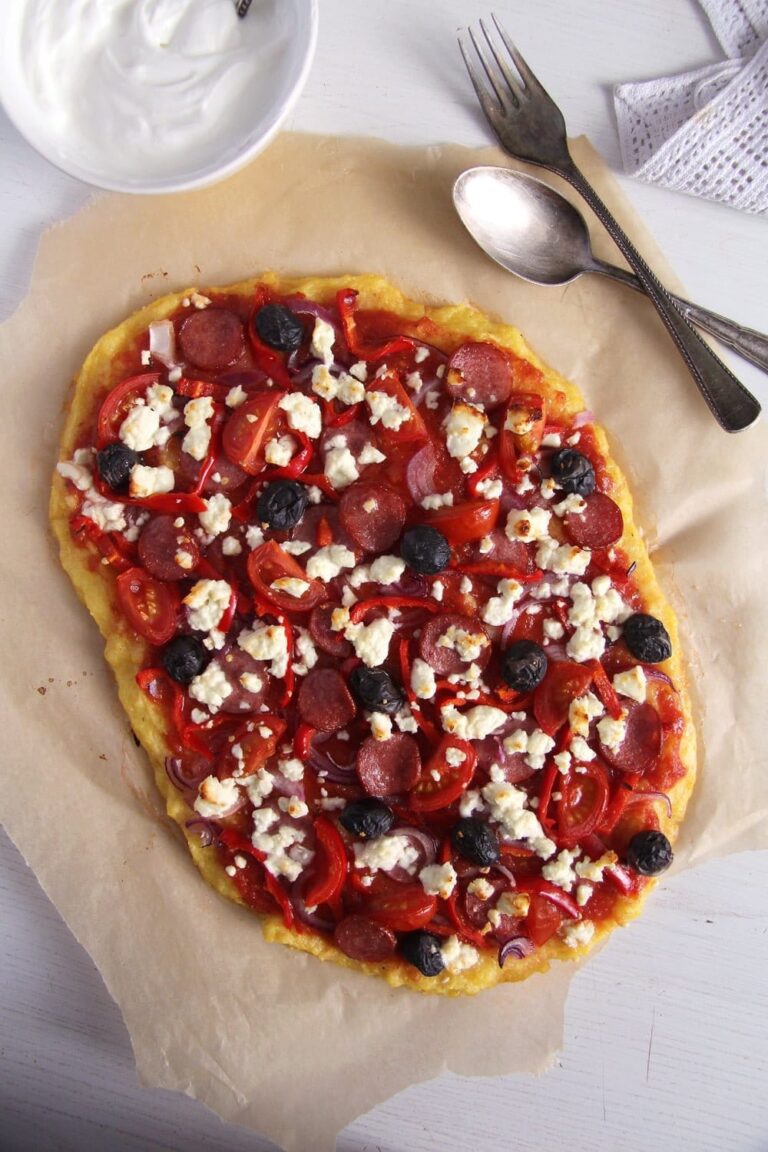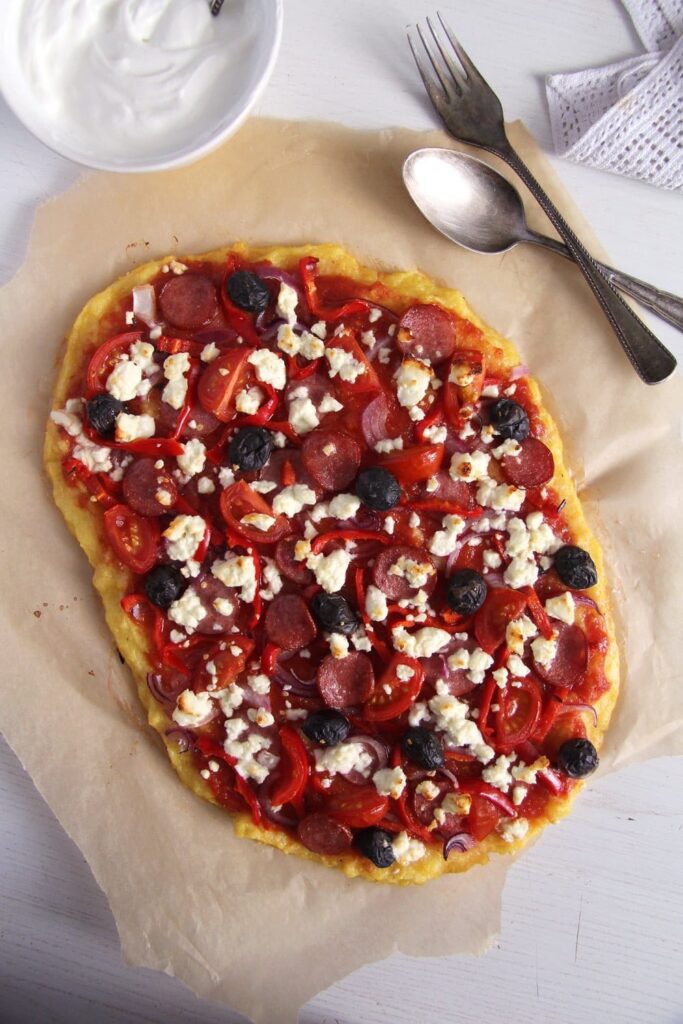 Prep time:
Cook time:
Total time: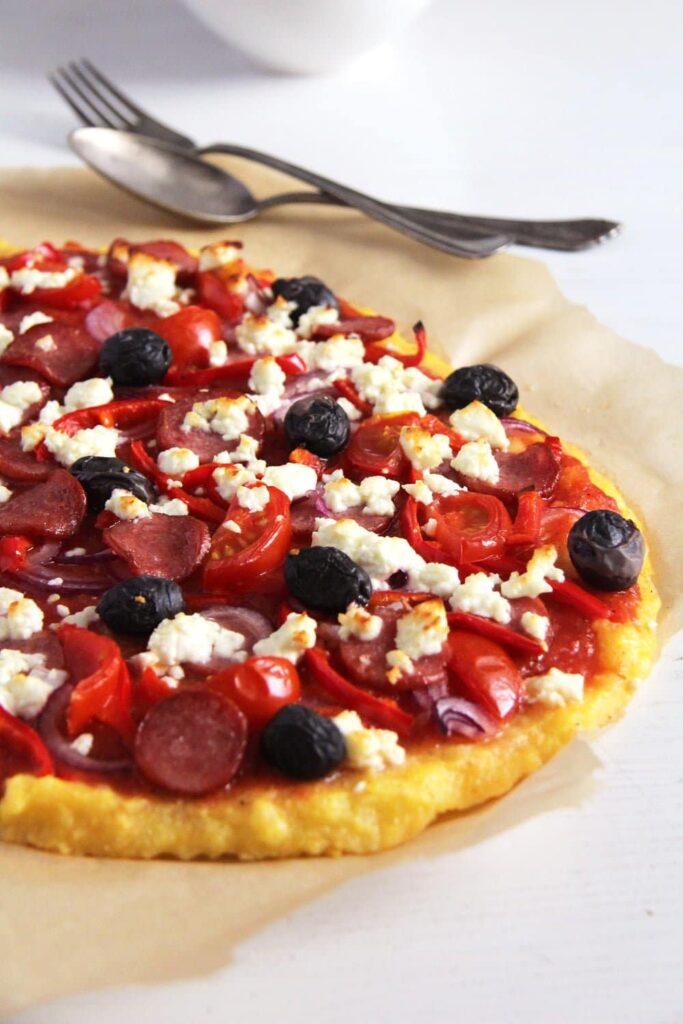 A gluten free, healthier alternative to pizza: a cheesy polenta pizza that you can top with just about anything you like.
Ingredients
250 g/ 8.8 oz/ 1⅔ cups coarse cornmeal
1 liter/ 33.8 fl.oz/ 4 ¼ cups water
1 ¼ teaspoons fine salt
100 g/ 3.5 oz freshly grated cheese (Gouda, cheddar, Parmesan)
about 8-10 tablespoons tomato sauce
dry oregano
1 red onion
1 red pointed or bell pepper
150 g/ 5.3 oz cabanossi sausage (or other spicy sausage)
3-4 small tomatoes
handful black olives
125 g/ 4.4 oz feta cheese
salt and pepper
Instructions
Start by making a basic polenta.
Pour the water into a large pot. Heat the water but don't let it come to a boil (it helps against the formation of lumps). Add the salt. Slowly add the cornmeal while stirring or whisking (with an egg beater not a mixer) all the time. A word of caution - be careful when the polenta starts to bubble, if the bubbles are too big you might get burned – so turn the heat down if that happens. When all the cornmeal is incorporated, continue stirring or whisking shortly to make sure there are no lumps. Turn the heat down, place a lid on top but leave a crack open. Stir every 4-5 minutes or so but there is definitely no need to stir all the time.
Read the cooking instructions on the polenta packet just to know for sure how long the cornmeal needs to be cooked. I cook the polenta made with coarse cornmeal for 40 to 50 minutes and the polenta made with medium cornmeal for about 15 minutes.
When the polenta is cooked stir in the freshly grated cheese of choice. Line a baking tray with baking paper and pour the polenta on the tray. Spread it evenly with a spoon and let get cold.
Preheat the oven to 200 degrees Celsius/ 400 degrees Fahrenheit.
Mix the tomato sauce with dry oregano and spread it all over the polenta. Halve and slice the red onion, cut the tomatoes into small wedges and thinly slice the pepper and the sausage. Spread everything on top of the pizza and add the olives and the crumbled feta cheese.
Bake the pizza for 20-30 minutes in the hot oven until the cheese on top starts to get golden.
Serve immediately with a green salad and a dollop of Greek yogurt or sour cream.
This post contains affiliate links. The price you pay as a consumer does not change, but if you make a purchase we will receive a commission which helps support the blog.
Others you might like: