Soft on the inside, crispy on the outside: polenta balls rolled with feta cheese and sausages.
These Polenta and Cheese Balls with Sausages and Dill are another twist on the classic polenta. This time you will mix the polenta with feta cheese and chopped sausages, form some little balls and bake them. Your kids will love them! At least mine did, they were all over the thingies and they ate them not only warm but cold as well.
The Polenta and Cheese Balls with Sausages and Dill are quite versatile as well. I added sausages because that is what almost any Romanian would probably do, but if you want to keep the balls vegetarian – please do! Leave out the sausages and add more cheese. You could even add finely chopped olives or green onions as well, if you like. I do! Especially the olives. 🙂 Not very Romanian but for sure delicious would be some sun- dried tomatoes, roasted peppers or some anchovies… The feta cheese can be substituted as well: Gouda, cheddar or any stronger tasting cheese would be great.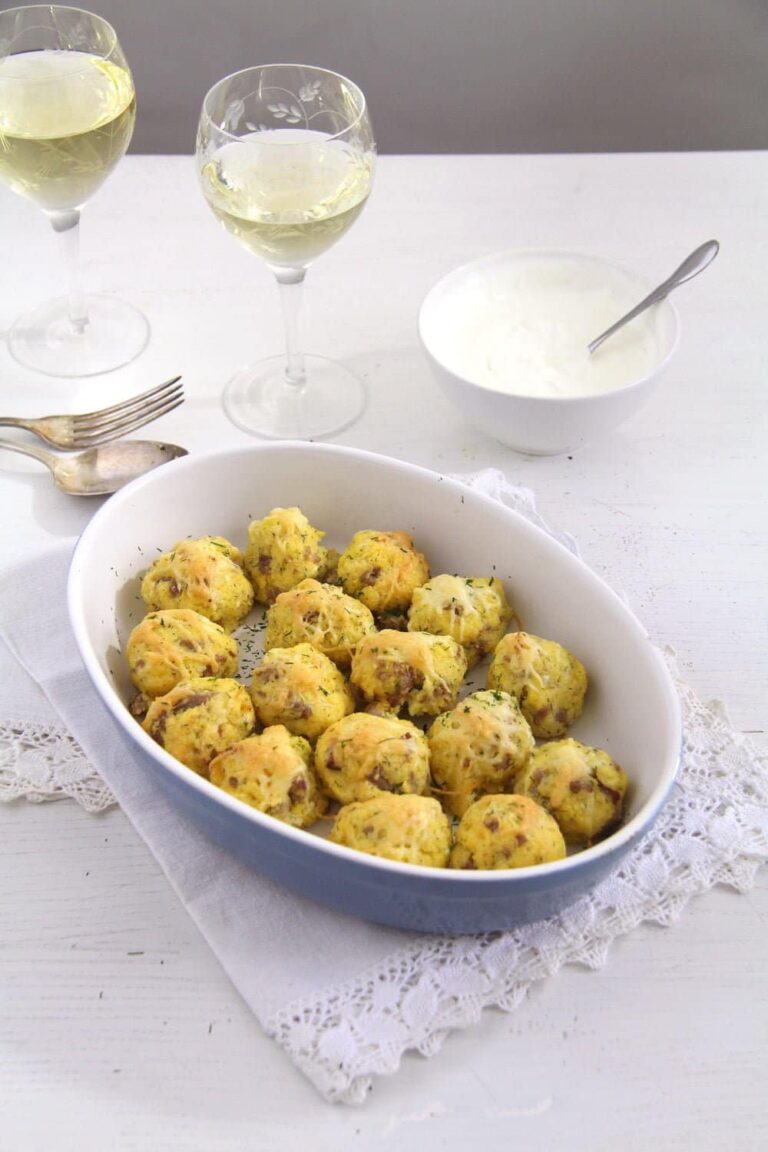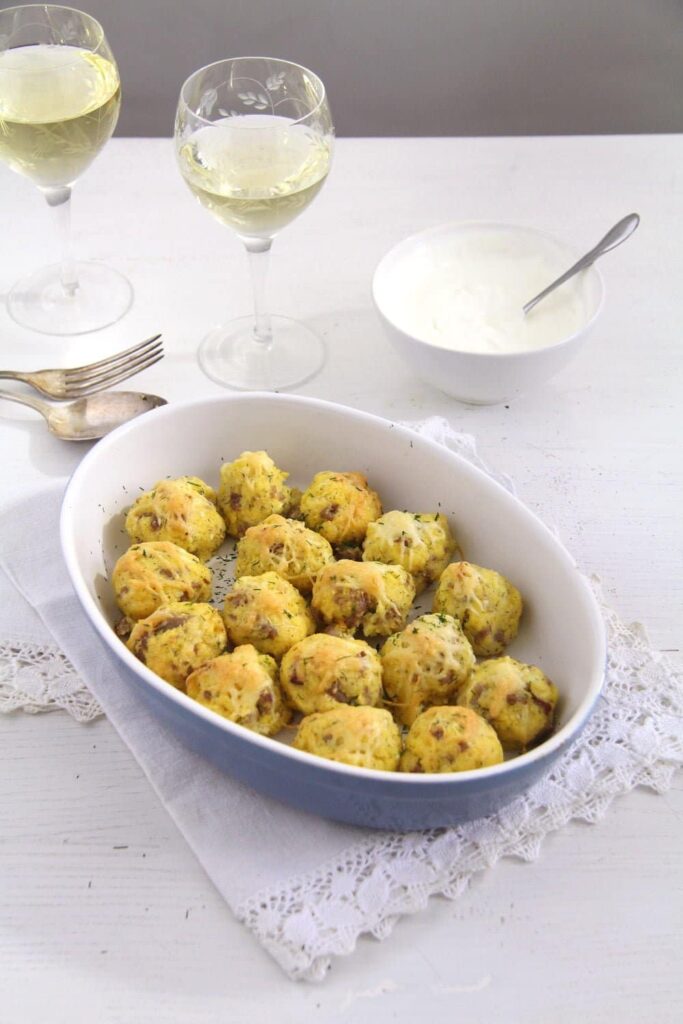 This is what I like most about cooking: the endless possibilities, playing with the ingredients, searching for new flavors or new directions when cooking something you think you already know. Like this recipe: just start with a plain basic polenta, think of a new form of presenting it – in this case balls and add new flavors. The result is something just as comforting and delicious as the original polenta, but so much more exciting, I would say.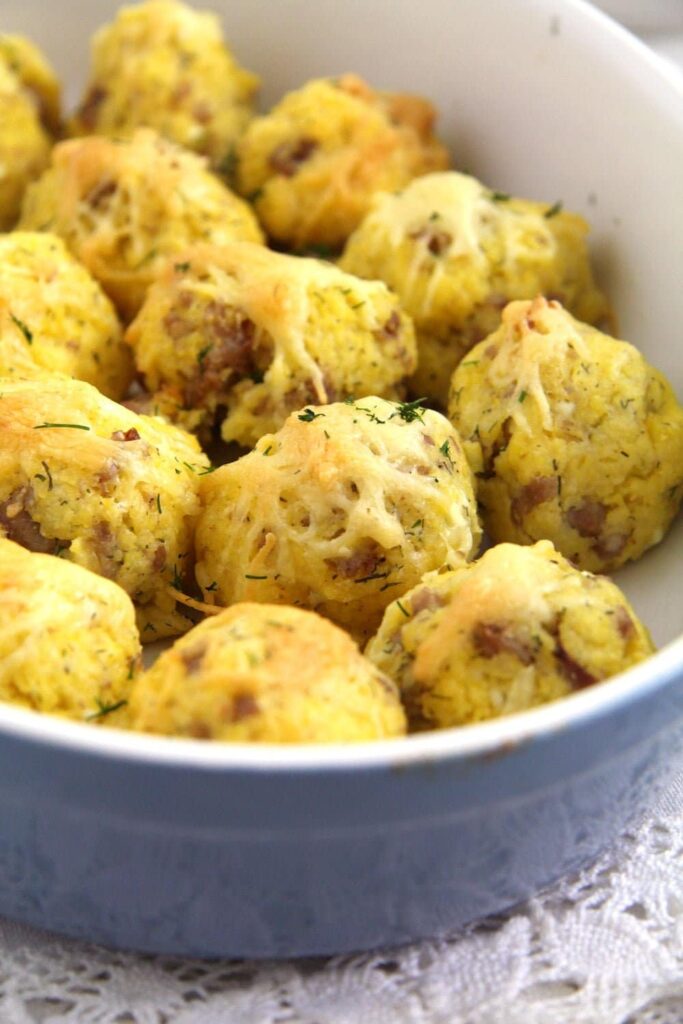 The only advice I can give when making this super easy recipe is to make sure that you spice up the balls accordingly. Don't be skimpy with the salt, in my opinion anything made with polenta requires more salt one would actually think. But depending on how salty your feta cheese is and how spicy the sausages, you might need to adjust the salt accordingly. Taste and add until you reach the desired taste.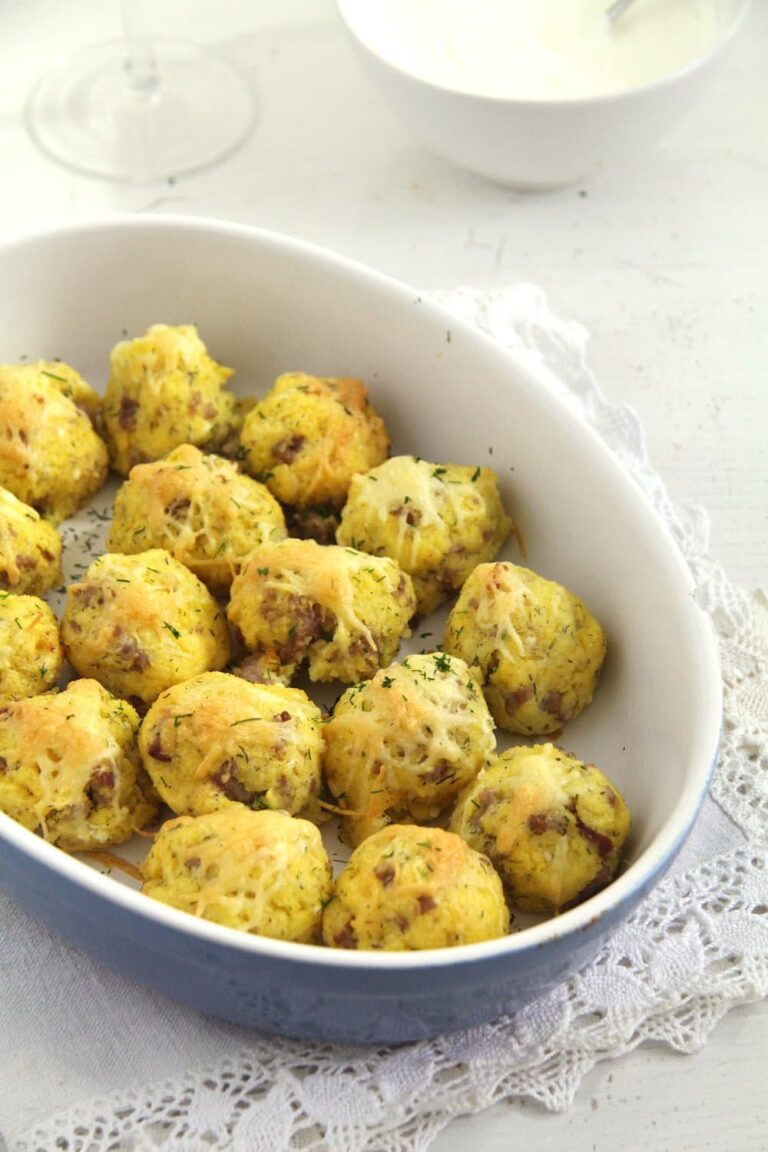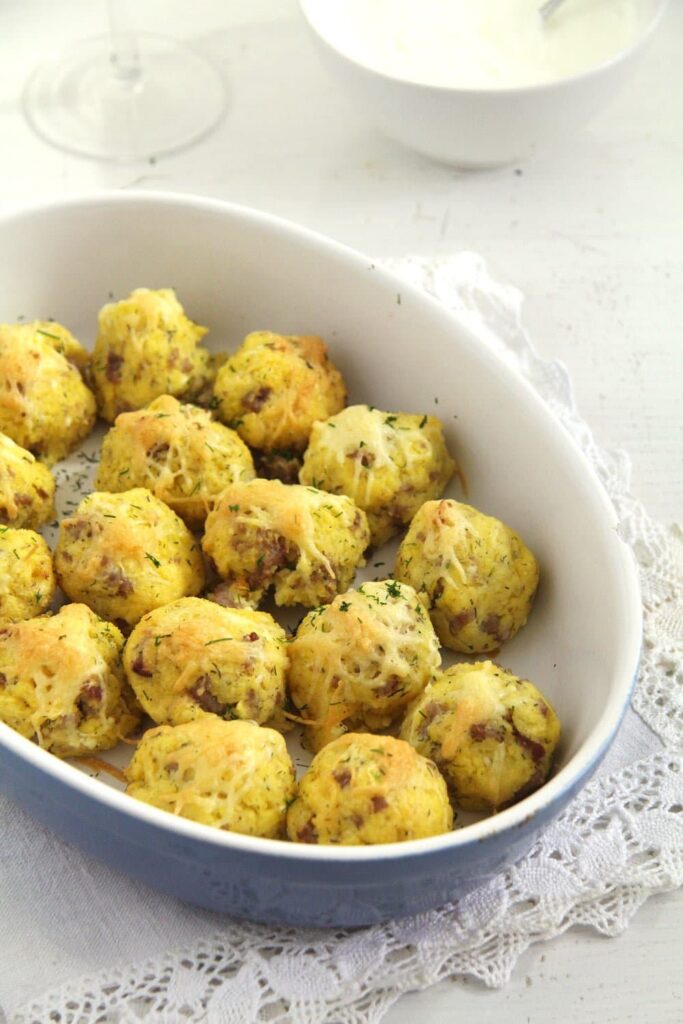 Prep time:
Cook time:
Total time:
Soft on the inside, crispy on the outside: polenta balls rolled with feta cheese and sausages.
Ingredients
250 g/ 8.8 oz/ 1⅔ cups coarse or medium cornmeal
1 liter/ 33.8 fl.oz/ 4 ¼ cups water
1 ½ teaspoons fine salt
300 g/ 10.5 oz fresh sausages of your liking
150 g/ 5.3 oz feta cheese (or Romanian telemea)
1 egg
2 teaspoons chopped fresh dill
1 teaspoon salt
freshly ground black pepper
1 small handful grated cheese (Gouda or cheddar)
1 teaspoon butter
crème fraiche/ sour cream/ Greek yogurt to serve
Instructions
Start by making a basic polenta.
Pour the water into a large pot. Heat the water but don't let it come to a boil (it helps against the formation of lumps). Add the salt. Slowly add the cornmeal while stirring or whisking (with an egg beater not a mixer) all the time. A word of caution - be careful when the polenta starts to bubble, if the bubbles are too big you might get burned – so turn the heat down if that happens. When all the cornmeal is incorporated, continue stirring or whisking shortly to make sure there are no lumps. Turn the heat down, place a lid on top but leave a crack open. Stir every 4-5 minutes or so but there is definitely no need to stir all the time.
Read the cooking instructions on the polenta packet just to know for sure how long the cornmeal needs to be cooked. I cook the polenta made with coarse cornmeal for 40 to 50 minutes and the polenta made with medium cornmeal for about 15 minutes.
Preheat the oven to 220 degrees Celsius/ 400 degrees Fahrenheit.
To make the balls: mix the polenta with the finely chopped sausages and the crumbled feta cheese. Add the lightly beaten egg, dill, salt and pepper. Make about 30 balls about the size of a golf ball. Wet your hands after every 3 or 4 balls, it makes things easier.
Place the balls in a buttered casserole dish and sprinkle each ball with a little bit of the grated cheese. Place a tiny amount of butter on each ball.
Bake for about 20 minutes in the hot oven or until golden. Serve immediately with crème fraiche/ sour cream/ Greek yogurt and a green salad.
This post contains affiliate links. The price you pay as a consumer does not change, but if you make a purchase we will receive a commission which helps support the blog.
Others you might like:
Broccoli Cauliflower "Meatballs"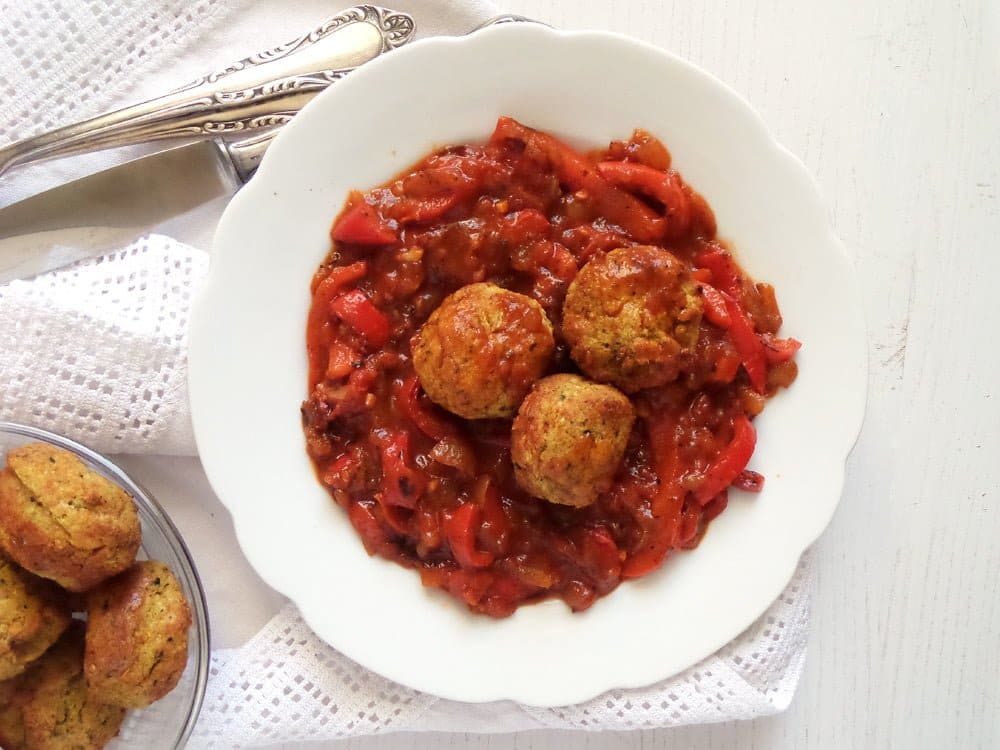 Veggie and Chickpea Meatballs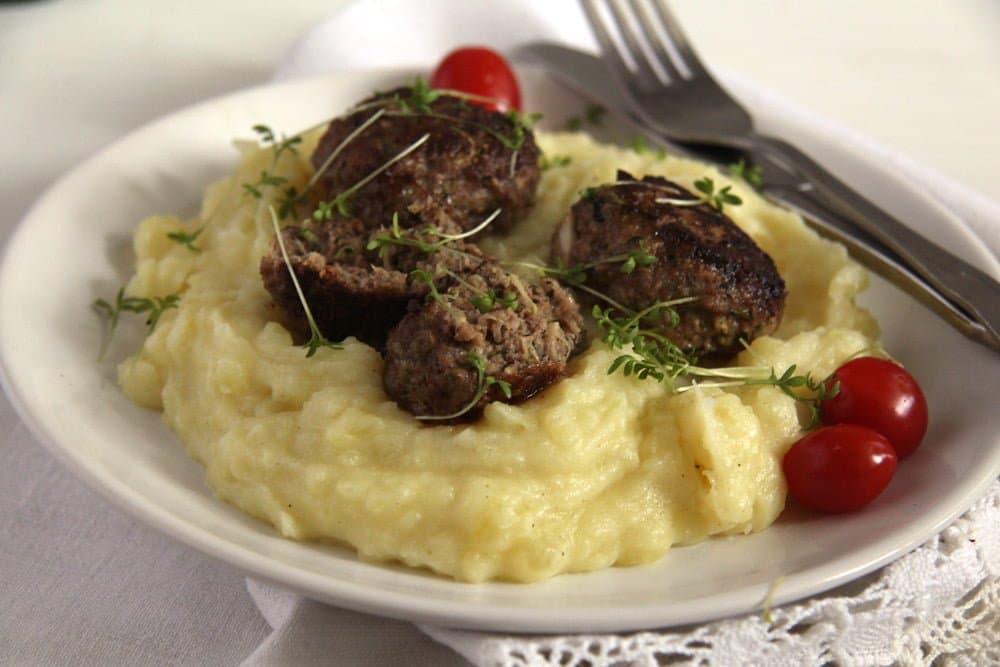 Zucchini Beef Meatballs